Before you know it, the holiday shopping rush will be here. Is your Amazon business prepared? Q4 is unlike any other part of the year — for both consumers and ecommerce sellers.
Between Halloween, Thanksgiving, Black Friday, Cyber Monday, Hanukkah, Christmas, Kwanzaa, and New Year's, consumers will be online, buying gifts and spending more money than any other part of the year.
As an Amazon seller, you need to be sure you are prepared for the surge of gift-hunting customers on Amazon in the coming months. But don't panic just yet—you still have time to make these six seller moves, and get your business ready.
1. Estimate inventory you need for Q4 and place orders
Inventory forecasting is a critical skill needed for running a successful Amazon business — especially for this time of year. If you have too much inventory, you'll end up paying high storage costs and tie-up capital. If you don't have enough, the potential opportunity cost is much greater.
Use insights from last year's sales
If you were selling the same products last holiday season, use that experience as a guide to decide on how much inventory you should order for this year. Also, take note of your sales: have they increased or decreased over the past year compared to last year's sales? Say your sales are up 25% from last year: order at least 25% more inventory for this upcoming season.
You can view your past sales data using Amazon's many seller reports to help you estimate the amount of inventory you will need for the upcoming months. Or instead of manually going through the data in a spreadsheet, you can use advanced inventory forecasting software such as Inventory Manager. This tool will help you manage your inventory levels and predict future sales, so you always have the right amount of product in stock.
Look at your competitor's sales history
If you are selling a new product and this is its first holiday season, how can you figure out potential demand for it?
One way is to look at your competitor's sales history as well as their keyword volume. Using Jungle Scout's Extension, you can see a historical sales history chart to get an understanding of how many units a particular product sold per month.
Let's take a look at this sales history chart above as an example. We can see data here for an evergreen product, but its sales do slightly increase starting in October. This tells us that this is the type of product that customers search for and purchase more during the holiday season over other months of the year.
Using our Keyword Scout tool, you can view the historical search volume of the keywords in your niche. This is very powerful because you can see when customers are searching for your product the most.
As an example, I searched "thanksgiving decor." The graph below clearly shows a massive spike in search volume in the months before Thanksgiving, which quickly declines at the end of November.
If I were selling Thanksgiving decor, I'd send in my inventory now, as customers are starting to search for these types of items.
Deadline: Order your inventory by September 15th — if you haven't already — to ensure you're prepared for Black Friday, Cyber Monday, and the big season ahead.
2. Optimize your listings
To prepare for the increased traffic on Amazon, a very important step to take is to ensure all of your listings are optimized for search and conversions — especially with holiday-related terms. You want customers to find your listings, but you also want them to convert.
Here's what you can do to prepare your listings:
Update your

images

. Add some holiday-themed images to your listing, such as photos of your product with a festive background, or lifestyle shots in a special setting. Conduct fresh keyword research using

Keyword Scout

to ensure you're not missing any important search terms.

If you are enrolled in Brand Registry, you can use the Brand Analytics tool to see which keywords your product or a competitor's product ranked for during a specific time period during the shopping season last year. Try out some high-performing keywords on this year's listings.

Add holiday-related keywords throughout your listing and backend search terms such as "gift", "last minute gift", "gifts for ___", "Christmas", "Hanukkah", and so on.

Make sure your listing is filled with as much information as possible so potential buyers don't leave with questions. For example, if you are selling clothing, make sure to include proper sizing details and measurements so there is no confusion.
If your listings are already the best you think they can be, simply add holiday-related keywords throughout your listing to ensure you take advantage of increased search volume and gift shoppers.
Deadline: Work on this step as soon as possible. A good time to add season-specific search terms would be at the end of September as we start to approach various holidays.
3. Adjust your PPC campaigns and overall budgets
To account for the large increase in traffic Amazon will experience over the next few months, it would be a good idea to adjust your PPC campaign budgets and keyword bids — so you can be sure your ads are always running. A rise in customer traffic also causes PPC ads to become more competitive — meaning you'll also need to increase your keyword bids.
The holiday traffic will likely cause an increase in clicks, which means you'll go through your daily budget faster than usual. If your ads are currently running profitably, you should think about increasing your daily budget to account for the extra clicks your ads are receiving. If you notice that you're going through your daily budget before the day is over, increase it incrementally until you find a good number to keep your ads running.
Figure out your target ACoS and RoAS
Understand what your break-even RoAS and ACoS are to keep an eye on how your campaigns are performing during the shopping season. You'll likely be spending more per click during this time of year so know your numbers before your ads become unprofitable.
Increase your keyword bids
As more and more sellers start to advertise products during this time, your current keyword bids will likely not cut it. Depending on your products, it may be worth increasing your keyword bids to ensure you receive as many impressions as possible.
Instead of manually changing the bids for each one of the keywords you're targeting, you can change your bidding strategy in Seller Central's Campaign Manager. By choosing "Dynamic bids – up and down," you allow Amazon to automatically adjust your keyword bids by up to 100% when your ads will more likely convert into a sale. If Amazon does not think your ad will convert, they will lower your bid.
Test different ad strategies
If you are enrolled in Brand Registry, you have access to many different ad types that other sellers don't. Test various ad types during this time of year — the ones you don't typically use may now work better for you.
The more ad placements you can land on Amazon (and even off-Amazon) during Q4, the better.
Sponsored Brands ads allow you to create a customized shopping experience on Amazon and avoid the throng of competitor ads. Once a customer clicks on your ad, they'll be taken to your Amazon Storefront or a custom landing page, where they can learn more about your products and brand.
Sponsored Display ads allow you to target a competitor's products by placing your ad on their listings. On top of that, sellers can retarget customers who have previously visited your listings in the past but did not make a purchase. This gives you a huge leg up on the competition who are not brand registered.
Sponsored Brands Video ads allow brands to post video ads within the search results on Amazon! When your customer is faced with so many options to choose from, these eye-catching ads help to break up the search results and grab your customer's attention.
Target holiday keywords
Target new keywords in your campaigns that will more than likely be searched for during the holiday season. Anything gift- or holiday-related would be a good idea to target.
For example, if you are selling a woven basket, you could connect it to a Thanksgiving theme. You could target keywords such as "Thanksgiving decor," "Thanksgiving holiday basket," and so on.
Deadline: If you sell Halloween products, start making adjustments to your campaigns now. Otherwise, late October/early November is fine for the rest of the shopping season.
4. Create holiday deals
Whether you are brand registered or not, you have the ability to create deals and coupons within Seller Central. Running deals can be an engaging way to boost sales on Amazon when you offer customers a discount on their purchases, especially during big events such as Prime Day or Black Friday.
To create a deal in Seller Central go to the Advertising tab and click on "Deals." Then click on "Create a new deal."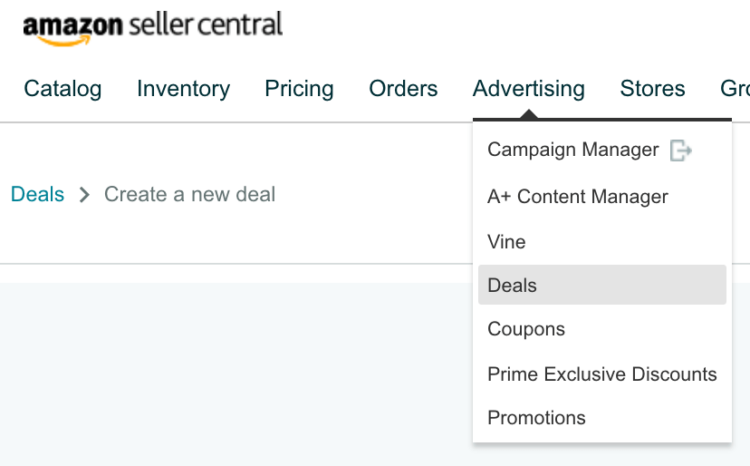 Amazon will list the deals your products are eligible for along with the deal price, discount per unit, and deal fee. Yes, keep in mind that if you want to run a deal on Amazon, they will charge you a fee. For a 7-day deal, the cost is $300 and for a lightning deal, the cost is $150. During a big event or holiday, the deal fee may be more than that. If the costs make sense for you, test the deals out.
Create a coupon
Sellers can also create a "clippable" coupon that customers can see on your listing. If you create a coupon for your product, it will be visible from the search results page so customers can immediately see that they will receive a discount if they purchase your product.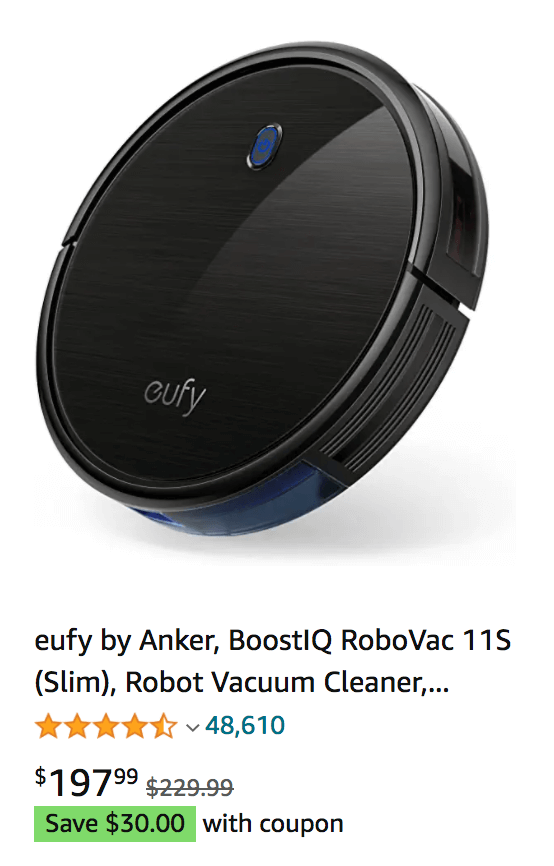 To create a coupon, go to the Advertising tab and click on "Coupons." Then click on "Create a new coupon."
You can choose to offer a percentage discount or a price discount. Keep in mind that there is a $100 minimum budget for running a coupon and that budget will be shared with the discount you are offering plus a $0.60 redemption fee for every discount redemption.
Deadline: Create deals a couple of weeks before a big shopping event or holiday.
5. Anticipate potential Amazon delays
If you've been selling on Amazon for a while, you know how backed up Amazon fulfillment centers can get — especially as we near the end of the year. The longer you wait to send products to inventory, the more you can expect delays in shipments to Amazon.
Amazon hasn't recommended inventory shipment arrival dates yet for 2021, but you can take the same dates Amazon recommended in 2020; apply them to this year as guidelines to get your inventory to fulfillment centers at least 3 weeks before each shopping event:
" Stay in stock during the holiday selling season by making sure your shipments arrive at Amazon well in advance of key shopping dates. Inventory should arrive at our fulfillment centers by the dates listed below to ensure your products are available for customers during this peak season.

Inventory for Black Friday and Cyber Monday

should arrive at Amazon fulfillment centers by

November 6, 2020

.

Inventory for Christmas shopping

should arrive at Amazon fulfillment centers by

December 1, 2020

.

Inventory for 2021

should be sent to Amazon fulfillment centers

no earlier than December 17, 2020

. Until then, please only ship items to Amazon that will sell in 2020.



Be sure to allow ample time for supplier lead times, carrier lead times, or both. It may take longer to get inventory to Amazon fulfillment centers during the busy holiday season."
If you have the capabilities, we also suggest creating an FBM offer (Fulfilled by Merchant) on your listing so you can still fulfill orders if your inventory experiences delays at an FBA fulfillment center. This will work well if you have the space and ability to ship from your warehouse or home office. You can also utilize a third-party fulfillment center.
Shipping items via FBM is a clever way to compete with competitors who may run out of stock. This is especially true if you are eligible for Seller-Fulfilled Prime. You will still have the Prime badge even if you fulfill the orders yourself.
Though if there is enough demand for your product, the Prime badge will not matter during the holiday season — customers will still order products as long as they receive them on time.
6. Prepare for holiday returns
The downside of being an Amazon seller? The inevitable product returns. It's just a part of doing business. While many sellers can expect December to be their best sales month of the year, January is usually the busiest for returned items.
Just like last year, Amazon is offering an Extended Holiday Return Policy to buyers for 2021. This means that any orders placed between October 1st and December 31st are returnable until January 31st, 2022.
If you read through the seller forum comments about this subject, you can see that some sellers are upset about this news, as expected. Returns are a big hassle and the Extended Return Policy makes it even harder on sellers after the holidays. But that's all part of the game, and you have to play by Amazon's rules if you want to sell on their marketplace. All the more reason to create solid listings and a holiday contingency plan!
To learn more about the Extended Return Policy, check out Amazon's recent News update.
Get ready for a successful holiday season
If you stay proactive and properly prepare for the months ahead, you will be well on your way to success. Use the data readily available to you within your own Seller account and from Jungle Scout to accurately predict sales volume for the upcoming shopping season.
We hope you gain value out of this step-by-step guide. If you have any more questions, feel free to drop a comment below!