Amazon is widely known as a go-to retail destination for home products, books, electronics, and really just about anything else. If you need something in a matter of days — or even hours — you can get it from Amazon.
But in the past, consumers have not adapted as quickly to shopping for high-end, luxury, or branded clothing on Amazon as they have for, say, batteries and bath towels. The fashion industry has been slow to debut on Amazon — until now.
According to Jungle Scout's latest Consumer Trends Report, 39% of U.S. consumers are shopping for clothing on Amazon (even during the COVID-19 pandemic).
So, how is the fashion industry changing in 2021? What will those. changes mean for major retailers, third-party Amazon sellers, and Amazon itself? We'll take a look at a few factors currently driving a major shift in the fashion industry:
Consumers' changing perceptions of Amazon — especially during COVID-19

Amazon's partnership with Big Fashion

How to sell clothing on Amazon, featuring 2021 brand strategies
First, we'll take a quick look at hurdles Amazon and the fashion industry have had to overcome.
Past challenges of Amazon & the fashion industry
Brand perception
A brand involves the entire experience a consumer has with it. In the past, consumers would have those experiences with brands through their advertising and then in their stores.
Amazon can neither offer the runway-magazine-billboard marketing many fashion brands employ nor the in-store shopping experience. In the past, all product pages have looked the same as any other listing. (However, read on to see what Amazon has introduced to improve brand exposure online.)
E-Commerce
Amazon makes it easy for consumers to buy and return items. But, since clothing is physical and can be personal, an e-commerce-only shopping experience has its drawbacks:
High return rates

: One of the biggest challenges with selling clothing online is that the customer cannot try on the article of clothing before buying. Unless a customer has purchased from a brand before, they won't know exactly how the fit will be. If the fit or style or feel isn't right, customers will likely return the item. One

Amazon seller reported

a 35% return rate for clothing.

Variations

: Unless a seller is offering a one-size-fits-all type of item, they will most likely need to carry multiple size or color variations. This means sellers would need to set up variations in a single listing, order stock and have large inventories of clothing at any given time, and ensure consistent quality across all variations of the product (because all reviews will be aggregated).

Brand restrictions: Until recently, selling in the Clothing category on Amazon was restricted for new sellers. Now, any seller can sell in this category without approval, making it much easier for a small clothing retailer to launch their brand on Amazon. However, Amazon sellers using an

arbitrage

(reselling) or

wholesale

method of selling would still require approval to sell another brand's products (ie. selling Adidas shirts).

Amazon & fashion in 2021
The buyers: About consumer preferences in 2021
While global economic conditions have toppled many clothing retailers since the COVID-19 pandemic began, consumers are still shopping for clothing. E-Commerce has the advantage in a quarantine economy, and Amazon in particular has offered consumers the access to products they can't shop for in stores, creating a stronger dependency on Amazon than ever.
About 83% of U.S. consumers have shopped on Amazon, and 34% do so every single week.

Of consumers who don't shop on Amazon, just 8% said it was because Amazon didn't have the brand they were looking for.

31% of U.S. consumers said they plan to shop for clothing on Amazon in the future.
*Data from Jungle Scout's Q4 2020 Consumer Trends Report.
The sellers: About Amazon's third-party clothing sellers in 2021
As of 2021, Amazon's Clothing category is ungated, allowing new sellers and new direct-to-consumer brands to sell on the massive retail site.
This is not only beneficial to new and experienced sellers who want to expand into the Clothing category, but it also helps Amazon gain more market share in the clothing industry.
13% of Amazon sellers sell in the Clothing, Jewelry & Shoes category, making it the 11th most

popular Amazon product category

for third-party sellers (out of 28 categories).

87% of Amazon's Clothing sellers are profitable, and 37% say they have average profit margins over 20%.

Many Clothing sellers have high volumes of products on Amazon: 44% of sellers have more than 50 different products on Amazon (compared to just 27% of sellers across all categories), and 28% have more than 250 (compared to 13% of all sellers). In this case, variations of products (different sizes, colors, etc.) are

not

counted as separate products.

More men than women sell in the Clothing category on Amazon: 53% of these sellers are men, 42% women, and 6% identified as other/anonymous. However, the ratio of women to men is slightly higher for Clothing sellers compared to

all

sellers (64% male, 32% female, 5% other/anonymous).
*Data from Jungle Scout's 2021 State of the Amazon Seller Report.
Amazon has introduced countless new programs to help fashion brands and clothing retailers succeed on Amazon, and to help rebrand the customer experience.
Programs for fashion brands on Amazon:
September 15, 2020 update:
Amazon announced
the launch of its new "Luxury Stores," a unique space dedicated to designer fashion brands. Starting with a feature of items from designer Oscar de la Renta, Amazon says it plans to carry both well-established and sought-after emerging luxury brands.
As of now, only certain Amazon Prime members will have exclusive access on the Amazon app to the invite-only store. If you would like to request an invitation to shop exclusive high-end fashion brands on Amazon, you need to visit the Luxury Stores page to be added to the waitlist.
Participating luxury brands will have access to Amazon's unique merchandising tools, such as the new 360-degree interactive viewing option, while having full control over pricing, selection, and inventory.
Amazon has sold more than 1 billion fashion items from its mobile app in the past year while high-end department stores such as Neiman Marcus and Lord & Taylor have filed for bankruptcy, so some speculate that Amazon Luxury Stores will give high-end fashion brands a new lease on life while they struggle to maintain in-store sales.
1. Brand pages
In recent years, Amazon has focused on its user interface, creating new brand pages to allow brands to present more personalized experiences while still on the familiar, easy-to-transact Amazon platform.
Brand pages put 100% of the consumer's focus on one brand only. Unlike a product listing page, which follows Amazon's template and even includes competitor ads, a brand page will have a clean, customized look, giving brands the chance to tell a story (about the products, the designer, etc.).
Does it work?
While the results will vary from brand to brand, some brands have seen a 70% increase in sales in just 30 days from their brand page. In the past, it was difficult to measure the results from your Amazon storefront, but now, brands have access to a tool called Amazon Store Insights.
This tool provides insights on the effectiveness of the page as well as the source of traffic and campaign performance.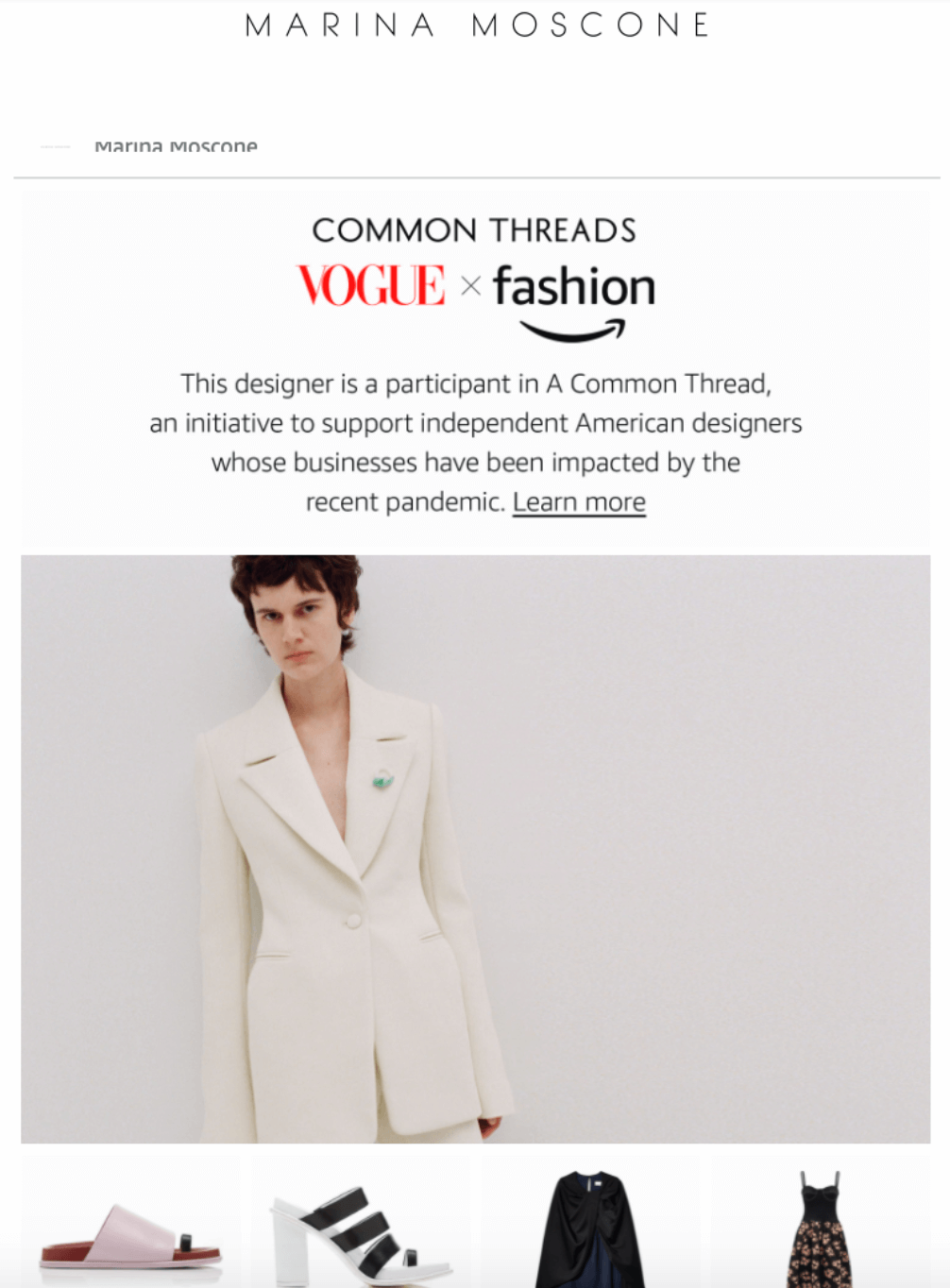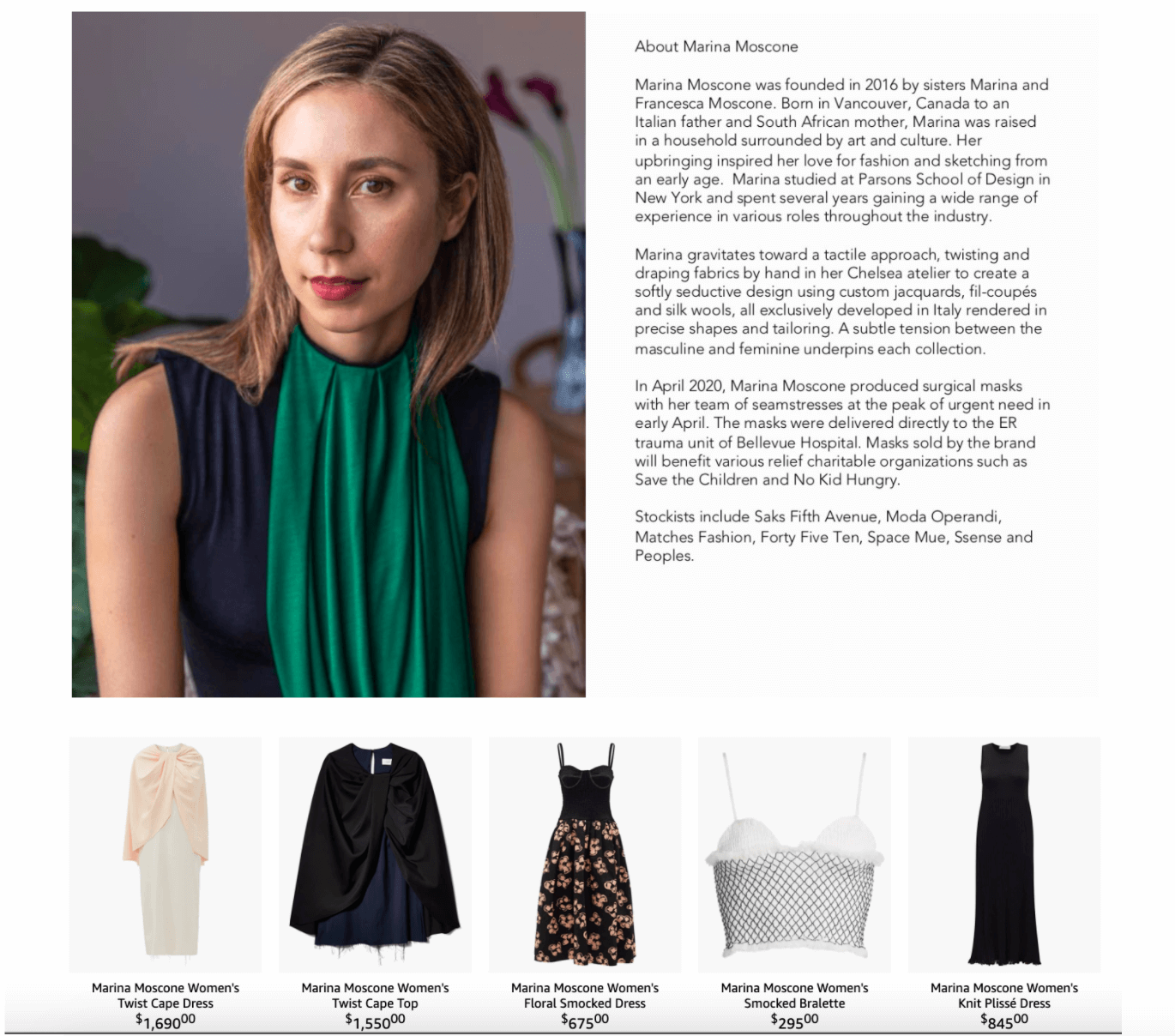 2. Amazon Prime Wardrobe

In April 2018, Amazon launched its "try before you buy" service called Amazon Prime Wardrobe. Prime Wardrobe allows shoppers to order up to 8 clothing items at a time and only pay for what they keep — similar to Stitch Fix, LeTote, and Nordstrom's Trunk Club, which use a similar business model.
This gives online shoppers more of an in-store experience,
Prime Wardrobe is available to all Prime members and offers the customer free and easy returns for unwanted items. It is, however, available for Amazon clothing sellers on an invite-only basis.
Does it work?
Overall, the response from consumers has been positive. The ability to order multiple articles of clothing from the comfort of your home and only pay for what you keep is a home run. Though for sellers, the 14-day trial period and free returns are a cause for concern.
3. 'Big Style Sale'
Amazon delayed 2020's Prime Day, its annual shopping extravaganza, due to COVID-19.
So, in an effort to jumpstart sales, Amazon held a new, fashion-focused 'Big Style Sale' in late June 2020. The sale was intended to help sellers and clothing retailers whose sales were drastically affected by the coronavirus. The sale was invite-only and provided discounts of up to 50% off participating brands.
Did it work?
In contrast to Prime Day recaps galore, the Big Style Sale didn't reveal much in terms of impact, though some brands reportedly got a boost.
4. 'The Drop'

Amazon's 'The Drop' is a temporary fashion showcase, featuring "limited-edition street style, designed by global influencers."
Amazon has partnered with international trendsetters and influencers to create limited-edition clothing and accessories. Each collection is only live for 30 hours or until products are sold out. Each piece is then made to order to reduce waste.
Offering a product for a very limited amount of time helps create a sense of urgency and hype around a brand's products. (Think sample sales!) If a brand or retailer has a large fashion-focused following online, they could possibly partner with Amazon to design and sell their own limited-edition clothing on The Drop.
Does it work? The Drop has cultivated a new audience for Amazon while raising brand awareness for influencers and fashion designers. The Drop was also featured in a high-end fashion blog and actively posts and receives strong engagement on The Drop Instagram account.
5. Partnership with Vogue and the CFDA

In May 2020, Amazon partnered with Vogue and the Council of Fashion Designers of America (CFDA) to launch Common Threads, a dedicated shop to support independent designers and luxury fashion brands.
The intention of this partnership is to bring exposure and growth to struggling fashion brands that have been negatively impacted by COVID-19 by presenting branded storefronts on Amazon.
With Common Threads, fashion brands with physical stores get the e-commerce power and ease of transaction that Amazon offers. Amazon, meanwhile, gets to partner with higher-end fashion brands to help break into the luxury fashion industry.
Does it work?
One key struggle for luxury fashion brands on Amazon is that Amazon's aesthetics don't align with those of high-end e-commerce sites. However, besides Common Threads' dedicated storefront on Amazon, the listing pages will look like a typical Amazon product listing.
Since the launch of the partnership, Amazon has received positive feedback from participating designers which has helped them discover a new audience for their clothing. Several designers have also reported selling out of their initial stock and begun replenishing inventory and adding more of their collection.
6. Influencer storefronts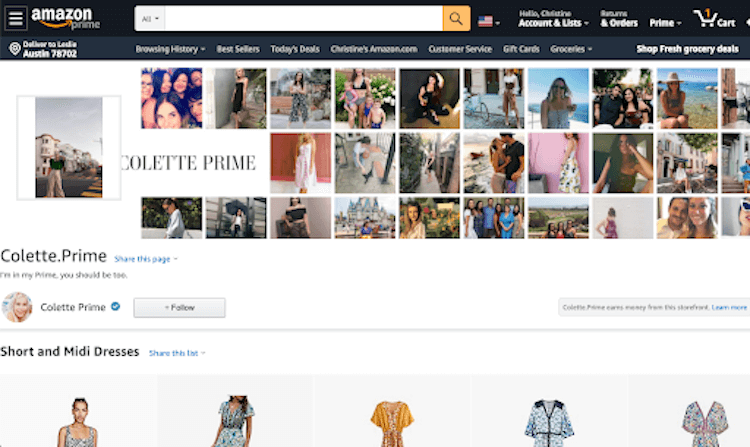 In 2017, Amazon launched its Influencer Program. Flash forward to 2019, and Amazon is growing that program with personally curated influencer storefronts.
The program is for influencers who have a Youtube, Instagram, Twitter or Facebook following. Amazon vets its influencers by reviewing their follower count, type of content, frequency of content, and content relevancy to Amazon shoppers.
Influencers are able to send traffic to their Amazon storefronts when hyperlinking a URL is not possible. It's like adding the storefront to an Instagram story using its swipe-up capability. Influencers receive a static fee per sale of each Amazon product (and the fees vary by category).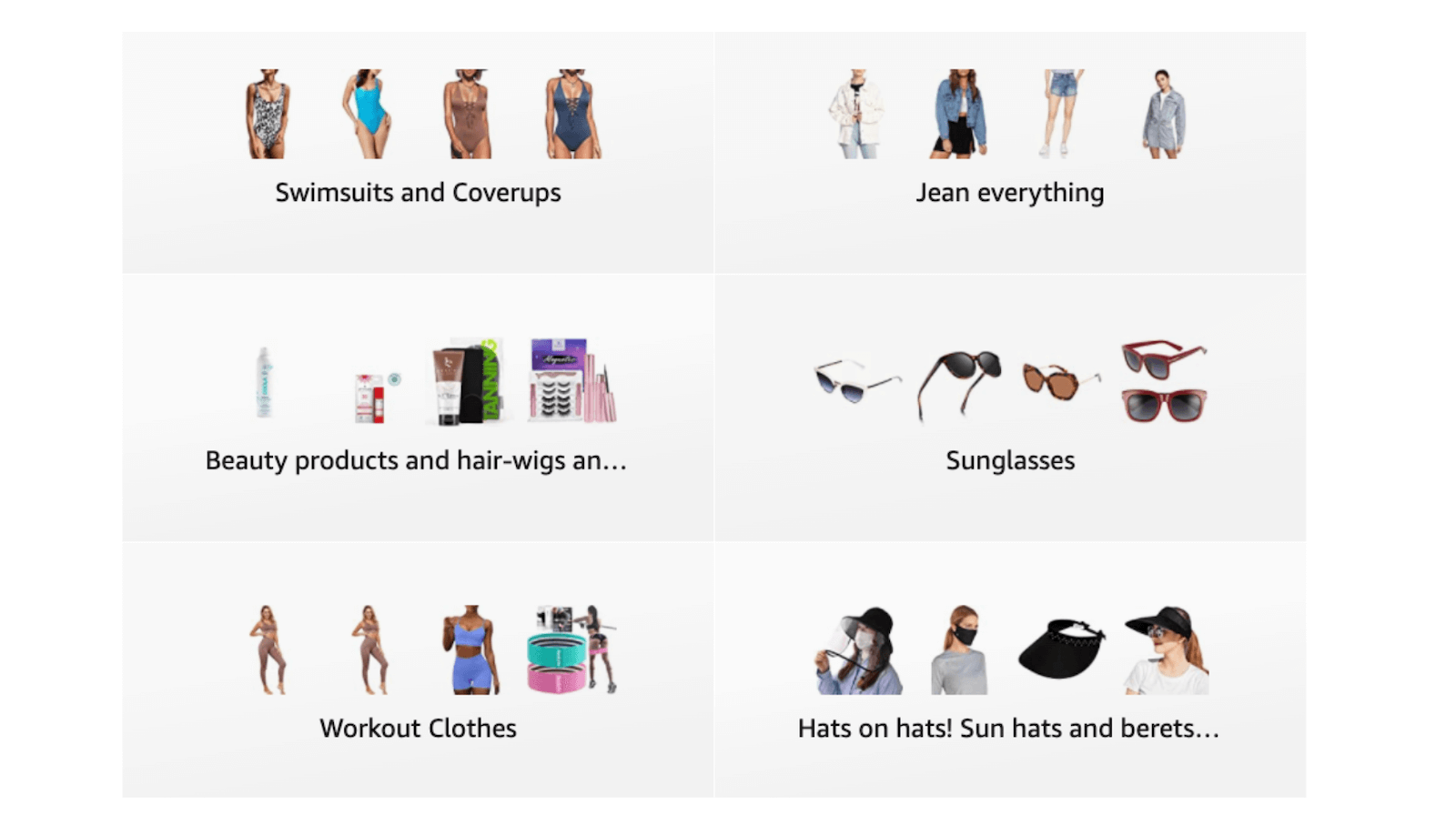 Does it work?
The Amazon Storefronts don't currently allow influencers to customize them very much, but Amazon is said to be looking to expand on the storefronts' capabilities. This has been a great way for Amazon to expand into the influencer market while also making it a win-win for influencers to be able to directly monetize their platform.
Selling clothing on Amazon: How fashion brands can stand out on "The Everything Store"
Amazon's reach grows further every year, and the Fashion and Clothing category are now part of that growth.
In fact, in 2018, Amazon saw a 27% increase in third-party apparel listings alongside just 2% increase in first-party listings. And a whopping 89% of products listed for sale in the clothing category were from third-party sellers — meaning that third-party sellers are fueling the growth of the clothing category.
So, fashion brands and third-party Amazon sellers, how can you succeed in Amazon's clothing and apparel world?
1. Optimize your listing description
When crafting and optimizing your Amazon listing for your brand, you need to ensure you conduct proper keyword research and competitor analysis. This important step ensures that your listings are primed for sales and discoverability.
In the clothing category, sellers need to be especially focused on presenting their products optimally since a potential customer cannot see or try on the piece before buying.
Take a look at competitor listings to see how you can make your listings stand out more than theirs. What questions are their customers asking? What pain points are noted in their product reviews?

Include your primary, high-volume keywords that you want your product to rank for in your title and bullet points, though, you should keep your

title to fewer than 80 characters

. Think of the synonyms your article of clothing may be called as well.
Do not overlook your product features and benefits. Even known brands need to tell a consumer what product they're looking at. Provide details about sizing, materials, fit, etc. You'd be surprised at how many listings are missing basic information.
Fashion brands know that images are critical in selling a product — so focus on this step!
Use a model for your clothing so your potential customers can see what it will look like on themselves.

Maximize the image space allowed.

Include multiple angles with a model to show how this piece looks from the front, side, back, etc.

Include at least 7 images/infographics (up to 9 are allowed) that explain the fit, sizing, materials, look, feel, etc.

If using infographics, make sure the text and graphics you include are neat and easy to read. This ensures your image content is optimized for mobile viewing.

3. Write a thorough description or use A+ content
If you are brand registered, you absolutely want to set up an A+ content page for your clothing brand. This is extremely beneficial not only for your products but for your brand on Amazon. Creating A+ content is a simple yet highly effective way to increase your conversion rate and grow brand awareness.
It is especially important for clothing brands as it gives you more opportunity to show off your products.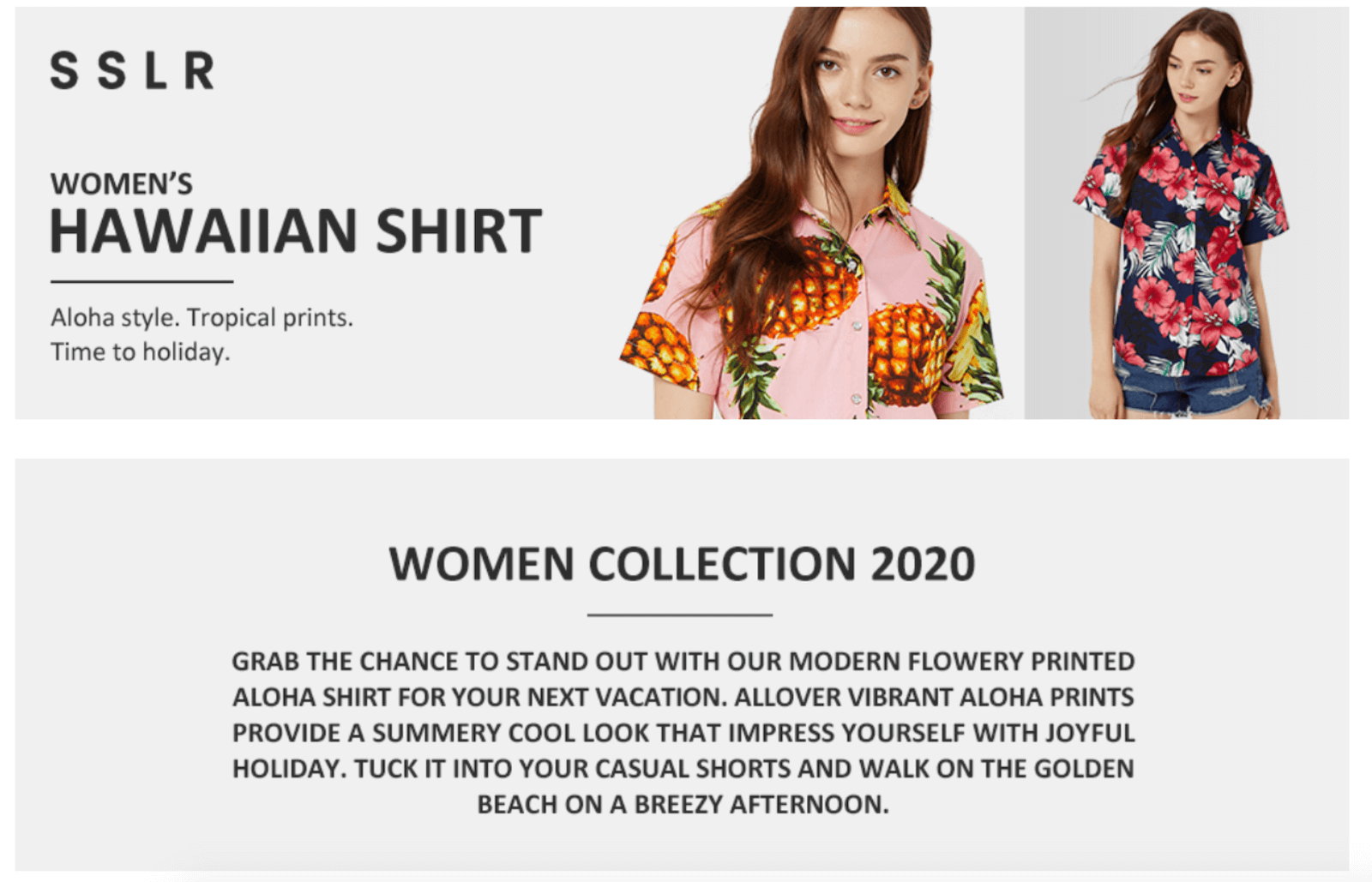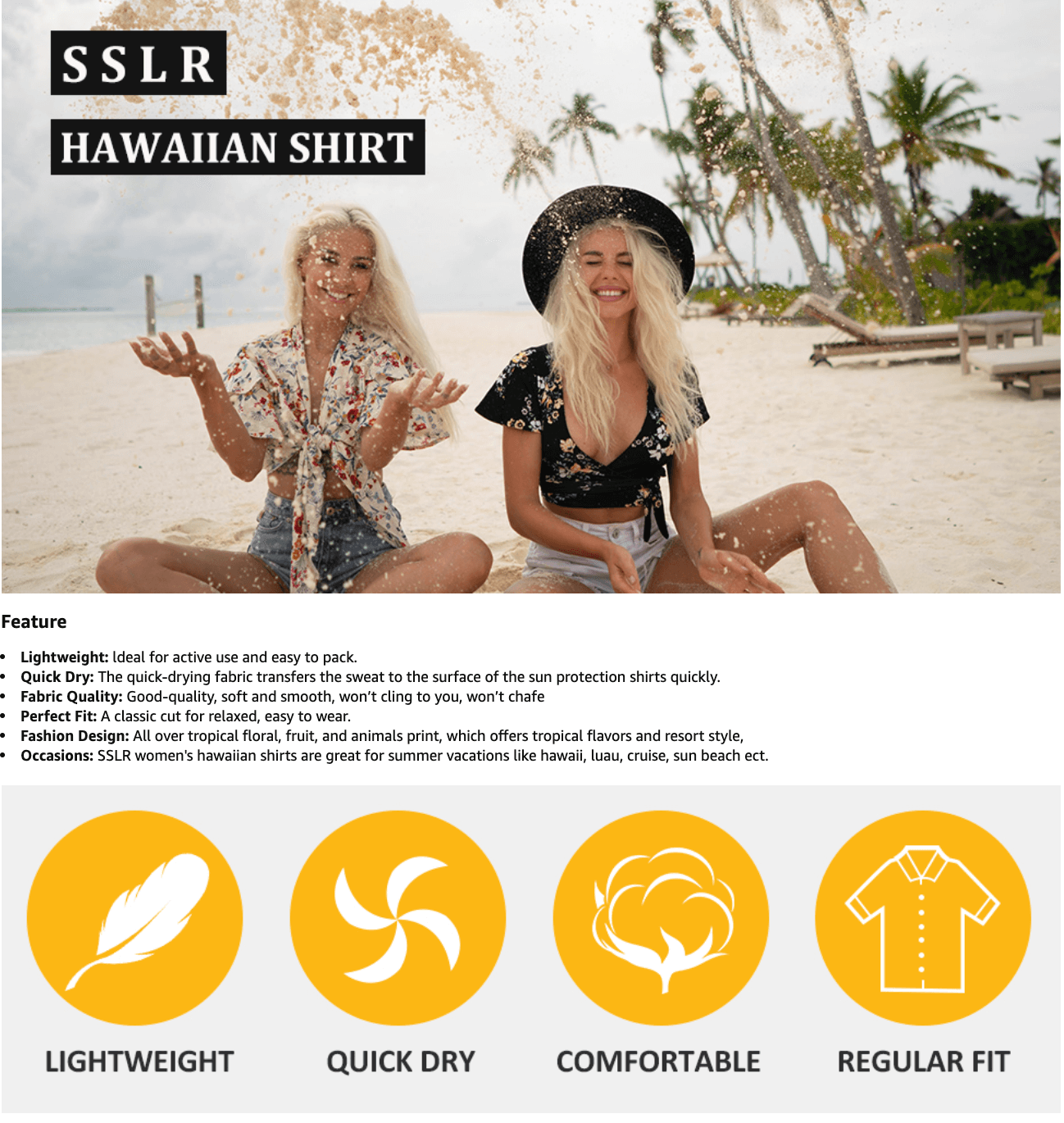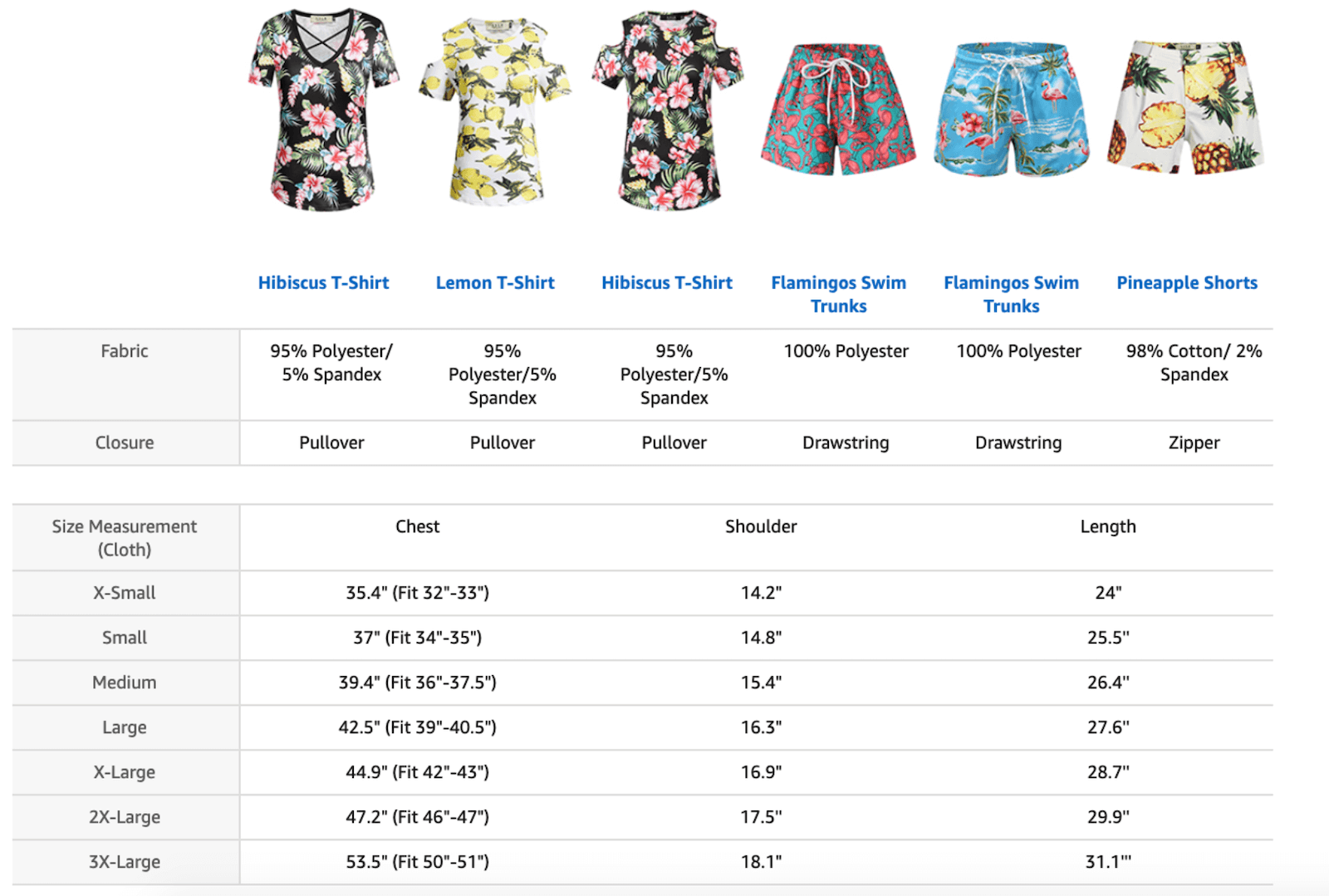 With the various template and image options A+ content allows, you can display your product in the best light. You can also proactively answer any questions your customers might have, allowing them to make purchase confidently.
Even if you are not brand registered, it's still critical to have a thorough and intentional product description especially since the product description shows up before your bullet points on a mobile device (where more than 50% of Amazon sales occur).
Include just as much information in your description (if not more) than you did in your bullet points.
You are allowed up to 2,000 characters so take advantage of that space. Include some lower-volume, yet relevant keywords you couldn't fit in your title or bullets. Use HTML as well. Use it to break up the bulky paragraph, create bullet points, and add bold text. That will make it much easier to read and skim through.
4. Grow a social media following
Use the power of social media to grow brand awareness and to show off your styles to the world. Your target audience is likely on Instagram or other social media sites seeing influencer after influencer promoting new fashion and trends to their followers.
In order for fashion brands to stand out in this highly competitive market, they need a strong social media strategy, and optimal visual representation:
Post authentic content relating to your brand. Show your products in use (in the coolest settings, of course), and use creative graphics and landscapes that will become synonymous with your brand.

Engage with your audience. Use popular hashtags to connect with trends or products relating to your own to expand your impressions. (Did you know the fourth most popular hashtag in the world as of this publication is

#fashion

?)

If your brand doesn't have a following yet, hire influencers or fashion bloggers to help grow your awareness.
By taking advantage of social media and a growing trusting audience, you can then drive direct traffic to your Amazon brand page or listings.
Selling clothing on Amazon does not come without its challenges. But, the apparel business on Amazon is clearly growing and continuing to innovate — and disrupting the clothing industry.
For more information about this article and Jungle Scout's data, please contact [email protected]