Looking for a way to reach millions of potential customers for your handcrafted goods? Amazon offers a unique, artisan-only platform that allows artists to expand their customer base to Amazon's massive reach — all while following their passion.
We'll tell you all about Amazon Handmade, explore the requirements for becoming a Handmade seller, compare Amazon Handmade vs. Etsy, and more.
What is Amazon Handmade?
Amazon Handmade is an artisan-only community on Amazon where artists and crafters can sell their one-of-a-kind products to customers around the world.
Amazon Handmade accounts are distinct from regular Amazon seller accounts and the business model is different from other methods of selling on Amazon.
Everything sold on Handmade must be handmade, hand-altered, or hand-assembled; no mass-produced products are allowed to be sold on the marketplace.
Some examples of products that are offered on Amazon Handmade include:
Handmade cutting boards

Abstract art

Pottery

Crochet hand bags

Bead bracelets

Soap

Bath bombs

Pillow cases

And much more!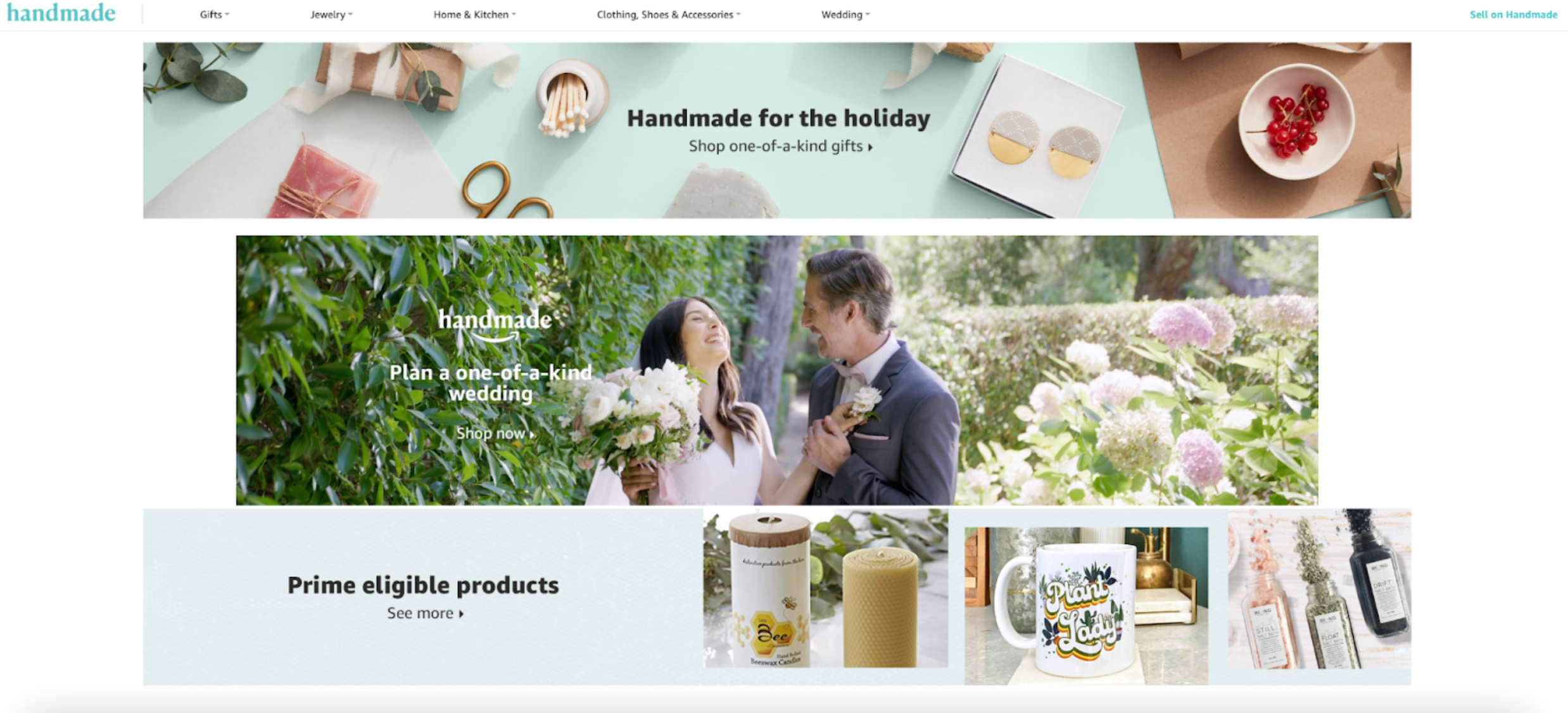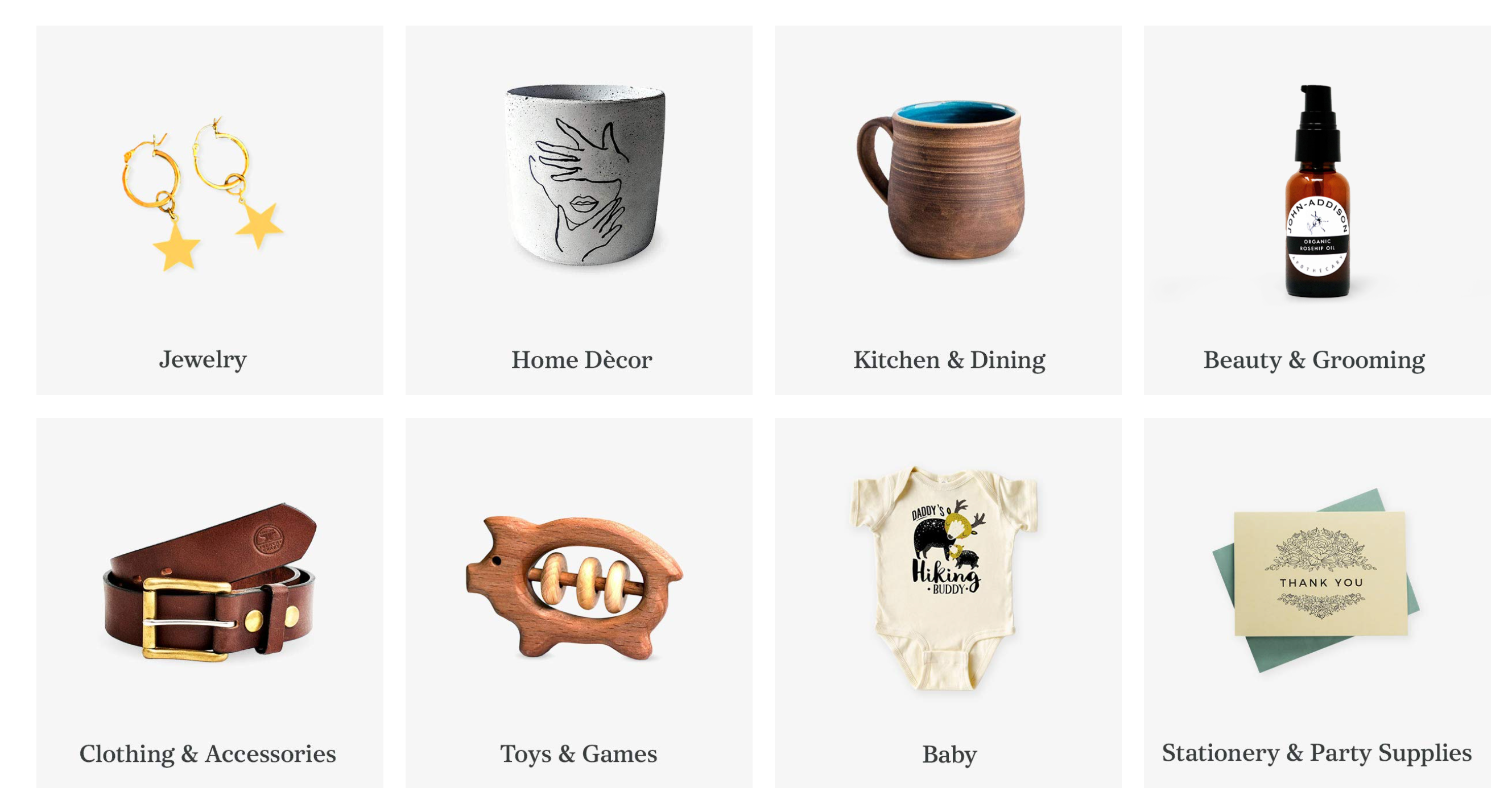 How Amazon Handmade works:
Getting started selling on Amazon Handmade is a fairly simple process:
You hand-make your products. You or a member of your team must handcraft every product you sell on Amazon Handmade.

Fill out an application and answer a number of questions regarding your business to demonstrate that you are a qualified Handmade seller. (More details below)

Decide how you would like to

fulfill your Amazon orders

. With Amazon Handmade, you have the option to use Amazon's Fulfillment by Amazon (FBA) method, which is when you ship your products to an Amazon warehouse, your items become Prime eligible, and Amazon will package and ship any orders you receive for you. You may also choose to ship the order yourself from your place of business or warehouse of choice using Amazon's Fulfilled by Merchant (FBM) method.

Your customers receive your beautiful handmade products and you grow your business!
Should you sell on Amazon Handmade?
Pros and cons of Amazon Handmade
Pros:
Massive reach

: Amazon has 3.1 billion monthly visits, and 90% of all U.S. consumers have shopped on the platform. (In fact, 88% of U.S. Amazon shoppers make purchases on Amazon at least every month). In other words, if you're selling online, you want to be selling on Amazon.

Profitability

: According to Jungle Scout's

2022 State of the Seller Report

, 33% of Handmade sellers have profit margins above 20%.

Affordability: Amazon Handmade doesn't charge listing fees. There's just a 15% fee per sale, and an accurate breakdown of fees in your Manage Inventory dashboard. There's also no subscription fee, unlike Seller Central's $40/month fee.
Exclusivity

: Amazon Handmade is "artisan-only," meaning Amazon has an application process to ensure goods are actually handmade by the person or company selling them. Amazon Handmade's standalone platform also separates it from other products listed on Amazon, giving more exclusivity to the consumer experience.

Customizable

: With Amazon Handmade, sellers are able to create a custom shop profile to show off all their products, and they can create an artisan profile to share the story of the person behind the art. Handmade sellers can also offer personalized products.

Easy fulfillment & Amazon Prime

: If you opt to sell

Amazon FBA

, Amazon will fulfill and ship your orders for you. Plus, you can have that coveted

Amazon Prime badge

on your listing. Alternatively, you can opt to ship orders yourself through Amazon FBM (

Fulfillment by Merchant

).

Other benefits to selling on Amazon Handmade are that your listings do not expire and you don't need UPC codes to sell.
Cons:
User-unfriendly dashboard:

The features and listing functions in Amazon Seller Central are not laid out as well as they are on Etsy, and there are a number of components which may overwhelm new sellers who do not know how to navigate it yet.

Slow application process:

Amazon wants you to prove you are actually making your products by hand, so it might take up to 2 weeks to get approved to sell on Handmade.

Delayed payment

: You get paid only when you marked the order as shipped; then, you need to wait for the money to be deposited.

Limited scope:

Amazon Handmade only allows you to sell in the following 14

product categories

:

Accessories

Artwork

Baby

Beauty & Personal Care

Clothing

Shoes & Handbags

Home

Outdoor & Home Care

Jewelry & Watches

Kitchen & Dining

Pet Supplies

Sporting Goods

Stationery & Party Supplies

Toys & Games

Limited customer engagement

: Just like selling on Amazon as a private label or other seller, Amazon prevents you from accessing your customer data, so you can't, for example, build an email list for your brand from your Amazon customers.
Overall, there are clearly more pros than cons when it comes to selling on Amazon Handmade, but depending on the individual artist, selling on Amazon may or may not be your preference.
However, you can set up shop for free and the worst-case scenario is that you don't sell anything — while the best-case scenario is you create a steady stream of income from Amazon Handmade!
Amazon Handmade vs. Etsy
For artisans, craftsmen, and makers, Amazon Handmade and Etsy are both great platforms to monetize your skills and creativity. Each selling platform will have its pros and cons that are more or less suitable to each individual seller. Though, selling on both is always an option!
Here are some helpful features to compare Amazon Handmade vs. Etsy:
Amazon Handmade

Etsy

Fees

15% referral fee per sale

No monthly subscription fee

No listing fees

No other hidden fees

$0.20 per-item listing fee (have to renew every 4 months)

No monthly subscription fee (they have a $10/month Plus option)

6.5% transaction fee

3% + $0.25 payment processing fee

Product Listings

List as many products as you want

No listing fees

Listings never expire

Setting up listings can be difficult

No UPC required

List as many products as you want

$0.20 per-item listing fee

Listings expire every 4 months

Intuitive interface

No UPC required

Categories

14 categories available to sell in (see above)

160+ categories to list in

Advertising

Sponsored products PPC advertising

Advertise on Amazon only

PPC advertising

Offsite advertising options

Payments

Funds not available until order is marked as shipped

Payment is disbursed every 2 weeks

Funds are available to you immediately once the transaction is completed

Can request daily disbursements

Artisan Approval

Application and audit process to sell on Handmade

Must be creating the products yourself or have a team of fewer than 20 people

Fast and easy to set up your account

No approval process

Allowed to work with "production partners"

Custom Storefront
Choosing which platform to sell on
When it comes to considering whether you sell on Amazon Handmade or Etsy, remember that you can choose both!
In fact, 13% of Amazon sellers already sell on Etsy.
If you are comparing them, though, consider each marketplace separately, because they're serving different needs. For instance, while significantly more consumers shop on Amazon than Etsy (65% versus 7%, respectively), Etsy shoppers are specifically looking for unique handmade or vintage products.
On the other hand, competition for handmade products on Etsy has increased tremendously since the platform launched in 2005, and it has been increasing ever since. Amazon Handmade, on the other hand, has only been around since 2015 and has a very strict application process, which limits the number of sellers you'll compete with.
At the end of the day, the more marketplaces your products are listed on, the more exposure your business will have. You may find for your products to perform better on one marketplace over the other, but you won't know until you explore your options!
How to get started with Amazon Handmade
If you already have a handcrafted product or otherwise handmade product to sell on Amazon Handmade, we'll walk you through how to get your account set up. If you don't, but you're interested in selling there, we can help you identify product opportunities below.
The application process to sell on Amazon Handmade is thorough. Amazon wants to ensure they're building a shop of genuinely handcrafted goods, so they have to ensure they exclude any attempt to add mass-produced products to the Handmade platform.
By Amazon's definition, Handmade means:
Handcrafted: Made entirely by hand
Hand-altered: Existing product altered or adapted into a new design, for example, a denim jacket you paint or draw your designs on.
Handmade Customized: If you're customizing a handmade product, then you are eligible to sell on Amazon Handmade. For example, if you make jewelry and hand stamp initials on them per the customer's request.
During the application process, Amazon will ask you a variety of questions regarding your business.
First, Amazon will ask you about yourself and your business.
1. What kind of Maker are you?
Maker working alone

Maker with less than 20 employees

Collaborative group of makers

Other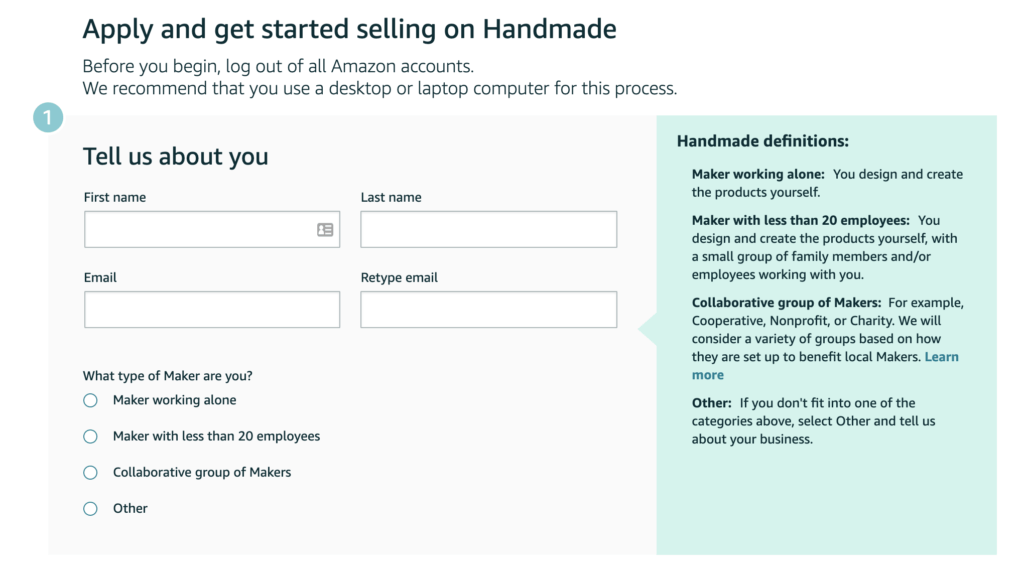 2. Tell us about your work
Select the option that best represents your work.
My products are handcrafted

My products are hand-altered

I don't make my own products; I customize each one based on the buyer's request

I purchase handmade products from Makers and sell them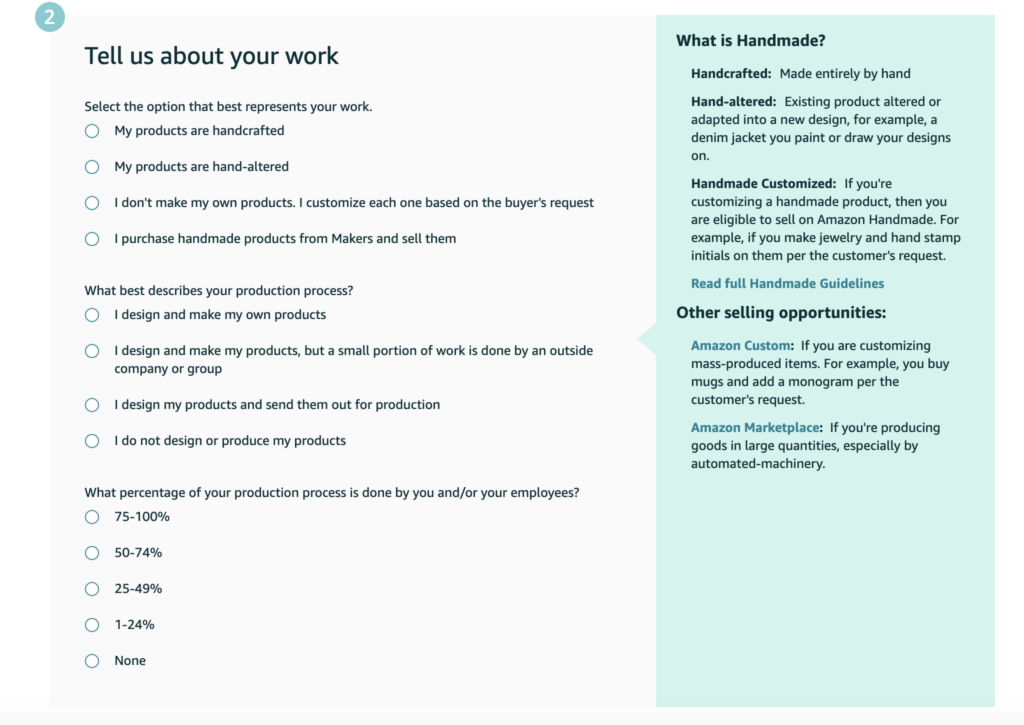 3. What best describes your production process?
I design and make my own products

I design and make my products, but a small portion of work is done by an outside company or group

I design my products and send them out for production

I do not design or produce my products
4. What percentage of your production process is done by you and/or your employees?
75-100%

50-74%

25-49%

1-24%

None
5. Tell us about your products and processes
Here is where you provide Amazon with a very thorough step-by-step description of how and what materials you use for producing your handmade goods.
What materials are involved?

What tools or techniques do you use?

How long does each step take?
6. Show us your work (images are required)
Upload images of your handmade products as well as the production process. Show Amazon as much detail as possible so you don't encounter any delays with the approval process.
7. Select your product category
Choose from the drop down menu the category you wish to sell in.
When filling out the application form, make sure you are thorough in your answers. The point of this is to filter out sellers or businesses that are not selling handmade goods.
In the image section, I would also include images of your production process if possible. Show Amazon you or your company are truly handcrafting your products.
And it's always a good idea to review the Amazon Handmade Terms and Conditions before applying to ensure you can comply with their rules and regulations.
How to find products to sell on Amazon Handmade
Here are some ways to do product research for handmade products:
Search through each Handmade category on Amazon and Etsy
When looking through the search results in each handmade category, it will display the top-selling products for that main category. Handmade will also award top-selling products with a "Best Seller" badge, just like the rest of Amazon.
A strong indicator of a great selling product is by looking at the review count. On average, only 2 out of every 100 buyers will leave a review. So if you see products with a high review count, you can guess that product has a strong sales history.
Another tip to gauge how consistent sales are for a particular product, scroll down to the review section on a listing and filter by "Most recent." This will give you a better understanding of how often or recently someone bought. If the most recent review was from 2 years ago, then that product probably isn't selling that much anymore.
Verify demand for existing products you create
If you are interested in selling on Amazon Handmade, it's likely that you are already handcrafting your own products and goods. Here are some ways you can verify the demand for your products:
1. Search in Google Trends
Conduct a keyword search in Google Trends for the product you already make to see the current trends. Check the past 12 months as well as the last 5 years to see if that particular product has gained popularity over time.
2. Search on Amazon Handmade and Etsy
Another way to verify the demand for the product you currently create is to search for that product on Amazon Handmade and Etsy. If you see similar products being sold with reviews, that is a good indication that there is a demand for that product.
Think of ways you can differentiate your handmade products from the ones currently available. Can you offer more unique customizations? Or build your goods with higher quality materials? These are things to consider when creating unique, one-of-a-kind products.
Find time to build and create products
An established artist or craftsperson should know how long it takes to complete a certain product.
If you are just starting out with your handmade goods business, ensure you set the proper lead times so customers know what to expect when they place an order. I suggest starting with products you are familiar with and can get completed quickly when you get a new order from a customer. The last thing you want is to receive an order and not be able to fulfill the order on time.
Once you start receiving orders, it will give you a better understanding of how much inventory to create ahead of time.
Another tip: Stock up on shipping supplies so you can quickly pack and ship your order once it is ready to go. Boxes, packing tape, shipping labels, bubble wrap, etc.
Get ahead of the game!
Whether you sell on Etsy or on Amazon Handmade, both are exceptional opportunities to get your handcrafted goods seen by millions of potential customers.
Our two cents: selling your products on Amazon Handmade is pretty much a no-brainer. It is still a fairly new platform which means there is a huge opportunity for you to list your unique, handmade products on there and dominate.
If you have any other questions regarding Amazon Handmade or selling on Amazon, please drop a comment below!