If you've spent any time researching products to sell on Amazon — or Amazon product niches with high-growth opportunities—you understand that it's like trying to find your way through a maze.
You run into numerous dead ends and false leads. You experience highs and lows, excitement and disappointment. The unknown is often the norm—perhaps that's why 47% of Amazon sellers say finding a product to sell is challenging
It's a worthwhile journey though—because Amazon has 100s of millions of active users per month. In fact, 57% of consumers start their online shopping searches on Amazon.
So, if you want a great place to find out whether or not people want to spend money on a particular niche, Amazon's data is where you want to look.
Let's go over 6 ways you can find the most profitable niches to sell on Amazon.
What is a niche and why should you care?
A niche is a smaller, specialized subset of something. It can be a group of buyers, a type of product, a genre of books or film, etc., and as an e-commerce business owner and marketer, it's important to understand the value of niches.
While larger categories of a specific market or group may have more sales, they also come with more competition. Meanwhile, smaller niches present pockets of opportunity with less competition.
For example, let's say you're interested in creating content and products around health and fitness. If you try to get into the broad category of "Health & Fitness," you'll soon find yourself butting against big competition.
But if you go deeper into the broad category, the competition starts to fall away.
From Health & Fitness, you can focus on a market segment like yoga. But even yoga is big. How about barre yoga? Or better yet, barre yoga for women? Still too much competition? How about barre yoga for postpartum moms?
The further down the "rabbit hole" you go, the more likely you are to discover a market segment with limited competition that you can capitalize upon.
With niches, you can serve a specific set of consumers and react to their unique needs.
In addition, a smaller market share works as a great "jump-off" point, giving you the leverage you need to eventually branch off into larger markets.
6 Sources for low-competition niches to sell on Amazon
There are many ways to create smaller sub-markets for your potential product—but to do so, you need to follow certain steps to ensure you find an untapped niche with good demand.
The keys to a successful and profitable niche on Amazon are this:
High-demand

Low-competition

Low seasonality

Target a specific audience

Have active online communities
To find the most profitable niches, you need to do some proper product research. Here are six ways to find a low-competition niche to sell on Amazon.
1. Opportunity Finder
There are a few different ways to research niche ideas for Amazon, but first, it is best to use Amazon product research software, such as Jungle Scout, to look for high-demand, low-competition niches you can tap into on Amazon.
The Jungle Scout tool we will use is Opportunity Finder—which helps sellers discover profitable product niches and provides data such as sales performance, emerging trends, and competitive insights.
Opportunity Finder pulls data directly from Amazon.com and sorts it all by filters that you select. Using that information, you can find niches people are most interested in.
To start using Opportunity Finder, choose the categories you're interested in selling in and add any additional filters. We include filter presets such as 'High Demand, Good Opportunity, Low Competition, Low Seasonality, Trending Up, and Strong Price Point' within the tool to help you find exactly what you're looking for.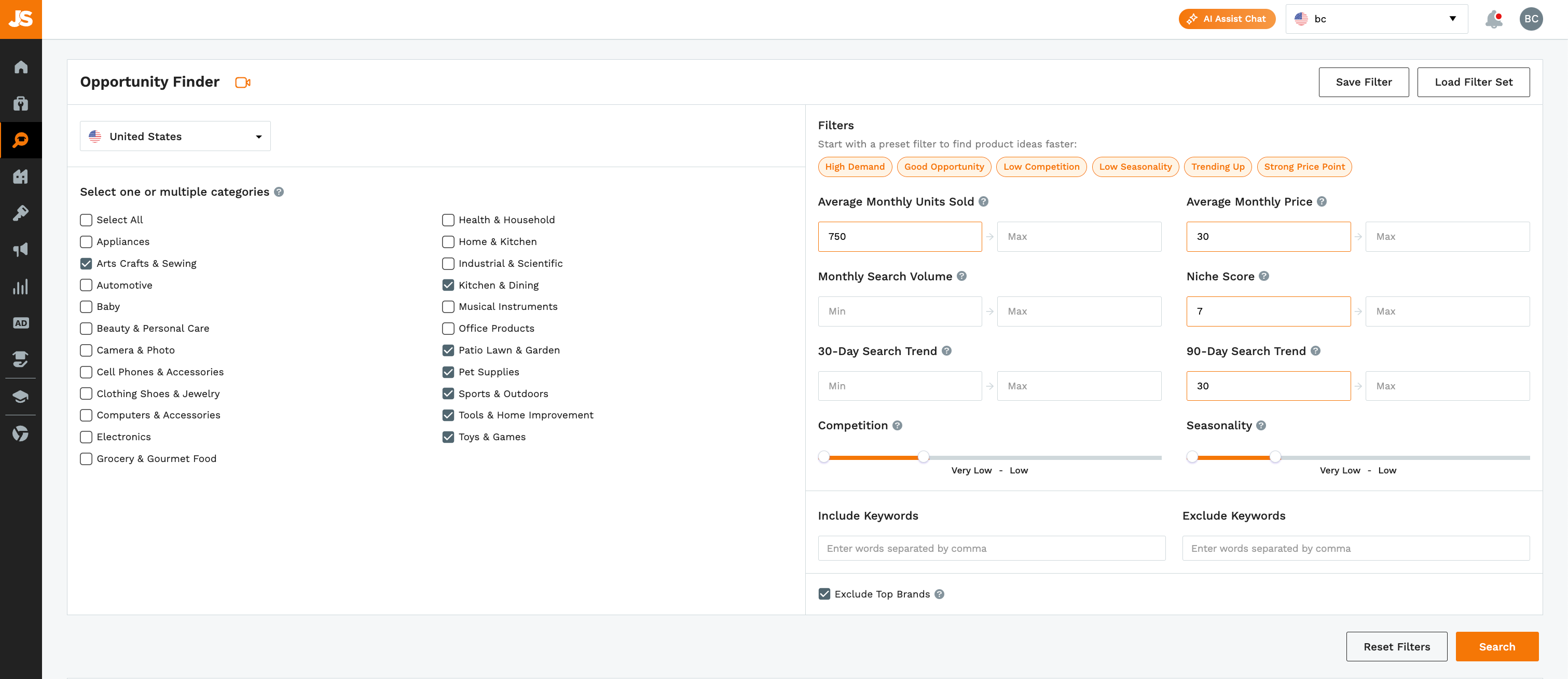 READ MORE | Top Amazon Product Categories in 2023
To get you started, here are a few Opportunity Finder filters we recommend you use:
Pick categories that are easy to deal with

We recommend the following: Arts, Crafts, & Sewing; Baby; Beauty & Personal Care; Health & Household; Home & Kitchen; Kitchen & Dining; Lawn, Patio, & Garden; Office Products; Pet Supplies; Sports & Outdoors; and Toys & Games.




The above are usually non-restricted categories that don't require a lot of paperwork




Many of the above categories have products that don't have a lot of variables (which often result in returns, like Clothing & Fashion).
Set 'Average Monthly Units Sold' to a minimum of 750 units (though, you can go lower but this is a good starting point for products in high demand)

Slide 'Competition' to 'Very Low'

Set 'Average Monthly Price' to a minimum of $20-$25

Slide 'Seasonality' to 'Very Low'

Slide 'Niche Score' to 7 or higher

Click the 'Exclude Top Brands' box
After you choose your filters, hit search, and you will see hundreds or even thousands of potential keyword niches to explore.

The amount of results may be overwhelming, but take your time as you go through them. As you scroll through, you may see brands or keywords that don't interest you, so I suggest adding those keywords to the 'Exclude Keywords' filter and searching again. This will get rid of those keywords in the search results.
To explore more about a niche you find in Opportunity Finder, click the down arrow on each keyword to see stats such as average units sold, average price, search volume, seasonality, and top products.
2. Google search
The research method may seem obvious, but using Google is a great way to research niches when starting with a broad topic. For this example, let's start with a broad topic such as "Dungeons & Dragons."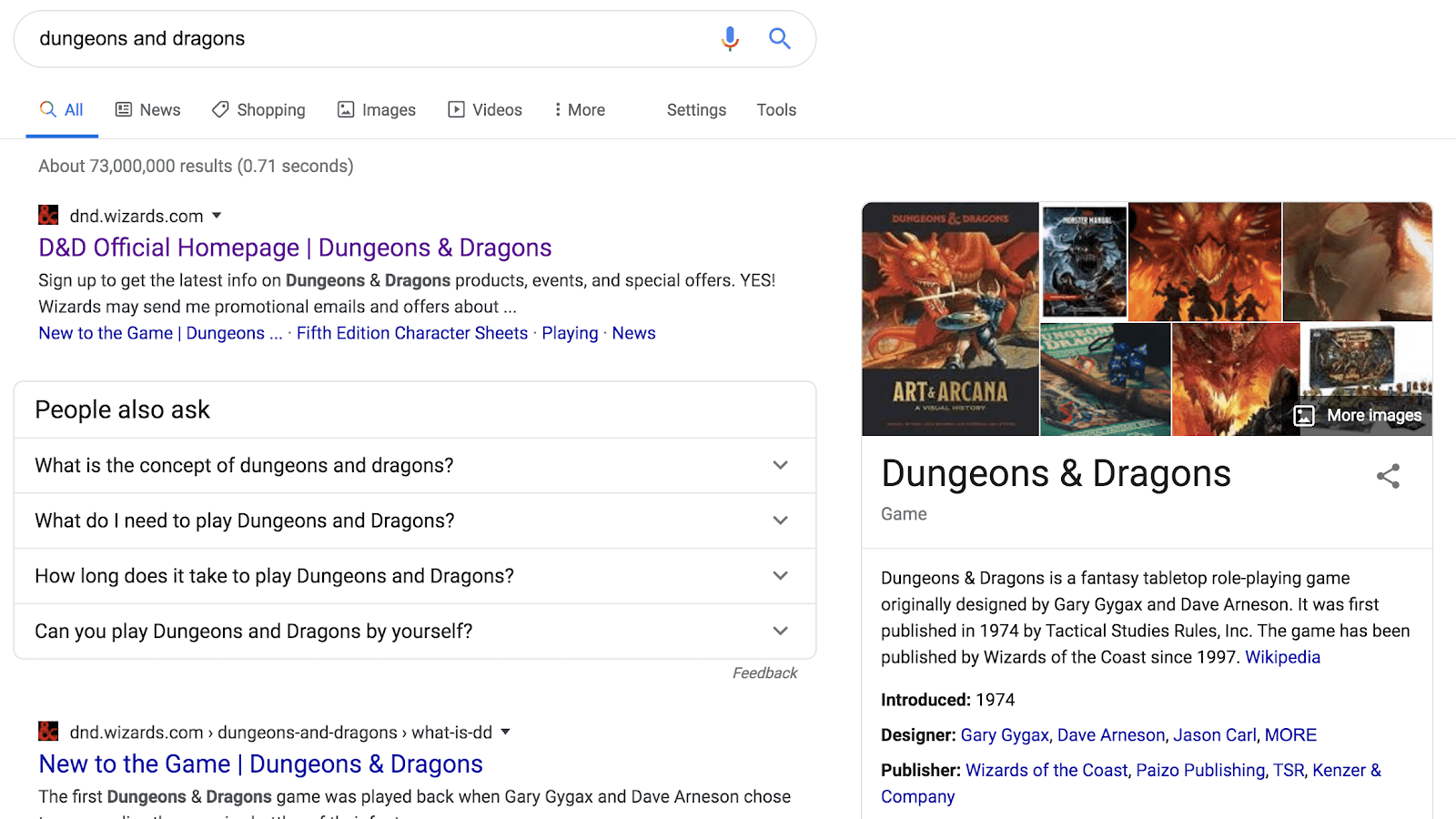 Obviously, this search results in a lot of broad information and sends me to the biggest, most competitive pages. But it also gives me insight into what fans of Dungeons & Dragons are interested in.
Case in point, under the "People also ask" snippet, I can see four common questions associated with this particular search, one of which is "What do I need to play Dungeons and Dragons?"
This directly relates to products, so there may be an opportunity here.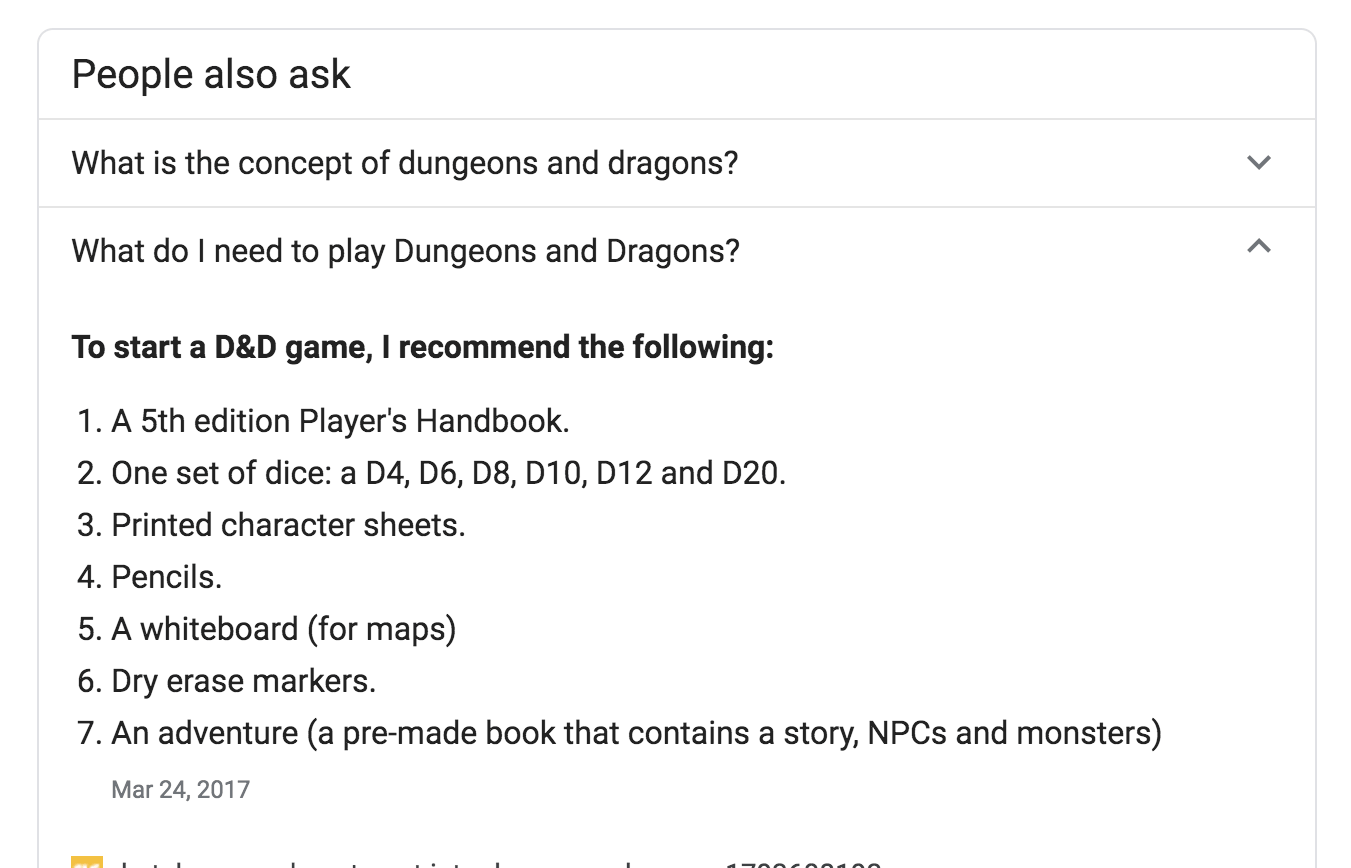 Now, I have some potential niche product ideas: dice, printed character sheets, a whiteboard, and adventures. Using this information, I can dig a little deeper to find a smaller niche within the broad topic of Dungeons and Dragons.
Taking the idea of "D&D dice," I'm going to do another Google search.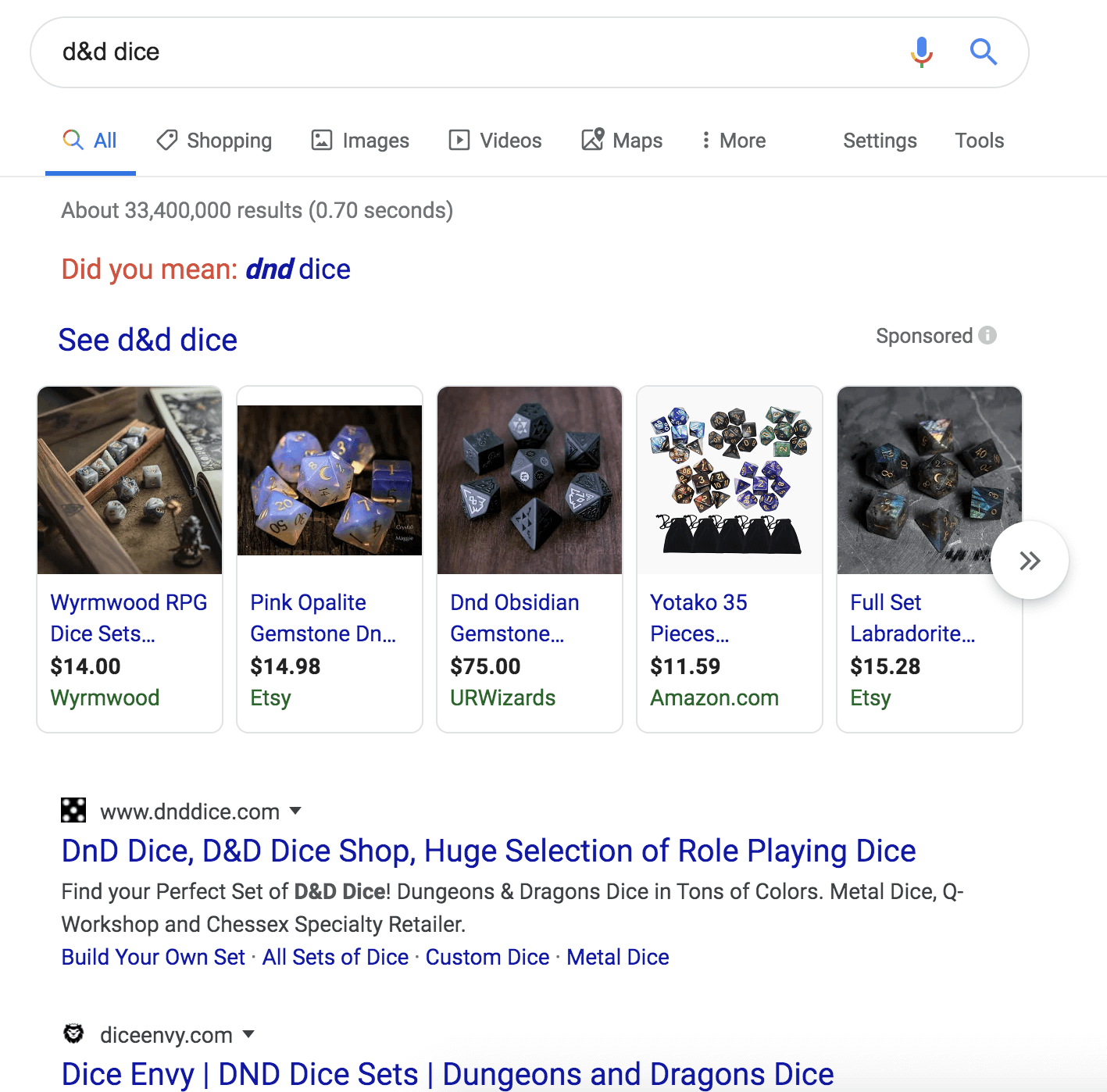 Right at the top, we can see sales options for D&D dice on stand-alone websites (like Wyrmwood) or popular online retail platforms (like Etsy and Amazon).
There are also articles on D&D dice listed, which help to point us in the direction of the information that's most important to people performing searches for "D&D dice." Following this trail can lead us deeper and deeper into D&D niches.
Since the Wyrmwood set is the first product listed in the results, we can assume that the dice are quite popular.
And that's important because not only will you want to find Amazon product niches, but you'll want to figure out the niches' popularity as well.
If you ever need to check out how popular a blog post or page is on Google, use a website like SimilarWeb to check its estimated traffic. For example, the website Wyrmwood Gaming has the following statistics:

As a rule of thumb, I like to find websites that get around 100,000 to 300,000 visitors each month. That amount of traffic means the niche is viable without it being too competitive.
If you find a website or brand like this, it is a perfect opportunity for you to research and learn how they do things and to model your own Amazon business.
3. Instagram
Instagram actually makes a great tool for finding a niche, thanks to its use of hashtags. Using the Dungeons & Dragons example again, I went to Instagram and ran a search for the hashtag #dungeonsanddragons.

Scroll through the endless posts to discover product opportunities and see what people interested in this niche are talking about. What do they love the most about Dungeons & Dragons, and what types of products do they need/want to play?
Based on some of the posts on Instagram, you can sell dice, make costumes, or even design or paint images of Dungeons & Dragons characters.
When it comes to gauging how popular a niche is, however, look at the Top Posts and find their hashtag lists. Try to find hashtags related to the image that have between 50,000 and 500,000 posts.
Less than 100,000 and you might not have enough market to support the niche. Over 500,000 and you might have too much competition.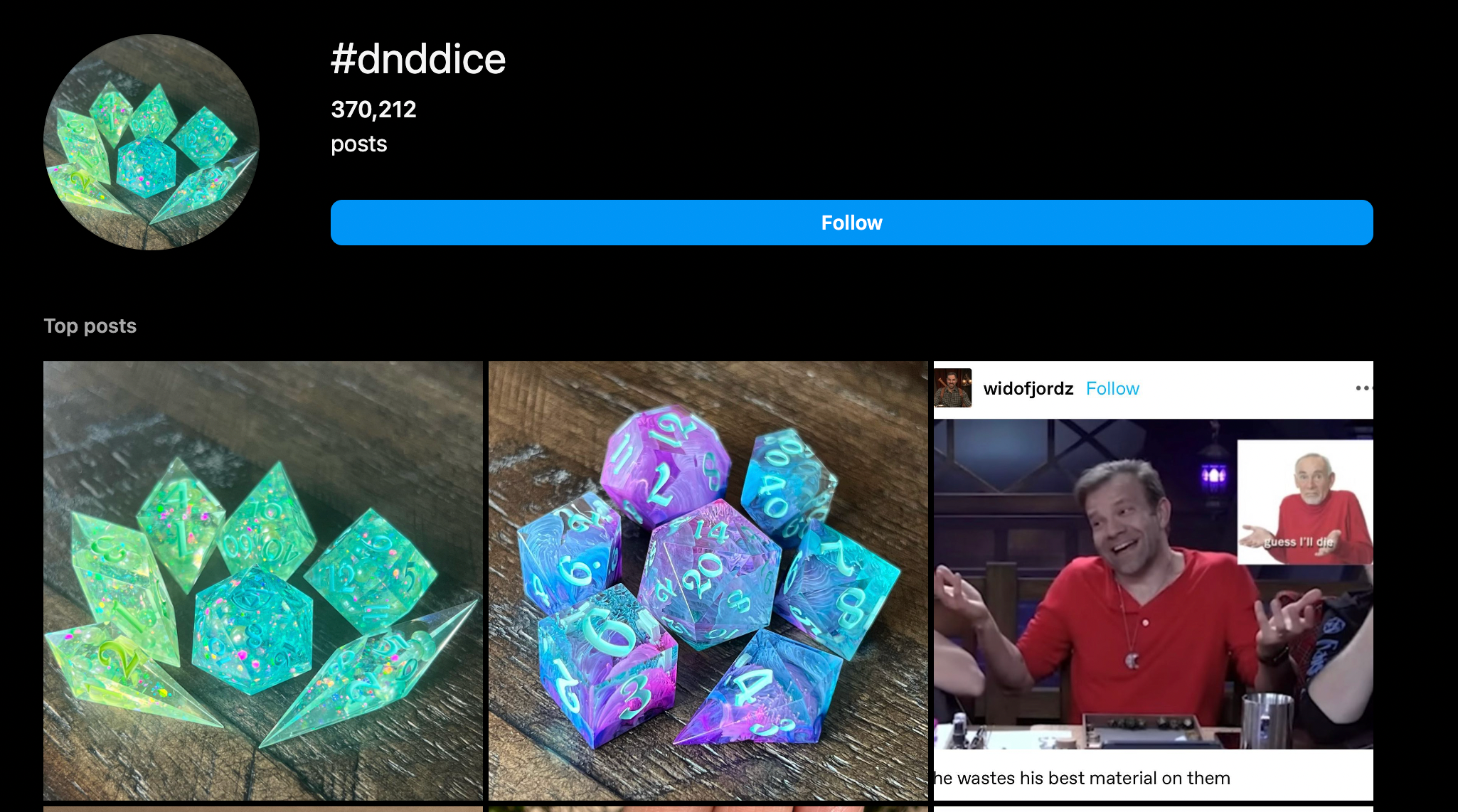 For example, this hashtag was attached to the top post in the #dungeonsanddragons hashtag results, and now we have an entire page full of dice.
4. Facebook
Aside from being a great marketplace to sell on, Facebook is a great tool to come up with niche ideas because of your ability to search through posts, hashtags, groups, and pages. Once again, using the Dungeons & Dragons example, I searched for "Dungeons and Dragons" on Facebook.
On the left-hand side, you'll be able to filter by posts, people, pages, images, groups, etc.
I will filter by groups as it is a great way to niche down and gauge the size of an audience.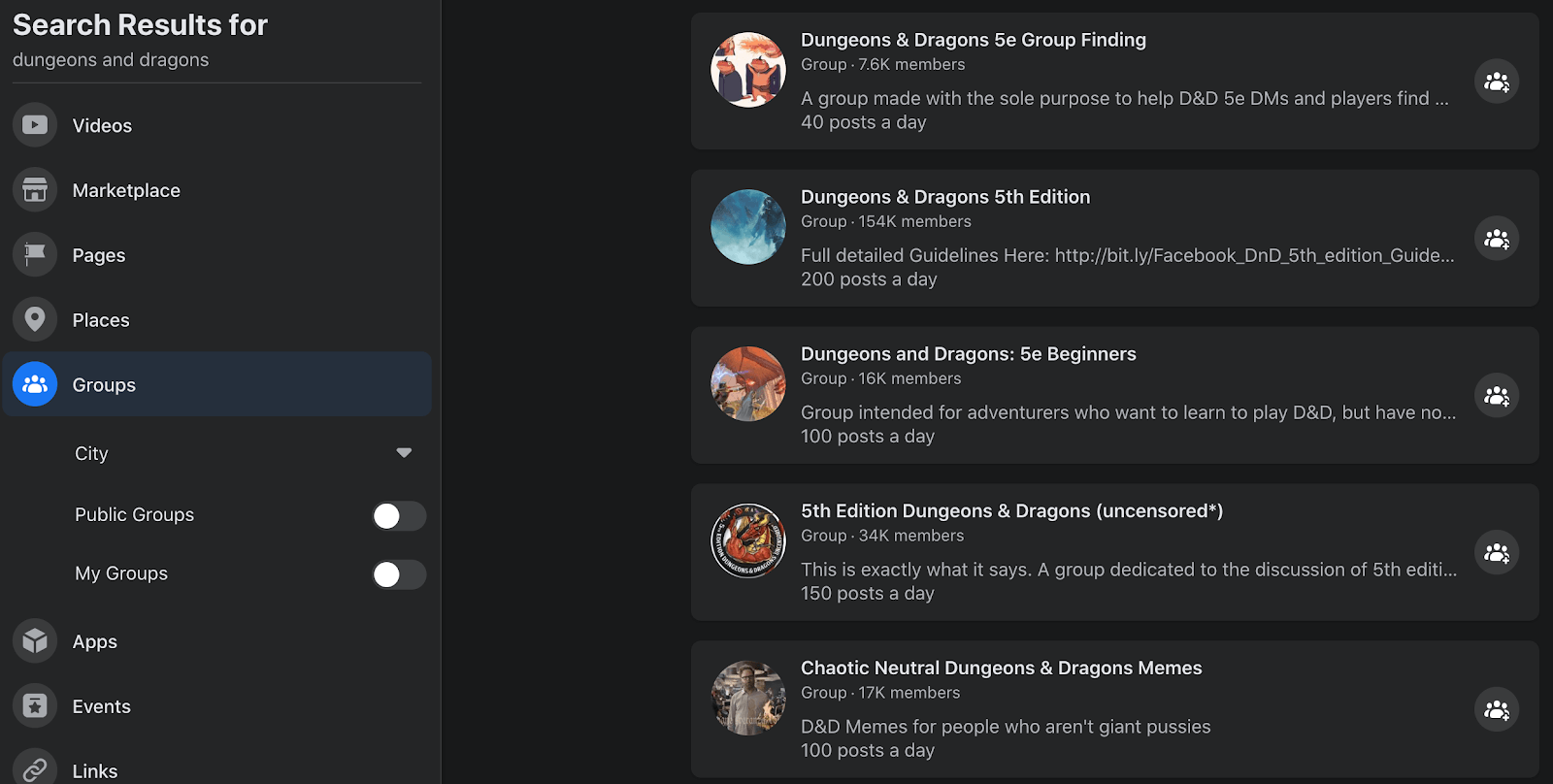 As you scroll through, you will see tons of groups that you can join. Spend some time going through the most popular groups to get an idea of what people are talking about. Build rapport with your fellow group members and participate in conversation. Try to figure out what a specific pain point that members are facing that you can solve.
5. Reddit
Another great way to find the most profitable niches online is through Reddit, which is a collection of communities divided into subreddits. That means the platform is already organizing its data for you into subsets (aka niches).
A measure of a subreddit's popularity is within its follower count and growth. The website subredditstats.com takes all of the data from reddit and organizes it by growth and follower count. In addition, you can also do a search for a specific subreddit.
Here are the stats for the immensely popular r/DnD (Dungeons & Dragons subreddit).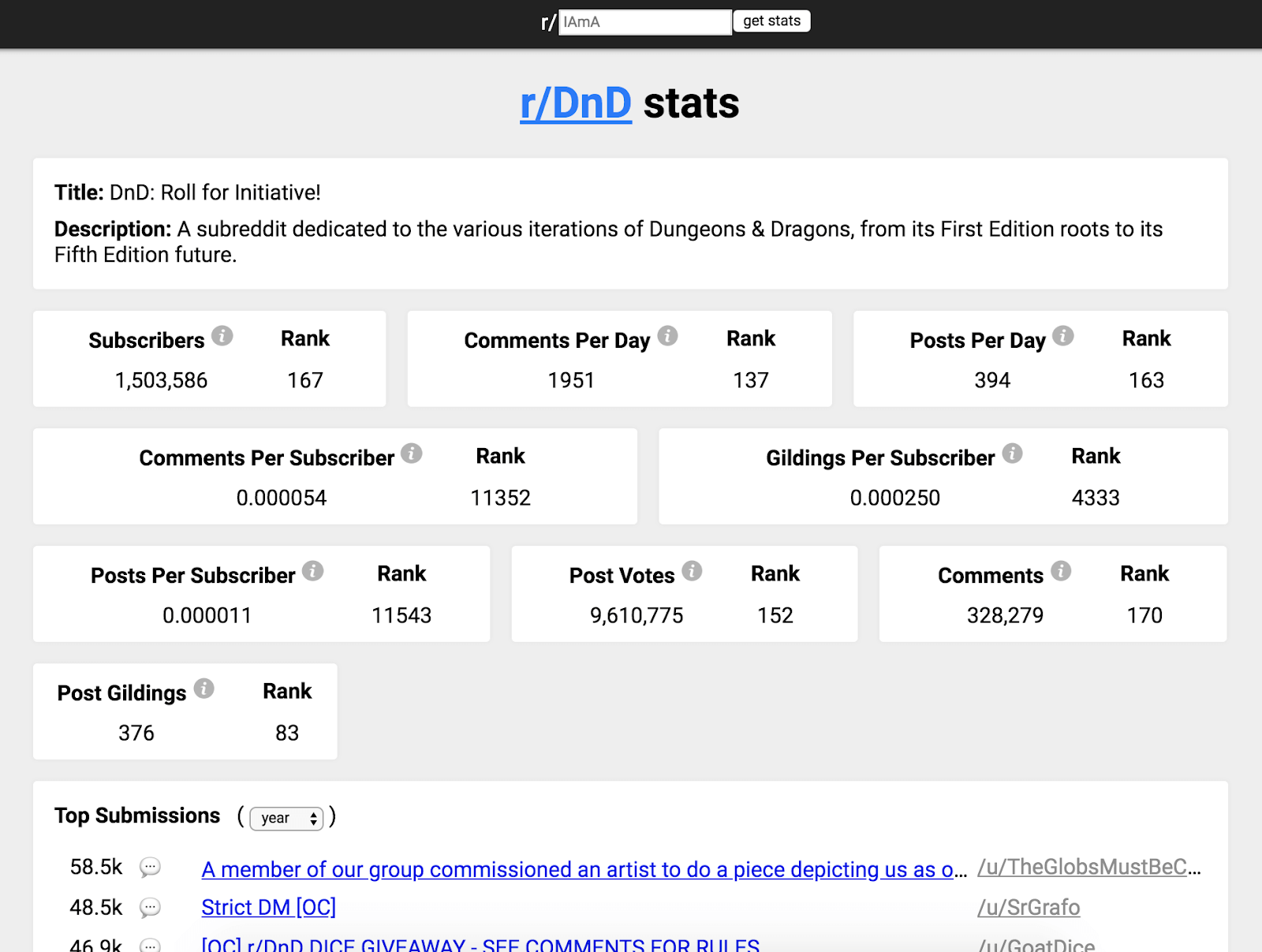 Again, Dungeons & Dragons is too broad of a topic to go after. Thankfully, however, subredditdata.com offers details on top Dungeons & Dragons-related keywords, as well as related subreddits.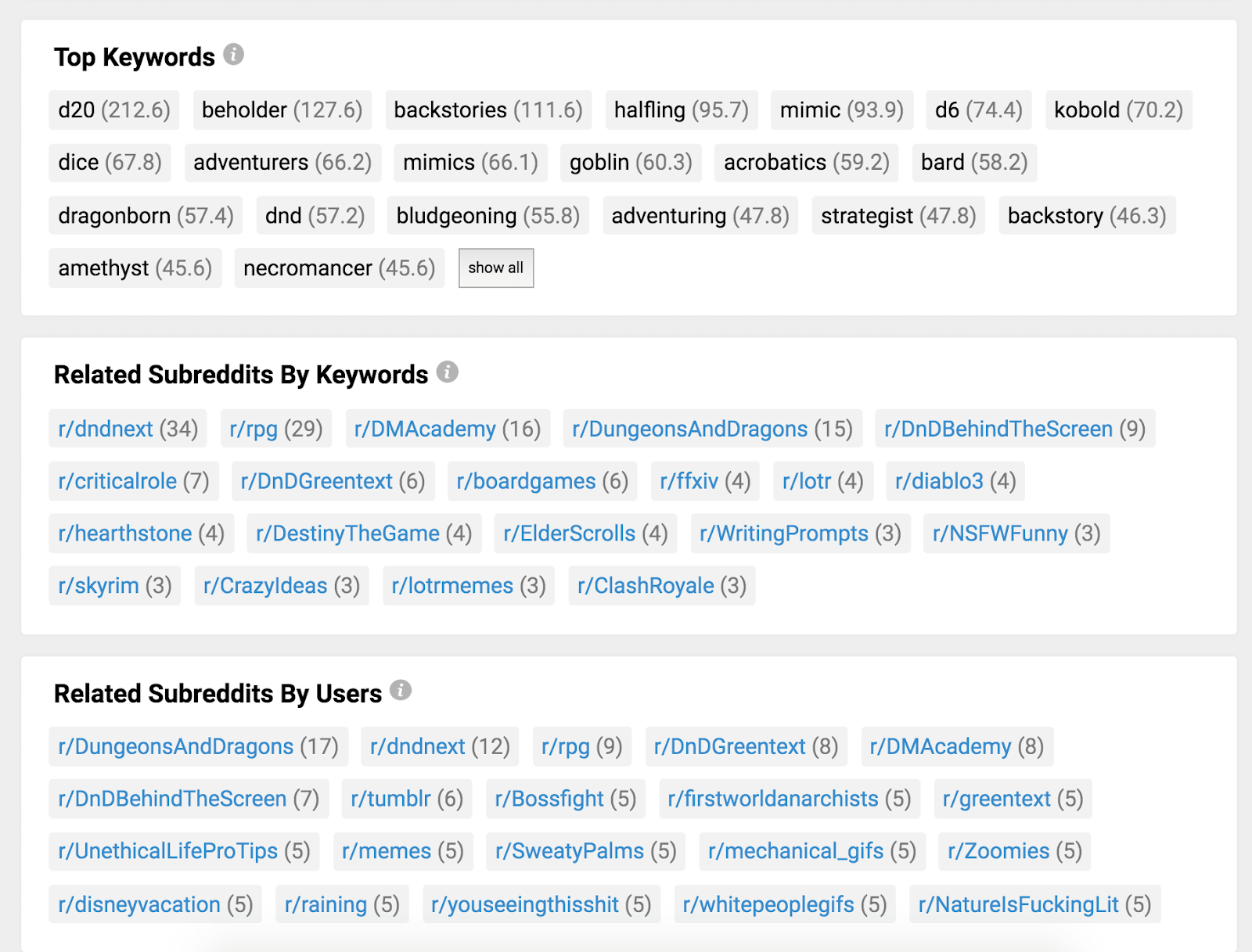 Right away, we can see some great opportunities, especially with the keywords.
If I were still interested in selling Dungeons & Dragons dice, I immediately see that the terms d20, d6, and dice are popular. The word amethys —a type of gem—is also popular.
Perhaps amethyst Dungeons & Dragons dice are worth considering?
6. TikTok
With the rise of short-form content and shopping on social media, another great place to search for unique niches is TikTok. The content found on TikTok covers pretty much any topic you can think of, such as dancing, singing, how-to videos, life hacks, comedy, entertainment, vlogs, news, sports, and products you should buy.
Don't believe me? Go on TikTok and search "TikTok made me buy it." You will see thousands of videos of products that people bought because of a recommendation created by other TikTok users.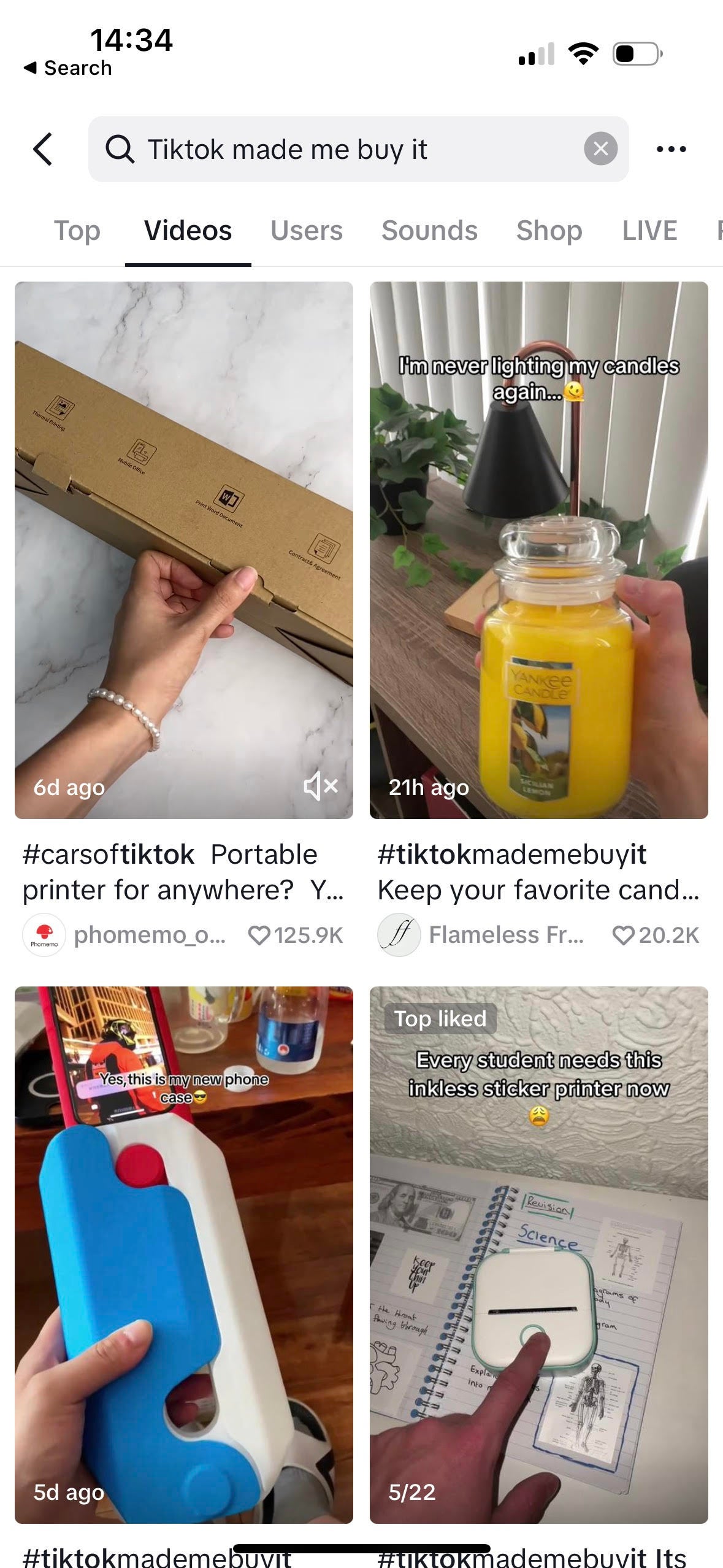 READ MORE | How to Sell on TikTok in 2023
While TikTok is great for your daily entertainment, it is a great place to research product ideas and see what people are talking about and buying in real-time. Read through the comments on some of the product videos you find. You'll see comments like, "where can I buy this?", "I need this!"
Search for topics that interest you or potential niche ideas and see what videos come up. Guaranteed there will be other people talking about and making content around the topic you're interested in.
As you scroll through your 'For You Page,' TikTok may start showing you similar videos to your searches, giving you even more niche and product ideas to validate.
Analyze your niche idea
How do I analyze a niche on Amazon? After doing some research using Jungle Scout and through free resources on the internet, the next step is to analyze your niche to ensure there is enough demand on Amazon and that you can sell it profitably.
To properly analyze the demand on Amazon, use the Jungle Scout Extension, which assesses a product's potential in seconds. All you need to do is log on to Amazon, open Extension on a keyword search results page, and learn more about potential Amazon product niches.
Using the niche "Choking Plunger For Kids" I found in Opportunity Finder, let's search for that keyword on Amazon and see what the competition is like.
After searching, click the small orange "JS" button in the top right corner of your browser to pull up the Extension.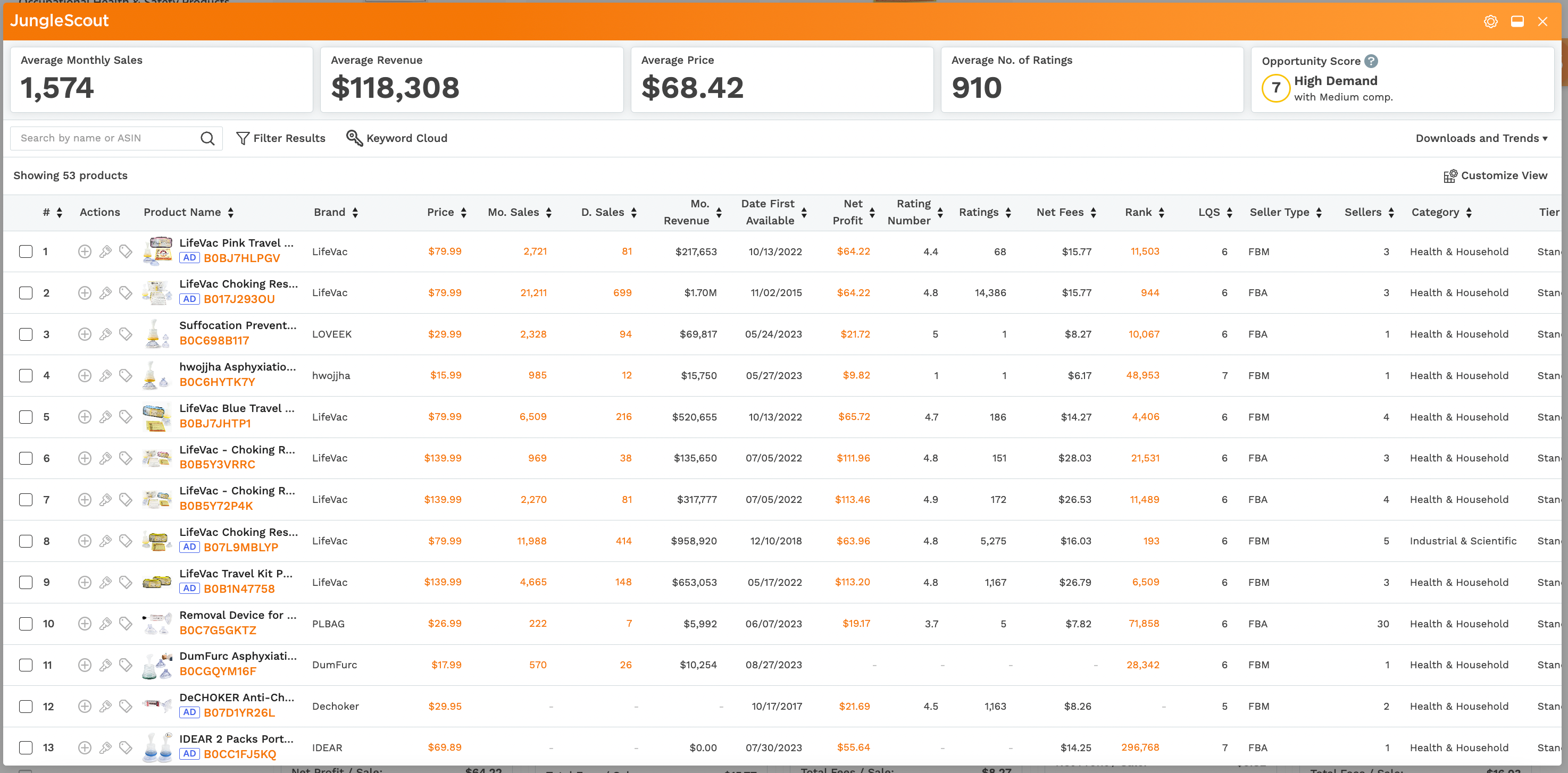 Niche score
On the top, you will see average monthly sales, average revenue, average price, average number of ratings, and an Opportunity Score. The Opportunity Score will rate the niche on a scale of 1 to 10, with 1 being "avoid like the plague" and 10 being the "holy grail" of products. A 6 is pretty good, but a 7+ is preferred.
When looking at Amazon's data, try to find products that have an average monthly sales of 1,000 units between the first ten products on the list.
Price point
You also want a good average sales price, something between $25-$50. Next, you want low competition, which you can gauge with reviews. Usually, if there is an average of less than 500 reviews, that's a pretty good sign that competition is on the lower side.
As you can see, this particular niche has an Opportunity Score of 7, which is really good and tells me I should do some further research and start to look for suppliers.
Review analysis
Another way to analyze your niche idea and to get a better understanding of what customers think about the current product on the market is to use Jungle Scout's new Review Analysis with AI Assist tool.
The AI-powered Review Analysis tool will automatically analyze the reviews of a particular product ASIN and show you the common positive and negative comments about the product. You can use this information to improve your product and to one-up the competition.
After analyzing your niche idea, your next steps will be to start searching for a supplier for your product and calculate your profitability. You won't know exactly what your profit margin is until you get pricing for your product.
READ MORE | How to Find a Supplier to Source Your Product
How to monetize profitable product niches on Amazon
Once you've discovered a niche that works for you, how do you take advantage and make money from it? Well, there are numerous opportunities, each with its own merits and challenges.
At a high level, you can monetize and grow your niche in the following ways (to name but a few):
Sell a product related to the niche (on Amazon, your own site, other marketplaces)

Create a niche blog, and sell Pay Per Click ads (like AdSense) on your blog

Generate Amazon affiliate commissions from products featured on your niche blog

Sell other affiliate products relevant to your niche

Sell sponsored posts on your niche blog

Write an ebook related to your niche

Sell courses related to your niche

Be a consultant in your niche

Create paid membership forums related to your niche

Sell your niche site (remember Flippa!)
Niche finder: Final thoughts
Now it's on you to find Amazon product niches that will make your future as an entrepreneur a whole lot richer. And remember, there are so many ways to slice and dice a niche. It is not a zero-sum game, so there is a profitable niche waiting out there, just for you!
Do you have any other techniques for finding niches that I didn't address here? If so, please drop them in the comments! Or, if you're curious about which categories and niches successful Amazon sellers are selling in, check out "The State of the Amazon Seller" report.