Recessions are inevitable. In fact, there have been an estimated 48 recessions since the 19th century in the United States, roughly one every three years.
And with a recession comes a minimum two-month downturn in the economy, affecting Gross Domestic Product (GDP), real income, employment, industrial production, and wholesale-retail sales.
As a business owner, ecommerce entrepreneur, or Amazon seller, if you aren't prepared for these common events, you could watch your business implode overnight.
In this article, we'll review recession-proof business ideas, categories consumers will continue to spend in, and categories consumers will avoid during a recession.
How has rising inflation affected consumer spending?
It is no secret that many other goods consumers need for their everyday lives have increased in price. This price increase is a big cause for concern for many. In Jungle Scout's Q2 2023 Consumer Trends Report, we asked respondents how the current economic climate has impacted them.
81% of consumers stated rising inflation has affected their spending

67% of consumers are worried about their family's financial situation

49% of consumers state their household income is unstable
With all these concerns worrying consumers, how can you as a seller or business owner offer products that help someone save money?
What categories are consumers avoiding during a recession?
In 2023, there is plenty of economic uncertainty causing consumers to worry about how they're going to pay their bills. During a recession, consumers will skip out on spending in certain product categories.
Jungle Scout's Consumer Trends Report also asks consumers in which categories they planned to cut back spending. Here are the results:
| | |
| --- | --- |
| In which of the following categories have you (or are you planning to) cut spending? Select all that apply. | |
| (asked of respondents whose spending was affected by inflation) | Percent |
| Fun/impulse purchases | 50% |
| Holiday-related expenses | 37.00% |
| Dining out at restaurants/bars | 56% |
| Leisure travel | 42% |
| In-person entertainment (movies, concerts, etc.) | 42% |
| Streaming entertainment subscriptions (Netflix, iTunes, Audible, etc.) | 31% |
| Subscription services (meal kits, food delivery, etc.) | 33% |
| Personal care services (hair/nail salons, spas, etc.) | 36% |
| Clothing/accessories | 44% |
| Groceries | 35% |
| Home improvement/decorating | 37% |
The number one response — fun and impulse purchases — is not surprising. If you are selling products that would fall under this description, then it is likely that you will see a dip in your sales during a recession.
Consumers will want to spend their money on essentials without going overboard on categories such as groceries, especially since the cost of nearly every item sold has increased in 2023.
READ MORE | Top Amazon Product Categories in 2023
What products should you sell during a recession?
Consumers are looking for ways to cut back on frivolous spending and for ways to save money on their everyday expenses.
Instead of offering trending or "impulse purchase" type of products, look for product categories that are more evergreen and would be considered necessities. Brands that are the most successful on Amazon offer products that are in demand all year long.
READ MORE | How to Sell on Amazon in 2023
In Jungle Scout's 2023 report on in-store and online shopping preferences, we found that Amazon is still the number one retailer where consumers like to shop, no matter the category.
As we explore different categories performing well during recessions, we will use data from Jungle Scout, an all-in-one platform for Amazon sellers. This data shows sellers what customers are searching for and what products are currently in demand.
Want to learn more about selling on Amazon? Check out our complete guide.
Here are some categories you can focus on as a business owner to ensure your business still performs well during a recession.
Food and grocery items
This is a broad category that includes everything from basic staples like bread and milk to more specialized items like frozen meals and snacks. Food is always in demand, so it's a good bet for a recession-proof business.
While many consumers stated they will cut back spending in this category, they still need to buy groceries. Figure out which products consumers absolutely need to purchase every month.
The grocery category works great with the retail arbitrage and wholesale business models of selling on Amazon, as you can resell other popular grocery brands for a profit.
A low cost grocery item when consumers purchase is pasta. Consider offering a multi-pack to get your average order value up and to help consumers save money on a bulk purchase.
Let's look at the keyword search volume data from Jungle Scout's Keyword Scout tool.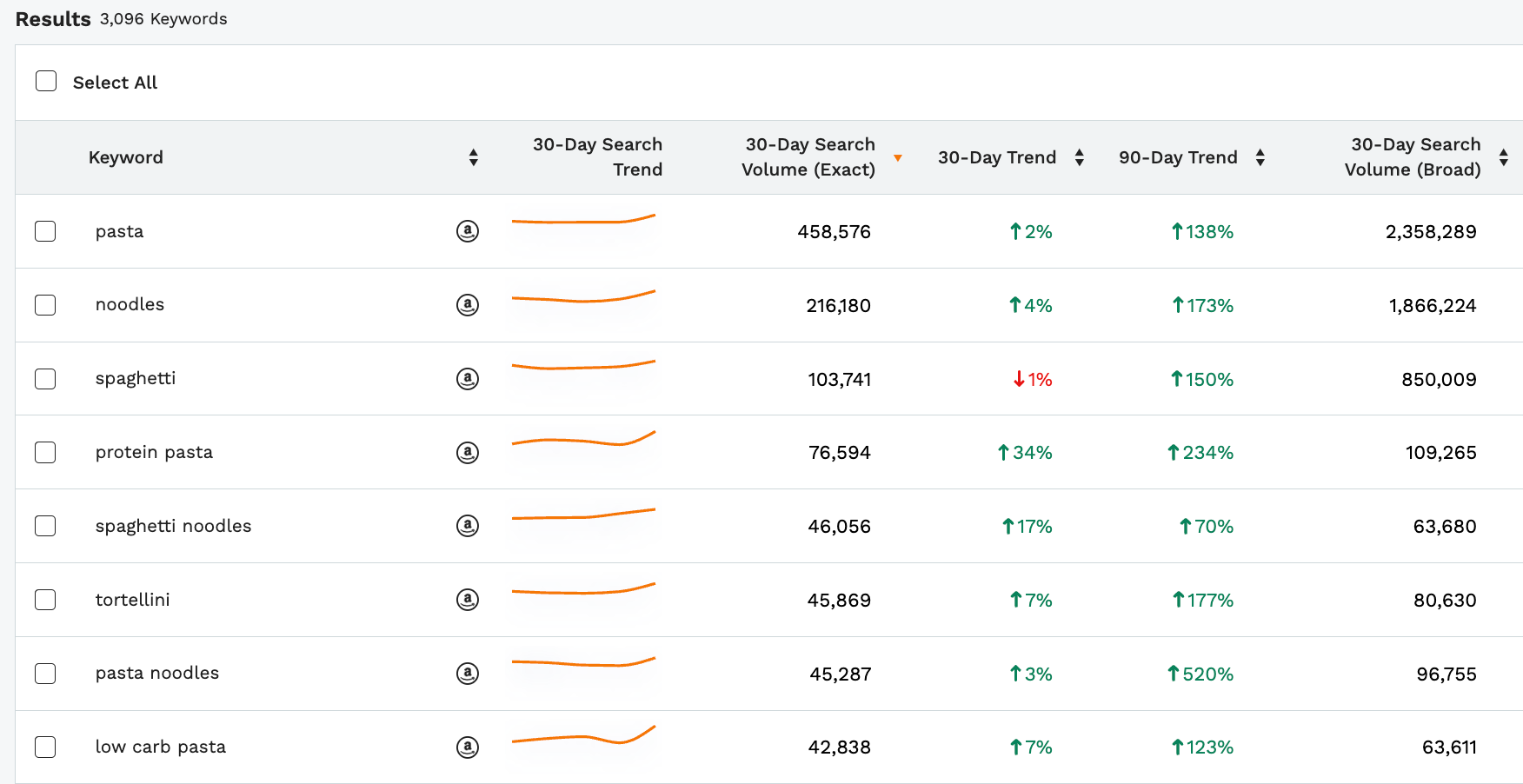 With Jungle Scout, you can view the search volume for nearly any keyword and product sold on Amazon. It also shows you the 30- and 90-day trends to better understand what consumers are actively searching for and purchasing.
Personal care items
This includes things like toothpaste, deodorant, shampoo, and toilet paper. These items are essential for daily life, so they're always in demand, even during tough economic times.
Like the grocery category, personal care items are great to resell, if you can find a steady source of inventory.
Even launching your own private label product in this category is a great way to have an evergreen product that people need to consistently reorder.
READ MORE | 2023 Amazon Private Label Guide
Here is another keyword search volume example from Keyword Scout. You can see the search volume for keywords related to "toothpaste." From these results, we can see that each keyword is trending upward with a high monthly search volume.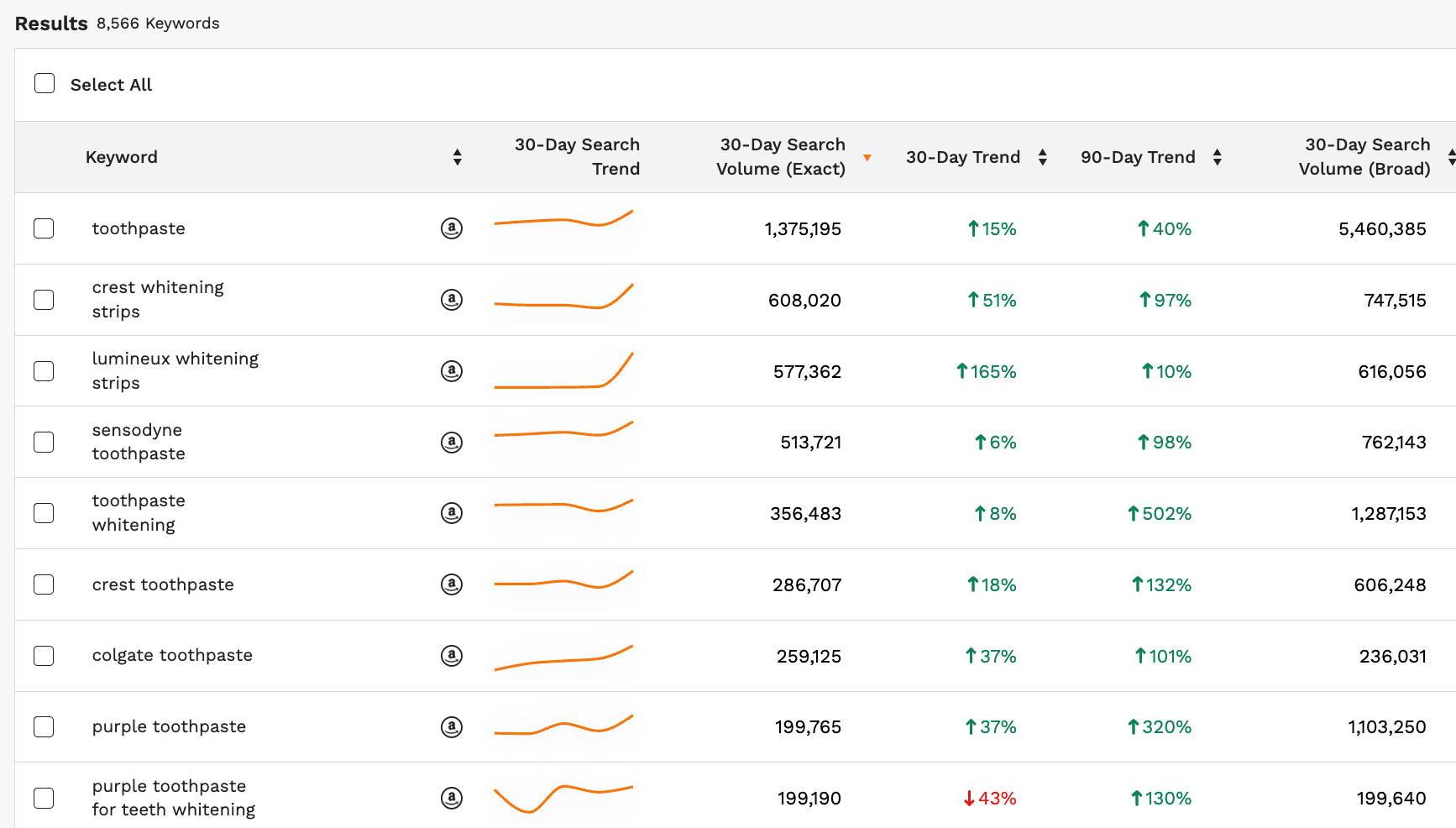 Household cleaning supplies
These items are also essential for daily life, and they're often overlooked when people are trying to save money. So, if you sell household cleaning supplies, you're less likely to be affected by a recession.
People of course need to keep their homes clean so this is another great category to jump into. No matter the business model you follow, household cleaning supplies will always be in demand.
Think how you can differentiate yourself from other cleaning brands. Can you make a product that is more affordable, more sustainable, or just an overall better cleaning product?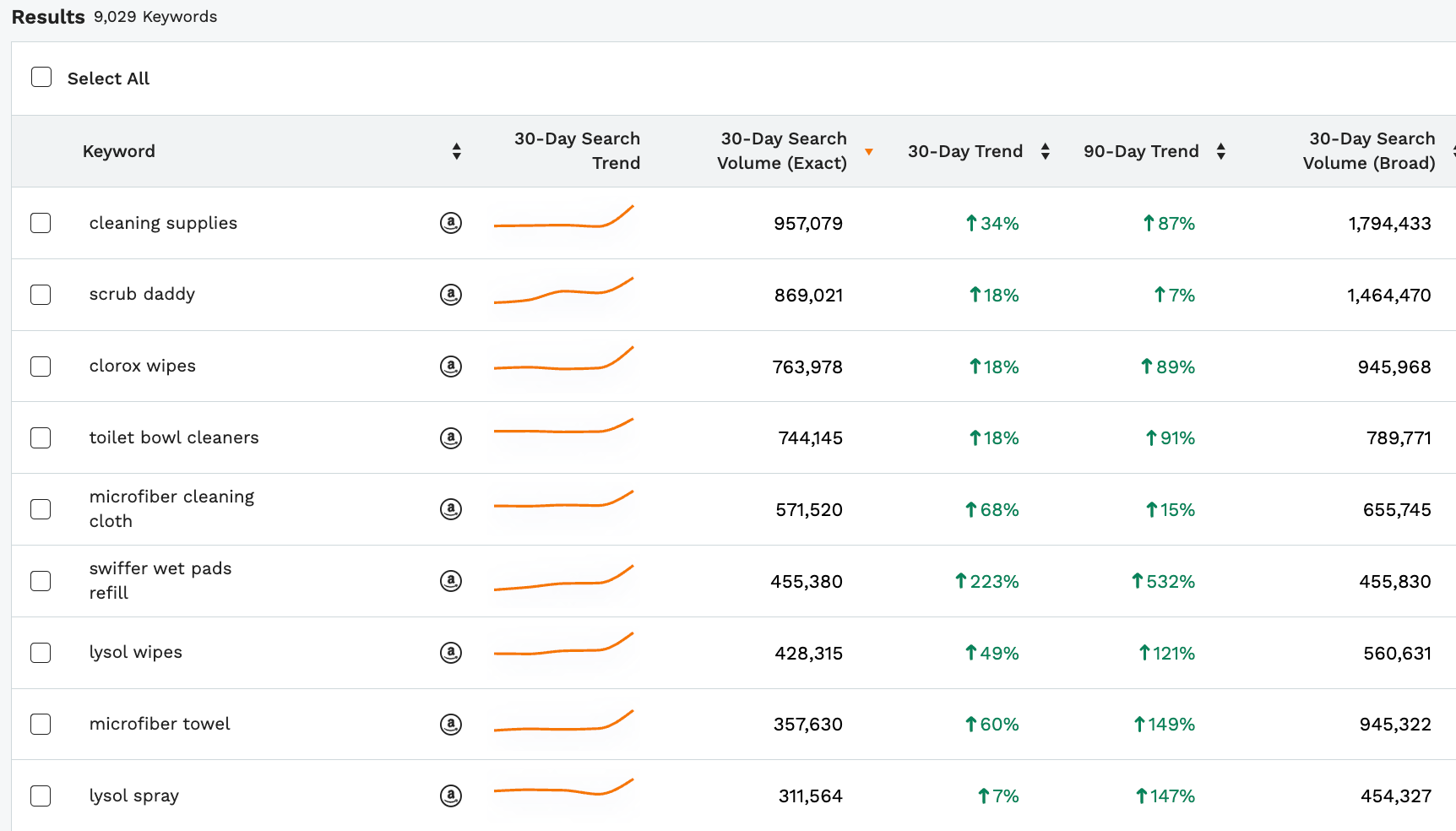 Pet care products
Pets are a part of the family for many people, so they'll continue to spend money on pet care products even during a recession. This is a good niche to target if you're looking for a recession-proof business.
Pet supplies were one of the top "non-essential" purchases consumers would not consider cutting back on, even in a recession. People love their pets and will continue to look for great products to spoil and care for them.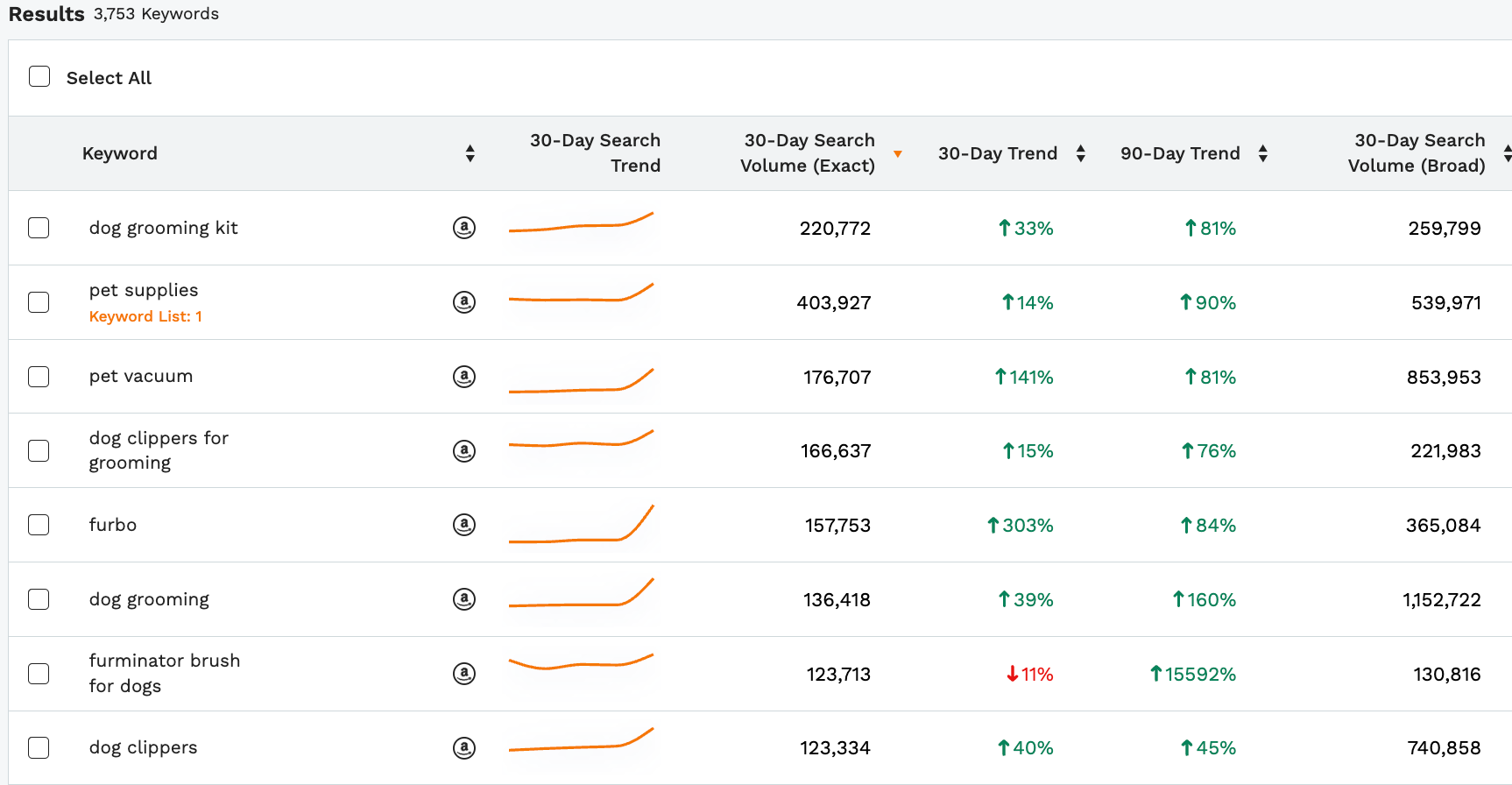 Clothing
Clothing is another essential item that people will continue to buy, even during a recession. However, you may want to focus on selling more basic, affordable clothing during this time.
This was another category that many consumers would not cut back on even in a recession. Think basic necessities such as plain t-shirts, socks, underwear, shoes, and so on.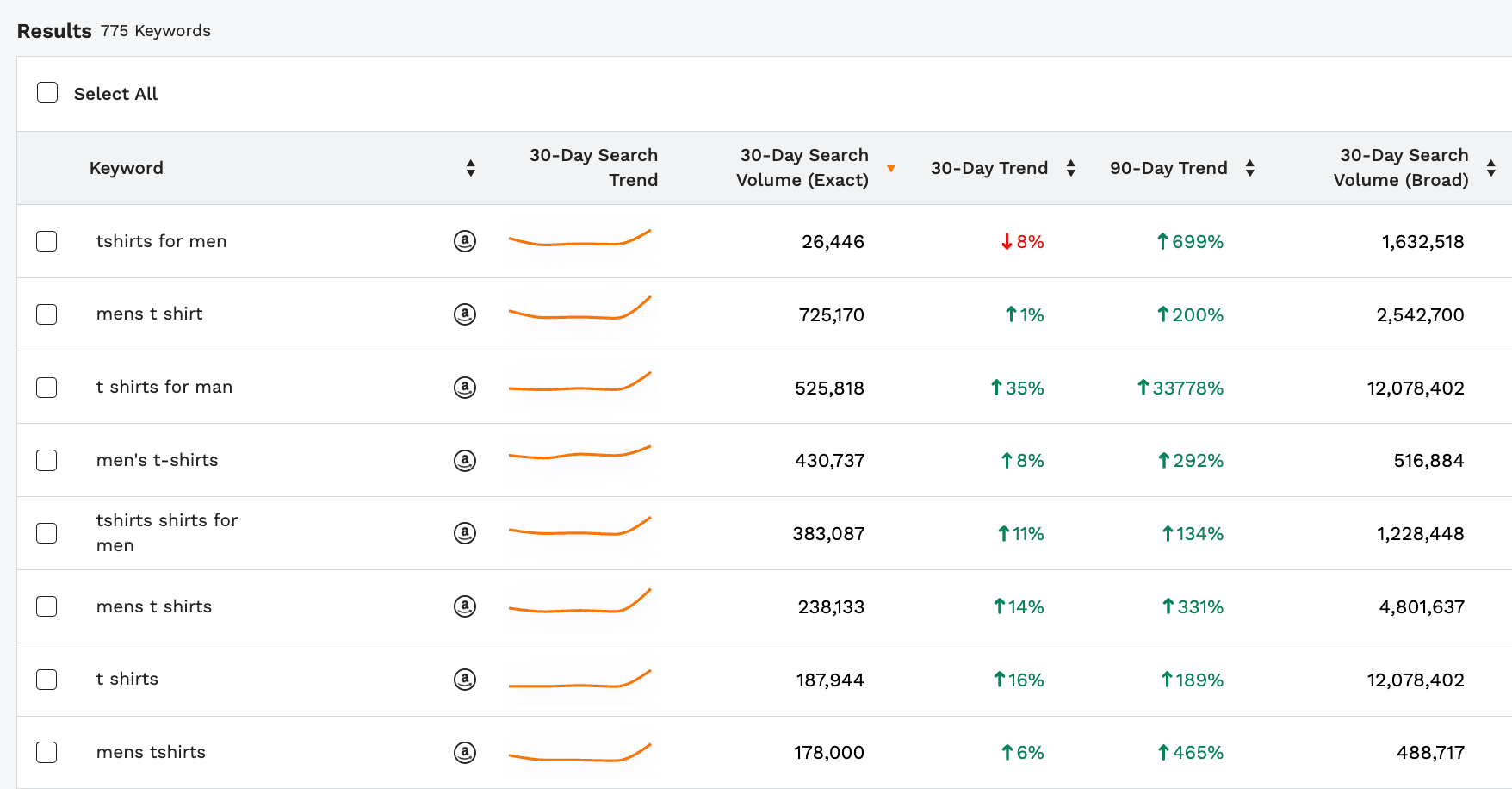 Baby products
Babies are expensive, so parents will be looking for ways to save money on baby products during a recession. This is a good opportunity to sell high-quality, affordable baby products.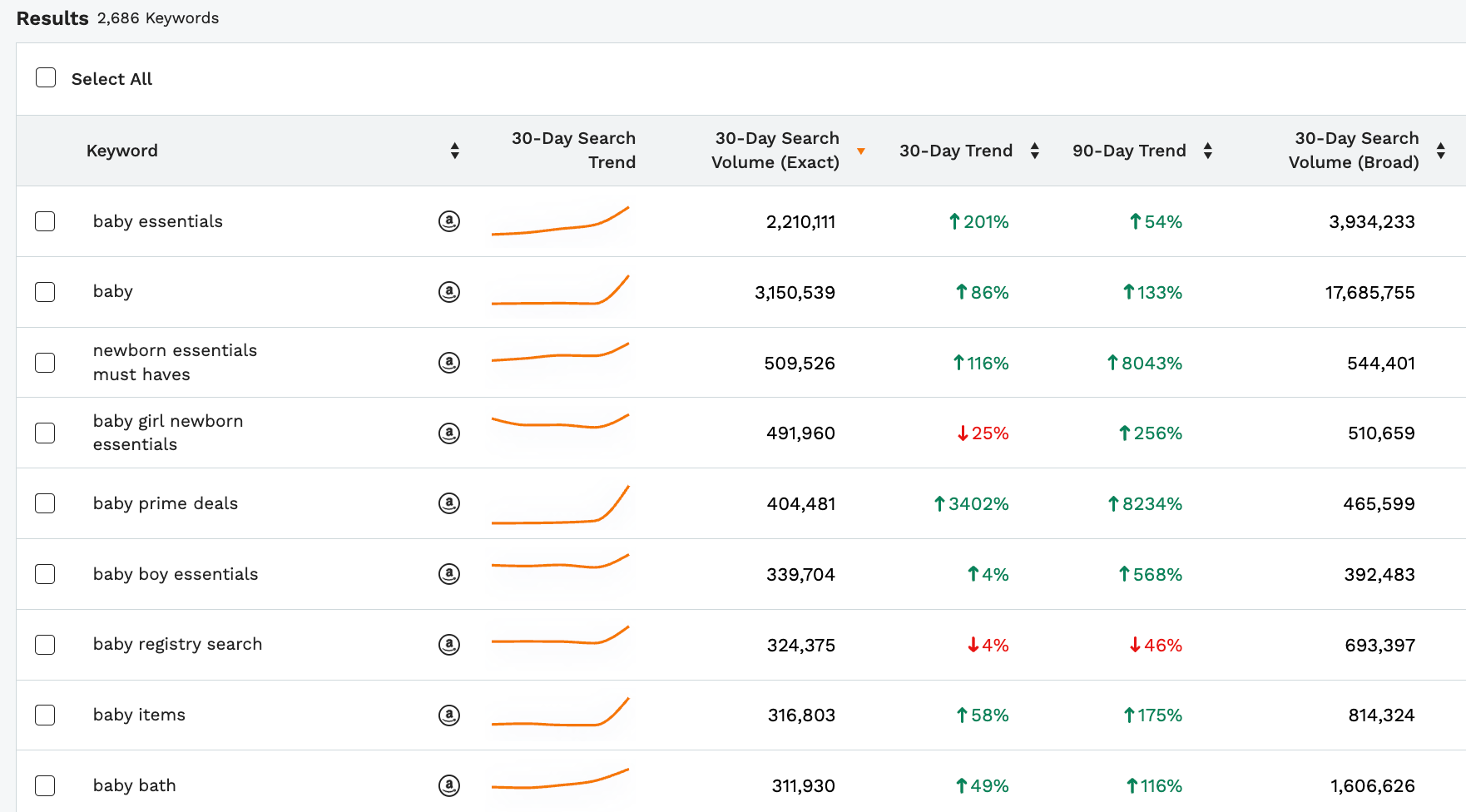 Entertainment products
People still need to be entertained, even during a recession. So, selling entertainment products like DVDs, books, puzzles, board games, and video games can be a good way to weather the storm.
A great way to get started selling products on Amazon is by selling used books – a practice done by both beginner and experienced sellers.
READ MORE | How to Sell Books on Amazon
Find used books at thrift stores or book sales and resell them on Amazon.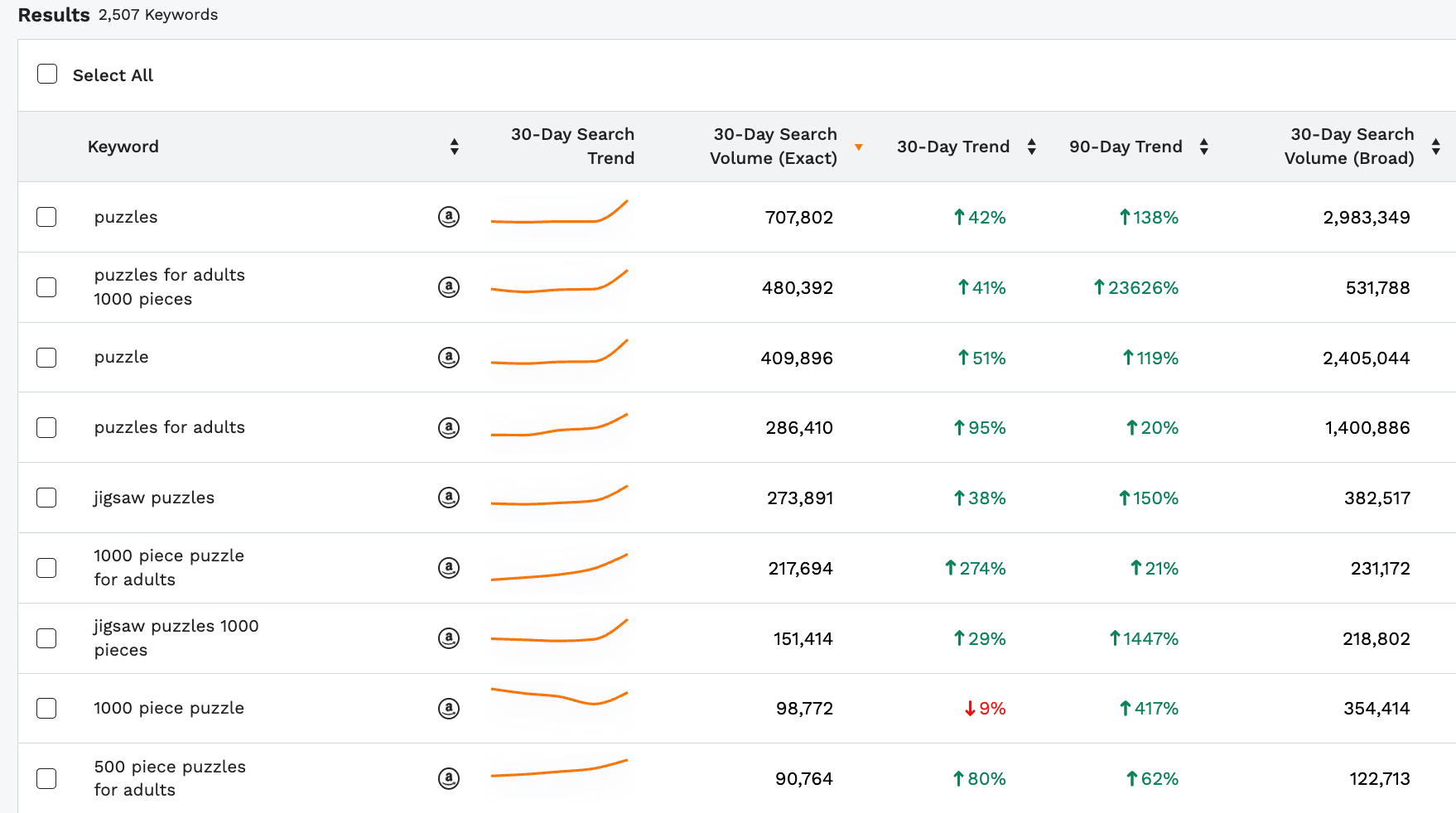 Home improvement products
People may be looking to make their homes more energy-efficient or comfortable during a recession. So, selling home improvement products can be a good way to tap into this demand.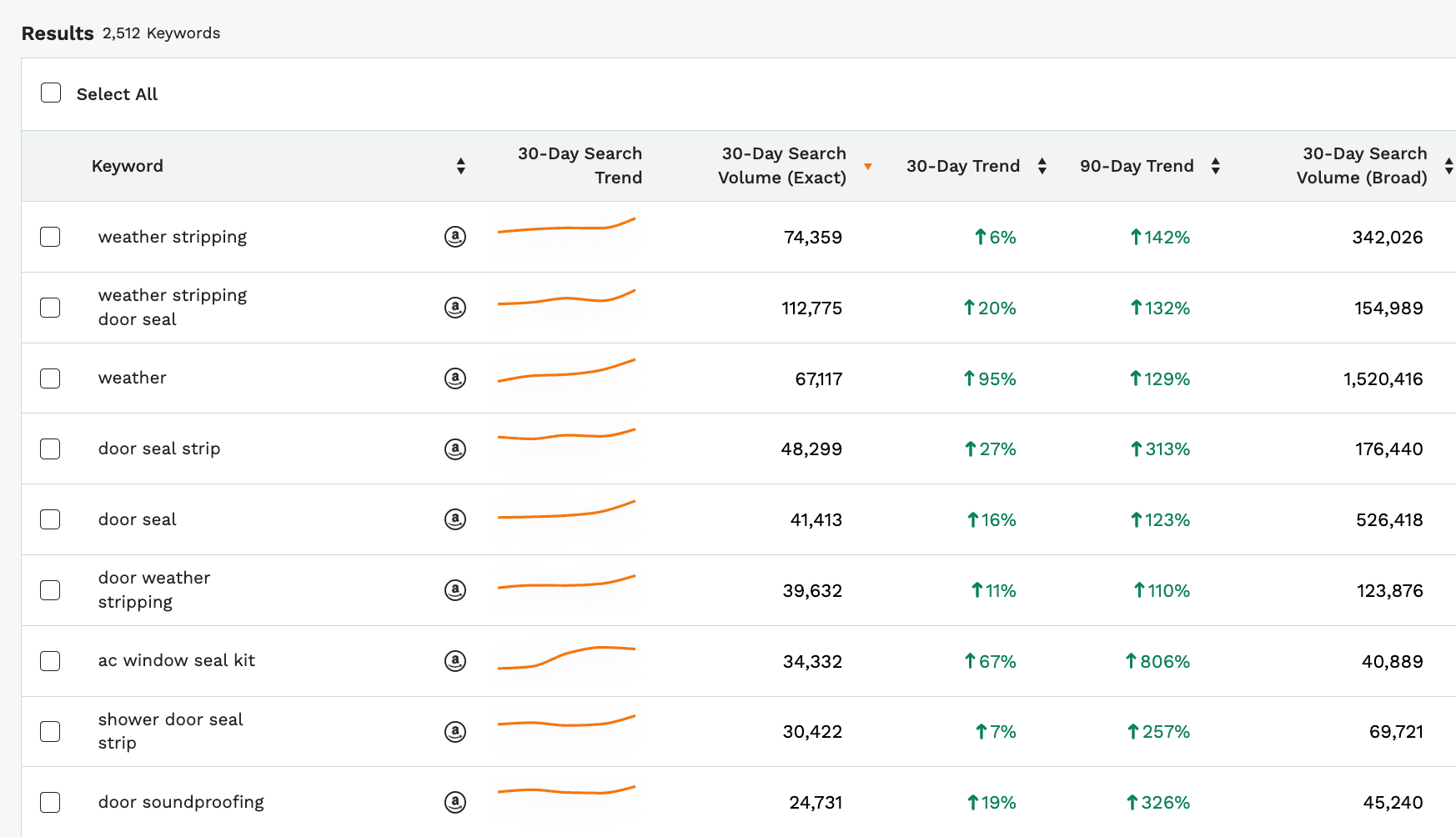 Our recent report on in-store and online shopping trends revealed that consumers consistently turned to home improvement stores such as Home Depot and Lowes over the past two years, demonstrating the consistent demand for home improvement products despite other economic conditions.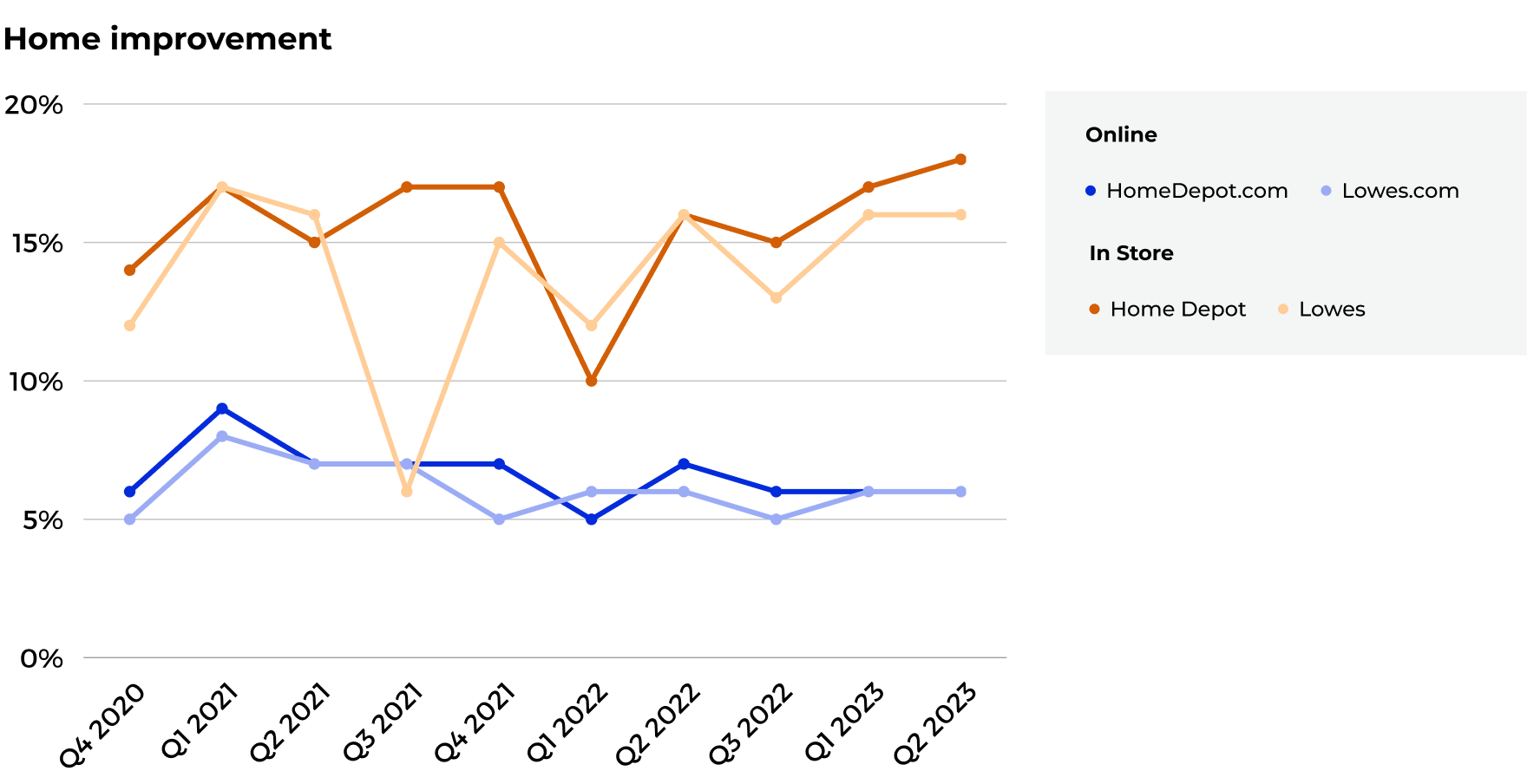 How can you recession-proof your business?
If you aren't already selling recession-proof products, this information doesn't suggest you immediately pivot towards essentials or board games. But, it does suggest that diversification might be key to weathering tough economical storms.
Here are three ways you can protect yourself against a recession:
Consider

diversifying your selection

with more fundamental goods related to your non-essentials.




Keep track of your spending

. Pay close attention to your business' cash flow as well as the

inventory you have on hand

. Having your funds tied up in products can limit your flexibility during a downturn.




Build your brand

. Finally, use a downturn to build your brand, even if you're not making sales. Focus on building your

social media channels

and mailing lists.
Start recession-proofing now!
While everyone wants an economic downturn to end quickly, circumstances surrounding the recession are often unpredictable, making the end date of a depression uncertain too.
So don't wait. Whether you have both the time and the money to expand your product line, or you only have time to build your social media audience, start creating a recession proof business now.
Discover how Jungle Scout can help you find those recession-proof products: