In 2022, inflation has been rapid and severe. In June, inflation grew to 9.1% — the biggest year-over-year jump since 1981. In the midst of this, 38% of consumers say their household income is unstable and 34% rely on financial assistance or unemployment benefits, according to Jungle Scout's Consumer Trends Report. And for 13% of consumers, their household income actually decreased in the first half of the year.
This 41-year high inflation rate means higher costs across the board, from raw materials and supplies to labor and shipping rates. As both consumers and brands are left with dollars that no longer stretch as far, many ecommerce businesses are facing the tough call of reducing inventory and/or charging more for products to maintain profit margins. The results are higher prices, less available stock, and more hesitant shoppers.
Economic sanctions resulting from Russia's invasion of Ukraine have driven up costs and created shortages. In China, COVID-19 lockdowns slowed the production of many supplies and products, further compounding supply chain disruptions that began early in the pandemic. Interest rates have risen to combat inflation, and consumers are paying more for mortgages, car loans, and credit cards, on top of already-increasing energy and utility costs. All of these factors are converging in a significant shift in shopping habits.
Consumers are reducing spending due to inflation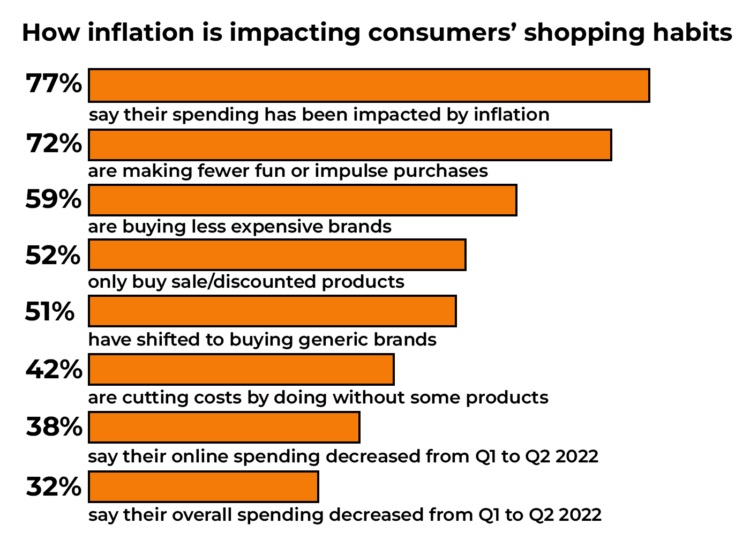 Jungle Scout's research tracks how consumers are responding to inflation. More than 3 in 4 consumers have adjusted their spending, including half who now only buy generic brands or products on sale.
77% of consumers say their spending has been impacted by inflation

72% are making fewer "fun" or impulse purchases

59% are buying from less expensive brands
52% only buy discounted products, or products on sale
51% have shifted to buying from generic brands
42% are cutting costs by doing without some products
38% say their online spending decreased from Q1 to Q2 2022
32% say their overall spending decreased from Q1 to Q2 2022
Products and categories most impacted by inflation
Inflation and the resulting customer response is impacting various industries and product categories in different ways: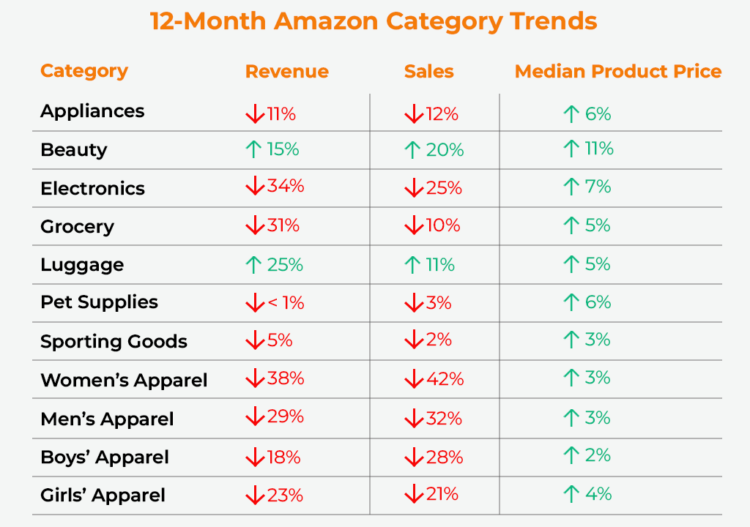 Grocery
Grocery is one of the categories that is most affected by inflation.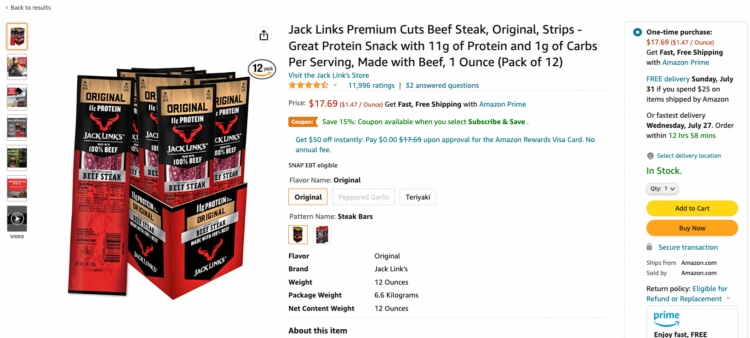 The price of these popular Jack Links beef steak strips, for example, has jumped over 35% in the last year.
Coffee prices have been steadily increasing, due in part to inflation but also as a result of weather and supply chain issues that impacted farming and exporting in countries like Brazil and Colombia. On Amazon, the median product price in the coffee category has increased 8% in the past year, and overall revenue is down 32%.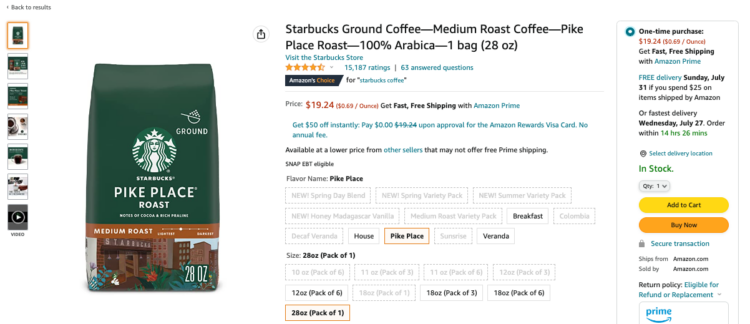 The average price of this Starbucks ground Pike Place Roast jumped almost 40% since July 2021. In the same period, monthly sales dropped over 80%.
Apparel
The cost of apparel is up across the board, with median product prices up for women's, men's, and children's clothing and accessories.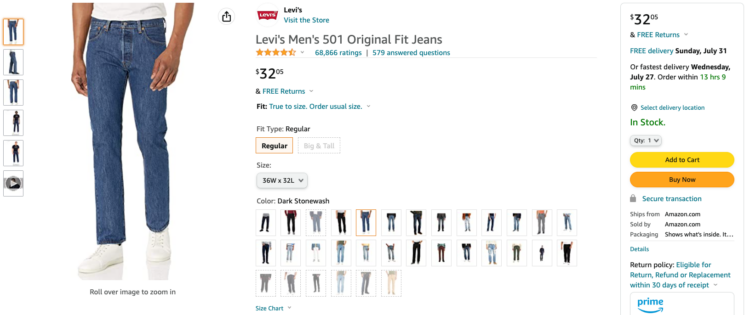 The average price of these men's Levis has jumped 26% in 12 months.
Electronics
In consumer electronics, an ongoing global chip shortage has resulted in a slowdown of both manufacturing and sales. According to Jungle Scout research, 25% of consumers purchased fewer electronics in Q2 2022 than in Q1. This is reflected on Amazon, where unit sales in the electronics category have dropped 25% in the last year as prices have risen 7%.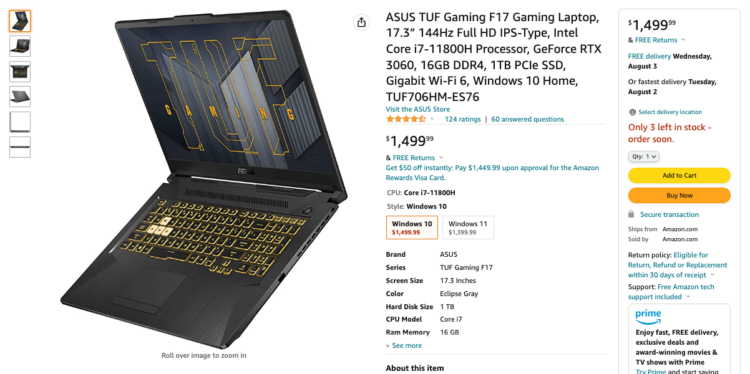 Since its release in June 2021, the price of this ASUS gaming laptop has risen 13%.
Beauty
In some categories, like beauty, sales and revenue have grown year-over-year despite rising prices.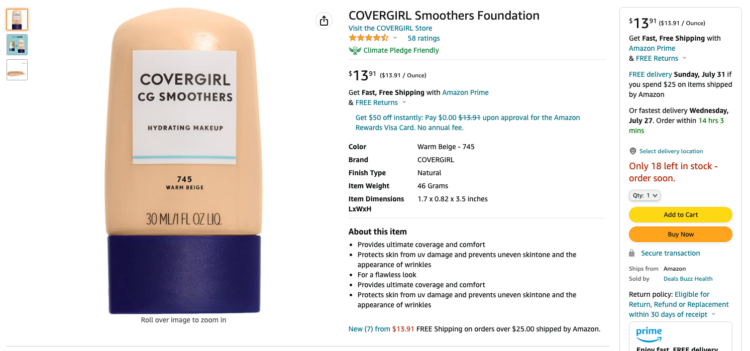 Sales for this Covergirl foundation, for example, are up over 1,000% since last July despite a price increase of nearly 75%.
Luggage
And, despite the cost of lodging away from home reaching a peak year-over-year increase in May (according to the Consumer Price Index), shoppers seem to have kept up with their travel plans.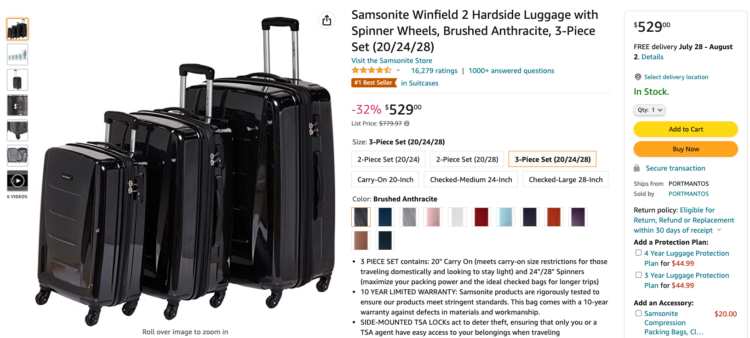 This 3-Piece Samsonite luggage set remains a Best Seller in the suitcases category despite a 20% price increase in the last year.
4 Strategies for ecommerce brands to respond to inflation
1. Increase your organic marketing efforts
Advertising competition on Amazon and other channels remains strong, which has steadily driven ad spend up and return on ad spend (RoAS) down. As you consider ways to adjust paid marketing budgets, turn your attention toward boosting your brand's organic presence.
Social media has become a highly influential resource for consumers deciding which products to buy and which brands to buy from. Almost 70% of consumers start their product searches on social media, and nearly half (48%) read social media comments to learn what's being said about a brand.
Video can be a huge organic win for ecommerce brands, both on social media and within ecommerce platforms. Jungle Scout research reveals that 37% of consumers prefer brand videos over static posts on social media, and 35% have purchased a product after watching a brand's livestream. In addition to using video on your brand's social media channels, you can use tools like Amazon Live to create shoppable livestreams.
Another way to drive social media shoppers to your listings is through influencers, especially those who feature products in their YouTube content. The video platform is the most trusted among consumers for finding and purchasing products.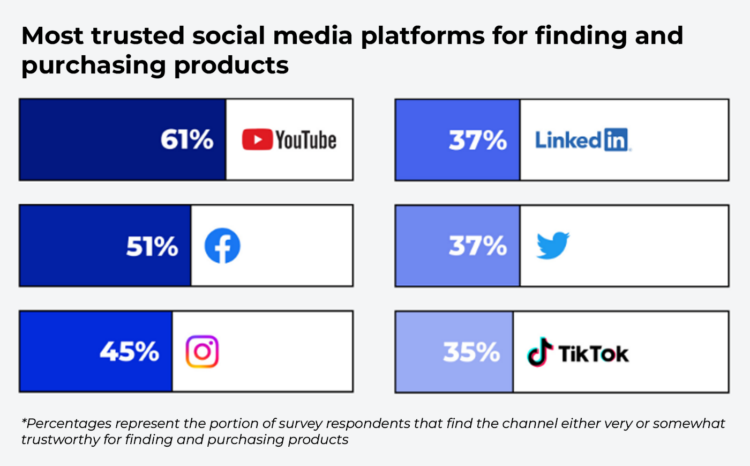 2. Be strategic about price increases
Price increases are often a necessity when inflation balloons. Nearly half (48%) of consumers, however, say consistently lower prices is a key reason for continuing to purchase from their favorite brands. Reworking your pricing and product catalog can help you make up for growing expenses while minimizing the risk of losing long-time customers.
Right now, a lot of sellers are lowering costs in order to maintain profitability, but I believe that cutting necessary software, tools, and even employees will do more damage than good for my business. Instead, I'm now focusing on growth more than profit. This doesn't mean neglecting profit entirely, but it does mean that we're willing to spend more on ads (with a higher advertising cost of sale, or ACoS) to gain additional market share in the category. —Jake Zaratsian, Ecommerce Expert at Jungle Scout and owner of Amazon brand Natural Events
Nearly 80% of consumers do research to find deals on products when shopping online. Deal-finding browser extensions and plug-ins look for the best product prices on a single channel — like the Amazon Assistant plug-in that will search all in-stock listings for the best price — or across multiple platforms and websites. The right price, deal, discount, or coupon can help you pull those shoppers to your brand's listings.

Another way to balance the need for price increases is to expand or adjust your product catalog. In some cases, unpredictable shipping timelines or increased supply costs may make temporarily discontinuing a product preferable to pushing the price point past what consumers are willing to pay. You can also explore launching new products your brand can sell at lower price points to help combat dips in revenue for higher-end products.
Strategically reworking your pricing and product catalog can help you make up for growing expenses while minimizing the risk of losing long-time customers.
3. Revisit inventory management
Help combat shipping challenges and shifts in demand by revisiting your inventory management. For products where you are able to maintain pricing or increase prices less than your competitors, prepare for increased demand. Keep more inventory on hand for products that sell reliably well. This can give you a leg up on competitors, help you avoid going out of stock, increase your conversion rate, and help you negotiate pricing or payment cycles with suppliers.
While it may seem counterintuitive to increase your vendor orders right now, going out of stock is the quickest way to lose rankings and momentum — so ensuring you have extra inventory can pay off in a big way.
"I initially thought COVID-19 would negatively impact my client's (1-Shoppe) sales because they offer hospitality products for hotels and Airbnbs and travel nearly ceased to exist in 2020. But their sales were actually up that year. It was the supply chain disruptions in 2021 that caused many of their ASINs to go out of stock and that killed sales. To combat this issue, we pre-ordered about a year's worth of inventory. In 2022, we've not only remained in stock but sales are up 189% year-over-year." —Eva Hart, Enterprise Ecommerce Expert at Jungle Scout and founder of Amazon brand management agency, Treehouse Collective
4. Find ways to maintain cash flow
Inflation is impacting every level of ecommerce, so finding ways to reduce expenses without reducing productivity can be easier said than done. Since suppliers are likely facing the same effects of inflation as your brand, negotiating supply costs may be a tall order. If you have long-standing partnerships with your suppliers, however, they may be open to conversations about negotiating longer payment cycles, which can help you maintain a healthier cash flow.
Financing options like the Amazon Seller Lending Program can also help you increase inventory levels, launch new products, or balance cash flow. Amazon's financing is by invitation-only, so eligible brands and sellers will see personalized terms within Amazon Seller Central. If your brand has not received an invitation from Amazon, you can also look into other lending programs. However, each of these is subject to increased interest rates also being caused by inflation, so it's worth comparing multiple options to find the one that best fits your needs.
The future of inflation and ecommerce
From supply costs to shifts in the labor market, there are a huge variety of factors constantly impacting ecommerce brands. These factors continuously affect consumer shopping behavior and change how businesses must handle product pricing, inventory management, marketing budgets, and more. Even as inflationary pressures begin to ease, inflation will remain one of the most influential factors in every ecommerce brand's strategy.
Methodology
The product data in this report is representative of the U.S. Amazon market. Market insights on Amazon products were sourced from Jungle Scout Cobalt, an industry-leading market intelligence and product insights platform powered by more than 1.8 billion Amazon data points every day. 12-month trends reflect the period of July 24, 2021 – July 24, 2022.
Contact [email protected] today to see how Jungle Scout Cobalt can help you explore sales data and provide strategic insights into consumer behavior on Amazon.