The hardest part about selling on Amazon is, well, figuring out what to sell on Amazon. You may have what you think is a great idea for a product, but smart sellers rely on data — not always their gut instincts — for which products to invest in.
This is especially true during Q4, when customers flock to Amazon searching for the perfect gifts to buy their friends and family for the holidays.
How do you decide what to sell? How do you know what consumers are buying during this time of year? How much inventory should you purchase?
We'll answer all of those questions and more in this article, so keep on reading. You can also check out this month's top-trending products on Amazon for even more information!
What to sell on Amazon FBA in Q4
As the summer ends and we head into the fall and winter months, what types of products will consumers spend their money on?
There are lots of holidays and events that go on this time of year! You have Halloween, Thanksgiving, Black Friday, Cyber Monday, Hanukkah, and Christmas.
There are many opportunities to sell popular products this time of year, so let's get into it!
1. Halloween decorations
Who doesn't love Halloween?! Well, I'm sure there are people who don't, but there is no denying that Halloween is a massive industry. Between decorations and costumes, consumers will spend billions of dollars to celebrate this spooky holiday.
Now is the time to start thinking about Halloween products to offer so you can cash in.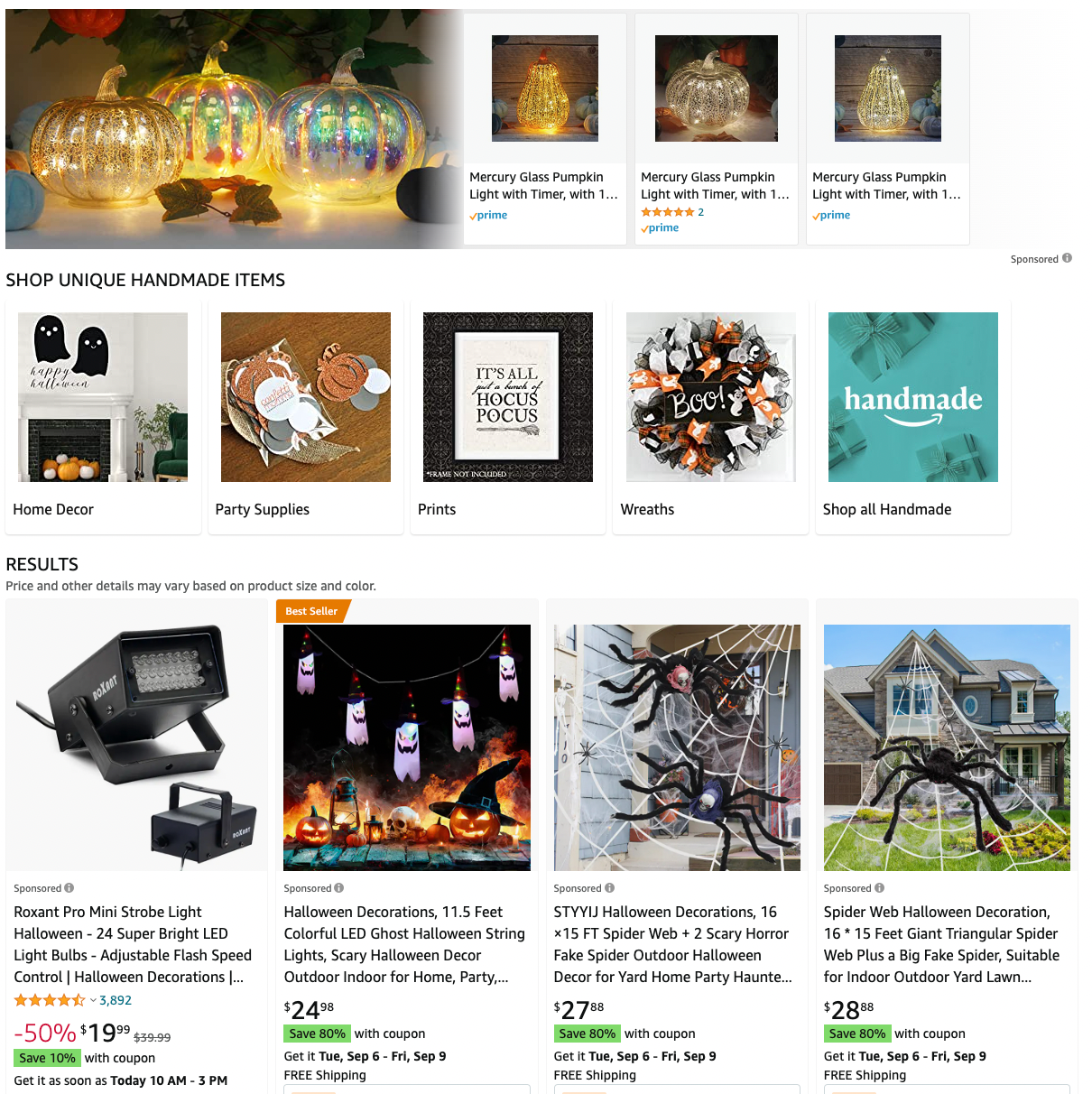 There are many opportunities to sell Halloween-related products to consumers looking to decorate their homes, throw fun Halloween parties, or go trick-or-treating.
You can resell Halloween-themed products through retail arbitrage, online arbitrage, and wholesale, or even launch a unique private label Halloween product. While it may be a little late to source a private label item, there will be plenty of arbitrage and wholesale opportunities to make money.
Let's look at the numbers:

As you can see, Halloween-themed keywords are trending upwards! And with some keywords seeing over 100,000 searches per month. This information tells us that now is the time to stock up and take advantage of this trend.
Check out this graph of the keyword for Halloween decorations: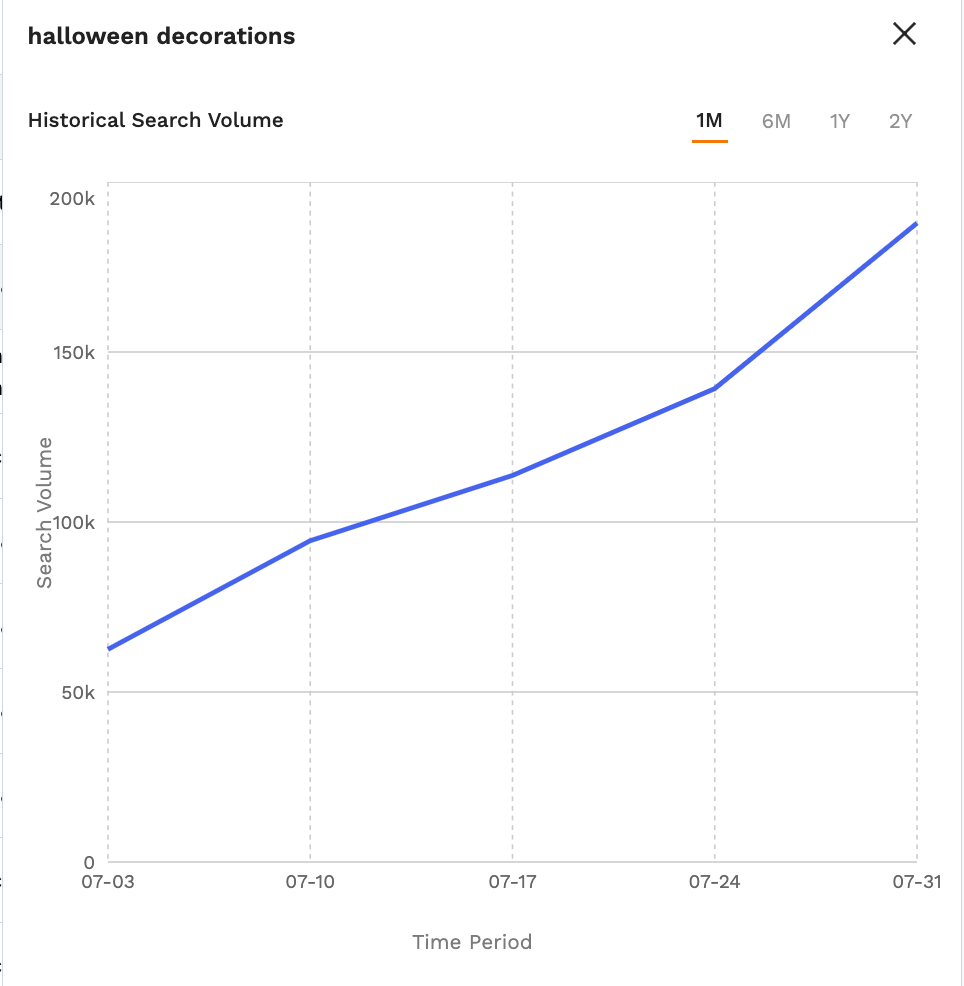 Customers started their Halloween shopping as early as July! Look through the hundreds of products within the search results to gather some ideas on the types of Halloween products you could sell.
If you want to go the retail arbitrage route, head to your local grocery store and scan products with the Amazon seller app to see which products you could flip for a profit.
2. Halloween candy
If you are approved to sell grocery items on Amazon, selling candy for Halloween is an underrated way to make lots of money in this short window of opportunity. If you are reading this in early September, now is the time to start stocking up before the big rush!
For the retail and online arbitrage sellers out there, selling Halloween candy can return some tasty profits, especially as we get closer to Halloween.
Let's look at the numbers:

As of this article being published (end of August 2022), the keyword volume is still fairly low, but you can see the 30-day and 90-day trends moving in a positive direction. This tells us that customers are starting to search for candy now.
Using Keyword Scout's historical graph, we can see the previous year's search volume for "Halloween candy."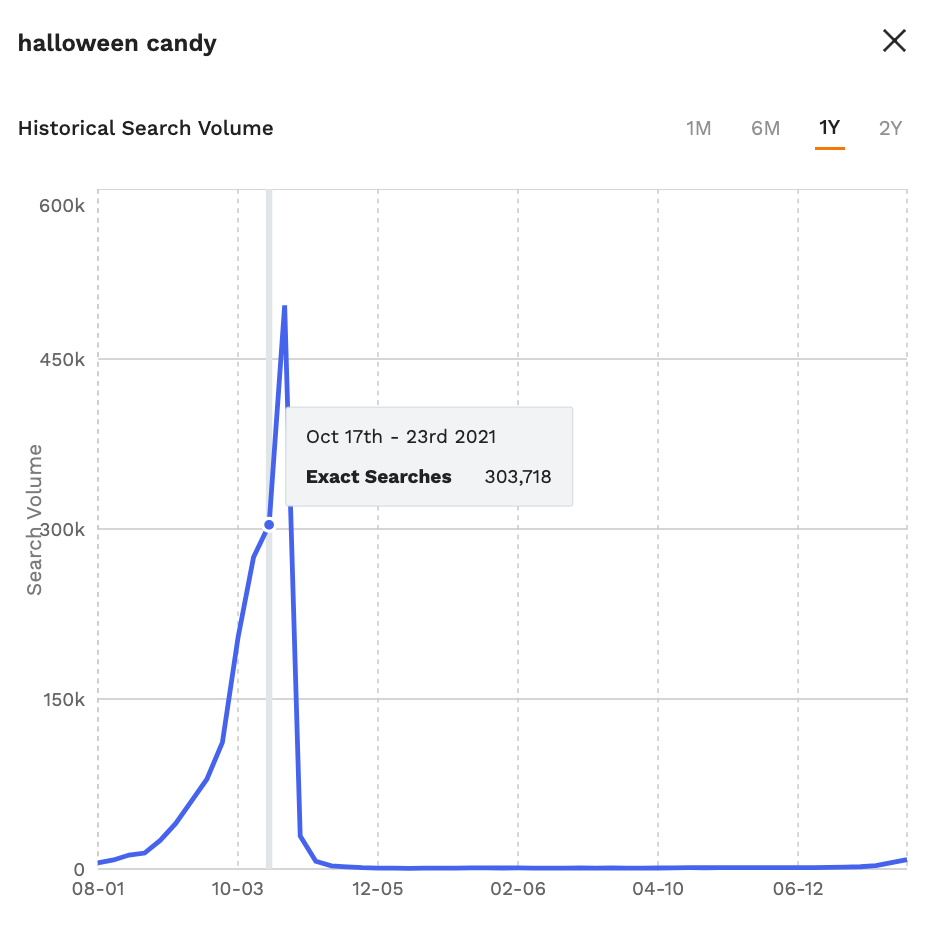 Start heading to your local grocery store or favorite online retailer to find candy to would be profitable to sell on Amazon!
Use the Jungle Scout Extension tool to view the historical pricing history of the candy you are interested in reselling. This will give you an idea of the types of profit you can earn with each product.
Note: Amazon FBA FBA only accepts meltable products from October 16 to April 14, so you will likely need to fulfill most of your Halloween candy orders via FBM until October 16th.

3. Thanksgiving decorations
Another big U.S. holiday that consumers spend lots of money on is Thanksgiving. Families across the country will gather with friends and family with lots of food and drinks.
This leaves an opportunity for Amazon sellers to capitalize on Thanksgiving traditions by offering decorations, party supplies, plates, and more.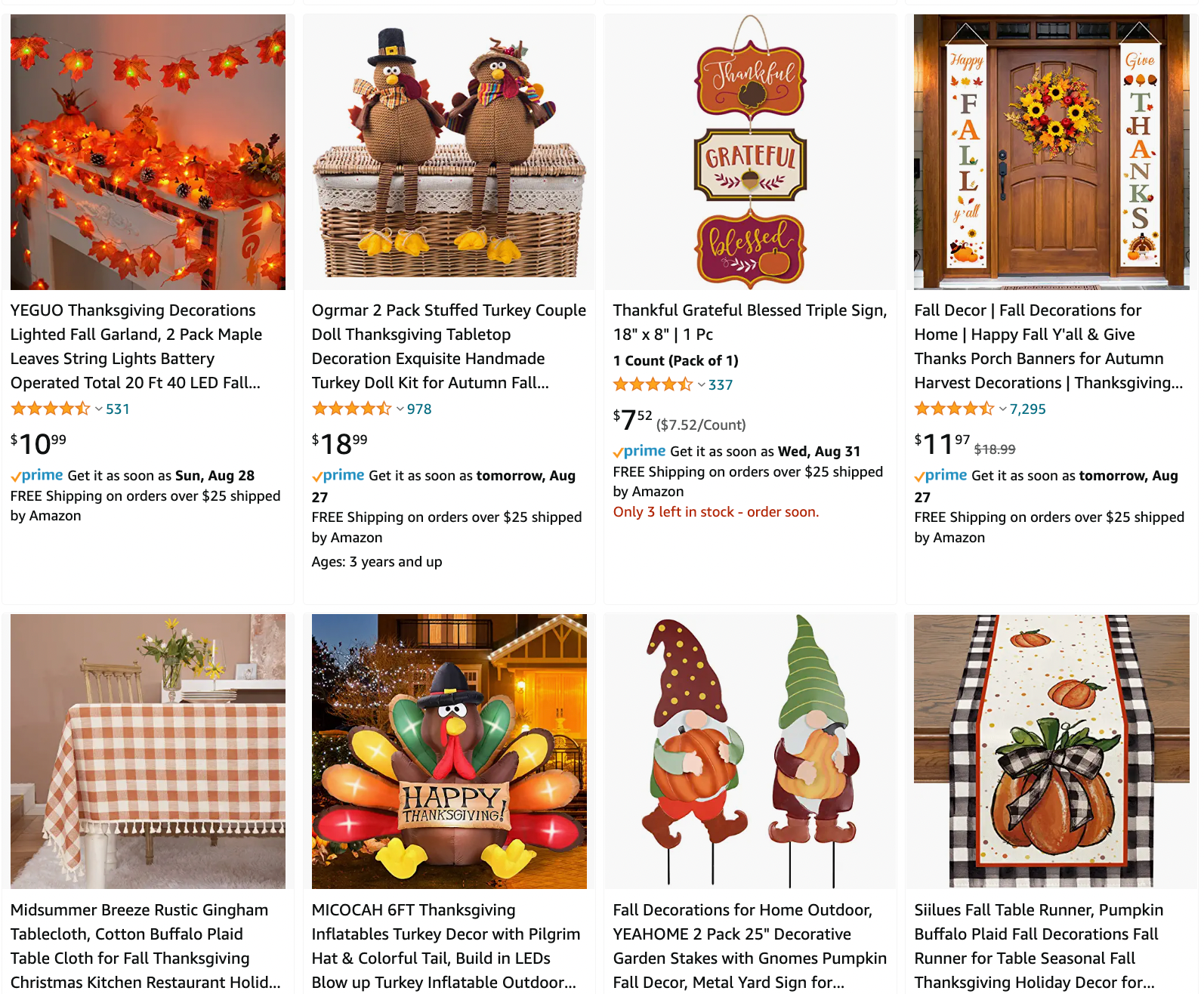 There are many Thanksgiving-themed products you can sell on Amazon. Tablecloths, outdoor decorations, indoor decorations, disposable plates and silverware, lights, scented candles, and even canned grocery items such as cranberry sauce, gravy, corn, and so on.
Let's look at the numbers: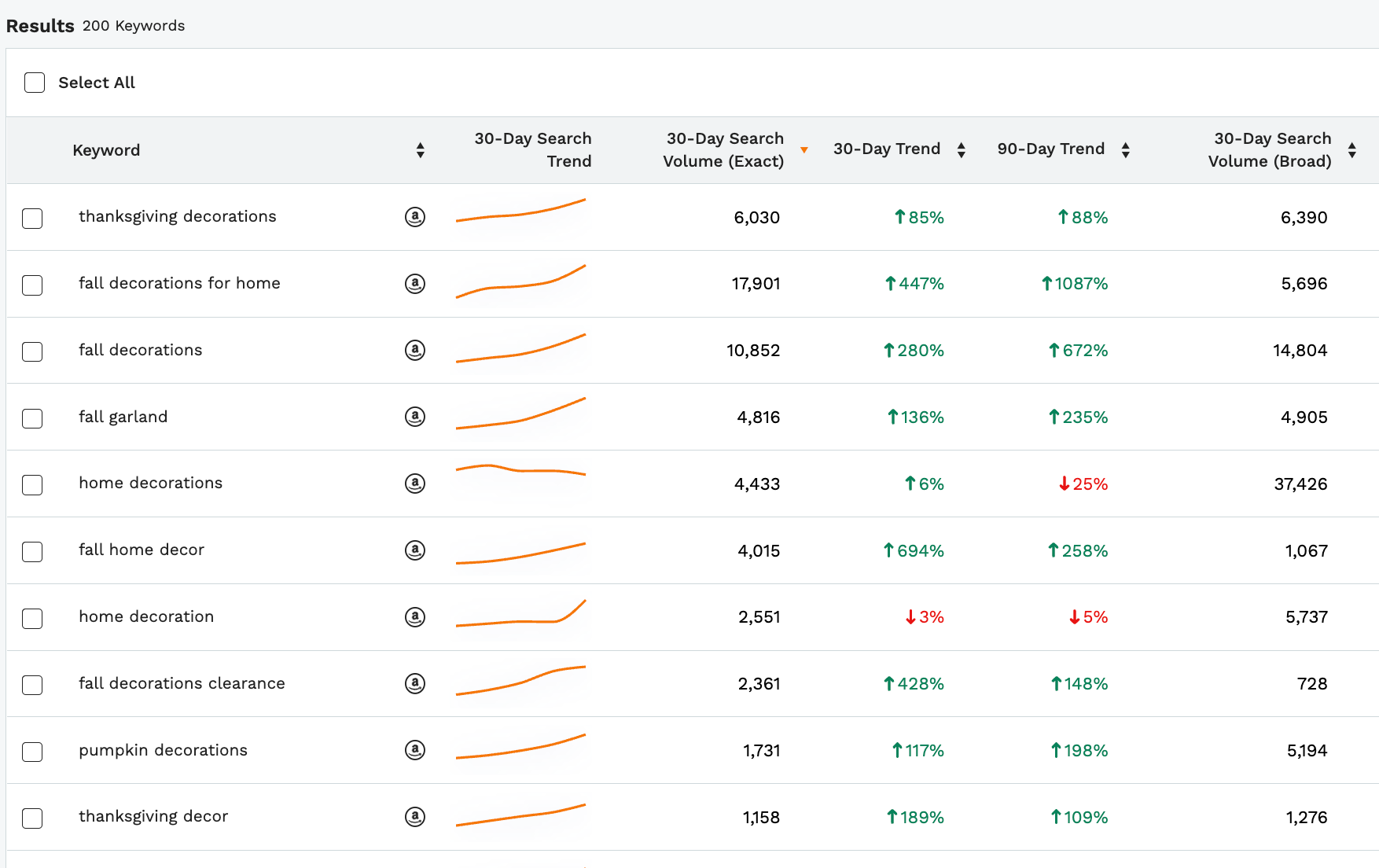 These keywords are currently trending upwards and will continue to grow in popularity as we near November. Start thinking about products you can offer to support these keyword searches.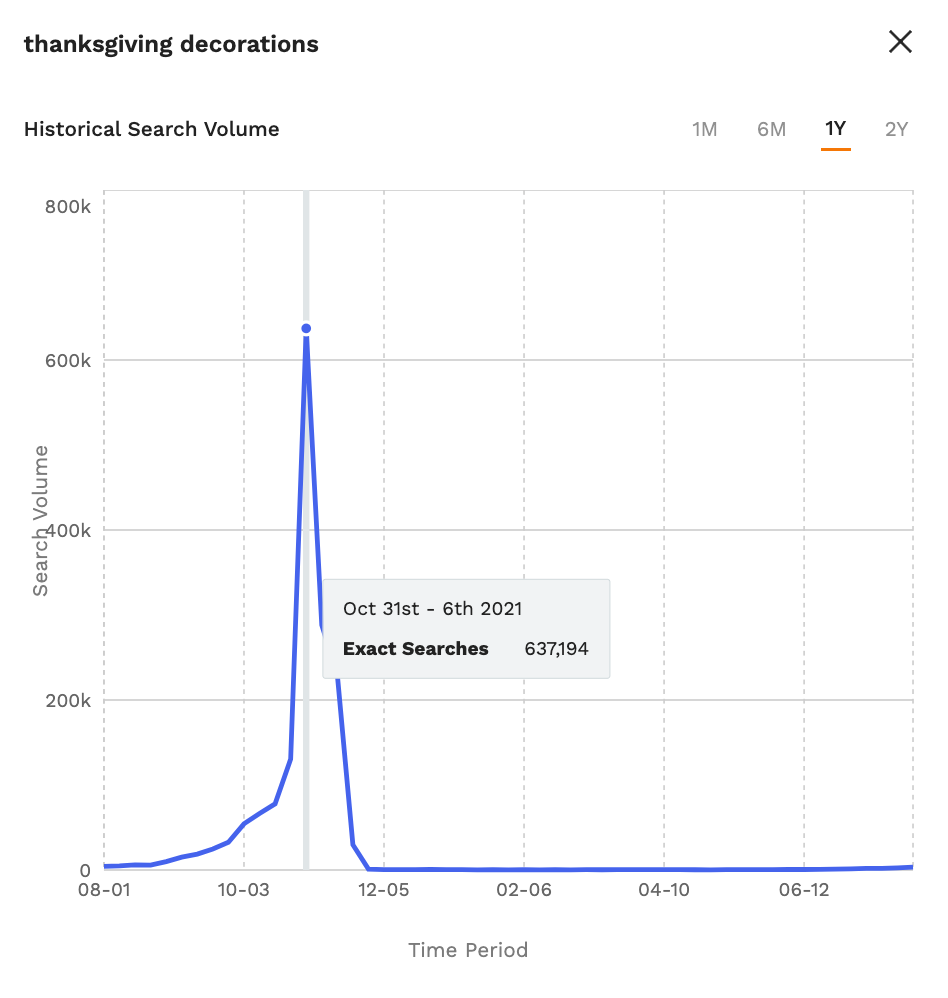 Use the Jungle Scout Product Database to learn what products you can sell for this holiday. With the tool, you can use a filter called "Include Keywords" and enter "Thanksgiving" so that the Product Database will only show Thanksgiving-related items.
There is an opportunity to launch a seasonal private label product or resell other brands' products through retail arbitrage or wholesale.
4. Gift boxes
Between all the gift-giving that will take place during Q4, gift boxes may be a good opportunity for some sellers to earn some more sales. Gift boxes are a great way for people to spruce up their gifts and make them more presentable for whoever receives them!
Instead of selling an actual gift item, sell the product that consumers use to package their own gifts.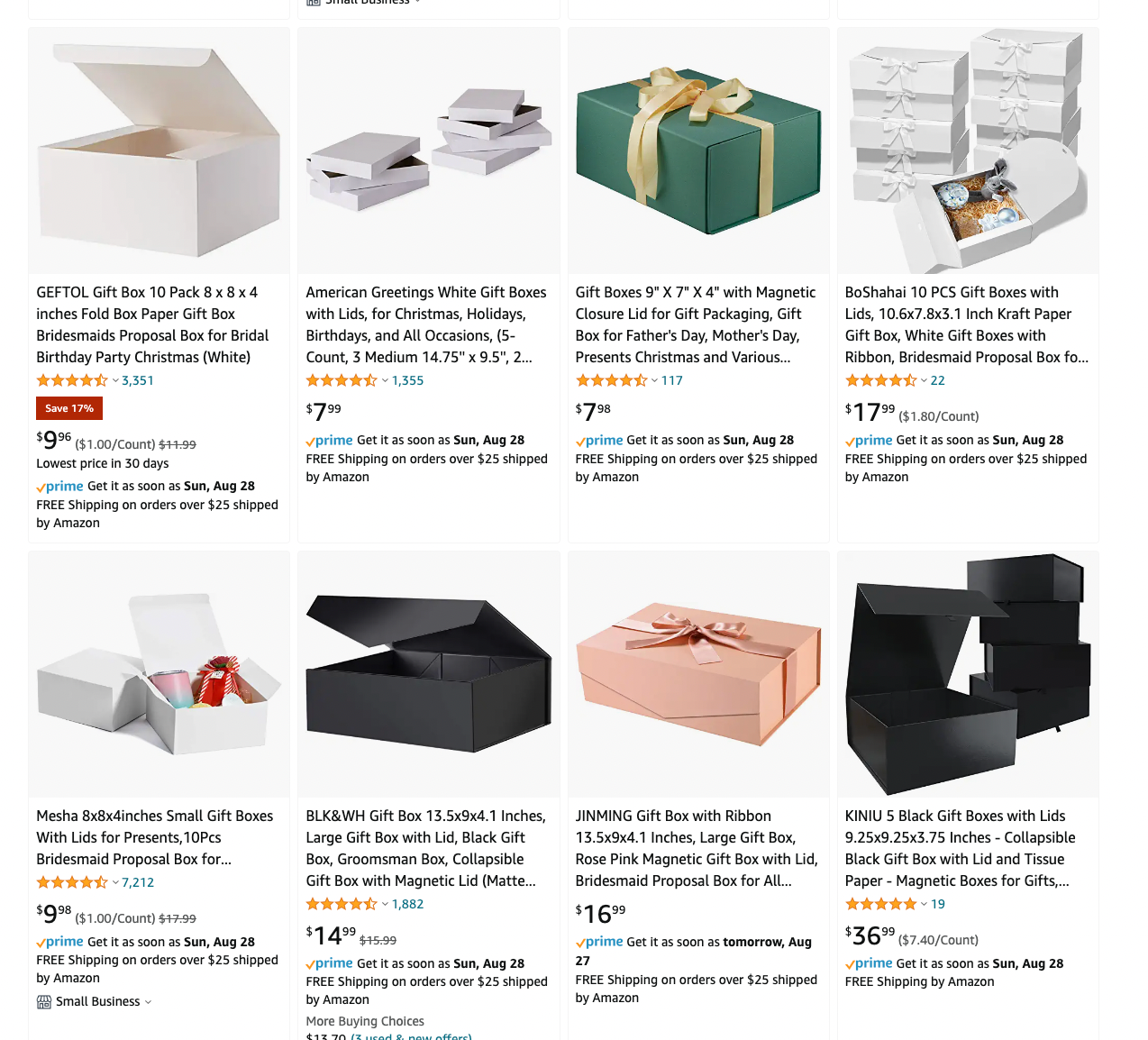 There are many types of boxes you can offer customers. Plain clothing boxes, colorful gift boxes, or boxes with bows on them.
Let's look at the numbers: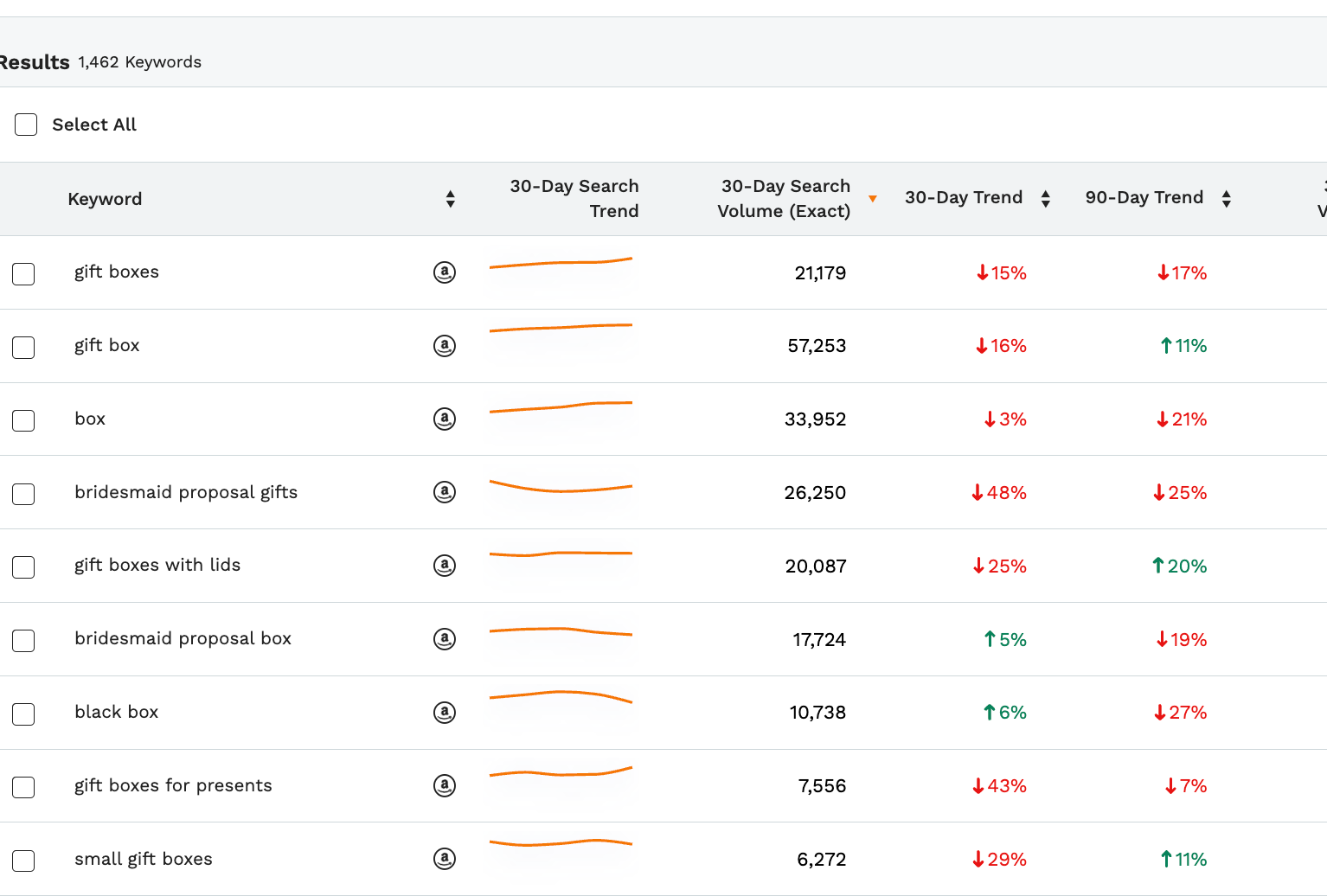 While many of these keywords are not trending upwards just yet, as we get closer to the holiday season, more and more consumers will begin to search for gift boxes.
Let's look at the historical graphs to see when search volume spikes.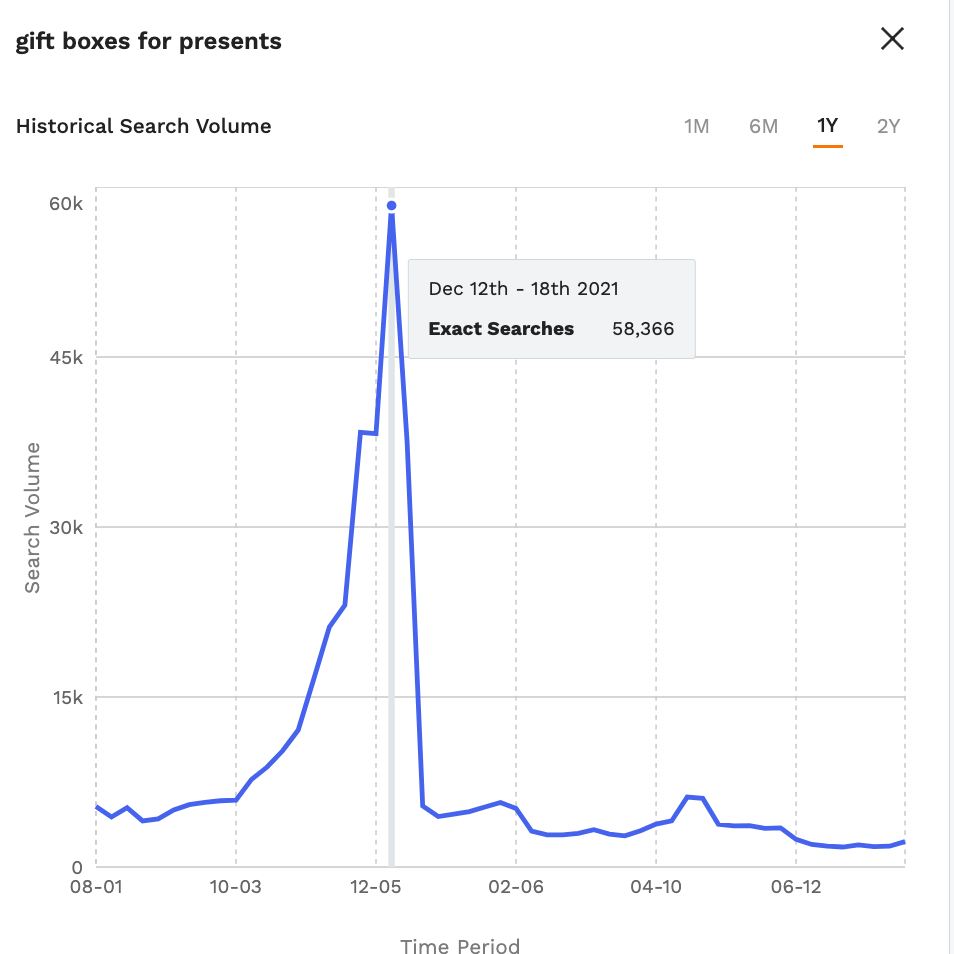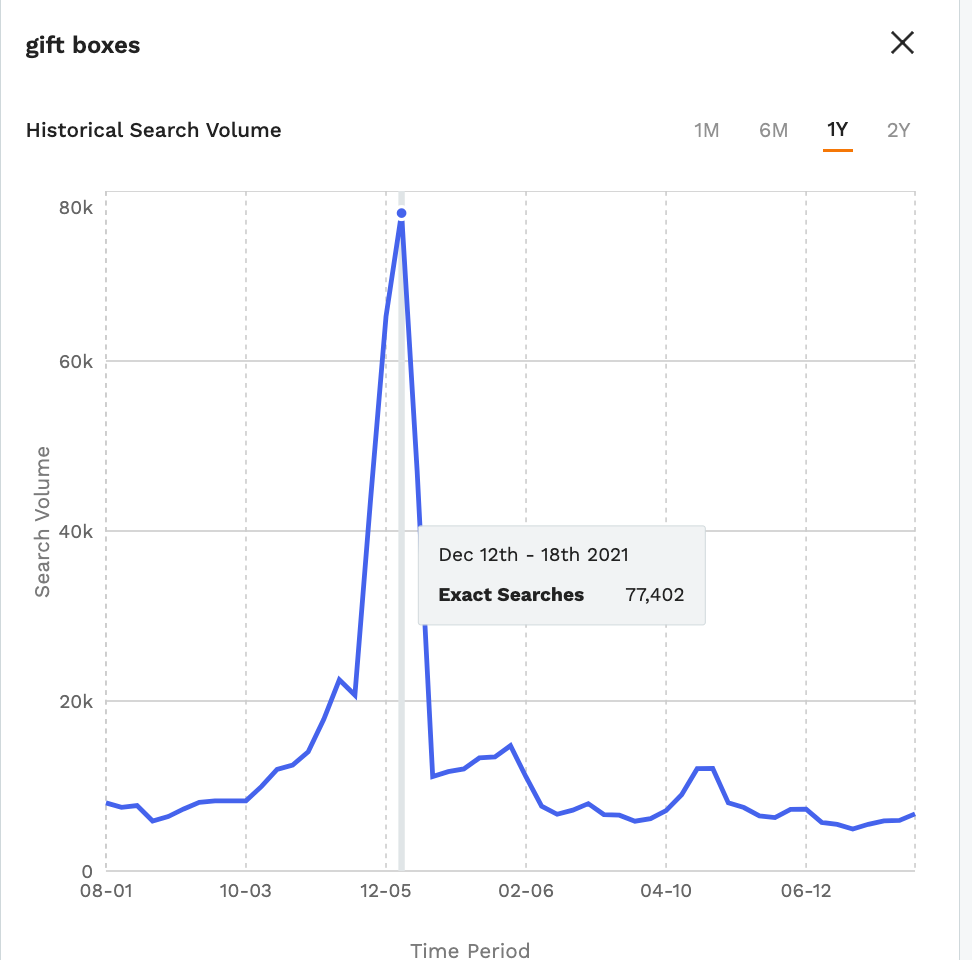 If this is a product you'd be interested in offering for the holidays, start looking for a reputable supplier now so you can be in stock at the right time.
5. Christmas decorations
Those who celebrate Christmas love to decorate their homes, trees, and even themselves! There are tons of opportunities to sell various decorative items related to Christmas.
Forget about selling gifts for Christmas — just sell the decorations people use to celebrate. Think of the possibilities: lights, ornaments, artificial trees, snowflakes, signs, inflatables, and so much more.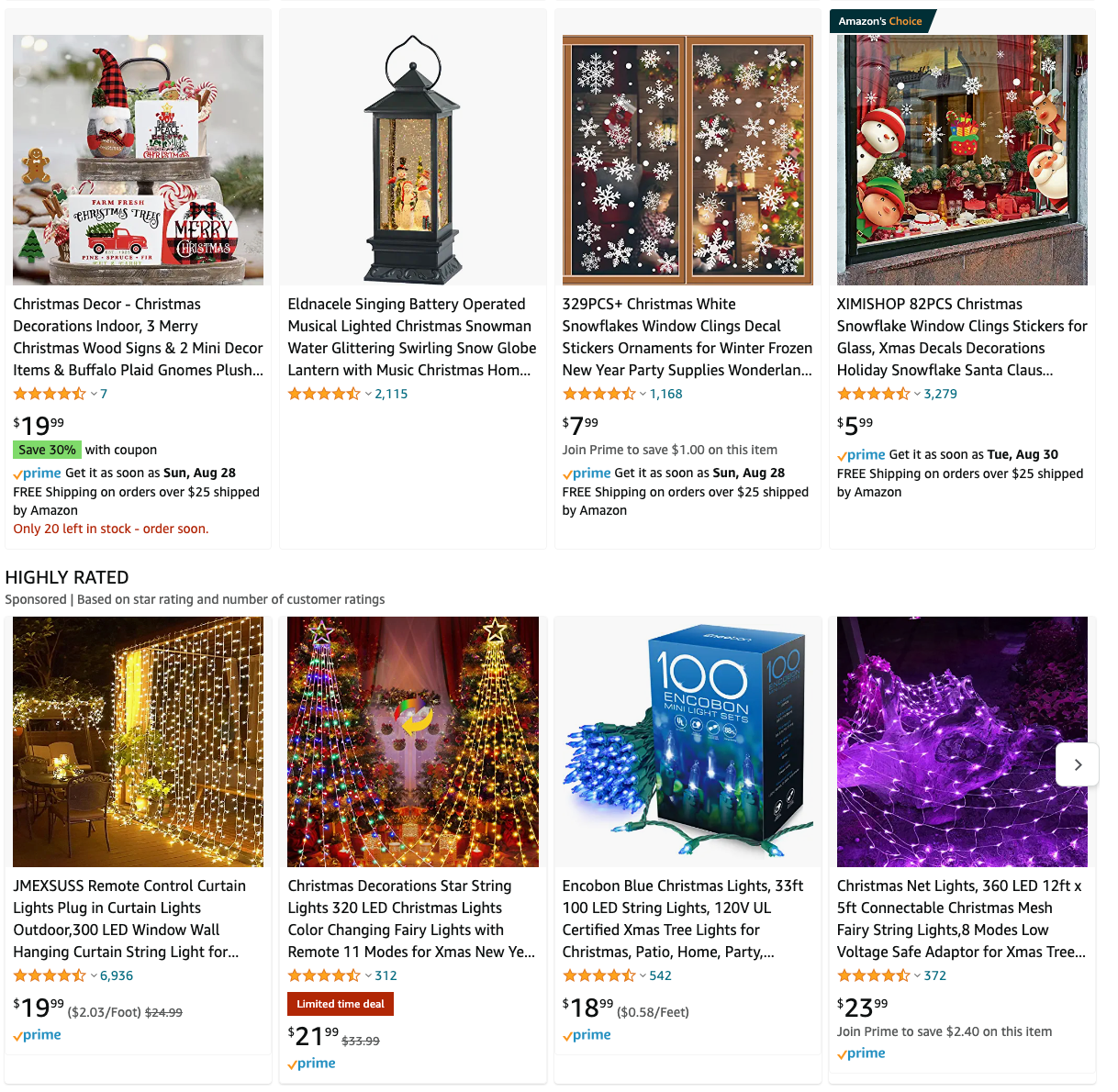 Let's look at the numbers: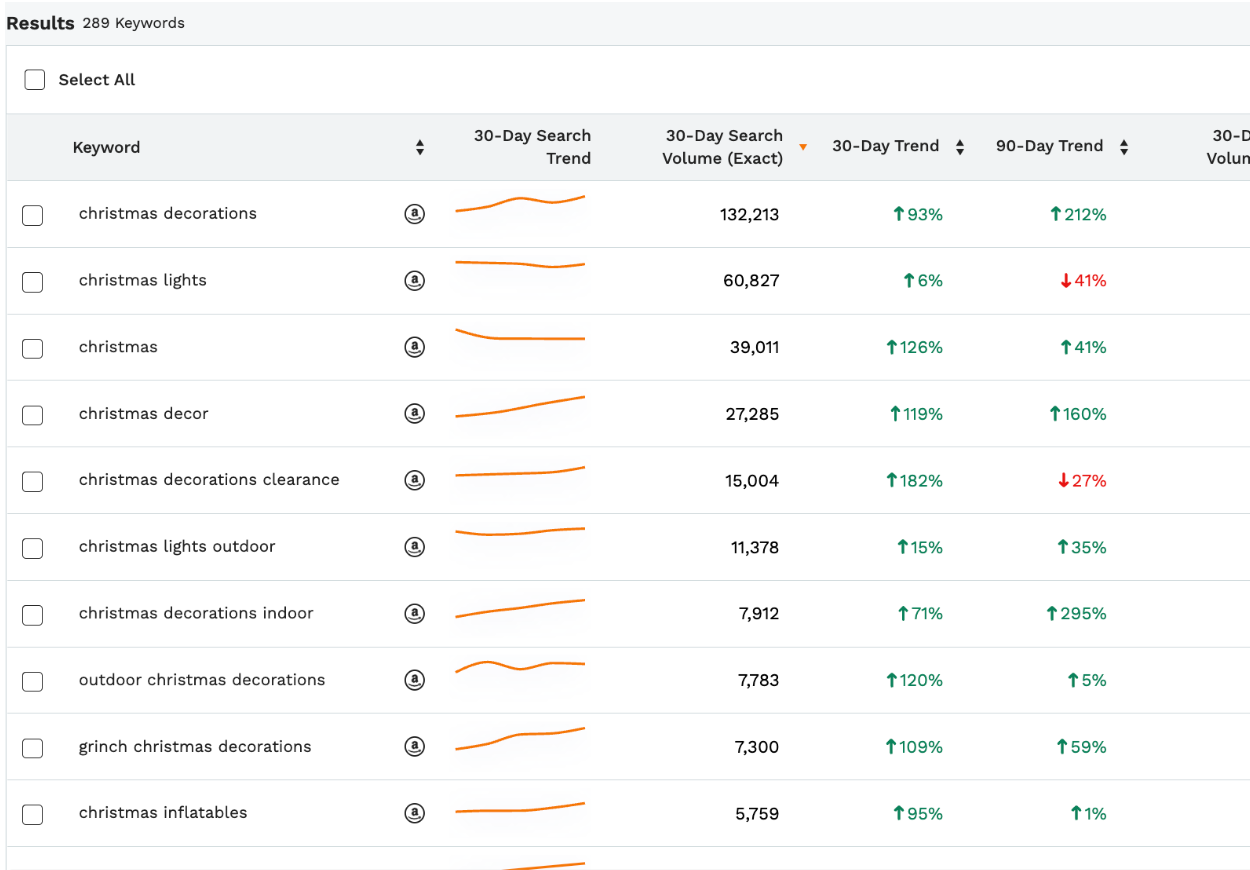 Consumers are already starting to search for Christmas decorations and other holiday-related items. Now is the time to start thinking about which products you'd like to stock up on and sell.
Let's look at the historical graph again: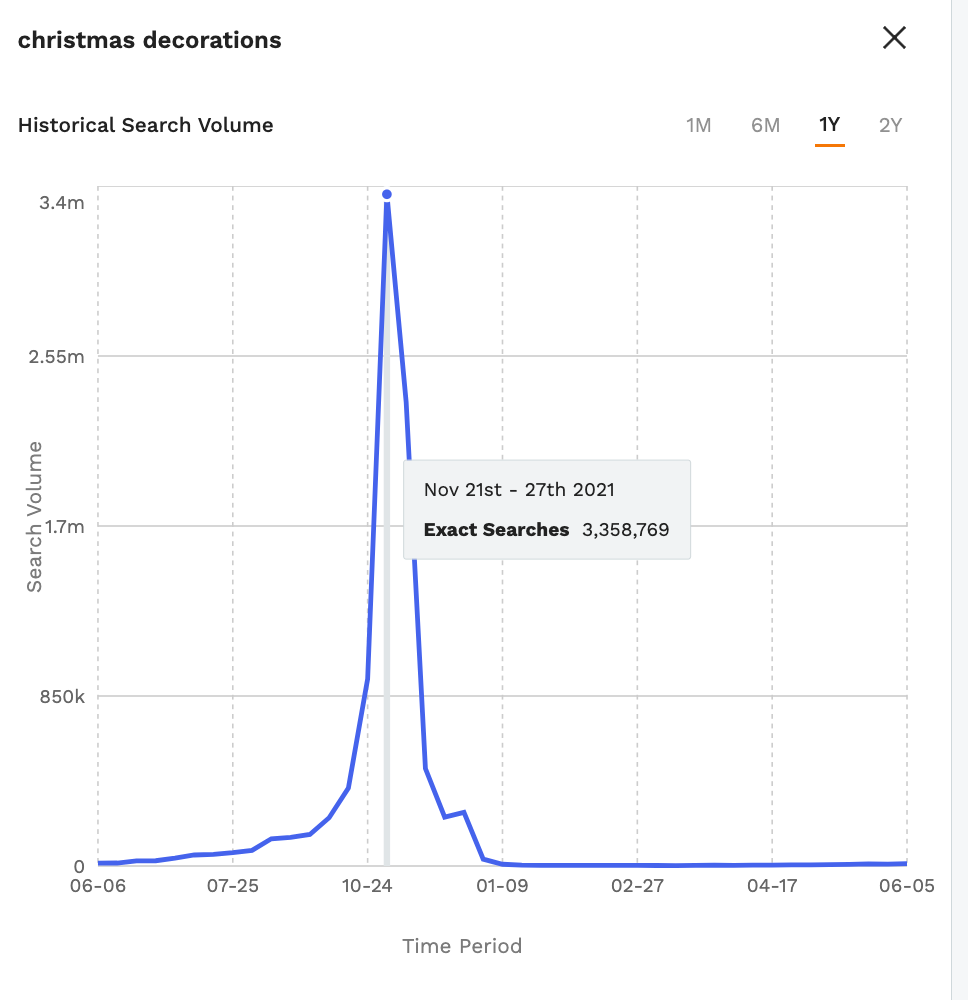 A whopping 3.3 MILLION people searched for "Christmas decorations" last year! The demand is there, you just need to find the products to sell!
As with the other decoration recommendations we made, there are plenty of arbitrage opportunities with Christmas decorations. Go to your local grocery or hardware store to see if they've started to display lights, trees, or inflatables.
Use a scanning app to view the current Amazon selling price and see if you can make a profit based on the retailers selling price.
If you don't mind selling oversized items on Amazon, inflatables typically resell very well on Amazon and other online marketplaces such as eBay or Facebook Marketplace.
How to know if a product will sell during Q4
Don't limit yourself to the list of ideas above, as most products will sell during Q4. Think outside the box, gather your ideas, and make sure you bring them into proper product research before investing in any product to sell on Amazon.
Next, use Jungle Scout's tools to figure out if your product idea is viable for selling on the Amazon platform:
Keyword Scout: Use this tool to determine a product's search volume and gather additional keyword ideas to target in your listing and PPC campaigns. Keyword Scout will also show you the historical search volume of a particular keyword to see which time of year it is searched for the most.
Opportunity Finder: This tool will help you find unique niches and determine the seasonality of different products. I used this tool to find viable evergreen and seasonal products to sell during Q2 on Amazon.
Product Database: Enter specific criteria to find the exact products you would be interested in selling. Try out different criteria and filters, and see where your research takes you.
Extension: Hit the extension button, and it will pull up valuable data about the product you are currently searching for. This will give you an idea of potential monthly sales and a quick competitive analysis. With the Extension, you can now view a Historical Trend data chart located in the embedded section on a product detail page. View historical data points such as Buy Box price, New lowest price, BSR, Amazon's price, and more.
Want to learn more about how to find profitable products to sell on Amazon? Check out our YouTube video on How to Find a Profitable Product to Sell on Amazon.
What are you going to sell in Q4?
We hope this guide gives you some good ideas of what products you can sell during this time of year. Bookmark this page for updates in Q1 2023 — we'll update you with more ideas for the next quarter, and every quarter after that. Now, get out there and make it happen!
Let us know what you think of these categories, or if you have any questions, let us know in the comments below.
Check out our full How to Sell on Amazon Guide for more information on product research, sourcing, listing creation, and much more.
Explore new product opportunities with Jungle Scout and start making money during Q4 on Amazon!