The hardest part about selling on Amazon is, well, figuring out what to sell on Amazon. You may have what you think is a great idea for a product, but smart sellers rely on data, not always their gut, on which products to invest in.
This is true during Q1 when customers shop for products to help them reach their goals and New Year's resolutions. Sure, sales typically slow down during this time of year, but sellers can take advantage of many opportunities.
How do you decide what to sell? How do you know what consumers are buying during this time of year? How much inventory should you purchase?
We'll answer all of those questions and more in this article, so keep on reading. You can also check out this month's top-trending products on Amazon for even more information!
What to sell on Amazon FBA in Q1
Unlike the holiday season, Q1 is when ecommerce sales start to return to normal — meaning, there's no more influx of customers rushing to purchase goods for the holidays. This time of year is an excellent opportunity to look for evergreen products that you can sell year-round.
While most categories on Amazon will sell well during this time of year, there are a couple that stand out as the New Year — and new possibilities for consumers — begin.
There are many opportunities to sell popular products this time of year, so let's get into it!
1. Exercise and Fitness Equipment
This one is pretty obvious, right? One of the most popular New Year's resolutions is to start working out and get into shape. This is a fantastic opportunity for Amazon sellers to stock up on exercise equipment for those New Years' resolutioners.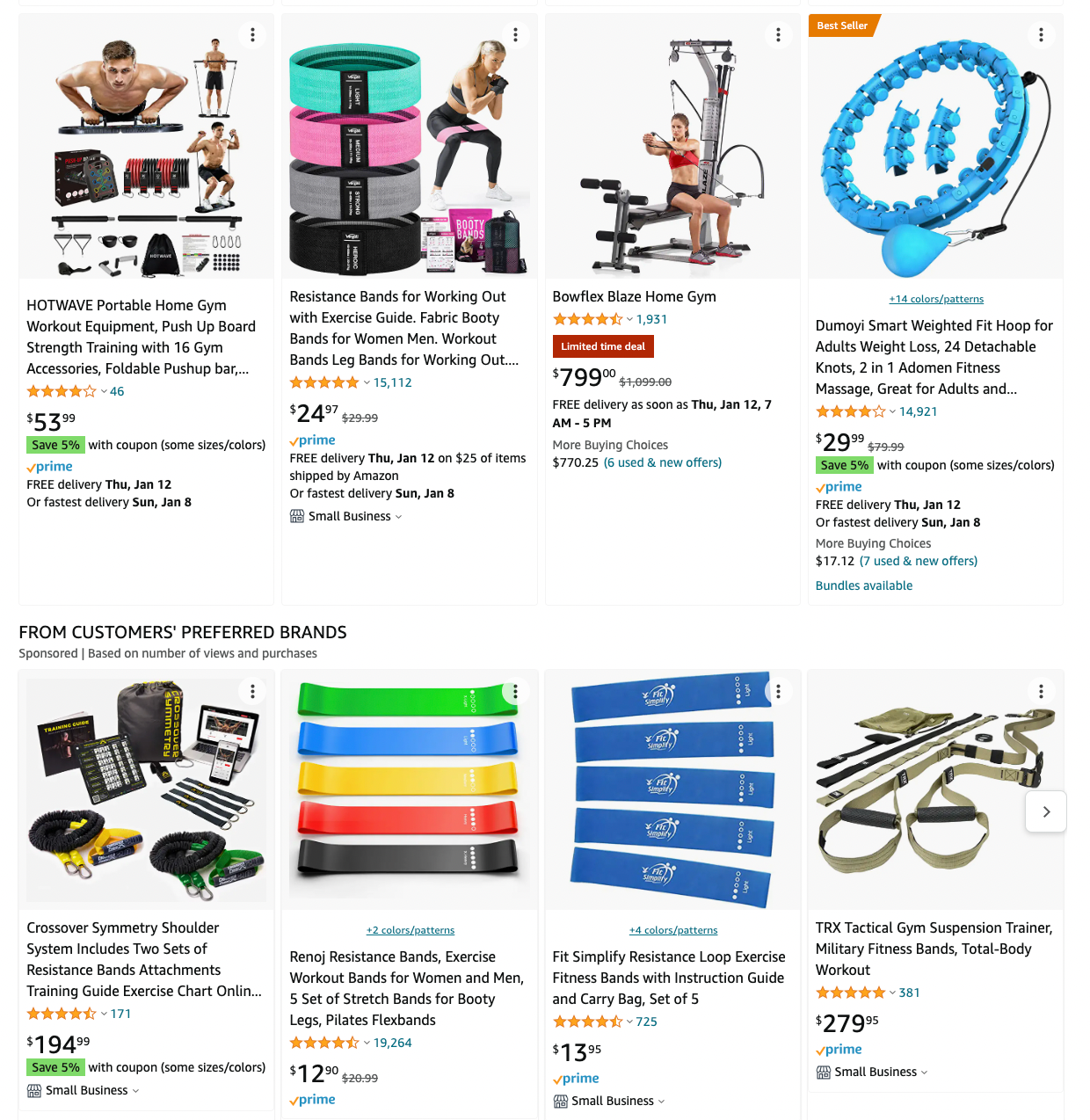 You can also expect your customers to be online shopping for these products. According to the latest Jungle Scout Consumer Trends Report, customers were shopping for exercise and fitness equipment 40% more in Q4 2022 compared to Q3 – and that trend will continue into Q1 2023.
Take a look at this graph from our Keyword Scout tool. It shows a significant spike in interest for the keyword, "workout equipment" this time last year – and keyword search volume is even higher now for fitness-related keywords compared to early 2022.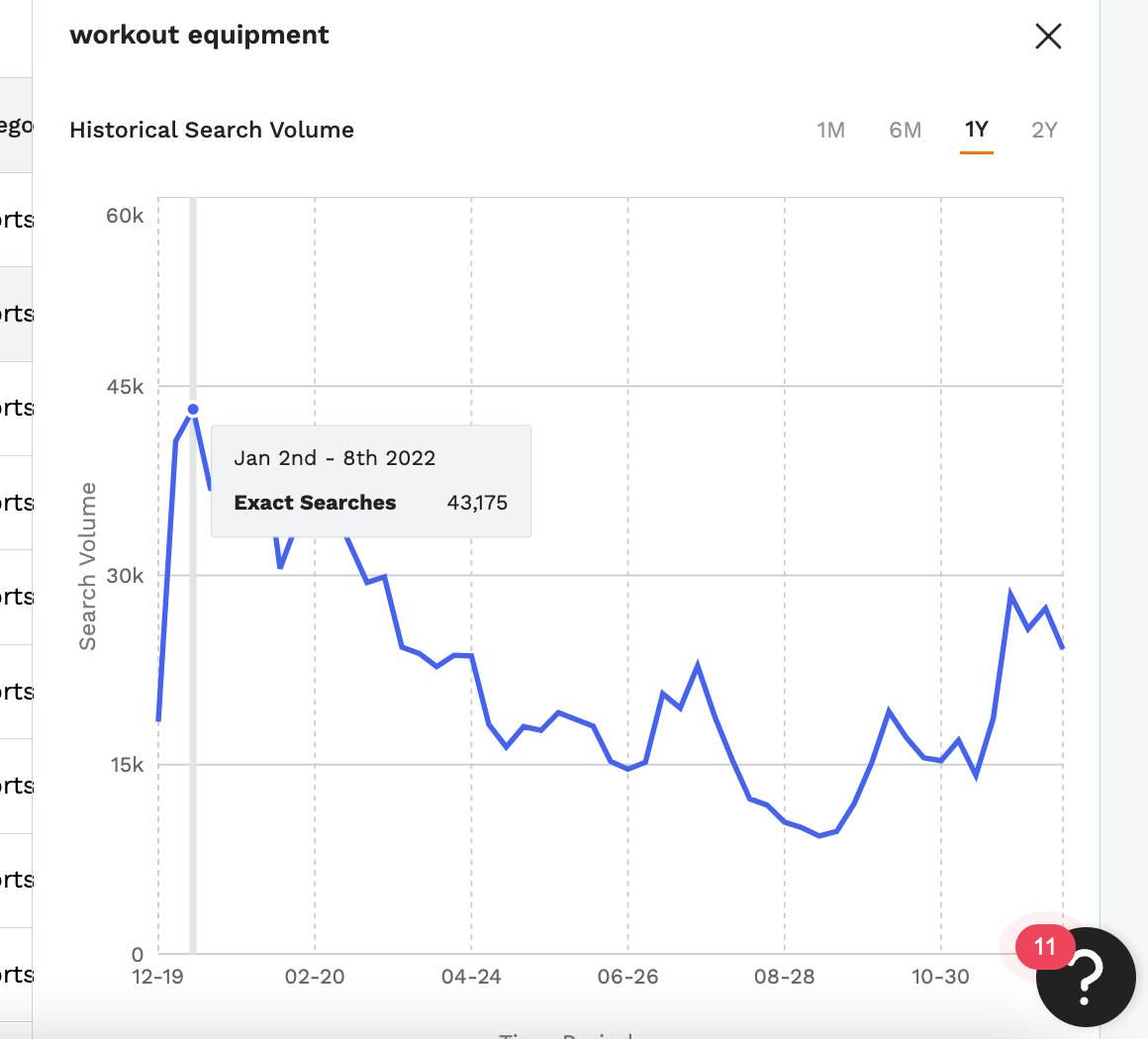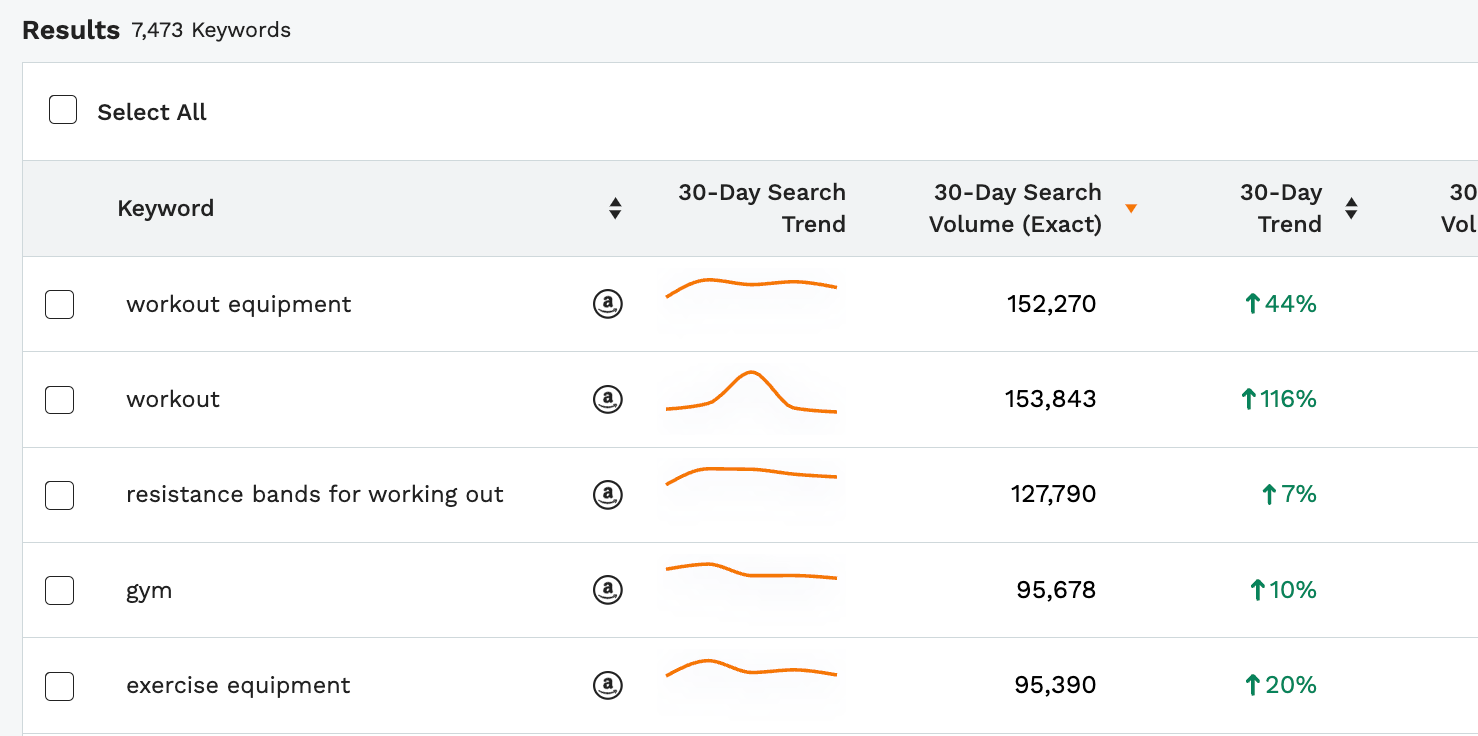 Just take a look at the monthly search volume 30-day trend; consumers actively search for these products after the holidays and the New Year.
This category can be very competitive, so try to think outside of the box if you are selling and marketing a private label fitness product. A unique and powerful way to make new products is by tapping into the massive user base on TikTok. TikTok is a great way to organically reach targeted audiences, even in competitive markets.
If you can find popular exercise and fitness products to resell via retail arbitrage, online arbitrage, or even by dropshipping, that is another viable option as well.
Tip: Try local discount stores such as Marshalls or Burlington; you can often find low-priced brand-name exercise and fitness equipment at these stores to resell on Amazon. If you go the arbitrage route, make sure you scan items with your Amazon seller app first to ensure you are ungated in a particular category or brand.
2. Fitness apparel and shoes
If you are ungated in the clothing and shoe category — or for some major clothing brands on Amazon — these are the types of products you should try to source in the new year. If consumers are purchasing fitness equipment, they're also purchasing new workout apparel to wear to the gym or for a run around town.
Clothing and shoes are great for retail arbitrage sellers because not many Amazon sellers are allowed to sell in these categories.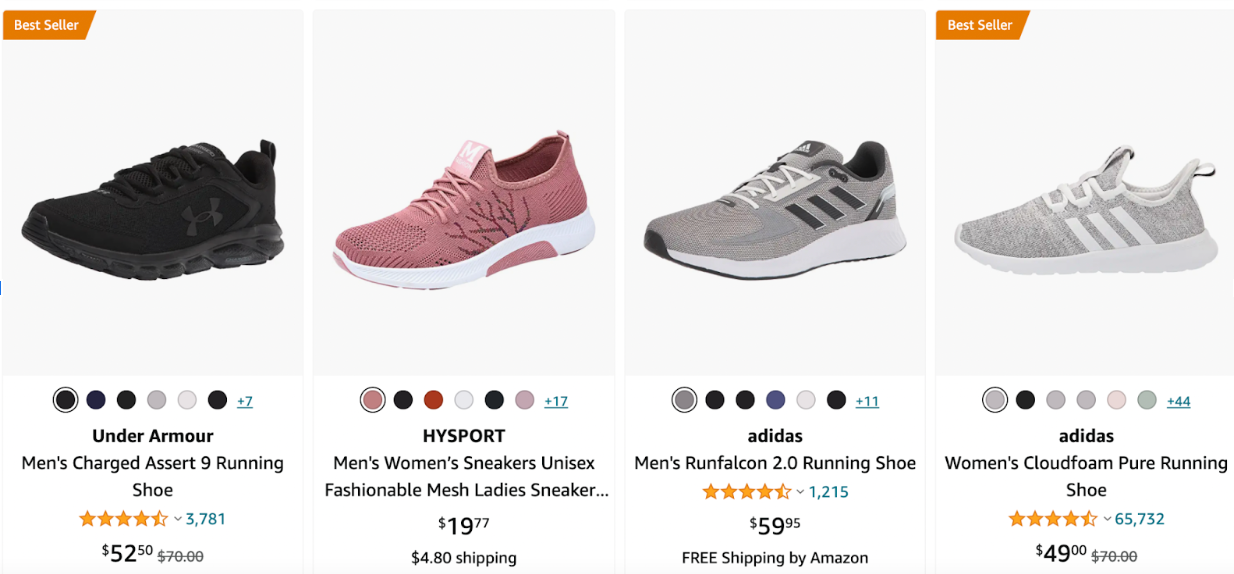 If you are more interested in creating your own private-label product in the fitness industry, you can use the power of social media to get your brand off the ground. Remember "TikTok leggings?"
As mentioned above, if you can launch a unique enough product with a fresh marketing strategy to match, using a platform such as TikTok can help increase your Amazon sales.
Here's another type of fitness product that has seen a large increase in searches over the past 30 days:

Even if you can't sell fitness apparel or shoes, you can still take advantage of the opportunity and look into related products that are most likely used with them.
3. Self-care and beauty products
Brands in this industry created more and more products catered towards self-care, personal care, mindfulness, and meditation.
Search "skincare routine" on TikTok and see how integral self-care is to consumers' lifestyles. Content creators and influencers have really helped create the culture of keeping yourself in check, even when times are tough.
See the search volume and trend for this TikTok-related keyword!

If you are into makeup and beauty products, use your skills and knowledge to create a dedicated TikTok audience to which you can eventually sell products to, or better yet, recommend products you love by using the Amazon Influencer Program.
If you are approved in the beauty category on Amazon, consider creating a beauty bundle listing of popular, complementary beauty products that help complete a skincare regimen.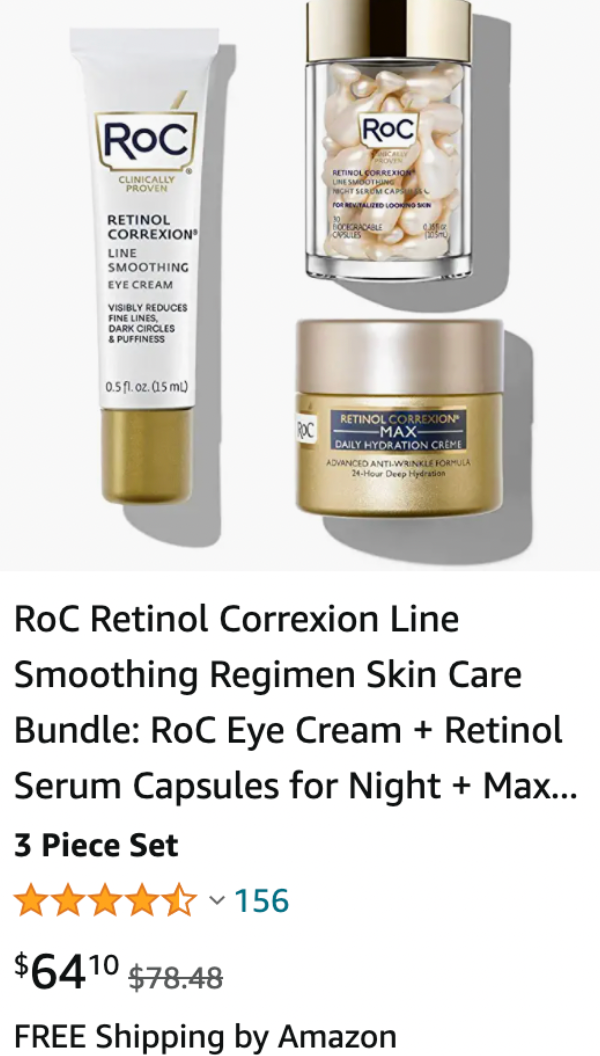 Wholesale and retail arbitrage are also great business models to follow for selling beauty products on Amazon. Contact beauty brands directly to open wholesale accounts or go to retail stores and start scanning various beauty products to see what you could make a profit on.
These products fall in line with consumer New Year's resolutions to look and feel better than before. But because a new skincare routine is easier to stick to than many other resolutions, we believe the trend will stick around much longer than a few weeks after the New Year.
4. Swimwear
I know this may not sound like the time of year consumers are purchasing swimwear, but as much of the US and all of Canada get hit with cold weather, many are looking to go south for a warm winter vacation.
Not to mention, many college students go on spring break towards the end of march and will likely be looking for new swimwear for the occasion.
Let's take a look at some numbers. At the beginning of January, we already see positive search volume trends for both women's and men's swimwear products.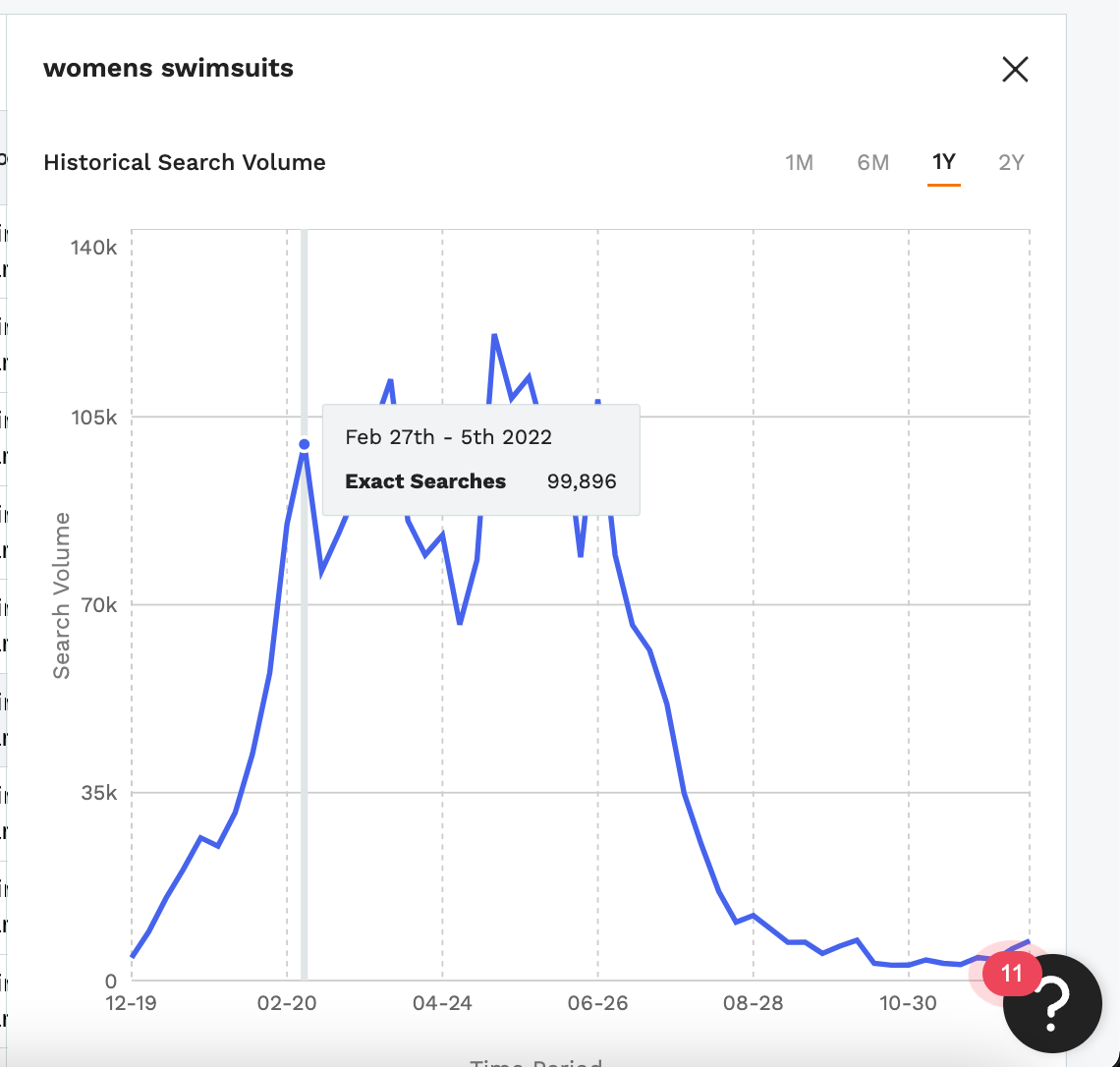 There are many arbitrage and wholesale opportunities to resell other swimwear brands without creating private label brands. Though you certainly can — check out our article on How to Buy on Alibaba and Sell on Amazon to get started.
And, of course, you can use social media marketing tactics, such as creating viral content on TikTok, to promote your new swimwear brand.
Now is the time to start looking into different swimwear products and bathing suits to sell on Amazon.
5. Seasonal products
If you want to take advantage of some seasonal holiday rush outside of Q4, there are two special dates during Q1 when consumers don't hesitate to spend money shopping: Valentine's Day and St. Patrick's Day.
One is all about celebrating love, and the other is, well, all about partying. If you are an experienced Amazon seller, taking advantage of these two days can be very lucrative.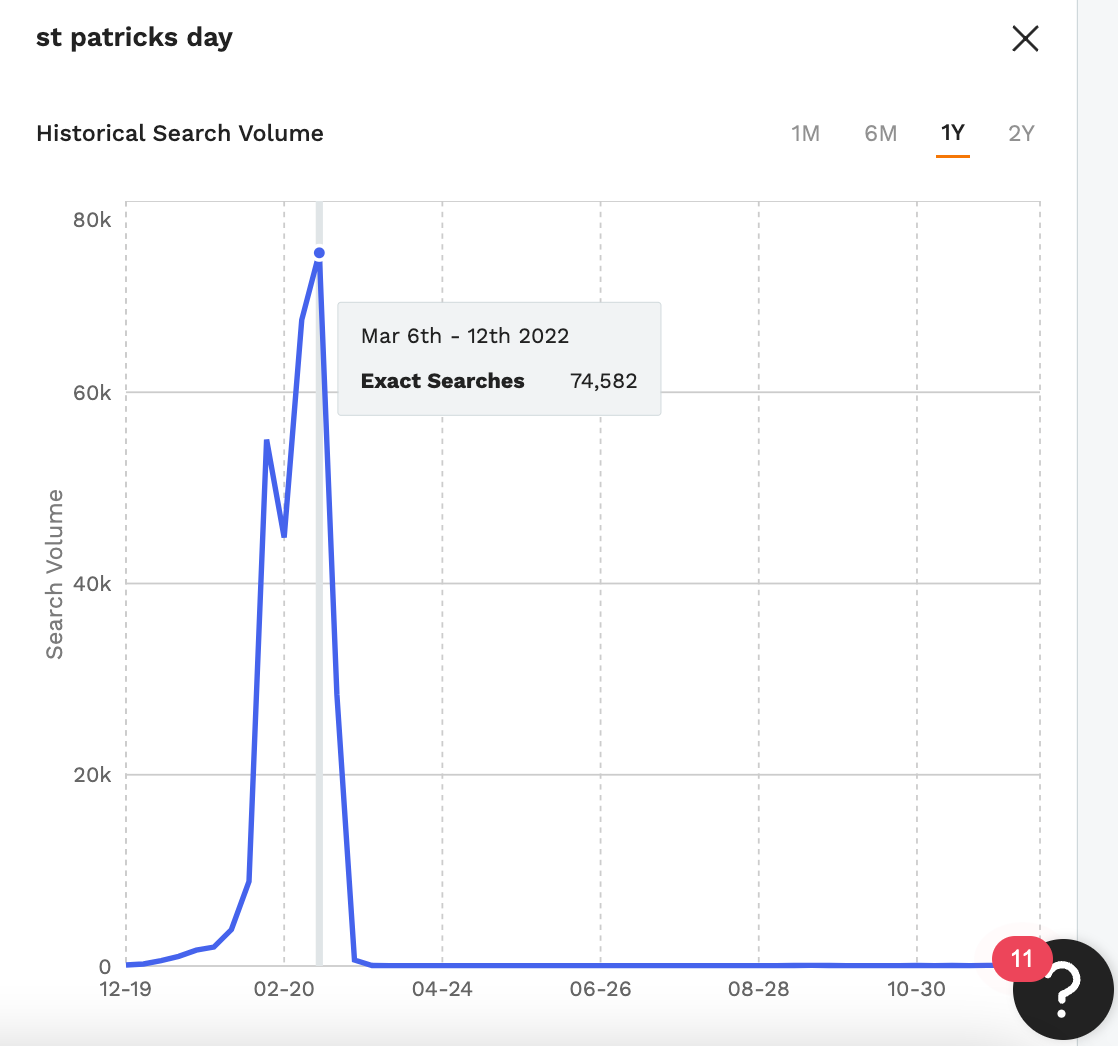 I say experienced sellers because it may be challenging to forecast how much inventory you should purchase as a new seller. If you buy too little, you'll miss out on sales. If you buy too much, you won't sell the product once the holiday passes.
Though, these two days are incredible opportunities for retail arbitrage sellers. Hint: Valentine's Day candy!

How to know if a product will sell during Q1
Don't limit yourself to the list of ideas above, as most products will sell during Q4. Think outside the box, gather your ideas, and make sure you bring them into proper product research before investing in any product to sell on Amazon.
Next, use Jungle Scout's tools to figure out if your product idea is viable for selling on the Amazon platform:
Keyword Scout: Use this tool to determine a product's search volume and gather additional keyword ideas to target in your listing and PPC campaigns. Keyword Scout will also show you the historical search volume of a particular keyword to see which time of year it is searched for the most.
Opportunity Finder: This tool will help you find unique niches and determine the seasonality of different products. I used this tool to find viable evergreen and seasonal products to sell during Q2 on Amazon.
Product Database: Enter specific criteria to find the exact products you would be interested in selling. Try out different criteria and filters, and see where your research takes you.
Extension: Hit the extension button, and it will pull up valuable data about the product you are currently searching for. This will give you an idea of potential monthly sales and a quick competitive analysis. With the Extension, you can now view a Historical Trend data chart located in the embedded section on a product detail page. View historical data points such as Buy Box price, New lowest price, BSR, Amazon's price, and more.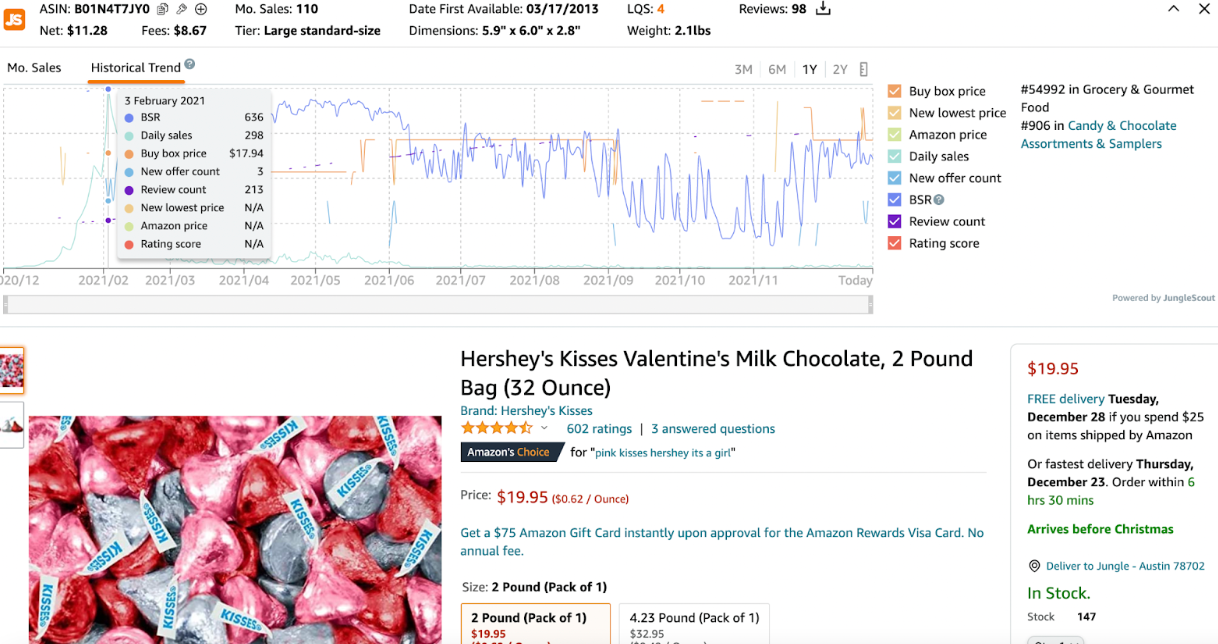 Want to learn more about how to find profitable products to sell on Amazon? Check out our YouTube video on How to Find a Profitable Product to Sell on Amazon.
What are you going to sell in Q4?
We hope this guide gives you some good ideas of what products you can sell during this time of year. Bookmark this page for updates in Q2 2023 — we'll update you with more ideas for the next quarter, and every quarter after that. Now, get out there and make it happen!
Let us know what you think of these categories, or if you have any questions, let us know in the comments below.
Check out our full How to Sell on Amazon Guide for more information on product research, sourcing, listing creation, and much more.
Explore new product opportunities with Jungle Scout and start making money during Q4 on Amazon!