The hardest part about selling on Amazon is, well, figuring out what to sell on Amazon. You may have what you think is a great idea for a product, but smart sellers rely on data — not always their gut instincts — for which products to invest in.
This is especially true in November, when customers flock to Amazon searching for the perfect gifts to buy their friends and family for the holidays.
How do you pick the best products to sell on Amazon? How do you know what consumers are buying during this time of year? How much inventory should you purchase?
We'll answer all of those questions and more in this article, so keep on reading.
What to sell on Amazon FBA in November 2023
As the summer ends and we head into the fall and winter months, what types of products will consumers spend their money on?
There are lots of holidays and events that go on this time of year! You have Halloween, Thanksgiving, Black Friday, Cyber Monday, Hanukkah, and Christmas.
There are many opportunities to sell popular products during November, so let's get into it!
1. Thanksgiving decorations
A U.S. holiday that consumers spend lots of money on is Thanksgiving. Families across the country will gather with friends and family with lots of food and drinks.
This leaves an opportunity for Amazon sellers to capitalize on Thanksgiving traditions by offering decorations, party supplies, plates, and more.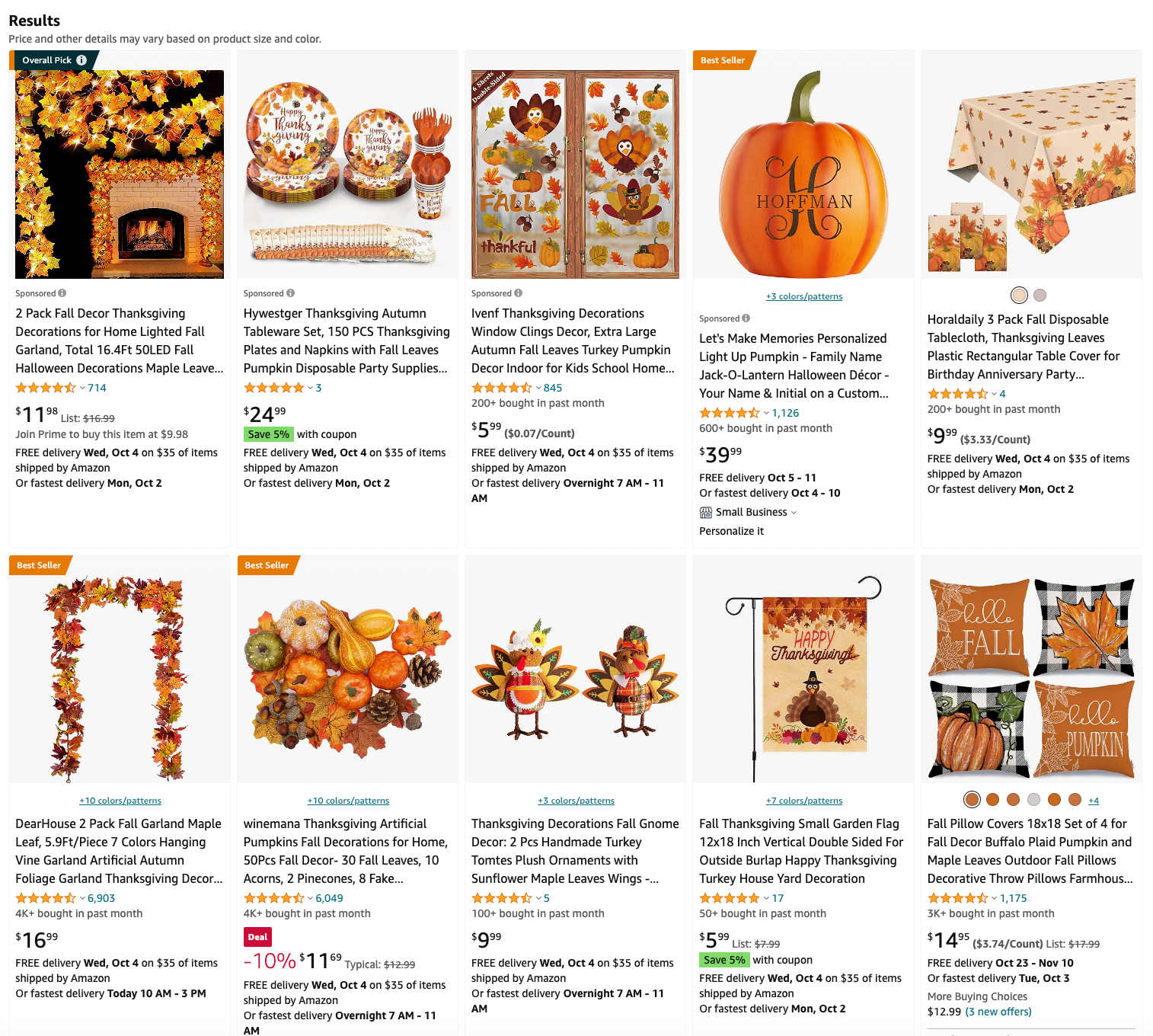 There are many Thanksgiving/fall-themed products you can sell on Amazon. Tablecloths, outdoor decorations, indoor decorations, disposable plates and silverware, lights, scented candles, and even canned grocery items such as cranberry sauce, gravy, corn, and so on.
Let's look at the numbers: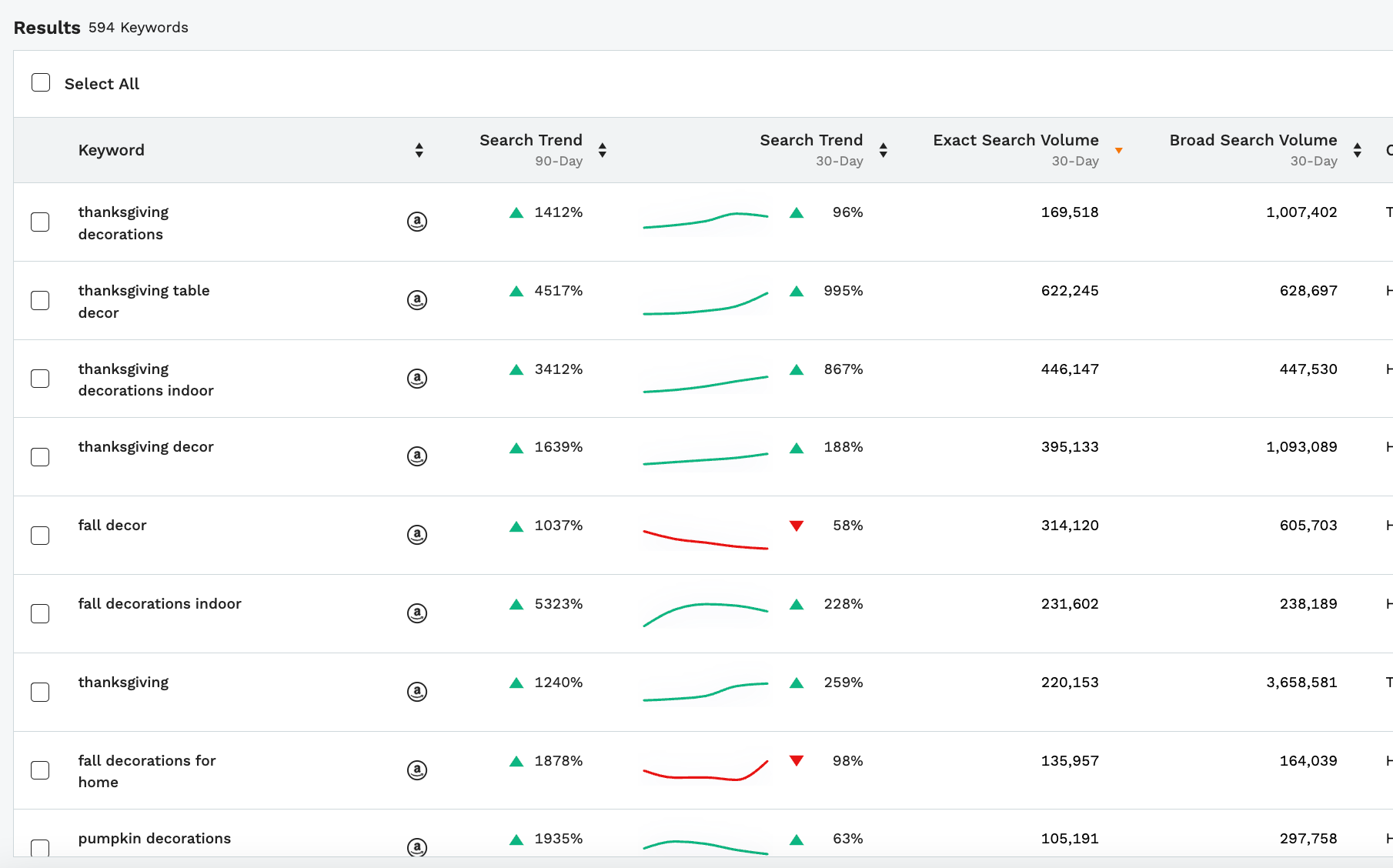 These keywords are currently trending upwards and will continue to grow in popularity in November. Start thinking about products you can offer to support these keyword searches.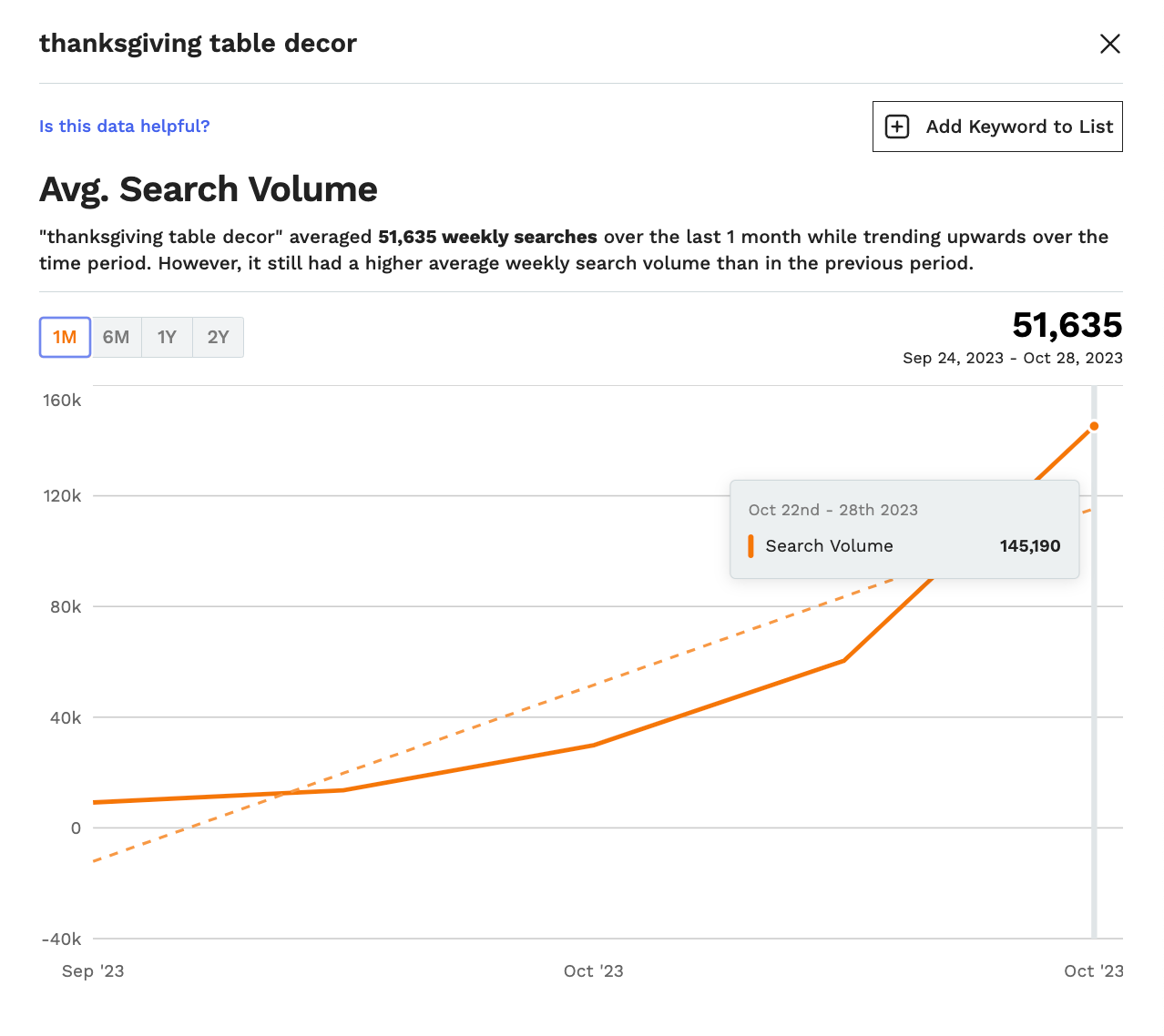 Use the Jungle Scout Product Database to learn what products you can sell for this holiday. With the tool, you can use a filter called "Include Keywords" and enter "Thanksgiving" so that the Product Database will only show Thanksgiving-related items.
There is an opportunity to launch a seasonal private label product or resell other brands' products through retail arbitrage or wholesale.
As with the Halloween example, visit your local grocery stores/hardware stores, as it is likely that they already have Thanksgiving products on display. Start scanning those products to see what you can potentially resell on Amazon for a profit.
2. Christmas decorations
Those who celebrate Christmas love to decorate their homes, trees, and even themselves! There are tons of opportunities to sell various decorative items related to Christmas.
Forget about selling gifts for Christmas — just sell the decorations people use to celebrate. Think of the possibilities: lights, ornaments, artificial trees, snowflakes, signs, inflatables, and so much more.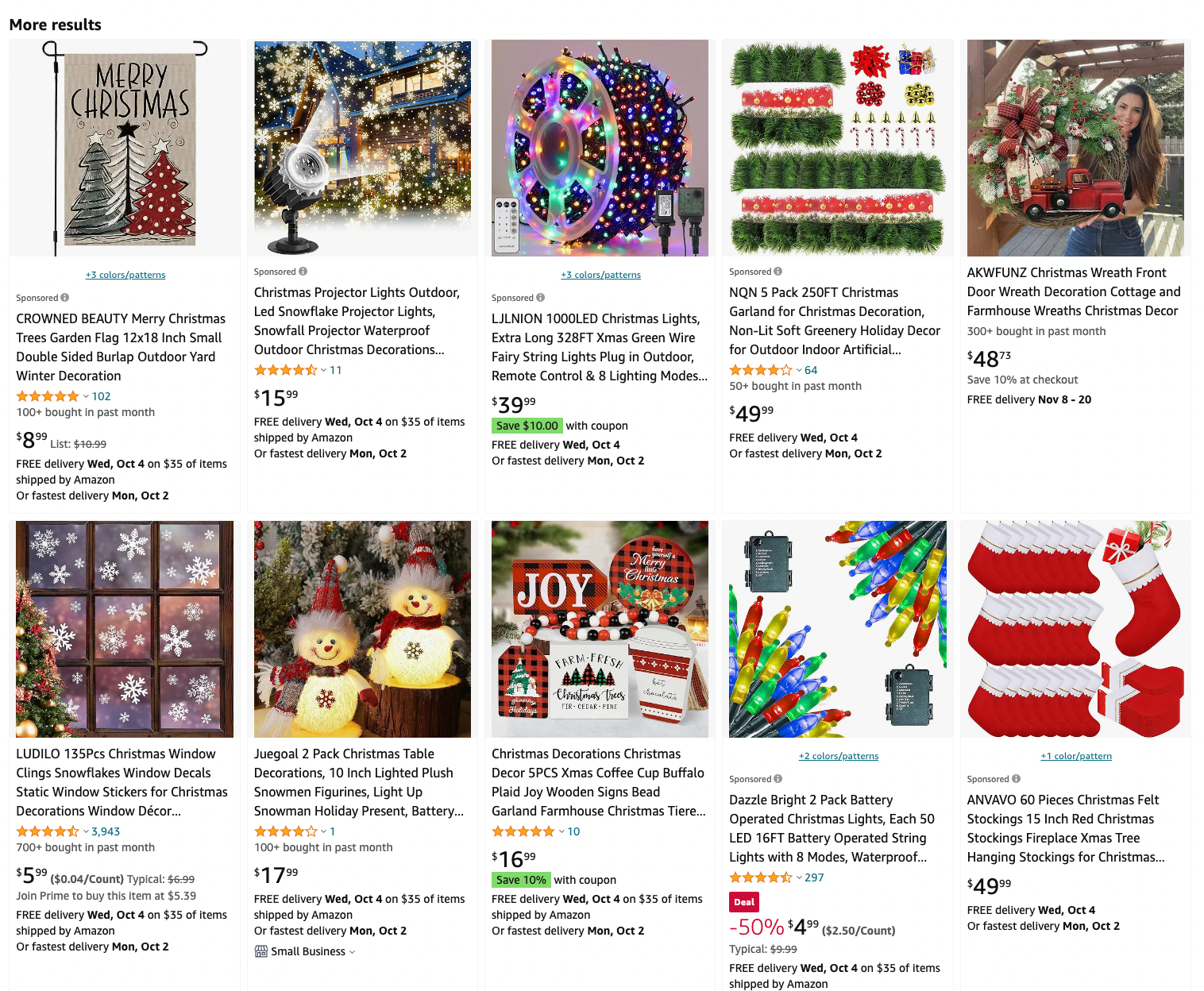 Let's look at the numbers: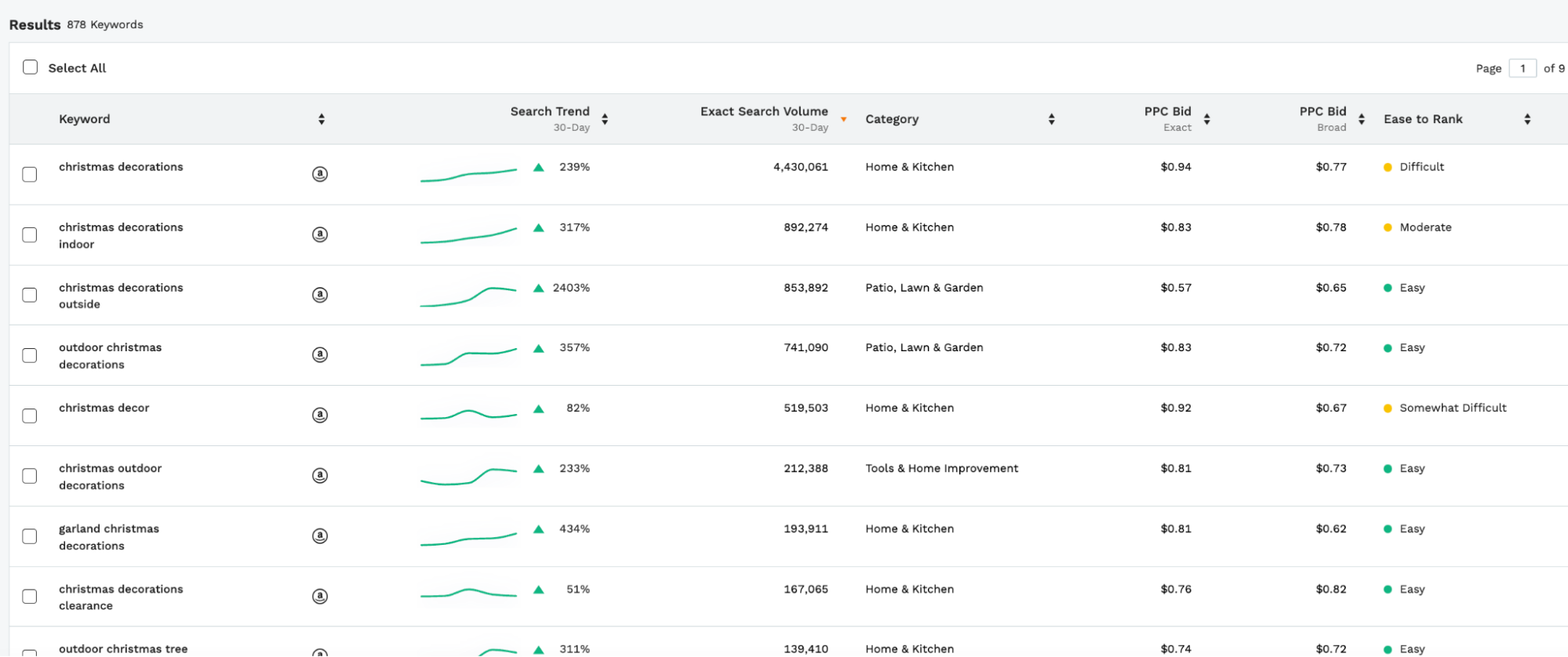 Searches related to Christmas decorations and other holiday-related items are through the roof. Now is the time to start thinking about which products you'd like to stock up on and sell.
Let's look at the historical graph again: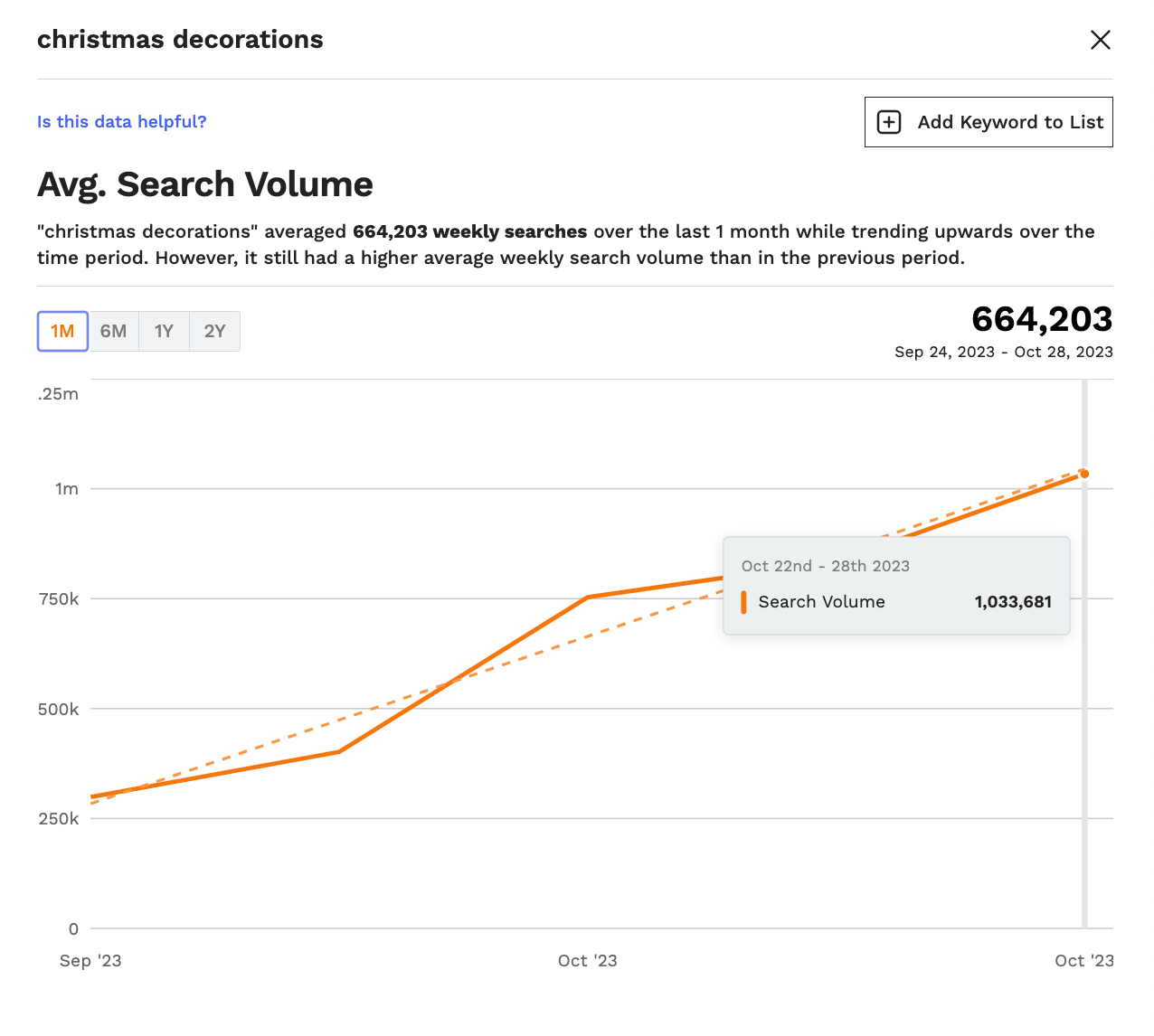 As we reach November, there are over 1,000,000 weekly searches for Christmas decorations. Let's look at the search volume results from the previous year.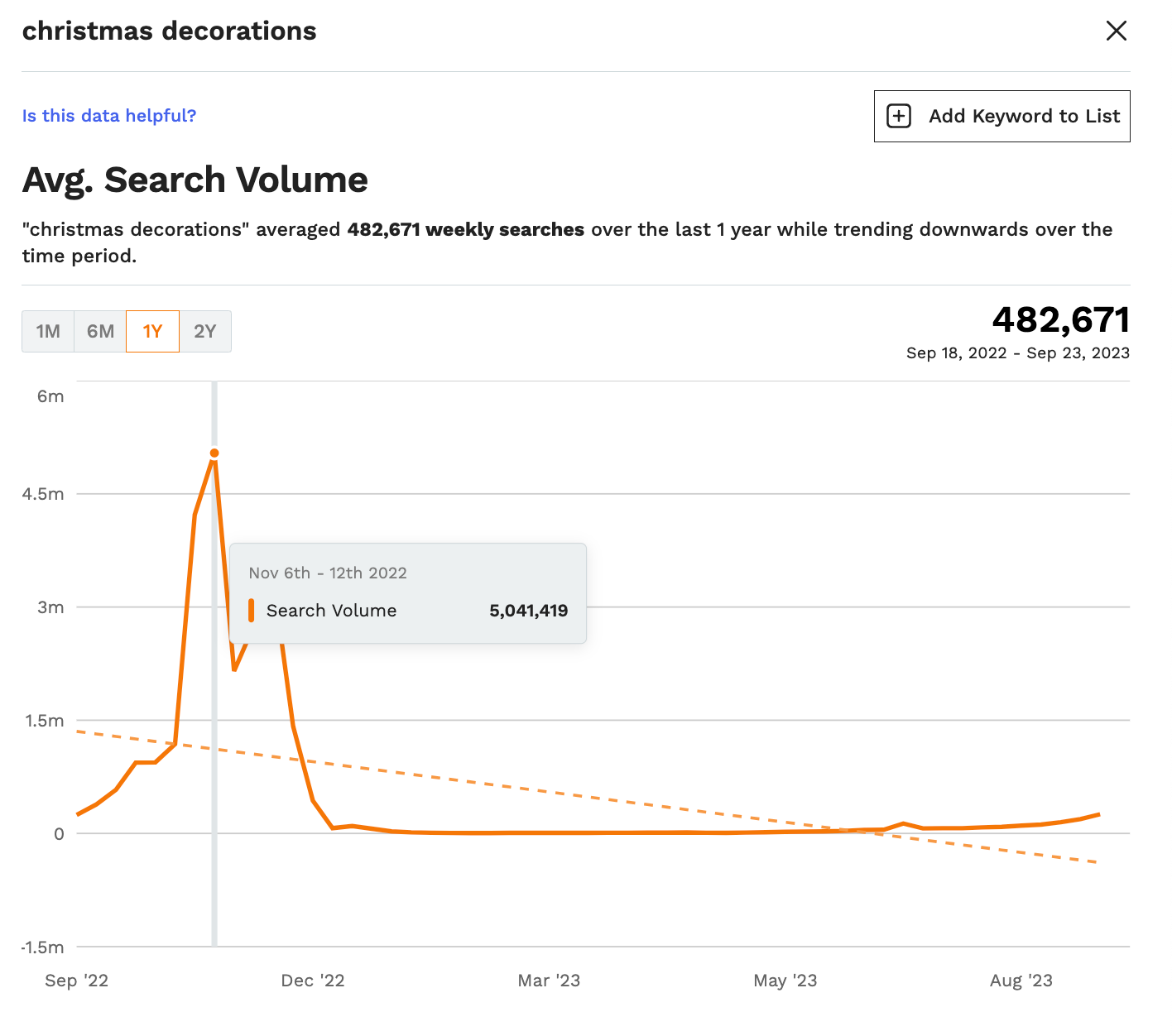 In early November of 2022, search volume for "Christmas decorations" peaked at a whopping 5 MILLION searches — in just a single week! That is an insane amount of searches, meaning there is tons of opportunity to earn money by reselling Christmas products online.
As with the other decoration recommendations we made, there are plenty of arbitrage opportunities with Christmas decorations. Go to your local grocery or hardware store to see if they've started to display lights, trees, or inflatables.
Use a scanning app to view the current Amazon selling price and see if you can make a profit based on the retailer's selling price.
If you don't mind selling oversized items on Amazon, inflatables typically resell very well on Amazon and other online marketplaces such as eBay or Facebook Marketplace.
READ MORE | 7 Steps to Prepare Your Business for the Holiday Season
3. Toys
I know "toys" sounds broad, but there are thousands of toys on the market that would make for a great November opportunity. When you think about Christmas or the holidays as a kid, you think about the toys you wished for each year. Thousands and thousands of toys are purchased a day during November, and you can get a piece of that pie!
While launching a private label toy brand is a fun idea, reselling other brands' toys during November is a great way to capitalize on the holiday shopping rush.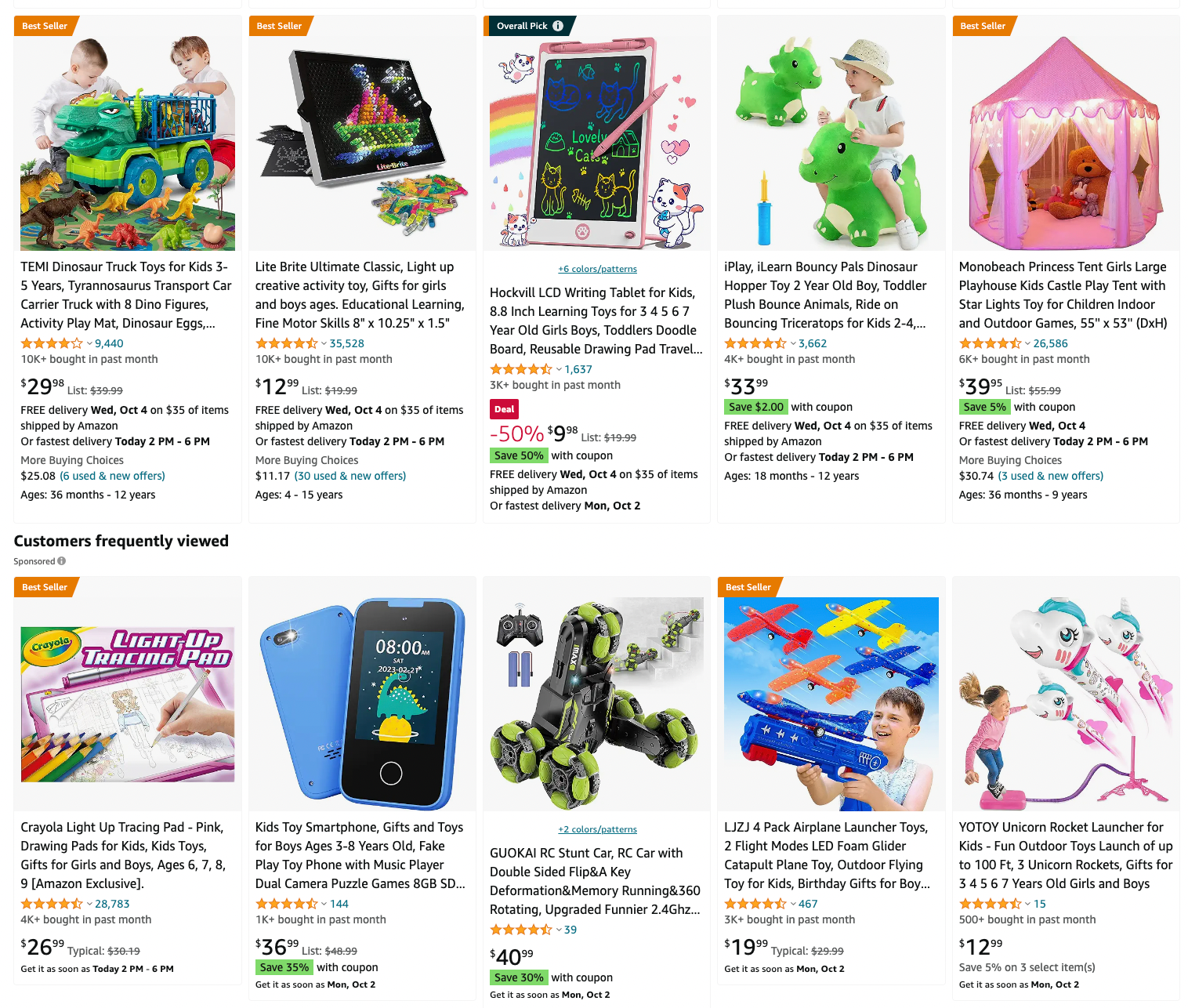 Let's look at the numbers: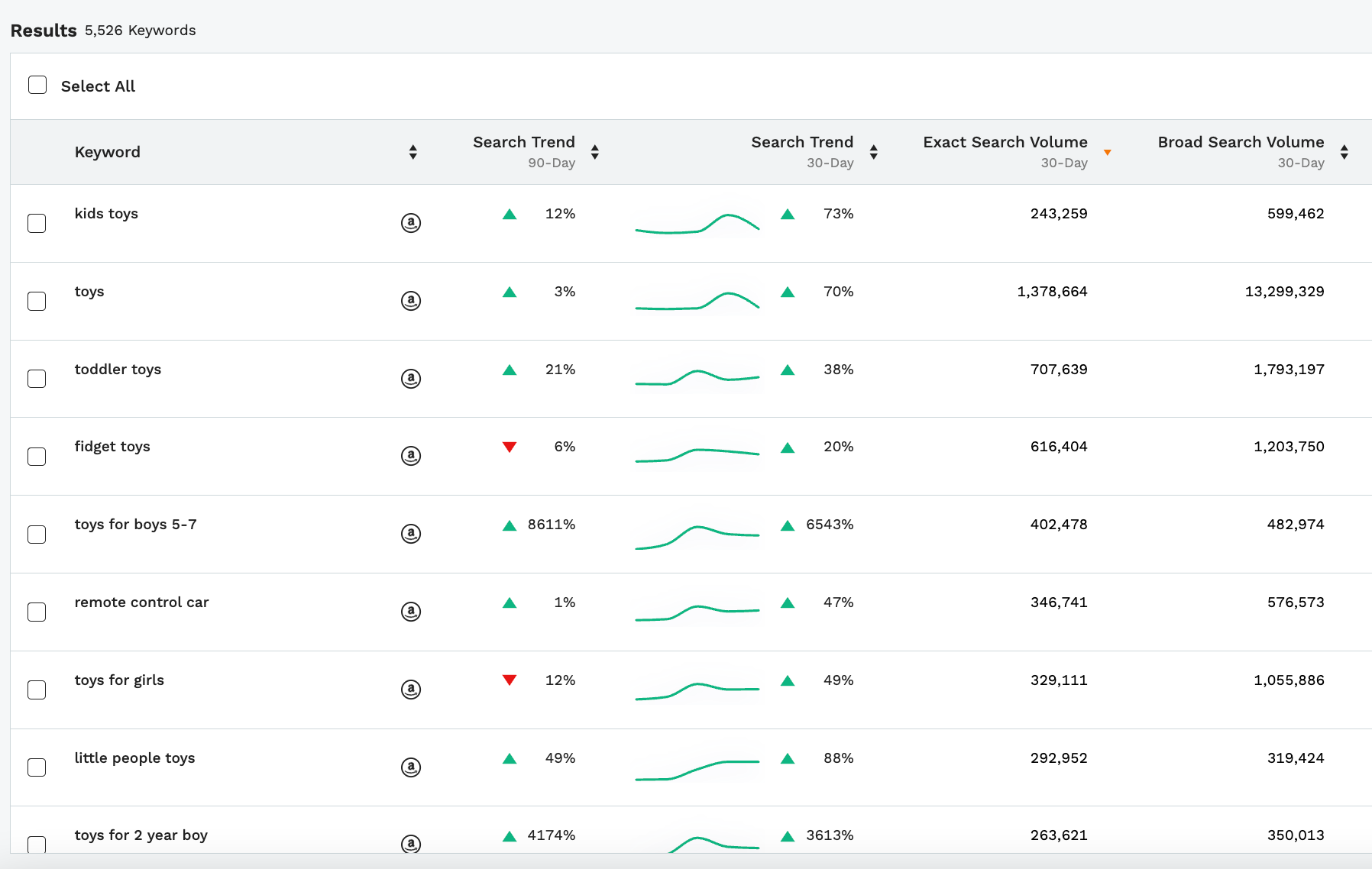 After searching for the broad keyword phrase "kids toys" using Keyword Scout, we can see there are over 5,000 results. That's a lot of toys!
With so many toys on the market, how do you know which ones will be popular in 2023? Well, for one, check out your local retail stores, such as Walmart and Target, and see what kinds of toys they have on display now.
Another way to find what toys are popular is by searching for "2023 Holiday Toy Guides" on Google. There are many publications and articles that let consumers know what the hottest toys of the season will be.
READ MORE | How to Sell Toys on Amazon
Like the other examples, reselling toys via arbitrage or wholesale is a great way to earn money from this niche in November. Start scanning toys at your local stores and see what you can profit from.
4. Cold weather clothing
As the weather cools, consumers will be looking for some warmer clothing to get them through the fall and winter months. Plus, clothing, shoes, and accessories make for great gifts during the holiday season.
If you are comfortable selling clothing and shoes online due to the potential high return rate, it can be very profitable for your business. According to the Jungle Scout's 2023 State of the Seller Report, 20% of sellers list products in the Clothing, Shoes & Jewelry category and 21% of clothing sellers see net profit margins of 21% or higher.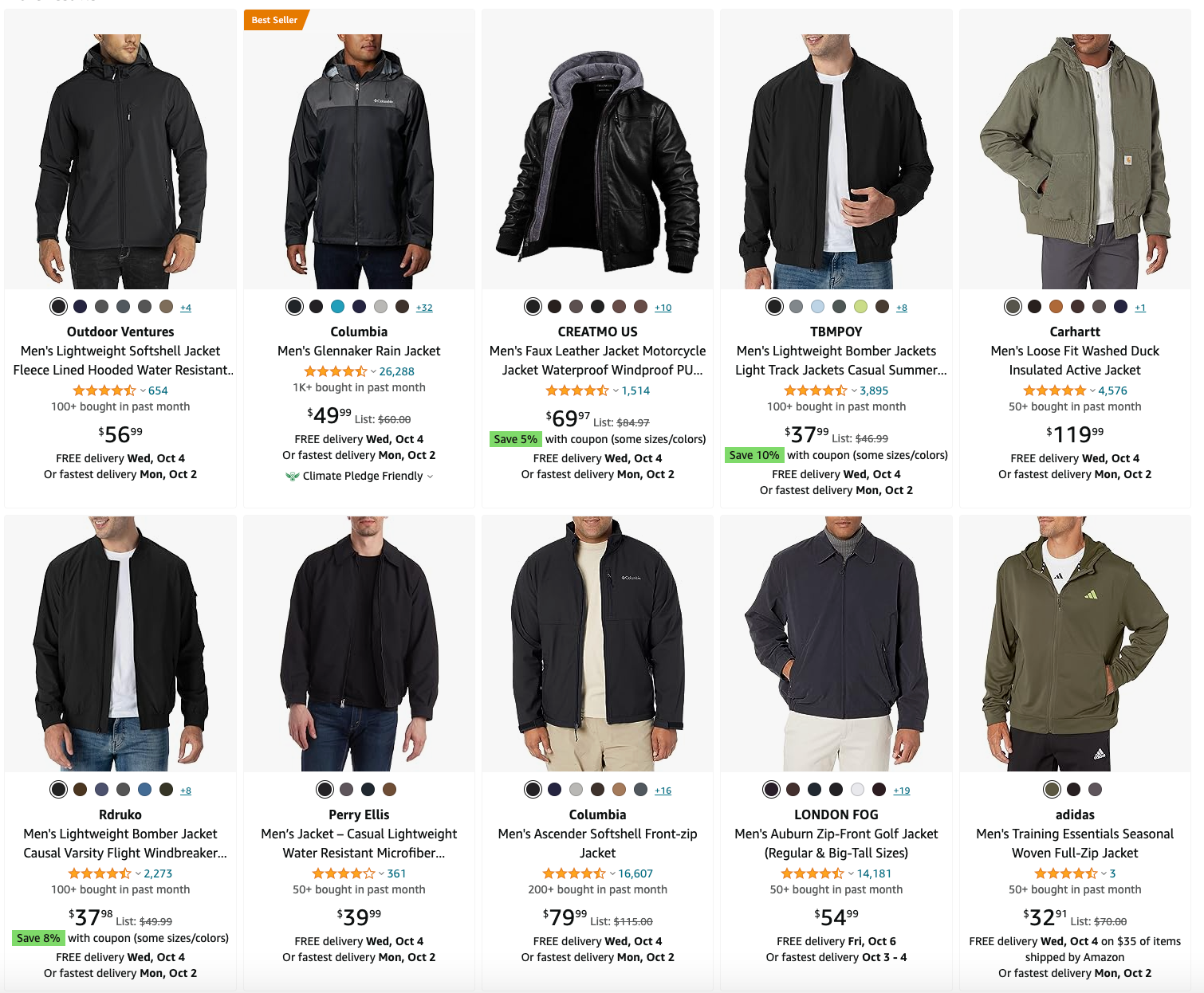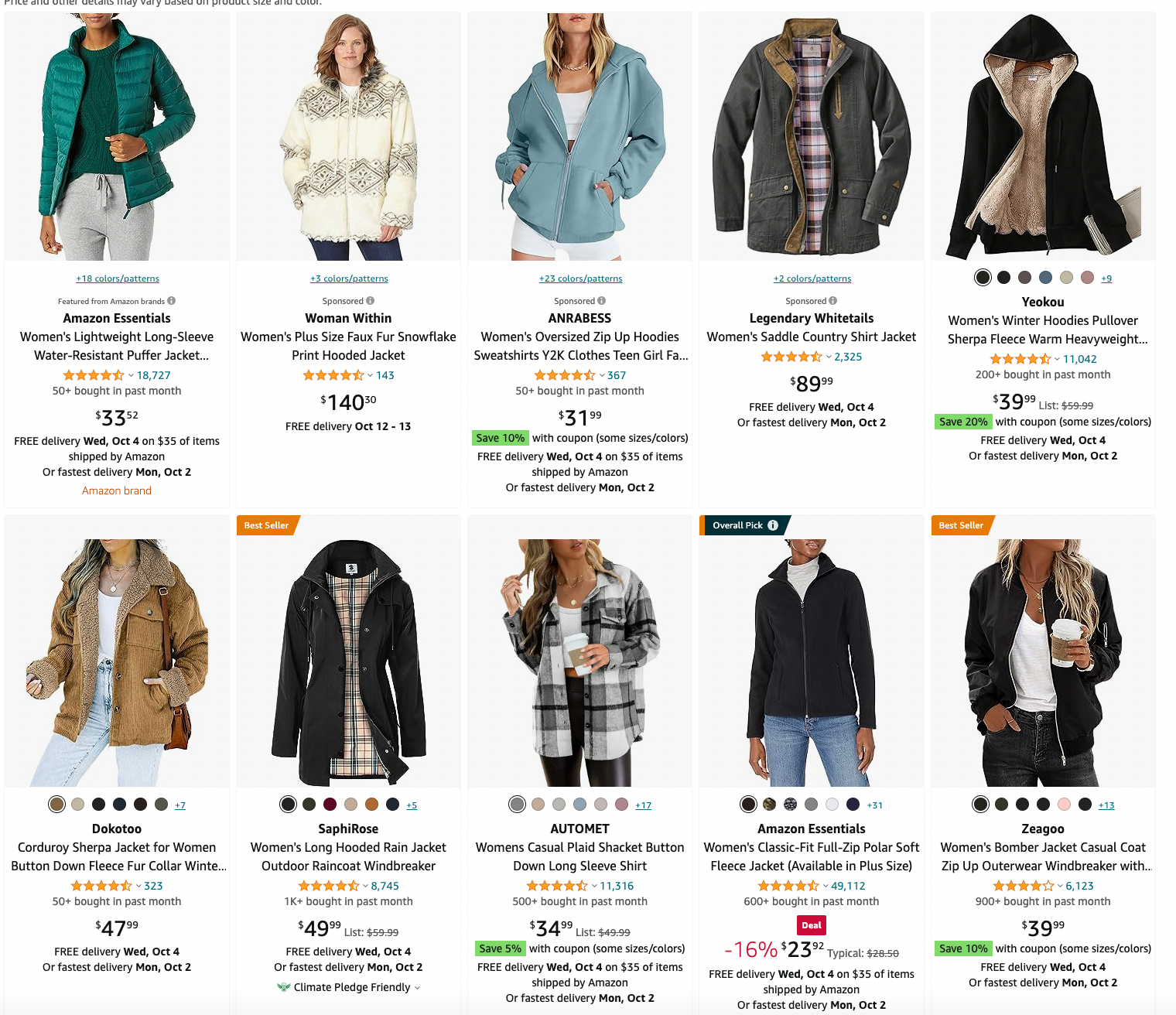 Let's look at the numbers.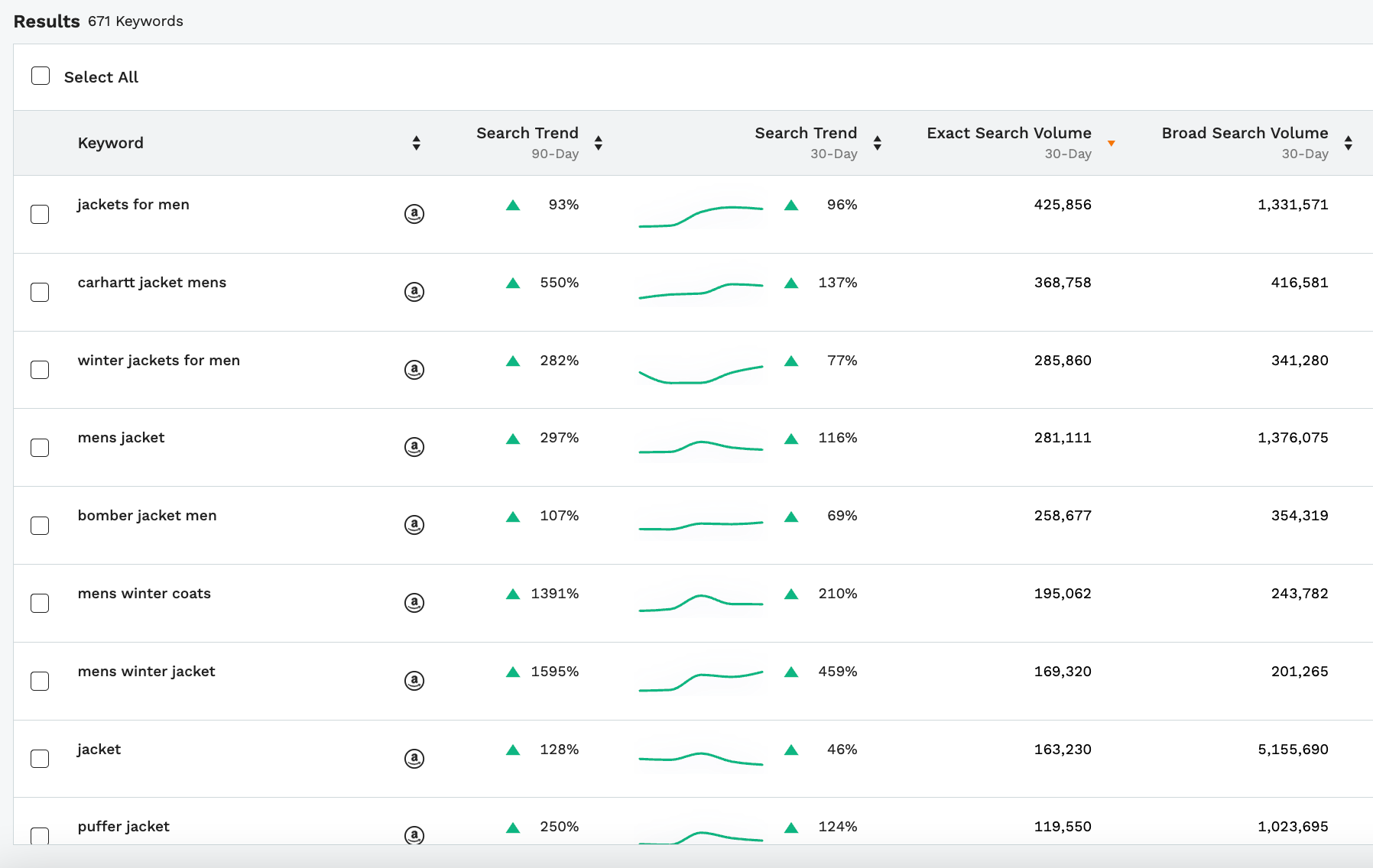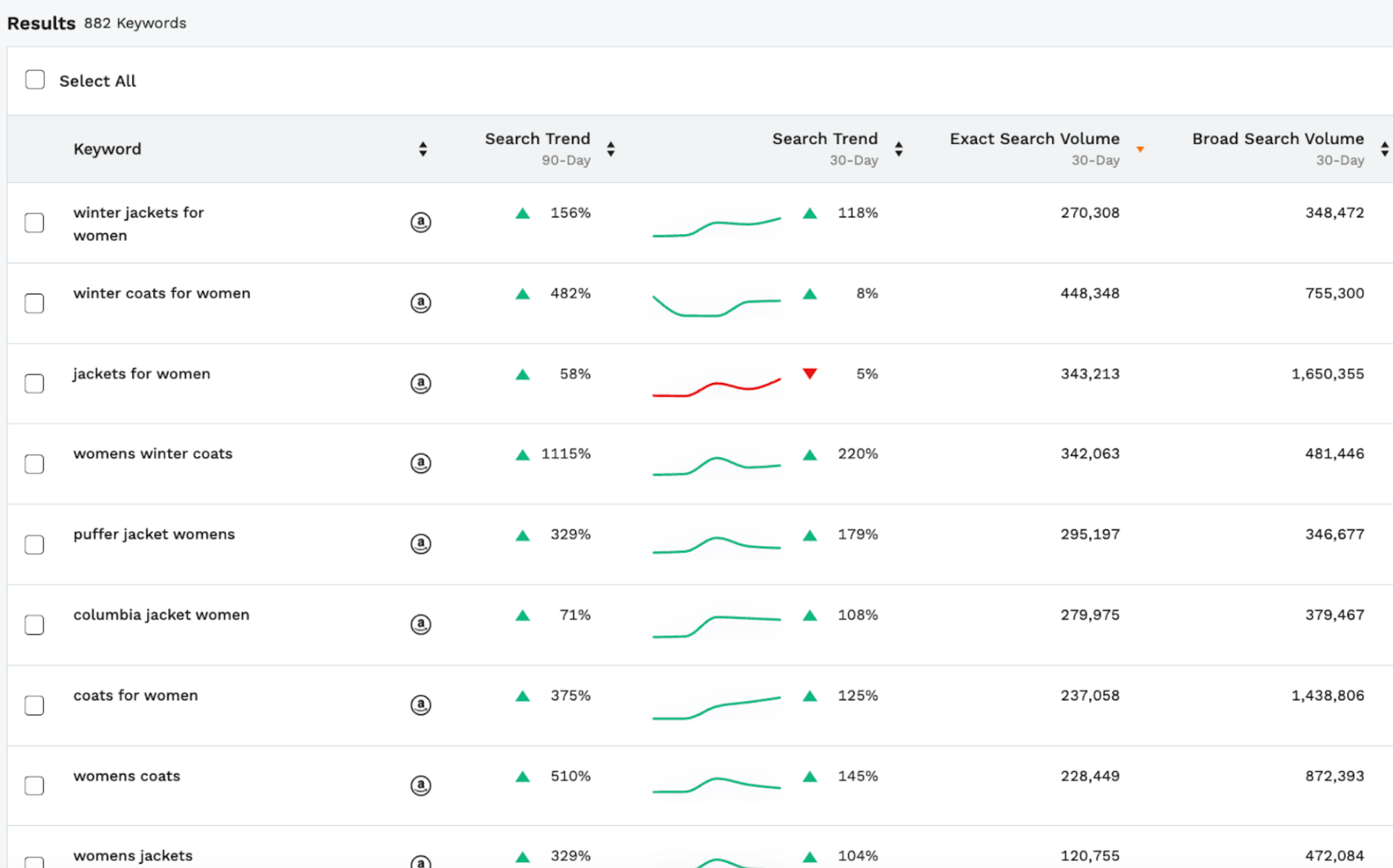 Winter jacket keywords for both men and women are seeing a rise in keyword search volume as the weather gets a little cooler. Of course, this is just one niche in the main category of clothing, so get creative and think of other types of clothing, shoes, or accessories that consumers purchase during this time of year.
This category would work great for private label, retail arbitrage, and wholesale. While it may be too late to launch a new clothing line for Q4, you can have it ready by Q1. In the meantime, look for arbitrage or wholesale opportunities within this category.

By using Jungle Scout Product Database or Opportunity Finder, you can discover potential products to source.
5. Holiday gifts
I know this is broad but it is the time of year where consumers begin their holiday gift shopping. In fact, 42% of consumers started holiday by the end of September, according to Jungle Scout's Q3 Consumer Trends Report Being it is already November means that even more people will start shopping for their loved ones this holiday season.
The best part about Q4 is that pretty much every type of product will have increased demand and sales. November is the perfect time for a new seller to jump into retail arbitrage and make some money reselling popular toys and other gifts.
READ MORE | The Complete Guide to Retail Arbitrage in 2023
Let's look at the keyword volume for some gift-related keywords.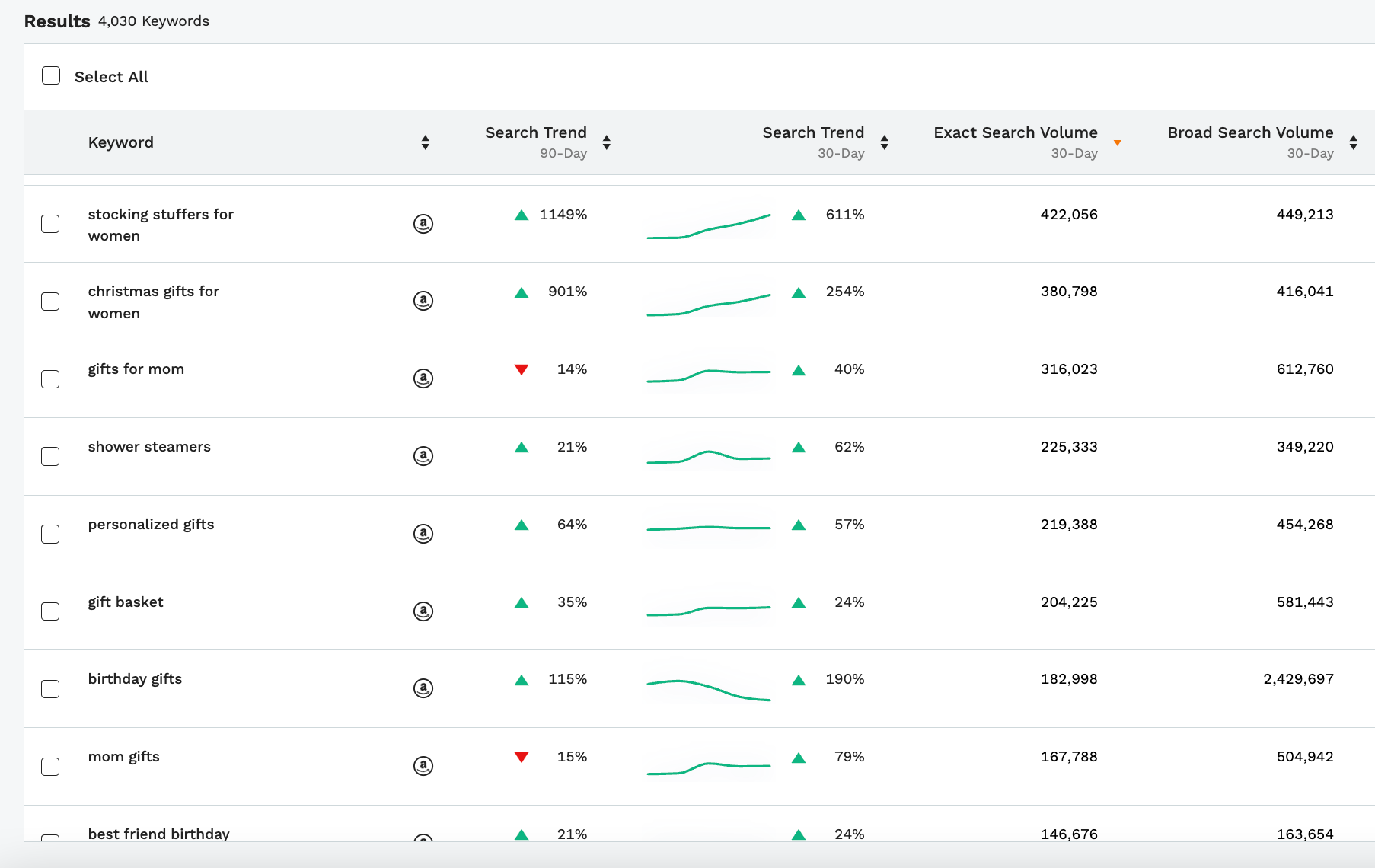 The first keyword for example, "stocking stuffers for women", has gone up 1100% in the past 90 days! When we search for that keyword on Amazon, we see a ton of different products — this can give you some ideas on the types of products to look for when out scanning for products to flip for a profit.
Take a look at Amazon's Best Sellers Lists to find out what consumers are buying the most of. Another good way to figure out what people are buying is by looking on TikTok and other social media platforms. Go to TikTok and search "TikTok made me buy it" and you will see thousands of products that people love at the moment. Speaking of TikTok, creators with a large following can earn some decent money by promoting other people's products on TikTok through TikTok Shop, earning a commission for every sale.
How to find the best products to sell on Amazon
Don't limit yourself to the list of ideas above, as most products in all product categories will sell in November. Think outside the box, gather your ideas, and make sure you bring them into proper product research before investing in any product to sell on Amazon.
READ MORE | Product Research 2023 Guide: How to Find Profitable Products
Next, use Jungle Scout's tools to figure out if your product idea is viable for selling on the Amazon platform:
Want to learn more about how to find profitable products to sell on Amazon? Check out our YouTube video on How to Find a Profitable Product to Sell on Amazon.
What are you going to sell on Amazon in November?
We hope this guide gives you some good ideas of what products you can sell during this time of year. Bookmark this page for updates in Q1 2024 — we'll update you with more ideas for the next quarter, and every quarter after that. Now, get out there and make it happen!
Let us know what you think of these categories, or if you have any questions, let us know in the comments below.
Check out our full How to Sell on Amazon Guide for more information on product research, sourcing, listing creation, and much more.
Explore new product opportunities with Jungle Scout and start making money during Q4 on Amazon!