Subscribe on Apple Podcasts
GO
Welcome to the first season of Go Pitch Win!   Each week Greg is joined by a guest judge to hear 2 entrepreneurs pitch their business or product.  After hearing the two pitches they will pick the weekly winner to move on to the final 6.  At the end of the 6 weeks, Greg will select the top 3 and then we need you to help us pick the winner!  Once the 3 finalists are announced we will open the voting for you #FreedomBuilders to choose our $10,000 winner!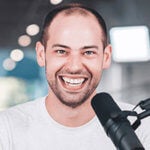 Host
Greg Mercer, Jungle Scout Founder
Greg is the founder and CEO of Jungle Scout, a suite of tools that empowers freedom builders. As a successful entrepreneur, Greg leads a team of 65+ employees. He is also an influential educator, offering free and inspirational content that has helped thousands of people build their own businesses and freedom.
---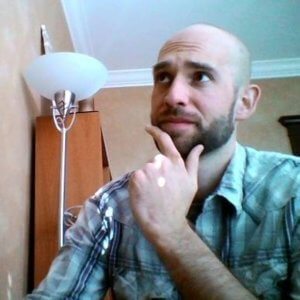 Guest Judge
Nick Loper, Side Hustle Nation
This week's guest judge is Nick Loper. He helps people earn money outside of their day job. He's an author, online entrepreneur, and host of the "Best Business Podcast"-nominated Side Hustle Show, which features new part-time business ideas each week. As Chief Side Hustler at Side Hustle Nation, he loves deconstructing the tactics and strategies behind building extra income streams.
PITCH - Urban Leaf 
Today Nate Littlewood the founder of Urban Leaf joins us to pitch Greg and Nick.  Urban Leaf is the world's smallest garden that allows you to turn your window sill into an edible oasis.  Let's hear his pitch.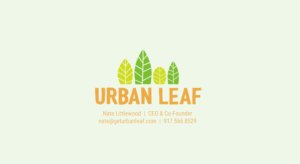 Nate:
Urban Leaf is a business about plants.  There has been a 63% increase in millennial participation in growing plants.   People like plants. They can make you a happier and healthier person. But, plants don't always like people because we lack time, space and knowledge.  This is why we have created the world's smallest garden. It's an insert that is 5" long that you can insert into a bottle and grow herbs in a small space.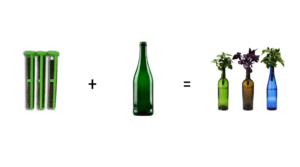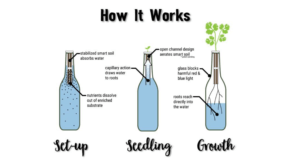 The Company and the Mission
I like food and cooking, and spending time outdoors...camping/hiking.  A few years ago I started to connect those two, specifically, the food choices I was making and how it impacts the world around us.  It was with shock and horror that I learned that food/agriculture is the #1 cause of land clearing, species extinction, use of fresh water and a leading source of GHC and Global Warming.
What really grabbed my attention was how easy it is to reduce our environmental foot print by changing the way we eat.  I believe a fork is the most powerful tool any of us have to reduce our environmental foot print. It takes about 18xs as much land to support a meat eaters diet as a vegans diet.  I'm not pushing for the vegan lifestyle, just using this as an example.
It's not just the environmental impact that's at stake here.  There are also some serious health consequences as well. From 1960 until today, the amount Americans spend on food is down from 25% to less than 10% right now. We now spend less on our food than any other time in history.  Not only that, but we spend less than any other economy in the world. We are also spending more on health care than any other economy in the world. So we aren't saving, we are just giving it to the doctor, instead of the farmer.  We are spending 2xs on healthcare, but our life expectancy is 4-5 years shorter.
Here at UrbanLeaf we believe that a big part of what's going on is related to our relationship with food.  At the core of what we're trying to do, is to help facilitate a relationship that brings people closer to their food.  We believe this will motivate, encourage and inspire people to make healthier and more sustainable food choices.
Competitive Landscape
Our market is the at home grow kit in the consumer hydroponics space.  What sets us apart is the unique combination of affordability, and accessibility and ease of use.  We have a $20 price point.
The beautiful thing about this product is you can fill up the bottle with water and it becomes a babysitter for the plant.  It will take care of the plant for about a month which give you time to work, go on vacation, or whatever you need to do. Basically, live your life and enjoy growing your own food at home.
Social Impact
Urban Leaf is committed to making a difference.  We work with these organizations.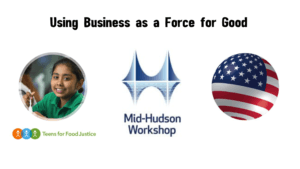 Teens for Food Justice. A non-profit that provides urban farm education for food insecure kids.  We have partnered with them and our contribution helped provide 3,500 lbs of healthy food in the school which was then distributed in the community.
Mid-Hudson Workshop - They do most of our assembly and fulfillment.  They are an amazing organization that provide work opportunities to people with disabilities who may otherwise have a difficult time finding work.
American made - The Urban Leaf product is made entirely in the USA.  Most of it is done in New York, including the plastic injection molding.
Product Road map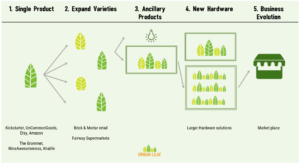 Currently at step 1.5
We launched as a one product company and are exclusively selling online right now.  We ran a Kickstarter and are on Amazon. Right now we are in the process of releasing new products - cocktail kit, edible flower kit, cooking kit, herbal tea kit. LED grow lights, racks and stands and some new hardware. Eventually we'd like to develop a marketplace. The market is currently a small/nichey market, but it's growing quickly.
How we would spend the $10k
Find more consumers and change the lives of more people.  Introducing new products mean we can appeal to a wider market.  That means a move into brick and mortar stores. There is some marketing and package redesign that needs to be done, some point of sale displays.
Judge Questions
Greg: Do you include the seeds when you ship?  
Nate: What comes in the kit is 3 garden inserts.  For each garden you get 3 seed varieties purple basil, sweet basil, lemon bomb, you get germination stickers, bottle labels and an instruction booklet. You can have 3 separate plants growing.
Greg: Do they work with any type of bottle?  
Nate: Yes, wine bottles are ideal, but the main criteria is 750ml.  Brown is the ideal color because it provides a filter for certain light frequencies, and is a natural filter to prevent algae growth.
Greg: Then the roots sprout out of the insert?  
Nate: Yes, what happens is as the plant matures, the roots dangle down into the water.  You are setting up a mechanism for the plant to water itself for up to one month at a time.
Greg: How many have you sold so far?  
Nate: We sell them for just over $20 each.  We have done $80k in revenue since September of last year.
Greg: What has been your best sales channel so far?  
Nate: Amazon has so far. We are learning a lot about it but even on the automatic settings, before tinkering with keywords, etc.  Amazon has been a machine for us. We have been able to invest about $5 and get back $15, so pretty good economics right off the bat.  I'm confident we can improve there as we get better at PPC. The other channels that have been good for us - Uncommon Goods.  Started with an order for 50. Two weeks later they ordered another 100, and one week after that they ordered another 250, and literally the day after that shipped they ordered another 250.  It proves that it is a giftable product.
Nick: How many acres of land clearing are you going to save with this product? 
Nate: The goal here is not to be an entire solution for the environmental issue, or making people self sustaining. You will still have to go to the grocery store.  Our main goal is to impact the way people interact with their food, which changes their food choices. One study they had kids grow salad greens and they were 400% more likely to choose salad greens.
Nick: Can this grown things like tomatoes?  Or only smaller plants?
Nate: Right now it is definitely better for herbs and smaller plants.  We have grown some cherry tomatoes and are currently growing some peppers. But, this set up is definitely more conducive to the smaller plants.  Some of the new products and hardware will be better for growing the more substantial plants. That is definitely where we're heading. The current product is a gateway garden; low price point, accessible, affordable, to help people take a first step in the right direction.  That's the goal of the product.
Nick: Are you still 3d printing?  Or now you're doing the plastic mold?  
Nate: The kickstarter said, we are 3d printing them.  The beta test was 3d printed. Now we get them done with injection molding.  There was a fair bit of investment when we got the mold for the plastic, around $15,000, but that means now we can produce the inserts for $0.20.  Our all in cost for a kit is a little over $3.00. There's a decent amount of margin.
Greg: Of the $80k, what percentage is Amazon?
Nate: Amazon is a new phenomenon for us.  As of now, it's our biggest direct to consumer channel.  We are doing 75-80% of our current sales on Amazon. But, life time of the company it accounts for around 5-10% of the total.
Nick: Patent pending.  Is that for IP protection?  
Nate: Yes. We filed the full patent earlier this year.  That process will take 3-5 years.
Greg: Who are you working on this with?
Nate: I have a co-founder. He is a PhD plant scientist from Columbia.  We teamed up. We both care about sustainability.
Greg: How much money have you invested so far?  
Nate: We have put in about $40k in founder's capital.  $40-45k with Kickstarter as well.
Greg: Are you profitable to date?  
Nate: On a unit basis, yes. We are not selling quite enough to cover overhead yet, but we are a few months from that if Amazon keeps going the way it is, and we can land a few of these other contracts, we will get there. The break even point is rapidly approaching.
Greg: Are you working on this full time?  
Nate: Yes.
Nick: What happens when the water in the bottle runs out?  Do you have to get a new kit? Or just add more water?   
Nate: You can just pull out the insert, leave the roots in and fill it up with more water.
Greg: What's your 5-year plan for the company?  
Nate: We want to be the go to name for urban farming and agriculture.  We have deliberately started at an accessible price point for consumers so we can build a wider customer acquisition funnel and more economically efficient than anyone else in the space, but ultimately there are more products to come.  Hopefully, in 5 years, or before we will be able to build it into a marketplace, but we are certainly not the only people out there doing this, but there isn't really a platform out there that educates, informs and does side by side comparison that helps them find the optimal hardware solution for their living environment.  But, the market is growing exponentially right now. I think in 5 years time I think it will make sense to have a marketplace.
Greg: Can you expand on what the marketplace would be? 
Nate: As the needs of the market change and emerge. You see it happen with real estate and cars, and I think it could eventually happen with urban farming.  
Nick: Is this something people are looking for?  Or is this something that you are having to educate people on?  
Nate: We have to go find the customer and convince them that this is a product that they need.  Customer acquisition and doing it economically is something important to our business.
Greg: What's your experience driving traffic to websites, acquiring customers, or other digital marketing channels?  
Nate: We've done a lot of experiments and are now keeping track of it in spreadsheets. Our conclusion is that Facebook ads are somewhat successful, but so far the most successful promotion has been influencer, press, blogger publicity stuff has moved the needle the most.  The paid ads are still very very new. Some of the things I'd like to do in the future are SEO, SEM and paid promotion. We are trying new stuff every week.
Greg: What do you think your biggest hurdles are moving forward?  
Nate: We are fully bootstrapped right now, outside of founder capital, so I think the biggest hurdle is finding the cash to grow and reinvest in the business.  Getting close to that break even point, and past that, we'll have a little more flexibility. Until then, we are having to be very very frugal and conscious of how we spend.
Greg: Are you interested in raising outside capital?  
Nate: If you rephrased and said, am I interested in getting some people involved who have experience in CPG, retail, then yes.  I don't want to take money, but for the right person, yes, I'd like that.
Nick: Great unit economics.
Greg:  Where can people find you?
If you want an UrbanLeaf garden, hop on Amazon and grab one there!
Get the latest episodes...
Don't forget to subscribe on iTunes, Google Play or Stitcher. If you prefer video, visit our YouTube channel.
Do you have a new business that needs seed money? Or a new project that you're ready to get up and going?
There is a $10k prize for the winning pitch, plus some other goodies that will help you out along the way. Greg will select a winner from the finalists.
Get your pitching skills at the ready!
I want to apply