PITCH 1 The Mason Jar Handle
Subscribe on Apple Podcasts
GO
Welcome to the first season of Go Pitch Win!   Each week Greg is joined by a guest judge to hear 2 entrepreneurs pitch their business or product.  After hearing the two pitches they will pick the weekly winner to move on to the final 6.  At the end of the 6 weeks, Greg will select the top 3 and then we need you to help us pick the winner!  Once the 3 finalists are announced we will open the voting for you #FreedomBuilders to choose our $10,000 winner!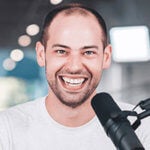 Host
Greg Mercer, Jungle Scout Founder
Greg is the founder and CEO of Jungle Scout, a suite of tools that empowers freedom builders. As a successful entrepreneur, Greg leads a team of 65+ employees. He is also an influential educator, offering free and inspirational content that has helped thousands of people build their own businesses and freedom.
Michael Jackness, EcomCrew.com
Mike has been in eCommerce since 2013 and runs 4 brands: IceWraps, ColorIt, WildBaby, and Tactical.com. He's on track to do 8-figures in 2018 and blogs, podcasts, and documents his journey at EcomCrew.com.
Pitch - The Mason Jar Handle with Garrison and Shaelynn Haning
Garrison and Shae join Greg and Michael for Episode 4 and pitch The Mason Jar Handle.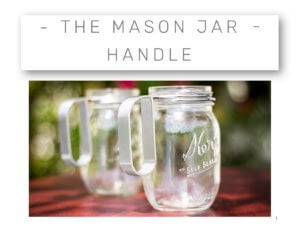 Garrison:  We are here to talk to you about the Mason Jar Handle, which relates to a very iconic product, an iconic piece of drink ware.  The mason jar was invented in the 1800s by John Landis Mason. If you drink hot or cold drinks out of a mason jar you're gonna burn your hands, you're going to get them wet with condensation and they make jars with handles, as I'm sure plenty of people have seen.  But you can't really can with those. There is a tremendous market of people who purchase jars and drink with jars.
There are a couple screenshots where you can see, this is a product - Mason Jars in general and their accessories, sell thousands/week.  Their sales velocity is pretty incredible for a product that's been around for a couple hundred years. There are already millions of canning jars in homes around the country and it would be great if you could use those to drink out of and also can with.  It would be nice if you could add some personalization to them too.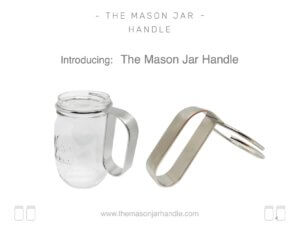 We invented a product that enables that.  It's the world's first patented, screw on jar handle.  It's this new experience with this multi-hundred year old product and it makes it possible to use these jars to drink hot and cold beverages out of.  It's also really easy to personalize and customize as you can see.
Shaelynn:  I manage the personalization and this is a great business promotional item.  All these businesses that are currently giving away Yeti's with their logo or their brand on it.  They are going to be looking for a new product, to be able to brand to get their company to stick in their customer's minds and the only thing that is as prevalent as Yeti mugs are are mason jars.  When Garrison came home from his deployment in Iraq in 2011, we started working on this project with my dad and uncle. We are all metal sculptors. We have 3 generations of welders, including myself, in our family.  We like drinking cold whiskey and hot coffee, so we created this mass produceable product using these jars that we arleady had on hand that would allow us to do that.
Garrison:  We are trying to build out the product a little and we decided to patent it and we went through that process which is a heckuva process in and of itself.  We got some assistance from the University of Pennsylvania Intellectual Law Clinic to develop our intellectual property protection strategy which is actually pretty robust.  We were assigned a student for a semester to help us work on troubleshooting our patent and making sure it was as air tight as we hoped it would be, and it's pretty robust.
This year we've taken our product to market, and having a product that you can sell online is especially important to us because traveling from town to town (in the military), you show up on an army base and the next thing you know, you're there for at most a few years.  One of those years you might be overseas, then you come back and the next thing you know you're back on the road again, moving to the next town. It's nice when you're able to take the hard work that you've put in, you're able to take that reputation that you've established and bring it with you to the next place.  So, having an online product made it possible for us to carry our reputation and our hard work with us wherever we went. It's the ultimate piece of continuity. It's really great for that.
Shaelynn: Yea, for both of us in our different roles in the military and supporting.  So, how it works, to give you a little bit of an explanation on the details of the mason jar handle that you see in the photos being produced.  It really works very simply. It just clicks right onto the edge of the jar and twists. Then handles themselves are very sturdy. They are made of stainless steel and they are customizable through laser etching, powder coating, epoxy screen printing, all different variations of color and logos and right now, depending on the market, shipping and the finish, we're selling them for $10-$18.
Garrison: What you're looking at there in the picture is part of our manufacturing process.  We manufacture part of the product in China and we finish it in the United States. We actually finish them in Tulsa.  We feel like we could be a poster child for experiencing difficulty in trying to move a product overseas to get it manufactured. We started this before the million dollar case study.  When we started it, I wish the case study had been around because it could've saved us months, maybe more like a year. It was a really brutal intro. I remember the day our first manufacturing run of these arrived on the door step in Tulsa, OK.
Shaelynn: I got home from work first and I wanted to wait for him to cut them open and I called him and he said, "No, no.  Just cut them open. Let's see." And I'm on the phone with him and I slash the box and I can tell immediately that they are wrong, and very wrong.  
Garrison: We approved the samples.  I'd gone through a vendor that I'd found on a typical platform and the threading was like a coat hanger.  It was about the size of a softball and it was this coat hanger quill. It was a nightmare.
Shaelynn: So, continuing on to our future plan, we're growing now. We're pursuing corporate customization.  We're doing already really well by that here locally, and we're planning on some big growth in that space this year through local developments in relationships that we have here.  We are missing a huge segment of the population.
Garrison:  Our direct to consumer sales are, right now we are using our website, but they are minimal and we know we're not even coming close to tapping that market.  It's obvious that vending direct to consumers over Amazon will be a life changer for us. Our product appeals to so many people, not just businesses, but appeals to people who care about their environmental impact because it's reusable.  It appeals to anybody who cares about healthy drinking ware. Obviously, there's no BPA, it's just glass and stainless steel. And, it appeals to anybody who is a little bit country or hipster, or just anybody who is looking for something a little unique in their drinkware.  And, Michael, I know you have experience in the prepping space with your online platforms. We come from a family canners and that was to some degree driven by a desire to be prepared. This is the perfect prepping accessory because if you have jars, you have something to drink out of.  You can heat stuff in the jar, you can screw it on if you're glasses break, you can just switch them right out.
Shaelynn:  The heat transfer is minimal.  We have tons of campers that really like this product that find it really functional and easy to carry with them.
Garrison:  Making our product an FBA product and going through the steps to optimize our listing would be huge for us when it comes to placing our product online.  We would love to stop touching every single one of these handles and start stocking our product in an Amazon warehouse.
Shaelynn: Looking around in the tour, you can see, we've got jars here.  We've got all of our tools here. We manage every single millimeter of this product right now and we would love the opportunity to get away from that.  It was a great learning experience, and now it's time for a new chapter.
Garrison: The prize from this competition would enable us to finalize our packaging and do the right type of research and the right pay per click campaigns and Google adwords research and really optimize our listing.  We also have a ton of split testing we want to do, as we just mentioned all those different markets or types of people that our product appeals to, but we have to figure out what exactly our beach head is. Doing some good split testing will enable us to do that.
This money will also make it possible for us to get our product into the hands of users on platforms like JumpSend.  We'll be able to give away some merchandise and really stack up some reviews because we're creating this entirely new category of item. Ours is the only item in the category. Screw on mason jar handles. That's it. So, getting good reviews is that much more critical because no one has ever seen anything like this before, so that's our product pitch.  With that, we need your help and we would love to know what we can do to win your support.
Judge Questions
Greg: Nice job. I love the passion and enthusiasm that you guys bring to this.  I can tell you've put a lot of love and sweat into it. Thank you for sending me mine.  I'm drinking out of it right now. I like the Jungle Scout etching. That's very nice.
So, a few questions.  Where do you guys live right now?
Shaelynn:  We live in Tulsa, Oklahoma.
Greg:  So then, you said, part of this is being manufactured in China.  Is the rest of it happening at your house? Explain to me a little bit more about your production line.
Garrison: The actual handle portion of the product, that tongue piece of metal, is manufactured in China. We were trying to find manufacturers in the States.
Shaelynn:  We spent almost 2 years trying to find a manufacturer in the States.
Garrison: And could not find anybody who could do it at a cost effective price.
Shaelynn: The equipment that is used to make the handle is very different than the equipment used to make the screw top.
Garrison: So we started making the handles in China and after we had a rough run of the threading, we decided to make the threading in the US, because it's a really tight tolerance product.  It's really hard. There's a whole process you have to go through to get that thread to where we need it. We've gone through that whole process and we've nailed the threading.
Shaelynn:  We're a heavy manufacturing city here in Tulsa, so that helps.
Garrison: So they make the threading here and then they make the handle overseas, and then the handle and threading, right now, are welded together in Tulsa Oklahoma by instructors over at Tulsa Welding School and that's where they're finished. But, I have a manufacturer over in China who I've been working with now for about 8-months who has finalized the design in China.  I think our next run of them will be all manufactured in China.
Greg:  Who does the customization and the etching, or the customizations that you do?
Shaelynn: That's all me.  Like I mentioned, I grew up welding so my brother, my dad, everyone welds and I do as well.  When it was time to start looking into who was going to powder coat and who is going to figure out how to etch and do these processes so we have a customizable product, that was me. I do all of it.
Greg: You mentioned, you're trying to get set up on Amazon, and you have a few sales through your site.  Can you break down what sales channels you have at the moment?
Garrison: Right now we are selling a few hundred dollars/month via our website, but that's with minimal advertising.  We have done a few Instagram campaigns, some Google adwords campaigns, really nothing. We just started selling on the website in January.  We've also had a number of businesses in the area purchase anywhere from 50 to a few hundred of the handles, customized with their logos on them, so we're having a lot of that type of business in the area.  We just got few types of businesses that have a few gift shops and souvenir shops, so we're getting some folks who are purchasing them to get their organization logo on them and sell them like casinos and hotels and places like that.  They're starting to purchase them too, and that's primarily regional right now. That's developed just recently.
Mike: One of the things I'm thinking of first is, what is your cost to make these things?  You said you're selling them for $10. I assume that's the non-customized version. What is the cost to make it now?  What do you expect it to be when you make it in China?
Garrison:  Right now, all in, we're actually still coming in at $3/handle, before packaging, shipping, customization.  When we take it to the Chinese manufacturer, we are looking at the $2 range. That's shipped to Tulsa, or to an FBA warehouse.
Mike: My next question is in a completely different realm, but I'm just curious.  One of the things that I think that's the hardest to do is create a market for a product.  No one is searching it in Amazon right now, mason jar handle. How are you going to build market awareness to get people to your site and to the actual listing?
Garrison I think Instagram has been shockingly effective for getting awareness of the product because you don't have to describe it.  You just put the picture out there and you do a campaign.
Shaelynn:  If you use the formula you can get them to come to you without them knowing that they want to come to you.  It's what's so interesting about social media in general.
Garrison:  Especially with Instagram, being able to post that picture out there.  People see it. They wonder, "What is that?" That has been very effective.
Shaelynn: Our secret ploy, you don't know what you're looking at.
Garrison:  We've gotten a big increase over the last month from California and we have a few hubs.  We did Google adwords and found where they are doing an inordinate amount of searching for mason jars and then targeted our Instagram advertising to those areas.  That has proven very effective. That's part of it. The other part of it is getting it out there on a platform like JumpSend so we can start building out reviews.  It's surprising. People seem really passionate about the mason jar, just as a piece of drinkware. It gets people really excited about it and they have lots of opinions about it.
Shaelynn:  The long standing history function really appeals to people, especially as we're becoming more sustainably focused. Being able to use your mason jar that you bought as a wedding decoration, or whatever, and giving that a second purpose, or upcycling really appealing to people.
Mike: One of the things you mentioned, if you win this competition, you'd take some of the budget towards marketing with Google Adwords.  What do you think, without doing any research upfront, your initial keyword terms would be to get sales?
Garrison:  I built out a pretty robust list and we are starting to see hits, specifically around mason jar accessories.  There are a lot of people who search for that. There area lot of people who search for mason jar gifts. There is a little bit of seasonality.  I actually started looking at that around Christmas. You have this big uptick and then it goes back down again, but those keywords among others that center around different types of accessories including mason jar lids, cute mason jar things.  Cute mason jar lids. That was one of them. Mason jar cupcakes. I didn't know that was a thing, but it did appear on our list. We do have some words that we're starting to target and I've only done a few hundred dollars worth of research in that space.  Primarily the free credit that they give you when you get on there for the first time and start doing your adwords research. But, using that and using some of the other platforms to get keyword suggestions has proven really effective for us to get demographic data and figure out who we need to be targeting with our posts.
Mike:  Do you think that if you look at your long term business plan that it's going to be individuals buying one offs, or do you see it as a promotional gift type item that larger companies are customizing? Which one do you think will be your bread and butter?
Garrison:  We're really optimistic that it could be both.  The ease of being able to sell to a big business, we just had an order last week where we sold 300 to a bank out here.  They want them in powder blue, with the logo on them, and half with the Arkansas logo and half with the Oklahoma logo on them.  It's so easy to just mass produce those. Crank them all out and get them out into the market. But, the customization component is really something that can be done most effectively on the individual level when you have somebody who buys 100 of them on Amazon and puts the wedding date on them.  The bride and groom's name on them.
Shaelynn: Being able to ramp up the individual sales of uncustomized pieces on Amazon, our intention is definitely to do both.
Greg: How much time do you spend on this business right now?   Garrison, it sounds like you're still full time military. How many hours/week are you dedicating to this?
Garrison: I'm a reservist now.  I moved into the reserves in 2014. I work for a company here in town.
Shaelynn:  I am a full time tailor.  I have my own tailoring business, so I sew during the day.  Actually, on the other side of this wall. I switch back and forth, varying by minute during the day.
Garrison:  She has two full times job.  
Shaelynn:  Yes, yesterday, I came home from the shop, changed quickly and went to fit a bride.  It's all day, everyday.
Garrison:  Covered in powder coat with a respirator and then goes to the bride.
Shaelynn: Trying to wipe it all off before she sees me next to her white, pristine dress.  So yes, it is exactly what it sounds like.
Garrison: Between the two of us we are probably putting in upwards of 40 hours/week.  It's been our hobby since seeing the type of success you can get when you do it the right way.
Mike:  What's your plan for scalability then? If you were to get an order for 100,000 of these tomorrow, how would you fulfill that?
Garrison:  If we got an order for 100,000 pieces, if they were custom, we would need lots of time to find people to help us do that.  But, 100,000 stainless steel, if we can be ordering in that quanity, my manufacturer is ready and chomping at the bit and keeps pushing me that they are ready to do more of them, and I've been working with him on and off for the better part of two years.  He is ready. He has the tooling made. They have a really effective, really quick assembly line. We can get them back to the states in about 6 weeks, finished and ready to go. We just don't have packaging yet, so that's something we're hoping to establish.
Mike:  And the $3 that you mentioned as far as your cost.  Does that include any packaging at all? Or is that just for the raw product?
Garrison:  That's no packaging.  We have a boutique package that we do for the custom orders and for the local retailers.  It's more of a craft package. It's not like a mass-produced package. It's stamp by hand. It looks really nice, but our actual design for packaging is going to be something in the lines of a bag because we don't plan on selling them with the mason jars on our Amazon listing, or customized.  Strictly stainless.
Greg:  How many of these have you sold to date?
Garrison:  We are somewhere between 600-1000 right now.
Shaelynn:  The website has been up since November.
Garrison:  We didn't start taking orders on the website until January, and we didn't start advertising until then.
Greg:  You guys have done pretty well for what sounds like pretty minimal marketing efforts.  So, congratulations there. Tell me more about the patent. You were awarded a patent, or it's patent pending?
Garrison:  I have two patents on it.  We were awarded two design patents on the product.  But, we had to get really innovative with our design patent.  I originally designed for a utility patent on the product. We were hoping that's what we were going to get.  We were hoping we were going to get a patent on a thread on mason jar handle. When we applied, it came back that a thread on handle was already patented.  It was patented in the 1800s and the utility was a patent for a thread on handle for a vessel. So, the guy who came up with a thread on handle for a vessel in the 1800s got it patented.
Shaelynn: He covered it all.
Garrison:  I was surprised that he's not more famous to be honest with you.  I worked with my lawyer. What we figured out was there are about 10 design patents just with the parts of the product that I could think of.  I talked to some other lawyer friends and we were able to figure out that the part that we patented to protect this entire design and any other conceptions of it is this area right here (motioning).  You see where the threading and the handle actually connect, that's the part that's patented. Everything outside of that can change, but if you want to connect the handle to the threading, that's our patent.
Shaelynn: You have to go through us.
Garrison:  So, that's the design patent that we came up with.  We took that and gave it to the University of Pennsylvania intellectual law clinic and they tested it and trouble shot it and tried to figure out some different ways they could break it, and they came back with an assessment after working on it for about six months that it was actually strong enough that we could license the product if we wanted to because it would be hard to circumvent that patent without having a really defensible position.
Greg:  What do you foresee the next 5 years looking like for you?
Shaelynn:  Well, Amazon for sure.  That's a huge priority for us, just because we're seeing the popularity of the stainless steel handle.  We're seeing that even though we show the customization on our Instagram and we have color variations on the website.  We are presenting all these different views of our products in different ways. Ultimately, what people are actually buying are the stainless steel.  Knowing that and knowing that the customization piece is interesting to people, but less important to them than the actual function of the product is, one - very exciting, because of course, the function is what makes it so interesting and what makes it a new category as we talked about.  But also, that ability then, to grow much quicker, like you said, if somebody put in an order for 100,000. That would be the area that we'd be able to make that growth in the quickest.
That's definitely our priority in general growth.
Garrison:  In terms of the business, I think that's definitely where we're focused.
To give you a little bigger picture too, we are here in Tulsa.  We are from the Northeast, born in Maryland, DC and the Philly area.  We went to school in New York. When we came out here to the midwest, we really fell in love with it.  We've been in the midwest since 2009, when I got stationed in Oklahoma, between here and Austin and Ft Hood, and we're pretty big fans, so we are going to stick around in the Tulsa area.  We really love it out here. I think growing our business, and continuing on with my army reserve service and I should make Major here in the next year, knock on wood and keep growing the business and establishing our roots in Oklahoma.
Mike: One of the things I'm concerned with, because I did some research as we were talking and you mentioned Amazon being one of your biggest channels.  If there isn't a market of people already searching, you can be on Amazon, but there might not be any buyers there looking for it. Looking at the plan for social media, and looking at the margins buying it for $3 and selling it for $10 that there might not be enough money there, left to do advertising.  I'm wondering if you've done any price testing, where trying to sell this for $15 without customization and maybe, even significantly more for customization because it seems like the trend in e-commerce and where all the value is, is in customization. People are willing to pay a lot more for that. That's a mouthful but I'm curious what your thoughts are on that.
Garrison: That's a great point.  We have. We are selling them on the website.  We get about half of our orders at $18/each. If you look on our website, people are ordering the jar and the handle for $18. They are willing to pay for it.  The margin on that is great, because the jars are cheap. The shipping is tough, but we can see a lot of wiggle room there in the margin where we could start increasing the price.  I think as we start to increase our quantity too, our margin is going to get much better. My manufacturer in China has made it very clear that he's ready to scale and we could probably bring our cost below $2/each if we get up into the 3-4,000 piece order range.  We can come up on price and I think we can come down on cost. That's what we have found in our 3 months of selling online so far.
We are experiencing some pretty good return on our social media investment, but we're definitely netting in the positive after we invest in social media advertising, product manufacturing and fulfillment.  We're still in the positive at our current investment rate with our social media plans. That said, one of the strengths of this product is it has a really good foundation in this customizable in this marketing item space and so that market for us increases our margin so we can turn around and use that for getting a little riskier in the direct to consumer marketing strategy.
Mike: Your most profitable campaign that you've run so far.  Can you give me a high level overview of what you've done so far?  What has the targeting been and what success have you seen with it?
Garrison: The biggest one that we did, about a month ago now, we invested in the neighborhood of $50 in a week.  We got a pretty good return out of that. We got about $120 worth of orders. At $120 or orders and the margins are pretty good.  We ended up netting about $40 of profit.
Mike:  What were you targeting?  Was in general or was it something really specific?
Garrison:  The nice thing about mason jars if there are some really pops on the map that you can drill down and then some specific cities and areas within those, and we just found that out on the tail end of that marketing campaign because I think we did start off national and then we did a little testing to pin point a good city.
Shaelynn: Adjusting the age was also really important for us.
Mike:  Your targeting was mostly geographic and age targeted?
Garrison: Yes.  And now, we are going to start getting into interests as well.
Greg:  Mike, do you have a few words of advice for Garrison and Shae?
Mike:  Yes, I do.  I think this is a great product.  I have a lot of friends who would use this. I'm not a mason jar guy myself, but I do know a lot of friends who would use it.  I think there's a very specific type of person. You mentioned Tulsa, I imagine that being the type of person who would use it.  I also grew up in Washington DC. That's the type of area I imagine not really using it. But, I think more country type people and area would use it more.  I see, actually, your growth being more on that social platform type stuff. So, targeting different parts of the country, different interest groups. Also, I think influencer marketing could do really well for you.  You have to be working along the lines of how are you going to create a market where people aren't already thinking about the product. That's one of the hardest things to do. I would advise, yes, have the product on Amazon because people will hear about it and want to buy it, you want to make it available for easy purchase for Prime account holders. But, I don't think Amazon is inherently where your sales are going to come from because Amazon is a search based platform. So, those people have to be typing in something like mason jar handle for them to find you and then ultimately buy your product. I looked while we were talking and that's not getting any volume. So, unless they are searching for mason jar lids and you're trying to do ads to them, I don't know that they are going to be cost-effective with your margins.  I would focus on the social aspect and try to figure out something that could help it go viral.
The last thing I'll mention is, I think this is something that would go really well with a video ad so if you win this competition, I would take a lot of that money and put it into a good video to hopefully go viral and I think that would be the way I would go about it.
Greg:  Any final thoughts on why you should be the one to win the $10,000 prize?
Garrison:  We have had the opportunity to go out as a military family and go overseas and come back to the states and fight for the country.  To go through that experience and come back home and now have the opportunity to secure that American dream that we went over and sacrificing for, and now to get to come back to the States and come into the world of commerce and try to make something good for our family so we can grow our business and hopefully someday have something to pass along to our kids is just an awesome experience.  If you give us that opportunity, we are going to make the most of it. Please know that we will walk through walls to be Jungle Scout's pick.
Join us tomorrow to hear this week's second pitch, Sleepy Stroll by Alexey Bogolomov.
Get the latest episodes...
Don't forget to subscribe on iTunes, Google Play or Stitcher. If you prefer video, visit our YouTube channel.
Do you have a new business that needs seed money? Or a new project that you're ready to get up and going?
There is a $10k prize for the winning pitch, plus some other goodies that will help you out along the way. Greg and our guest judge will select the weekly winners and YOU will vote on the winner from the 3 finalists.
Get your pitching skills at the ready!
I want to apply