Subscribe on Apple Podcasts
GO
Welcome to the first season of Go Pitch Win!   Each week Greg is joined by a guest judge to hear 2 entrepreneurs pitch their business or product.  After hearing the two pitches they will pick the weekly winner to move on to the final 6.  At the end of the 6 weeks, Greg will select the top 3 and then we need you to help us pick the winner!  Once the 3 finalists are announced we will open the voting for you #FreedomBuilders to choose our $10,000 winner!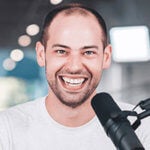 Host
Greg Mercer, Jungle Scout Founder
Greg is the founder and CEO of Jungle Scout, a suite of tools that empowers freedom builders. As a successful entrepreneur, Greg leads a team of 65+ employees. He is also an influential educator, offering free and inspirational content that has helped thousands of people build their own businesses and freedom.
Michael Jackness, EcomCrew.com
Mike has been in eCommerce since 2013 and runs 4 brands: IceWraps, ColorIt, WildBaby, and Tactical.com. He's on track to do 8-figures in 2018 and blogs, podcasts, and documents his journey at EcomCrew.com.
Pitch - Sleepy Stroll with Alexey Bogolomov
A big thanks to Greg and the team at Jungle Scout.  About a year ago, I was watching the Million Dollar Case Study and we were tinkering with the Sleepy Stroll idea.
18 months ago, my second son was born.  We quickly learned that our son refused to nap in the crib.  We realized that the baby slept in the swing, he slept in the bouncer, and we had to rock the baby to sleep in our arms, but as soon as his head hit the crib he would wake up.  One of the worst things you can experience as a parent is this feeling of helplessness when your child is screaming and you are unable to help. There is such a thing with babies where they can be too tired to fall asleep.  In those situations, the best thing you can do is calm them. Try to rock them. That's what my wife was doing for months. She would rock the baby to sleep. The baby would fall asleep on her chest and stay asleep. She started to think there has to be a better way to put the baby down for a nap.
She noticed that every time she put the baby in the stroller, as soon as the wheels would hit our pavers in our driveway, the baby would calm down and fall asleep.  An idea was born. She couldn't take the baby everyday on these walks obviously, just due to the weather. She thought about an idea of something that might work on the wheel of the stroller.  So we got together with a local engineering company. It consists of stroller straps. These rubber bands that are connected with a bungee cord that you stretch out. You put it on the wheel of the stroller and when you roll the wheel it creates these bumps.  It feels like you're walking down the bouncy road. You have some bumps and this is what it actually creates if you want to use it inside or outside.
A testimonial from one of our first customers, this is the video.   This is a 5 month old, baby girl. You can see in the video. The lady is in Sacramento, California.  You can see that very quickly, the motion of the bounce does to the baby when walked in the stroller. Honestly, there are more videos like this on our listing, as well as on our website.  All of these reviews, I put together some interesting ones.
Reviews
"Sleepy Stroll is a miracle worker. Our second child has been colicky and suffers from acid reflux. This makes it very hard to calm him down. He usually naps or sleeps just from exhaustion from crying. But within seconds the bumps created by the Sleepy Stroll calmed him, and within a minute puts him to sleep. Who knew something so simple could be such a game changer?! Our family made fun of us when we would tell them we were pushing our son around the house in the stroller. Until they watched him for an entire day. I came home to find my son asleep in his stroller and my mom said, "man that really works!" I couldn't agree more. I just wish I had this with my daughter!" Robin – FL
"This product is a MUST HAVE!!! My son has colic and is very fussy amd it is hard to soothe him. Since using Sleepy Stroll, it is so easy to calm him down and put him to sleep. My boy absolutely LOVES this product!! He never falls asleep in the stroller because he loves to look around and with your product it soothes him and gets him to fall asleep so quickly. I am completely amazed by this product!!! Such a genius idea!!! Every mother should have this and believe me when I say you will not believe your eyes when your little one uses it!! I use it outside and also indoors. I wish I had this when he was first born because now I cannot live without it!! It is a life saver!!! I highly recommend this product as you will not be disappointed!!!" Kelly - CA
"I bought this to see if it would allow my son catch some zzzs while on our walks, and so I wouldn't to get in the car each time I wanted him to sleep! It worked!! As shown in the video, he started off awake and the slight rumble simulated the car (which he always falls asleep in!) and he nodded off! Great product! It moves a little on my tires after using, so I have to readjust the straps about every other walk but not a big deal at all." Katy - NY
Differentiation
We did searches for patents.  There's nothing like it on the market.  It's a great thing, but that's also sort of a curse, and I'll get to that on the next slide.
Simple to use.  Easy installation.

It can be used anywhere a stroller can be used.
We had a customer recently email us and she told us she uses our product on her stroller when she goes shopping because her son freaks out because the floors are so flat that when she rolls him, he is in stress.
Uninterrupted naps is a big one.  Again, we've used it at our house when we put our son to sleep.  If the baby wakes up too early from a nap, they'll be cranky. This is very simple if the baby's in the crib you have to pick them up and go through the whole routine.  Here you can just roll the stroller for a few minutes and he goes back to sleep for a full nap. The baby is refreshed. Nothing better than seeing a smile on a baby when they wake up and recognize you.  It just warms my heart.

Naps in the fresh air.  

Affordability - we are trying to keep the product affordable for as many people as possible.
Impact
Newborns that take full naps are happier, less stressed out and this leads to happier families.
Maximize ROI of $10k Prize Money
Our biggest challenge are market exposure and product recognition.

Partner with Jungle Scout, serve on our board

Create killer marketing strategy

Budget, transparency and accountability for every dollar spent
I invite you to visit SleepyStroll.com if you have any questions.
Thank you for this opportunity!
Judge Questions
Greg:  How many of these things have you sold?
Alexey: Less than $200.
Greg: Where are you getting them manufactured?
Alexey: In China.  Sourcing in the US was the first thing we tried.  We quickly learned that manufacturing just the prototype would've cost us 37 times more in the US than in China.
Greg: So you had this vision.  You found a local engineering firm to help you bring this into drawings and then sourced a factory in China that could turn these drawings into a prototype.  Is that right?
Alexey: Pretty much. The biggest thing was the straps that we needed to see.  Those rubber straps that have our logo. They're connected with a bungee cord, so that was the first thing we were after was to find a manufacturer of rubber products that could create the mold for us and produce the right thickness and durability.  We didn't want them to wear out because obviously it's going to be hitting the pavement and so forth. And we put together the frame. Measuring the diameter of the wheels. Our initial idea was to come up with a unified product that you could fit on any stroller and realized that even though you can get elasticity for different wheels.  Bungee cords really stretch. You still couldn't produce something that fit an 8" and then a 15" wheel. So, we had to go with the 3 size approach. That seems to cover 90-95% of all strollers produced.
Greg: What was your background before you got involved in creating this product?
Alexey: My background was actually in data science, so I have computer information systems degree and an MBA but it was really my wife who was interested in learning about Amazon and FBA.  She was talking to me and said this is really an interesting opportunity these days. Living in the information age with so much information available on YouTube. One thing led to another.
Greg: How much money have you invested in this so far?
Alexey: We've invested a little bit shy of $6,000.
Greg: Okay, not too bad.  I expected more.
What are your unit costs?
Alexey: It will really depend on our unit volume, but for the first batch it was about $5 to get it manufactured all the way to Amazon's warehouse.
Greg: And you're currently selling them for $14 on Amazon?
Alexey: Yes.
Mike: The first thing I'm thinking of, and you've mentioned already.  It's hard to break into a market. That's a similar thing we talked about in the last pitch.  It's interesting here because there are already people searching for a baby sleep aid, so you have the searches out there already, but this might be hard to communicate exactly what it does.  What's your marketing strategy been to this point? How do you plan on overcoming that hurdle?
Alexey: We learned early on that establishing a brand can get you additional capabilities when you list on Amazon, such as videos that show what the product actually does.  That was one of the steps that we've taken. We filed for a grant, in addition to the patent we filed for the product, for trademark protection. This is something we are looking forward to getting from the USPTO.  That will allow us to adjust our listing on Amazon with more videos.
Mike: Are you aware of any issues you might have with claims? I don't know.  I know this is an issue in the healthcare space but could you potentially get into any trouble?
Alexey: We were trying to foresee any of the claims that could happen.  When we were researching in the very early stages, we saw on the forum, a young mother who was concerned with taking her child on a walk and the road was bumpy and something could have gone wrong.  It was interesting to see on the forum, there was another mother of 3 children and she said, don't worry about it. This is absolutely fine. I used to use coat hangers to produce the bumps when my kids were little, so my child would fall asleep.  We consulted with physicians, but we do have a warning to not overuse it. I don't foresee any potential issues for claims. We aren't going to claim that this will absolutely work. Every child is different, and we know from our own research that when we had people try the product, there were 89% success rate.  There were still 11% of moms that it didn't work for. There is certainly that.
Mike:  The 89% success rate. Is that something that was done professionally or was that just a test you ran on your own?
Alexey: Research studies are very expensive, so this was just us going through white papers of best practices on how you can recruit some random people to try your product and see how the results come out.
Mike: I saw on the box that it's patent pending.  Can you tell us about the patent you got? What does it cover and does it apply anywhere other than the US?
Alexey: It doesn't apply anywhere other than the United States and it's a provisional patent at this point.  We are waiting to see what the next steps would be with an intellectual property attorney. But, the patents are very expensive so those decisions do not come lightly.
Mike: Your COGS, are currently $5 on kind of a trial order.  What do you think your COGS will be if you were ordering this at scale?
Alexey:  $3 is my goal.
Greg: Did you say you did a kickstarter for this project?
Alexey: Yes. I know in your recent communications, you've mentioned that this is a brilliant way to take a product to market.  You build the following right away. We didn't meet our goal. We were partially successful but it was a wonderful experience. I would say it was more about the experience than the funds that we were looking to.
Mike:  What was your goal and what did you end up doing with the Kickstarter?
Alexey: Our goal was $1500-2000 and we raised $500 or so.  Again, this is a small niche for parents with children that have high needs.
Greg: You have two sales channels right now, Amazon and your ecom site. Is that correct?
Alexey: That's right.
Greg: What would you say the percentage of sales is from each?
Alexey: About 90% on Amazon.
Greg: Is that mostly through PPC spend on Amazon or is that all organic?
Alexey: Pretty much organic.  We felt that PPC at the moment wouldn't be as profitable without the video that explains how to use the product.  We did a little PPC. It was a little disappointing.
Mike: Have you done any type of influencer marketing?
Alexey: I have not, no.  Not yet.
Mike: Have you tried any PPC at all?
Alexey: We've spent about $100 with really a handful of sales, so it just felt like it was a throw away.  Ideally, we could invest for running a 30 day campaign to get sales up and get better ranking, but it didn't feel that this was the right time.
Mike:  We aren't quite at the suggestion stage yet, but I'm going to throw this out.  If I was to wrap up the issue, I think it's really in the imagery and the message.  The main image is a cartoon and it doesn't really explain what the product is, so I think that you could see dramatically different results with some infographics.  I realize that having a video there would help significantly too, but getting you added to brand registry isn't going to get you the ability to add a video up there.  It will be farther down in the listing. It's a challenge of getting better photography and infographics up there. Have you tried any other photographs?
Alexey: Just a variation of the same picture.  We felt it is difficult to explain what the product in a picture, it seemed like a way to explain it best, but thank you for your feedback.  We will definitely investigate that.
Greg: What do you think it would take to get the product selling 1000 units/month through all sales channels?
Alexey:  To sell 1000 units could be as simple as a blogger, or there are a ton of people on YouTube that record all those milestones, they get pregnant, they have a babies, all the steps of their lives.  If one of those bloggers had 1 million subscribers and said, our baby is fussy and we don't know what to do. We found this product. That would go a long way.
Greg: How much time per week or month are you and your wife devote to this?
Alexey: Per week, maybe a couple hours.  But, it was a totally different situation last year.
Mike: I'm excited for the suggestions piece.  I don't have a lot of other questions. I think it's an amazing product that has gone down to the 5 yard line and puttered out.  I think it just needs to be pushed over the finish line.
Greg: Let's do suggestions!
Mike:  In rapid fire here:
Better photography - that's going to be really key for your listing.
Infographics - technically your main photo isn't compliant with terms of service so they could yank it at anytime.
Brand registry - put less weight in brand registry.  It will not be the magic pill. I don't think it will do much for you.  It's important, but not as important as I think you think it is.
New products - I would focus on this and finish the marketing part before moving on to anything else.  
Influencers - I think are key.  Things that could make it go viral.  You really need just one person, a mommy blogger type on YouTube and you can find them through theme bits.  They will do the videos for you and advertise on YouTube for you. But, one mom talking about her struggles of putting her son to sleep and all of a sudden it's fixed will produce tons of sales for you to the point where your biggest problem will become keeping this thing in stock rather than how are you going to sell it.  I think that could happen relatively quickly.
It's just a matter of getting the word out and perfecting that.  I think if you put an equal amount of effort into that stage of the project as you had to get to this point, I think you'll find a lot of success.
Greg: I think Mike hit the nail on the head there.  It sounds to me that you enjoy more of the invention stage, creating the product stage.  I echo what he said. I'd hold off on launching more products, and do more of the grunt work to get people to purchase this particular product.  My gut feeling is that you can do really well with this product and it's cool that you have a provisional patent on it because that gives you some defensibility with it.  At this point it's just getting other people to purchase it, which there is probably a lot of opportunity on Amazon and like Mike said, with the influencer marketing.
Greg: Any final thoughts on why you should be selected to win the $10k prize?
Alexey: All we're missing at the moment is marketing, just making sure that as many people can hear about it, so it has the impact of eliminating stress from families.  It could be huge. The money spent would be maximized as far as ROI if we could partner with Jungle Scout. It would go a really long way to get exposure for the product.
Greg: If anyone is listening to this and their child has sleeping problems and they want to purchase the Sleepy Stroll, where is the best place for them to do so?
Alexey:  I'd say, Amazon.
Greg: Search for Sleepy Stroll on Amazon and you should be able to find it.
Thank you Alexey!  I love the idea and appreciate you coming on the show!
Join us tomorrow to hear who Greg and Mike pick as the week 2 winner!
Get the latest episodes...
Don't forget to subscribe on iTunes, Google Play or Stitcher. If you prefer video, visit our YouTube channel.
Do you have a new business that needs seed money? Or a new project that you're ready to get up and going?
There is a $10k prize for the winning pitch, plus some other goodies that will help you out along the way. Greg and our guest judge will select the weekly winners and YOU will vote on the winner from the 3 finalists.
Get your pitching skills at the ready!
I want to apply