Sizzling Hot Summer Savings
Suit up your business with the best. Save more than $250 on plans to build and scale on Amazon.
Exclusively for new customers. Risk-free 7-day money-back guarantee.
Everything you need and more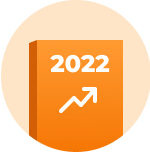 All Bundles
How to Sell on Amazon 2022
A comprehensive guide for selling on Amazon in 2022 and beyond.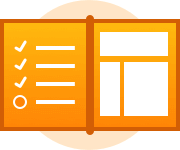 All Bundles
Getting Started Checklist
Get a step-by-step guide for finding and launching your next product.

All Bundles
From Academy to Amazon
The most comprehensive and actionable training program for selling on Amazon.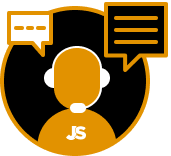 Master Bundle
VIP customer support
Immediately prioritize your support ticket so our team can help you first.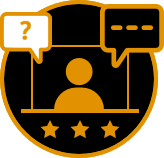 Master Bundle
Freedom Builder Bootcamp
Exclusive A to Z Amazon training course with Jungle Scout CEO Greg Mercer.
Freedom Builder Bootcamp
Training Course
The most complete course for selling on Amazon
Enroll now to get A to Z seller training from 8-figure Amazon pro and Jungle Scout CEO Greg Mercer. From product research to scaling your business, Freedom Builder Bootcamp boasts over 30 hours of video content.
What you'll learn in the course:
Module 1: Getting Started
Module 2: Product Research
Module 3: Sourcing
Module 4: Shipping
Module 5: Listing Creation
Module 6: Product Launch
Module 7: PPC Advertising
Module 8: Amazon Brand Registry
Module 9: Scaling Your Business
Module 10: Advanced Seller Strategies
More than 500,000 sellers trust Jungle Scout
Product Researchers
Leverage real customer data to identify market trends, validate your research, and explore keywords.
Popular Features
Extension
Opportunity Finder
Product Database
Product Tracker
Supplier Database
Keyword Scout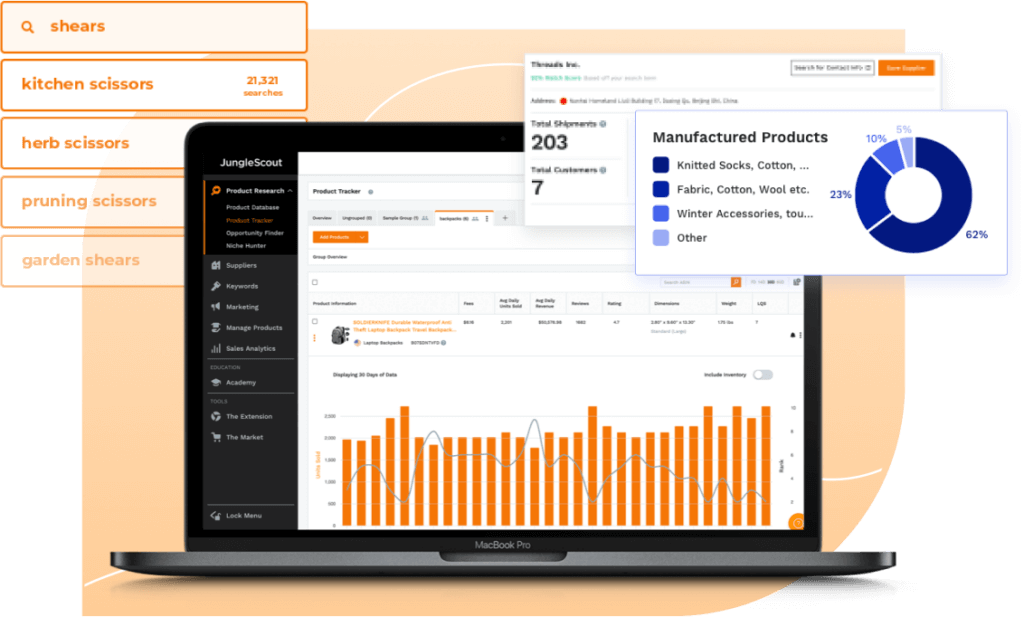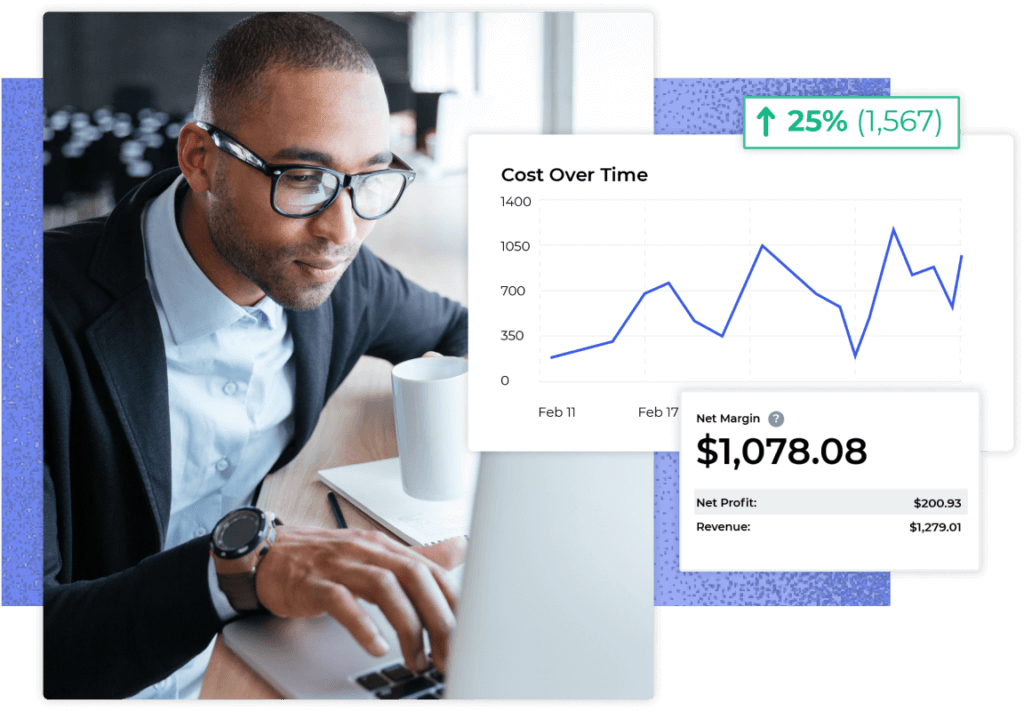 Advanced Sellers
Streamline your inventory planning, automate review requests, and get at-a-glance financial info.
Popular Features
Sales Analytics
Inventory Manager
Listing Builder
Rank Tracker
Review Automation
Alerts
Education & support
Learn as you grow with our collection of expert-led educational videos and resources about selling on Amazon.
Popular Features
Jungle Scout Academy
On-demand video onboarding
24/7 multilingual customer support
Exclusive Facebook community of 50,000+ sellers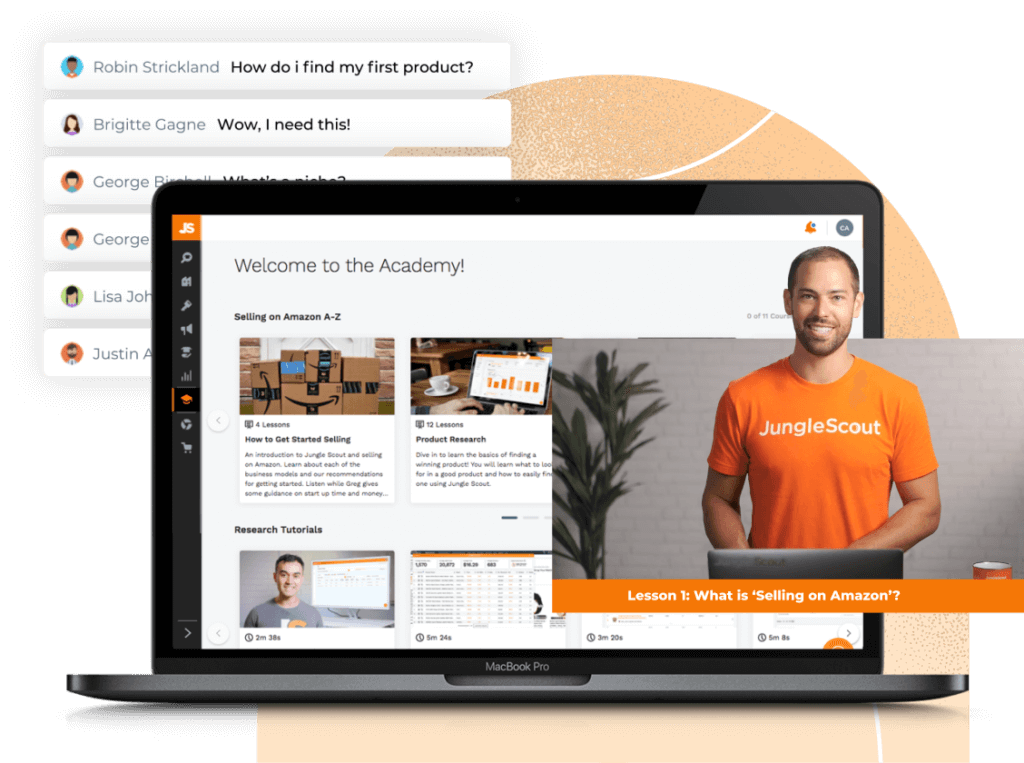 "Every product I've ever launched has come from Jungle Scout… I've grossed over 10 million in the last 3 and a half, 4 years, all responsible to Jungle Scout."
Joshua Crisp,
Amazon Seller (The AMZ Formula)
Your all-in-one platform for selling on Amazon
The industry-leading software suite trusted by more than 500,000 sellers to succeed on Amazon.


Discover product opportunities
Don't know what to sell? Narrow down the search for a winning product. Validate product ideas as you browse Amazon and track their success.


Optimize your Amazon business
Turn browsers into buyers. Leverage real customer search data to maximize your listing's keywords, images, and content for better conversion and PPC campaigns.


Learn to sell and scale your business
Learn to sell like a pro with Jungle Scout Academy and our online resources. Automate review requests to acquire more reviews, boost your rank, and drive sales.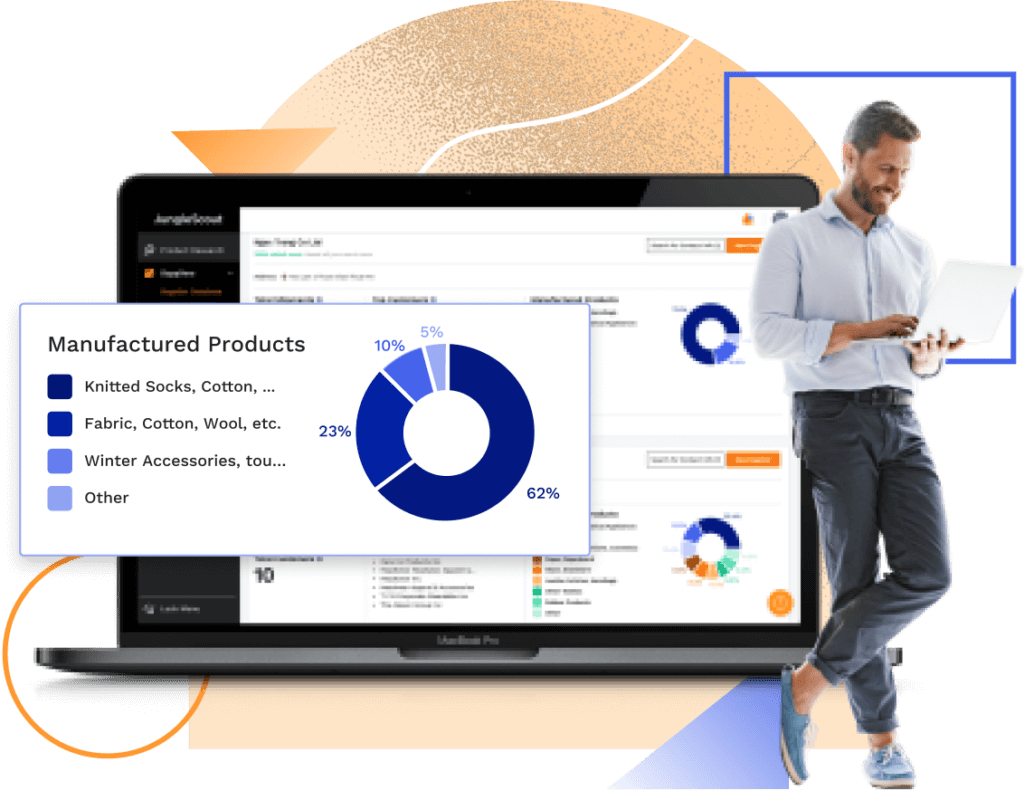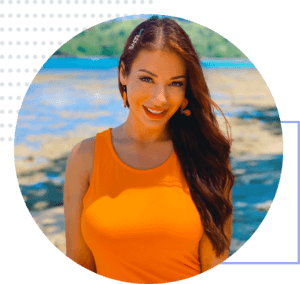 Tatiana James
"If you're selling on Amazon or about to start searching for your product, Jungle Scout is an absolute MUST. It truly is the most user-friendly and useful tool for Amazon sellers."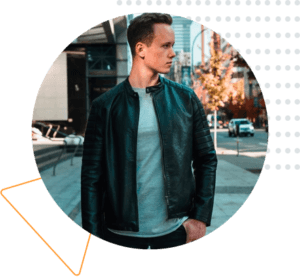 Dan Vas
"The #1 Amazon FBA tool out there. Without Jungle Scout, it would have been impossible to start & grow my Amazon FBA business. This is the only tool you need to be successful."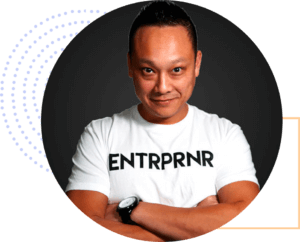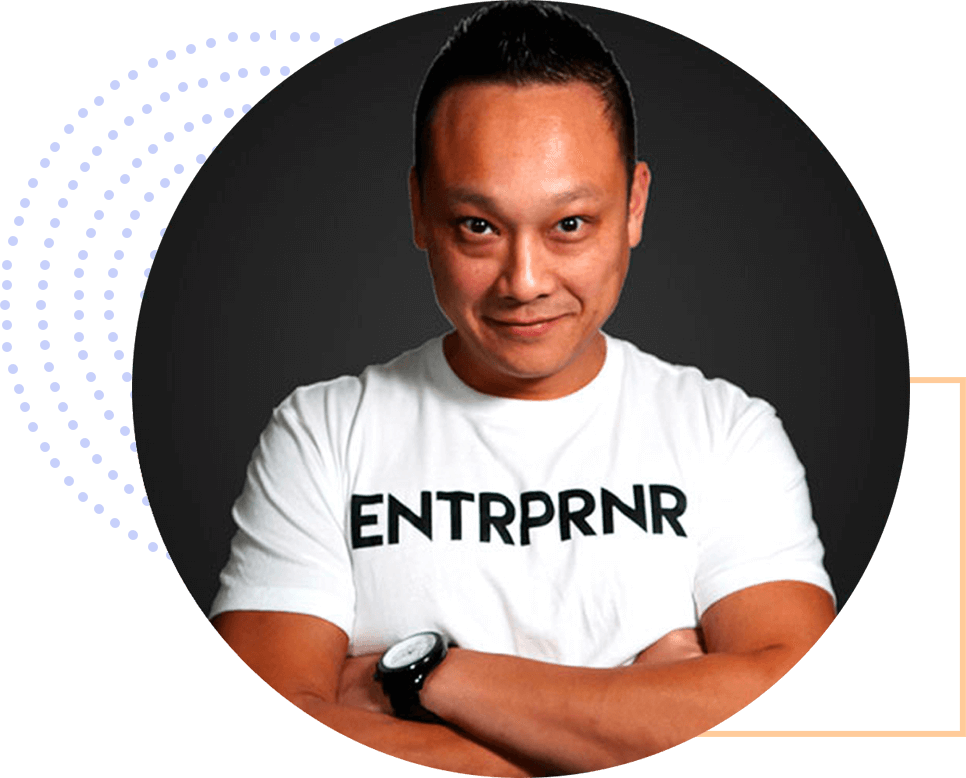 Crescent Kao
"Jungle Scout not only provides accurate market data, but it's also a complete tool suite that is easy to use for both beginners and advanced Amazon sellers."
Claim your deal
Try Jungle Scout risk-free for 7 days with our money-back guarantee.
Get your offer now