Ecommerce business owners have a lot of competing priorities – conducting product and market research, writing product descriptions, building websites, answering customer service questions, and so many more.
Among the long list of tools and solutions available to ecommerce businesses, artificial intelligence has emerged to help business owners and employees boost efficiency, automate operations, and focus on growth.
For example, generative AI can help ecommerce business owners tackle:
Product Listings. An AI writing tool can accelerate the tedious process of writing compelling product listings on Amazon or Shopify.
Emails. If you are having trouble composing a professional email to suppliers, AI can offer a pretty strong draft.
Brainstorming. When creativity is in short supply, AI can generate product or even brand name ideas for your business in a matter of seconds.
Productivity. If you are short on time or knowledge, AI can provide you with instant answers to your most urgent questions.
Analysis. Use AI to paint you a picture of how your business is performing and how it can be improved.
Outside of ecommerce, artificial intelligence is quickly transforming the way we live, work, and interact with the world around us. AI image generators and chatbots challenge our perceptions of authenticity and creativity while offering seemingly endless opportunities for AI-assisted work. This ultimately poses questions about whether AI will replace — not just assist — the work of employees.
While 38% of employees expect their job to be automated by 2023, AI is expected to create 12 million more jobs than it is to replace, as employers seek candidates who can utilize AI (much like any other skill included on a resume or any other application in a company's toolbelt).
In this piece, we'll examine five key business pillars and the ways AI can impact each.
1. Branding. Your brand's identity and how you convey it are extremely important. We'll show you ways to use AI to create your brand's identity and create content around your brand.
2. Communication. Properly communicating with your customers and business partners has just become easier. We'll show you ways AI can optimize and speed up your communications.
3. Product & Positioning. Marketing and product copy is what will sell your product. Learn how to use AI to generate ideas and create a high-converting listing copy.
4. Customer Engagement. Engaging with your customers in a positive and impactful way is how you grow a thriving product business online. Use AI to simplify customer engagement.
5. Business Analysis. Understanding how your business performs and how to improve is what will facilitate exponential growth. Get a better sense of the profitability of your business and product reviews with the use of AI.
Tips before using generative AI solutions for ecommerce businesses
While generative AI has become increasingly powerful and useful, it relies on human input, both in building the best prompts and in double-checking its work.
Here are some best practices for leveraging generative AI in ecommerce:
Use it as a draft. One of the biggest things to note about any AI chatbot for ecommerce is that you can use it for some of the work, but not all. It offers a great starting point, but you'll likely need to do some editing.
Be critical. Assume the content won't be as good as a human's work. For example, when using AI to write content, the content may not be 100% accurate or match the tone you were looking for.
Infuse a human voice. Always add your own personal touch, especially as AI becomes more popular, people may begin to recognize content produced by AI.
Always fact check. Before using any of the content ChatGPT provides, make sure that the information is 100% accurate.
11 strategies to leverage AI in ecommerce
Now that we've covered AI's powerful capabilities, considered its drawbacks, and outlined some best practices, let's explore 11 tactical strategies to utilize AI in ecommerce:
Generate brand name ideas
Create branded content
Communicate with suppliers
Send a message to influencers
Write product descriptions
Develop product ideas
Reply to customers
Analyze reviews
Craft product inserts
Get answers to your ecommerce questions
Analyze the financial health of your business
---
Branding
Branding is crucial for any ecommerce business as it helps create a unique identity that customers know and love while differentiating it from the competition. A strong brand is critical for driving sales and fostering long-term customer relationships.
Using AI can help brands come up with unique brand names, craft a brand identity, and create content for your website.
1. Generate brand name ideas
When just starting out in ecommerce, many new sellers have trouble coming up with an original brand name. If you're feeling stuck, use AI to gather some ideas or inspiration.
ChatGPT can be a great resource for this task, but there are many other AI-powered brand name generators out there. Looka will generate brand name ideas where domain names are available and will even help you generate a logo!
Let's show some examples from both ChatGPT and Looka.
If you sell pet products, ask the ChatGPT something like this, "I sell pet products on Amazon and want my brand to be fun, simple, and target first-time pet owners. Come up with a few brand name ideas for my business."
After hitting search, ChatGPT will come up with a few ideas based on your prompt. If you are not happy with your results, ask it to come up with a few more or rephrase your question.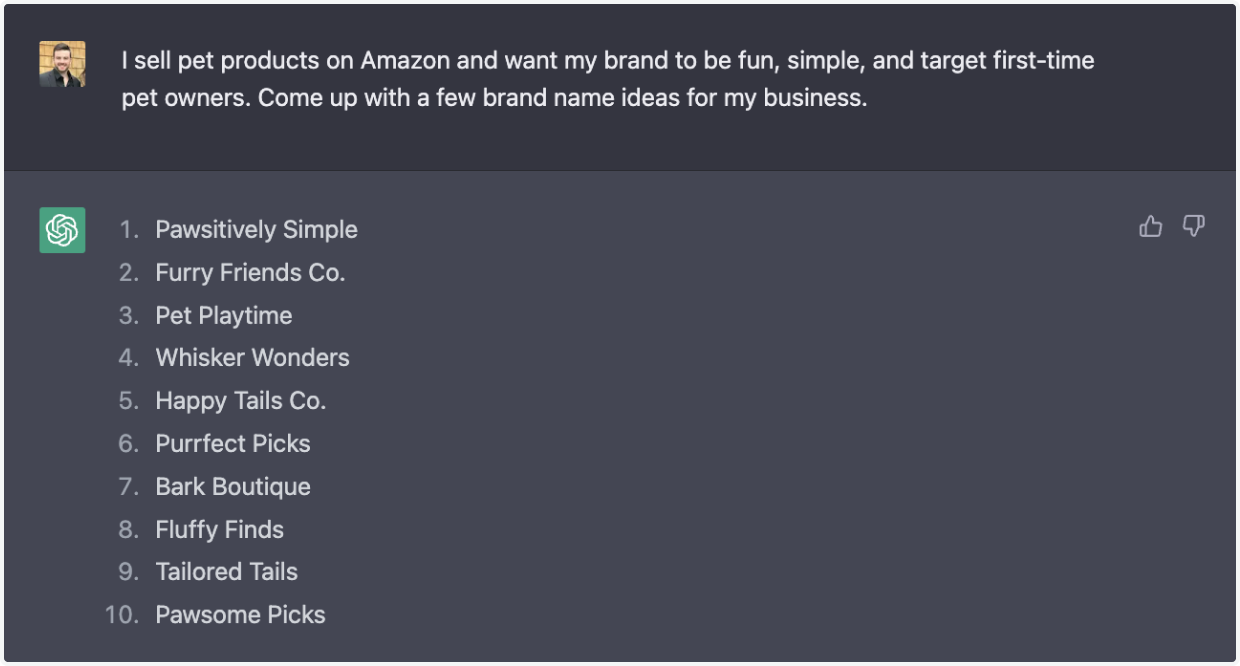 With Looka, simply enter a few keywords related to your niche and it will generate tons of ideas.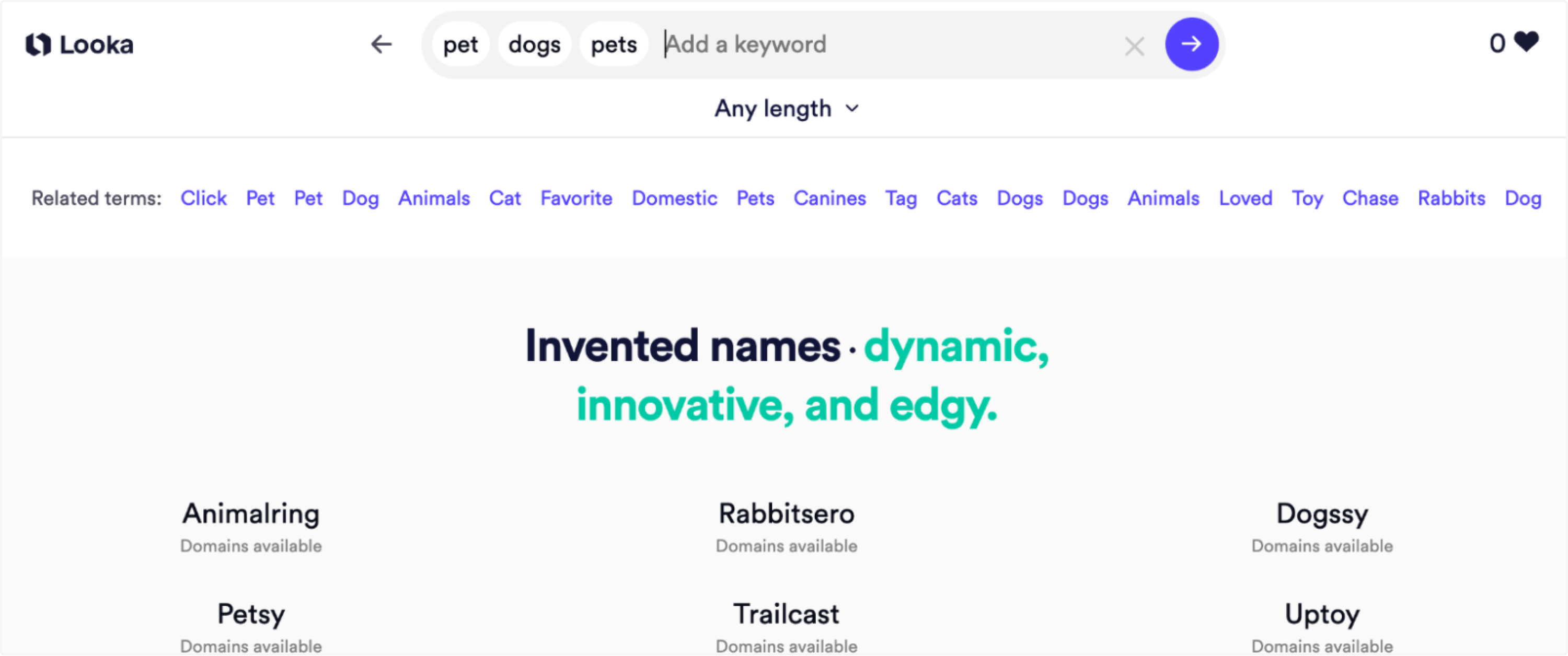 Once you've come across a brand name you really like, double check that another company doesn't already use the brand name. Search for that brand name on Amazon to see if another brand exists, and also check the USPTO website to make sure the name isn't trademarked.
2. Create branded content
If you operate an ecommerce store on Shopify or other digital platforms, you can also create blog posts and other brand-building content on your website. Creating blog content around your brand and your products are great ways to drive organic traffic to your website or Amazon listings.
Or if you don't have your own ecommerce storefront/blog, you can still create a blog post that you can then send to websites related to your niche to see if you could do a guest post on their blog.
If you want to write content about your brand and products but don't have the time to research and write consistently, this is where AI can come in handy.
To get started, type something like this into ChatGPT: "I sell pet products on Amazon. Write a 500 word blog post that shares the top 5 reasons why pet owners should switch from disposable pee pads to washable pee pads. At the end, recommend checking out the product that we sell on Amazon."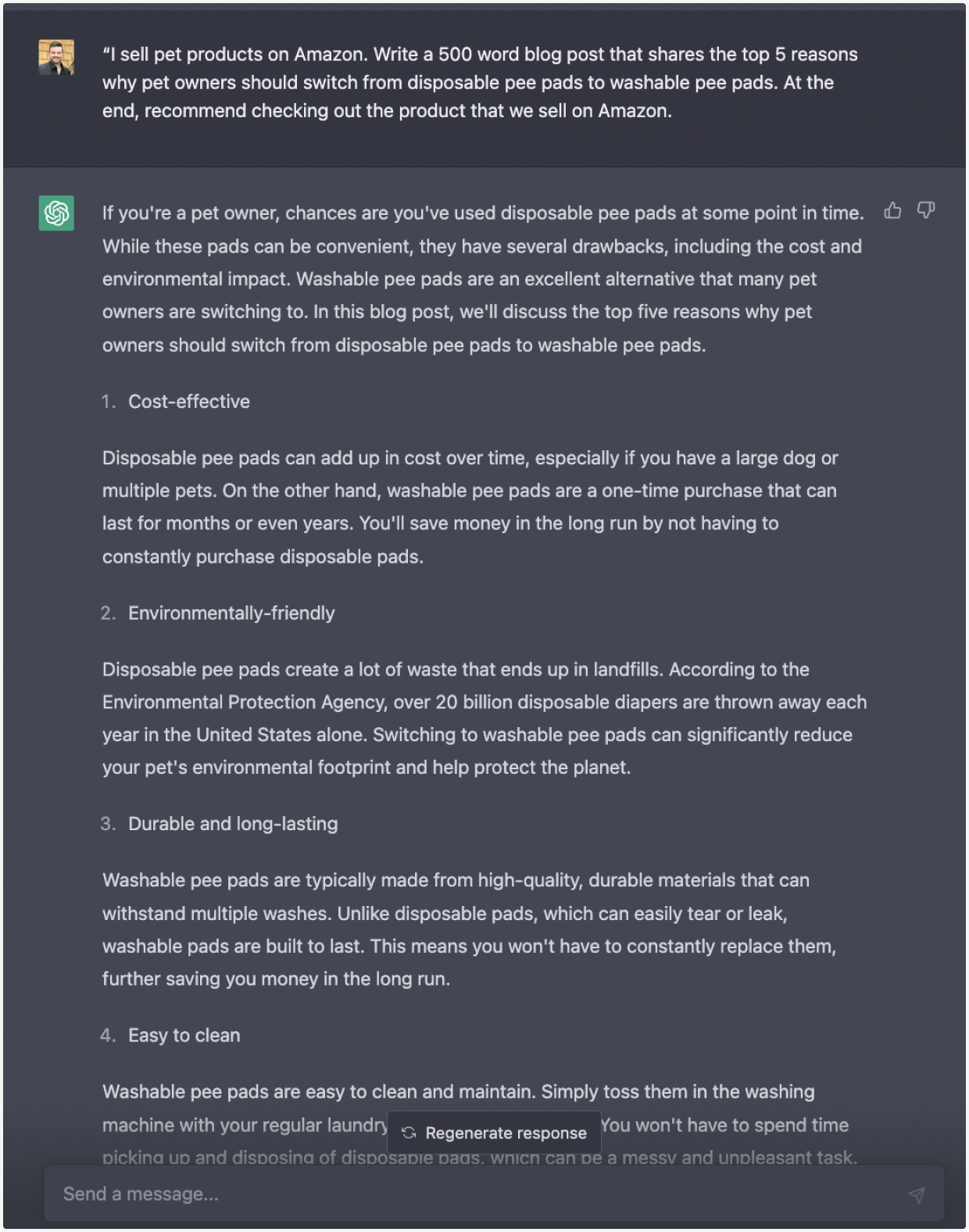 In under a minute, we have a complete blog post we can (with some editing work) share on our website or other related blogs.
Besides ChatGPT, there are also many other very capable blogging AI tools you can try. For example, Copy.ai advertises that you can generate high-quality posts in minutes by using their tool.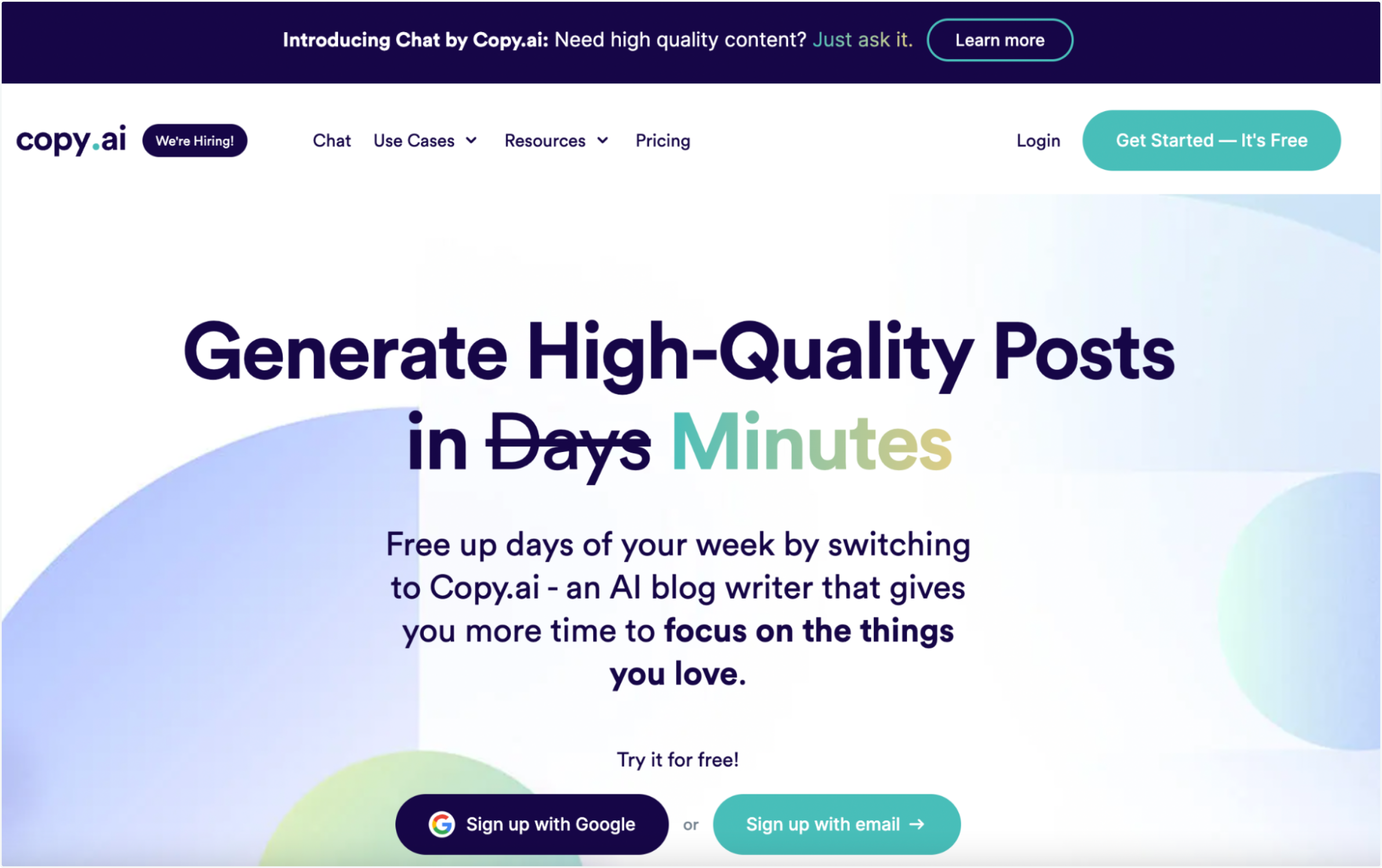 Before it will help you create an article, you need to add some context to ensure the tool does exactly what you're looking for. Add your keywords, tone, and overall goal of the article, and Copy.ai will do the rest for you.
Instead of hiring bloggers or spending hours writing articles and other content for your website yourself, tools like Copy.ai and ChatGPT can create content for you in a matter of minutes per day.
Communication
A pillar of professionalism, communication with business partners and suppliers is crucial for managing inventory, negotiating pricing, and ensuring timely delivery of products. Without proper communication, an ecommerce business can struggle to maintain strong relationships with suppliers and partners, leading to negative impacts on its reputation and bottom line.
Using AI can help ecommerce store owners effectively communicate throughout different aspects of their business.
3. Communicate with suppliers
Writing supplier emails
Another handy way to leverage AI in ecommerce is by utilizing it to write emails to potential product suppliers or manufacturers. Writing a good email to a potential supplier can be tricky because you want to be clear about expectations and detailed about results.
Using AI to communicate with suppliers can also be very useful when a language barrier is at play. Asking AI to write your emails in a simple, straightforward way can help effectively communicate with potential suppliers. Plus, you can also try to create emails in the suppliers' native language.
Do you want the exact prompts that we were using to ask ChatGPT to complete tasks for us?
To get started, we're going to provide ChatGPT with a few prompts to help us craft the perfect email:
I am an Amazon seller who sells in the United States. Write a letter to a potential supplier asking if they can manufacture [TYPE OF PRODUCT] according to my specifications: [ENTER SPECS]:
1) Are you a manufacturer or a trading company? If you are a manufacturer are you able to create models similar to this Amazon listing [AMAZON LISTING LINK] and the attached photos?
2) What is your best price for this product and please provide an FOB Quotation for the initial trial order of [NUMBER OF UNITS]?
3) What is your lead time for sample and trial order?
4) What is the sample cost with shipping by express mail to [YOUR ADDRESS]?
5) What kind of packaging comes with this product? Does your price include customizing this packaging?
6) Does the price you quoted include adding our logo to the product? If not, what does that cost?
7) What is your preferred method of communication?
You can use this prompt for yourself by make sure that you edit each line to fit your product criteria.
Once you enter this information into ChatGPT, it will automatically write an email you can send to potential suppliers.
Negotiate pricing (or other details)
If you already have a supplier for your brand and need to lower your costs and expenses, use ChatGPT to write you an email requesting better pricing, lower minimum order quantity, or other important details in your business.
Negotiations are important in business because you always want to be sure you are paying a fair price for your products and maximizing your profitability, as well as ensuring each transaction benefits your business.
Why use AI for negotiation? Doing so can help you sound more professional and upfront about what you're asking for. It can save you the stress of negotiating if you're not comfortable tackling it and need help with what to say.
Ask ChatGPT something like this: "Write a letter asking my supplier how we can negotiate a better price for my washable pee pads. We currently pay $7 per unit."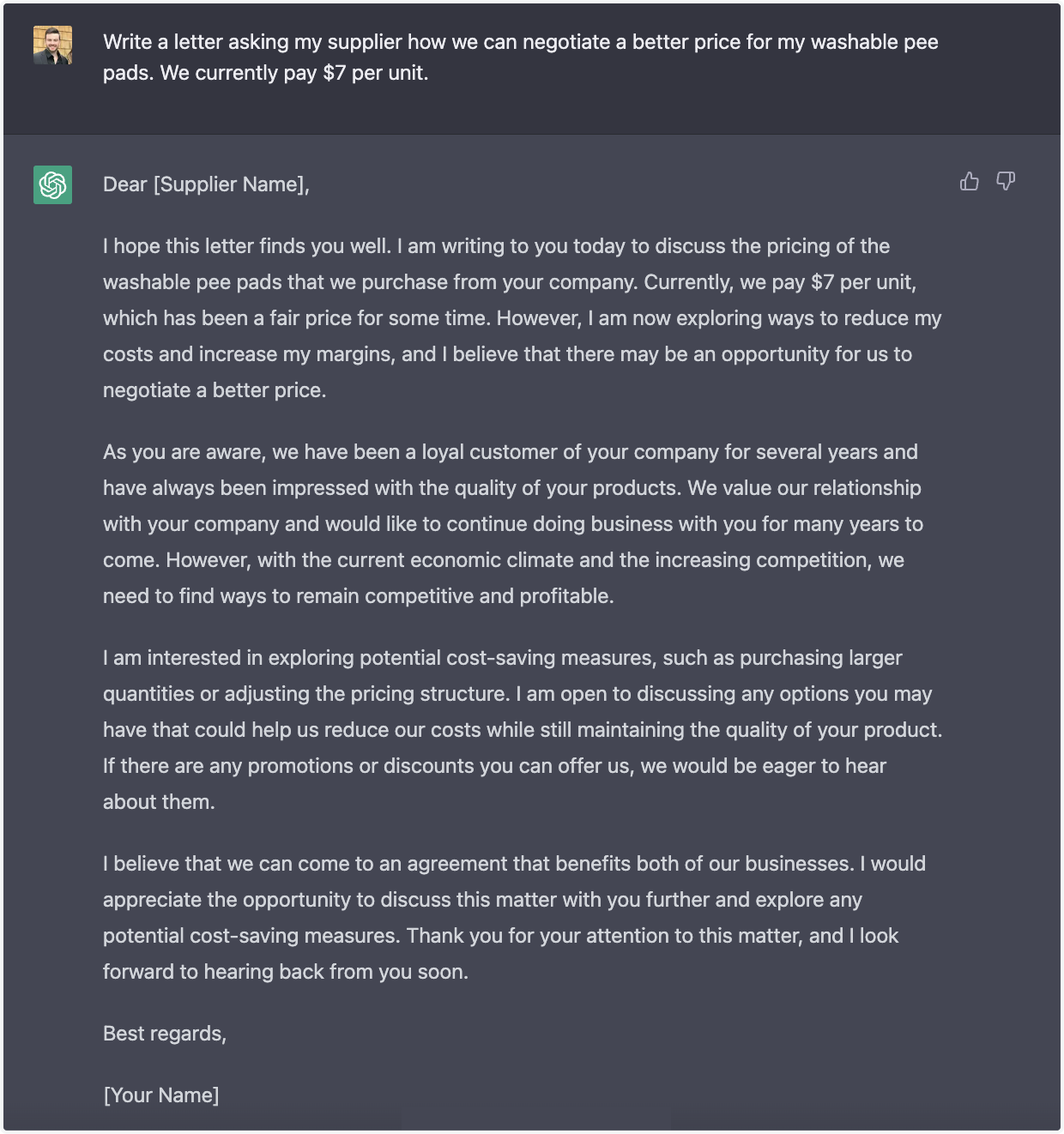 Right off the bat, this looks really good and explains why we are seeking better pricing and offering solutions such as purchasing large quantities. As we stated above, everything produced by AI should be fact-checked and touched up with your own human input.
We suggest making edits where you see fit, such as adding specific information about your brand and products so it's not too generic.
4. Send a message to influencers
Using influencers to promote your ecommerce business is a fantastic way to increase sales and brand awareness. Another way you can utilize AI in your ecommerce business is by using it to generate a message to send to influencers in your niche.
If you are not sure of influencers or large Instagram accounts within your niche, let's ask ChatGPT to help us find some.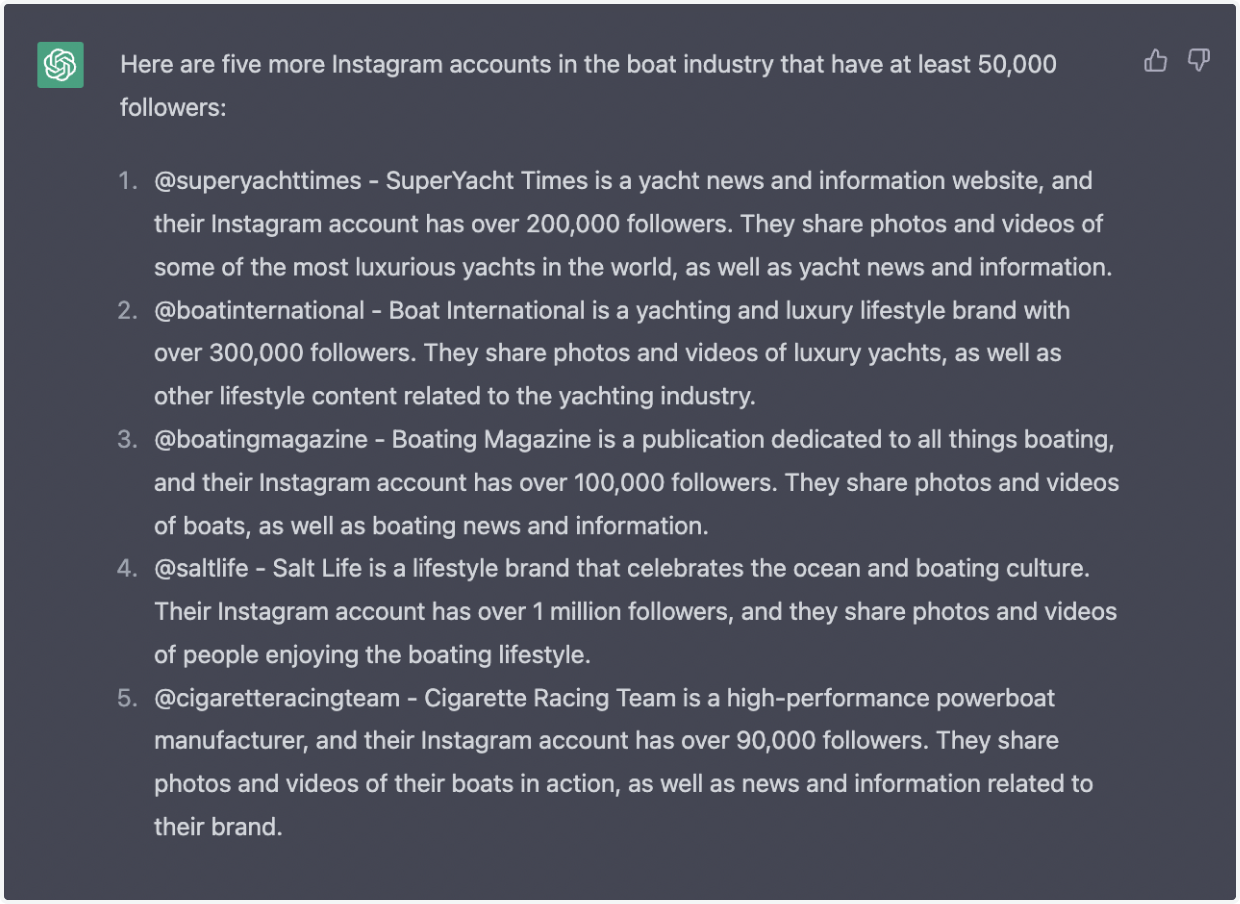 You should double-check some of these accounts to ensure ChatGPT's information is accurate, but this looks good so far!
After you identify a few influencers you would like to work with (you can also do this by searching on Instagram/TikTok/YouTube), let's ask ChatGPT to develop a compelling message to send to them.
Since I sell in the boating niche, I will send something like this: "My company name is Shore Boats, write me a short outreach message to an Instagram influencer asking if they want to film a video with my product and how much they charge to promote my brand on their account."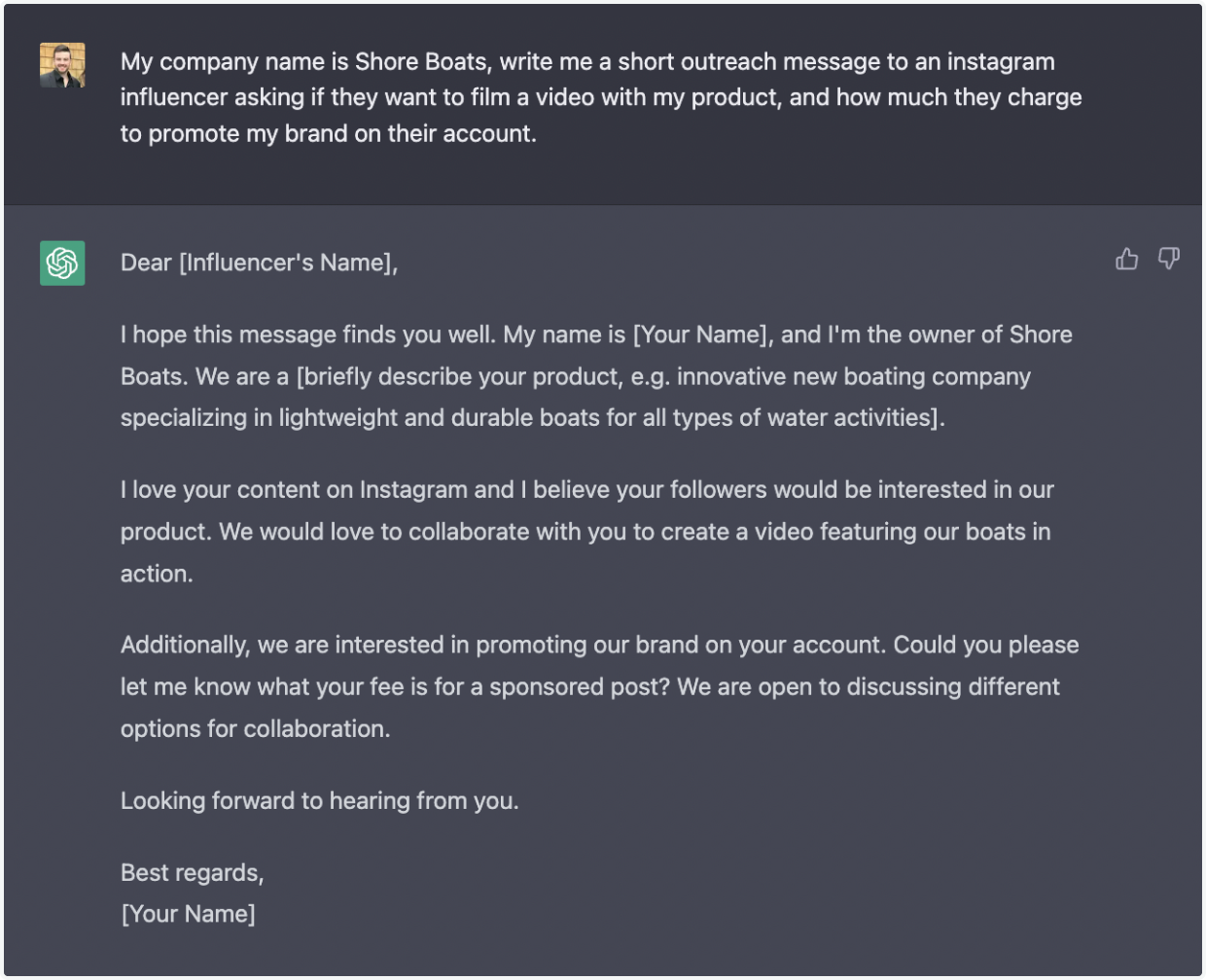 At first glance, this looks really strong, but keep in mind that influencers receive spammy, bot-generated messages all the time. It's critical to personalize in order to stand out.
Product & Positioning
Identifying profitable products for your ecommerce company or creating highly-optimized listing copy are both very important pieces of running a successful online business.
But it can be tough to come up with new ideas. With the use of AI, sellers can generate product ideas to look into in a matter of seconds.
Whereas with writing listing copy, sellers know how long and tedious the process of coming up with compelling and SEO-optimized content can be.
5. Write product descriptions
If you sell on Amazon, Shopify, eBay, or any other marketplace, you know that writing product descriptions is a tedious process. You first need to do keyword research, then come up with a compelling way to describe your product.
Even for professional product copywriters, this can be a tiresome job. With the use of AI, you can simply give a little bit of information about the product, and let the tool do the rest.
For example, you can prompt ChatGPT like this: "Write me a 1,000 word product description on washable pee pads for dogs. The benefits include it being washable and reusable, absorbent, and for any size dog."
In about 15 seconds, I had this great product description: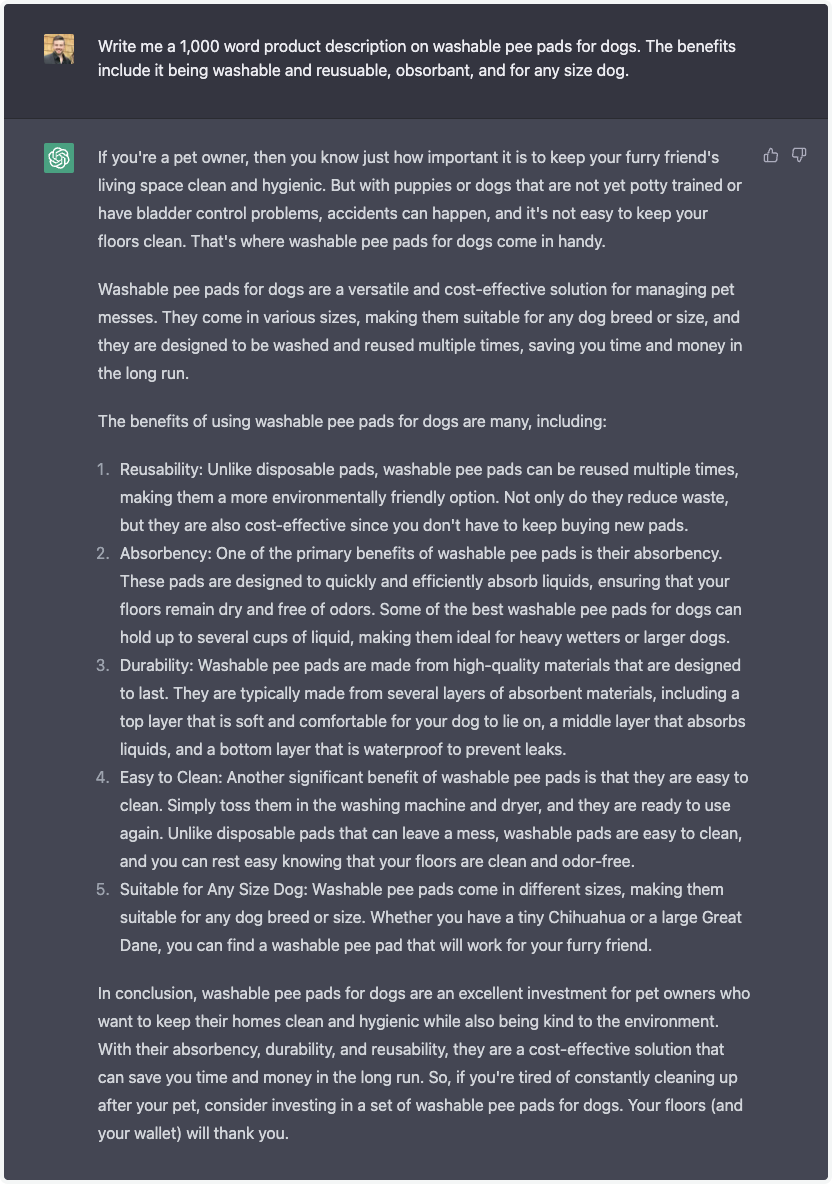 If you are an Amazon seller, you can use Listing Builder with AI Assist from Jungle Scout — the leading intelligence tool for Amazon sellers —to write your title, bullet points, and description in a matter of seconds. You'll want to add your own personal touch, but it gives you a great starting point.
This feature not only saves you a ton of time, but it helps you create a great-sounding listing if the creative juices just aren't flowing that day.
AI Assist will also include the keywords you add to Listing Builder so you can be sure your listing is also fully optimized.
In this instance, using AI to create our product listings was the best and quickest way to create compelling and highly-optimized content. Instead of spending hours crafting the perfect product listing, AI helped us create one in a matter of minutes.

Want to see if an expert Amazon seller can write a better listing than one generated by AI? Check out our new listing showdown YouTube video!
6. Develop product ideas
Much like in our brand name generation process, AI can offer a great source of inspiration for product ideas. There are many ways ecommerce sellers can do product research, such as:
Google Trends: Use Google Trends to see what topics or products are trending
Social Media: Scroll through social media apps such as TikTok and Instagram to see what products users are talking about
Amazon: Comb through Amazon's search results and sales data
Like these product research methods, AI is just another tool you can utilize if you're feeling a little stuck. Sign into ChatGPT and see what it comes up with!
Say you want to sell products in the pet category, ask ChatGPT something like this: "List 20 product ideas in the pet category that meet this criteria: lightweight, not electronic, not food, and are currently trending."
Of course, you can ask it whatever you want with your specific product criteria, but this is just to give you an idea of what ChatGPT will come up with.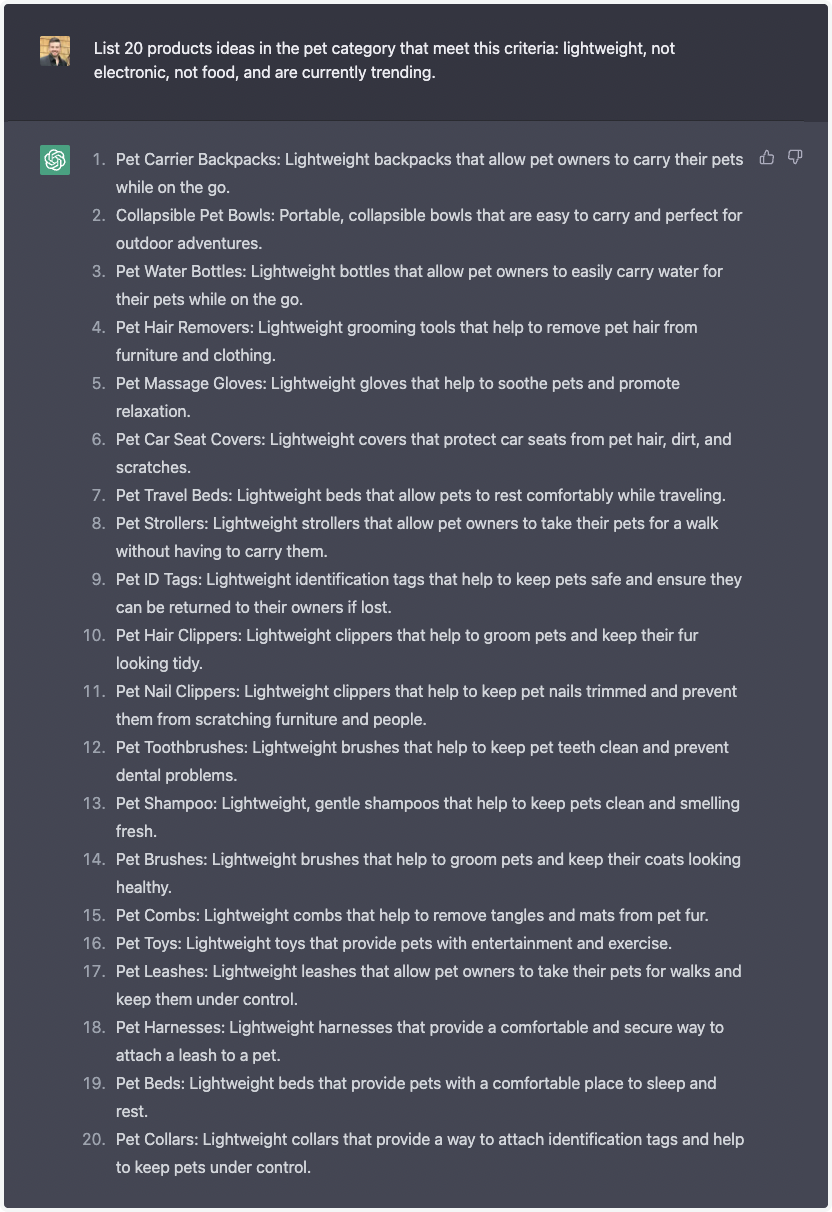 In a matter of seconds, I have 20 ideas that I can now look into further to determine their demand, competition, and profitability.
Again, don't limit yourself to just using ChatGPT. After a quick Google search, we found many useful AI idea generator tools, such as IdeaNote.io. IdeaNote provides you with prompts so it can get to know more about your company.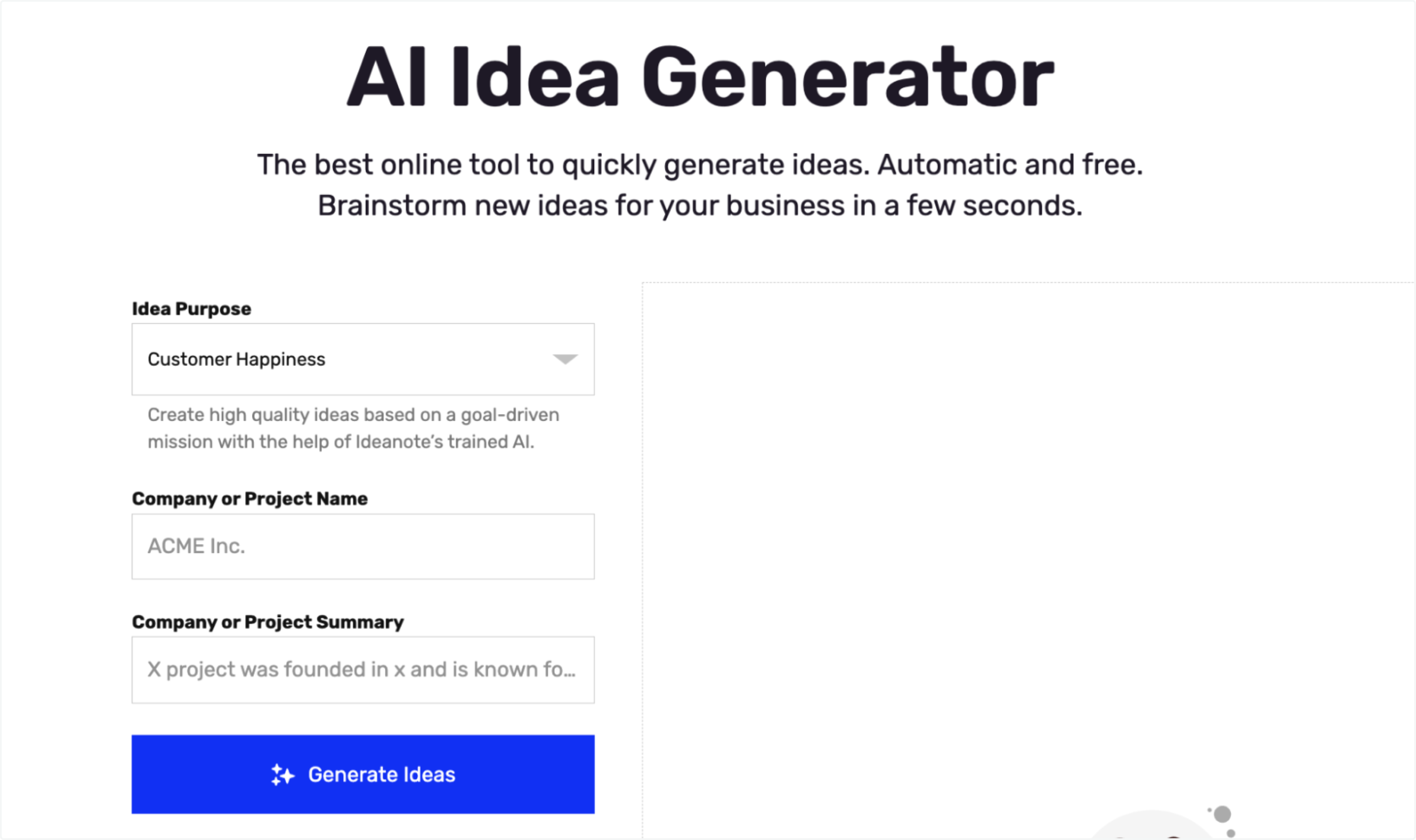 Use AI tools for coming up with the ideas, but don't trust it for actual sales data. You need to do that research separately from this tool using a trusted Amazon data tool such as Jungle Scout's Product Database, Opportunity Finder, or Keyword Scout.
Customer Engagement
Quick and clear communication with customers is necessary to address their inquiries, complaints, and feedback in a timely and professional manner. It helps to establish trust and build long-term relationships, leading to increased customer satisfaction and loyalty.
The way you engage with your customers after their purchase through product packaging and inserts is also crucial to a positive customer experience.
Ecommerce sellers likewise need to be able to take customer feedback and use it to improve your products or marketing strategies.
Here are some ways AI can assist with customer engagement.
7. Reply to customers
Another practical way to use AI is by having a chatbot generate a response to customer messages you receive either on Amazon or from your online store, such as a ChatBot. While it is fairly easy to answer customer questions, using AI can help you come up with more professional responses than you could.
This is especially helpful if a customer sends you a nasty email and all you want to do is send a fiery response!
Here's how you can use ChatGPT to respond to a customer email.
First, take a customer email, and paste it into ChatGPT, followed by this prompt:
"I had ordered 2 packages of these washable potty pads but only received one package. When will the other package be delivered?
Eileen Randall"
"Reply to the above email from a customer who had a poor experience with our washable pee pads.
Thank them for supporting our small business.
Be professional.
Acknowledge their problem.
Apologize for the inconvenience.
Offer a full refund or free replacement.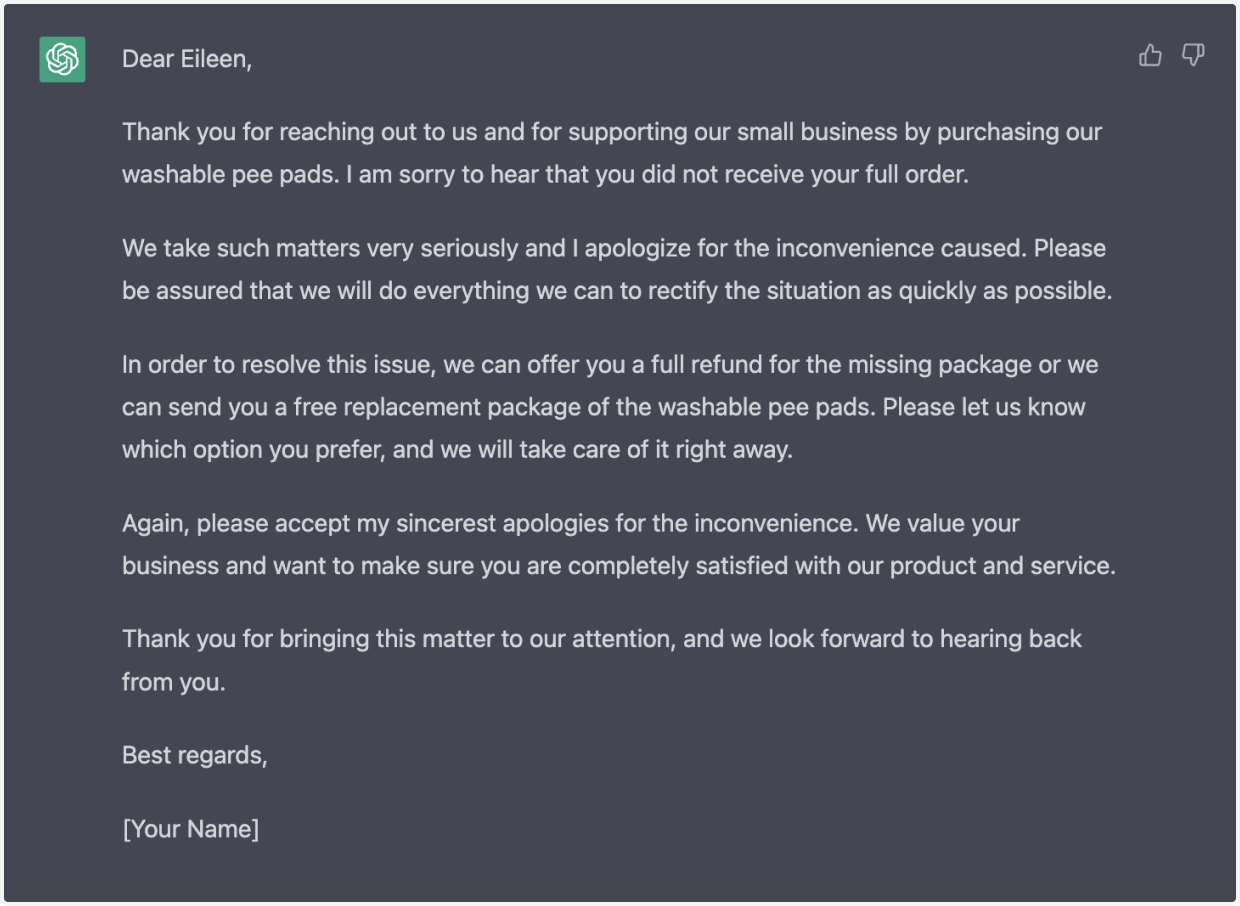 ChatGPT came up with a professional response we can send to the customer. Remember, you may need to edit this a little bit, but overall it looks good to go.
If you're running an ecommerce store, there are many apps available in whichever platform you're using to answer customer questions. For example, in the Shopify App Store, there are 90 ChatBot apps to choose from.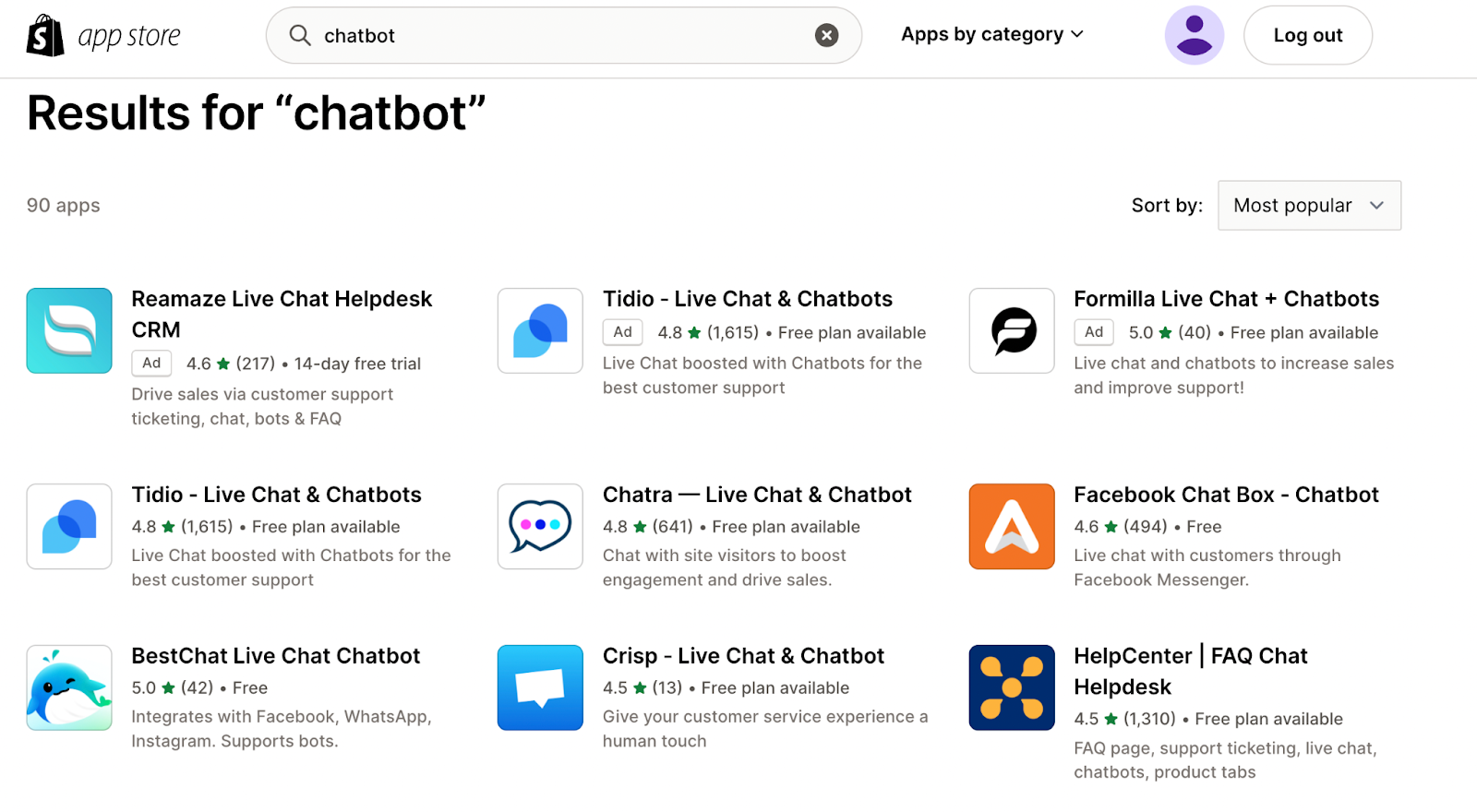 8. Analyze reviews
A unique way to use ChatGPT is by doing a review analysis on either your own product reviews or competitor product reviews. The advantage of doing a review analysis on your competitors is that you can see what customers are having issues with and use that information to create an even better product under your brand.
With Jungle Scout's new Review Analysis tool, sellers can instantly analyze ratings and reviews of products to identify themes, common positive and negative comments, view recommendations for product improvement, and compare to competing products.
AI Assist for Review Analysis makes analyzing reviews much easier and faster by automatically gathering reviews of any given ASIN and provides sellers with actionable analysis.
Manually analyzing reviews takes a ton of time and effort – with the use of AI Assist, it makes this process automatic.
Learn more about AI Assist
AI Assist helps Amazon sellers automate tasks and uncover critical insights to grow their business.
AI Assist
This is useful because you can use the tool to summarize what customers love and hate about the product and use that information to figure out what you need to improve your product's quality.
To start, gather a few of yours or your competitor's ASINs and plug them into Review Analysis.. even use the Jungle Scout Extension to download the reviews of any product. The data is compiled in a spreadsheet where you can see ratings, reviews, dates, variations, and more.
9. Craft product inserts
As an ecommerce seller, whether on Amazon or your own storefront, we all know reviews are key. Product inserts are included within your packaging that typically thank the customer for their purchase and prompt them to leave a review.
Another way to use ChatGPT is by having it create a product insert to hopefully generate more product reviews on Amazon or your website.
Now, when doing product inserts, you need to be 100% sure you are following Amazon's TOS (or another marketplace) when it comes to product inserts and reviews. You cannot ask a customer to leave a positive 5-star review or ask them to contact you if unhappy instead of leaving a negative review.
Before you use anything ChatGPT recommends, make sure it is compliant with whichever marketplace you are selling on.
Here's what you can say to ChatGPT: "I sell washable pee pads on Amazon. Create a very short and fun product insert message. Thank customers for their purchase and for supporting a small business. Ask them to leave feedback on Amazon about their experience."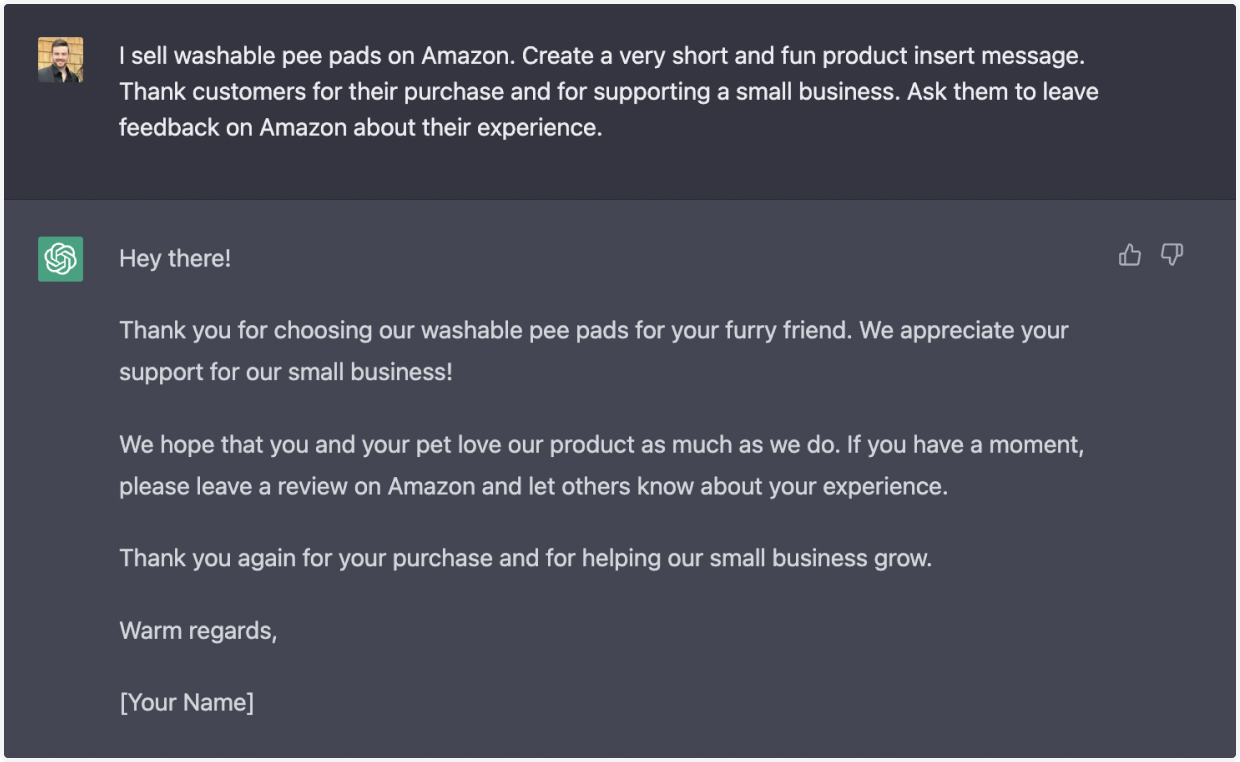 This response isn't perfect but definitely a good starting point. You can also have the tool regenerate a response if you are not 100% happy with it.
Business Analysis
Conducting proper business analysis is crucial to ensuring your business is running profitably and smoothly. Analysis provides you with data-driven insights that help you make informed decisions.
Not only that, but sometimes ecommerce business owners need help knowing what the next steps are or how to complete a particular task. With the use of AI technology, ecommerce sellers can run proper financial analyses on their business and find all the answers they need regarding their business.
10. Get answers to your ecommerce questions
As an Amazon seller, sometimes you need some help with knowing what to do next or when looking for some information. Jungle Scout's new AI Assist Chat offers Jungle Scout users immediate and specific answers to their questions about selling on Amazon, growing their business, and even how to use a specific Jungle Scout tool.
AI Assist Chat sources relevant answers to your questions from our comprehensive database of thousands of helpful resources. In an instant the AI tool will provide you with detailed responses on anything selling on Amazon or Jungle Scout related.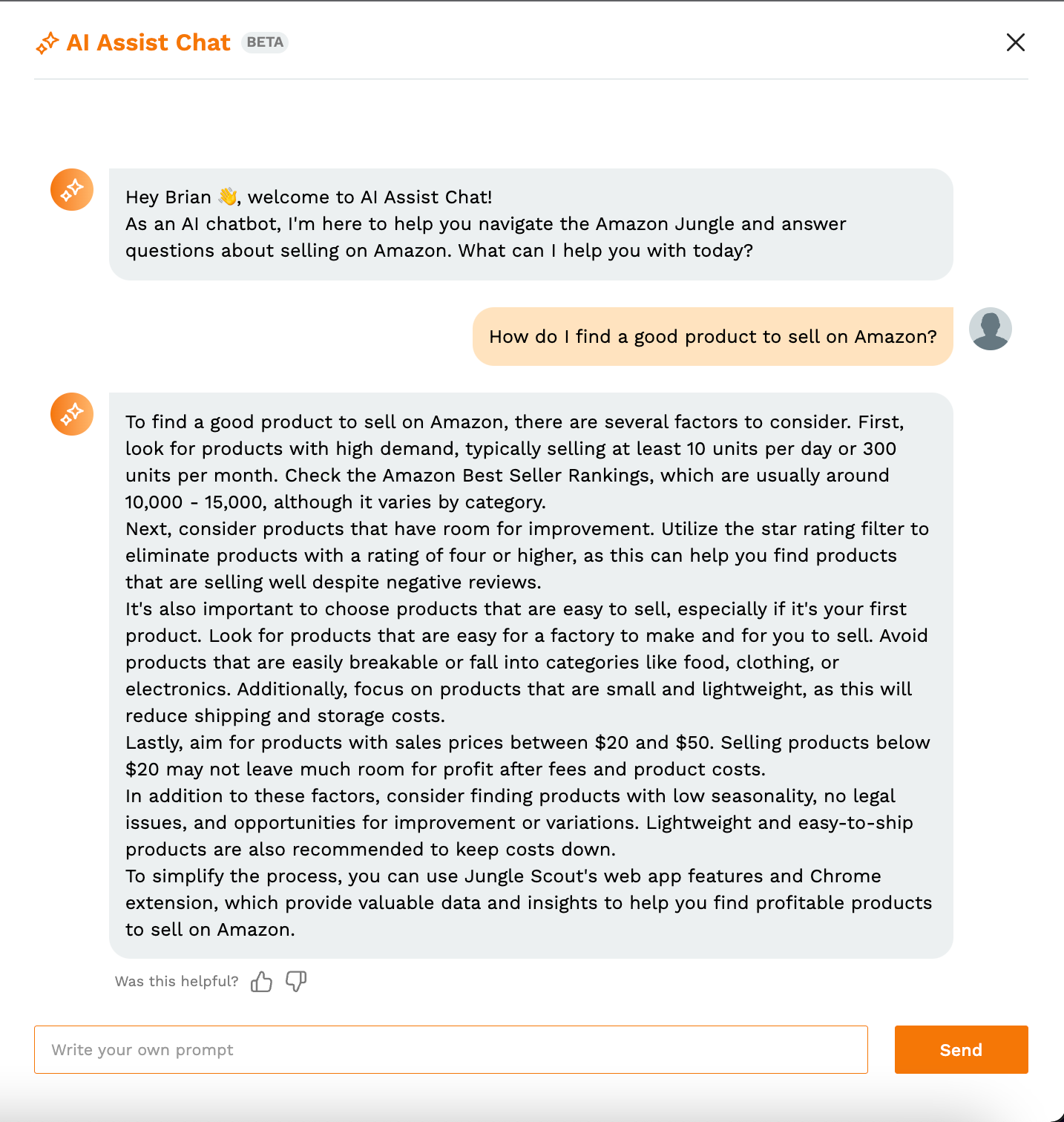 You can also leverage AI chatbots in ecommerce to gather customer feedback data and other useful metrics for you to analyze. The more data you have about your customers or of those who were interested in your brand, the more you can successfully retarget the right customer.
For instance, Profitero's "Ask Profitero" tool is a chat-based AI assistant for commerce analytics that helps ecommerce business owners visualize and analyze an overwhelming amount of data.
Ask Profitero helps figure out where you may be losing market share, pinpoint top-searched keywords for your category, and analyze category trends and customer reviews to uncover new product ideas.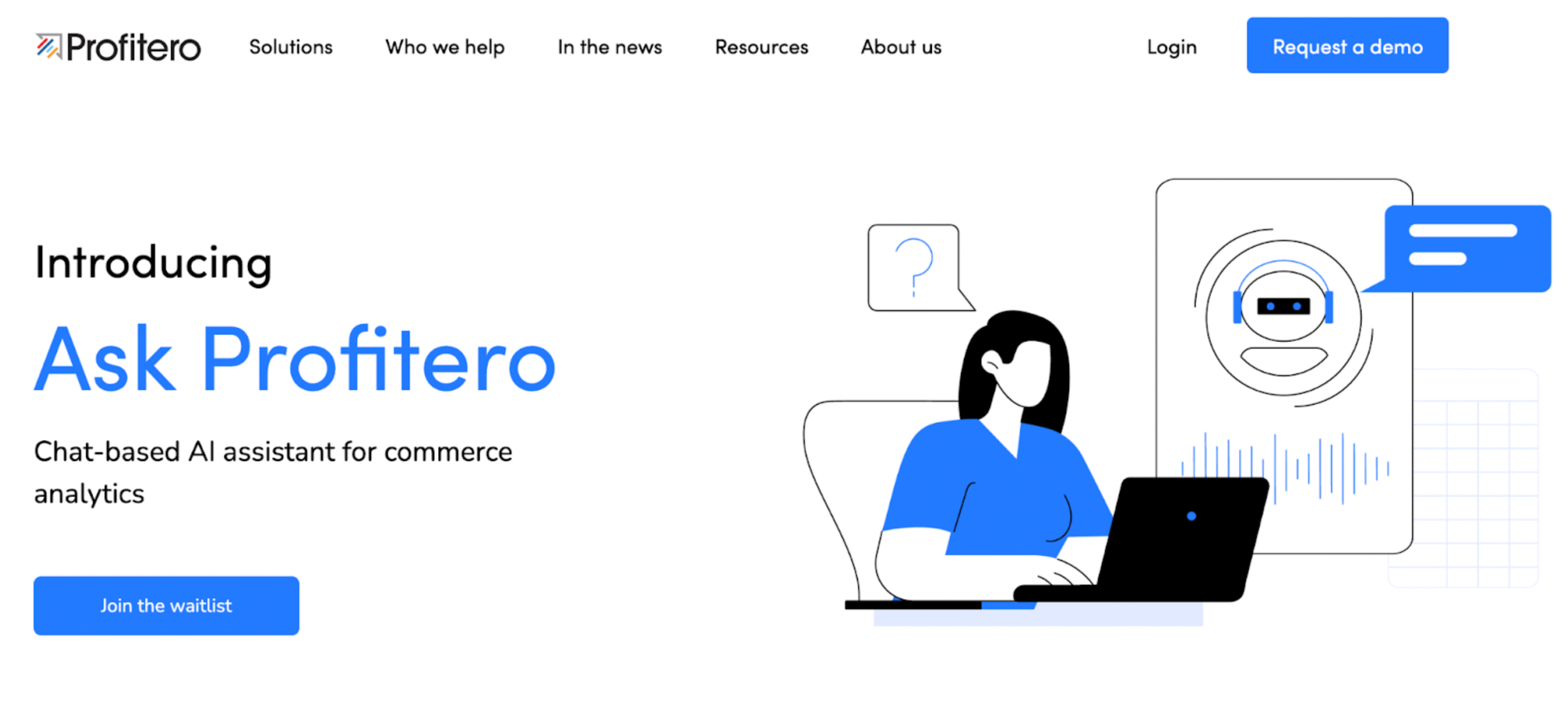 11. Analyze the financial health of your business
Understanding the financial health of your Amazon or ecommerce business can be a difficult thing to tackle.
Jungle Scout's AI Assist in Profit Overview uses AI to analyze the performance of your Amazon business and instantly deliver actionable insights to help improve your sales and profitability. The tool is essentially your AI-powered "CFO" that takes your product-level and company-level data for a selected date range, and provides key insights as well as recommendations on what to do next.
AI Assist in Profit Overview will sift through all of your Amazon business's financial data and help sellers identify the most critical insights and take action on how to improve.
For instance, if a seller sees low profit margins on a particular product, AI Assist can uncover reasons why a product is not performing well, such as high returns, high cost of goods sold (COGS), or high PPC costs.
Using AI to analyze your financial data saves you time and ensures you don't miss anything important regarding your business profits.
Another AI financial tool that all ecommerce businesses can use is Zeni AI, an AI-powered bookkeeping and accounting software to help businesses, including ecommerce businesses, keep accurate and up-to-date financial data.
Zeni AI analyzes the entire financial health of your business to give you a detailed breakdown of your expenses, profits, revenue, gross margins, as well as help you manage your cash flow.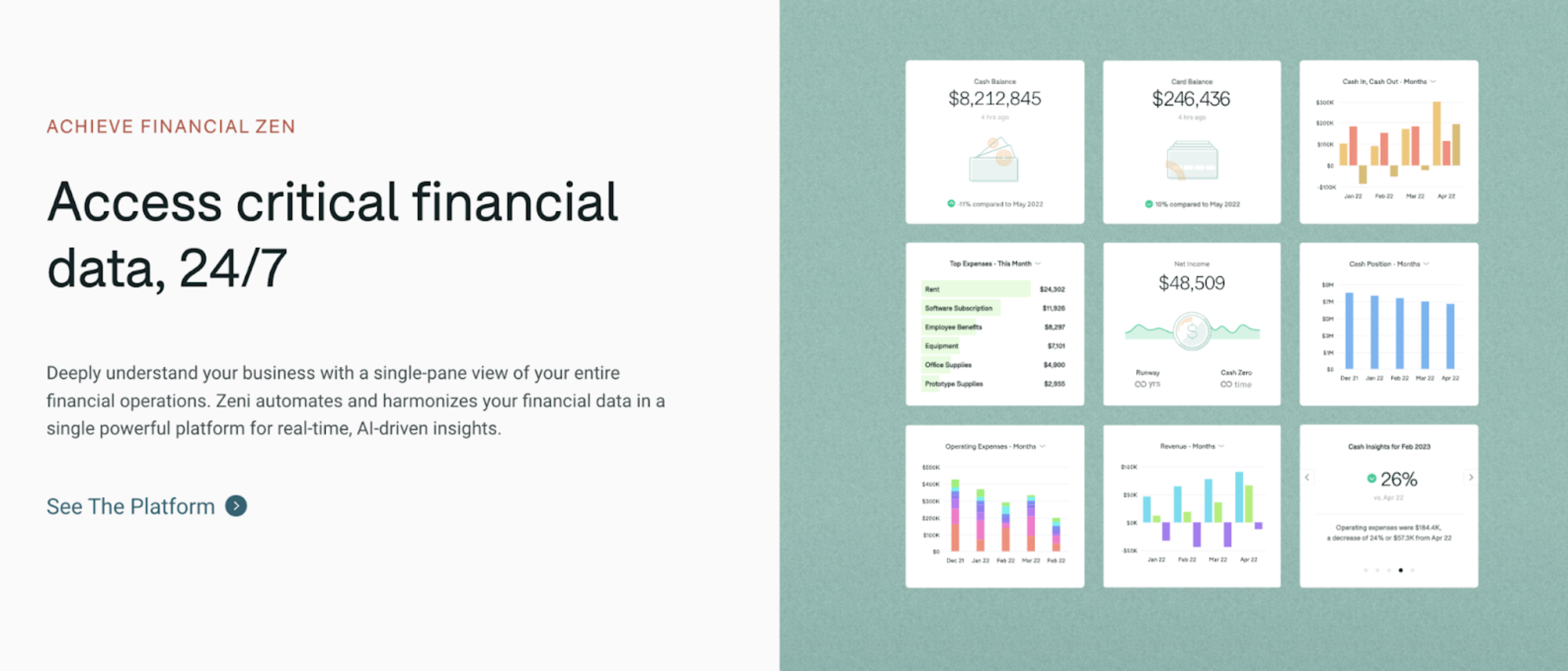 How will you leverage AI for your ecommerce business?
We hope this article gives you a better understanding of how ecommerce entrepreneurs can utilize AI tools for their businesses. While these tools are incredibly useful and help increase productivity, we've only scratched the surface of its long-term implications.
Check out our video on YouTube that goes over even more ways you can use ChatGPT for your Amazon business!
If you have any questions or comments about AI in ecommerce, please leave a comment below.
Brian Connolly is an Amazon seller, ecommerce expert, and writer for Jungle Scout. He lives in the New Jersey Shore area with his wife and cat. When he isn't writing advice online for aspiring and experienced Amazon sellers for Jungle Scout, he spends his free time boating, fishing, and selling boating-themed items on his Amazon business.