Una manera fácil y rápida de encontrar productos de Amazon de los que puede ganar sin tener que adivinar.
Tendrás toda la información que necesitas para encontrar nuevas oportunidades, evitar las llamas y mantenerte estable.
Mira el video para aprender cómo
Comience
"The most helpful Amazon software in the space"

"The best resource for data-driven product research"

"Helped thousands of Amazon entrepreneurs avoid failure"

"Handles the heavy lifting on big data analytics"

Jungle Scout
Su arma secreta para tomar mejores decisiones y mantenerse por delante de su competencia antes y después del lanzamiento de su negocio.

Base de Datos de Productos
Le proporciona todo el catálogo de Amazon. Le permite filtrar miles de productos por categoría, precio, demanda, índice de ventas, calificaciones, tamaño y más, para encontrar los mejores productos para revender.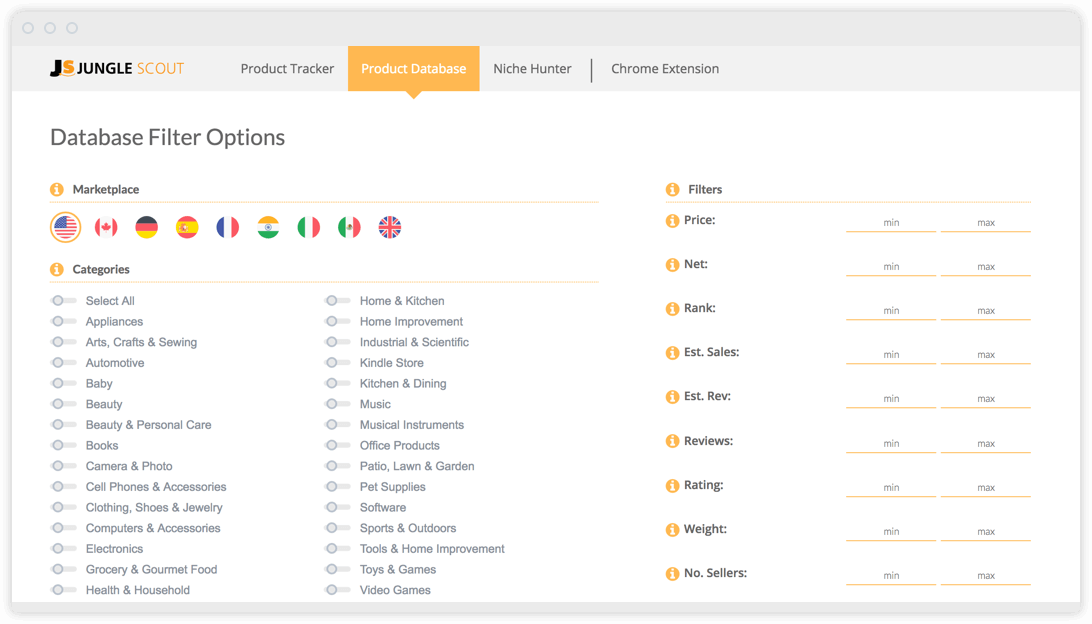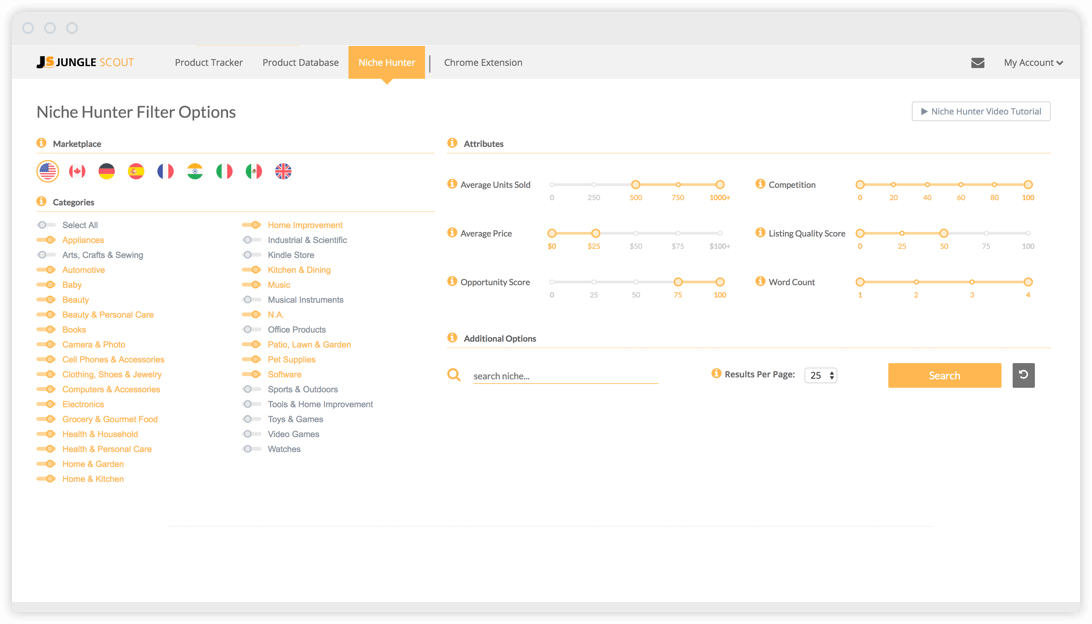 El Niche-Hunter
Calcula la capacidad de vender un producto, mostrando los principales distribuidores y el índice de calidad para cada clave de búsqueda
El Product Tracker
puede rastrear las actividades de su competidor, incluidos los precios sueltos y el inventario, con solo un clic.
No tienes mas que ingreser manualmente los datos en las hojas de trabajo! ¡A partir de ahora puede administrar su negocio completamente en línea!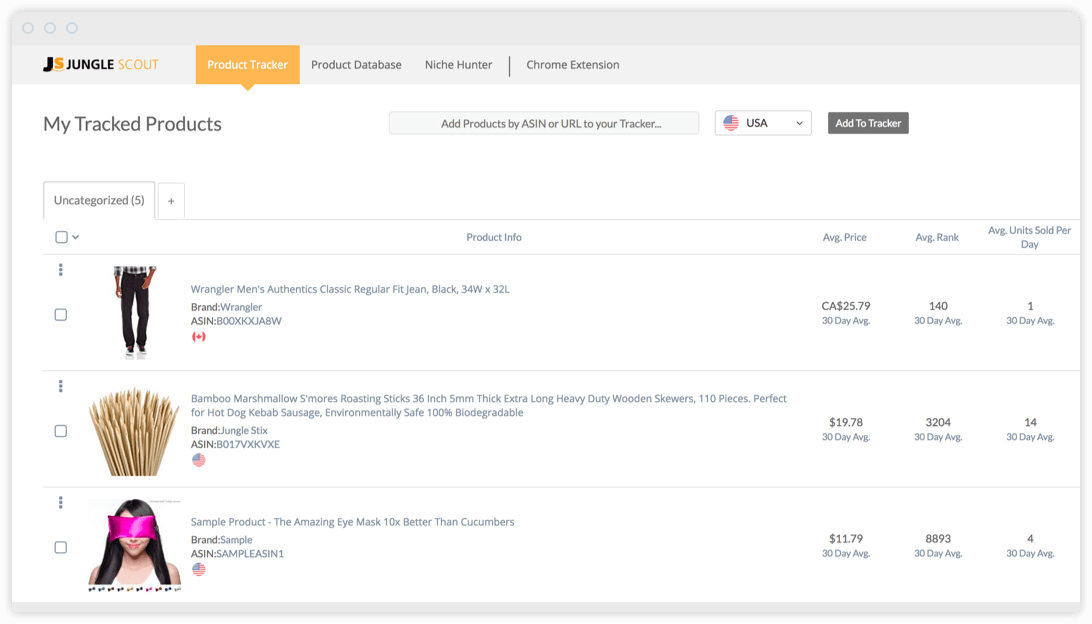 ¡Comienza hoy con Jungle Scout!
Comienza hoy, sin riesgos!
100% garantía de devolución de dinero.
¡Obtén Jungle Scout!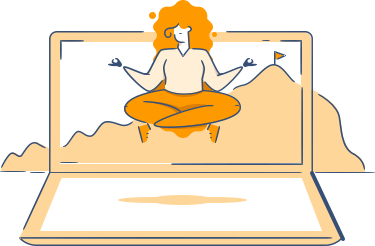 Extension
Obtenga un impulso en sus buscadas y ratifique sus ideas de productos con información y estadísticas en tiempo real.

Nuevos números
Si buscas gemas escondidas en la jungla de Amazon, es muy importante tener la información más actualizada.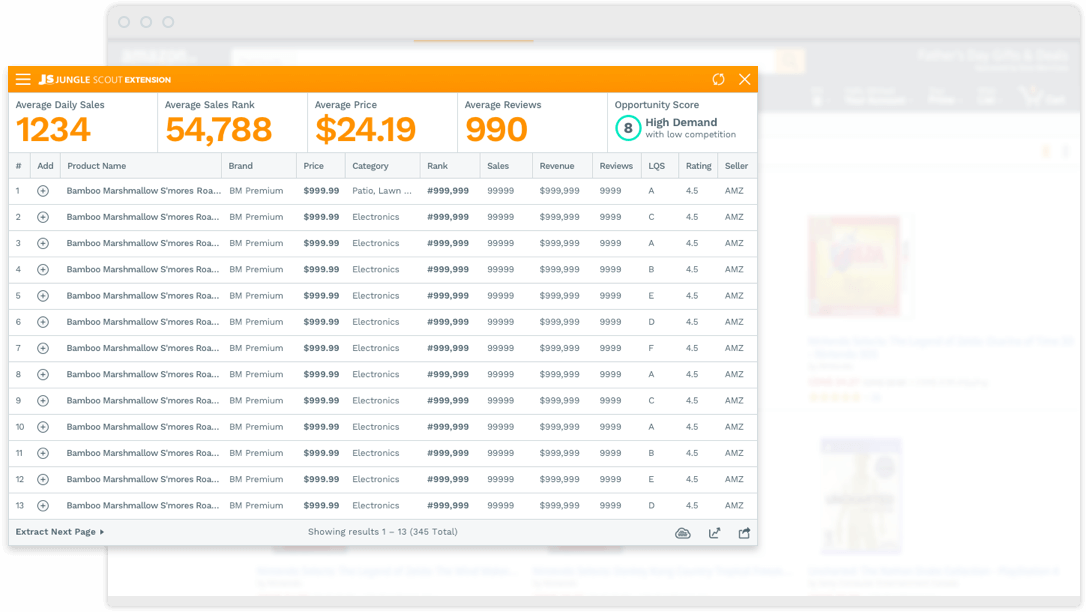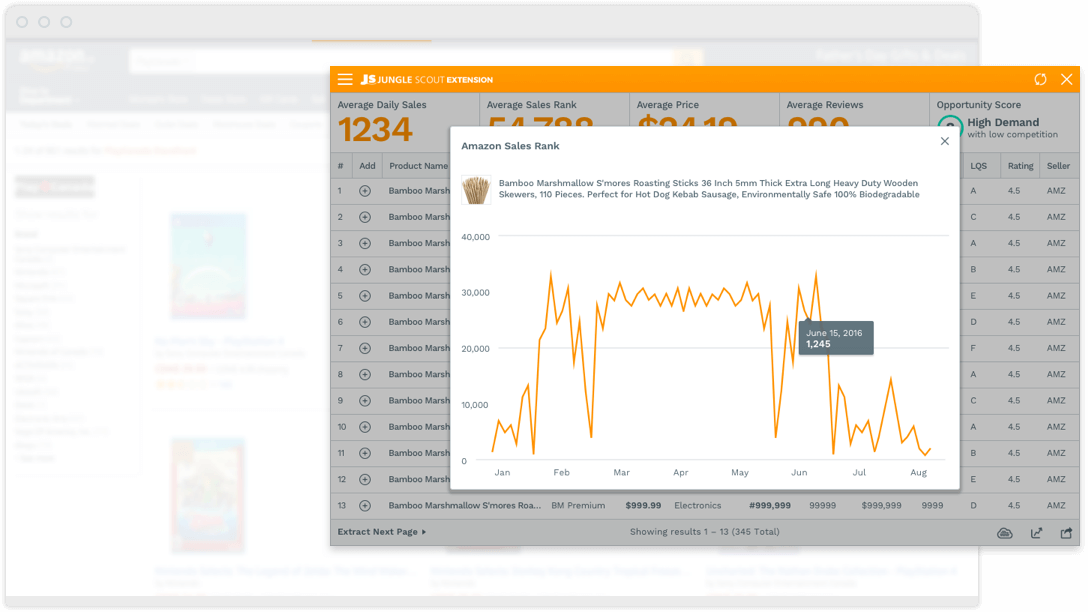 Stat-Checker
La Extensión de Chrome le permite verificar inmediatamente toda la información de precios y la información del índice de ventas.
Producto específico
Es una herramienta muy útil para profundizar en productos específicos. Puede acceder a precios, estadísticas, clasificaciones, tarifas de FBA y mucho más sin siquiera tener que cerrar su navegador.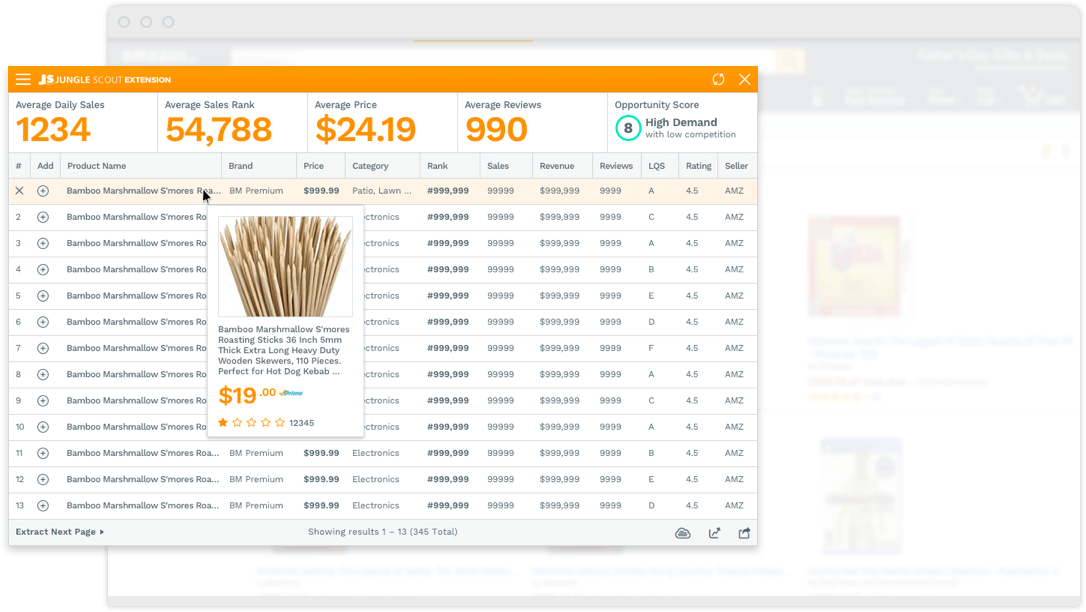 ¡Comienza hoy con Extensión!
Comienza hoy, sin riesgos!
100% garantía de devolución de dinero.
¡Obtén Extensión!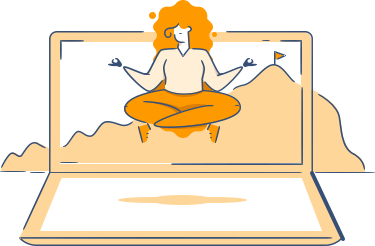 ¿Qué hace que Jungle Scout sea el mejor paquete del mercado para mirar dentro de Amazon?
No es solo una herramienta para simplificar tus búsquedas. ¡Hay un equipo de soporte completo que lo guiará paso a paso!

¡Es la base de datos más grande y confiable de la industria!

Almacenamos más de 1,000,000 de datos de Amazon Sales todos los meses, y nuestro equipo de expertos constantemente analiza y procesa datos de propiedad en nuevos modelos.

Atención al cliente dedicada

Si necesita ayuda, siempre podrá contar con nuestro servicio al cliente, disponible las 24 horas del día, los 7 días de la semana. Como parte de la industria o una novela, estaremos aquí para responder sus preguntas.

Los mejores recursos sin costo

Los clientes dicen que tienen el mejor contenido educativo para ayudarlos a crear un negocio de FBA exitoso. Con las narices de casos de estudio, seminarios web, libros electrónicos y blogs, siempre estará actualizado sobre lo que necesita vender en Amazon.    
---
Jungle Scout admite más mercados de Amazon que cualquier otro paquete
Podrá acceder a datos de ventas para países específicos, que incluyen:
Estados Unidos, Alemania, Francia, Canadá, Reino Unido, India, España, México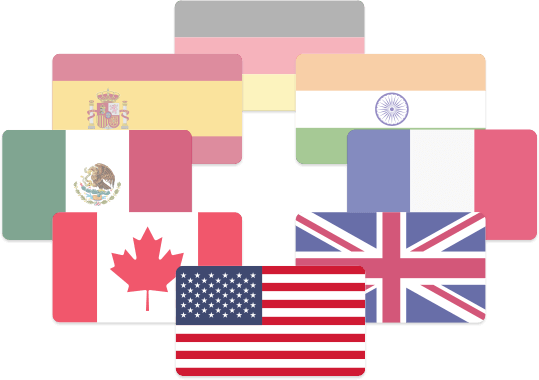 ¡Aclamado por los vendedores mas exitosos de todo el mundo!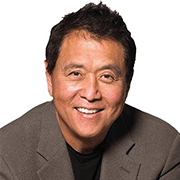 My team loves Jungle Scout as it is the best Amazon software out there. I love Jungle Scout's creator, Greg Mercer. He has a teacher's heart. He doesn't just create a tool. He educates his users all about succeeding on Amazon and using Amazon as a tool for personal success.
Robert Kiyosaki
CEO, Founter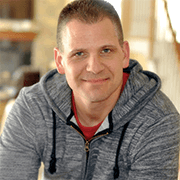 Jungle Scout is the ONE tool I can not live without. There's ways to use it that simply blow you away once you realize the power of what they can do for your business. A must-have tool for any Amazon seller!
Scott Voelker
CEO, Founter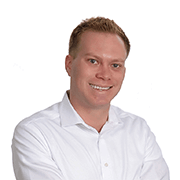 Jungle Scout is how I start all of my product research. It saves my team and I countless hours each and every month. Honestly, I don't know what we did without it!
Kevin Rizer
CEO, Founter


Lista de precios para la aplicación web
Cero riesgos, reembolso asegurado.
Aceptamos las principales tarjetas de crédito.
---
Business
Nuestra versión más avanzada de Jungle Scout para veteranos vendedores
Seguimiento 150 productos
$50/mes
Standard
¡para Vendedores que se están preparando para la grandeza!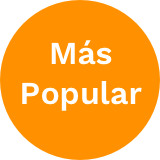 $40/mes
Start Up
Todas las funciones básicas de Jungle Scout al precio más bajo.
$25/mes
No sé la diferencia entre Jungle Scout e Extensión

Precios de extensión de Chrome
Cero riesgos, reembolso asegurado.
Aceptamos las principales tarjetas de crédito.
¡Comience a vender hoy!
Únase a los

99,374

vendedores de Amazon que manejan sus negocios con Jungle Scout
---
¿Qué mercados tiene el apoyo de Jungle Scout?
Podrá acceder a datos de ventas para países específicos, que incluyen:Estados Unidos, Alemania, Francia, Canadá, Reino Unido, India, España, México
¿Cuál es la diferencia entre Extension y Jungle Scout?
Jungle Scout is a powerful toolkit that runs in the cloud on our own website. It has a suite of three tools; an Amazon product database specifically for sellers, a product tracker and the niche hunter. In comparison, Extension runs by pulling data, including estimated revenue, directly from the Amazon website as you browse it.
¿Puedo comprar tanto Extension como Jungle Scout?
Definitely. Many of our customers enjoy the benefits of being able to get data at their fingertips with Extension, as well as the ability to track products and find new niches and product ideas via Jungle Scout.
¿Ofrecen un período de prueba gratuito?
Lamentablemente, no ofrecemos un período de prueba, pero puede cancelar y obtener un reembolso completo antes de las 14 dias de la compra del producto. Si no necesita estar satisfecho, envíe un correo electrónico a [email protected] para solicitar un reembolso..
¿Puedo utilizar Jungle Scout en Iphone o iPad?
Jungle Scout:
Incluso en el mundo en que vivimos hoy en día, donde nos gustaría hacer todo en nuestros dispositivos móviles, la aplicación web Jungle Scout en línea se ve mejor en una computadora.
Sin embargo, somos tan adictos a la aplicación web como ustedes, así que siéntase libre de usarla en su dispositivo móvil. La aplicación web se muestra muy bien en la mayoría de las tabletas, aunque suele ser demasiada información para mostrar en un formato fácil de leer en los smartphones.
Extension:
No nos gusta dar malas noticias pero, desafortunadamente, Google Chrome no admite extensiones en dispositivos móviles (tabletas / teléfonos inteligentes / ipads) en este momento.
Si, en el futuro, Google hace que las extensiones de Chrome sean compatibles con dispositivos móviles, nos aseguraremos de que Extensión Lite y Extensión estén disponibles para tabletas y teléfonos inteligentes.
Por ahora, sin embargo, estamos limitados a usar las extensiones JS en nuestras computadoras y portátiles.
¿Puedo pagar con Paypal?
Aceptamos Visa, Mastercard y American Express, pero no aceptamos Paypal.