AI Assist is now in beta for all Suite and Professional plan subscribers!
Transform your Amazon listings with the power of AI

Eliminate the frustration and complexity of writing the perfect Amazon listing. Try Jungle Scout's new AI Assist feature, within Listing Builder, to give you optimized, keyword-rich listings in a snap
What is AI Assist?
Jungle Scout's Listing Builder leverages the power of OpenAI's ChatGPT technology to generate product listing content in seconds using the top keywords from your keyword bank.
Save time
In a click of a button, AI Assist can accelerate the tedious effort of writing a listing so you can focus on generating revenue for your business.
Start simply
Never written a listing? No problem. AI Assist will create it for you. Plus, AI Assist may generate new ideas for product benefits or details to highlight, helping all sellers to stay ahead of the competition.
Reach new audiences
AI Assist writes in English, helping non-native English and ESL speakers hone their listings for English-language Amazon marketplaces, and saving potentially costly translation services.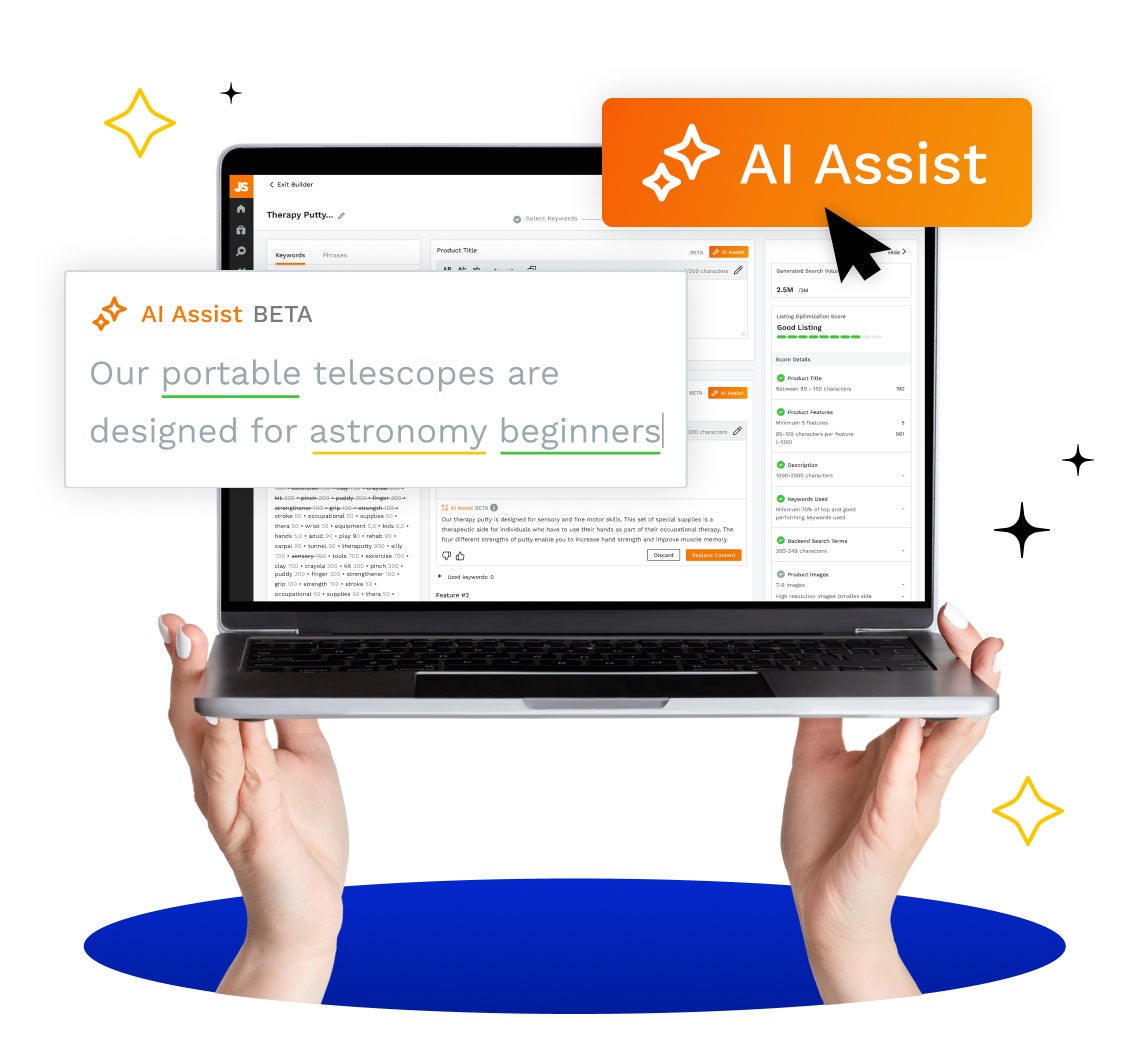 AI Assist is currently available in beta
for all Suite and Professional plan users!
Get all of the features you need along with the power of AI!

Suite
The essentials for scaling your Amazon business and expanding your product research
---
1 user seat
Buy now
Industry-leading Amazon seller tools:
Listing Builder with AI Assist (Beta)
Browser extension
Opportunity Finder
Product Database
Track up to 150 products
1,000 sales estimates / mo
Advanced seller features

Professional
More data, more users, more access — ideal for experienced sellers who need more
---
6 user seats
Buy now
Our most powerful plan:
All Suite features
6 months of historical data in Product Tracker
Track up to 1000 products
2 years of historical keyword data
Advanced seller features