No matter if you're a brand new seller or own a multi-million dollar brand, there's something that all ecommerce businesses have to deal with—processing customer returns.
It's always a little frustrating and disheartening when you see a return request come in. It's not just that you'll lose money on that sale—it means your customer was unsatisfied with their purchase of your product.
Returns are just a part of life as an ecommerce seller, and there's no reason to panic if and when you face one. In this article, we'll go over Amazon's return policy, what has changed, and how it affects sellers. Then, we'll show you how to understand and reduce your return rate so you can earn more happy customers.
2023 Amazon Holiday Return Policy update:
In 2022, Amazon offered an Extended Holiday Return Policy and Amazon is doing the same for the 2023 season. All items purchased between November 1, 2023, and December 31, 2023, are returnable through January 31, 2024.
In this article:
Amazon FBA Return Policy
With FBA (Fulfillment by Amazon), Amazon handles fulfillment and customer service on behalf of sellers, which includes customer returns processing. Amazon operates by its own customer return policy when determining if the item in question is eligible for a return. As a seller, you have no control over whether a product is accepted as a return, even if it is clearly the buyers' fault that the product is damaged or defective.
In most cases, customers can request returns within 30 days of receiving their order. But Amazon can (and does) make case-by-case exceptions and accept returns beyond that 30-day limit.
Once the buyer requests a return and sends back the item, Amazon emails the seller notifying them that they have initiated a return and deducted the cost of the order from the seller's account balance.
What happens when the item is returned to Amazon's warehouse?
After Amazon receives the customer's return, they evaluate the condition of the product to determine if it is sellable or not. If the item was unused and still in new condition, Amazon will return that product to your inventory, to be included in a future order.
If the item is damaged or in an unsellable condition, Amazon determines who caused the damage (either Amazon itself, during fulfillment, or the customer). If Amazon caused the damage to the product, you're reimbursed for the product return.
However, if the customer (or shipping carrier) caused the damage to the product, Amazon will not reimburse you, and the product will be marked "unsellable."
For any item that is categorized as "Defective" or "Customer Damaged," sellers must submit a removal order within 30 days after the returned item arrives at the fulfillment center. You can also request that Amazon returns or disposes of your unsellable inventory automatically in Seller Central.
What happens if the customer does not return the product?
If the customer does not return the product to an Amazon fulfillment center within 45 days of initially receiving it, Amazon will recharge the customer if they were already refunded, and will reimburse the seller for the item.
Typically, Amazon automatically reimburses you after 45 days. In some rare cases, you'll have to open a support case to get your reimbursement.
Extended returns timeframe
Amazon allows customers to return eligible FBA items in the Baby category in new, unopened condition within 90 days. Products that have been opened or used are not eligible for returns in the extended time frame. Amazon will pay for the return shipping at no cost to the seller.
2023 Amazon return policy change: Amazon FBA Return Insights
In March 2023, Amazon released a new tool under Manage FBA inventory called "Return insights" that provides sellers with more insights into their returns.
You can view trends by Return Rate % or Returned Units, and filter by Timeframe (30/60/180 days/last year) and the Product Category. It also breaks down data for each ASIN, including the top return reason.

This is a big update because it shows sellers their top returned ASINs along with the top return reason. Depending on the reason, this information can help sellers improve their listing content or even the product quality.
To view your return insights in Seller Central, go to "Manage FBA Inventory" > "Manage FBA returns."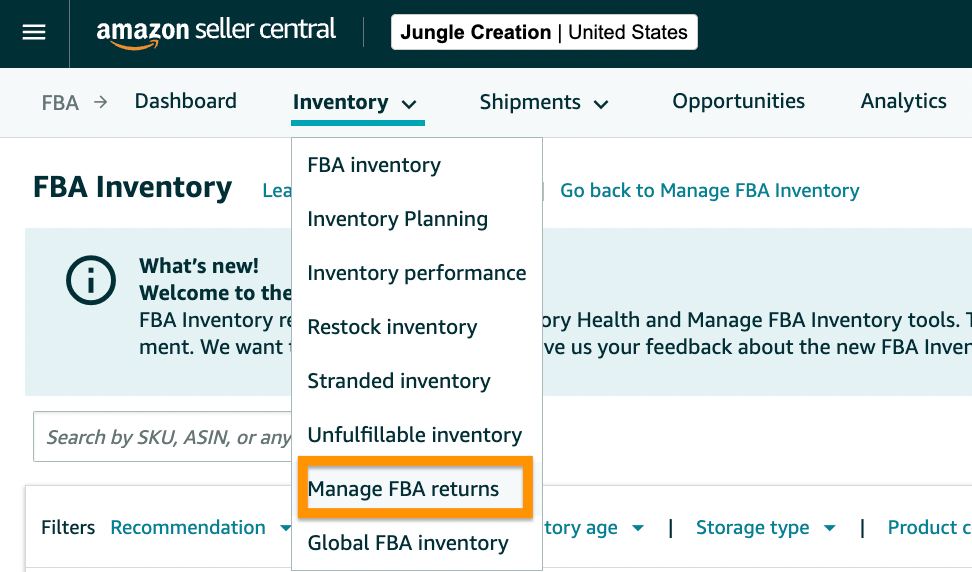 Amazon FBM Return Policy
Returns for sellers who fulfill their own orders work little differently from FBA. Amazon states in their seller-fulfilled return policy that FBM sellers must match or exceed Amazon's return policy. That means you must accept returns within Amazon's 30-day return window.
Also, all returns will be sent back to the address listed in your seller account, not to Amazon. You are required to refund the customer within 2 days of receiving the return shipment.
If you are a professional seller on Amazon, you will be automatically enrolled in the Amazon Prepaid Returns Label program. So, if a customer requests a return and it falls within the accepted time frame, Amazon will automatically send the customer a prepaid return shipping label on your behalf through Buy Shipping Services.
For any return requests made outside of the return policy, or those that are deemed exempt, Amazon will send you the return request for manual review.
What does this mean for FBM sellers? Unfortunately, it means the seller won't have the opportunity to communicate with the buyer to try to remedy the situation before the customer is automatically refunded.
What if a customer requests a return outside of Amazon's return policy or the product is returned damaged?
In some circumstances, Amazon allows sellers to charge customers a restocking fee when an item is returned.
A restocking fee is a percentage of the item's price—shipping costs not included—and depends on the condition of the returned item.
If you as a seller decide to accept a return outside of the 30-day return window or the product is returned is used, damaged, defective, or materially different, you may charge the customer a restocking fee.
Items returned in original condition, within Amazon's accepted time frame, cannot be charged a restocking fee.
Here's a breakdown of which return requests qualify for restocking fees.
Return Request
Restocking Fee

The buyer changes their mind* about a purchase and returns an item in the original condition within the return window.

No restocking fee.

The buyer changes their mind* about a purchase and returns an item in the original condition outside of the return window

Yes. Up to 20% of item's price.

The buyer refuses delivery due to visible damage incurred during shipping or caused by the carrier.

No restocking fee. The seller pays for return shipping, but can file a claim with the carrier or insurance company, if they purchased insurance.

The buyer receives a used or damaged item.

No restocking fee. The seller can file a claim with the carrier or insurance company, if they purchased insurance.

The buyer changes their mind* about a purchase and returns a non-media item within the return window but the seller receives the item damaged or materially different than how it was originally shipped to the buyer.

Yes. Up to 50% of item's price.

The buyer returns a book within the return window with obvious signs of use.

Yes. Up to 50% of item's price.

The buyer returns a CD, DVD, VHS tape, , cassette tape, or vinyl record within the return window that has been opened (taken out of the plastic wrap).

Yes. Up to 50% of item's price.

The buyer changes their mind* and returns open software or video games.

Yes. Up to 100% of item's price

The buyer returns an item they received materially different from what they ordered.

No restocking fee.

Any other reason not listed here.

See

About Refunds

.
What are the reasons customers return products?
When an Amazon customer submits a request to return their order, they must choose a reason for the return. This will determine who's responsible for the return shipping costs—the customer or the seller.
Amazon lists 72 different official reasons for a customer return, which can be found here. Generally speaking, customers are responsible for reasons related to preference, ordering the wrong size, or changing their mind about wanting the product. Sellers are deemed responsible if the customer cites functionality or damage-related reasons like "damaged due to poor packaging " or "missing parts or accessories."
Here are some other reasons customers cite in the returns process, and Amazon finds at fault for each:
"Arrived too late"; seller

"Not satisfied with the quality"; seller

"Better price is available"; customer

"Did not like color"; customer
How to find out why customers are returning your product
You should expect to incur some returns over the course of running your business. But you should also keep track of why customers are returning your products. Especially if you're selling a private label product, you need to be aware of any recurring issues or problems your products may have, so you can fix them as soon as possible.
If you receive a lot of "defective" complaints about your product, Amazon may even temporarily shut down your listing until you resolve the issue.
For example, if you sell a bicycle helmet and customers frequently complain about improper fit or receiving the wrong size, Amazon could suspend your listing—if not your entire seller account.
Before your product gets flooded with negative reviews, figure out what is going on. If you have unsellable inventory, you can request a removal order to have the product sent back to you so you can inspect each unit.
One way to see why customers are returning their products is by viewing your Policy Compliance section in Seller Central. I'll show you how.
In Seller Central, we'll click on the "Performance" tab, then "Account Health." In that section, we can view "Policy Compliance."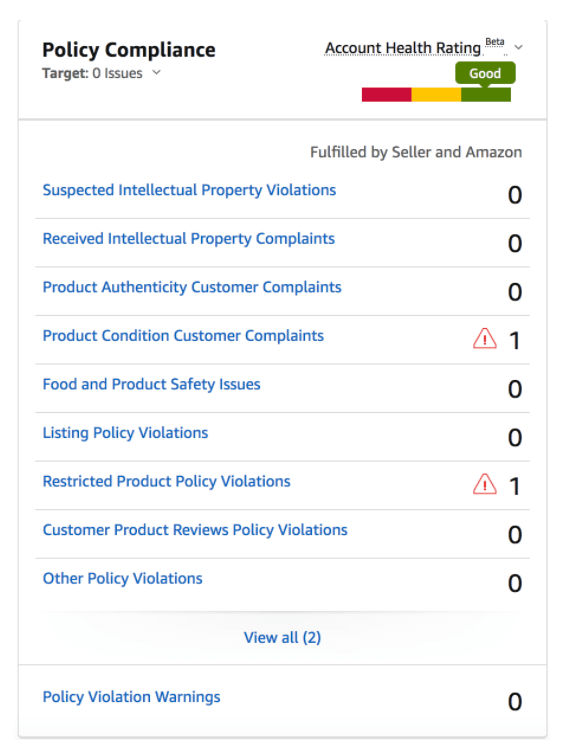 Looks like my Account Health Rating is in the green—awesome!
But wait—next to "Product Condition Customer Complaints" we can see that there is one complaint.
After investigating further, we can see the reason was for a "Defective" product. We can also see the action Amazon took: the listing was removed.

To have your listing reinstated, you must click "Appeal" and submit a plan of action to Amazon. Essentially, you have to explain to Amazon how you resolved the issue and the steps you've laid out to prevent it going forward.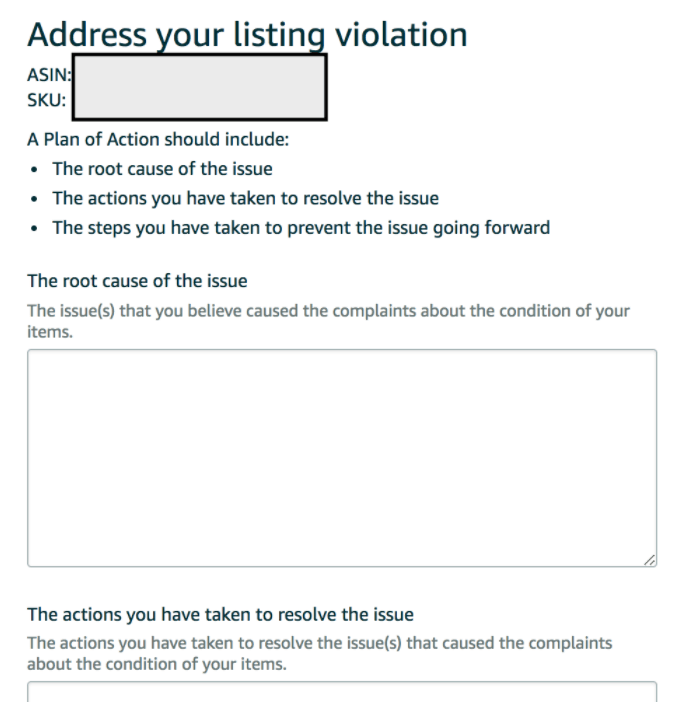 You can view the reason for every return that was requested by doing a little more detective work.
In Seller Central, go to the "Reports" tab, then "Fulfillment."
On the left-hand side of the screen, click "Customer Concessions," then click on "FBA customer returns."
Here, you will be able to generate a report that shows you all of your FBA customer returns within a specified date range. You'll be able to see the Order ID, Merchant SKU, ASIN, FNSKU, Title, Quantity, Fulfillment Center, Disposition, Customer Return Reason, and the Status of the return.
Pay attention to the Disposition, Customer Return Reason, and Status columns. Sometimes under Customer Return Reason, customers will leave a note that states exactly what was wrong with or missing from their order.

It's best to stay on top of your returns so you can catch any major issues before your listing is taken down, or before customers start to leave you negative reviews.
Returnless Refunds
Amazon decides to do this if the product value is low, if the return cost of shipping is too high, or if the product will be difficult to resell once returned. We're unsure of exactly where Amazon sets its price threshold, but we do know that it takes a lot of time and money for Amazon to process returns. In some cases, it's just not cost-efficient.
It often benefits the seller to just refund the customer without dealing with the hassle of returning an item, especially if the product was defective or damaged in transit. The real concern among sellers lies with Amazon automatically refunding the customer without the seller's approval.
FBM Sellers can set Returnless Refund rules to their seller accounts under "Return Settings" in Seller Central. There, you can set the price range, product category, reason, and return window.
Do customers abuse Amazon's return policy?
It's clear that Amazon will do everything they can to please their customers. It's why they have such a liberal return policy, where customers can return anything they purchase for any reason within 30 days.
As with any such policy, you're going to encounter some customers who abuse it and try to get a refund for nearly every purchase they make.
Fortunately, Amazon catches on to behavior like this and will actually ban customers from shopping on the site if they detect return policy abuse.
What to do with your returns
To help reduce potential losses from returned or damaged items, Amazon has created a few different programs that help sellers to recoup some money or find a new home for returned, damaged, or used items.
FBA Liquidations
The FBA Liquidations program is designed to help sellers liquidate excess inventory and customer returns versus having the inventory destroyed, and to avoid paying additional storage fees.
How it works: submit a liquidation request in Seller Central, and Amazon will evaluate several factors to determine the average selling price of your product. Wholesale liquidators will pay roughly 5% to 10% of the product's average selling price. Once your inventory is purchased by a liquidator, Amazon will pay you within 60 days.
This program is a great way to recover some money from excess or used inventory instead of paying Amazon to return or destroy the items.
FBA Grade and Resell
The FBA Grade and Resell program allows sellers to relist and sell unfulfillable returned inventory as used items, instead of paying Amazon to destroy or return the items to you.
How it works: submit your unfulfillable inventory into the program and Amazon will then evaluate the condition and grade the item for you as either Used – Like New, Used – Very Good, Used – Good, or Used – Acceptable. Once your product(s) are graded, Amazon will create a new listing for you.
Instead of creating more waste and destroying unfulfillable inventory, this program helps sellers recoup potential losses from returned items.
FBA Donations
Another option for your returned or overstocked items is to donate them through Amazon's FBA Donations program. This program allows sellers to donate eligible inventory to selected US charities.
This planet-friendly alternative gives your products a new life versus destroying them and creating more landfill waste. Amazon has partnered with Good360 to distribute donated FBA inventory across a network of nonprofits in the US.
This program is an exceptional way for sellers to reduce waste, get rid of unwanted inventory, and donate needed goods to people in need. It may even provide sellers with some tax benefits.
How are you affected by Amazon's return policy?
If you want to sell on Amazon, you have to follow Amazon's rules—whether you agree with them or not!
As we've mentioned, returns are just a part of running an ecommerce and Amazon business, or any retail business for that matter.
To help limit your return count, focus on creating a high-quality product and fully optimized listing with as much information as possible.
Do you have any more questions regarding Amazon's return policy? Let us know in the comments below!