This is a huge, massive, awesome, amazing, fantastic, unbelievable announcement that I get to bring all of you today. The already powerful Jungle Scout is getting an incredible new tool, unlike anything you've ever seen: Supplier Database.
To call this thing a game-changer would be an understatement.
Supplier Database lets you find verified suppliers, match products to factories, and locate niche suppliers fast.
Supplier Database is automatically part of Jungle Scout and costs no additional monthly fee to use.
After testing Jungle Scout's Supplier Database in Las Vegas, sellers (especially multi-million dollar Amazon sellers) were blown away by the information the new tool provides.
Learn more about Supplier Database.
What is the Supplier Database?
Ever wish that you had another option for checking out suppliers for your Amazon products? You can stop wishing now! Supplier Database does all of the following for you:
Find a supplier that can manufacture/source your products fast and efficiently.
Show you how much actual business the supplier has done with American companies.
Tell you who the suppliers' other customers are (including your biggest competitors).
Show you how much business those suppliers have done with your suppliers.
Match actual products with their supplier.
How does Supplier Database work?
Supplier Database is incredibly easy to use. I'll show you how to instantly find a supplier for your Amazon FBA product in just four quick steps:
1 – Log in to Jungle Scout.
2 – Click the 'Find Suppliers' menu option in the left sidebar.
Then select the Supplier Database sub-menu.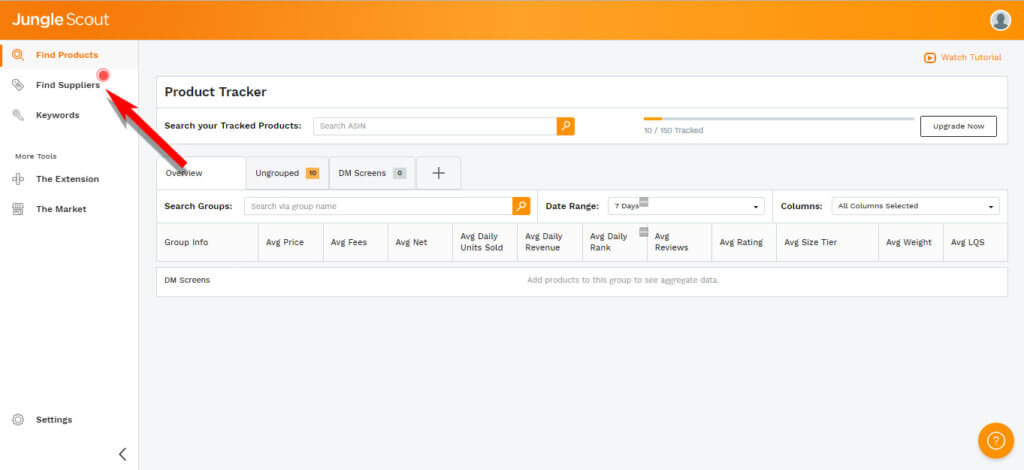 3 – Enter a product, company, or supplier into the "Source Your Product" search bar.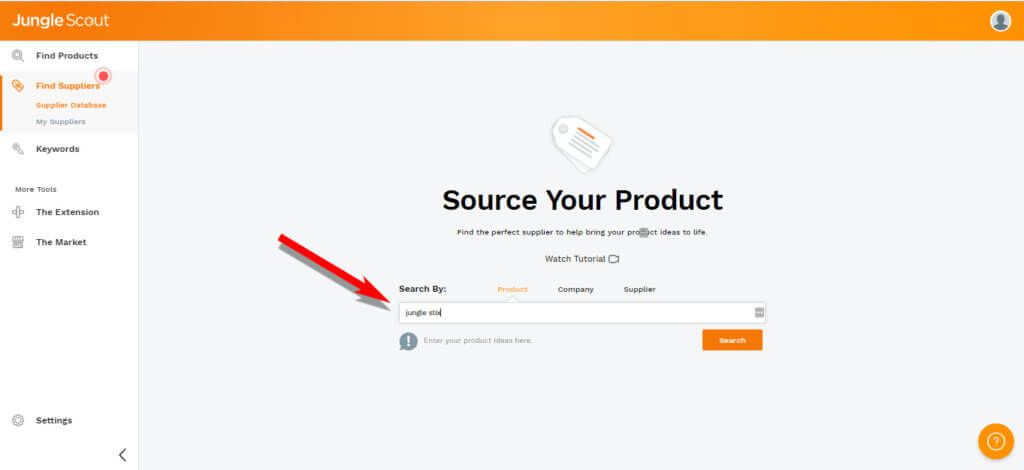 4 – Filter and review the supplier database.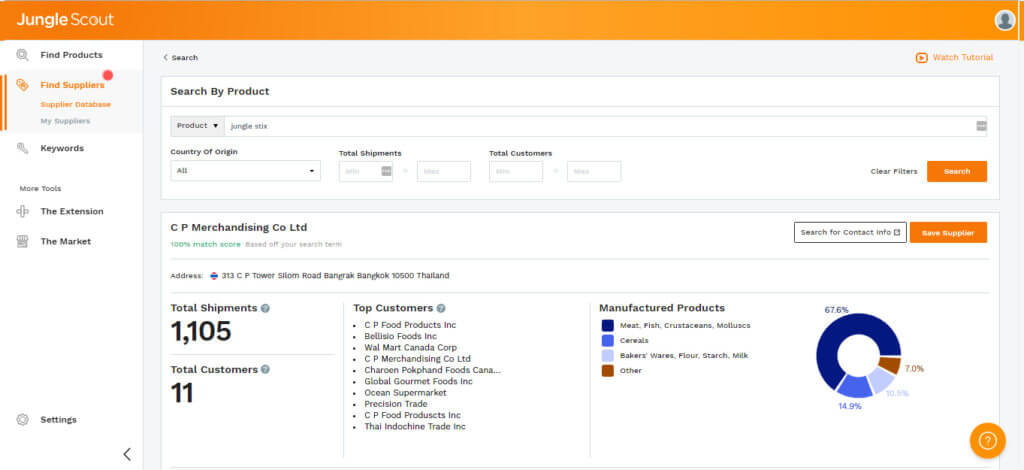 It's that simple! Thousands of international suppliers available with just a few clicks of the mouse.
How do I get Jungle Scout's Supplier Database?
There's a lot of companies out there that would charge a hefty monthly fee for this kind of information organized in this way. In fact, some of our competitors charge as much as $500 per month for it.
But I've got news for you: the supplier database comes FREE with Jungle Scout.
What else do I get with Jungle Scout?
Not only do you get all the great features you expect from Jungle Scout including:
Product Database – organize Amazon's massive product catalog on your terms so you can find profitable product ideas fast.
Product Tracker – keep tabs on hot products and niches so you can see how products perform over time and come back to good ideas.
Niche Hunter – filter through Amazon's product database to find high opportunity products, removing the guesswork from finding your next bestseller.
Keyword Scout – get actual keyword data straight from Amazon to build awesome Amazon product listings and effective Amazon PPC campaigns.
Keyword Lists – save your favorite keywords with the keyword list and see how they perform over time.
Listing Builder – use our tool to immediately populate the details for your Amazon product listing to ensure high clickthrough and conversion rates.
Jungle Scout Market – find Amazon professionals such as product photographers, SEO specialists, IP attorneys and more that can help you and your Amazon business succeed.
That's right! You get all that PLUS the new Supplier Database.
What are people saying about Supplier Database?
We showed up at Prosper in Las Vegas to show off the new Supplier Database feature. It was pretty scary–after all, there were multi-million dollar sellers in attendance there. Big, big sellers.
And they were blown away!
Here are a couple of actual quotes from sellers are Prosper regarding Supplier Database:
"I was able to find out that I am my suppliers biggest export! Definitely going to leverage that when negotiating a better rate for my next order"

"Turns out my largest competitor & I are both using the same supplier… we'll have to do something about that"
Make finding a supplier easy with Supplier Database.
We can hardly contain our excitement! And I hope you're as excited as all of us are at Jungle Scout. Today, with the release, we've got all hands on deck. Our onboarding folks, customer service reps, and even our marketing team are all on hand to make sure that the launch of Supplier Database is a 100% success.
Happy hunting, Jungle Scouters, and have fun with this great new tool!
If you don't already have it, get Jungle Scout, now!