Knowledge is the fundamental building block to success in any field.
And if you are an Amazon FBA seller (or you plan to become an Amazon FBA seller), it's important that you learn not only the Amazon FBA selling process, but also how to cultivate the other skills crucial to becoming a prosperous entrepreneur.
What follows is a list of the best business books (all available on amazon.com), which can help you on your journey to become a #freedombuilder and successful Amazon FBA private-label seller.
Of course, if you're still looking for resources after reading the following books, then check out Jungle Scout University. It's a library chock-full of learning materials about the Amazon FBA seller process, and you can access it for FREE!
10 Best Business Books Every Amazon FBA Seller Should Read
How do I get into the right mindset?
While knowledge of the process is important when selling on Amazon FBA—after all, you kinda need to know what you're doing, right?—it's also vital to get into an entrepreneurial right frame of mind, understanding the basics of how entrepreneurship works.
The following titles are three of the best books for entrepreneurs looking to get into the right mindset: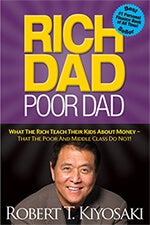 1 – Rich Dad Poor Dad by Robert Kiyosaki
Part biography, part self-help guide, Robert Kiyosaki's bestselling book Rich Dad Poor Dad definitely deserves a spot at the top of this list of best business books.
Rich Dad Poor Dad explains the major differences between successful and unsuccessful people in the world, using his friend's father and his own father as an analogy—the titular rich dad and poor dad respectively.
If you've ever wanted to know why certain people succeed when others fail, then I would start with this book.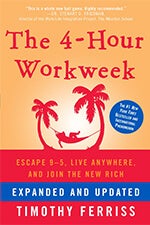 2 – The 4-Hour Workweek by Tim Ferriss
Tim Ferriss is superhuman!
Sure, he's well known for being a life-hack master, authoring powerful guides on physical fitness, success, and even cooking. But it's Tim Ferriss' first major book, The 4-Hour Workweek, that's incredibly relevant to Amazon FBA sellers.
Published in 2007, The 4-Hour Workweek outlined the Amazon FBA selling process before Amazon FBA even existed! But the fundamentals were all there: find a niche product, get a supplier for that product, then automate the process.
Included in the book are countless resources for building a niche-product empire, as well as multiple ways of getting (and keeping) your mind straight leading up to your entrepreneurial success.
And, if that's not enough, Tim follows that up with tips on living life outside of the 9-5 grind. After all, once you're making an awesome passive income selling on Amazon FBA, you're going to need to figure out what to do with all your time, right?!
Start here if you've ever wanted to understand how to automate a business, and/or you want to get your head in the game before and after you free yourself from the 9-5 workday.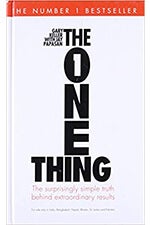 3 – The One Thing by Gary Keller and Jay Papasan
Focus and goal-setting are mandatory elements of becoming a successful Amazon FBA seller. Therefore, I highly recommend The One Thing by Gary Keller and Jay Papasan.
First, this book is incredibly inspirational. It shares the secrets of success of various pop culture luminaries, like Jerry Seinfeld and Stephen King.
Believe it or not, just figuring out the one thing they each needed to do every single day – and then doing it! – enabled Jerry and Stephen to create the uber-successful careers they have today.
Jerry wrote jokes. Stephen wrote pages. And that's it! They found their "one thing" and just kept doing it, never stopping.
Second, this book is a guide. It shows you how to figure out what your big goal is, and then how to reverse engineer your way from that goal to where you are today.
If you've ever struggled to find focus and set major goals for yourself, then this book is for you.
How does Amazon and Amazon FBA work?
Once you've got your head where it needs to be, it's time to learn a little more about Amazon and Amazon FBA.
Of course, Jungle Scout University and its library of FREE resources is always at your disposal. However, if you're looking for some resources outside of that, here are a few books I recommend. They'll help you understand Amazon and Amazon FBA a little better.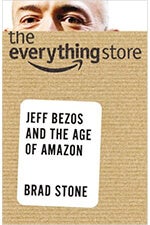 4 – The Everything Store by Brad Stone
It's hard to believe that less than 25 years ago, the world's richest man and Amazon's founder, Jeff Bezos, was just a tech guy working on Wall Street. Then, Jeff had an idea for an online bookstore that led him to quit that six-figure job.
Quite a risk!
He started Amazon in his garage with a small loan from his parents, packing up books and shipping them himself. In fact, Jeff didn't even have tables to start with! He and his small crew did all the work on the floor. Now Amazon is a trillion-dollar retail empire selling millions of products.
If you want to learn more about the history of Jeff Bezos and Amazon, then this is one of the best business books for you to read.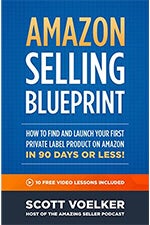 5 – Amazon Selling Blueprint by Scott Voelker
Scott Voelker. He was one of the first voices discussing the how-to of Amazon FBA selling, and many sellers (including quite a few of the 25+ sellers on staff here at Jungle Scout) learned the Amazon FBA selling process through his podcasts.
Like me, Scott's origins are humble; he had an entrepreneurial spirit, but wasn't quite sure where to begin. Then he discovered Amazon FBA and private-label product creation.
Although that was only a few years ago, Scott's built quite the Amazon FBA empire!
In addition to his incredibly popular YouTube channel and podcast, Scott also has a 91-page digital book that you can read for FREE on Amazon (with Kindle Unlimited, otherwise it's only $2.99).
With a 4.7 star rating, and 398 reviews, Scott's book is perfect if you want to learn the basics of selling on Amazon FBA.
How does Alibaba (and importing) work?
Because we're Amazon sellers, the importance of understanding the basics of selling on Amazon is well-known. But what about the importance of finding a supplier?
If Amazon has one "sister" company, to help sellers find success with Amazon FBA, it'd have to be Alibaba. After all, once you've discovered your Amazon FBA private-label product using Jungle Scout's product research applications, you need to find a company to manufacture it.
And 90%+ of Amazon sellers use Alibaba for just that purpose.
So, check out these business books to learn more about Alibaba, and the ins-and-outs of importing: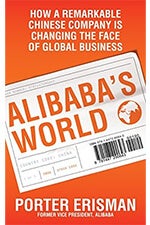 6 – Alibaba's World by Porter Erisman
Alibaba's founder, Jack Ma, had a modest beginning. Way back in the mid-90's, Jack was working as an English teacher in China, but he, like many entrepreneurs, had an idea he was passionate about. And that idea was Alibaba, a retail website for the China marketplace.
It wasn't easy to make that dream a reality though. The hurdles Ma had to overcome were nightmarish: bird flu outbreak, Chinese government red tape, and massive competition from Yahoo!, eBay, and even Amazon.
Yes, you'll learn about Jack Ma and Alibaba's history by reading this book. But you'll also learn about adversity and the strength it takes to beat it. This is a book worthy of your time.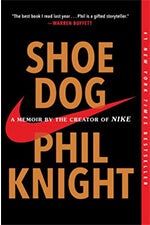 7 – Shoe Dog by Phil Knight
Would you believe that Nike, the multi-billion dollar shoe empire famous for its "Just Do It" slogan, started out as a small importing and private-label business itself?
Of course, back in the late '60s and early '70s, Phil Knight, Nike's founder, didn't have the same resources we have today. There wasn't Amazon FBA to fulfill his orders, so he had to do it all himself. And there wasn't Alibaba either, so Phil had to physically travel to his vendors to get his wares made.
If you want to learn about a huge company that started as a private-label brand, and that had insane challenges to overcome, then you'll want to read this book.
How does marketing work?
Want to sell on Amazon successfully? You'll need to know a few things about marketing first.
If you're already familiar with the Amazon FBA sales process, then you probably know all about Amazon FBA and using promotions to kickstart your operation. But if you're interested in expanding upon those basic concepts, and learning more about product design, social media, and other cool marketing tricks, then these are the books I recommend: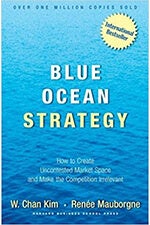 8 – Blue Ocean Strategy by W. Chan Kim
At Jungle Scout, we teach our sellers to focus on products that are in high demand and lack competition. Of course, this isn't a new concept.
This perennial bestseller, written by a pair of professors of business strategy, digs into the winning strategies of over 150 businesses. The common denominator to all of these businesses' successes? It wasn't found going head-to-head with their competition.
Instead, they discovered success by creating new pocket markets for them to exploit.
Definitely read this book if you want to learn more about finding or creating new markets.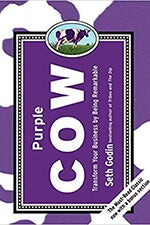 9 – Purple Cow by Seth Godin
Picture this: you're driving down a rural road and there are brown cows on either side of you.
While it might be cool to see that first brown cow, after a while you'll probably stop noticing them. Even the occasional white/black cow gets old after a while.
But what if a purple cow suddenly appeared in that pasture? You'd probably turn your head, right? Maybe even stop, get out, take a picture, and share it with your friends.
One of my all-time favourite marketing and product design analogies, the purple cow represents a product that stands out in an otherwise crowded market. And when you create your own Amazon FBA product, you're going to want to create a purple cow. You want it to turns heads.
If you want to learn how to create that purple cow product, then this is one book you'll want to read.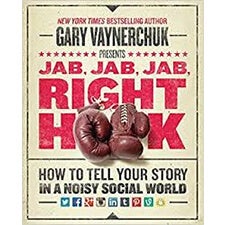 10 – Jab, Jab, Jab Right Hook by Gary Vaynerchuk
If you've wanted to be an entrepreneur for any amount of time, then there's a good chance you've heard of Gary Vaynerchuk.
Though his other books and countless educational resources are certainly helpful, in my opinion it's his book Jab, Jab, Jab Right Hook that really stands out.
The core concept of the book is simple: in order to succeed in an increasingly crowded marketplace, you can't be the person or business constantly shouting and demanding sales (in other words, throwing "right hooks").
Instead, you have to demonstrate your value and give your potential customers a reason to follow you ("jab, jab, jab"). Only when your customers trust you, will they purchase from you.
That's the foundation of Gary's business, and also the foundation of my own, including Jungle Scout.
If you want to learn how to create a business and product that your customers trust, then this is one of the best business books for you to read.
Hope you enjoyed this list of the best business books for Amazon FBA sellers
Of course, I'm not saying you have to rush out to Amazon or your local bookstore and buy all these books. And if you do, you definitely don't have to read them in one sitting! Knowledge and education is an ongoing process.
So whether you're the type of person who can crush a book every day, or you're the type who likes to take their time, reading one book per month, continually reading and learning is what's important. Even after my own success with Amazon FBA and Jungle Scout, I still set aside time to learn and develop new skills.
I encourage you to do the same!
Finally, just as a reminder, we have a library full of helpful resources here at Jungle Scout, which you can access for FREE! It's one of the best ways to learn about the Amazon FBA seller process, from A to Z. Check it out at Jungle Scout University.