It's known as the "sober curious" movement, and it's transforming the way people think about, consume, and shop for drinks. The movement – coined by author and podcaster Ruby Warrington – embraces mindful consumption, offering personal wellness seekers a refreshing alternative to traditional alcoholic beverages.
As the sober curious trend becomes more popular among consumers, it's gaining traction with brands, too. From long-time leaders in libations like Heineken and Sutter Home to spirited newcomers like Grüvi and Spiritless, brands are raising a glass to alcohol alternatives.
Grab your favorite alcohol-free drink and get ready to explore Jungle Scout Cobalt data on the brands and products that are leading in alcohol alternative drinks on Amazon.
Non-Alcoholic Beer
Amazon is buzzing with shoppers seeking the ultimate sober refreshment, and non-alcoholic beer is a popular choice. Sales are up 30% compared to last year, and revenue has jumped more than 50%.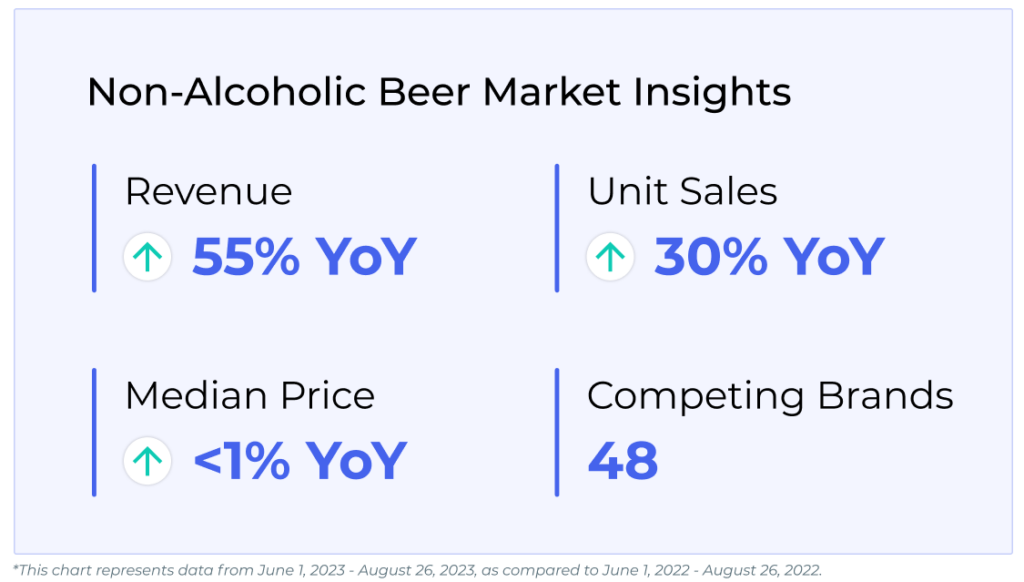 Top Brands Competing for Non-Alcoholic Beer Sales
Athletic Brewing Company stands as the reigning champion in this market, with an impressive 20% YoY growth, commanding nearly half the market share. In second place is Go Brewing, trailing with over 30% less market share.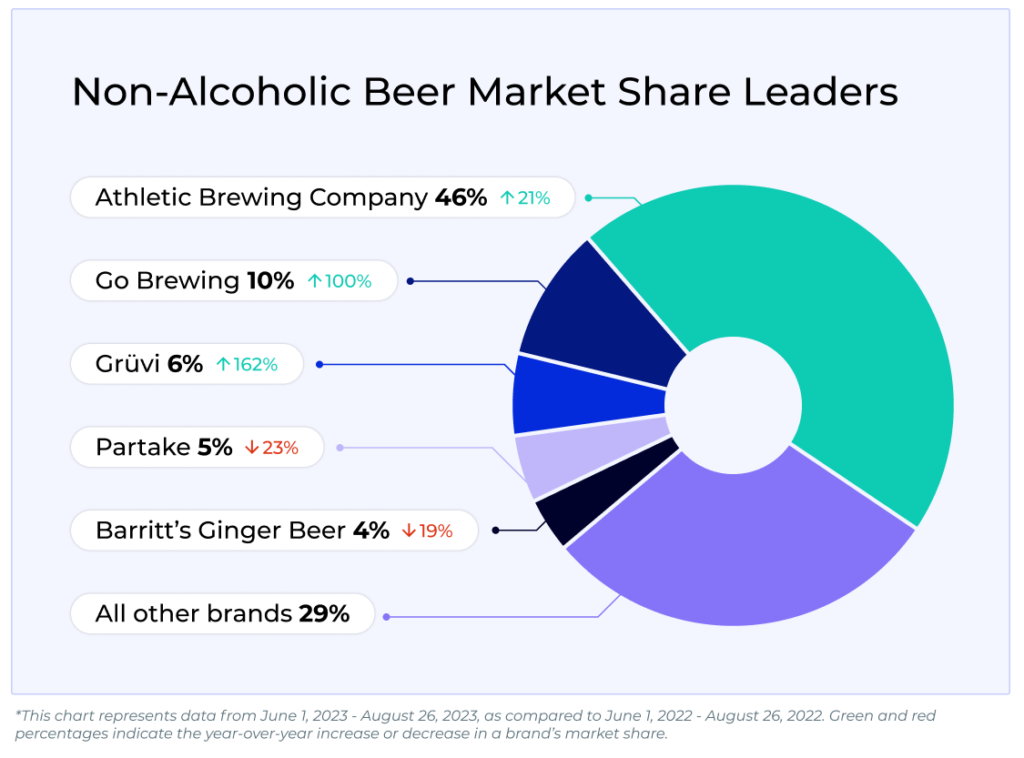 Leading Non-Alcoholic Beer on Amazon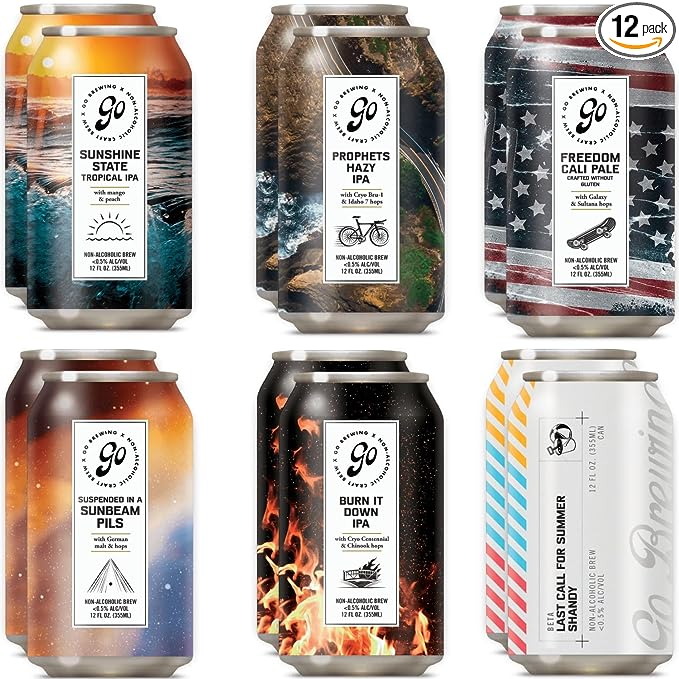 Shoppers are savoring the flavor of this mixed-pack of Go Brewing non-alcoholic craft beer. Revenue is up 735% in the last three months.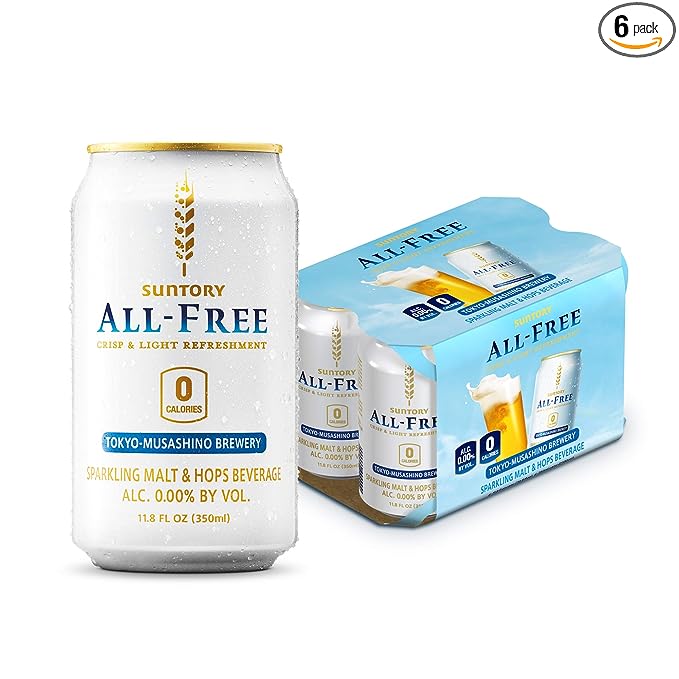 This Suntory All-Free beer alternative has seen its revenue soar by 366% in the last three months.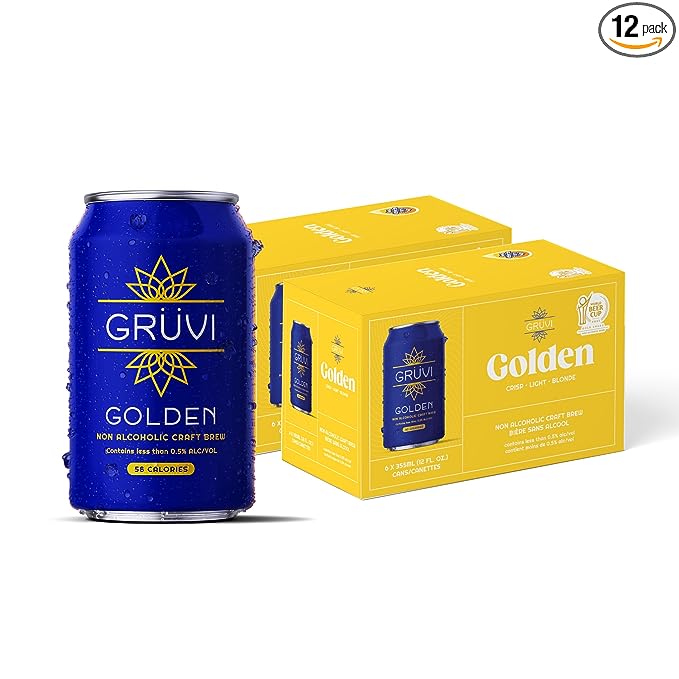 Revenue for this Grüvi non-alcoholic golden lager has bubbled up 462% in the last three months.
Non-Alcoholic Spirits
More get-togethers must be featuring mocktails this year. From whiskey alternatives to zero-proof tequila, non-alcoholic spirits are becoming the life of the party.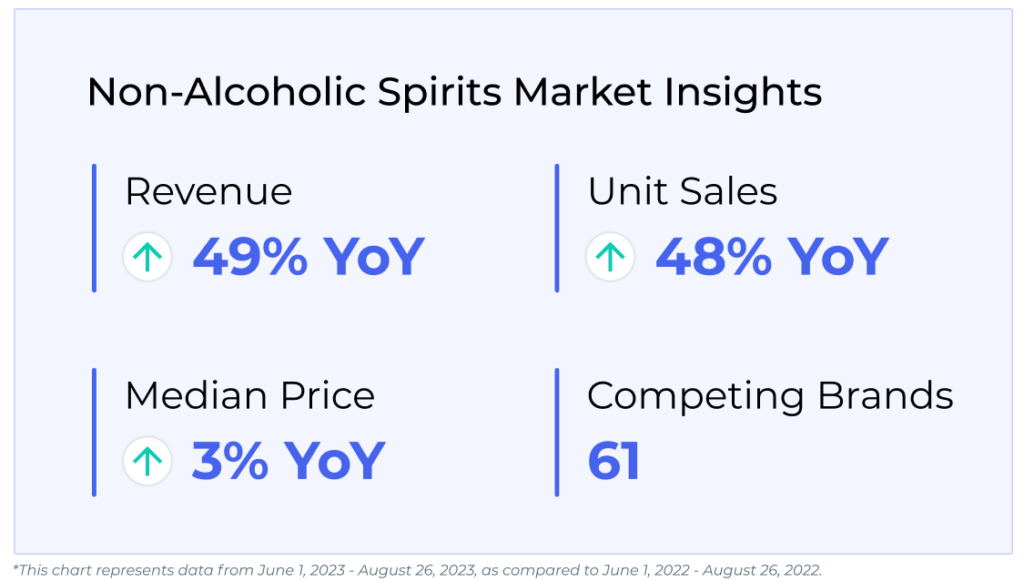 Top Brands Competing for Non-Alcoholic Spirits Sales
Ritual Zero Proof is dominating this market, claiming 32% market share. Among other leading brands, Monday Gin lost 34% market share year-over-year, while newcomer Free AF has scooped up 9% since its products started hitting Amazon's digital shelves at the start of this year.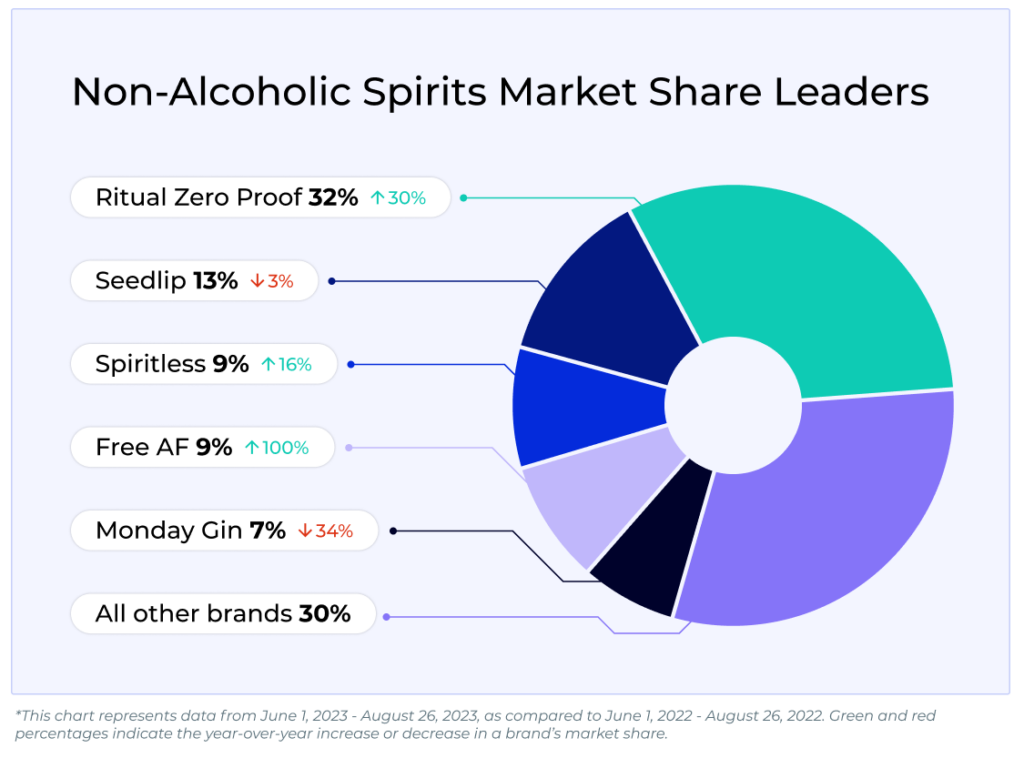 Leading Non-Alcoholic Spirits on Amazon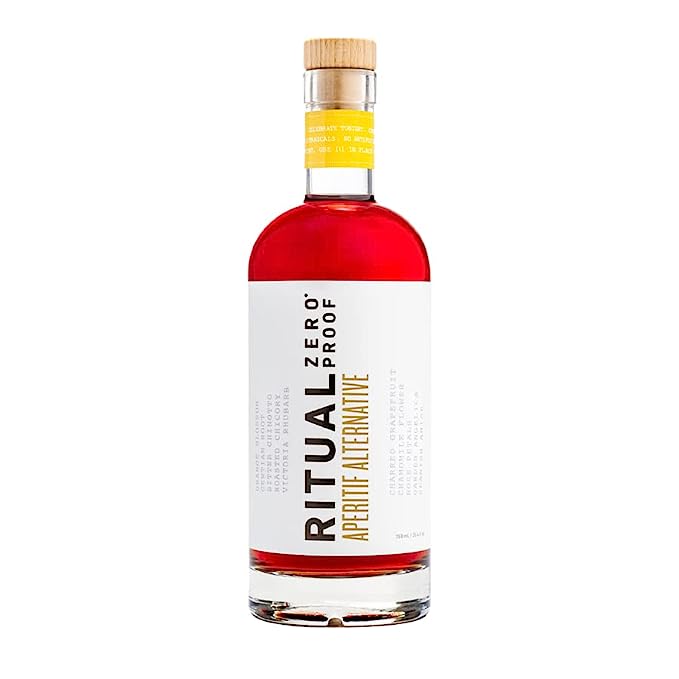 Three cheers for this Ritual Zero Proof aperitif alternative, which has seen a staggering 1,059% revenue increase in the last three months.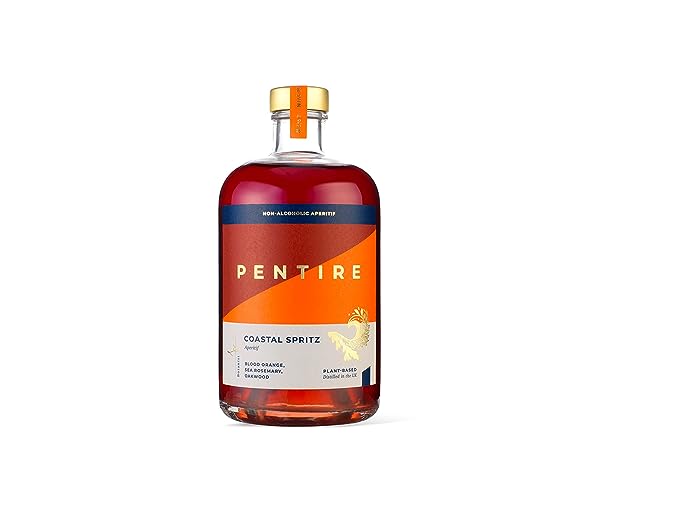 Pentire's non-alcoholic gin has seen a remarkable 535% revenue hike in the last three months.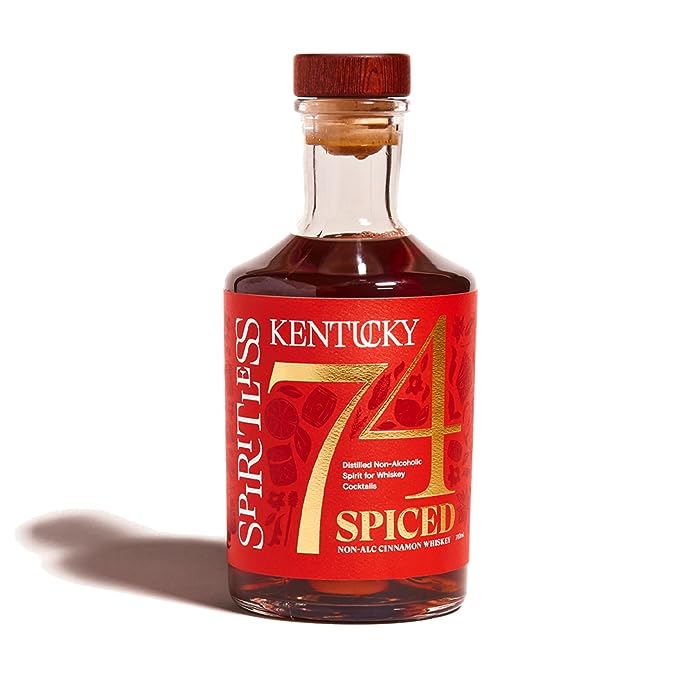 Shoppers are adding spice to their summer get-togethers with this Spiritless non-alcoholic cinnamon whiskey. Revenue is up 236% in the last three months.
Non-Alcoholic Wine & Champagne
For those who prefer a little bubbly or a glass of sauvignon blanc, non-alcoholic wine is becoming a toast-worthy treat. Revenue in this market is up more than 60% compared to last year, and sales are up over 40%.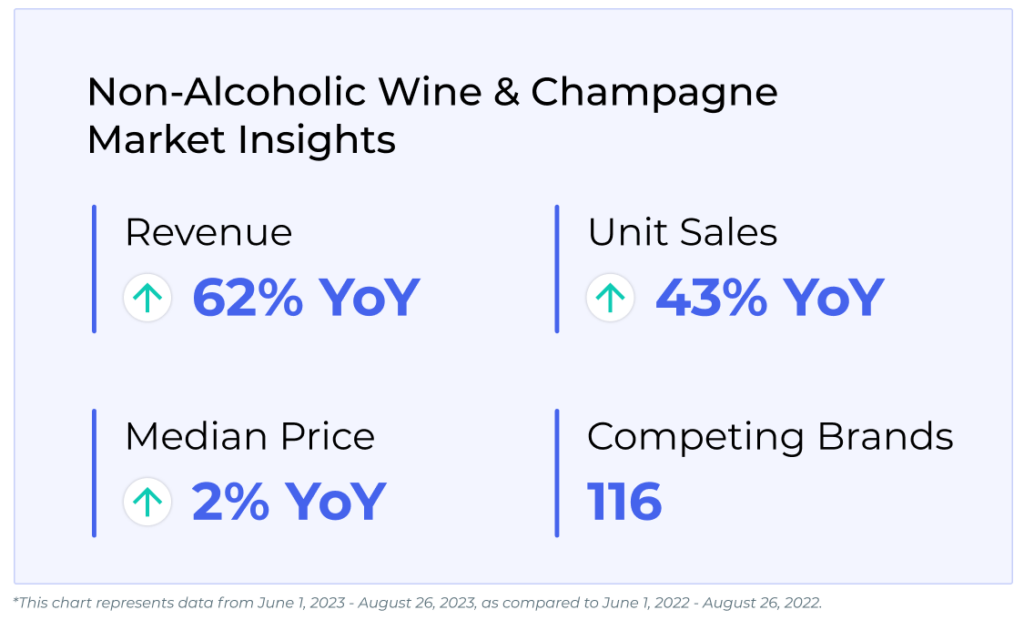 Top Brands Competing for Non-Alcoholic Wine Sales
Surely is currently leading in Amazon's non-alcoholic wine market, but a battle for market share is underway. Brands Gruvi and H2❤ have seen significant market share gains, while others – including Surely, Sutter Home, and Ariel – have lost traction by 20% or more.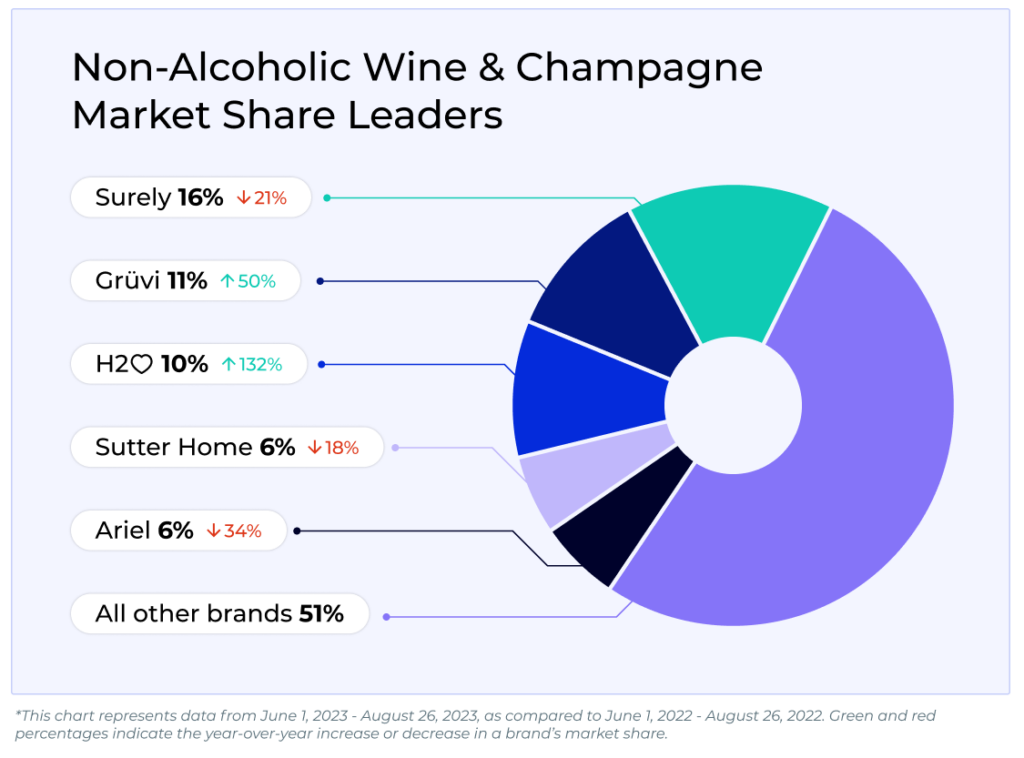 Leading Non-Alcoholic Wine & Champagne on Amazon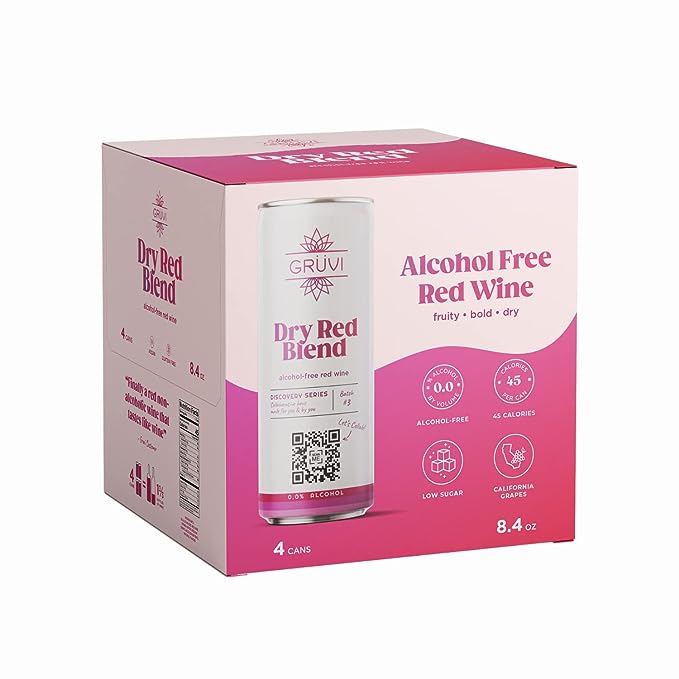 Raise a toast to this Grüvi dealcoholized wine, which has seen an incredible 7,613% revenue increase in the last six months.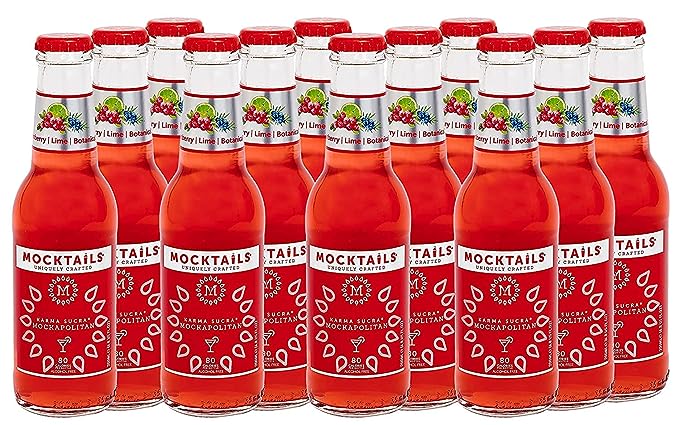 There's always time for a mocktail! Revenue for these Mocktails alcohol-free cosmopolitans is up 1,293% in the last six months.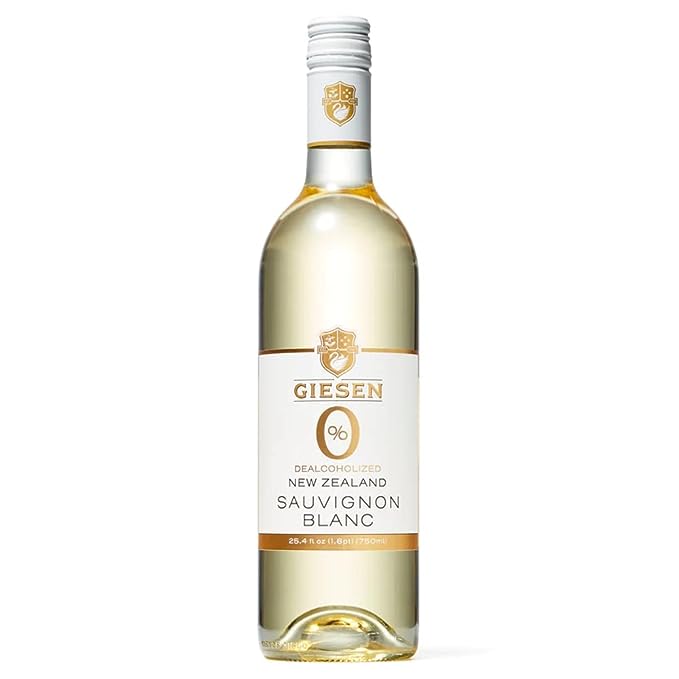 Sober sommeliers have been enjoying this Giesen non-alcoholic sauvignon blanc. Revenue is up 884% in the last six months.
Search Trends for Alcohol Alternatives
Amazon search trends data from Cobalt shows a notable uptick in searches related to alcohol alternatives. In the last 90 days, keywords like "non-alcoholic gin," "alcohol alternative beverages," and "non-alcoholic champagne" have seen notable surges of 500%+, indicating a significant shift in consumer preferences towards non-alcoholic refreshments.
| | |
| --- | --- |
| Generic Keyword | 90-Day Search Trend |
| Non-alcoholic gin | Up 580% |
| Alcohol alternative beverages | Up 549% |
| Non-alcoholic champagne | Up 542% |
| Non-alcoholic beer | Up 472% |
| Non-alcoholic whiskey | Up 448% |
| Non-alcoholic rum | Up 448% |
| Mocktail | Up 304% |
| Non-alcoholic tequila | Up 240% |
| Non-alcoholic wine | Up 201% |
| Non-alcoholic spirits | Up 102% |
Share of Voice Leaders
For the keyword "alcohol alternative beverages," Drink Recess currently claims ownership, with 30% SOV. Odyssey Elixir has 24%, with Hop Wtr in a distant third with 15%.
Athletic Brewing Company wins for the keyword "non-alcoholic beer," with 29% share of voice. Go Brewing is a close second, claiming 28%. Other brands ranking for this search term include Budweiser, Grüvi, and Best Day Brewing.
Surely tops the list for SOV for the keyword "non-alcoholic wine," with 29% SOV. Lt. Blender and Dry Soda follow, with 19% and 14%, respectively.
For the "non-alcoholic spirits" keyword, Spiritless far outpaces competitors, with 44% SOV, compared to 21% for runner-up Ritual Zero Proof. For more specific search terms, however, Ritual Zero pulls ahead. The brand leads in SOV for the keywords "non-alcoholic gin" (29%) and "non-alcoholic rum" (56%).
Opportunities for Brands in the Alcohol Alternatives Market
The sober curious movement is shaking up beverage-buying trends on Amazon. With a relatively low number of competitors and plenty of market share movement, there is ample opportunity for new and established brands to enter this market niche and gain significant traction with shoppers who are looking for alcohol alternatives.
By studying the competitive landscape and capitalizing on emerging search trends, brands can build growth, gain momentum, and drive revenue by embarking on their own sober curious journeys right alongside consumers.
About This Report
The product data in this report is representative of the U.S. Amazon market. Market insights on Amazon products were sourced from Jungle Scout Cobalt, an industry-leading market intelligence, advertising optimization, and ecommerce reporting platform powered by nearly 2 billion Amazon data points. Year-over-year comparison data reflects the period of June 1, 2023 – August 26, 2023, as compared to June 1, 2022 – August 26, 2022. 90-day trends data reflects the 90 days leading up to August 26, 2023.
We encourage you to share, reference, and publish this report's findings with attribution to "Jungle Scout Cobalt" and a link to this page.
For more information, specific data requests, media assets, or to reach the report's authors, please contact us at [email protected].