To succeed on Amazon, it's no secret that you need to stand out from the competition. Taking advantage of the many tools and features Amazon provides its sellers is a great way to constantly improve your product listings and increase sales.
One of the most effective features is the ability to create Amazon A+ content descriptions. Designed to catch your attention, A+ pages can help you increase your conversions, brand awareness, and overall sales.
In this article, we'll go over:
What is Amazon A+ Content?
Amazon A+ Content is a unique tool inside Seller Central that allows brand owners to create beautifully designed Amazon product descriptions for their Amazon listings.
Formally known as Enhanced Brand Content, A+ content is available for brand-registered third-party sellers and all vendors. This premium content feature is currently free to create.
Without it, you are limited to 2,000 characters and cannot add any imagery or graphics to the content. And no one wants to read a large block of boring text!
Would you rather read through this?

Or this?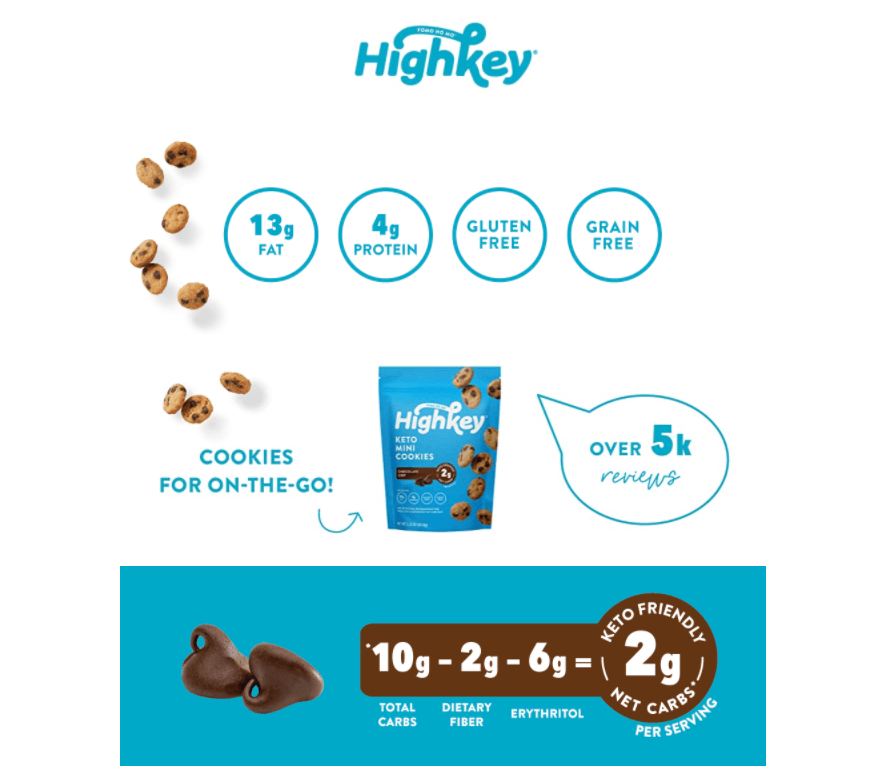 As you can see, A+ Content provides you with different modules so you can completely customize the look and feel of your Amazon product descriptions — keeping your potential customers engaged.
Where does A+ Content appear on Amazon?
A+ Content appears under the Product Description section on a product detail page. When you create A+ content, it replaces the regular text product description.
What does Amazon A+ Content look like?
Amazon A+ Content can be customized to look however you want. You're able to add images, large infographics, and descriptive text throughout.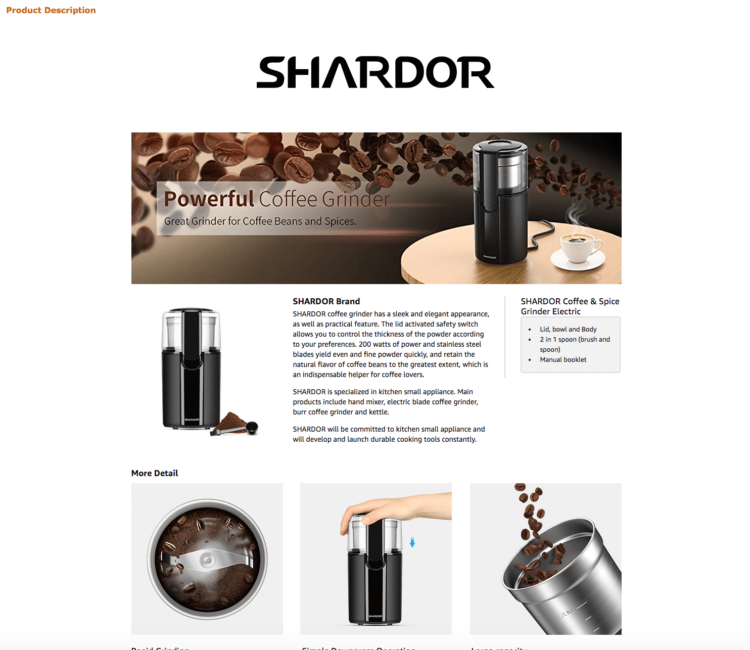 What is Premium Amazon A+ Content?
In a nutshell, Premium A+ Content is, well, a premium version of the A+ content available to Brand Registered sellers. An option that was usually only available to Vendors or through Amazon Launchpad is now available for free for third-party sellers on Seller Central (if you meet the criteria).
Premium A+ Content, sometimes called A++, includes more interactive content features, larger images, enhanced comparison charts, carousel modules, and even video modules. Compared to the basic A+ Content, it is a huge step up.
What are the eligibility criteria for Premium A+?
To be eligible to use Premium A+ Content, you must meet the following criteria:
All of the ASINs in your catalog must contain a published A+ Brand Story

You must have at least 15 A+ Content project submissions in "Approved" status within the past 12 months

If you meet those criteria, you can access Premium A+ Content for free in Seller Central.
During the current promotional period, Premium A+ Content is free, but Amazon may charge a fee to use this feature in the future. Any A++ Content you publish during this promotion will stay live even if Amazon decides to charge a fee.
Features of Premium A+ Content
What features are included in Premium A+ Content that is not included in the Basic A+ Content?
Interactive hover hotspot modules

Multiple video modules

Enhanced comparison charts

Larger images on the detail page

Carousel modules

Q&A module
A+ Content: Basic vs Premium Comparison Guide
| | | | | | | | |
| --- | --- | --- | --- | --- | --- | --- | --- |
| A+ Content Type | Text & Images | Image Size | Comparison Chart | Allowable Modules on Detail Page | Module Selection | Video & Hotspot | Navigation Carousel |
| Basic A+ | | 970 x 300 | | 5 | 14 | | |
| Premium A+ | | 1464 x 600 | | 7 | 19 | | |
Benefits of Amazon A+ Content
Creating A+ Content for your listings is not only useful for specific products but for your brand overall. Your products will stand out among your competitors with rich text and images that help connect potential customers with your brand's story.
1. Increase your conversion rate up to 3%-10%:
According to a study conducted by Amazon, the average conversion rate increase when utilizing an A+ Content description is 5.6%.
Say 10 out of every 100 people who visit your product listing convert. That means the conversion rate for your basic non-A+ listing is 10% (which is good, by the way). Switching to an A+ Content listing (and using the 5.6% average increase in conversions mentioned above) leads to a new conversion rate of 15.6%.
In other words, with A+ Content, you're converting an extra five to six people out of every 100. That's huge!
Higher conversion = More sales = Increased ranking — with the same amount of traffic
These specialized Amazon product descriptions are great for your best-selling and higher-traffic products but will not necessarily be a quick fix for your slow-moving ASINs. It may help brand-new listings to convert better when accompanied by a good PPC strategy.
A higher converting listing combined with an optimized PPC campaign will result in a lower ACoS (Advertising cost of sale), a metric that helps measure how efficient your campaigns are.
2. Reduce returns and negative reviews
A+ Content also gives you an opportunity to talk about your product in much greater detail, and adding images and infographics to your description will give customers a better understanding of what your product is, how it works, and how it will benefit them.
By providing these specific features, benefits, and specs of your product, you're helping customers make more informed purchasing decisions, which hopefully will lead to fewer returns and negative reviews.
Pair it with a good review strategy, and you'll hopefully be on your way to more positive reviews.
3. Show off your product in amazing detail with customizable modules
Amazon allows you to add many images and modules to your description that really help you stand out from the crowd. The 17 various module options (shown below in the "How to create your new A+ Content" section) allow you to show off your product from every angle possible.
This is a great time to get creative with your graphics to keep shoppers engaged in your content.
4. Tell your brand story
This type of specialized content gives you an opportunity to not only sell the customer on your product but on your brand as well. Grow brand awareness by educating customers on your products, your story, and why they should buy from you.
Coming across as a real brand that people can trust can help you build a loyal customer base to encourage repeat business.
5. Easier on the eyes
By creating Amazon product descriptions using A+ content, you'll help consumers digest your listing details with its easy-to-read format and images, keeping them from scrolling too quickly through the information you're using to convince them to buy.
Who is eligible to create Amazon A+ Content?
In order to take advantage of A+ Content, your brand needs to be registered under Amazon's Brand Registry Program.
Eligibility Requirements:
Brands must have a registered and active text (word mark) or image-based trademark (design mark). This

trademark

must also appear on your products or packaging.

Brand Registry applications

must be submitted by trademark owners.

Enroll your brand.
For more information, please visit Amazon's eligibility page.
If all of your information is approved by Amazon, then you are ready to start creating Amazon product descriptions using A+ Content for the enrolled brand. And best of all, this feature is free!
Note: When creating a new product listing, make sure the brand name you enter matches EXACTLY how it is enrolled in brand registry.
How to create Amazon A+ Content
Once you've completed the registration process, you can begin creating your A+ content.
Step 1:
In seller central, hover over Advertising > A+ Content Manager.

Step 2:
Click 'Start creating A+ content'.

On the next page, you'll be able to select the type of A+ Content you would like to create. You have the option to create a basic "Enhanced Product Description" or a "Brand Story."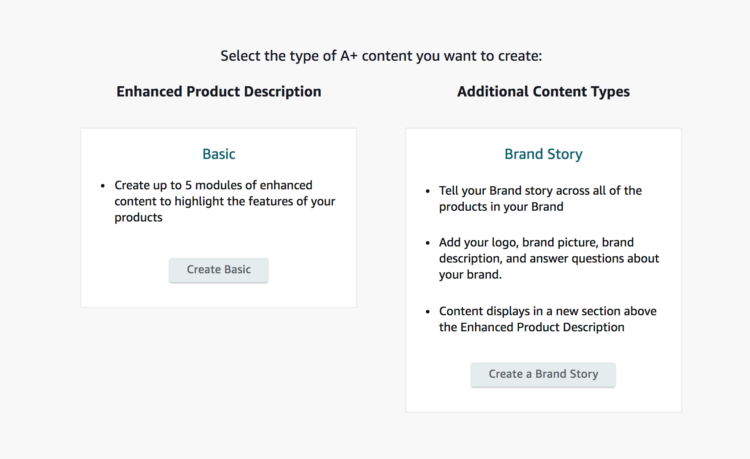 With Basic enhanced content, Amazon states you can add up to 5 modules to your A+ Content (though it still allows you to add 7).
With a Brand Story, you have the ability to tell your brand's story across all your brand registered products on Amazon. You can add both a "Brand Story" and an "Enhanced Product Description." The Brand Story section will appear above your basic A+ Content.
Step 3:
Add content name and language.
For this example, we're going to create a Basic A+ Content description.

Step 4:
Then, click 'Add Module'.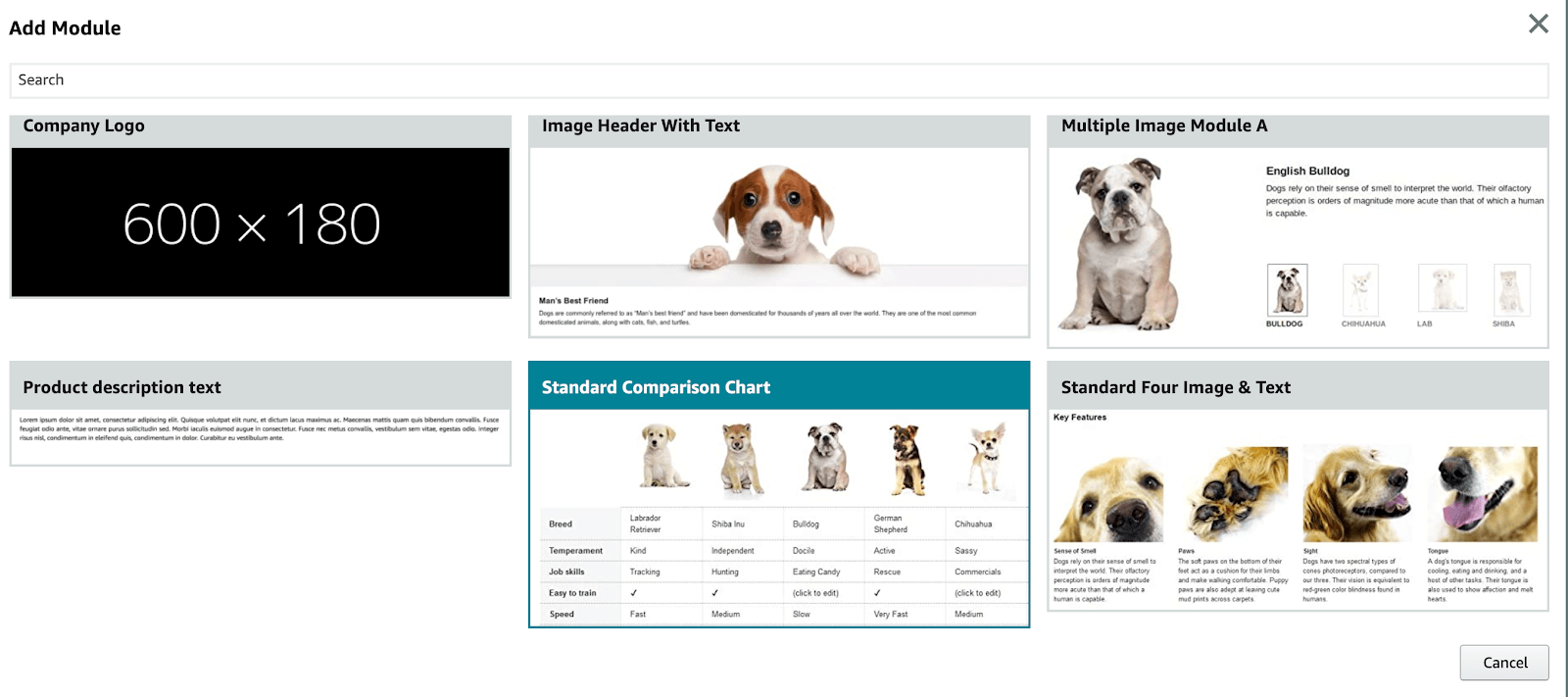 Step 5:
Choose your modules.
You are allowed to add up to seven modules for your A+ content. Here is my preferred layout:
Module 1: Logo
Module 2: Image Header With Text – Large 970 x 600 pixel image that talks about the brand, product etc. You can also add in text below the image to talk more about brand story
Module 3: Standard Image & Dark Text Overlay – Create a 970 x 300 pixel banner graphic that stands out (text box is optional)
Module 4: Standard Single Image & Specs Detail – Add one 300 x 300 pixel image and important product info/specs
Module 5: Standard Single Left Image – Talk about main feature or benefit. You can add one 300 x 300 pixel image and text
Module 6: Standard Single Left Image – Talk about the second main feature or benefit. You can add one 300 x 300 pixel image and text
Module 7: Standard Three Images & Text – This is a great spot to talk about other features or benefits of your product
I like this layout because the images and text flow well; it's easy-to-read and doesn't look crowded, especially if you have a lot of features and benefits to talk about. Of course, this is just my preference, you can do whatever looks best for your brand.
You can choose a right side image, four-image quadrant, multi-image module, and more. Customize however you'd like!
Note: The comparison chart is great if you have other products in your brand. The best part is, you can link directly to those product listings.
Step 5:
Apply to your ASIN(s).
Step 6:
Review and submit for approval.
Before you start writing your content, refer to Amazon's A+ Content Guidelines to ensure you do not violate any of their terms. If you include information that is not allowed, it will delay the approval process, which can take up to seven days.
Do not include any special characters such as trademark or copyright symbols

Do not include any language such as guarantee, best-selling product, etc.

Proofread before submitting and make sure there are no spelling errors

Do not mention your competitors or another brand name

Do not repeat a word too many times

Make sure image resolution is clear

Do not include any links or references to your own website
Image size requirements to keep in mind:
Logo: 600 x 180 Pixels
Banner: 970 x 300 Pixels
Comparison Chart: 150 x 300 Pixels
Four-Image & Text Module: 220 x 220 Pixels
Four-Image Quadrant: 135 x 135 Pixels
All others: 300 x 300
Make sure to check each module before you create any images.
After you create your content, the next step is to apply ASINs. After you choose which ASIN(s) this A+ page is going to be applied to, you will need to submit it for approval.
Again, this process can take up to seven days and if something is incorrect, you will have to fix the error and resubmit your listing for approval.
How to fully optimize your Amazon A+ Content
Normally, when we think about optimizing a listing, we think of keywords. However, when it comes to A+ content, keywords (or indexing) work a little differently.
For now, we'll review the other ways you can optimize your content, and we'll go into more detail about indexing below.
Provide unique and relevant product information
By providing as much information as possible, you are limiting the number of returns and negative feedback. Include your unique selling proposition (USP) to help differentiate your product from the competition.
Make the content easy to consume
Stay away from large paragraphs, confusing language, unknown abbreviations, etc. Keep it informative but short and to the point. Include the most important information in your images so shoppers can quickly scan through the listing to find what is important to them.
Answer common questions posted on your listing/reviews/feedback or competitors listings
Find out what customers are asking about regarding your specific type of product. If people are asking questions, it means that info is hard to find or not included in your competitors' listings. Make sure you address those questions and/or concerns with your content.
Amazon now requires you to add keywords to each image in your A+ content. These are not indexed in Amazon but will be indexed by Google. The image keywords are also used for screen reader applications for visually impaired customers.
Take a look at the competition and see how you can make yours better
Blow your competition out of the water! Think their A+ content looks good? Great, make yours even better. Show potential customers why YOUR brand is superior to your competitors.
For example, in the listing below I would improve the current A+ content by adding a logo module at the top, in addition to some other graphics that go into more detail about the purpose and benefits of the canister.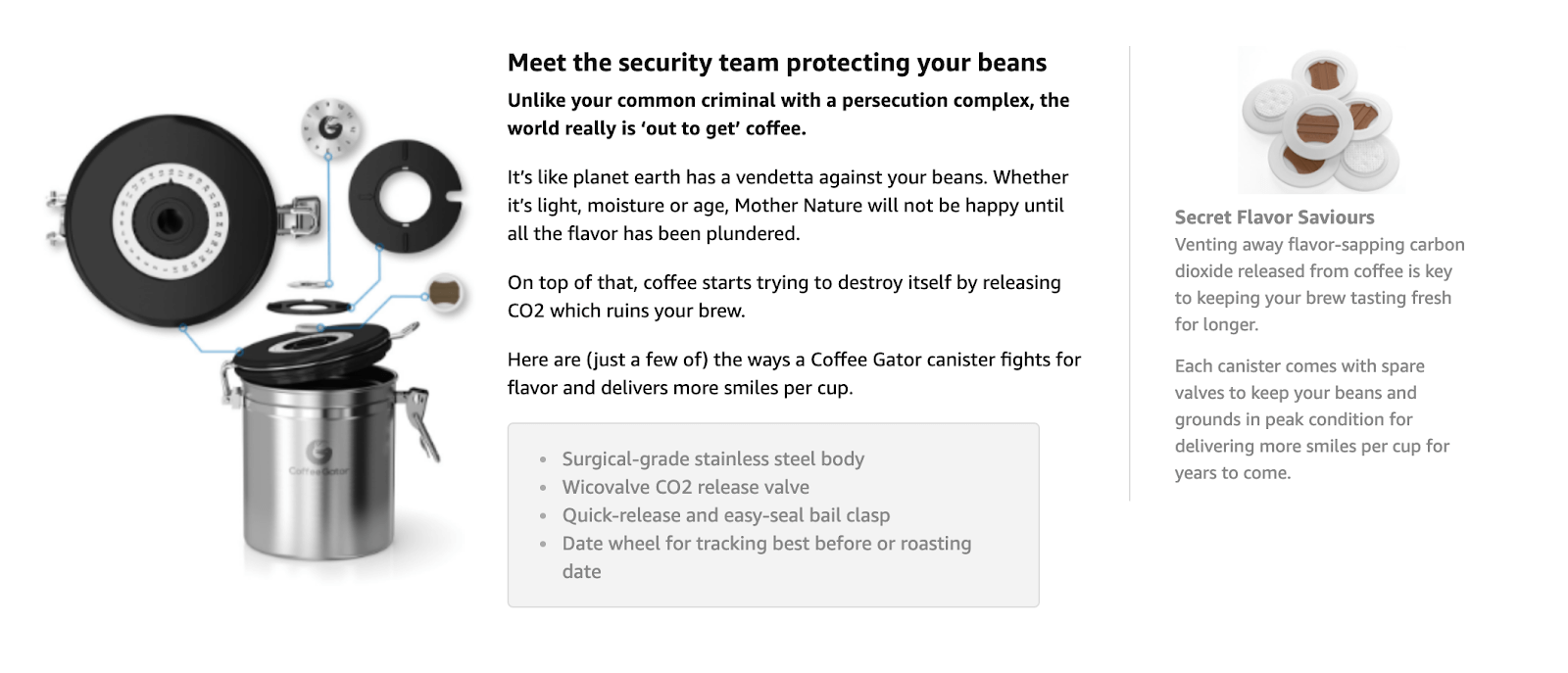 As it is right now, the listing doesn't stand out that much.
On the flip side, here's an example of a listing that stands out: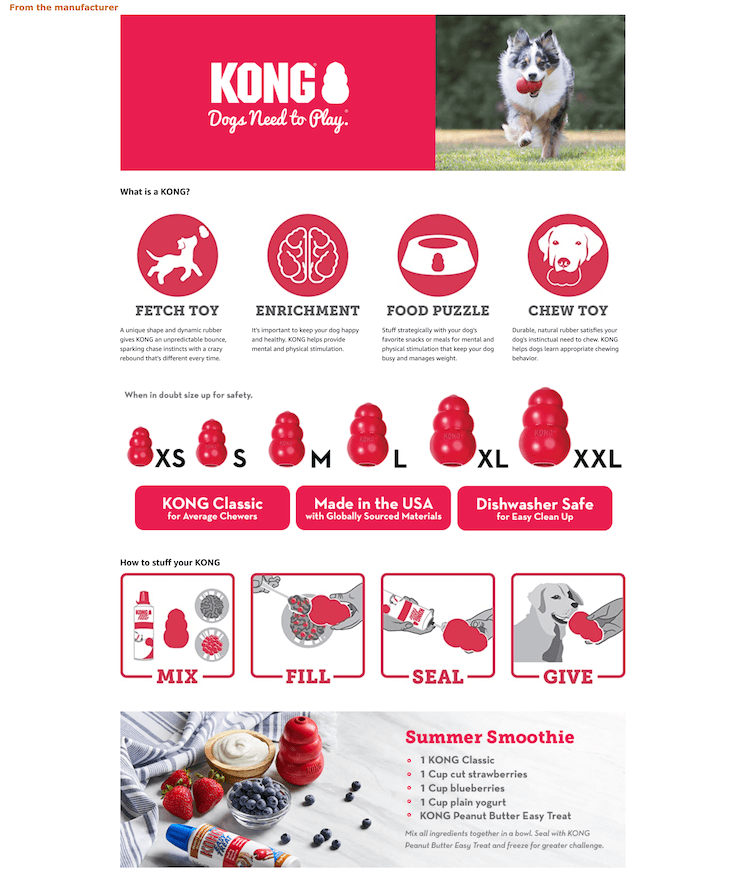 These are also some great examples to get some inspiration: Ninja Air Fryer, Linenspa, and VicTsing.
Creating great images & infographics
Great images sell products. Combining text within your images that include specific product info, specs, or features can be very beneficial for converting visitors into buyers.
This is a great opportunity to provide amazing visuals so your customers can picture what the product will look like in real life.
If graphic design isn't your thing, we recommend hiring a professional to ensure your listing is the best it can possibly be.
Do not fill your A+ content with fluff and random information no one cares about. Provide value to your customers about your products and your brand.
For example, address the frequently-asked questions shoppers have about your product in your product description and/or with infographics.
Follow your "brand guidelines"
Create a specific "tone of voice"/design for your products and your brand. If you don't have one, think of how you want your brand to be portrayed. You can also look at competitors' listings to see how they tell their stories.
This brand tells a great story about who they are.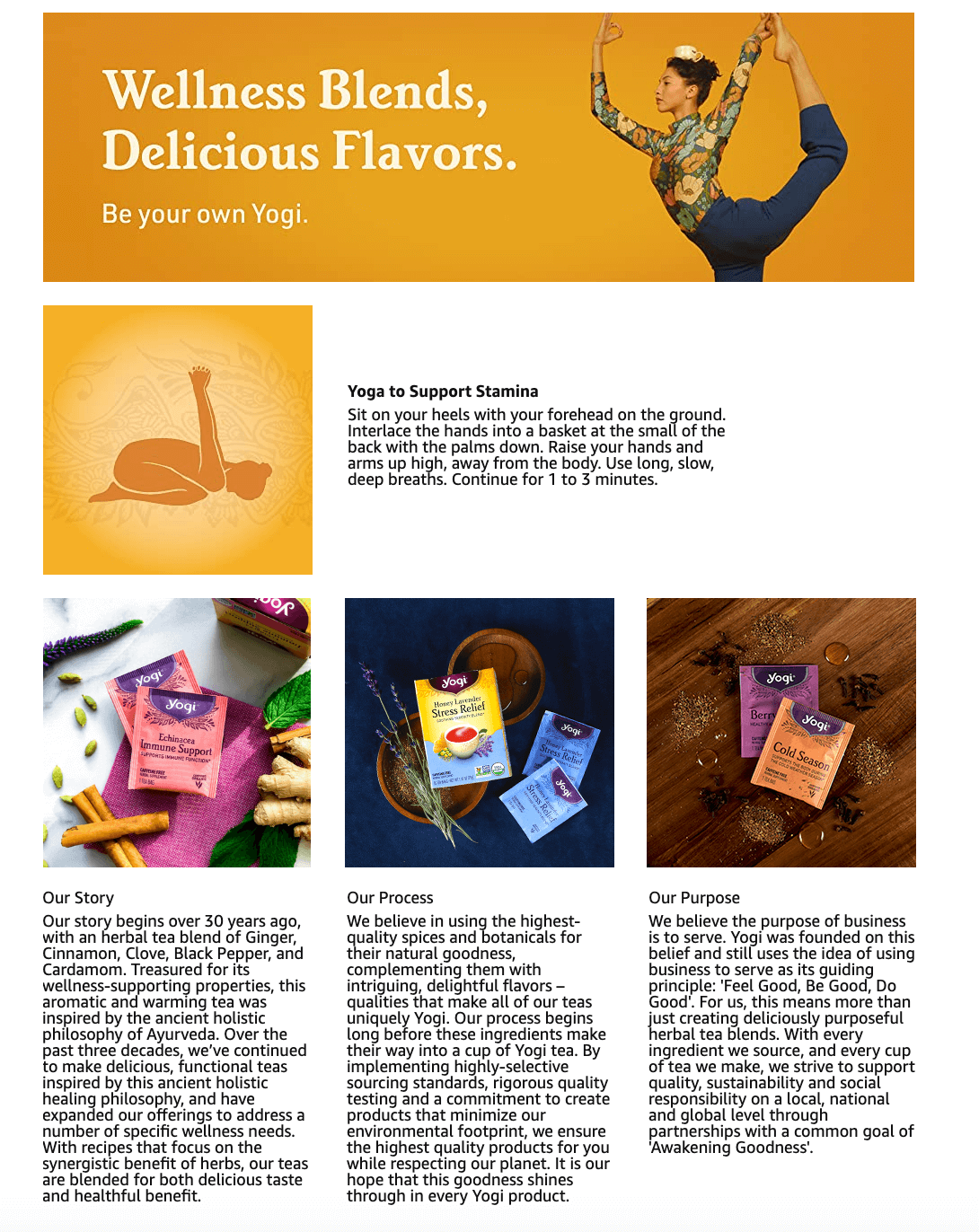 Testing your results
Selling on Amazon is a lot about testing different strategies to see what works best for your products. So, once you've created amazing images and written compelling copy about your product, how do you test to see if your A+ Content is working?
How to test if your A+ Content is improving your sales
1. Keep track of your 'Unit Session Percentage' and sessions in your reports
The 'Unit Session Percentage' (also known as your conversion rate) is determined by dividing the number of people who visited your listing during a certain time frame (ie. sessions) into the number of units sold during that same period:
Units sold / # of sessions = Unit session percentage
It's important to keep track of these numbers for at least 2-4 weeks to measure your progress. It is not a magical fix and most likely won't see drastic results overnight. Be patient!
Here's how to find that in Seller Central:
Reports > Business Reports > Detail Page Sales and Traffic by Child Item > Find the product you want to measure.

Try to increase your sessions by driving more traffic to your listing using PPC.
2. A/B test different layouts/text/images
A/B testing is a crucial part of selling a product on Amazon. What works for another product may not work for you.
If you don't see any improvement within a month or so, start testing different layouts or images.
3. Use the 'Manage Your Experiments' beta tool by Amazon
If you have this available to you then it will be very easy to A/B test your A+ content pages! But, right now, this feature is in beta and is only available to a select number of sellers.
These are the requirements for A/B testing eligibility:
Own a brand

Have very high-traffic ASINs

Have published A+ content on those ASIN
Check to see if you're eligible here.
Is your Amazon A+ Content optimized for mobile?
Fortunately, Amazon will automatically format your A+ content for mobile apps or browsers. However, you should still make sure it actually looks good on mobile before you publish.
Before submitting your content, Amazon allows you to preview the description in both desktop and mobile views. That way, you can see exactly how it will look on someone's phone.
150 million customers shopped from the Amazon mobile app in 2019 so it is very important — perhaps more important than optimizing for desktop.
Plus, the layout of an Amazon listing is a little different on mobile. Users will see the product's description before its bullet points. It's the opposite on desktop browsers.
Here's an example of A+ Description on the Amazon app: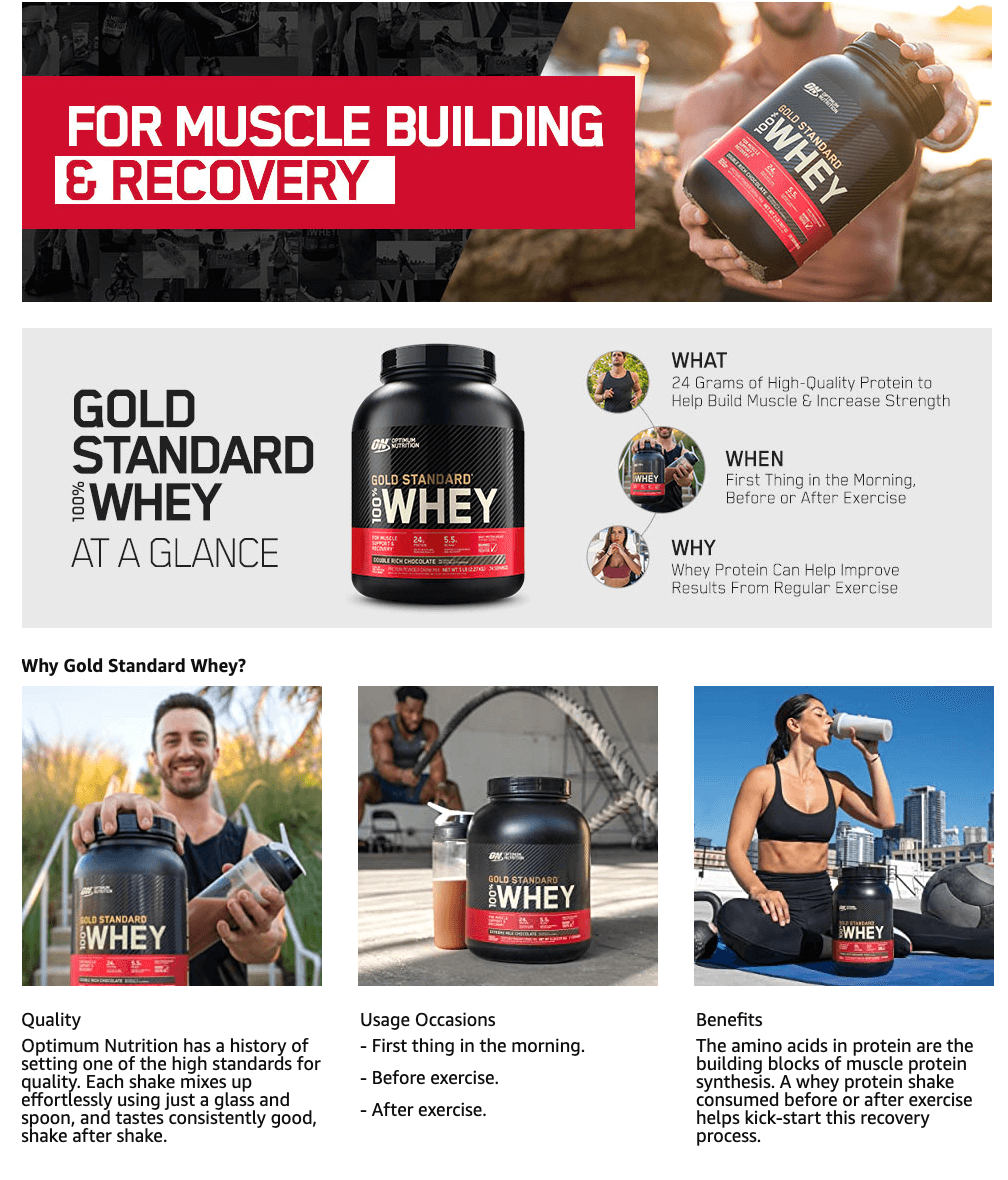 Is Amazon A+ Content Indexed?
While your images, image alt-text, and copy aren't indexed within Amazon, they are indexed by Google. And being indexed by Google can help you appear in search results.
Once your A+ description is live, it will take the place of your old text description.
But it's important to keep your old description section filled in because Amazon will continue to index the keywords used there, even though it is not live on Amazon.
Based on an experiment I did with my own listing, I found this to be true. However, you should test this for yourself to see what keywords are being indexed.
To do that, search for your ASIN on Amazon followed by the keyword (ASIN: keyword). If your product shows up in search, then that specific keyword is indexed. If it says, "Your search 'ASIN: keyword' did not match any products," then it is NOT indexed.
The best way to see if keywords are being indexed in your A+ content or from your old description is to use keywords that ARE NOT used anywhere else in your listing.
Conclusion
Creating an A+ Content Description may require an upfront investment of your time (and possibly money if hiring someone), but that investment is great for the longevity of your brand and products. So, if you're brand-registered with Amazon, take advantage of this feature.
And if you're new to selling on Amazon and don't yet have your product registered with Amazon, use Jungle Scout's Listing Builder to create the best listing possible.
Please let us know below if you have any more questions regarding A+ content on Amazon!