Consumer Trends Report | Q2 2021
Quarterly changes in consumer behavior
This quarterly study of 1,000 U.S. consumers explores spending and ecommerce trends, with key insights into Amazon vs. Walmart.com preferences and online shipping expectations.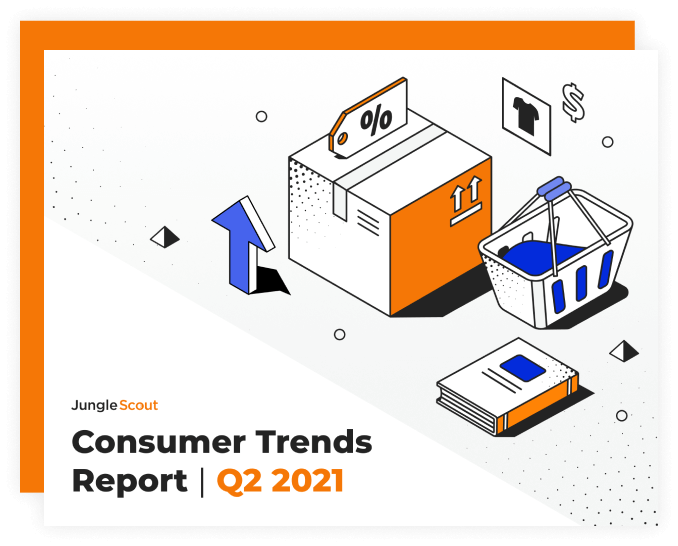 Key Insights
Fast and low-cost shipping is now essential for keeping online shoppers happy.
80% of consumers expect free shipping when ordering a certain dollar amount of products and 66% expect free shipping for all online orders.
91% expect to receive an online order within a week and 9% expect orders the same day.
Walmart beats Amazon in price and the grocery category.
50% of consumers shop on Walmart.com because they like the site's prices.
51% of Walmart.com shoppers purchased groceries on the site in Q1 compared to 23% of Amazon shoppers who purchased groceries on Amazon.
More consumers are participating in secondhand buying and selling.
32% say they are looking for pre-owned products when they shop online and 44% have bought or sold pre-owned items over the last year.
Amazon is a popular channel for buying and selling secondhand items online. 66% have used the marketplace to buy or sell an item online.
Consumer Shipping Expectations
Online shoppers demonstrate an increased demand for fast and low-cost shipping.
Online delivery expectations: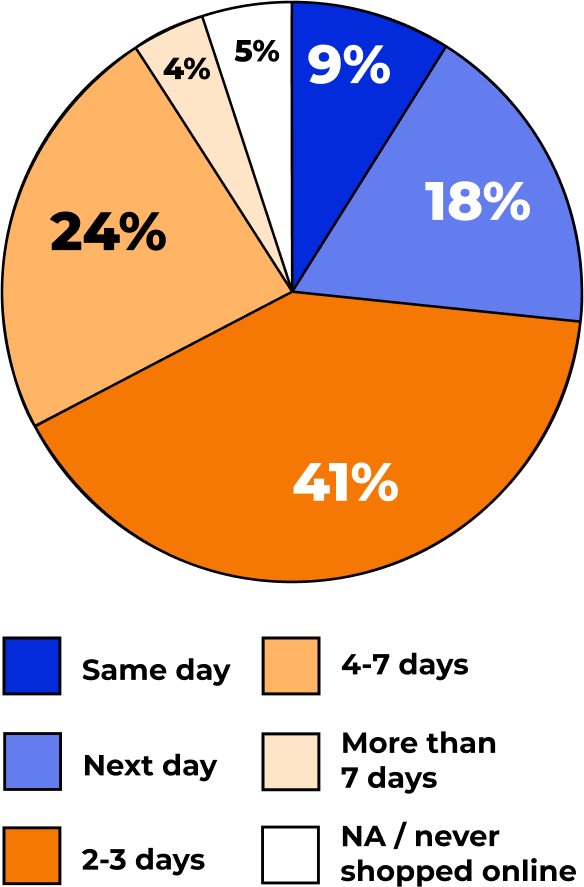 Consumers have high expectations for having their products shipped online.
80% of consumers expect:
Free shipping if they order a certain dollar amount
Parcel tracking for all orders
To be notified when their order has left the warehouse
Fast shipping has a major impact on consumers' decision to purchase.
70% of consumers say they would be very upset if their product didn't arrive on time.
Which delivery options are the most likely to influence consumers to purchase online?
1. Same-day delivery
2. Free return shipping
3. Delivery at a specific time slot
4. Order online and pick up in store
5. Eco-friendly packaging
47% of consumers would be willing to spend more for a product for faster shipping.
Where Walmart Rivals Amazon
Walmart attracts price-conscious consumers and those drawn to the familiarity of the store.
How are consumers shopping for products on Walmart.com compared to Amazon in Q1?

Compared to Amazon, Walmart leads significantly in the grocery product category with 51% of Walmart.com shoppers saying they have purchased groceries in Q1 compared to 23% of Amazon shoppers who purchased groceries on Amazon.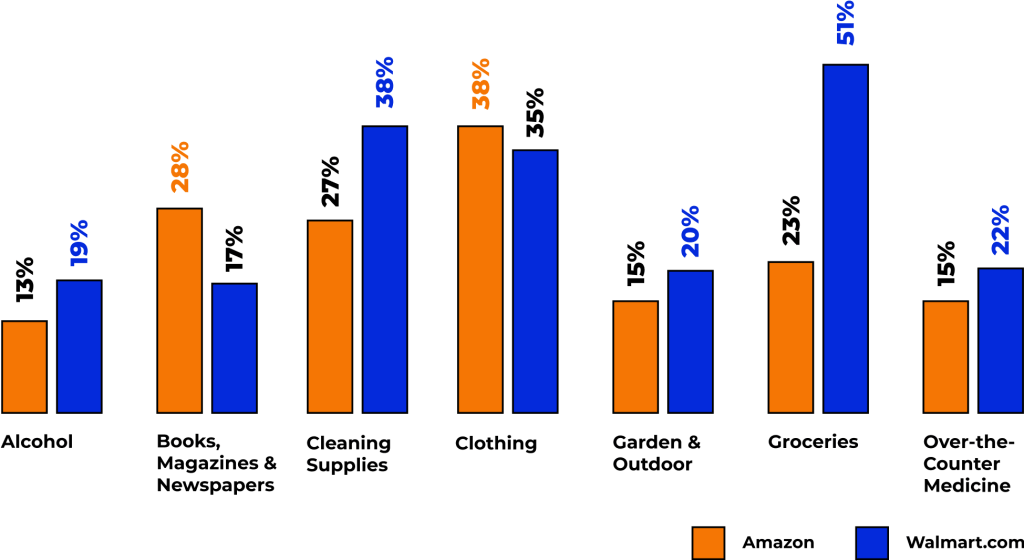 ---
Top reasons consumer shop on Walmart.com:
1. Like Walmart's prices
2. Familiar with Walmart's products
3. Can get the products I need fast
4. Can find the brands I'm looking for
5. There is a Walmart near me for easy pick-up or returns
Consumers rank price as the top reason they shopped on Walmart.com in Q1. Additionally, 39% of Walmart.com shoppers say they have shopped there over the last three months due to familiarity with the store's products.
Walmart+ vs. Amazon Prime:
Walmart+ membership has increased 7%. 68% of consumers are Amazon Prime members compared to 41% who subscribe to Walmart+.
The Online Secondhand Market
More consumers are taking advantage of the online secondhand market to earn extra income or save money. In fact, 60% of consumers say they are looking for ways to earn money right now.
44% of consumers say they have bought or sold pre-owned products online in the past year.
Where have consumers bought or sold pre-owned online:
Top pre-owned products consumers have bought or sold online:
Consumer motivations for buying or selling pre-owned products:
"I have sold mostly clothing. I sold it to make extra money and also to clear out unwanted items from my home."
"I bought a cute retro/vintage necklace online because I'm very picky and haven't seen one like it anywhere else and it was a good deal."
"I bought the pre-owned items because I appreciate a good deal. I would never reject a good deal just because a product was lightly used by someone else in the past."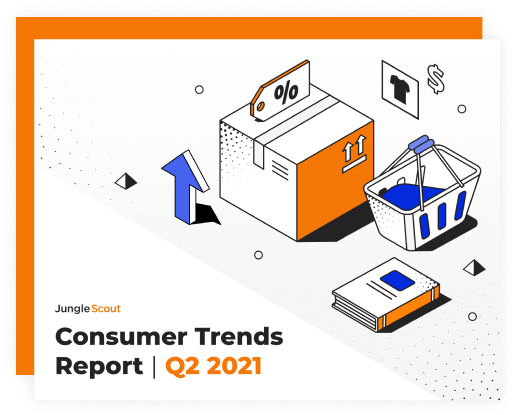 Download the full report
In this report, you'll find:
A snapshot of consumers: their priorities, lifestyle, Amazon & Walmart preferences and online shipping expectations
Extensive insights into the growth of Amazon and ecommerce
Trends in consumer behavior, preferences, and attitudes towards brands
Consumer Spending Tracker
View consumer spending trends over time with Jungle Scout's quarterly Consumer Trends Reports.
This tracker is updated on a quarterly basis, and detailed past reports are linked below.
What consumers are buying: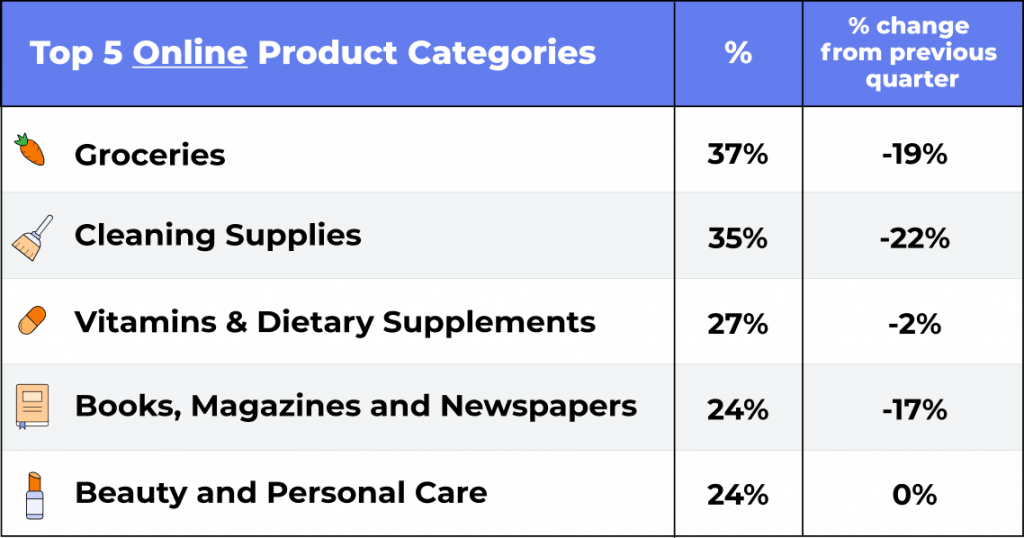 Where consumers are shopping:
How consumers are spending:
---
About the report
Methodology
Between April 16-18, 2021, Jungle Scout conducted an anonymous survey among a panel of 1,066 U.S. consumers about their buying preferences and behaviors. Respondents represent every U.S. state, all genders, and ages 18 to 75+, as well as all employment types and varying income levels.
Using the data
We invite you to explore Jungle Scout's 2021 Consumer Trends Report, and to share, reference, and publish the findings with attribution to "Jungle Scout" and a link to this page.
About Jungle Scout
Jungle Scout is the leading all-in-one platform for selling on Amazon, with the mission of providing powerful data and insights to help entrepreneurs and brands grow successful ecommerce businesses.
For more information, specific data requests or media assets, or to reach the report's authors, please contact us at [email protected].