Finding a great product to sell on Amazon FBA is just the beginning. Once your listing is live on Amazon Seller Central, you're going to have to make sure people are finding and buying it. That's why a basic understanding of Amazon sales rank and how it works is so crucial to success with Amazon.
In this guide, I'll cover the basics of Amazon sales rank. Then I'll introduce you to four simple steps to ensure your product conquers the keywords it's going after, to ensure maximum Amazon SEO, and a high spot on Amazon's search engine results.
But first, let's get the basics out of the way so you understand what we're dealing with.
What does Amazon's sales rank mean?
If you didn't already know, every single product on Amazon is given a Best Seller Ranking (BSR), organizing them based on the number of recent sales the product has made.
The BSR is calculated based on the number of sales a product gets over a certain time frame, as compared to other products in the same parent category. Think of it as a snapshot of how well a product is doing currently.
A product's Best Seller Ranking can be found under Product Information in a product's listing.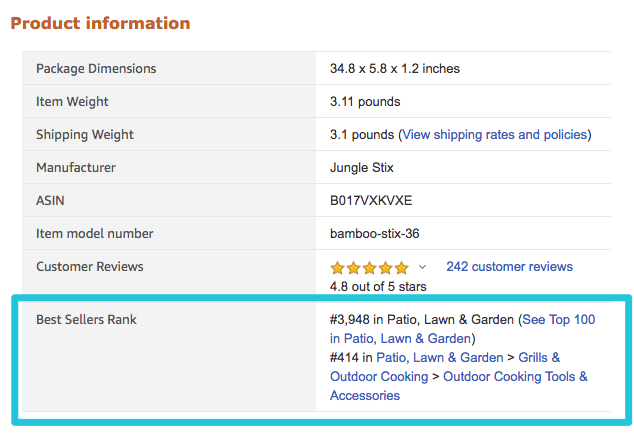 Is the Best Seller Ranking really important?
If you think about the BSR from a customer's perspective, most aren't basing their purchasing decision off of the item's BSR. Rather, Best Seller Rankings are a way for sellers to see where they fall in comparison to their competitors, and does not necessarily influence sales.
However, the more sales you have, the higher the frequency (or velocity) of those sales, and your product's sales history WILL affect your product's Best Seller Ranking.
Also, things like reviews and listing conversion rates indirectly influence BSR because they directly influence sales. But we'll get into that later on.
For now, here's what you should know about Amazon's BSR:
Each Amazon parent category has its own system of ranking products. That means a product that ranks high in the Kitchen & Dining department may not rank well in Sports & Outdoors and vice versa.
In addition to the parent categories, each sub-category has their own sub-BSRs too. A kitchen knife that ranks 10,000 in the broader Kitchen & Dining category may also rank 3,000 in the kitchen knives sub-category. Or even 250 in the sub-sub-category of chef knives!
The lower your Best Seller Ranking the more sales your product has made. Remember, lower is better. Think of it like a contest. #1 is winning, while #1,345,698 is way behind.
Search ranking and Best Seller Ranking are two different things. Just because you have a great BSR ranking from giving away promos or making sales, it may not mean that your product is actually ranking well in Amazon's search results. Keep this in mind, especially when you start promoting your product.
If you're interested in learning more about Best Seller Ranking and how it relates to sales potential, you can test out different product rankings using Jungle Scout's FREE sales estimator.
What is Amazon SEO and search results ranking?
Amazon is not really a "store", per se. It's more of a search engine for products. Therefore, it's important that your product appears at the top of those search results. Hence the extreme importance of Amazon SEO. If you've never heard the term, SEO stands for search engine optimization.
It is a method of intentionally creating or modifying a listing or page in an attempt to rank it for specific keywords, and then focusing on important metrics to ensure it appears higher up in the search results. I cover what some of those metrics are in a moment.
The better you are at Amazon SEO, the better your Amazon FBA product can rank. And the higher your ranking in the Amazon search results, the more products you sell. And guess what? The more products you sell, the more money you make! 🙂
What metrics matter for high Amazon SEO?
While it's impossible to know exactly how Amazon's algorithm works (they don't share their secrets!), we do know there are some important metrics the algorithm considers when organizing products in the search rankings. They are:
Click-through-rate (CTR). The click-through-rate is the total number of clicks your listing gets divided by the number of people who see it (these are also called impressions). In other words, when performing a search on Amazon, are customers more likely to click on your product listing than others?
Unit/session percentage (CVR). Next, and probably even more important than CTR, is your actual conversion rate. Typically, the conversion rate is the number of orders your product gets (regardless of quantity) divided by the number of people who were on your product listing page, or sessions. However, Amazon goes a step further and takes the total number of units that your product sells and divides it by the number of sessions you had. This is called unit/session percentage.
Reviews.

Finally, while it hasn't totally been proven, many suspect that Amazon only wants the best products possible offered to their customers. Therefore, the products that have a high quantity of high-quality reviews are more likely to appear at the top than those with zero-to-no reviews, or low review scores. Reviews also affect your CTR and CVR, so if your product has a good quantity and quality of reviews, customers will be more likely to purchase.
All of this data helps Amazon determine which products are the most relevant for particular keywords.
An example to illustrate how Amazon search ranking works:
You are selling a garlic press. And for some weird reason, your garlic press shows up in a search for "board games." When people start searching for board games, they're going to see your garlic press and think to themselves, "Hey, that's not a board game."
They're not going to click on it, right? And if they do click on it–maybe to see what's up–chances are they aren't going to buy it. After all, it's not relevant for their "board game" search.
Amazon's algorithm sees this data and says "okay, this isn't a board game… so I don't want to have it show up in 'board game' searches anymore." Over time, the algorithm learns what your product is by what the shoppers tell it.
TL;DR:
Amazon's search algorithm uses shopper data to determine which products to show in searches.
Higher clicks and frequent sales means your product is more relevant.
The more relevant a product is for a search, the better chance it has showing up near the top of the search.
How to get top Amazon sales rank and search results.
Okay, phew! The nitty gritty stuff is out of the way. Now it's time to talk about the fun part. It's time to get your product to the top of the search results so you can sell lots of products and get a high Amazon sales rank!
1) Optimize your listing.
First things first, building a great listing on Amazon isn't just about throwing up a pic, putting in some details and crossing your fingers that you make some sales. You've actually got to spend a little time on it so it looks good, encourages clicks, and converts well.
Here are some things to consider:
The title. Is your title relevant to your product search? Does it have all the keywords that you want to rank for in it? And does it make customers want to click on it while they're doing a search?
Description and features. Does your listing do a good job of describing how your product can benefit the shopper?
Images. Pictures sell! Does your product have plenty of professional, clean looking photographs that clearly identify what your product is and how it works?
Enhanced Brand Content (optional). Once you're able to get your brand trademarked, are you using the full extent of Amazon's enhanced brand content and creating graphics that further sell your product?
* Check out our additional tips for optimizing your listing for Amazon SEO.
2) Become an Amazon PPC master.
Amazon pay-per-click (PPC) is Amazon's in-house advertising system. All those sponsored ads you see on the sidebar, or at the top of Amazon's search results…they're sellers just like you, paying to get their product seen. Therefore, if you're a master of using Amazon PPC, you can sell more products and profit without ever losing money.
Here are a few tips to help you master Amazon PPC:
Go for long tail over short neck keywords. Short neck keywords are those single words or short phrases that tend to be a bit broader when referencing a product. Meanwhile, long tail keywords are phrases with more specific product details. For example, if you were selling a garlic press, the phrase "garlic press" would be a short neck keyword. Whereas the phrase "blue long handled garlic press" would be long tail. While long tail keywords have fewer clicks than short neck keywords, they also tend to be less expensive and have greater conversion rates than short neck.
Do lots of research. This is one I can't express enough. You've got to keep finding new and better keywords for your products. Trends change. Keywords can become competitive. This might sound like a lot of work, but if you can add and test only 10 new keywords per week, in a year, you could have as many as 520 keywords that are leading people to your product. That might sound overwhelming, but consider this: Jungle Scout's Keyword Scout tool (which comes FREE as part of the Jungle Scout product research and tracking web app) can generate thousands of keywords with just the push of a button. And it's all REAL search and PPC-cost data straight from Amazon. No guesswork!
Run regular reports. Once you've had a few ads running on Amazon, be sure to run regular reports. Then you can see what's working and what's not. The last thing you want to do is spend money on ads/keywords that aren't converting well or costing you too much.
How much do Amazon ads cost?

According to AdBadger.com, the current average cost-per-click for Amazon ads is $0.78 per click and the average Amazon conversion rate is 9.8%.

That means, on average, an Amazon seller will spend $7.64 in ads to make a single sale. Therefore, if your product sells for $25, and Amazon takes 15% for their referral fee and $3.02 for FBA fees, and your landed product cost is $4, you will earn $6.59 in profit (25% profit margin).

Keep in mind this, doesn't factor in organic sales.
For more about Amazon PPC, check out our article: Amazon PPC Launch Strategies: Create Huge Sales from Day One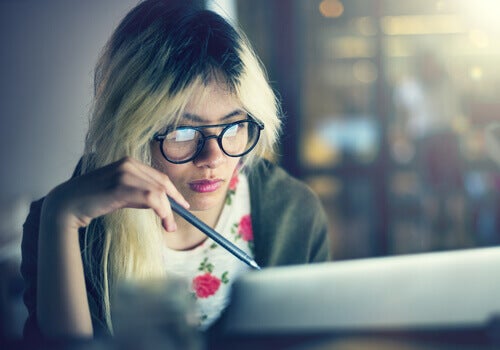 3) Follow up with your customers.
Did you know that you can send a follow-up email all of your Amazon customers, and that you can take that opportunity to ask your customer for a review of the product? Often, this can lead to a positive review. In some cases, it can even help you solve a customer's problem immediately, which could save you from a bad review!
Sounds like a lot of work though, to write an email to each and every Amazon customer, especially when you're selling hundreds–if not thousands–of products each month. Right?!
But that's another thing that Jungle Scout makes easy for you! Jungle Scout's automated email follow up system helps you check in with your customers so you can earn positive reviews, prevent negative ratings, and to solidify your product's status in Amazon's search engine.
4) Try new promotions.
Finally, it never hurts to keep testing out new promotions. You may want to start up new promotions for other relevant keywords that you've discovered using Keyword Scout.
And don't forget to track your product's search rank position for those keywords. It won't be long before you maximize your sales and find your product with a nice, low Amazon sales rank.
Need help with anything mentioned here? Check out the Jungle Market, the only source on the web for high-quality Amazon freelancers.