The hardest part about selling on Amazon is, well, figuring out what to sell on Amazon. You may have what you think is a great idea for a product, but smart sellers rely on data, not always their gut, on which products to invest in.
This is true during Q3, when customers start shopping for products for the summer and fall months.
How do you decide what to sell? How do you know what consumers are buying during this time of year? How much inventory should you purchase?
In this article, we'll answer all of those questions and more, so keep on reading:
You can also check out this month's top-trending products on Amazon for even more information!
What to sell on Amazon FBA in Q3 2023
As we head into the heart of the summer, what types of products will consumers spend their money on?
While most categories on Amazon sell well during this time of year, a few products stand out as ecommerce contenders for the months of July, August, and September.
Let's go over a few products we see as potential winners for Q3 in 2023.
1. Bathing suits for men and women
We mentioned these types of products for Q2, but selling bathing suits for both men and women is still a great way to cash in. Consumers who didn't purchase new bathing suits before the beginning of the summer may still purchase them during its peak.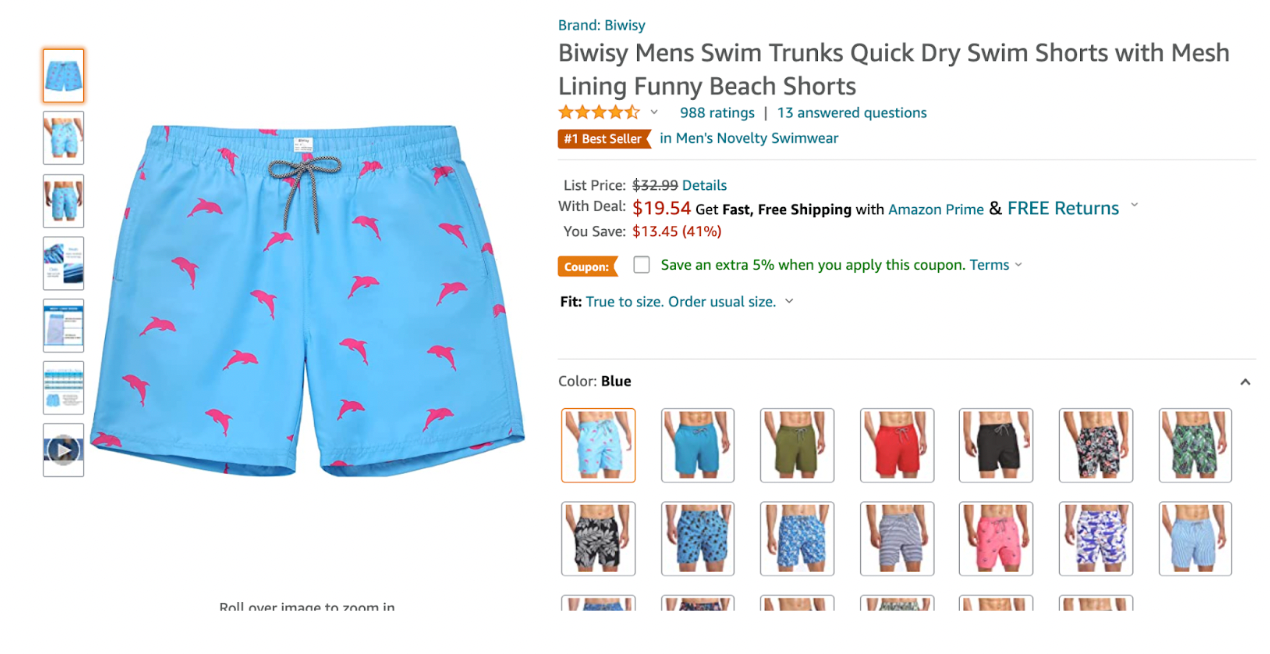 There are many retail arbitrage and wholesale opportunities to resell other swimwear brands without creating private label brands. Though you certainly can.
READ MORE | How to Buy on Alibaba and Sell on Amazon.
Let's look at the numbers using Keyword Scout.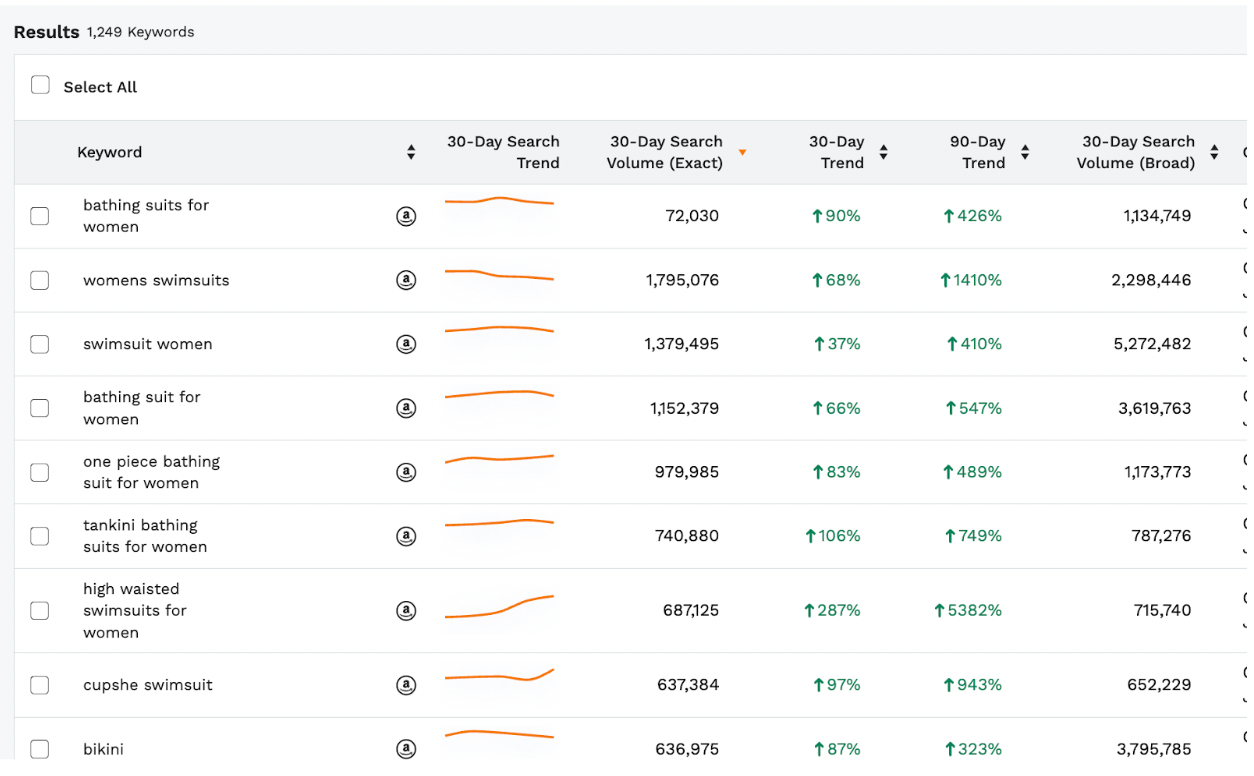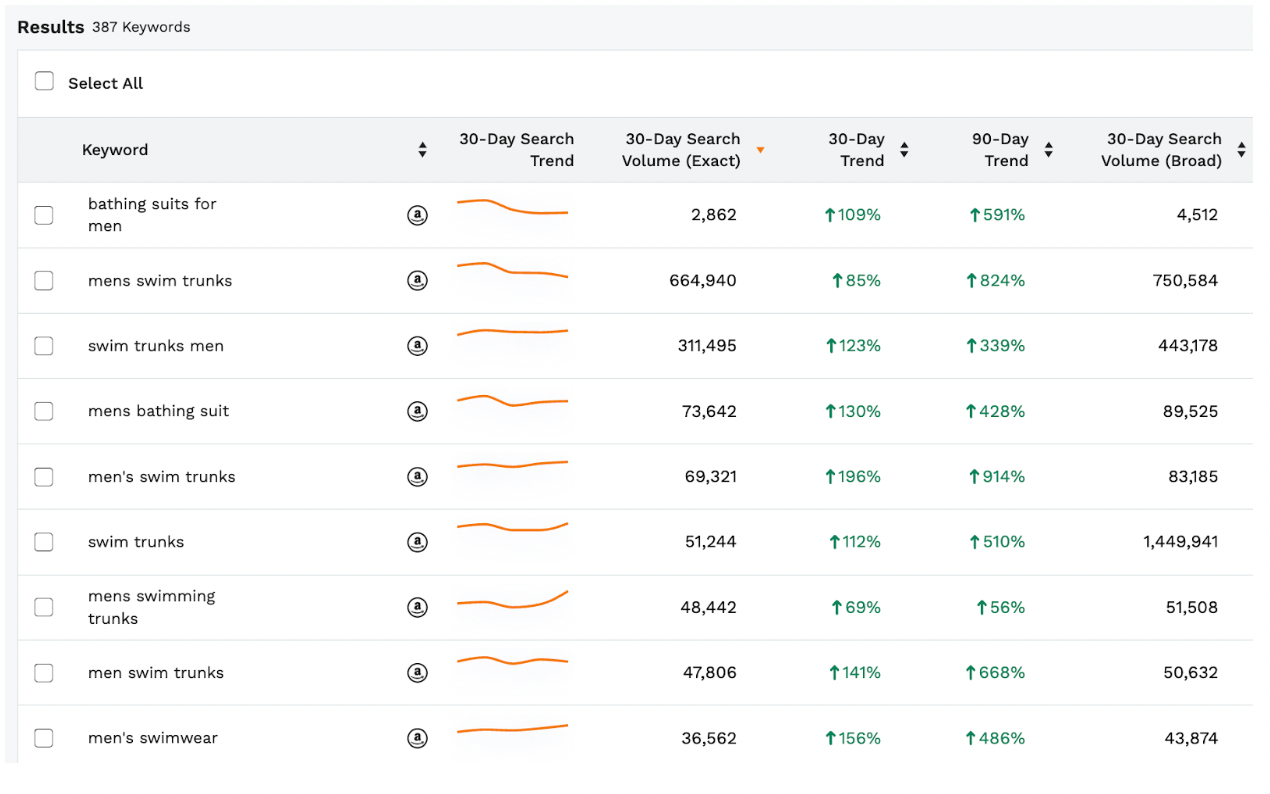 Every keyword in each of these lists is trending upwards. This information tells us that now is the time to stock up as the weather warms up and consumers head to the beach or the pool.
Take a look at some of the keywords you find when doing keyword searches, such as the example above. Instead of looking at the broader keywords (women's bathing suits) look for keywords with a more specific type of audience. This will help you find products to sell that are not as competitive as a broader keyword.
For example, "high waisted swimsuits for women" has seen a huge increase in traffic year over year, signaling a potential idea to look more into.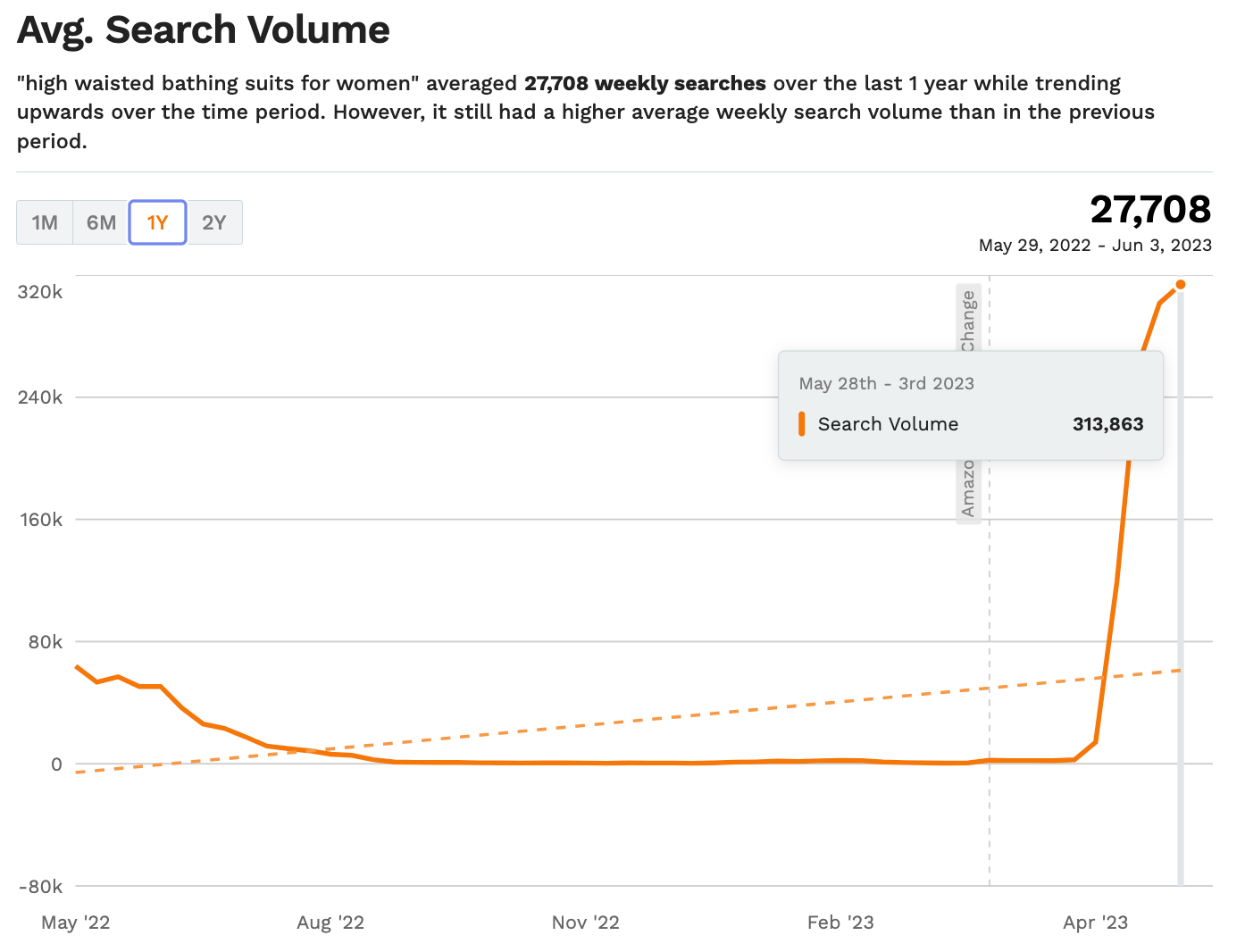 2. Wedding-related products
Weddings typically occur in late summer/early fall, so now is an excellent time to plan various wedding products for newlyweds, bridesmaids, groomsmen, and guests.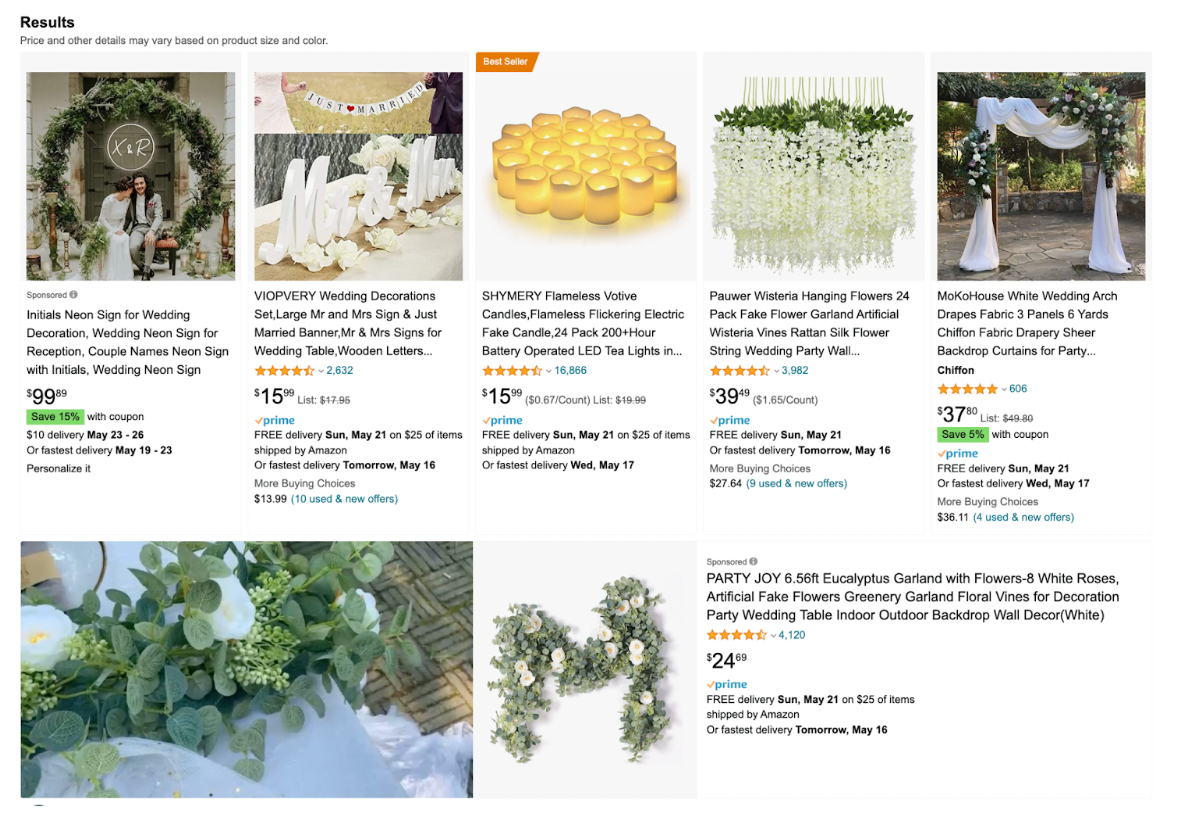 There are hundreds of opportunities to sell products related to weddings, such as wedding decor, bridal showers, guestbooks, attire, cake toppers, wedding gifts, and event supplies – get creative!
While this category may be competitive, there are plenty of subcategories you can dig deeper into and find products with lower competition. Another great thing about this category is the number of opportunities to make money with private label, arbitrage, wholesale, and even handmade products.
Let's take a look at the keyword volume.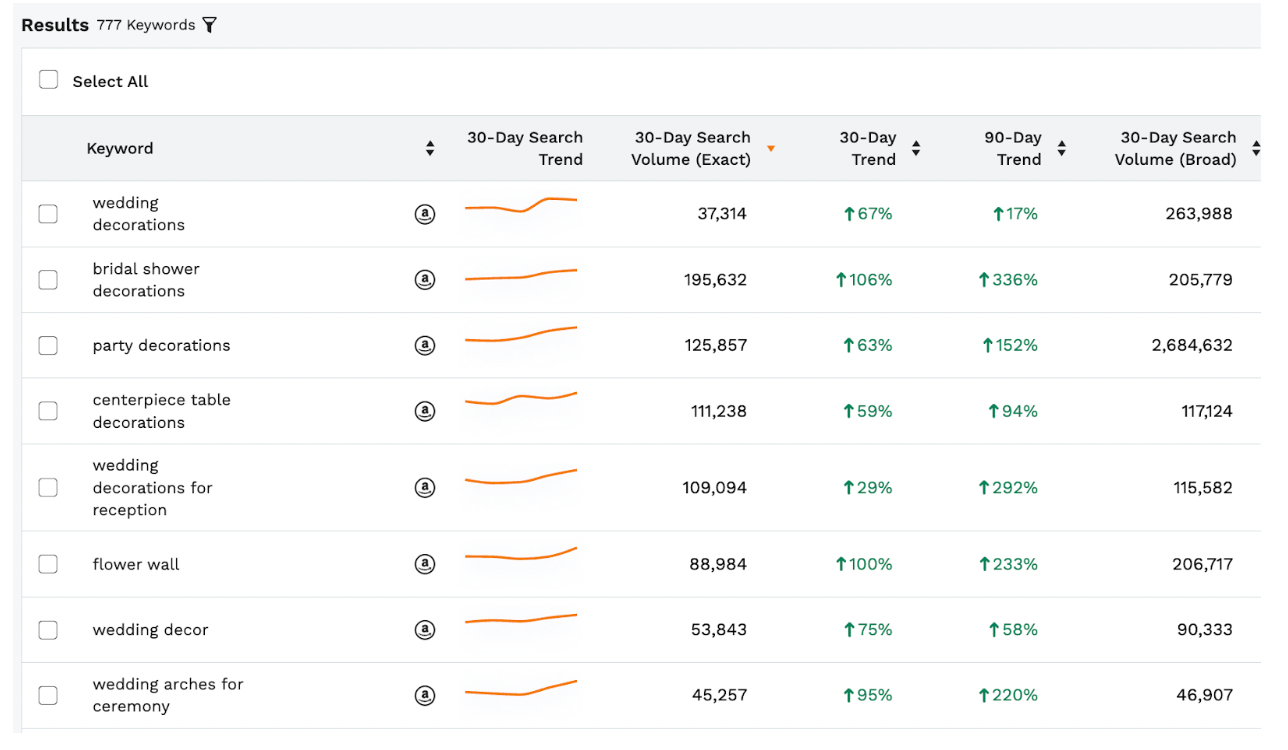 As you can see, all of these keywords are currently trending upwards and have high monthly search volume.
The keyword "wedding decorations" has been trending upwards in the past month.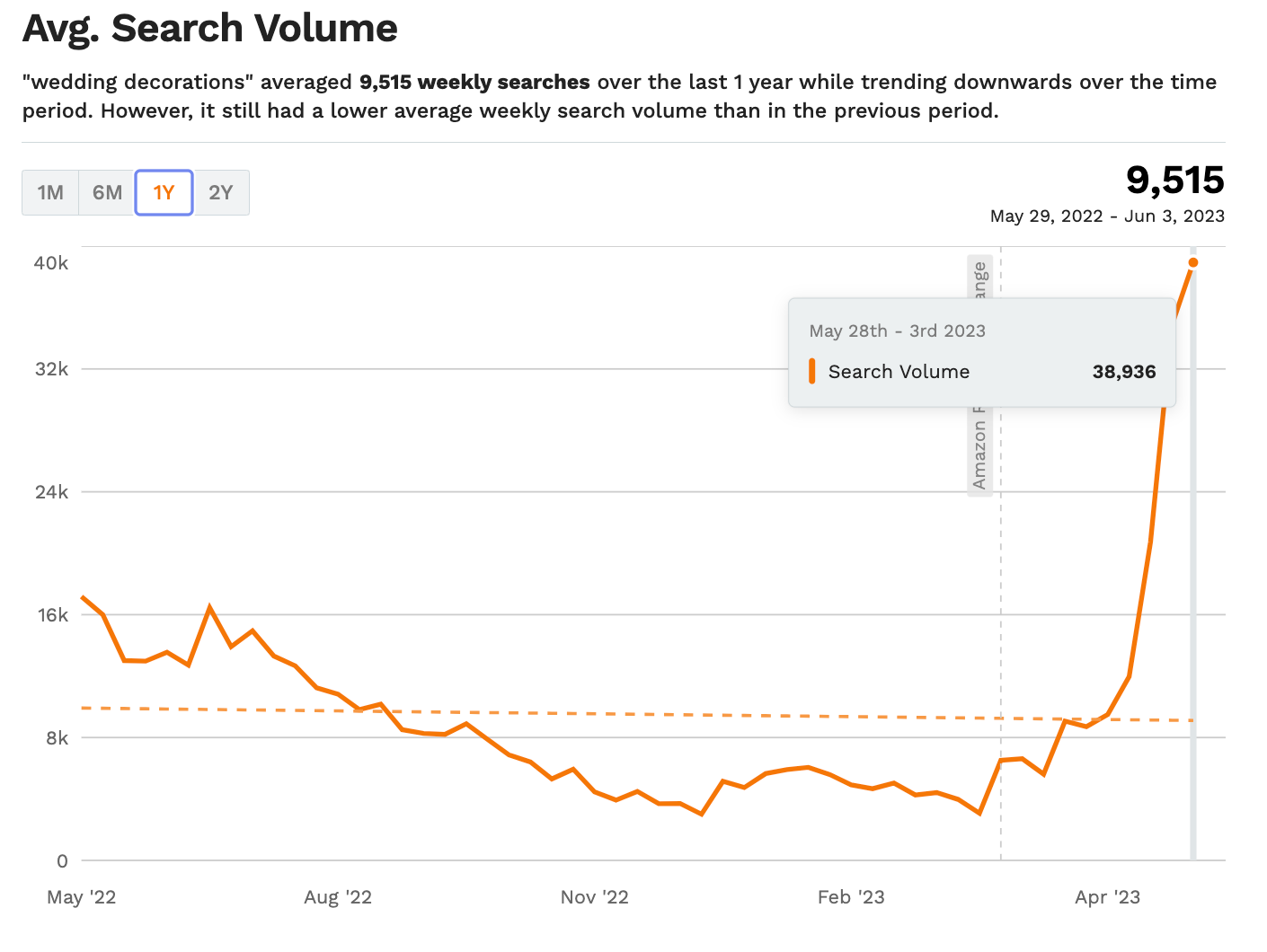 Take a look at the hundreds of keyword results within Keyword Scout to find ideas for products you can sell related to weddings.
3. Back-to-school supplies
As the summer wraps up, parents and students will be looking for supplies in preparation for the new school year. Early summer is when sellers should begin researching and stocking up on school supplies to offer to students in August and September.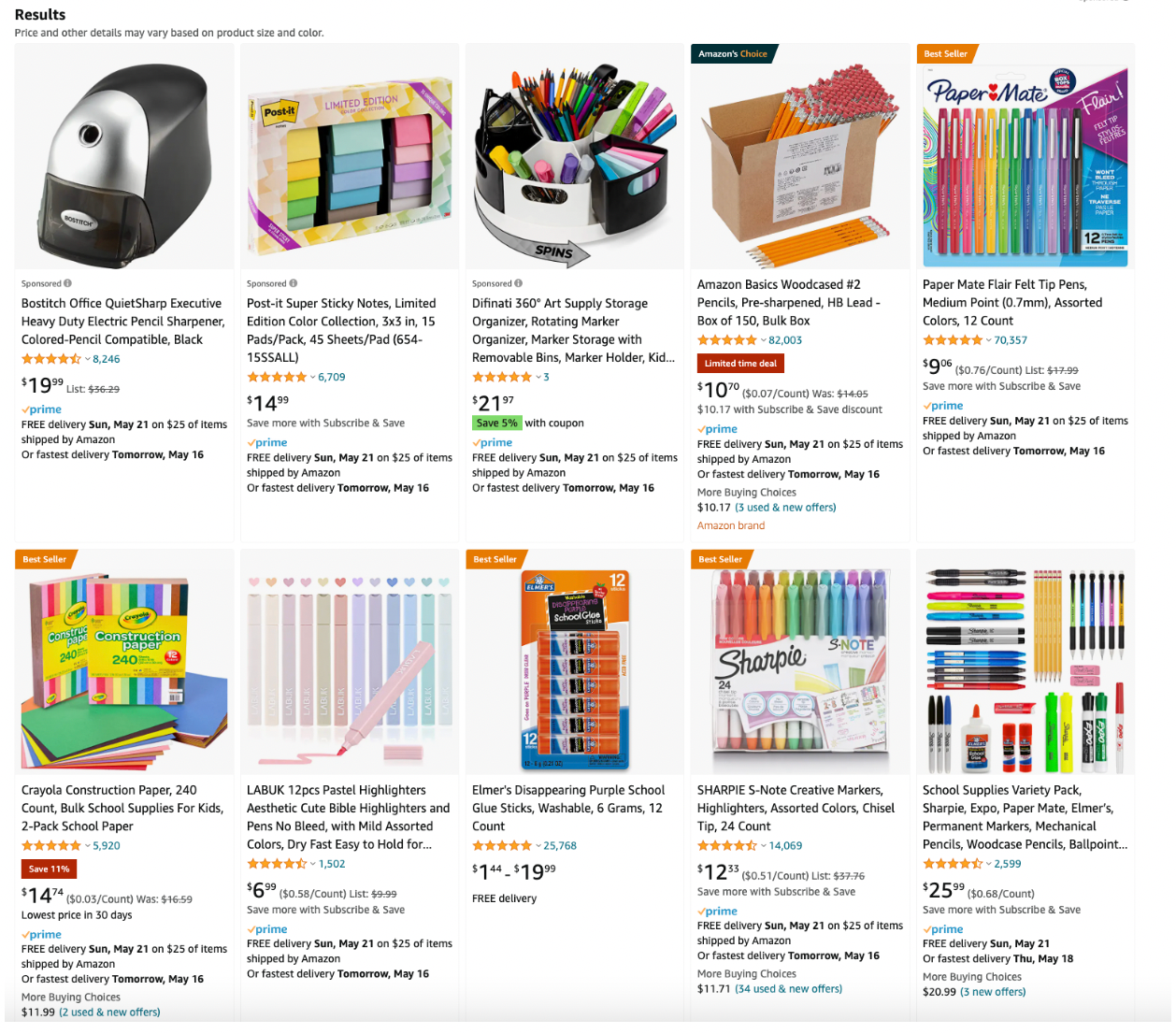 There are plenty of arbitrage, wholesale, and private label opportunities for school supplies. Take a look at your local stores' notebook and office supply sections and start scanning products to see what kind of profit you can achieve.
Use Jungle Scout's Product Database or Opportunity Finder for private label to discover low competition products. School supplies also provide opportunities to bundle various complementary products together.
Let's look at the numbers.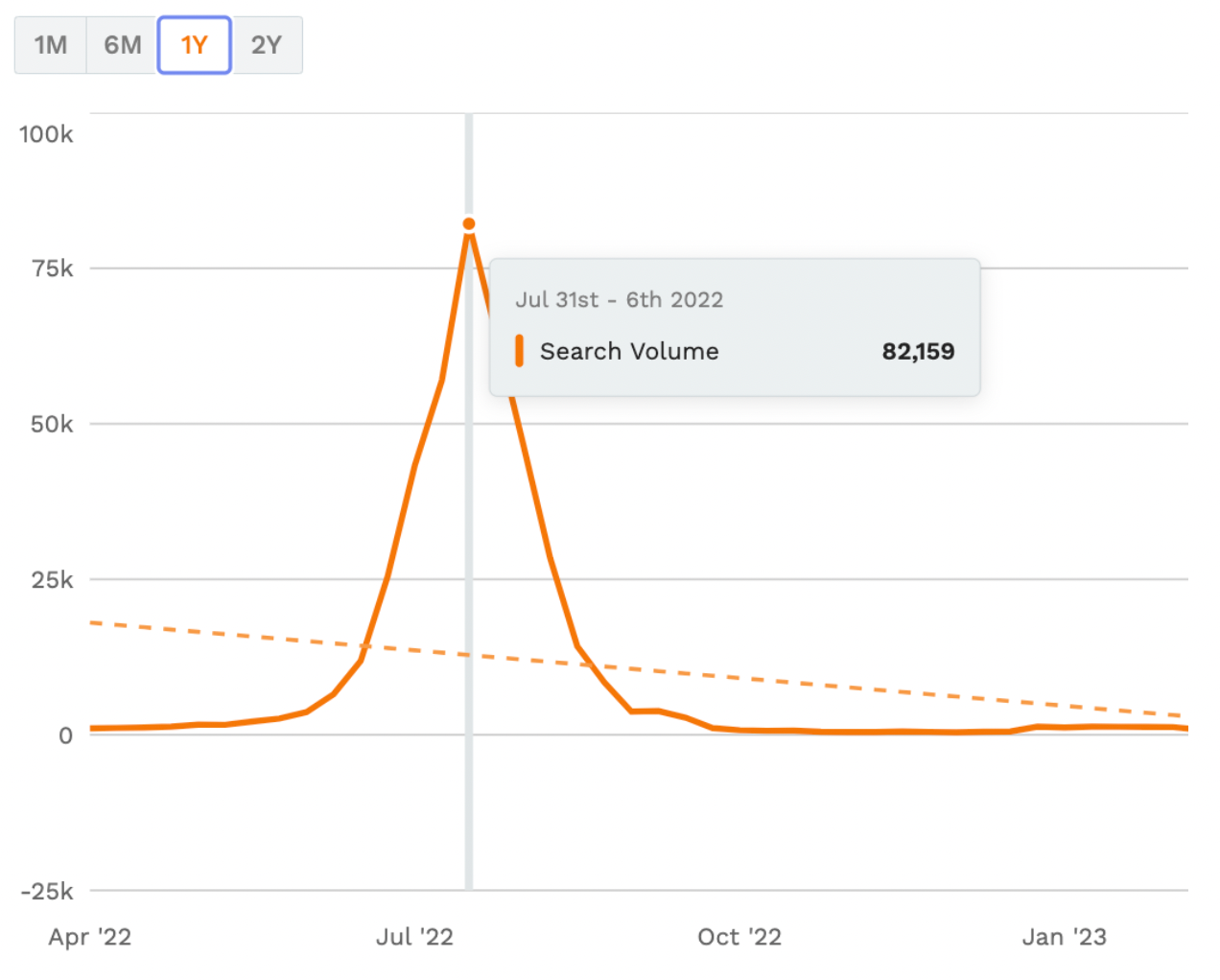 In July and August last year, the keyword "back to school" saw a huge spike in search volume so now is the time to start thinking about what products you can offer students.
As of this update (June 2023) the search volume for many back to school related keywords are fairly low, but if you look at the historical search volume of each keyword in Keyword Scout, you can see what to expect at the peak of Q3 and school season.
Also, don't just think of grade school students. Think about students entering college or even a grad program. What types of products are they looking for?
4. Outdoor decor
Outdoor decor can mean many different products: solar lights, outdoor rugs, patio furniture, garden statues, string lights, torches, etc.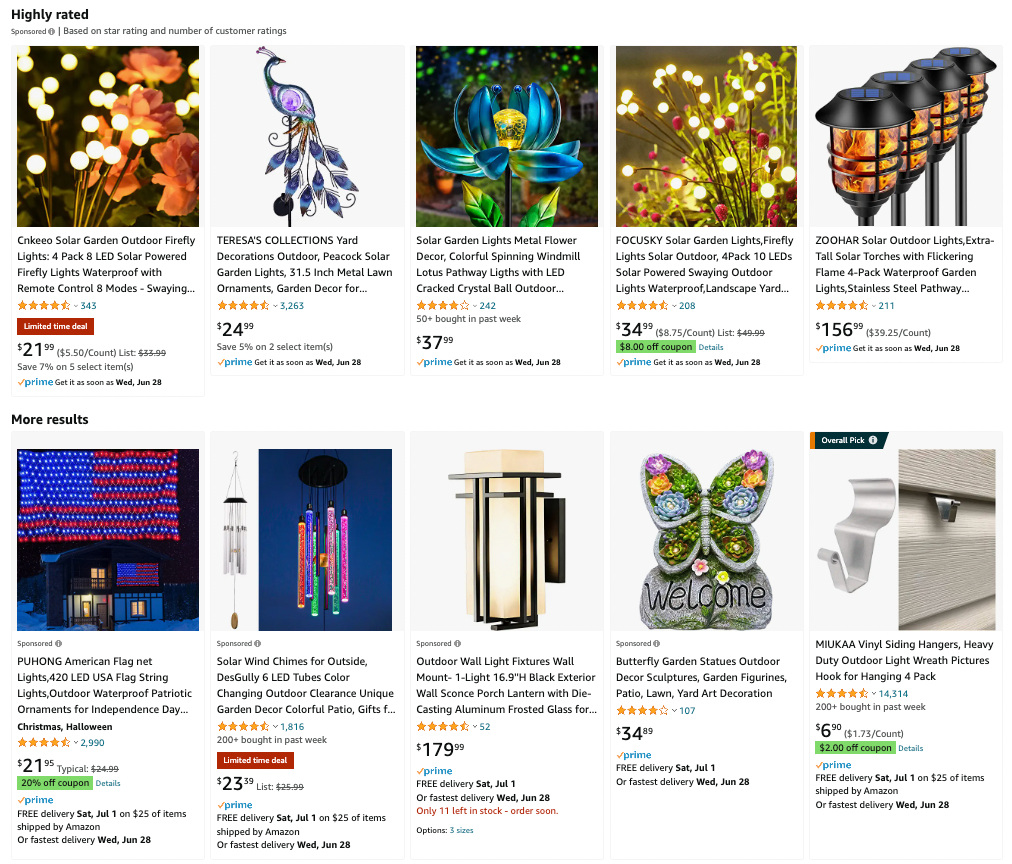 This category will work great for all business models on Amazon: arbitrage, wholesale, and private label. Selling outdoor furniture and decor also presents significant opportunities if you plan to sell locally, such as on Facebook Marketplace.
Let's look at the numbers.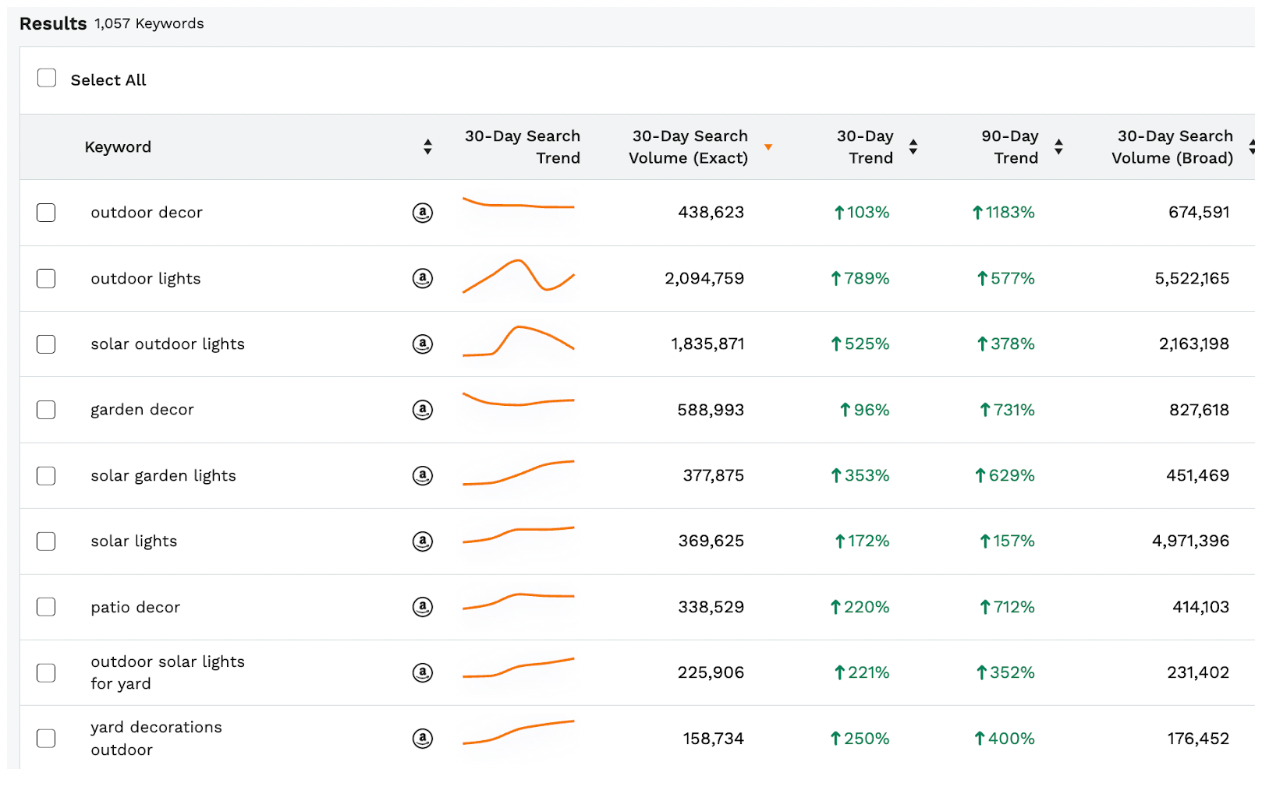 Each of these keywords (shown in Keyword Scout) has a high monthly search volume and trending search volume. Now is the perfect time to start selling these types of products.
While these keywords peak in search volume towards the beginning of the summer, there is still significant search volume in July, August, and September.
5. Halloween decorations
While it may be strange to include this suggestion with some summer-related products, believe it or not, consumers start to shop for Halloween decorations as soon as possible.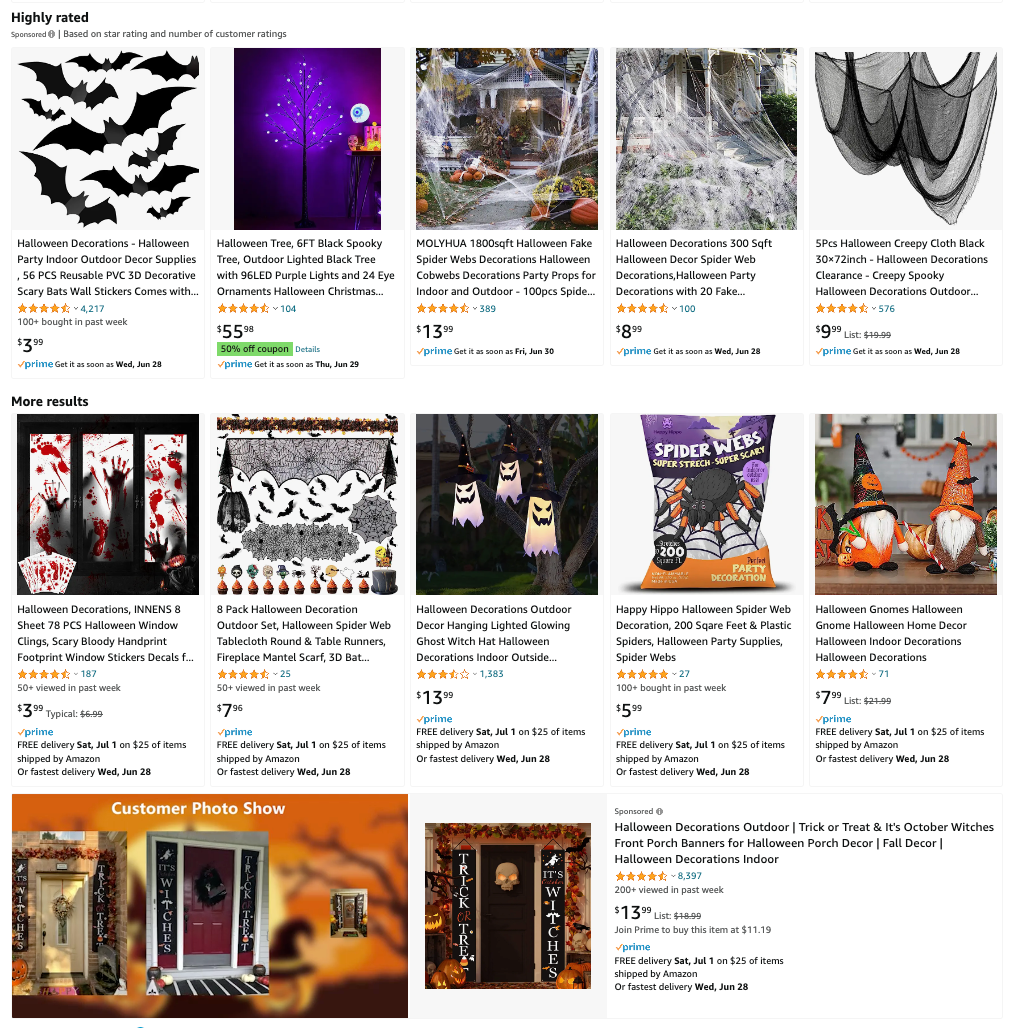 Now is the time to start thinking about Halloween products you can sell towards the end of the summer and be ahead of other sellers.
You can follow all business models with Halloween products as well: Arbitrage, wholesale, and even private label. If you do decide to create your own private label halloween product, start that process now so your shipment is ready by September.
Let's look at the numbers.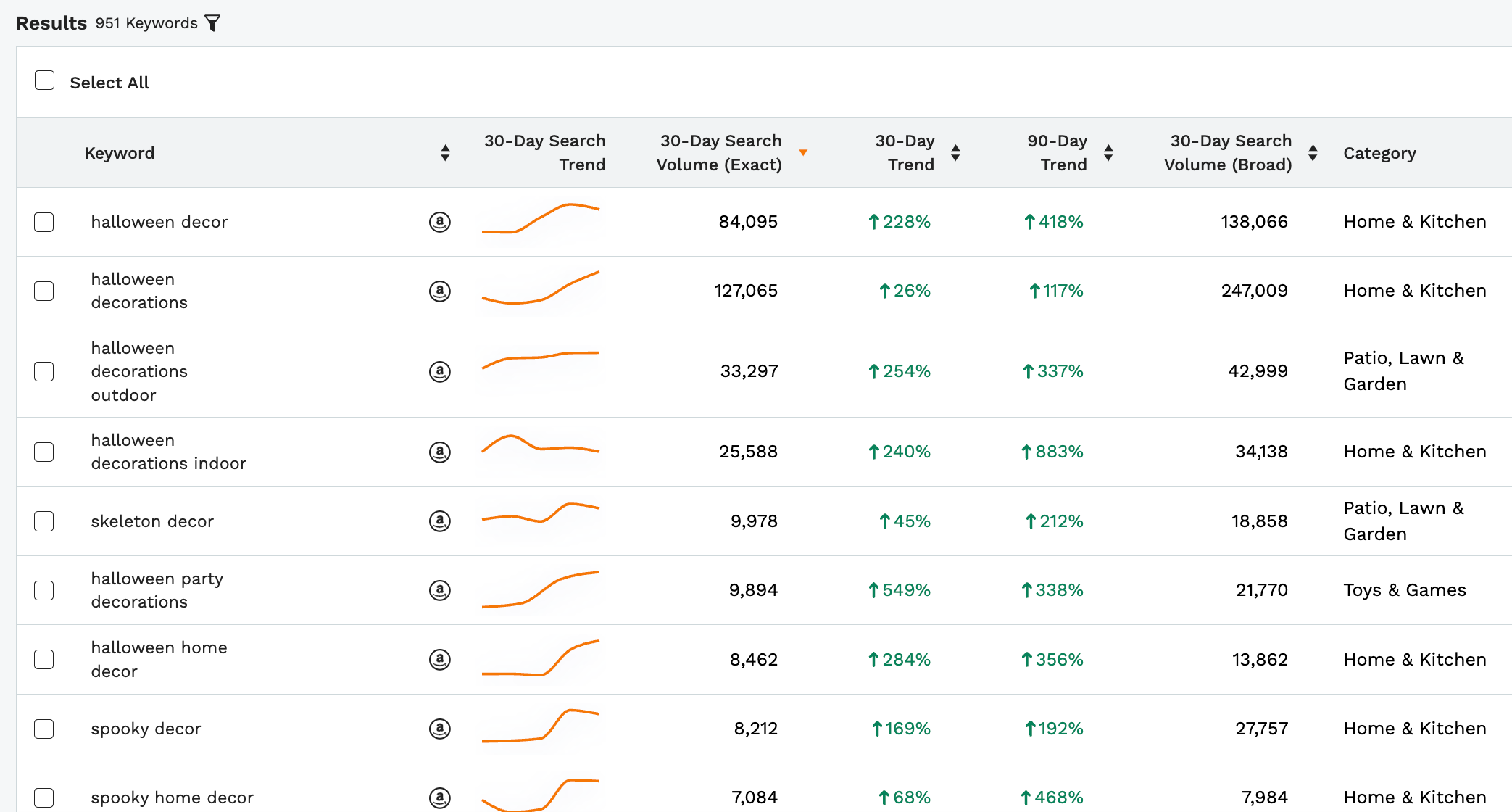 Even in June, the search volume for Halloween related keywords is way up! As we near the end of August and early September, the search volume for each of these keywords will skyrocket even more.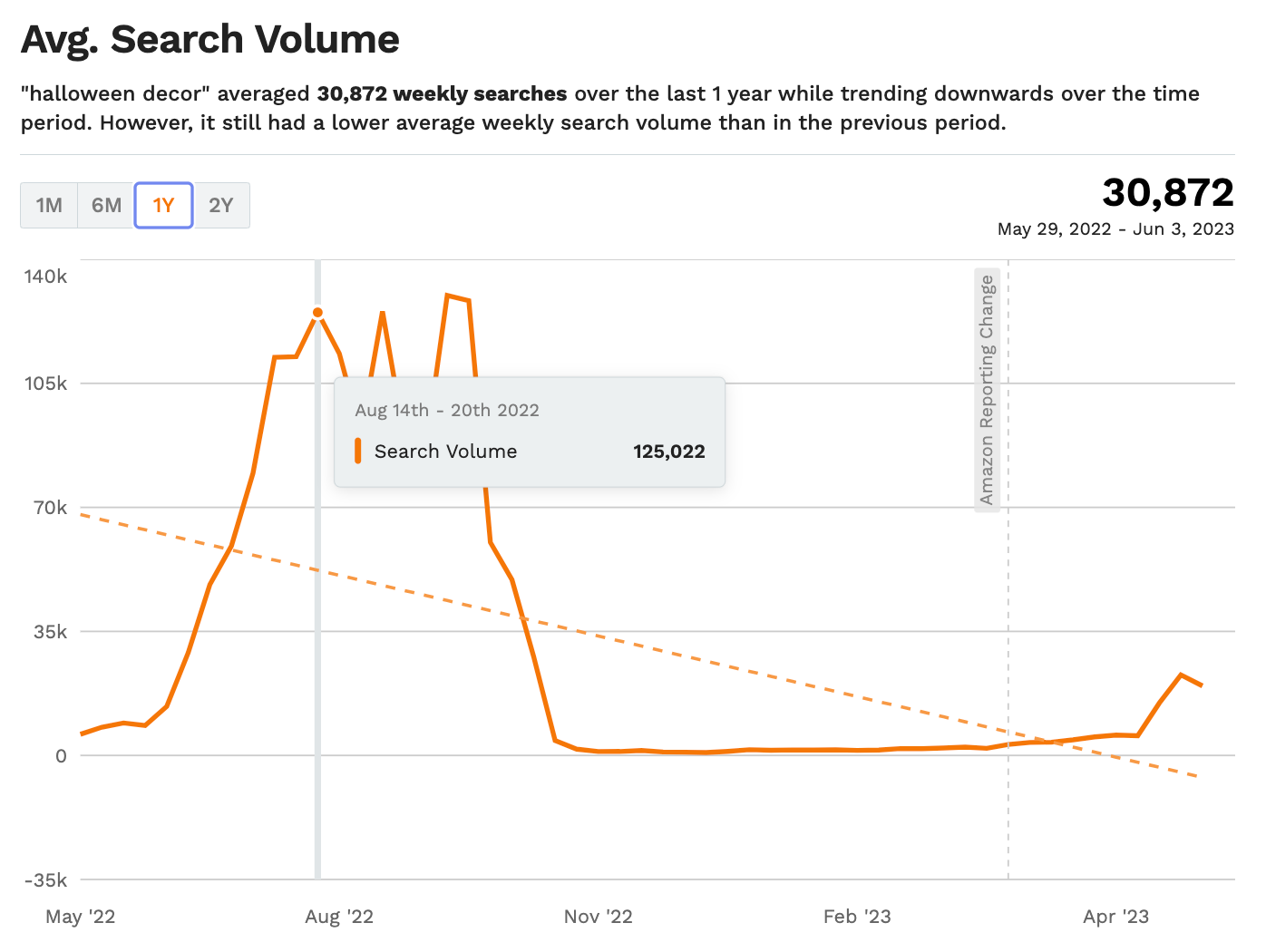 Here's a tip, once you start to see your local grocery stores putting Halloween products on display is when you need to stock and begin selling these types of items.
How to know if a product will sell during Q3
Don't limit yourself to the list of ideas above, as many other types of products will sell during Q3. Think outside the box, gather your ideas, and make sure you bring them into proper product research before investing in any product to sell on Amazon.
READ MORE | Product Research 2023 Guide: How to Find Profitable Products
Next, use Jungle Scout's tools to figure out if your product idea is viable for selling on the Amazon platform:
Want to learn more about how to find profitable products to sell on Amazon? Check out our Youtube video on How to Find a Profitable Product to Sell on Amazon.
What Amazon FBA products are you going to sell in Q3?
We hope this guide gives you some good ideas of what FBA products you can sell during this time of year. Bookmark this page for updates in Q3 2023 — we'll update you with more ideas for the next quarter, and every quarter after that. Now, get out there and make it happen!
Let us know what you think of these categories, or if you have any questions, let us know in the comments below.
Check out our full How to Sell on Amazon Guide for more information on product research, sourcing, listing creation, and much more.
Explore new product opportunities with Jungle Scout and start making money during Q2 on Amazon!