The name of the game this holiday shopping season is scoring deals online from top brands — and the sooner, the better. Insights from Jungle Scout's Q4 2022 Consumer Trends Report offers a full picture of where, when, what, and how Americans are shopping for holiday gifts.
Over two-thirds of U.S. consumers (67%) are buying gifts on Amazon this holiday shopping season, which has already begun for roughly all Americans. This puts The Everything Store far ahead of any other retailer in popularity as Americans shop online and in-store, including mainstays like Walmart, Target, and Etsy.
Amazon isn't the only one making an impact on gift shopping this year: online shopping is hugely popular, with extended Black Friday deals drawing people to all sorts of products.
With inflation on the rise, many consumers will look to score deals and many will be cutting their overall holiday spending.
Many shoppers are spending less on holiday gifts in 2022
Many consumers have concerns about inflation and how it will affect their holiday spending for the year. 52% of consumers state their household income is currently unstable and a whopping 47% will be making fewer fun or impulse purchases.
84% of consumers spending habits have been negatively impacted by rising inflation and household incomes below $50,000 plan to reduce their overall spending by 42%.
Here are ways consumers plan to reduce their holiday spending: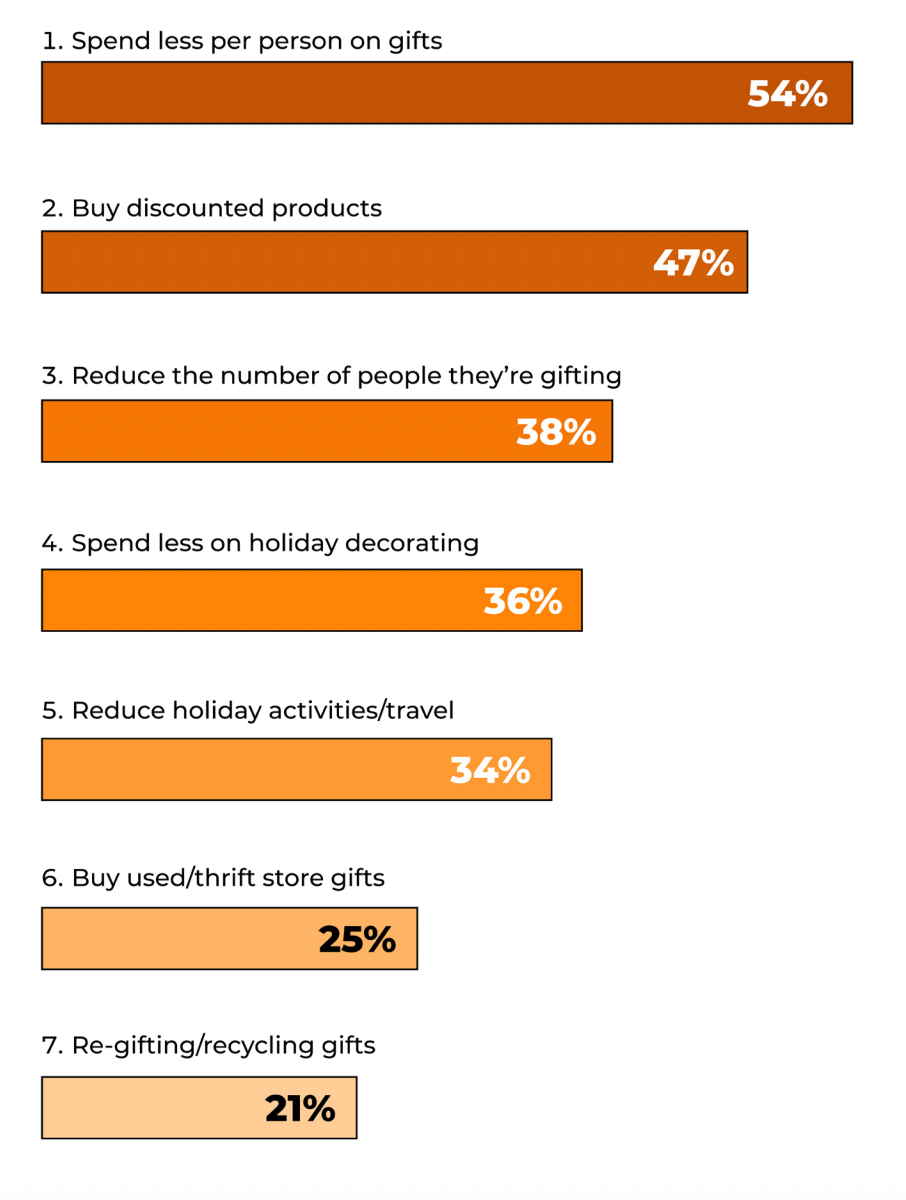 Among the respondents of our Consumer Trends Report survey, here's who's not receiving a gift this year: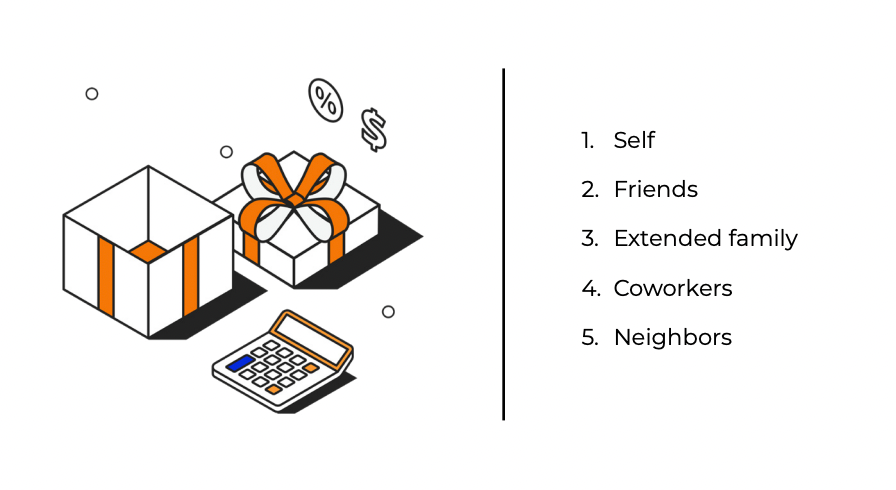 Sorry, neighbors.
Holiday shopping started early this year
Before summer even ended, over 30% of consumers began their holiday shopping in response to rising inflation – but with smaller budgets. Overall, 70% expected to start holiday shopping before Thanksgiving, a dramatic uptick from the 55% of consumers who gave the same timeframe in 2021.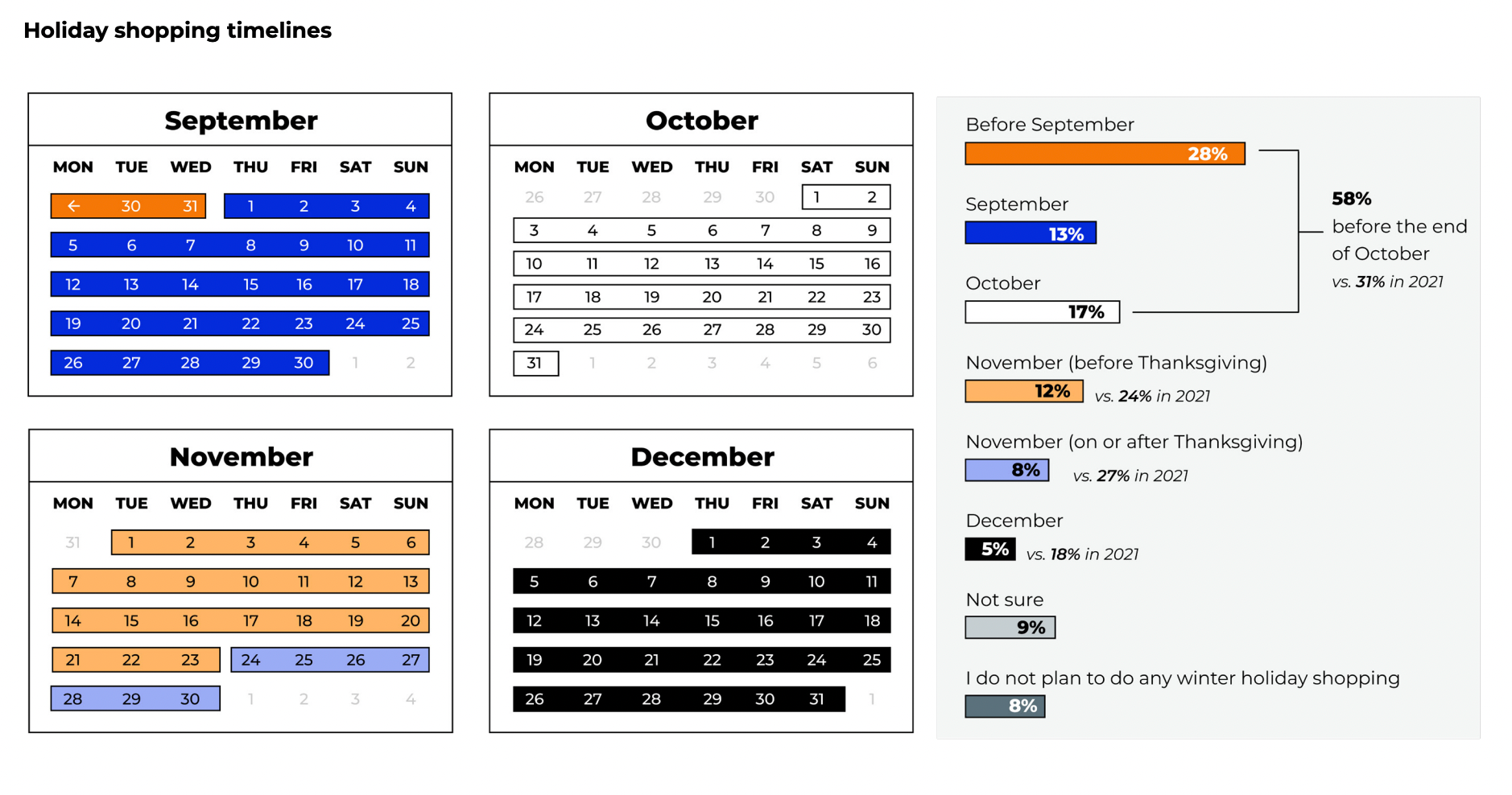 Gift shoppers are looking online — mostly on Amazon
These days, it seems like everyone has fully converted to online shopping. In fact, 67% of Americans will shop on Amazon this year for holiday gifts. That said, there are still a few brick-and-mortar holdouts.
For instance, 56% of consumers plan to shop in Walmart stores this year versus shopping online.
Where consumers are shopping for gifts in 2022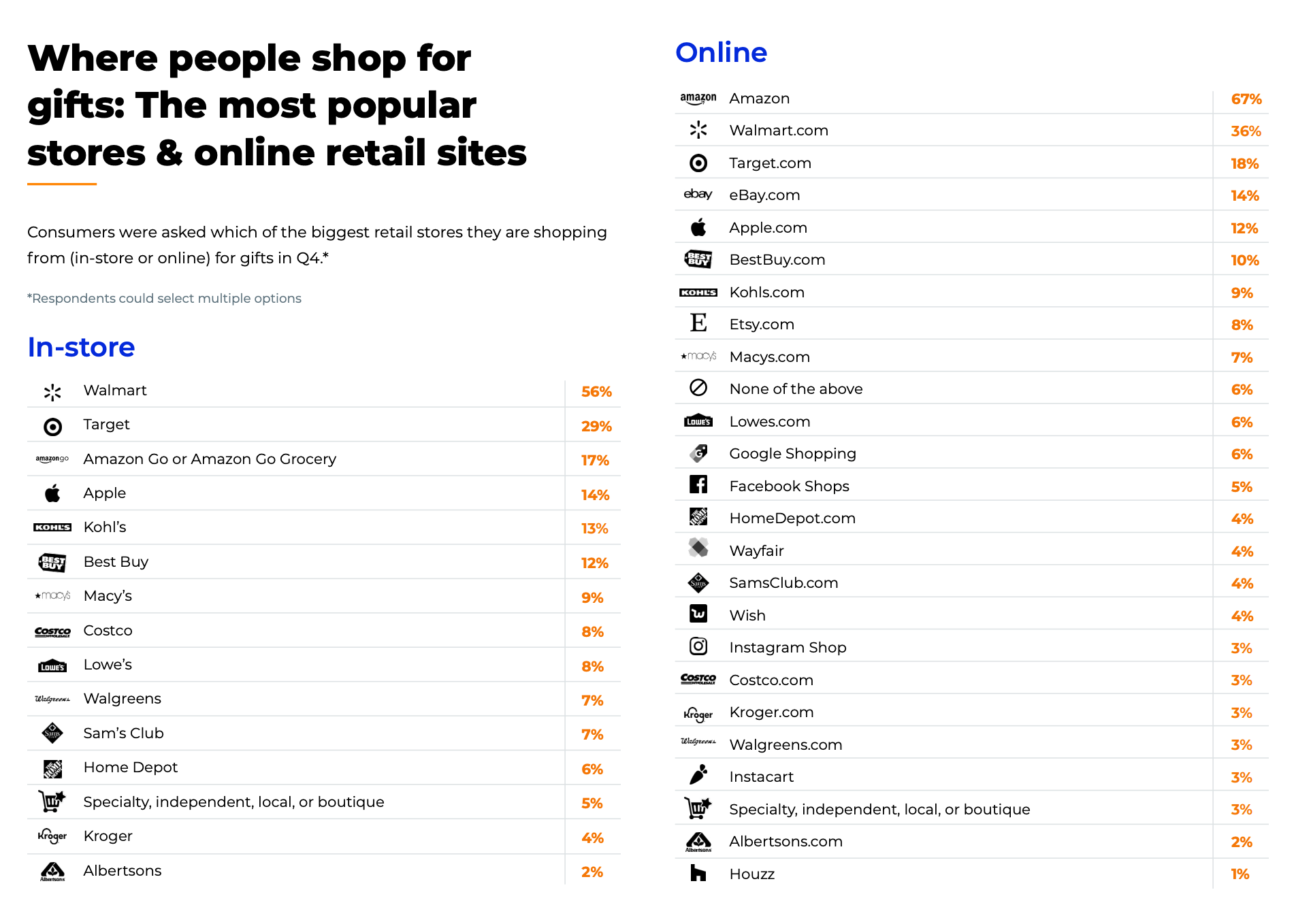 The top online and in-store gift shopping destinations include the usual suspects.
The most popular shopping destination this holiday season is Amazon, where 67% of Americans are shopping, followed by 36% on Walmart.com, and 56% at physical Walmart stores.
Other large, popular retailers, including Target, Best Buy, Kohl's, and The Home Depot saw more online customers than in-store in 2021, but it's now the opposite in 2022.
This year, other big in-store winners include Target (29%), Apple (14%), and Kohl's (13%).
Where do online shoppers begin their product search?
When consumers shop online, where are they looking first? As you've probably guessed, the answer is Amazon. Though surprisingly, social media channels such as YouTube, Instagram, and TikTok have played a growing role in consumers' online product searches. Nearly 20% of U.S. consumers are getting gift ideas from social media in 2022.
Consumers are doing so because they want to see real people using the products they're interested in purchasing.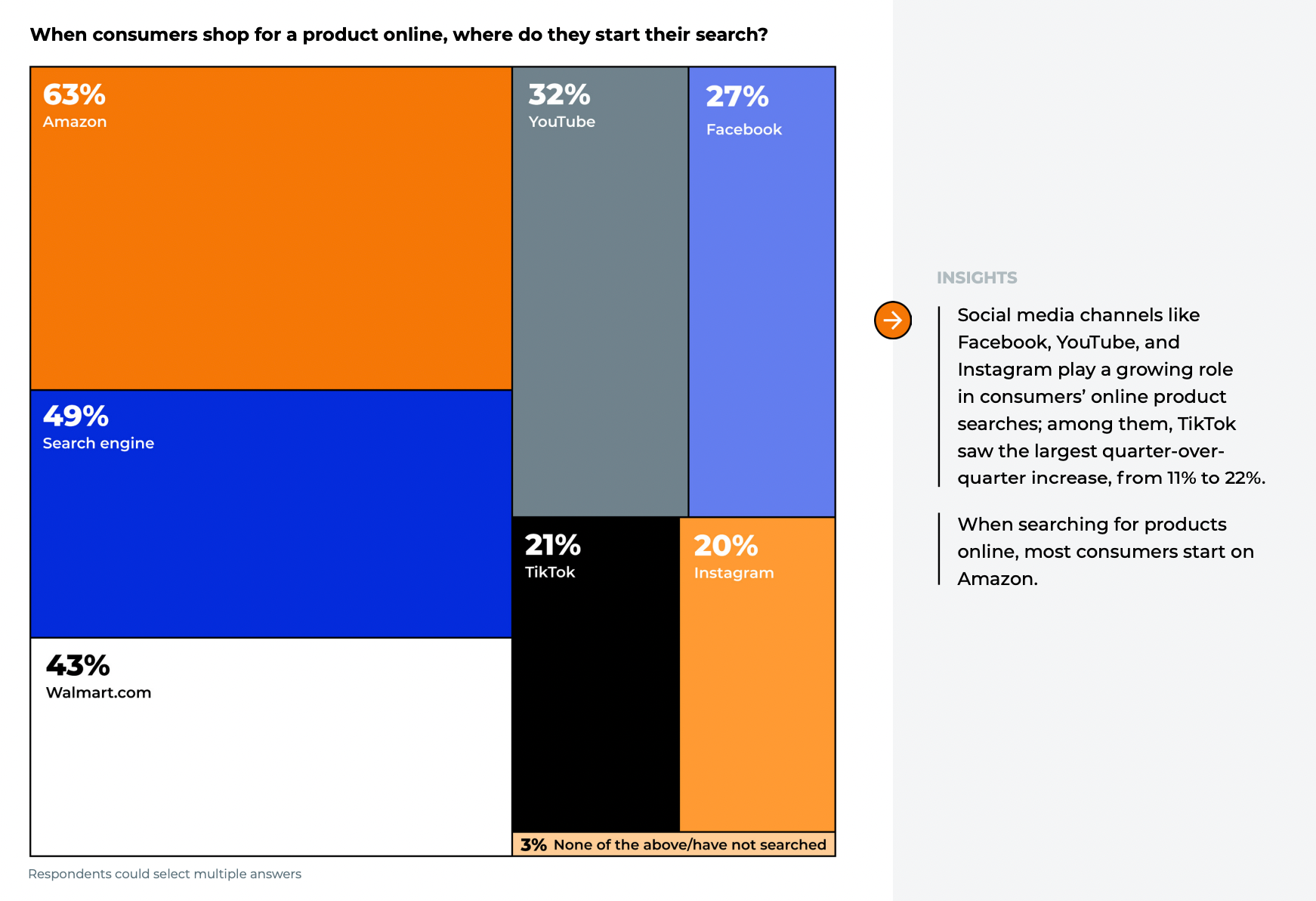 Not only are consumers searching for products on social media, many of these platforms allow customers to make purchases directly from the app. However, consumers are still more likely to search Amazon for a product after seeing it advertised on social media than to buy it directly from the platform.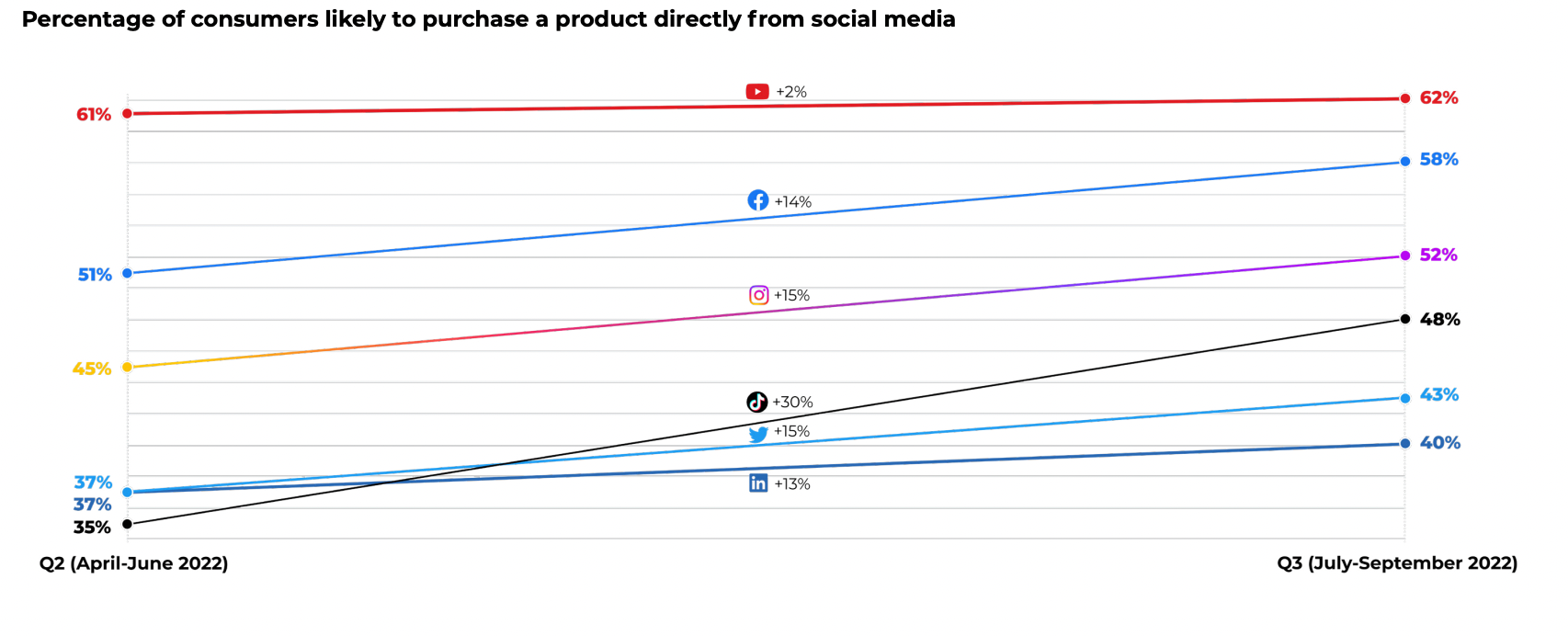 Which generations are more likely to purchase a product directly from social media? This answer is also pretty obvious with Gen Z and Millennials being the most likely consumer groups to buy on social media websites or apps.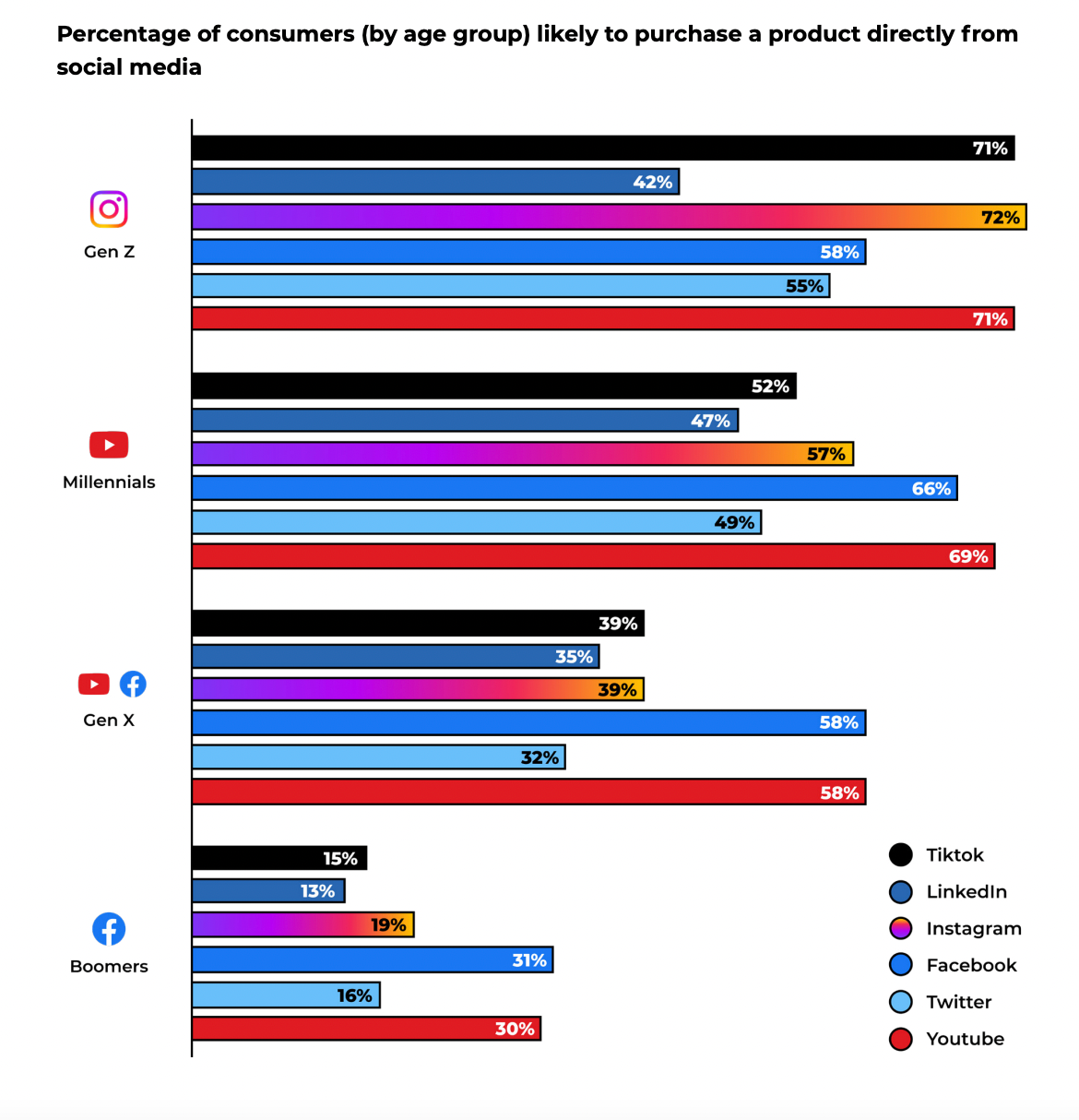 The 2022 gift shopping season is breaking norms
With lots of economic uncertainty, holiday shopping will focused more on securing deals and spending less.
That said, shoppers have plenty of retailer and brand options to shop from, and great gift ideas are constantly cropping up from every inch of the internet, from social media to news sites.
For more insights on how Americans shop in 2023, check out Jungle Scout's Q4 2022 Consumer Trends Report.