The name of the game this holiday shopping season is scoring deals online from top brands — and the sooner, the better. Insights from Jungle Scout's Q4 2021 Consumer Trends Report offers a full picture of where, when, what, and how Americans are shopping for holiday gifts.
Over two-thirds of U.S. consumers (67%) are buying gifts on Amazon this holiday shopping season, which has already begun for roughly half of Americans. This puts The Everything Store far ahead of any other retailer in popularity as Americans shop online and in-store, including mainstays like Walmart, Target, and Etsy.
Amazon isn't the only one making an impact on gift shopping this year: online shopping is hugely popular, with extended Black Friday deals drawing people to their computers and phones.
Many consumers will look to brands and influencers on social media for inspiration for gifts for their family, friends, and pets, and will encounter many retailers beyond Amazon as they browse Google for gift ideas. And when it comes to shopping for their favorite brands, consumers opt for Walmart.com over Amazon
Many shoppers are spending more on holiday gifts in 2021
For two years in a row now, around a quarter of Americans have said they'll spend less on holiday goods. On top of that, a significant portion of total U.S. consumers simply never spends money on some of the most popular winter holidays, including Thanksgiving (16% never shop for this occasion), Christmas (11%), and New Year's Eve (29%) — and this year will be no different.
However, the vast majority (92%) of U.S. consumers will do some amount of festive shopping this time of year. And when we look closer at this group, gift spending is on the rise.
For instance, among the 89% of Christmas gift shoppers, 38% are spending more this year than in 2020, and 37% are spending the same amount as last year. Similarly, over three-quarters of Thanksgiving, Hanukkah, Kwanzaa, and New Year's Eve shoppers are increasing or maintaining their spending on these holidays this year.
| | | | |
| --- | --- | --- | --- |
| Holiday Spending: 2021 vs 2020 | More | The Same | Less |
| Thanksgiving | 21% | 61% | 18% |
| Christmas | 38% | 37% | 24% |
| Hanukkah | 27% | 50% | 22% |
| Kwanzaa | 26% | 51% | 23% |
| New Year's Eve | 22% | 58% | 20% |
And while the majority of gift shoppers (52%) are searching for deals, more than one in five (22%) are going above and beyond, shelling out full-price for luxury gifts.
Holiday shopping started early this year
By the time Halloween arrived in 2021, 31% of Americans had already begun their holiday shopping. By Thanksgiving, another 24% will have joined them. This marks 55% of total U.S. consumers who will have begun their shopping before Black Friday — historically, the informal kickoff for holiday shopping in the U.S.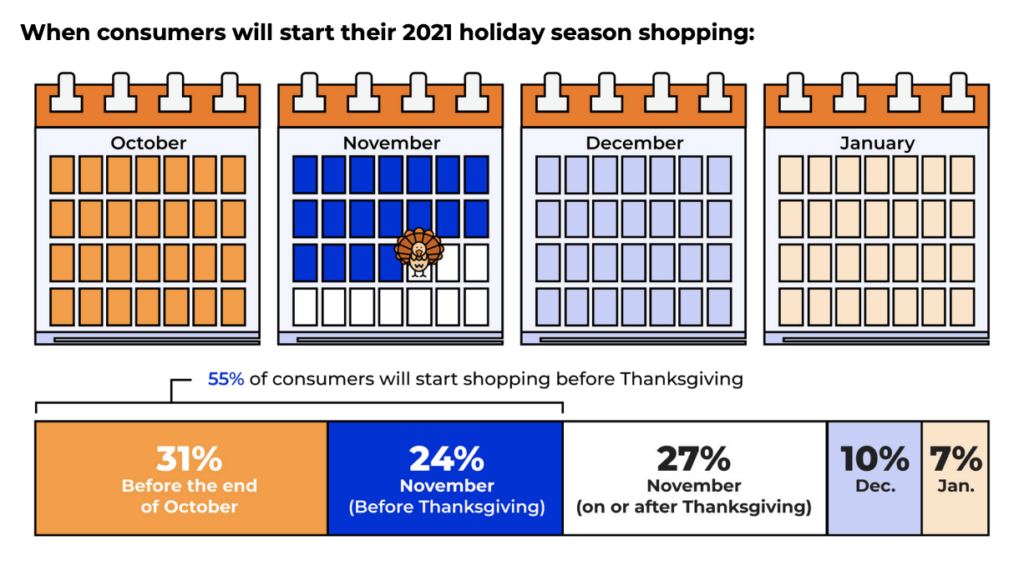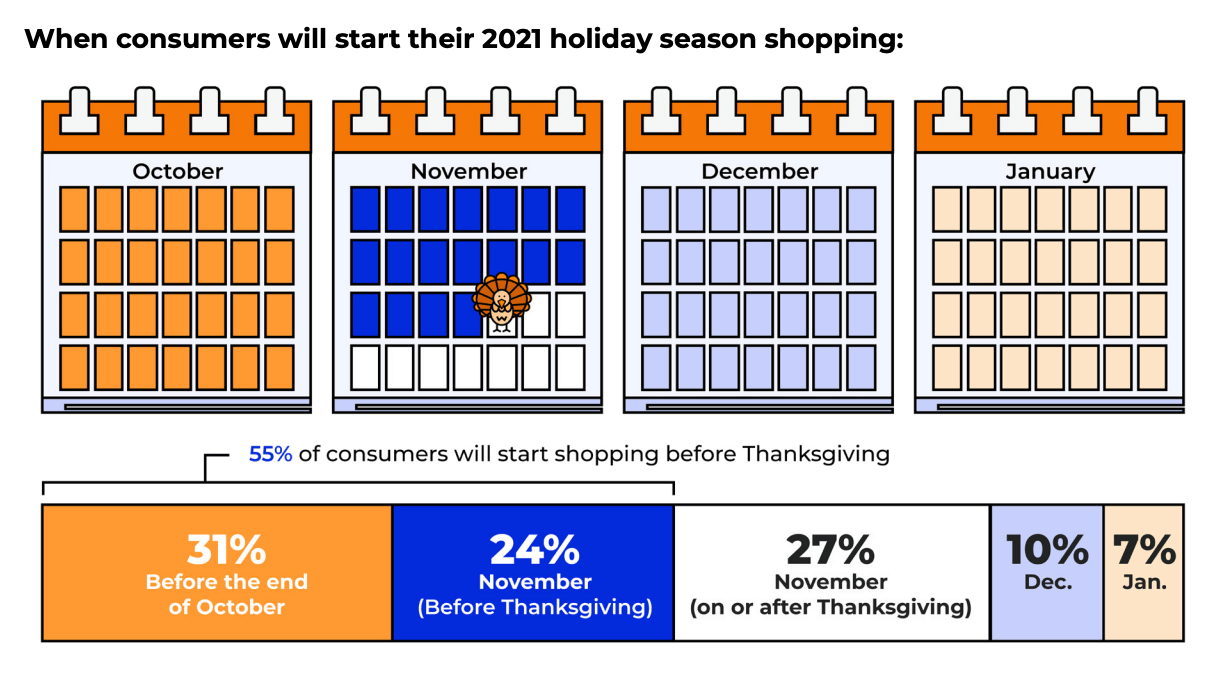 To sidestep concerns over shipping delays and stockouts, many retail businesses have begun their Black Friday/Cyber Monday deals early, prolonging their holiday sales events from a few days to several weeks.
With savings available earlier in the season than usual, more consumers can get the deals they're looking for on gifts for Christmas, Hanukkah, which begins on November 28 this year, and Kwanzaa, which will begin on December 26.
Gift shoppers are looking online — mostly on Amazon
These days, it seems like everyone has fully converted to online shopping. In fact, 78% of Americans will shop online this year for holiday gifts. That said, there are still a few brick-and-mortar holdouts.
This year, 22% of Americans are shopping for gifts only in physical stores. On the flip side, 46% — close to half of the U.S. population — will shop only online for gifts. Roughly one-third are doing a bit of both.
Where consumers are shopping for gifts in 2021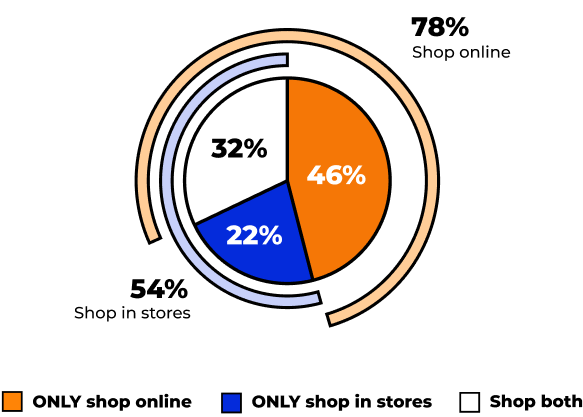 The top online and in-store gift shopping destinations include the usual suspects — though the details may surprise you.
The most popular shopping destination this holiday season is Amazon, where 67% of Americans are shopping, followed by 48% on Walmart.com, and 47% at physical Walmart stores. Other large, popular retailers, including Target, Best Buy, Kohl's, and The Home Depot will see more online customers than in-store.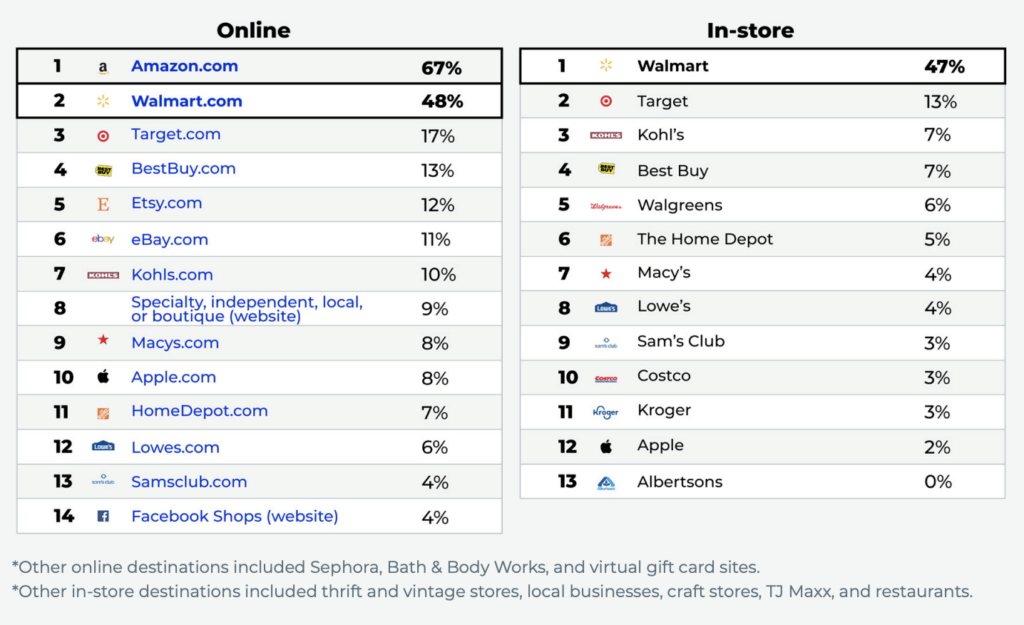 This year, other big winners include small, independent shops: 30% of online gift shoppers will make purchases from specialty, family-owned, local, or boutique businesses.
Amazon is a crowd-pleaser, but brand loyalists go to Walmart.com
Interestingly, customers' gift-finding methods on the two top online platforms, Amazon and Walmart.com, are not the same. Both Amazon and Walmart.com shoppers look for deals, look for specific products (e.g., "scented candle"), and try their luck with broader search terms, like "gifts for mom."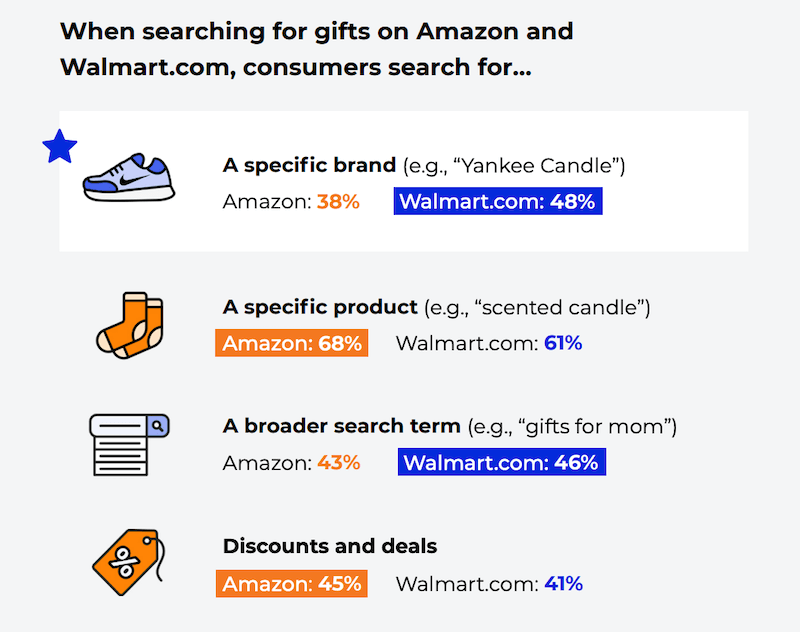 However, Walmart wins out among gift shoppers who are also name-brand loyalists.
Among consumers who shop on Walmart.com for gifts, 48% say they search Walmart's site for specific brands (e.g., "Yankee Candle"), compared to 38% of Amazon shoppers who search for brands on Amazon.com.
Why Walmart.com customers are more likely to search for brands than Amazon shoppers
These findings are less surprising when one considers two things: first, the relative size and variety of Amazon's marketplace, and second, Walmart's long-standing status as a top retailer.
Having opened its platform to third-party sellers more than a decade earlier than Walmart.com, Amazon has literally millions more sellers than Walmart does — which means many more brands for consumers to pick from.
On top of that, Walmart has been a dominant force in retail for ages; for many Americans, it's their go-to destination for their favorite name-brand foods, personal care products, clothing, home goods, and more. In fact, 33% of Walmart.com shoppers say they buy from Walmart because they're familiar with its products. Another 27% say they shop Walmart.com simply because they've always been Walmart customers.
So while both retailers carry staple brands, it's possible that consumers regard Walmart as a sure thing for brand-name items, whereas Amazon offers a more expansive product catalog with a higher concentration of new or lesser-known brands to choose from.
Brands and influencers offer gift inspiration
The nice thing about shopping online is the wealth of strategies available for finding the perfect gift. You can search Google for trending products, read gift guides from news outlets like Buzzfeed and GQ, or pop into your favorite brand's website to see what's on offer.
This year, many consumers are taking advantage of a group of tastemakers whose impact on retail has skyrocketed in recent years: social media influencers.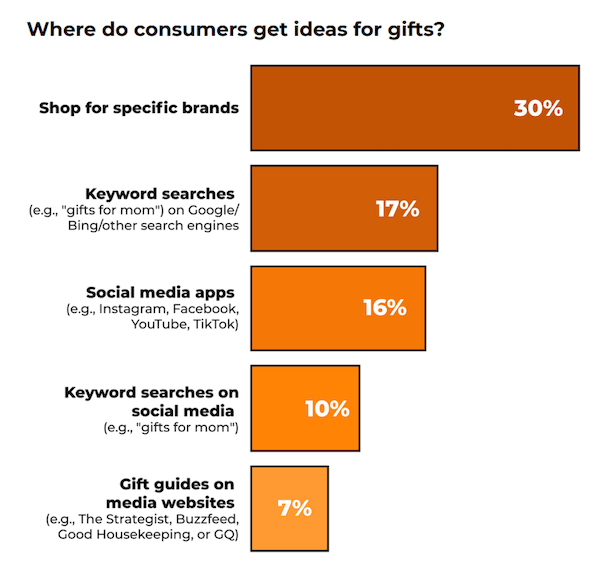 In total, just 16% of American consumers will get gift inspiration from influencers on social channels like Instagram, Facebook, YouTube, and TikTok. But among those shoppers, sponsored content is making a strong impression: 47% of consumers who get holiday gift ideas from social media will be inspired by influencers.
Other strong social media-related influences on gift purchases include ads and posts by branded accounts, which impact 51-55% of these consumers, depending on whether the shopper follows the branded account. 45% of consumers will get ideas from posts on Explore or For You pages, areas where brands and influencers often dominate.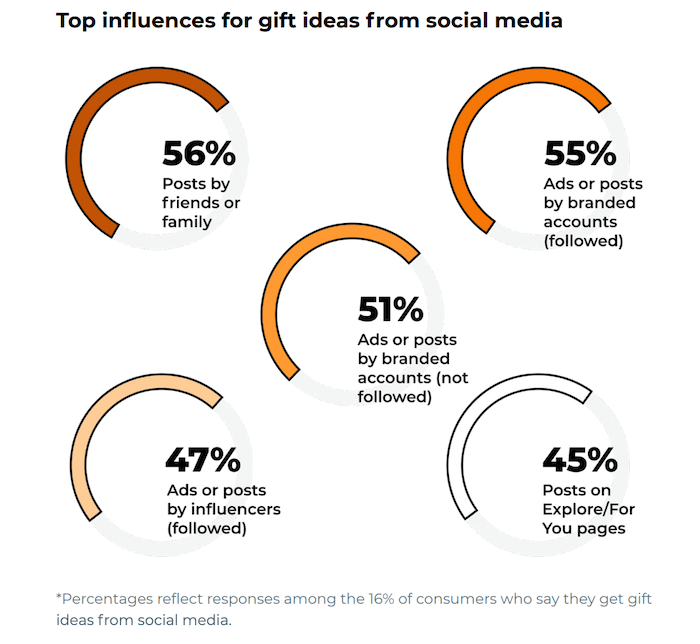 At the end of the day, hints from posts by friends and family members will have the strongest influence when it comes to social media users.
Physical gifts and gift cards reign supreme
Shopping may have gone digital, but physical products are still the most popular gift option. 65% of gift shoppers will give items like toys, clothing, electronics, and jewelry to loved ones this holiday season, while 58% will give gift cards.
Here's a breakdown of other products gift-givers plan to buy:
Virtual products (e.g., Netflix subscription, virtual gym membership): 27%

Homemade or DIY gifts (e.g., crafts, artwork, or furniture handmade at home): 26%

Subscription box delivery services (e.g., Blue Apron, beauty box): 22%

Experiences (e.g., travel arrangements, tickets to a concert): 19%
Other options include home-baked treats and cash.
Spouses, kids, and pets will win big
Who can look forward to receiving these gifts? Spouses and kids, mostly.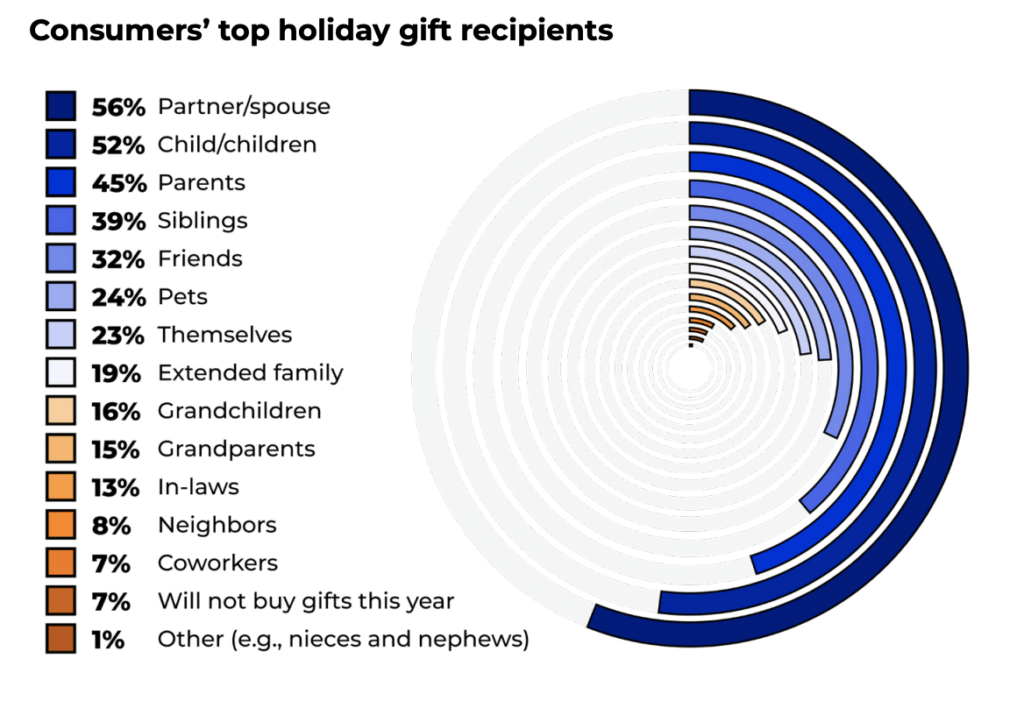 Furry friends also have something to look forward to: 24% of gift-givers will give presents to their pets.
The 2021 gift shopping season is breaking norms
With online shopping on the rise and pandemic-related safety and supply chain concerns still in play, holiday shopping in 2021 still isn't "back to normal."
That said, shoppers have plenty of retailer and brand options to shop from, and great gift ideas are constantly cropping up from every inch of the internet, from social media to news sites.
For more insights on how Americans shop in 2021, check out Jungle Scout's Q4 2021 Consumer Trends Report.