You've probably heard the phrase, "don't put all your eggs in one basket." While selling on Amazon is an incredible way to get your product in front of millions of potential customers, you should diversify your brand's online presence as your business grows.
This can mean listing your product on other ecommerce marketplaces like Walmart Marketplace, eBay, and even Facebook Marketplace. But it should also include creating your own ecommerce storefront on a platform like Shopify, as it gives you full control over your branding and builds legitimacy around your brand name.
Let's go over how to sell on Shopify and expand your brand beyond its Amazon footprint.
What is Shopify?
Shopify is a fully customizable ecommerce platform that enables brands to create their own online storefronts. With Shopify, you can sell your products online just like on any other ecommerce marketplace, but without content limitations or hefty fees.
Shopify offers three different user plans at varying price points, depending on the size and needs of your business. They also offer a Point of Sale app to support brick-and-mortar operations. If you're not sure which plan is right for your brand, you can try one free for two weeks.
The best part is that you don't need to know how to code or build a website from scratch. Shopify's huge library of free and paid pre-made site templates, called "themes," makes designing your storefront simple and straightforward.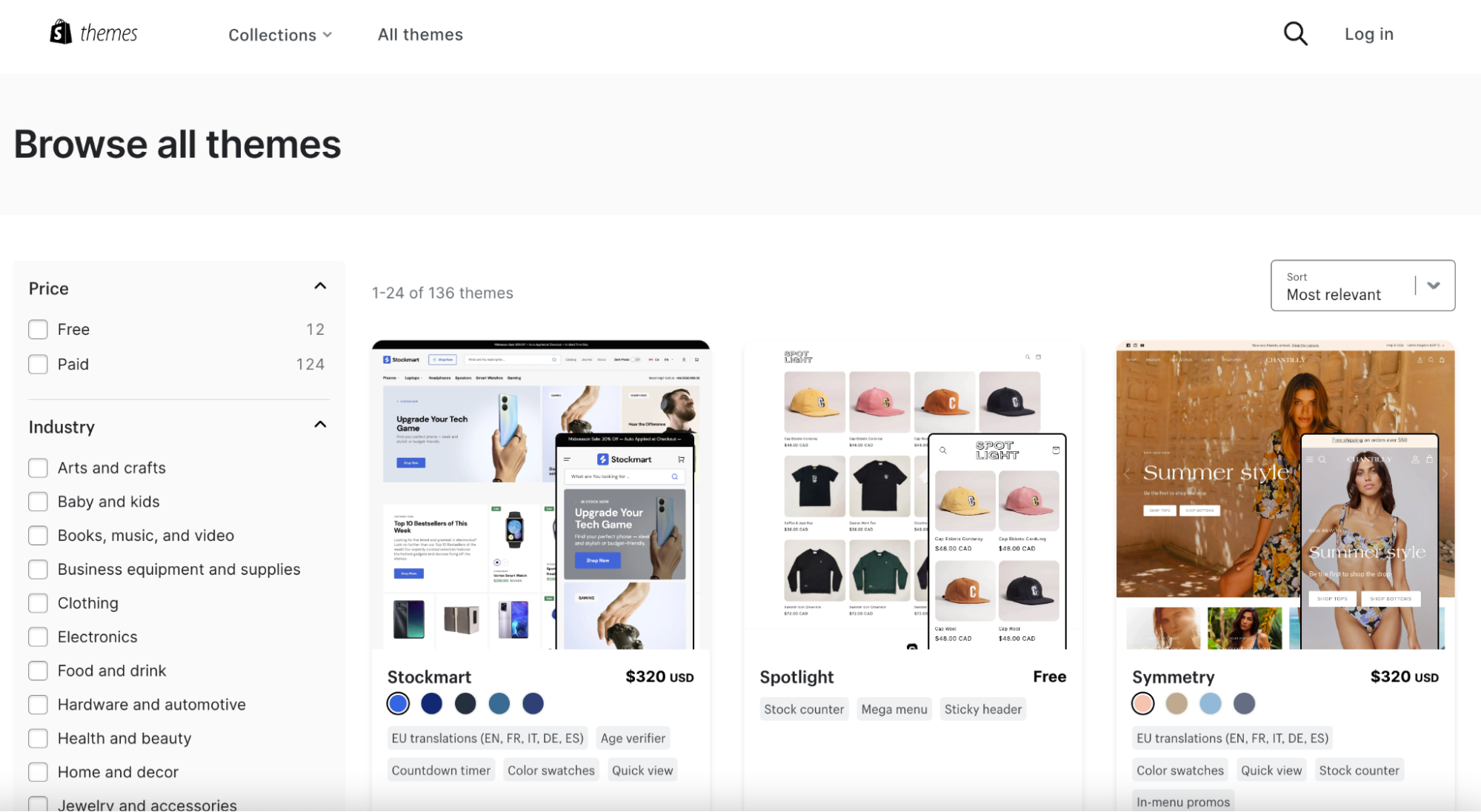 You can customize your store however you want your brand to look and feel. There are themes to choose from that are tailored to virtually any kind of ecommerce business, including brands selling just one product. Shopify's themes are so effective, they're used by some of the world's biggest brands, like Kappa (Impulse theme), Tefal (Warehouse theme), and Southern Living (Expanse theme).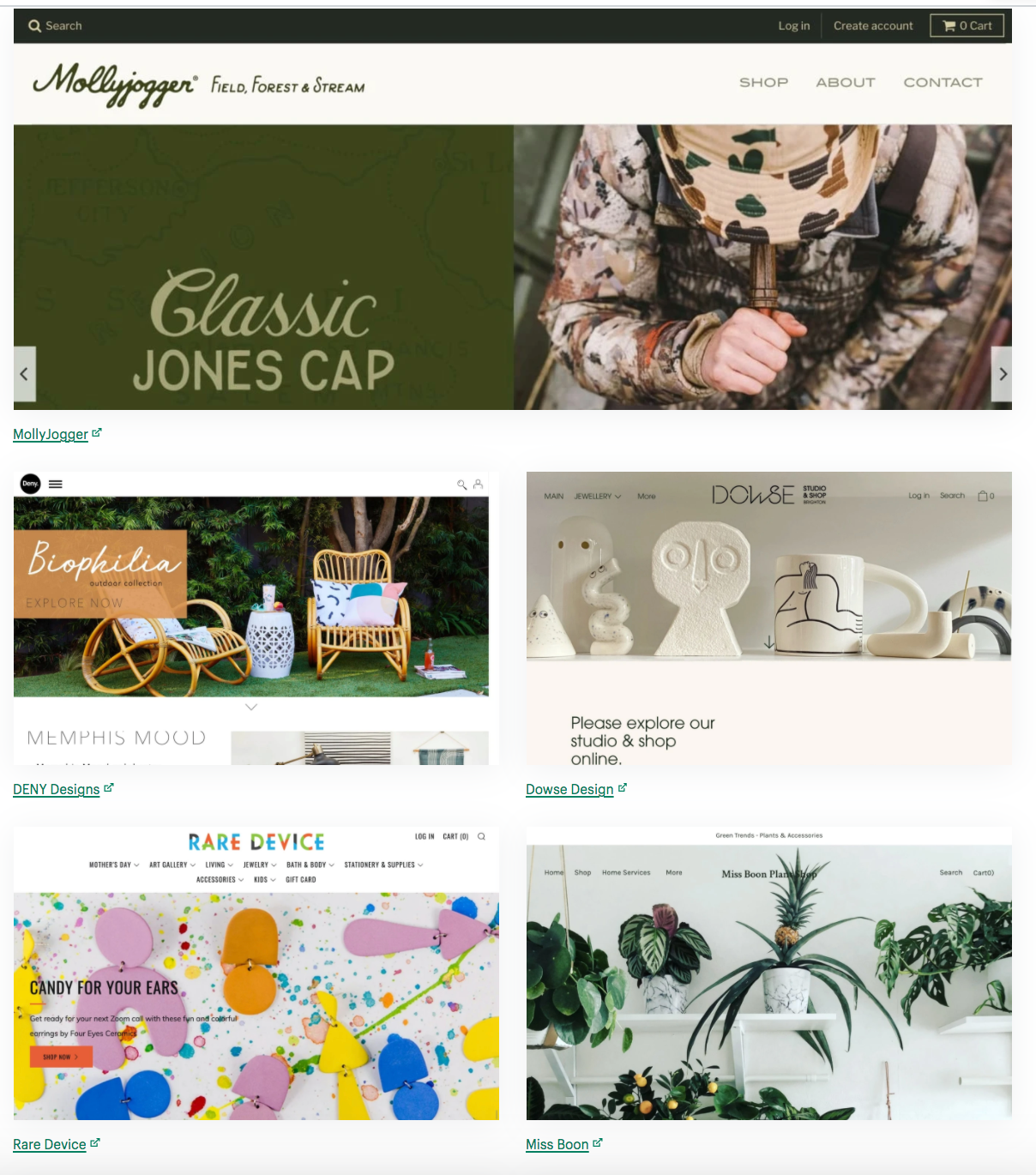 (Examples provided by Shopify's example page.)
How much does it cost to sell on Shopify?
Shopify offers three selling plans to choose from: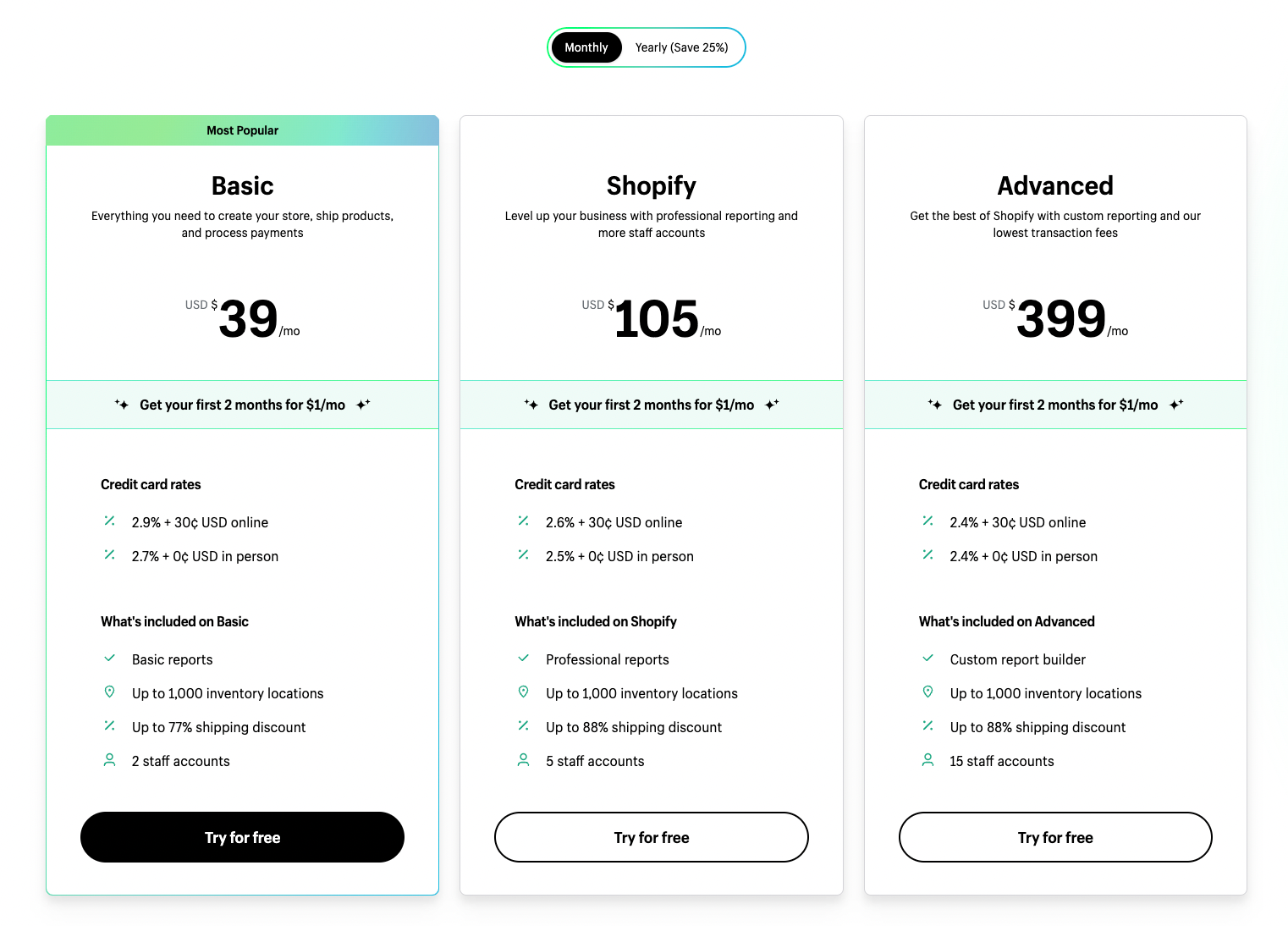 The $39/month Basic plan has everything you need to set up your store and start selling. If you want more features or better payment and shipment options, you can always upgrade your plan.
Unlike selling on a marketplace like Amazon or eBay, Shopify does not charge you any selling fees — just payment processing fees. This means you get to keep more of the profit from each sale for yourself.
Shopify offers a 3-day free trial with a $1/month for 3 months promotion on any selling plan you choose from (As of Nov 8, 2023.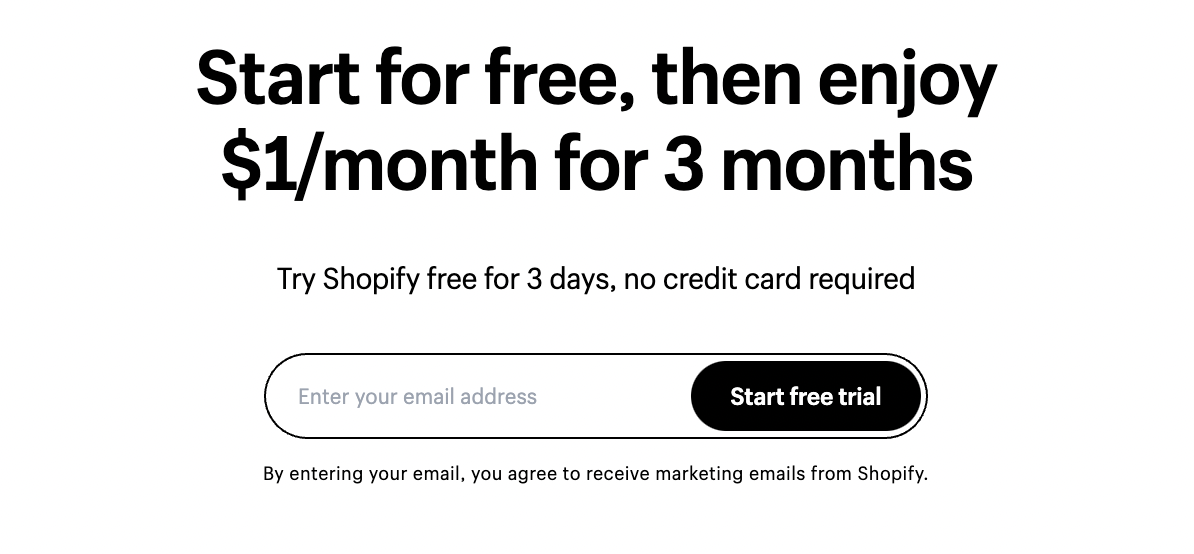 Who should sell on Shopify?
Creating a Shopify storefront is a good idea for anyone who either wants to start their ecommerce journey or expand an existing brand they've built on another marketplace.
Shopify's themes support entrepreneurs of all stripes, from dropshippers, private label Amazon sellers, eBay sellers listing secondhand goods, handmade artisans, or brick-and-mortar brand owners who want to move their operations online.
Advantages and disadvantages of selling on Shopify
Advantages of Shopify:
Easy to set up. It's simple to set up your account and beautify your storefront. Its user-friendly platform and customizable templates make the process straightforward, even for the technologically unsavvy.
Customizable themes. Unlike on Amazon and similar marketplaces, you can design your store to your specifications to evoke a distinct look and feel for your digital brand experience. While Amazon Storefronts do allow you to add more photos and other content than on product detail pages, you're still confined to Amazon's site layout, which includes its navigation menus, search bar, and logo.

With a Shopify site, you can add as many images and text fields as you want with your own unique structure so that visitors are fully immersed in the world of your brand.
No selling fees. On Amazon, users are hit with a slew of seller fees that can equate to 30-40% of their sales revenue. On Shopify, all you'll pay is the monthly subscription cost and payment processing fees. While it does cost money to maintain your storefront, you get to keep a higher proportion of the proceeds from each sale you make.
Great 24/7 support. If you have any questions or issues with your Shopify store, you can contact their 24/7 support team via live chat or email. Shopify's support center has much quicker response times and offers better help than Amazon seller support.
App store. Shopify also has an app store, where users can browse apps that add functionality to their storefront. There's an app for practically anything, from order integration to sale countdown timers to product bundling tools.

You have full control. When you sell on a marketplace such as Amazon or eBay, you have to follow their strict terms of service, or you'll be at risk of losing your account. When you sell on your own ecommerce site hosted by Shopify, you have full control over everything.
Disadvantages of Shopify
Can be expensive. Shopify's Basic plan is pretty affordable, but subscription fees jump upward fairly quickly — the Advanced plan is $399/month, which may only make sense for large brands with brick-and-mortar outlets. On top of that, most apps are not free; some cost as much as a second subscription each month.
Limited free themes. There are only 12 free themes to choose from on Shopify. While some of them may work perfectly well for your store, they lack the advanced customization features that you'll find in some paid themes.
No custom email. While your store will be hosted by Shopify, it won't come with a custom email address for your business (i.e. [email protected]). Instead, you can have Shopify forward emails to your personal or business email address. If you want a custom business email, I suggest using Google Workspace – it is very easy to set up once you own a domain name for your store.
How to Sell on Shopify: 11 Steps for 2023
Step 1: Sign up for an account
Shopify will ask for some basic information to set up your account. Visit Shopify.com, enter your email, and click on "Start free trial."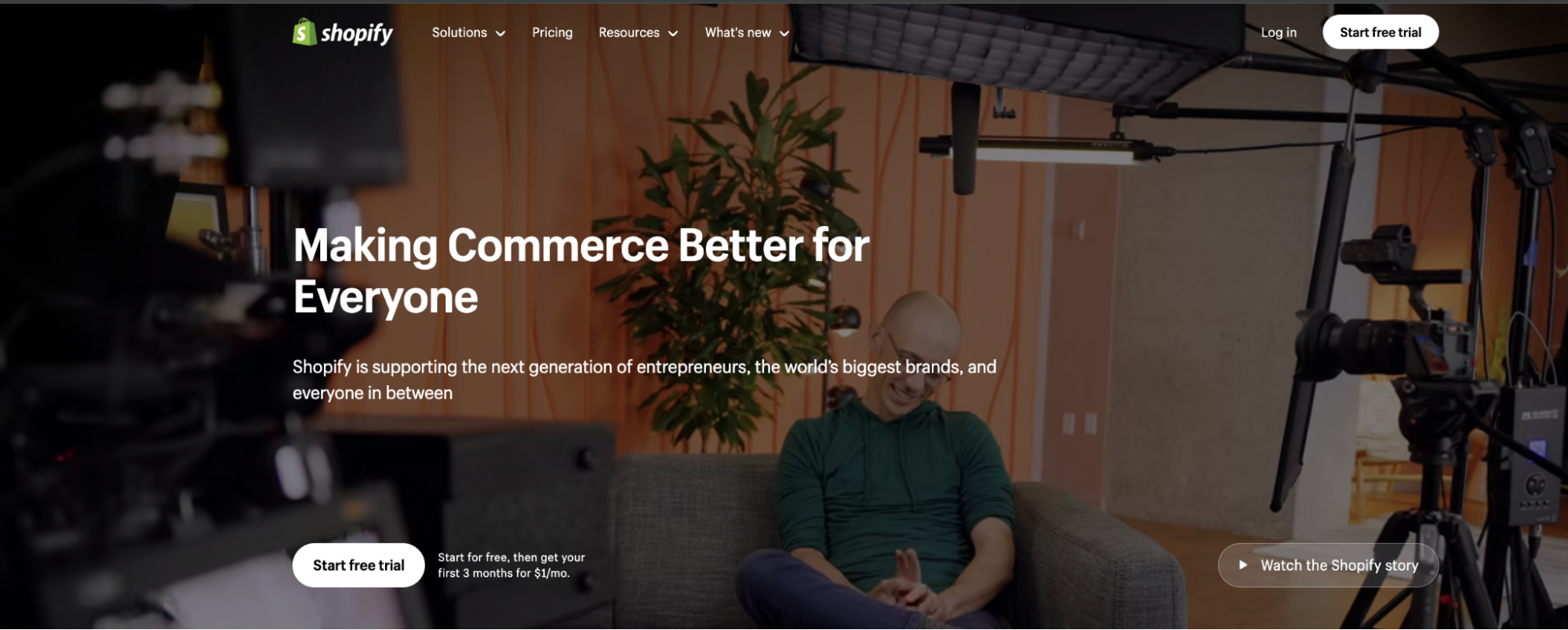 Next, Shopify will ask you a few questions about your business. You have the option to skip.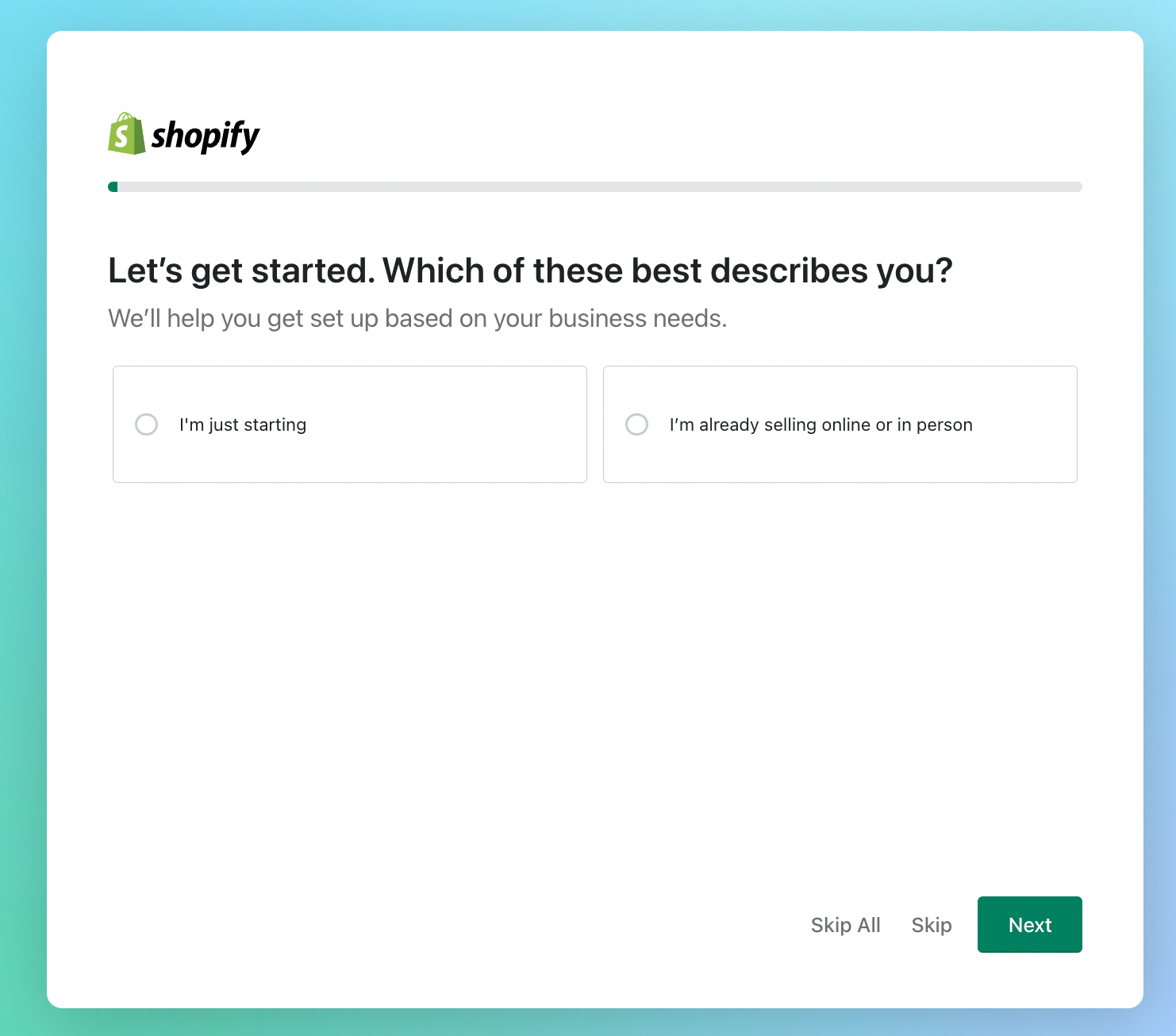 Next, create your Shopify ID.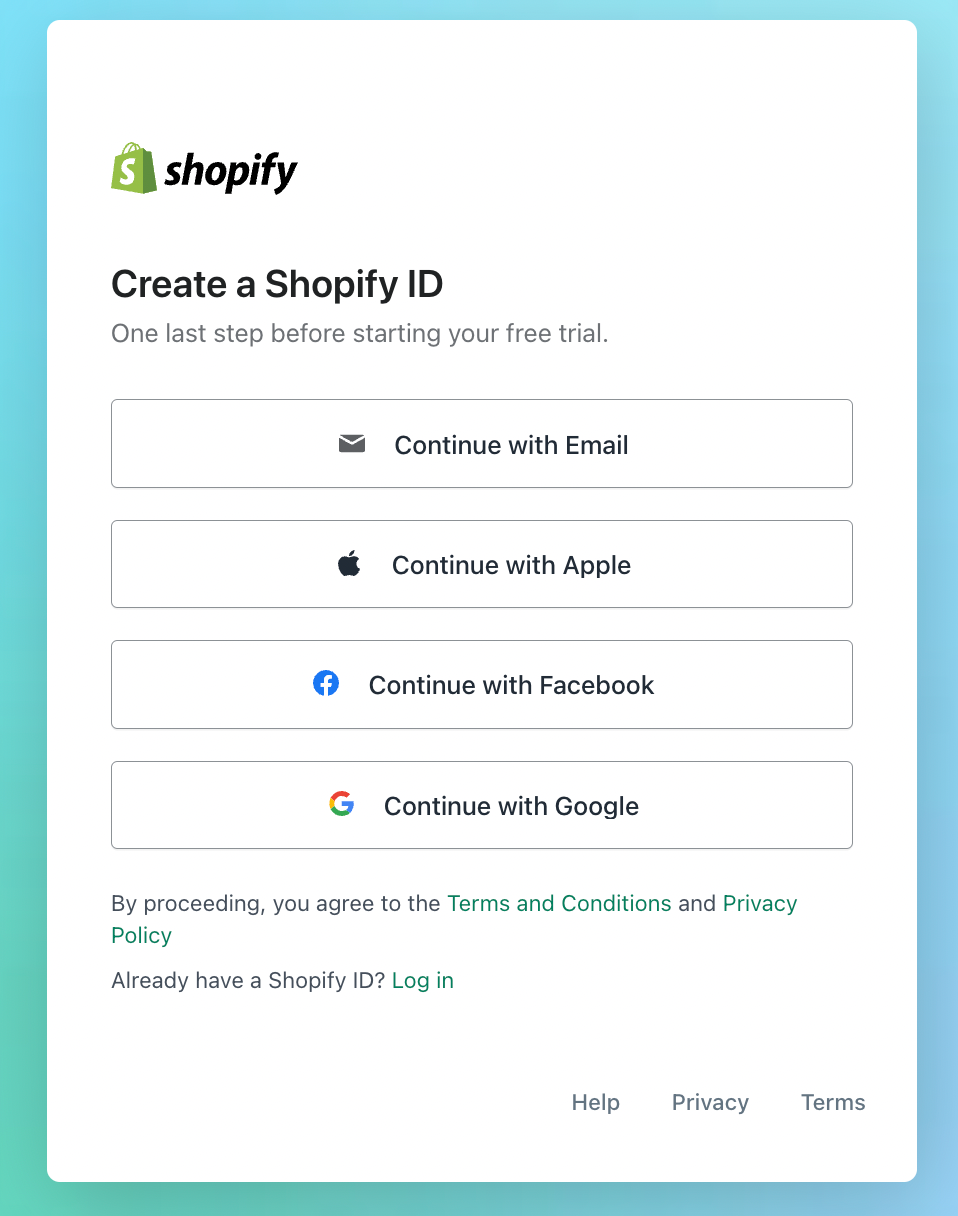 After that, your trial will start, and you will be taken to your new store where you will set everything up. To get to this point, you do not need to enter any credit card information. If you would like to Shopify up on their $1/month offer, you will need to choose a plan. For now, get your store set up.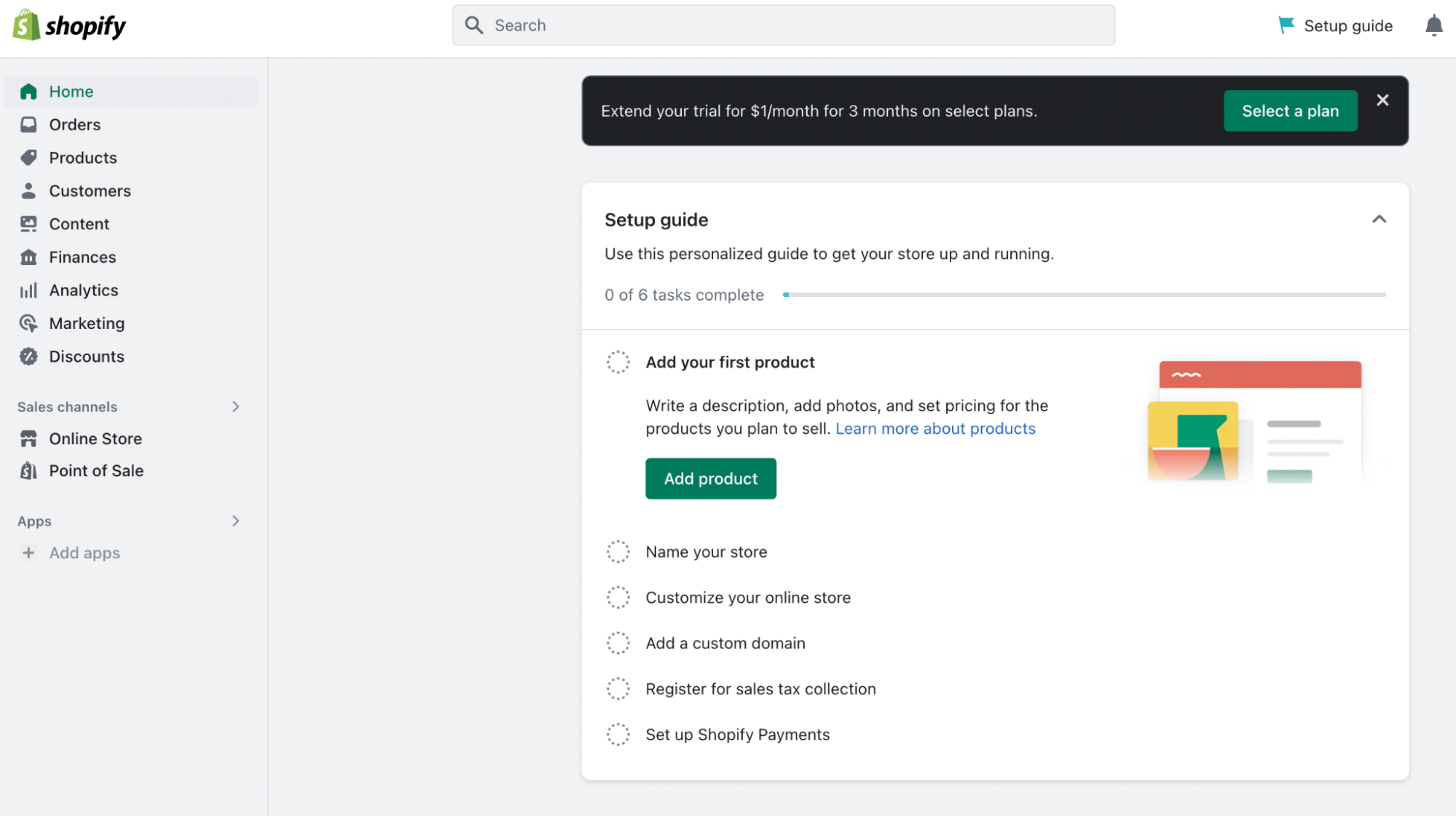 Now that you're on the homepage of your store, take a look around and start getting familiar with the platform.
Before adding any products or customization, we recommend getting all the boring stuff out of the way:
Naming your store
Connecting a domain
Setting up payments
Setting up your shipping settings
That way, once you add products and your own customizations, you'll be ready to go live and start selling.
Step 2: Add a domain name
The domain name is what customers will type into their browser to find your store. Examples of domains are Amazon.com, Shopify.com, Junglescout.com, etc. If you have your own brand already, then make your domain name your brand name.
Click "Add domain" in your Shopify dashboard.

You'll have a few options here.
You can keep the current "myshopify domain" given to you. Ex. jungle-scout-store.myshopify.com. This is not recommended, as it looks less professional than a domain without "myshopify" included.
Connect an existing domain you already own.
Transfer a domain you already own from your current domain registrar—making Shopify the "host" of the domain.
Buy a new domain from Shopify.
Sometimes, you may find your first choice of domain name is already taken — but that's ok! You'll just need to get creative.
If you need to connect or transfer your domain, Shopify will walk you through the steps necessary to do so. It can be a complicated process, so be patient! Each domain registrar (Bluehost, GoDaddy, HostGator, etc.) has different requirements, so your exact steps may vary.
For this section, let's assume you don't have a domain yet and buy a new one.
Click on "Buy new domain."
Next, enter the domain you want to purchase for your store. For this example, I entered "JStestsite" and here are the results.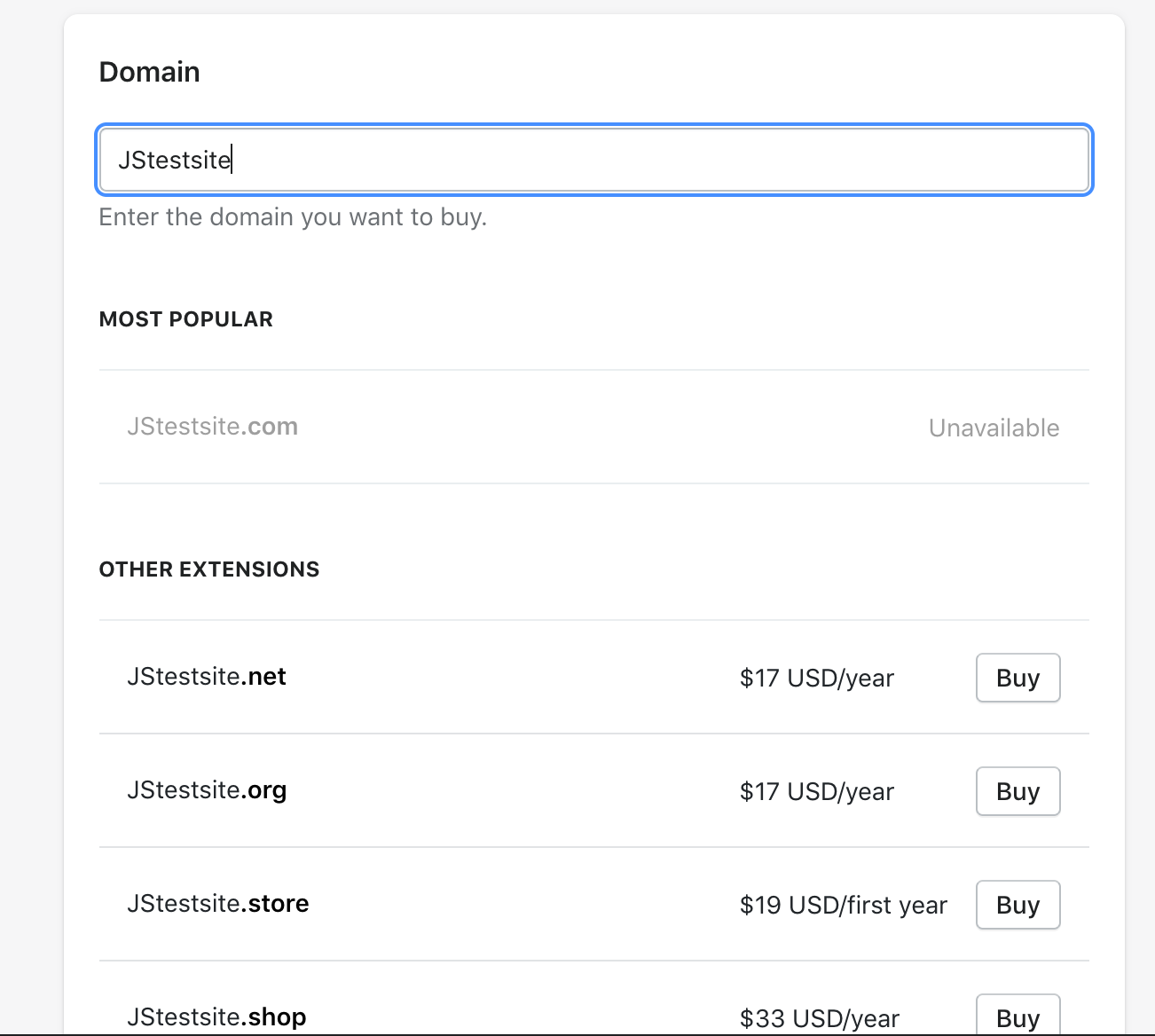 As you can see, JStestsite.com is unavailable. Well, now what?! That is the site name I wanted! Unfortunately, the only way to get your hands on that domain is to find its owner and try to buy it from them. But that's a whole other topic we won't get into right now.
Instead, take a look at the other available options Shopify will suggest for you. If none of them interest you, keep trying new search terms until something you like comes up.
Just as an example, I entered "JSteststore" instead and it was available!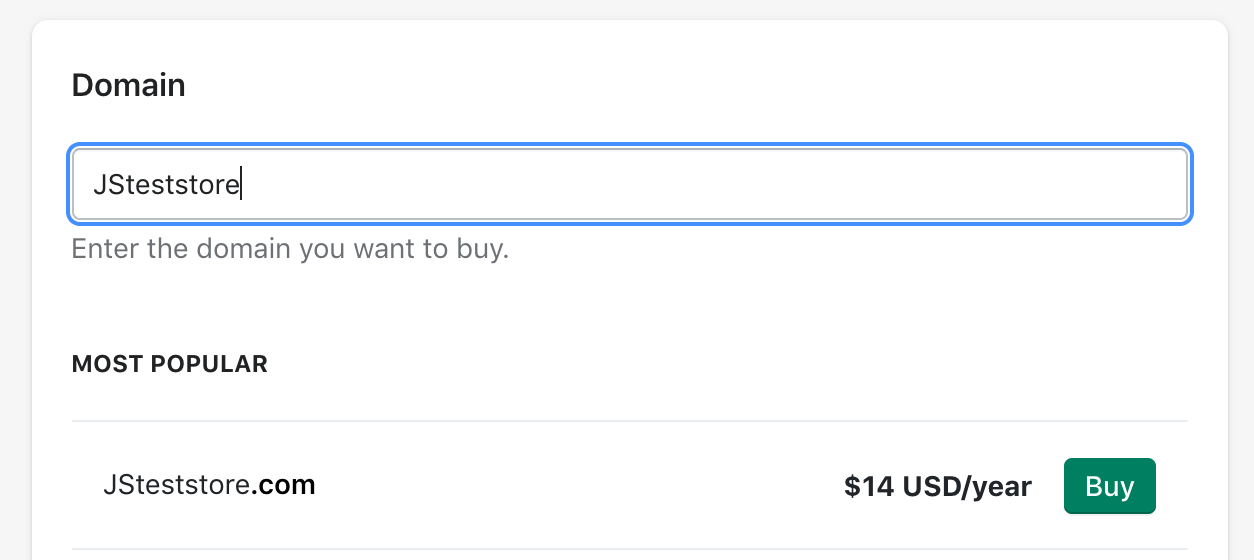 Once you find your desired domain name, click on "Buy" to continue.
Some tips on coming up with a domain name:
Keep it short. You want your customers to easily remember your URL. There's a good chance no one will remember something like "brianssuperawesomeclothingstore.net", so make it "briansclothing.com" instead
Make it easy to spell. Also, avoid repeating neighboring letters, like the two s's in "brianssuper" in the example above
Try to use a .com address. Shopify will suggest .net or .org options, but .com extensions are the easiest to remember
Next, you'll be prompted to enter your payment information before moving forward.
Once your payment information is entered, review your domain order summary and click "Buy domain."
Now you will have your very own custom website name for your store!
Step 3: Complete payment and account setup
Now you need to establish your method of getting paid for your Shopify orders.
On the homepage, go to "Set up Shopify payments."

There are a few ways you can accept payment on your website: Shopify Payments, Paypal Express Payments, Amazon Pay, or another third-party provider that you can choose from in Shopify. You can offer multiple payment options for your customers' convenience.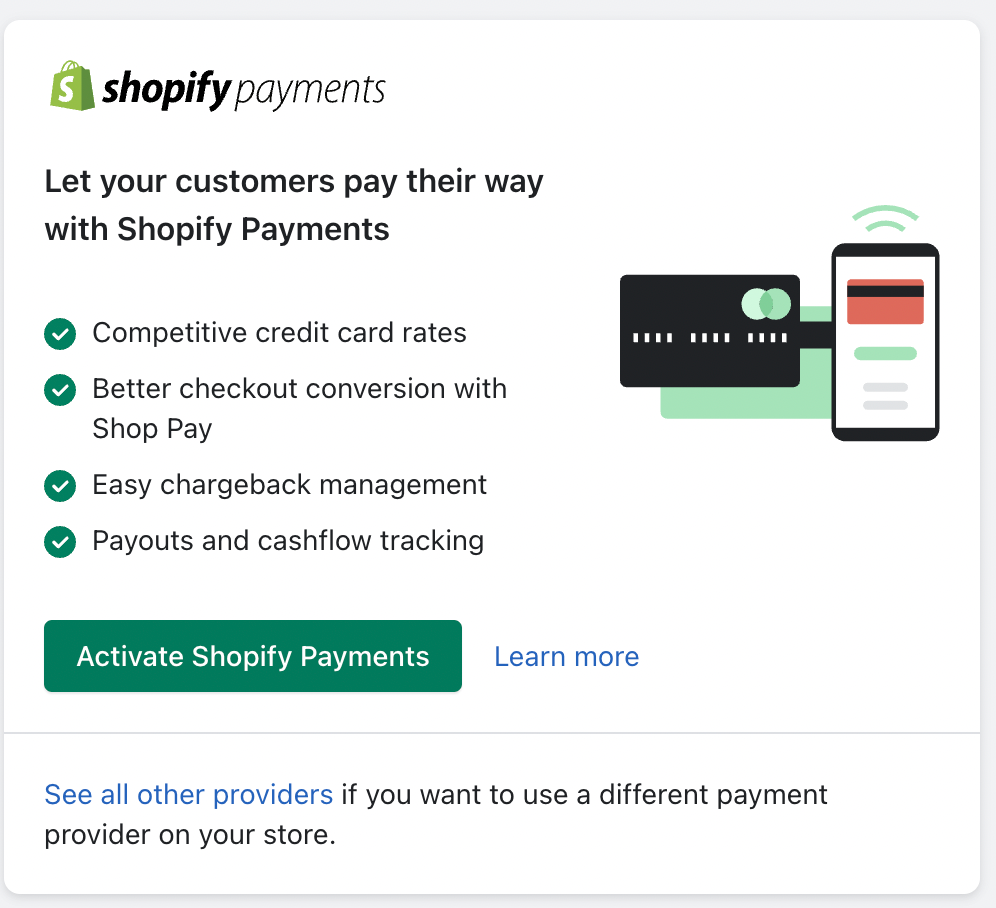 Once you've picked your payment methods, click on "Activate Shopify Payments."
This is where you will enter your business details such as EIN, business type, address, SSN, customer billing statement, and banking information.
Fill in all of the required fields so you can ensure you are paid correctly.
If you wish, set up your Paypal and Amazon Pay payment options. We recommend at least setting up Paypal Payments, as it gives customers a recognizably secure payment option.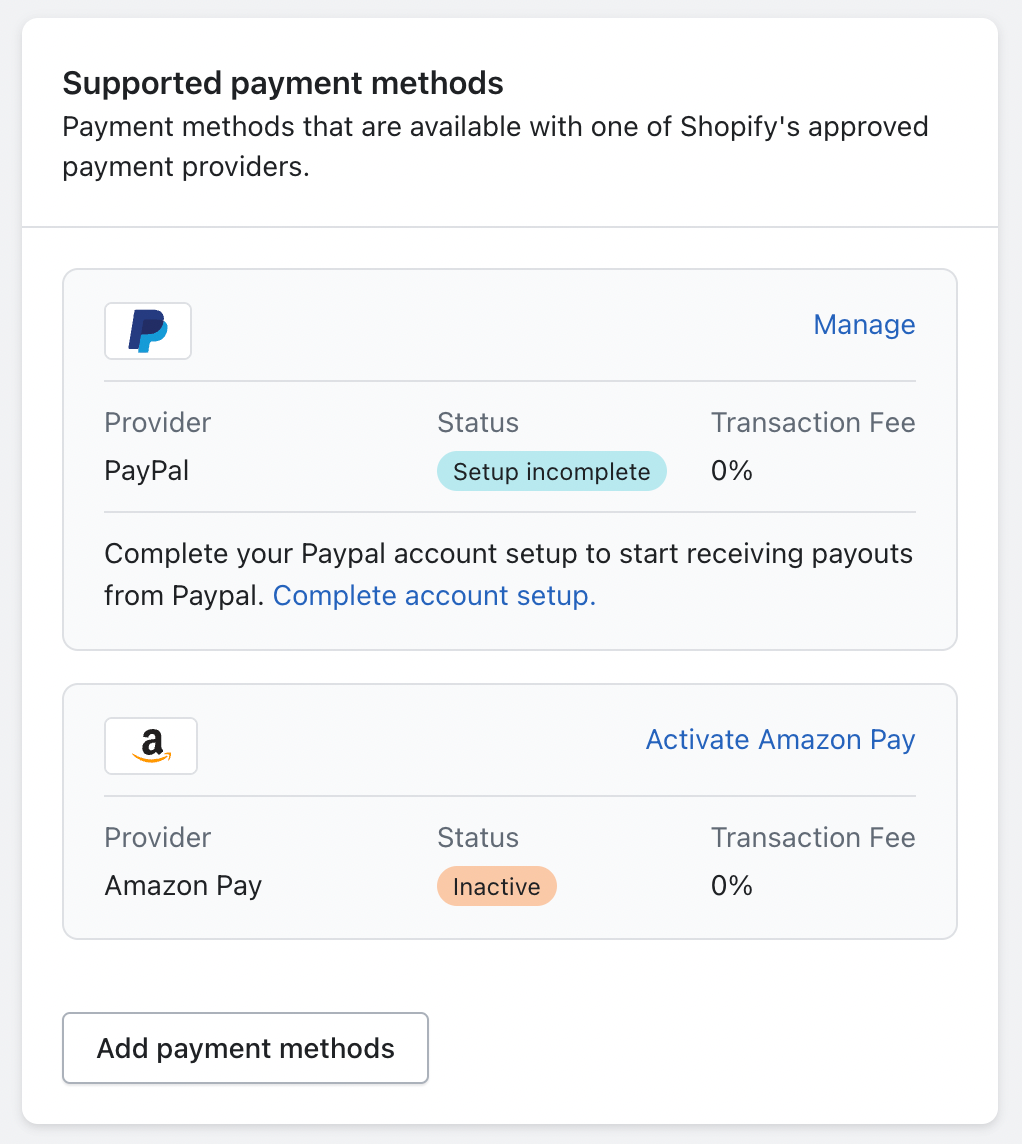 After you complete these steps, your store will be set to accept payments!
Step 4: Register for sales tax collection
If your business is based in the US, you may be liable for sales taxes in the state where your store is based.

Before you can turn on sales tax collection in Shopify, you must register with your state first. If you are unsure if you need to collect sales tax in your state, please contact a tax professional to help you get set up with a sales tax ID.
When you have that figured out with a professional, turn on tax collection in Shopify.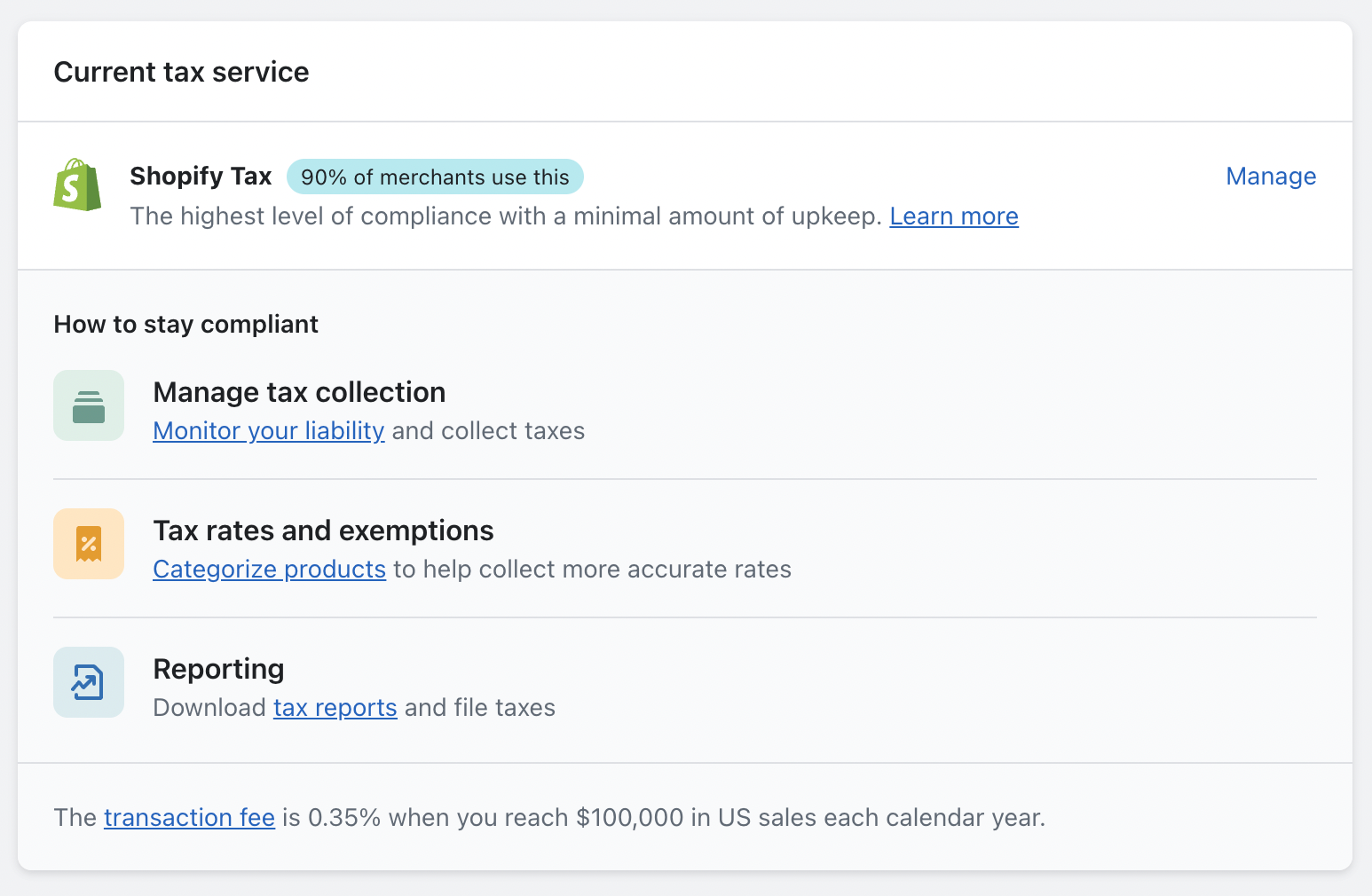 Step 5: Shipping settings
This step is very important, as you need to be sure you're offering the best rates and shipping options for your customers.
To set up your shipping information, go to "Settings" in the bottom left corner and click "Shipping and Delivery."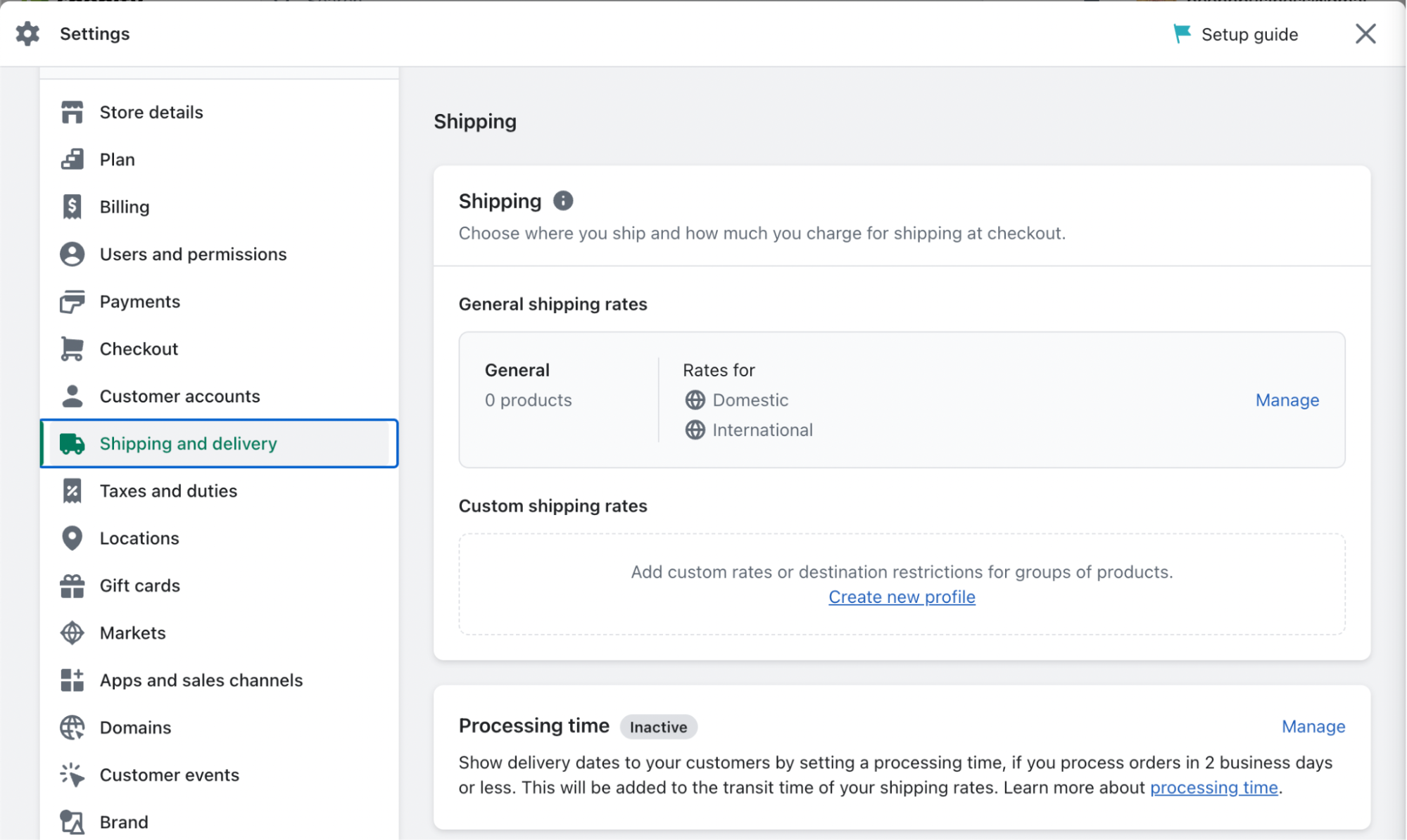 Here, you can enter the address you're shipping from and select your desired shipping speeds, rates, and the carriers you'd like to use.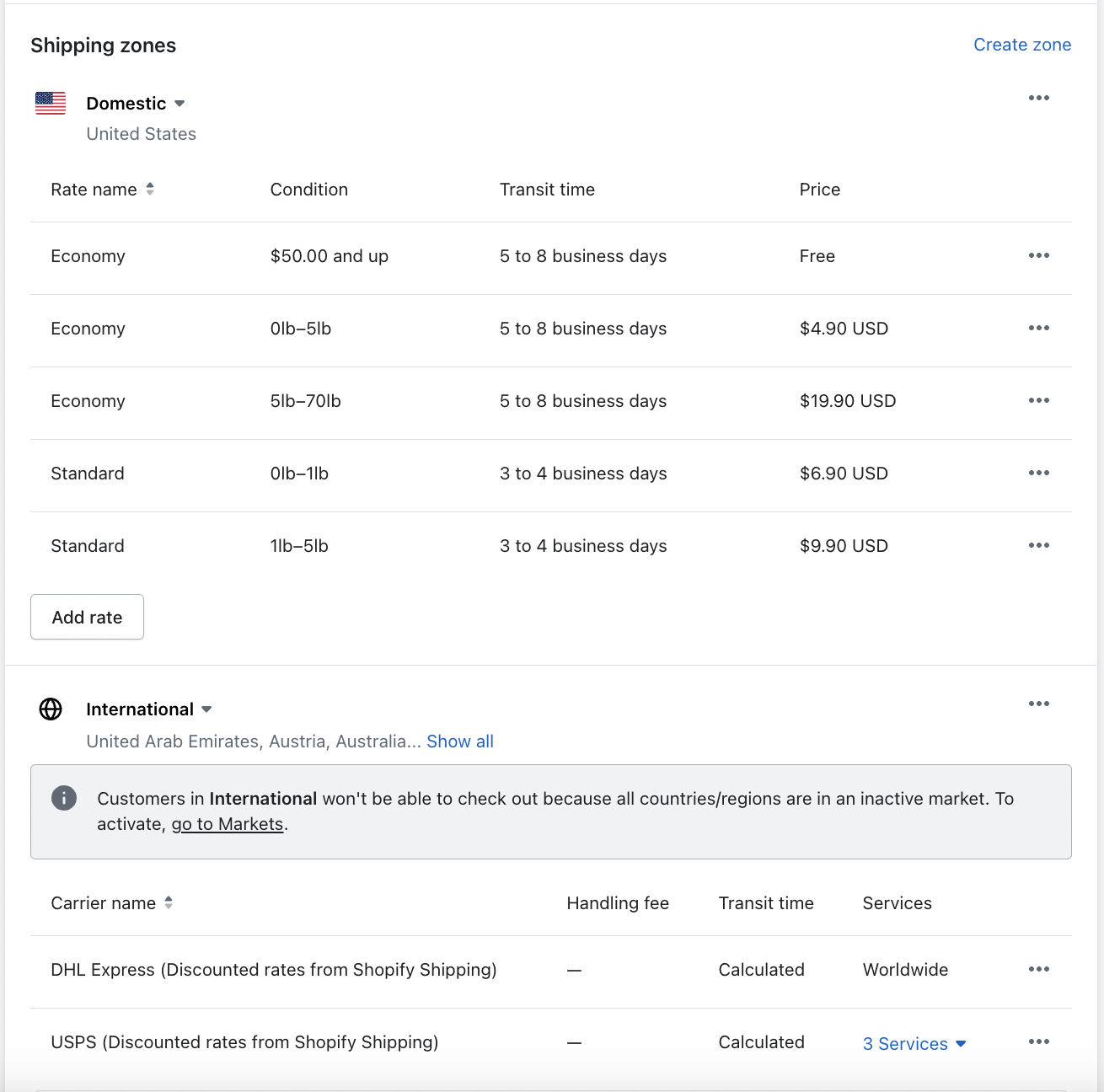 You can easily add, edit, or remove any rates that are currently set up in your account based on your product's size and/or weight. Unlike with Amazon and Walmart Marketplace, you can easily offer worldwide shipping on your store! This allows you to market to a much wider audience.
Another cool thing about Shopify is that you can fulfill your orders using a third-party fulfillment center. If you're already using a 3PL, you can easily connect that company to your store.

You can even use FBA to fulfill your Shopify orders. For a more in-depth guide on how to set that up, check out our article on How to Integrate Amazon FBA with Shopify.
This is a great option if you already have an existing Amazon business with inventory stored in an FBA fulfillment center.
Step 6: Start designing your store
Now that you've gotten all that out of the way, let's get to the exciting part — building and designing your online store!
On the homepage click on "Customize theme."

Your store will come with a default theme called "Dawn." You can choose to customize this theme or search for a new one that better suits your brand and products.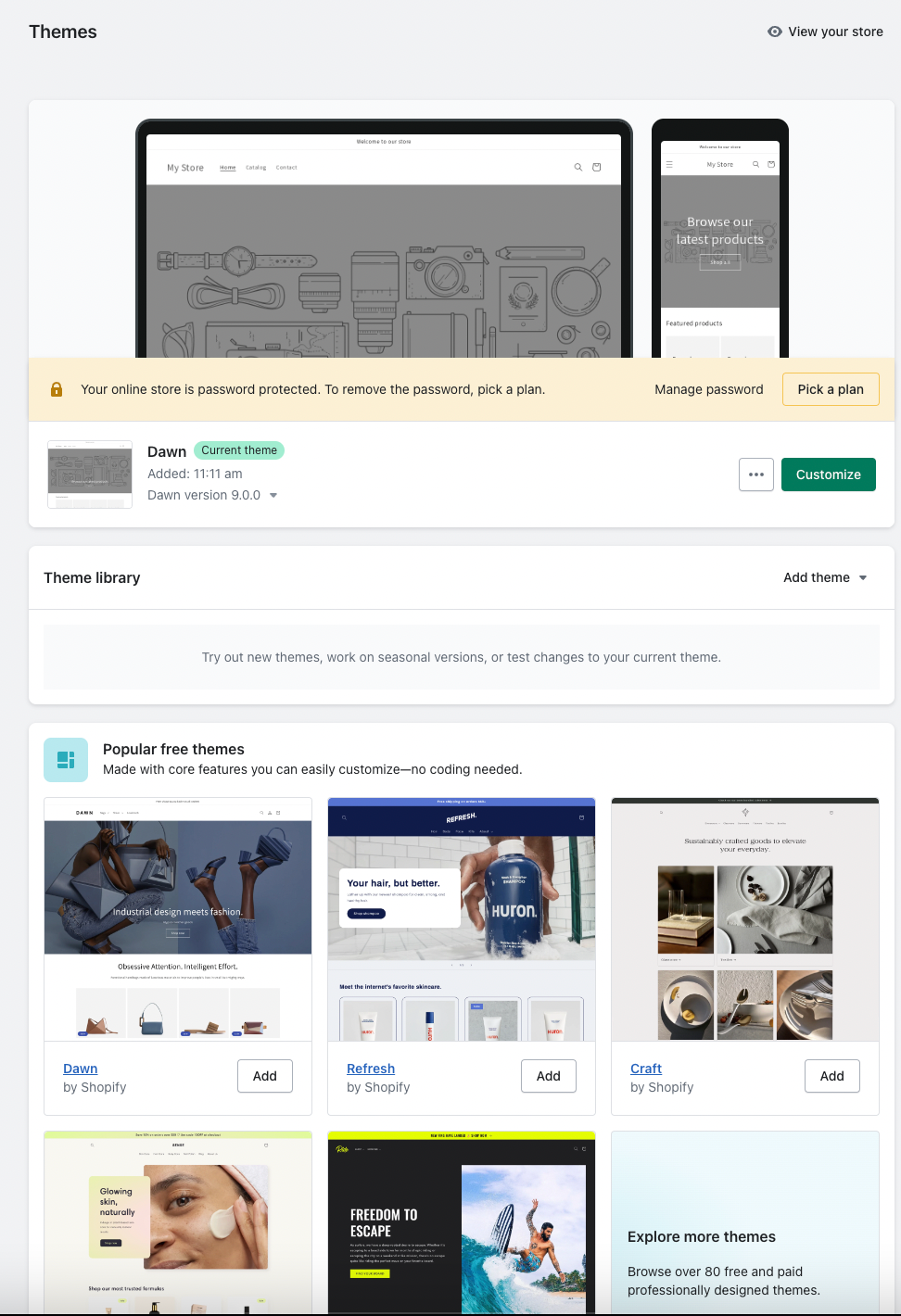 Shopify offers a free theme library or the option to purchase a premium theme for your store. We recommend taking some time to search through other themes to find exactly what you're looking for.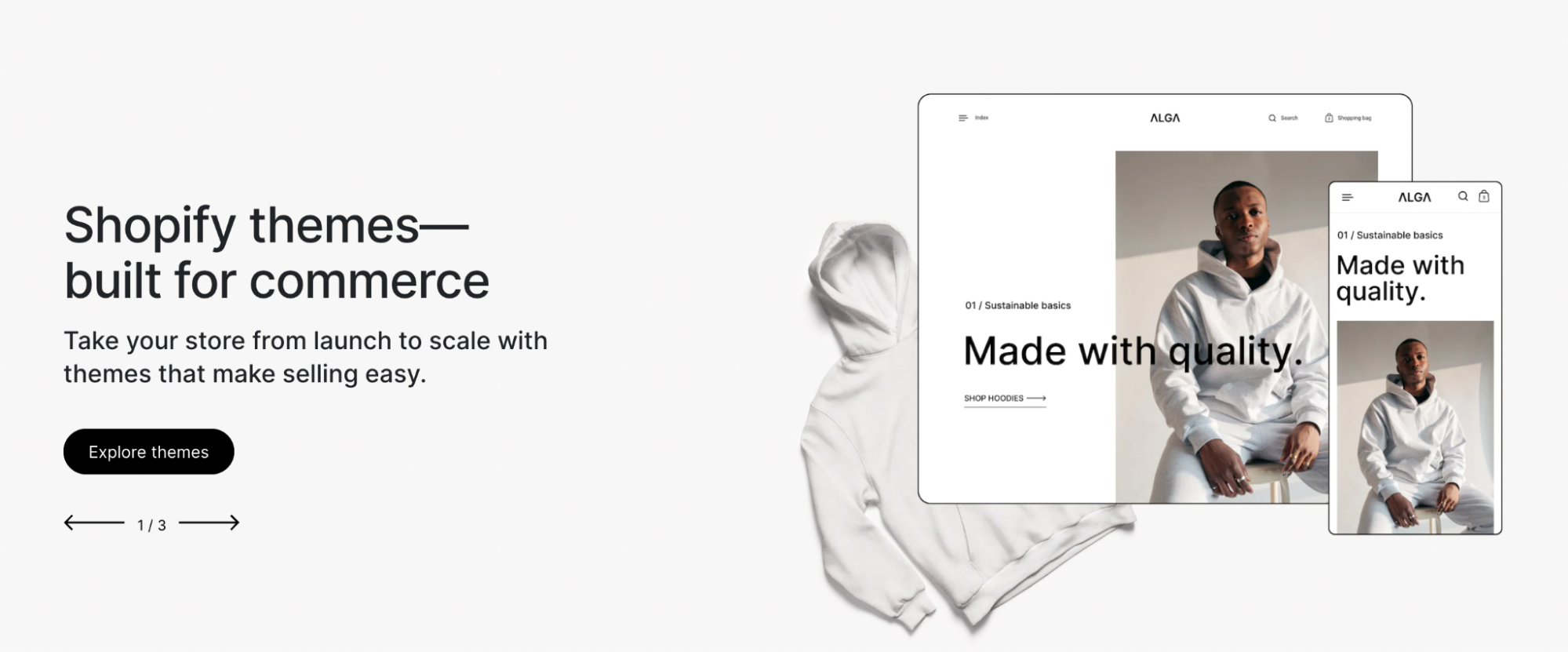 While the premium themes may offer more features and functionality, like home page videos, slideshows, and multi-level menus, there are plenty of great free themes to get you started. Take a look around to look for features that are important to you.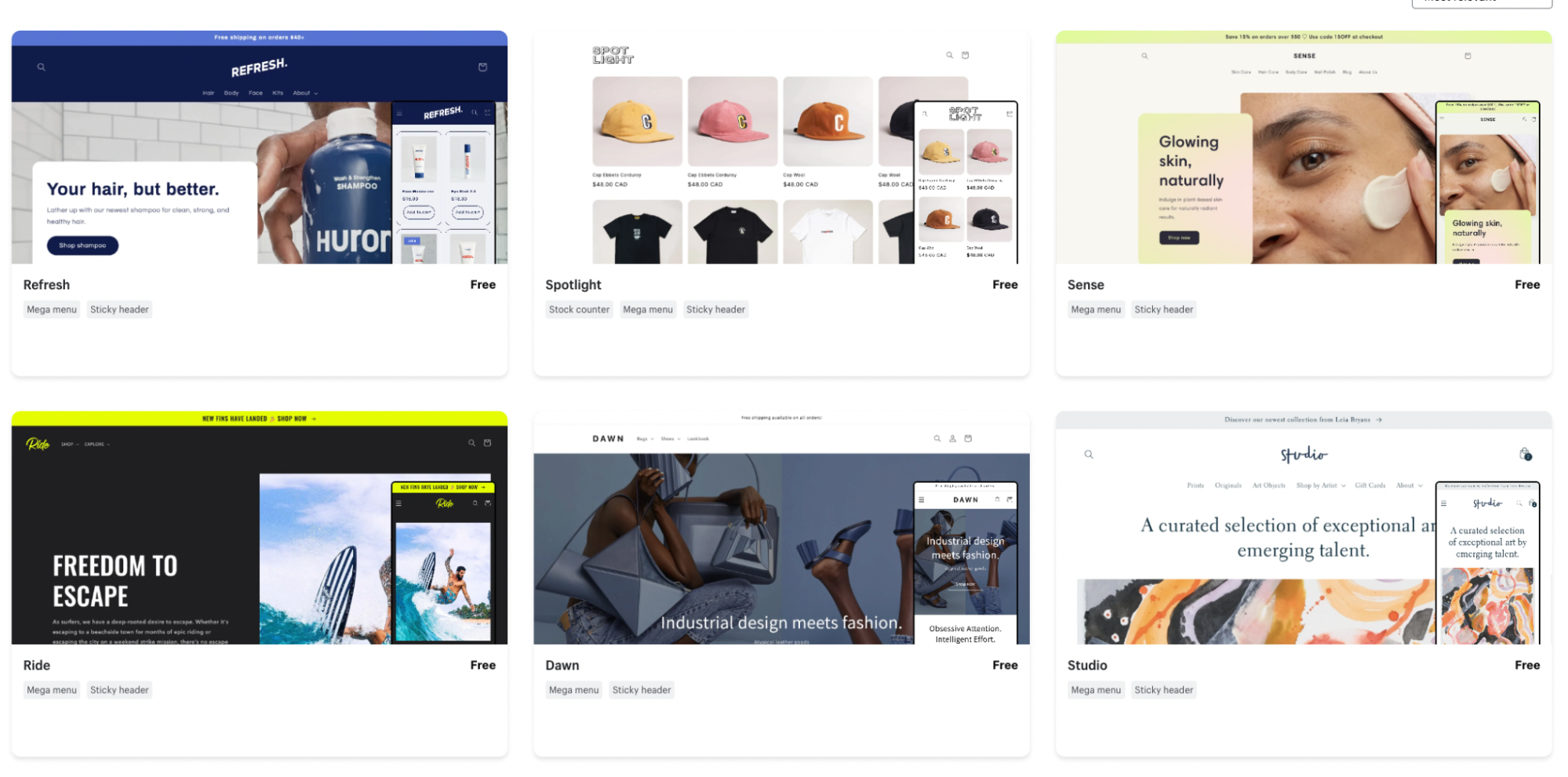 You can also browse themes tailored to your specific niche or industry.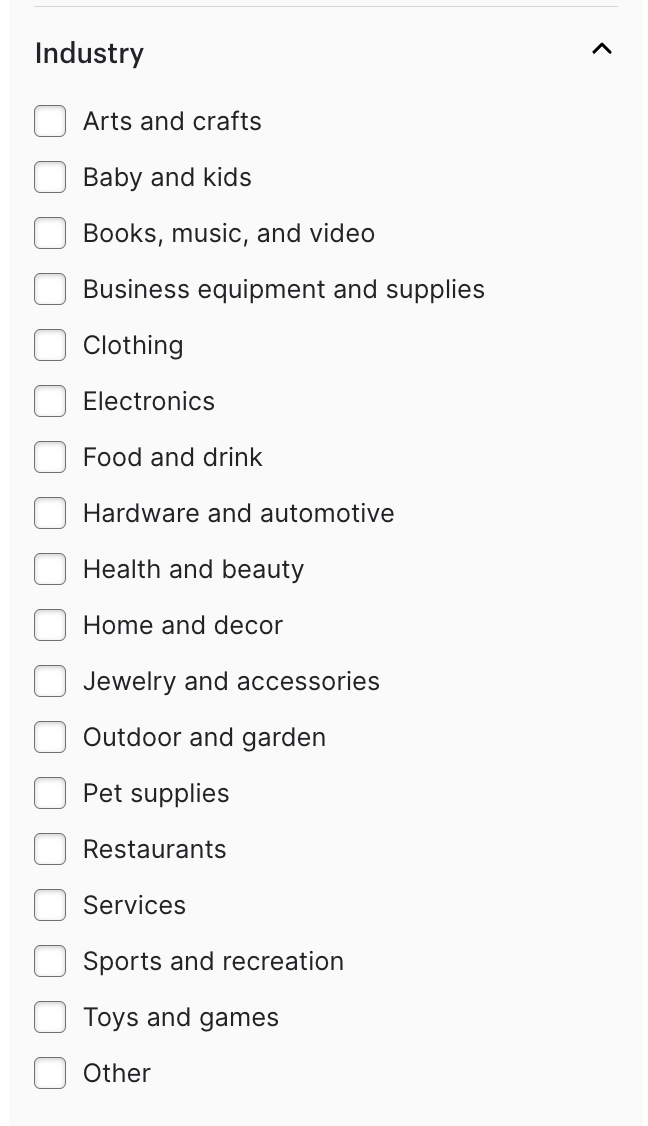 Once you find a theme you love, click on "Customize" to begin editing your storefront.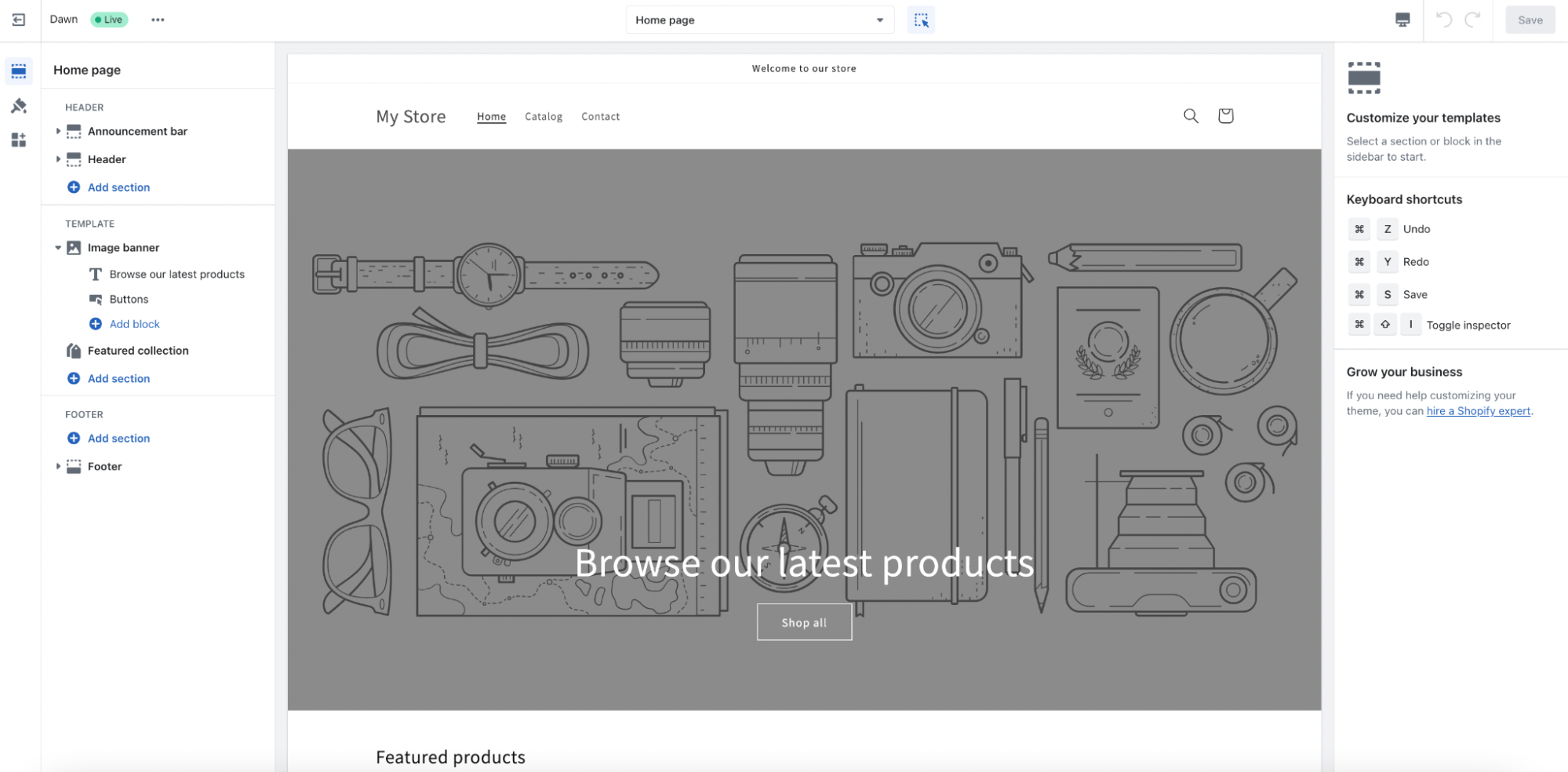 The editor may take some getting used to, so just be patient!
Create great imagery
Great images and infographics are extremely important for your Amazon listings or Amazon Store, and the same goes for your Shopify store. You want to be sure your website really stands out from others in your niche.
Eye-popping images, large, high-definition banner graphics, and high-quality product photography each help your sales.
Don't worry if you're not a pro at graphic design! There are many talented freelancers and designers out there to help make your store look its best. Visit freelancer websites such as Fiverr to find talented graphic designers.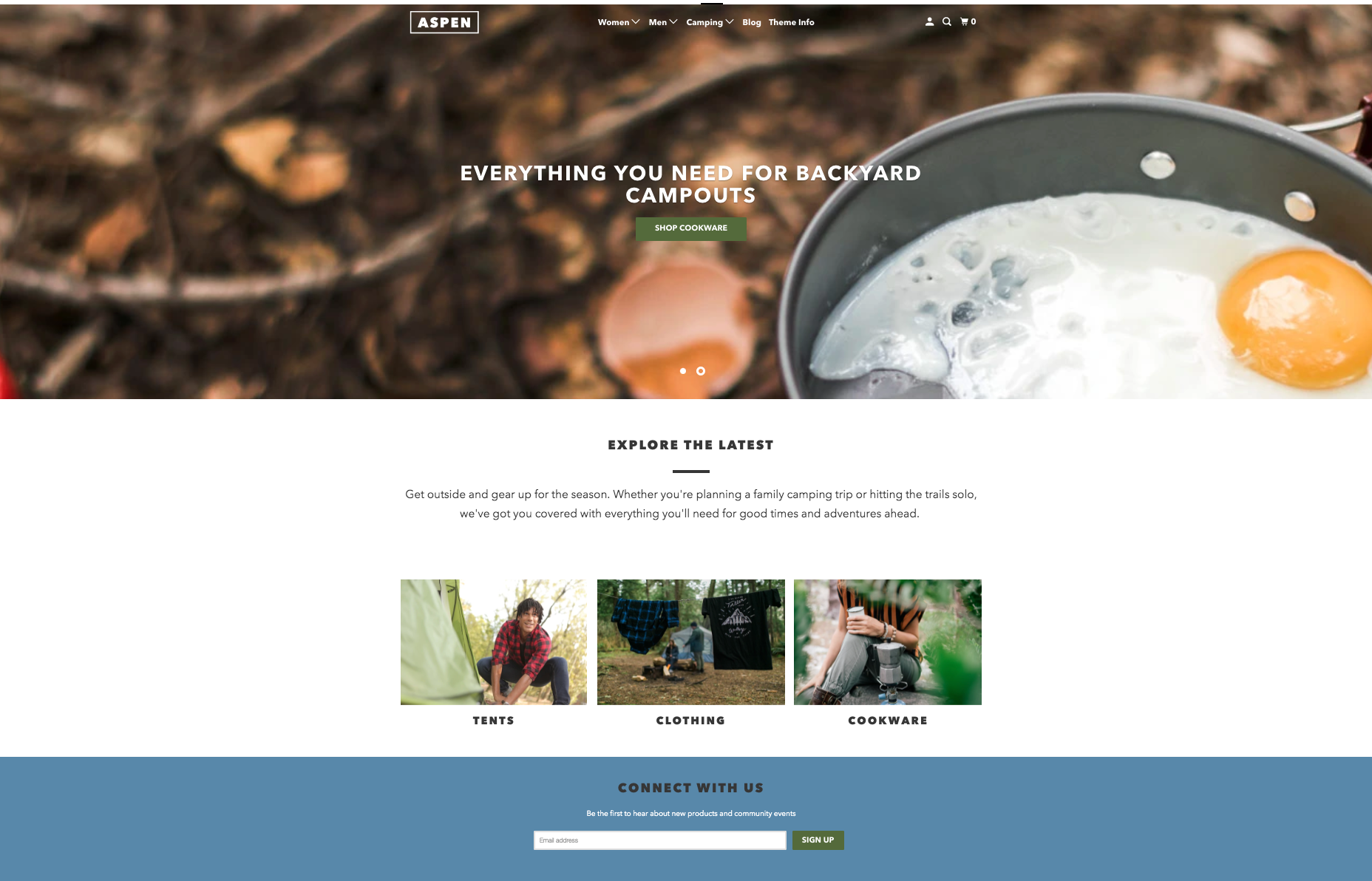 Make sure you preview how your store looks on both desktop and mobile to make sure your theme works for both formats.
On the homepage under "Online Store," you will also be able to add custom pages to your ecommerce store such as an About Us page or Contact Us page. On top of that, you can edit your site navigation.
The Shopify help center has plenty of guides you can follow if any part of this process becomes difficult.
Now that you have your store designed, let's start adding some products!
Step 7: Adding products to your Shopify store
Go back to your homepage and look for the "Products" tab on the left-hand side of your screen.

Click "Add product."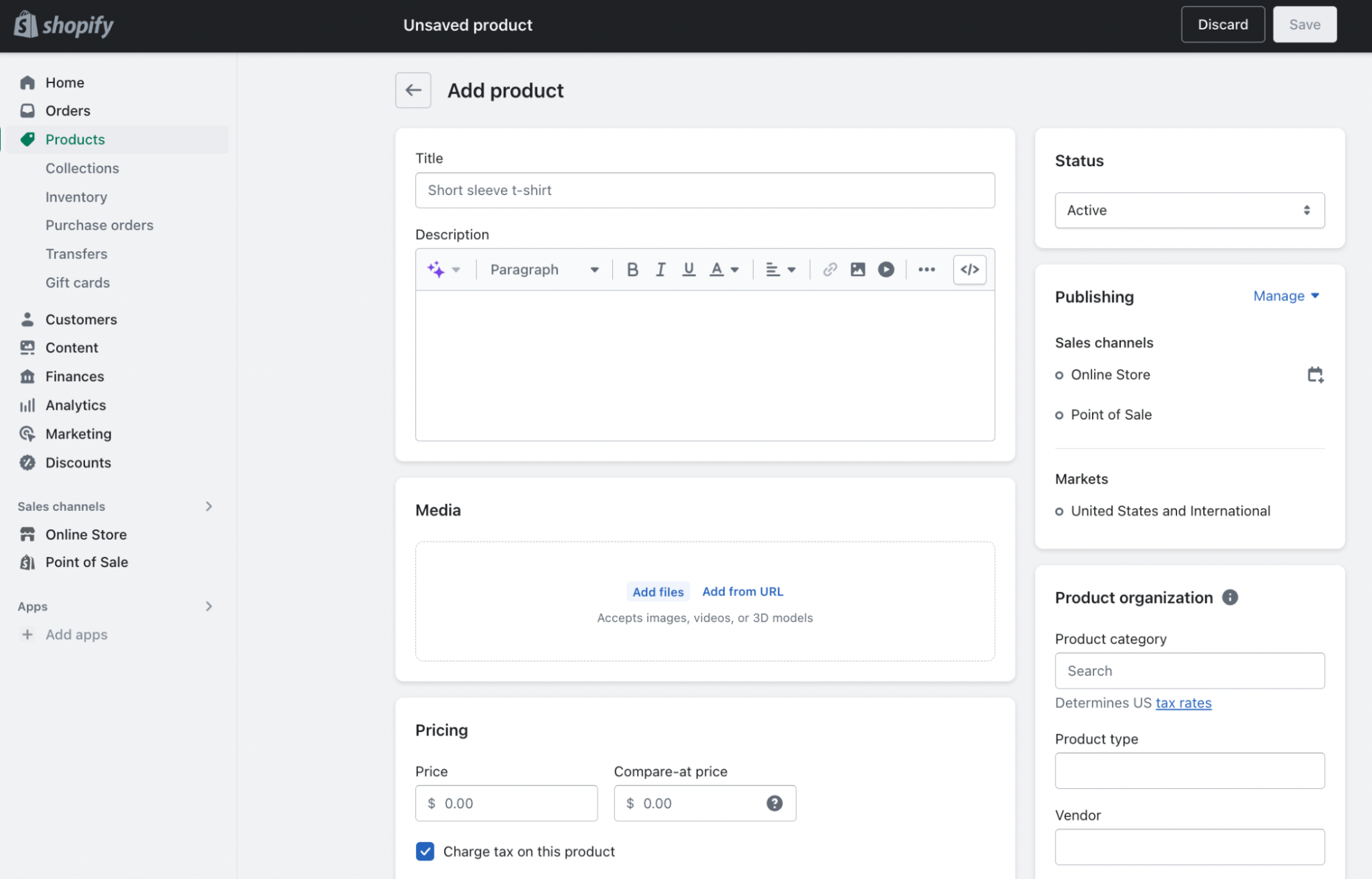 You will be brought to the product builder page where you can manually enter information for one product at a time. Fill in the product title, description, images, quantity, pricing, and any variations in color and size.
Once all of your information is entered, click "Save" in the top right corner.
Listing optimization is another important aspect of selling on both Amazon and Shopify. You need to be sure to include relevant keywords, compelling descriptions, and high-quality images in order to increase your conversion rate.
If you're also an Amazon seller and have access to Jungle Scout, use our Listing Builder with AI Assist to help write your product listing. Once complete, you can simply copy and paste your title and description over to Shopify.
How to find products to sell on Shopify
While our Keyword Scout tool is specifically designed for Amazon keyword research, you can still find highly searched keywords to use within your Shopify descriptions. Customers tend to use the same or similar terms on Amazon as they do on other ecommerce platforms, search engines, and social media channels.
You may also use the Google Keyword Planner, which is free to use if you have a Google account.
If you have a large catalog of products and don't have the time to manually enter them one by one, you can choose to bulk upload products by importing a CSV file.
Step 8: Fulfilling orders
Unless you are using a 3PL or FBA to ship your orders, you will need to fulfill the orders for your customers yourself.
When an order is placed on your website, it will then go into your "Orders" section and will be marked as Unfulfilled.
Click on each order and you will see the products ordered, the customer's shipping information, and the ability to purchase and print a shipping label right in Shopify based on the shipping option they chose.
Once the shipping label is purchased, you can mark the order as "Fulfilled" and ship the package to your customer!

The order and tracking information will be automatically sent to your customer.
If you are using the drop shipping method on Shopify, you can use a dropshipping app to help fulfill your orders from suppliers.
Step 9: Use Shopify apps to grow your business
Another cool thing about using Shopify is that they offer an app store where you can find many useful tools to help grow your business on the platform. There's an app for everything from email marketing, to upselling prompts, Facebook ad manager, dropshipping, print-on-demand integrations, SEO optimizers, and much more.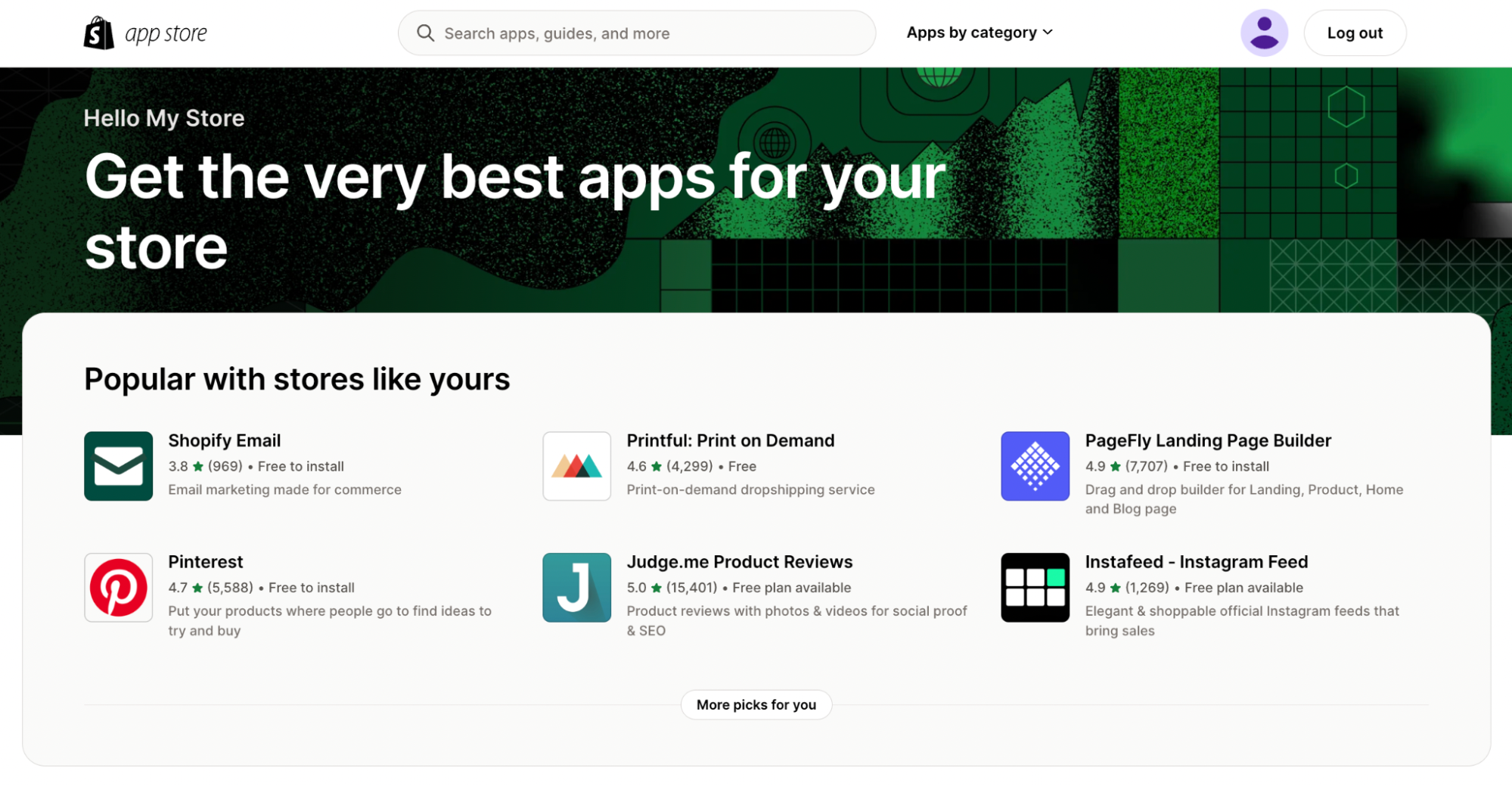 Take a look around to find tools that will be useful for your business.
Step 10: Advertise your online store
While creating and building your own ecommerce store is great, if you don't have any traffic, then, well, you won't receive any sales.
As mentioned above, you can use Shopify apps to market your products and drive qualified traffic to your store. But there are plenty of other ways to do that.
Ways to market your Shopify store
Here are a few strategies for marketing your Shopify store.
Social media
Social media is an incredible way to market and showcase your products to the world — one third of U.S. consumers begin their product searches on social media channels like Facebook and YouTube, and over half have purchased something they found because of social media.
Even TikTok is now responsible for driving traffic and sales for many products. Work on building a loyal following and creating share-worthy content, and remember to include your Shopify store URL in your bio so customers can easily shop your brand.
Influencers
Like it or not, influencer marketing is stronger than ever. Look for social media accounts or "influencers" that are in your specific niche or industry. The more targeted the influencer's content, the better — the traffic they generate is more likely to convert than a broader audience. For example, if you're selling makeup, look for beauty influencers on Instagram by searching for accounts that post about products similar to yours.
Facebook ads
Facebook ads are a powerful marketing tool that should be used by all ecommerce entrepreneurs. You are able to target very specific audiences that would potentially be interested in your product or brand. With Facebook ads, you can also create ads for Instagram.
Youtube ads
We've all seen them — the short previews that play before the video you're trying to watch. While they may be annoying for some, they work. If you have fun and engaging product video clips, turn them into YouTube ads.
Google ads
Google ads are another great way to target specific audiences that may be interested in your products. Similar to Amazon advertising, you can target specific keywords customers are searching for.
Email marketing
If you have an email list, this is a great way to sell to past customers.
In marketing speak, email list contacts are considered "warm leads" because they've already had an interaction with your brand. They're therefore more likely to purchase from you again than "cold leads," or customers who have never seen your brand before.
Somewhere in your storefront, you should include an email list sign-up field where customers can opt-in to get emails from you about future sales, new products, or brand news you may want to share.
Step 11: Keep an eye on your analytics
It is important to know how well your store is performing, so you can make adjustments to increase your traffic and sales. Shopify provides its users with powerful analytics that showcase metrics such as:
Total sales
Sessions
Returning customer rate
Conversion rate
Average order value
Traffic sources
Top visited pages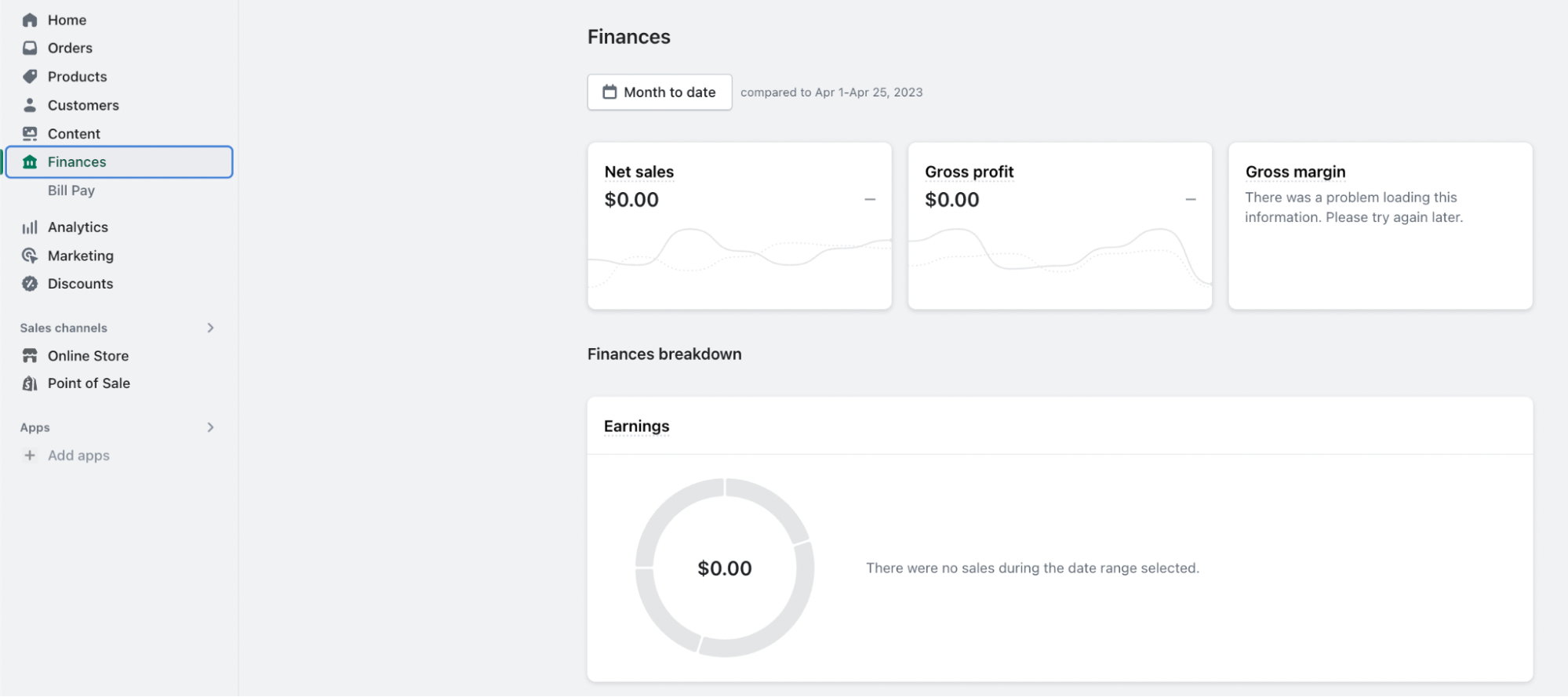 The average conversion rate for an ecommerce website is around 1-3%—much lower than you would expect for your Amazon listings.
This is because customers go to Amazon with the specific intent to shop, whereas your Shopify visitors may not be primed to buy something when they arrive at your storefront. They may have been sent by an ad, email, or social media post, and could just be looking around out of curiosity.
This is why it is very important to pay attention to your store's analytics so you can figure out what may be the issue. If you have tons of visitors viewing your product pages but are not converting, then there's something going on.
You may be targeting the wrong audience with your ads, your price may be too high, shipping speeds too slow, your listing images or descriptions may fail to convince the visitor to make a purchase, or some other reason.
If your traffic is very low but conversions are high, work on generating additional traffic sources through social media or advertising.
Sell on Shopify today
Don't rely on just one marketplace to grow your brand — branch out and create your own ecommerce website. Shopify is a great place for beginners and experts alike to create a custom online store your customers will love.
We hope this step-by-step guide will help you set your Shopify store up for your brand. Have any more questions about Shopify or setting up your account? Let us know in the comments below!
Explore new product opportunities with Jungle Scout and start making money on Amazon and Shopify!
Brian Connolly is an Amazon seller, ecommerce expert, and writer for Jungle Scout. He lives in the New Jersey Shore area with his wife and cat. When he isn't writing advice online for aspiring and experienced Amazon sellers for Jungle Scout, he spends his free time boating, fishing, and selling boating-themed items on his Amazon business.