FOR FANS OF ECOMCREW
Buy Jungle Scout & Get EcomCrew's Import from China Like a Pro Course FREE [$1385 value]
Get all the benefits of Jungle Scout plus unmatched training with your annual subscription
Save 65% today!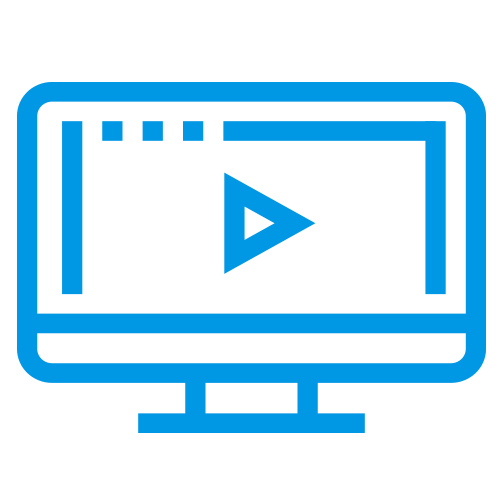 22 Video Lessons
Get immediate access to hours of videos that walk you through every step of the way.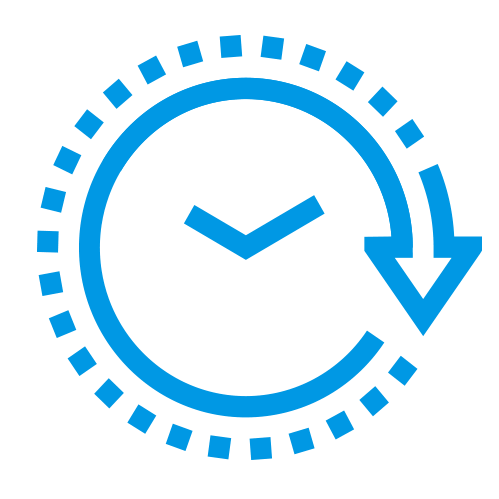 70+ Page Materials
Download our free written course material and eBook instantly.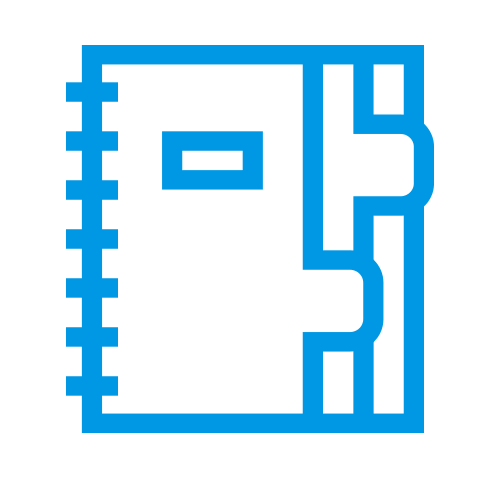 Vetted Vendors List
Get access to our exclusive rolodex of 3PLs, Freight Forwarders, & more.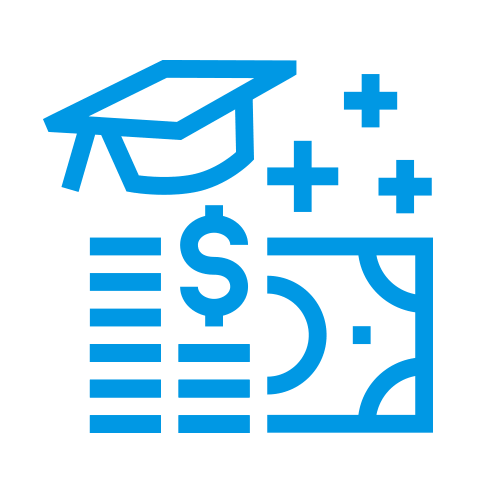 Learn & Save
Save on the most powerful suite of seller tools & industry-leading education.

Module 1
Product Sourcing
1.1 Batch Product Development
1.2 Why China Creates Low Quality Products
1.3 How to Avoid Low Quality Products
1.4 Secrets to Performing a Third Party Inspection the Right Way
1.5 Government Regulated Products
1.6 Protecting Your Brand In China
1.7 Developing Killer Packaging


Module 2
Finding Great Suppliers
2.1 How Much to Order?
2.2 The "Manufacturer Spectrum"
2.3 The Golden Areas of China
2.4 Alibaba, Aliexpress, and 1688.com
2.5 Secrets to Chinese Trade Shows
2.6 Tips to Using Import Records
2.7 Negotiating and Pricing in China
2.8 First Order & Sample Negotiation
2.9 Negotiating on Re-orders
Module 3
Shipping & Logistics
3.1 Optimizing Shipping Costs to US
3.2 Mastering Size Tiers on Amazon
3.3 How to Ship into 1 Container
3.4 Shipping to 1 Fulfillment Center
3.4B Enrolling & Using Amazon Global Logistics
3.5 Duties & Taxes Overview
3.6 Minimizing Your Duties
Save 65% on this Exclusive Offer
Jungle Scout is the most accurate and #1 rated all-in-one Amazon seller software. ($588)
Import from China like a Pro with EcomCrew's step-by-step online course. ($797)
Explore the most powerful software suite to kickstart & grow your Amazon FBA business

Discover Products
Access real sales data from Amazon's product catalog and track them to find winning products or niches.

Find Suppliers
Source your products with legitimate global suppliers used by the world's best brands to bring your product ideas to life.

Explore Keywords
Optimize your listings & PPC with the most accurate and comprehensive Amazon keyword research tool on the market.

Monitor Sales
Your financial command center. See your ROI, units sold, revenue, net, costs and more in a simple, actionable dashboard.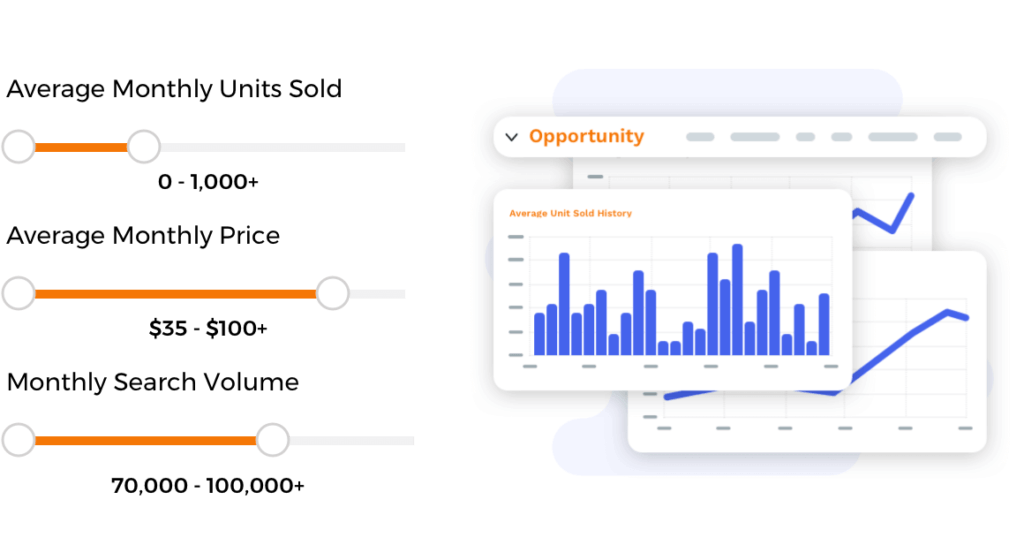 Opportunity Finder
Uncover Niche Product Ideas
Looking for a product to sell? Opportunity Finder is your idea-finding machine. Leveraging keyword search data, you'll find amazing opportunities based on hot niches customers are looking for.
Find cool, high-value product ideas fast
View sales over time and determine seasonality
Get an Opportunity Score for the niche you're exploring
Learn More
Extension
Explore Opportunities on Amazon
One-click product research data while searching Amazon from your Chrome browser. Access real sales data from Amazon's product catalog and track them to find winning products or niches.
Instant Amazon product sales & revenue data
Track product performance to analyze trends
Discover competitive & market intelligence data
Learn More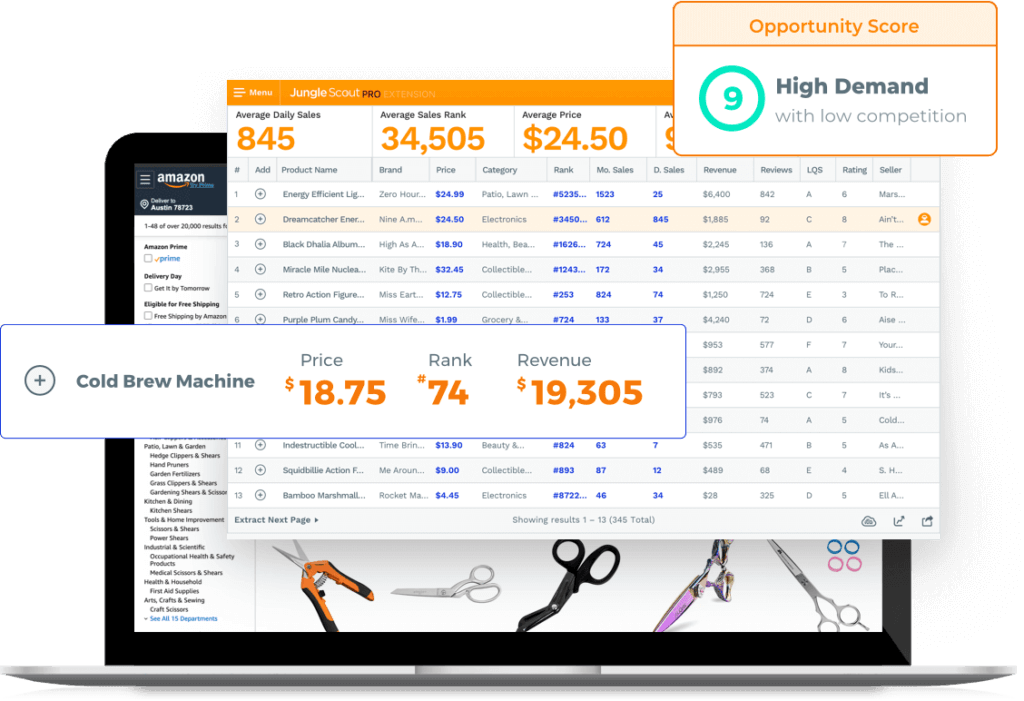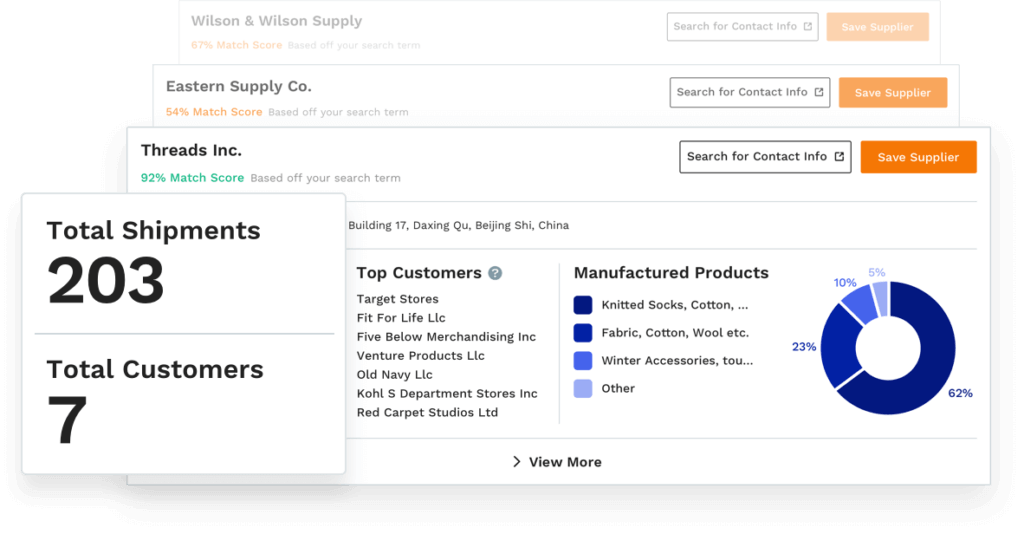 Supplier Database
An Easier Way to Find Suppliers
Instantly access a world of confirmed, high-quality manufacturers to make your product idea a reality. Supplier Database is a first-of-its-kind feature among Amazon selling tools. No more endless searching on Alibaba.
Search our supplier database by supplier name, product name, competitor, or even the product's ASIN
See supplier's customers and verify supplier shipment history
Save supplier lists, organize quotes & create purchase orders
Learn More
Keyword Scout
Discover Keywords to Optimize your Listings & PPC
Leverage real customer search data from Amazon to identify market trends, optimize your listings, and boost PPC campaigns. Identify powerful keyword trends and find your position in the Marketplace.
Find the most impactful keywords to focus your efforts
See in-depth historical search volume trends and seasonality
Track any product's organic search rank over time for your chosen keywords
Learn More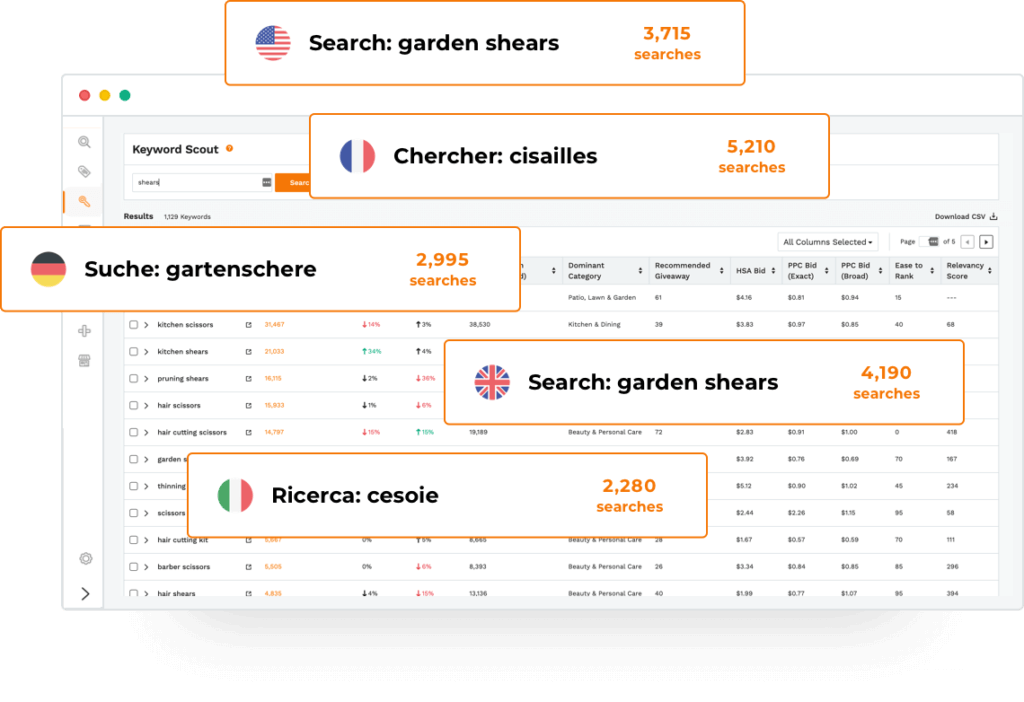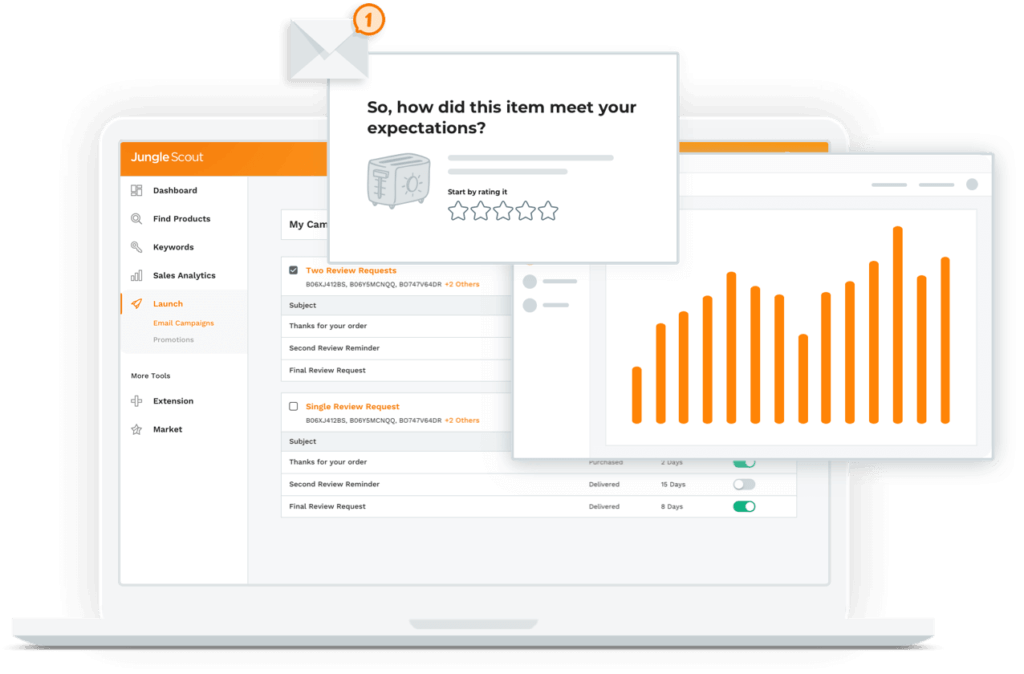 Launch
Promote Products & Send Customer Emails
Tap into our huge marketplace of ready-to-buy shoppers with our promotions feature, great for product launches and making extra sales. Send custom, personalized emails to increase your chances of receiving positive reviews & minimize negative feedback.
Drive sales through targeted customer email outreach and promotions
Launch and promote your Amazon products directly within Jungle Scout
Create automated email campaigns using our templates for customers who refund or purchase your product
Learn More
Inventory Manager
Automate Your Inventory Planning
A data-driven approach to never running out of stock. Accurately predict how much stock you should order and the best dates to order it to boost your Amazon sales and avoid stockouts and fees.
Predict future product demand & skip the stockout nightmares
Demand forecasting technology to analyze reorder metrics
Monitor inbound inventory on the way to an Amazon fulfillment center
Learn More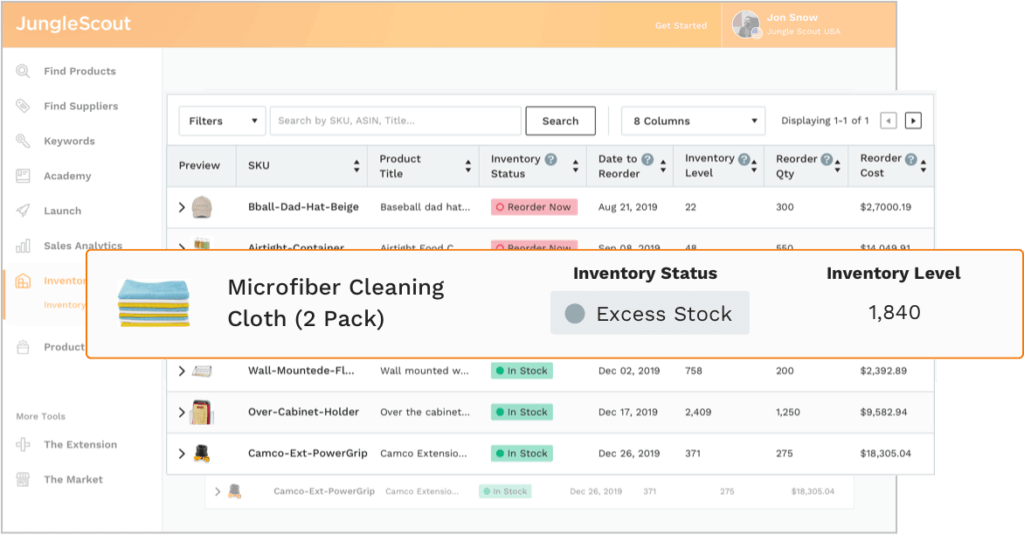 Sales Analytics
Your Financial Command Center
The sales & profit analytics you wish Seller Central had. See profits instantly, keep track of Amazon fees, and understand the financial health of your business so you can zero in on profit-building & cost-saving strategies to earn more money with FBA.
Track profits & manage your Amazon finances
Look at company or product level metrics & compare over time
Input expenses and product costs to track your profitability in real-time
Learn More
Alerts
Stay Ahead of the Game
Make sure you know of any risks to your Amazon product listings including listing availability, new negative reviews, or low stock. Set daily or weekly email updates to stay alert when you're not logged in.
Avoid hijackers & monitor your competitors
Receive critical alerts on the health of your Amazon business
Customize alerts to monitor change in price, reviews, BSR & more
Learn More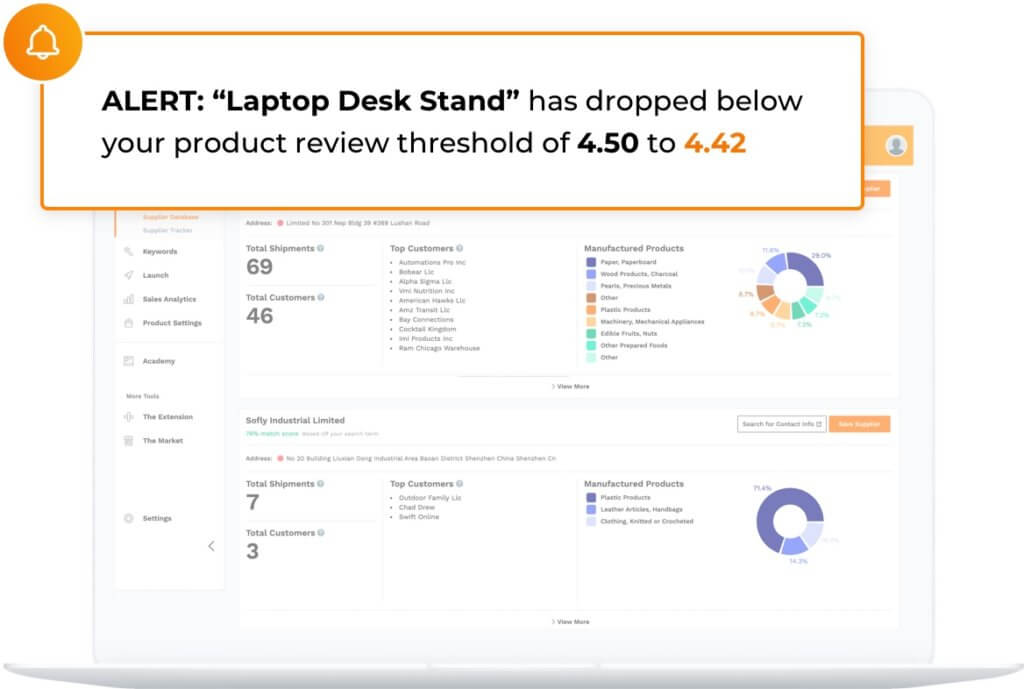 Trust the most accurate estimates in the industry
In a recent case study, Jungle Scout's sales estimates proved the most accurate out of all major providers. Numbers and charts aside, our priority will always be to help our customers make informed decisions. It is the driving force behind the continuous improvements to our software, our data, and the resources we provide.
Click here to read the full article
Overall Accuracy Percentage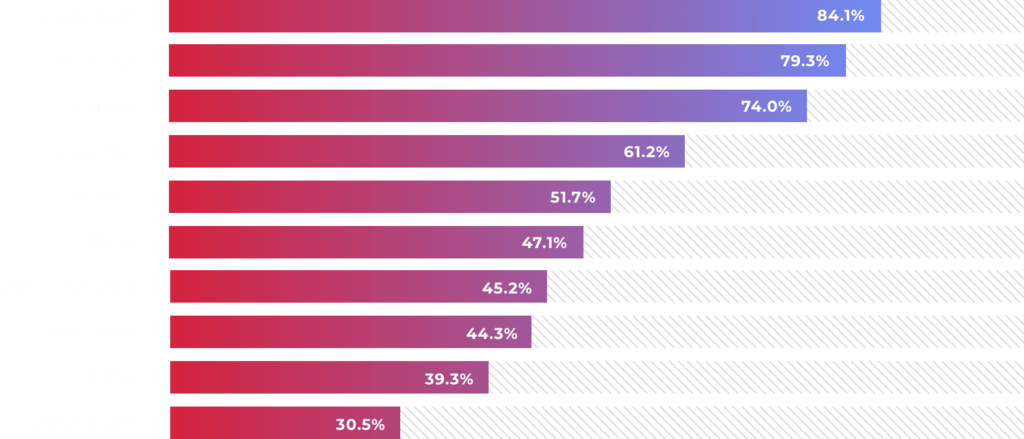 Jungle Scout is your trusted partner throughout every stage of your Amazon journey
Take action now