As of March 15, 2023, Amazon now displays sales volume data for each product within the search results. Have you seen it? Currently, Amazon doesn't give you much information, but it does give you an estimate of how many units of that product were bought in the past month.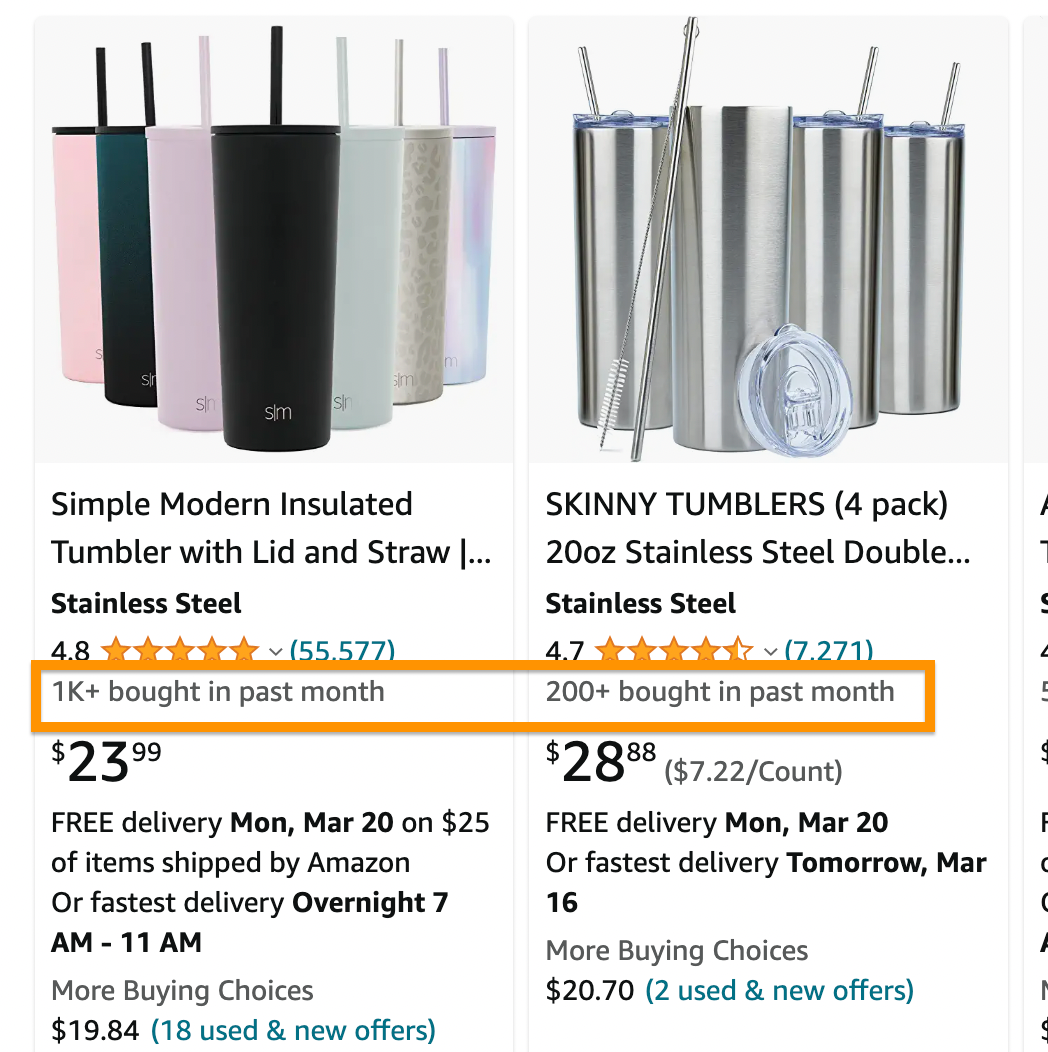 With this update comes a few questions:
Why is Amazon doing this?

How accurate is Amazon's sales data?

What do Amazon sellers need to know?
In this article, we're going to answer those questions and explain why this will not replace Jungle Scout and its suite of reliable and accurate tools. We'll also continue to monitor and analyze Amazon's new sales data so you can make impactful decisions for your business.
Why is Amazon adding product sales data to its SERP?
We believe Amazon added the sales volume estimates to its search engine results page (SERP) as another validation tool for customers (rather than sellers). Similar to reviews, customers want to see social proof that others are also purchasing this product.
If customers see a product bought more than 1,000 times in the past month versus another that sold 200, they may go for the former. (Just like if customers see a product with 1,000 reviews versus 200 reviews, they'll likely purchase the one with the higher review count.)
And while this feature aligns with Jungle Scout's product research tools, such as Extension and Product Database, it doesn't provide nearly the same amount of essential data as Jungle Scout.
For example, Amazon tells you how many products were bought in the past month, while Extension shows daily sales, monthly sales, revenue, net profit (with a profit calculator), net fees, sales rank, and much more.

Extension also displays a historical sales graph directly on a product listing that shows data such as units sales, sales rank, and Buy Box price. For this reason, Jungle Scout's data is much more valuable and impactful to your business than what Amazon has displayed.
How does Amazon's data compare to Jungle Scout data?
The numbers Amazon shows appear to be rough estimates (ex. 800+) with no additional context. By contrast, Jungle Scout provides sellers with multiple data points and accurate sales estimates based on an algorithm that predicts the average daily, weekly, and monthly sales for millions of Amazon products.
When looking at exact sales figures from Seller Central, Jungle Scout estimates, and Amazon's figures, all the numbers from each are pretty close, but we found that Jungle Scout was actually more accurate than Amazon's figures.
Because Amazon's sales estimates are so broad, we have limited context and examples to explore. But let's dive into some actual sales data and compare the accuracy.
For our Jungle Creations Washable Pee Pad product, the total sales for the month of February were 1,098 units. Amazon's estimate for our product says "800+".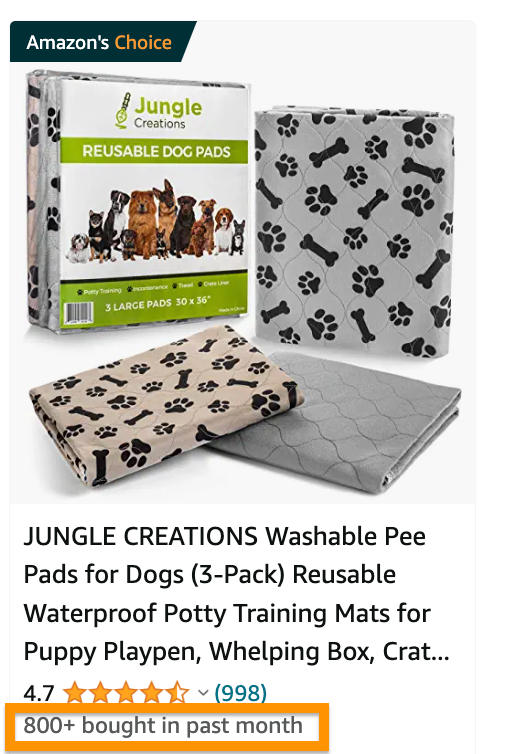 But to be fair to Amazon, this wouldn't be far off either because our main variant sold 876 units in February, which might suggest that Amazon is not adding sales from all variations of a product, but only those for the most popular variation.
Let's try comparing sales data over a shorter period of time.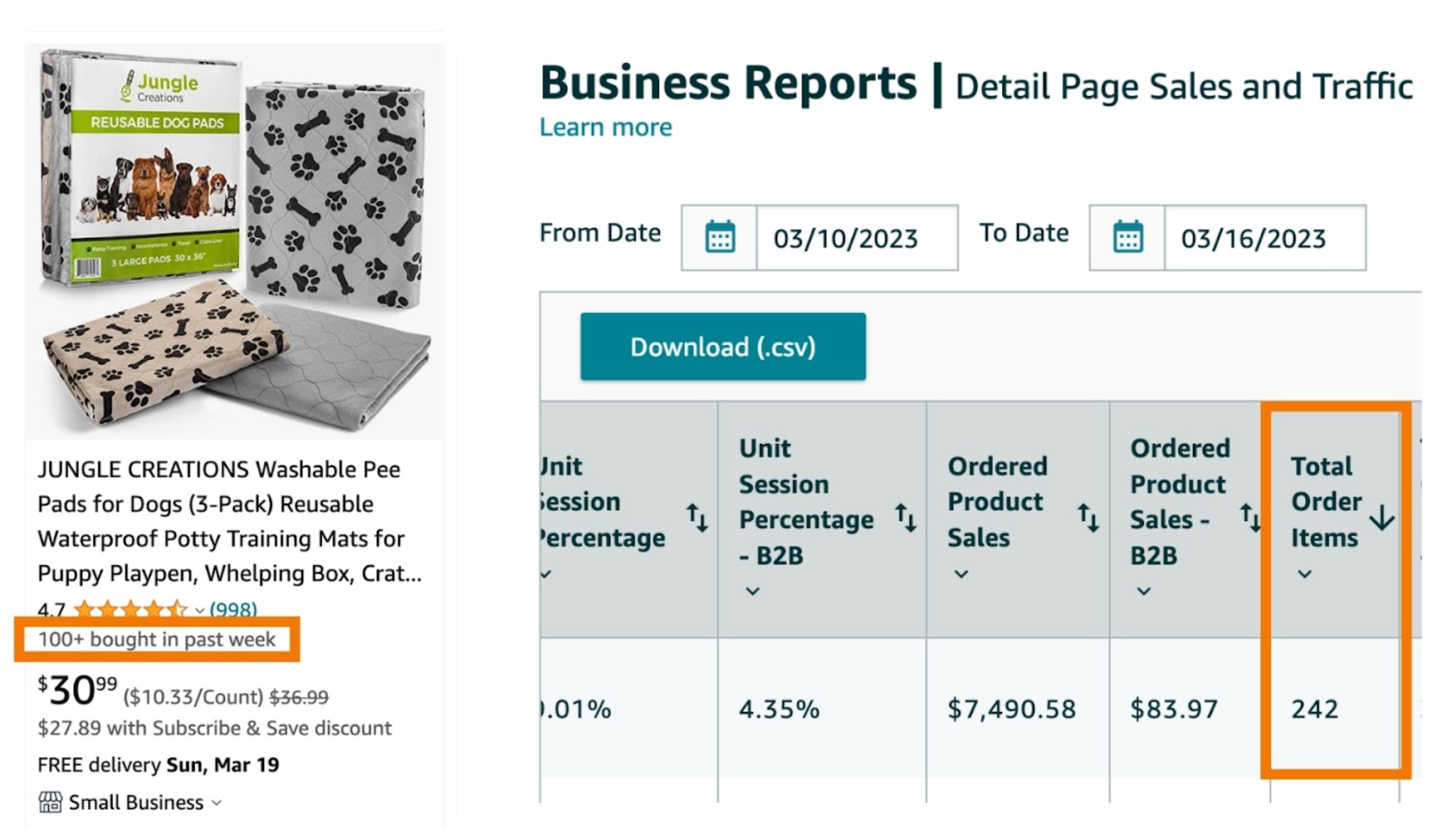 Above, you can see that Amazon claims "100+ bought in past week." However, when we look at the past week of our actual sales data from Seller Central, we see that this product sold over 200 units in the past seven days.
These new Amazon sales data estimates aren't 100% accurate, and since this information is not available in Seller Central, it tells us the feature is customer-centric. It might be helpful directionally, but the big downside is that sellers will only see sales estimates for the past week or month. (We've seen both options appear for different people.)
If you're a seller, you really should be looking at a longer period of time so you can be confident about the product you're assessing before you place a large order.
Jungle Scout estimates vs Seller Central sales data
Jungle Scout can provide you with estimates up to two years historically for certain data points.
If you're wondering how accurate our sales estimates are, let's look at estimates for washable pee pads sales during Q4 of 2022.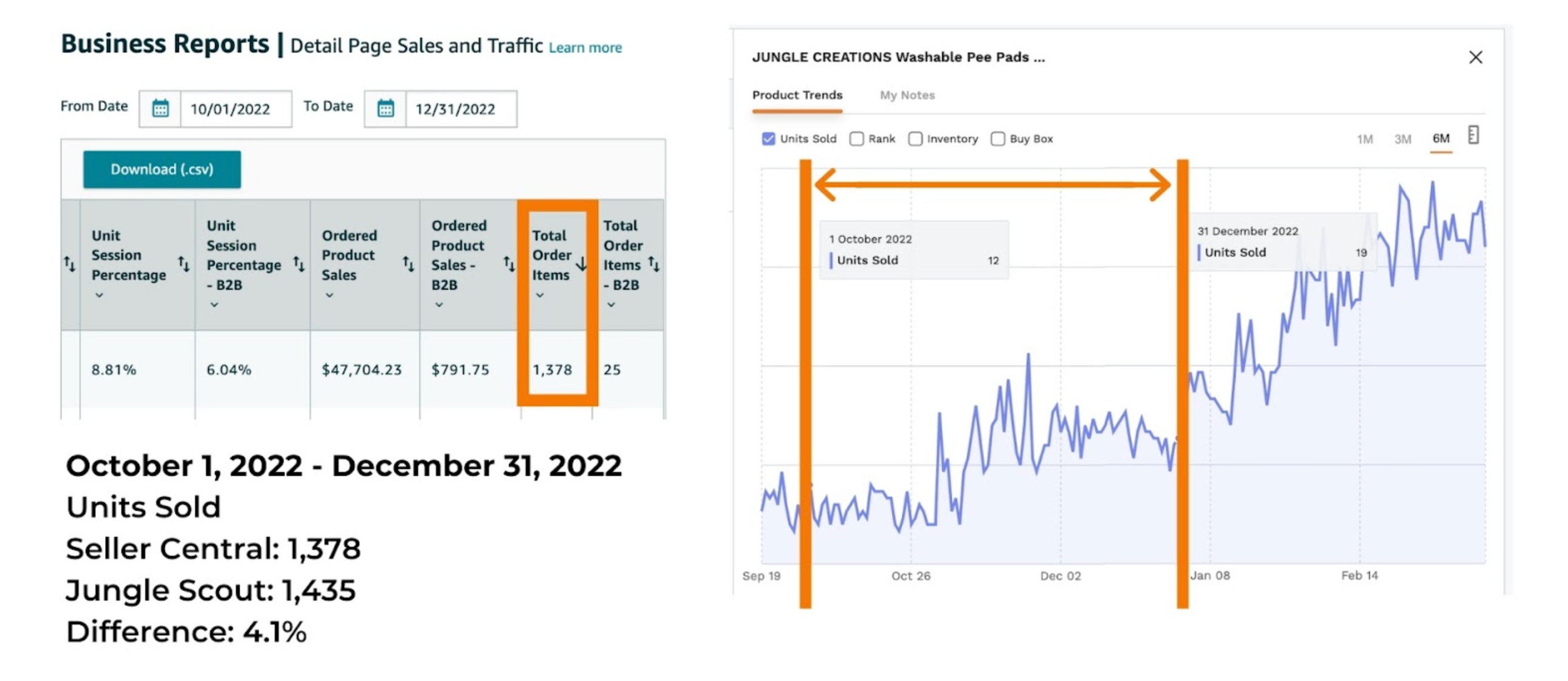 You can see that Seller Central shows 1,378 total order items between October 1 and December 31. For the same time period, Jungle Scout estimated 1,435 units sold, which is a 4.1% difference. This is just one example to show the low margin of error when it comes to Jungle Scout estimates, and gives you confidence that you can rely on Jungle Scout data when making important business decisions.
Sales can change drastically from month to month, and even week to week. This is why it's so important to view historical data over a greater period of time, as opposed to the past week or month only. You can only get this with a tool like Jungle Scout and not from these new estimates provided by Amazon.
Will Amazon product sales data replace third-party seller tools?
When it comes to sales estimates and product research, Jungle Scout is number one. Even if Amazon provides us with sales volume estimates, sellers will still benefit from Jungle Scout's suite of tools when gathering insights and data on potential product launches.
Here are some other tools that Jungle Scout offers when it comes to estimating sales and researching new product ideas.
Click here to learn more about Jungle Scout and our other amazing tools.
Sellers can use Amazon's numbers within the search results as another way to validate one of their product ideas, but it certainly does not replace the other tools and insights Jungle Scout provides.
We'll continue to keep a close eye on Amazon's numbers and how they might impact your business.