At the start of 2023, Amazon announced the expansion of its recently-debuted Buy with Prime program to all U.S. merchants. The program, which allows shoppers the option to use their Prime account on websites outside of Amazon, opens up new opportunities for brands to tap into Amazon's massive Prime member base and leverage the channel's incredible influence.
The feature is still quite new, but it has shown some compelling results. July's Prime Day was the first major sales event where brands and retailers could leverage Buy with Prime, and those that participated increased their Prime Day sales by 10x.
In this article, we'll walk through:
The key details of the Buy with Prime program
Buy with Prime's benefits for shoppers, brands, and retailers
How to activate Buy with Prime
What is Buy with Prime?
With Buy with Prime, brands and retailers can give shoppers the option to use their Amazon Prime account to make purchases on direct-to-consumer (DTC) websites. By doing so, shoppers not only have a faster checkout process that pulls payment and shipping information from their Prime account, but they also get the benefit of 1-2 day delivery because Amazon handles fulfillment and shipping.
"Put simply, Buy with Prime allows brands to offer fast, free delivery to Prime members on their own websites, powered by the same fulfillment network behind Amazon." – Doug Herrington, CEO of Worldwide Amazon Stores
To be eligible to offer this option to customers, brands and retailers must:
Be a U.S.-based entity

Have a DTC ecommerce website

Have a Professional Seller Account or a Multi-Channel Fulfillment account

Have an Amazon Pay Account

Use Amazon fulfillment services (Fulfilled By Amazon or Multi-Channel Fulfillment) for products offered through Buy with Prime
It's worth noting that being Brand Registered is not a requirement, and you can offer Buy with Prime on your website even if you do not sell products directly on Amazon.
6 Benefits of Buy with Prime
From increasing shopper conversions to providing valuable analytics and exclusive promotional opportunities, Buy with Prime presents a compelling opportunity for brands and retailers to expand their reach, leverage Amazon's resources, and enhance the overall shopping experience for their customers. Let's dive into six key benefits.
1. Buy with Prime leads to more sales
One of the most valuable benefits Buy with Prime offers is quite simple: it incentivizes Amazon's massive Prime Membership base to purchase from your brand.
Jungle Scout consumer trends data shows that 68% of U.S. consumers have a Prime membership – and of those that don't, just 13% report that they do not plan to get one.
And there aren't just a lot of Prime members out there; they're staggeringly loyal, too. 94% of Amazon Prime members say they are likely to renew their membership.
There are 200 million Amazon Prime members globally. Nearly 150 million are U.S. Prime members.
For the millions of consumers who have Amazon Prime memberships, Buy with Prime instantly removes many of the barriers that often stop shoppers from completing purchases:
A potentially lengthy checkout process becomes much simpler with payment and shipping information that automatically populates from their Prime account

Brands and retailers can offer free, 1-2 day shipping through Amazon's fulfillment services

Customers see familiar, trusted Amazon symbols – like the Prime logo and Amazon customer reviews

Returns are handled by Amazon, making them easier for customers to initiate

and

easier for brands or retailers to process
According to Amazon, Buy with Prime increases shopper conversions by more than 25% on average.
2. You can offer Buy with Prime even if you don't sell on Amazon
You must use Amazon fulfillment services for your Buy with Prime products. But that doesn't mean you have to sell directly on Amazon. Brands and retailers can offer Buy with Prime on their websites, regardless of whether or not they sell those products on Amazon.com. This is a big opportunity for those that don't currently sell on Amazon, providing a new, huge audience to tap into.
Buy with Prime products need to follow Amazon's product policies, even if you are only selling them through your own DTC site. These policies include:
3. Open up new ways to advertise
Brands that opt in for Buy with Prime get access to a marketing toolkit that includes Amazon-branded assets that can be used in marketing efforts. This lets shoppers know Buy with Prime is available on your site, wherever you choose to advertise.
Amazon is also continuing to test other ways to help brands and retailers leverage Buy with Prime benefits in their advertising campaigns. Brands selling on Amazon as well as their own sites can create Buy with Prime pages within their Amazon stores, and then build Sponsored Brands campaigns that direct shoppers to that page. This lets shoppers access your Buy with Prime offerings through the familiar interface of Amazon – and it lets you leverage Amazon's targeting options and other ad features to generate traffic for your DTC site.
At the end of last year, the ecommerce giant also started testing co-branded social media ads that promote brands participating in Buy with Prime on Amazon's Facebook and Instagram pages.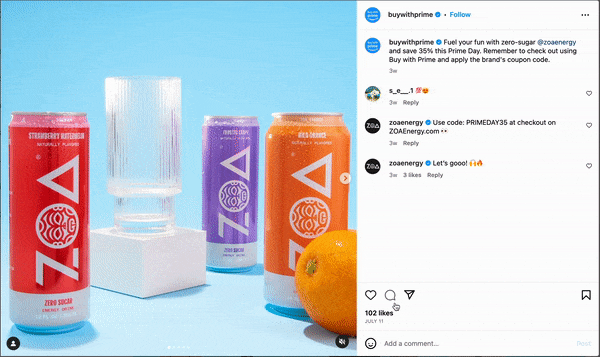 These ads direct shoppers to product detail pages on brands' DTC sites and offer yet another way to leverage Amazon's massive audience and direct them to your own website.
4. More analytics data to fuel business decisions
With the integration of Buy with Prime on your DTC website also comes access to accompanying analytics, which gives you more data to fuel business decisions around inventory, advertising, product listings, and more.
You can view data on all Buy with Prime orders completed through your website, including details on which orders used a promo code, which products are most popular, and which are most frequently returned. This data is invaluable in strategizing when to offer discounts, where to invest in advertising, how to expand your product catalog, and how to optimize your listings to clarify product details.
Get even more data to fuel your business decisions on Amazon.
These analytics also let you dig deeper into your customers' purchase journeys and behavior. You can access data on how frequently customers purchase from you, how often they return products, how long they've been an active customer, the total value of their orders, and their contact information so you can re-engage them after they've already purchased from you.
All of this information helps to clarify the most effective tactics for promoting your products – whether it's through Amazon, social media, over-the-top (OTT) advertising, or other channels.
5. Get exclusive promotional opportunities
Buy with Prime has added benefits when it comes to major sales events like Prime Day. This July marked the first time brands and retailers were able to leverage Buy with Prime for Prime Day – including the ability to offer Prime Day deals directly on their own DTC websites.
Being able to tie your own website into Amazon Prime Day is a huge win. The data shows that consumers don't just stick to Amazon itself when looking for Prime Day deals:

Promoting Prime Day on your own website, and being able to offer customers a familiar Prime shopping experience, expands your reach (and your sales) for one of the biggest digital shopping days on the planet. And don't forget: you can do it whether you sell directly on Amazon or not.
6. There is no long-term contract for Buy with Prime
There are costs associated with participating in Buy with Prime in the form of per-order fees:
Prime Service Fee
Fulfillment Fee
Payment Processing Fee
3% of order value
($1.50 per order minimum)
$5.38 per unit fulfilled
(+ $0.87 per cubic foot stored per month)
2.4% of order value
(+ $0.30 per transaction)
This can be an advantage for brands and retailers that are on the fence about whether Buy with Prime is a worthwhile offering for their customers and bottom line. Since there is no long-term contract to participate, you have the freedom to test it out and see if it delivers returns that are worth the investment of your team's time, budget, and resources.
How to set up Buy with Prime
If you're already selling on Amazon and have an active Professional Seller or Vendor Central account

: You can turn on Buy with Prime for your products from within Seller or Ventral Central.

If you're not currently selling on Amazon, and you want to both start selling on Amazon and offer Buy with Prime on your website:

You will need to set up a Professional Seller Central or Vendor Central account, along with Multi-Channel Fulfillment (MCF) services.

If you do not sell on Amazon, and just want to offer Buy with Prime on your website:

You will need to set up an Amazon Supply Chain account.
Once you have set up Buy with Prime, you can import your Amazon product catalog and add the Buy with Prime button to product detail pages on your site. Note that adding the Buy with Prime button does require copying and pasting a code provided by Amazon into your website's code.
Future potential of Buy with Prime
Whether you already sell on Amazon or not, Buy with Prime offers a versatile and relatively low-risk opportunity to expand your reach and enhance the shopping experience for your customers. It also presents a potentially game-changing chance to tap into the massive and loyal Amazon Prime membership base.
Buy with Prime continues to evolve, and Amazon is likely to continue testing new ways that it can deliver value to merchants and shoppers. As the world of ecommerce diversifies, embracing this offering could help brands and retailers engage shoppers and generate sales across multiple platforms.