On October 28th, 2023, fans around the globe were left heartbroken by the news that Matthew Perry, renowned for his portrayal of the quick-witted Chandler Bing on Friends, had passed away in his Los Angeles home. The shock of his untimely departure reverberated through the city streets and across digital landscapes as his admirers mourned the loss of a man who had become a fixture in their lives through his role on the iconic sitcom.
Friends Merchandise Sales on Amazon
Friends is a television show that defined a generation and left an indelible mark on pop culture. From its inception in the mid-90s to its current status as a beloved classic, the show's portrayal of the lives and relationships of six friends living in New York City resonated with audiences around the world, creating a loyal fan base that has endured well beyond the show's original run. This impact is not only evident in the continued viewership of reruns and availability on streaming platforms but also reflected in the sustained popularity of Friends merchandise purchases, a tangible link to the cherished memories of the show for its fans.
A tribute unfolded in the wake of Perry's passing as fans turned to Amazon, seeking solace in Friends memorabilia. There has been a remarkable upsurge in sales for an array of Friends products, from themed apparel to board games to items that bring a slice of the iconic Central Perk into homes. These purchases are more than transactions; they are part of a collective act of remembrance, a way to celebrate Perry's legacy and the lasting mark Chandler Bing left on the cultural landscape.
This blog pays homage to the profound impact that Matthew Perry, Chandler Bing, and the entire cast of Friends have had on viewers across the United States. It's a testament to the power of television to create characters that resonate so deeply they become a part of our lives. The surge in sales of Friends products is a clear indicator of the show's lasting resonance, as consumers reach out to own a piece of the legacy that Matthew Perry and his beloved character have left behind.
Iconic Quotes and Fashion: Wearing the Humor
The witty one-liners and 90s chic fashion were pivotal in establishing Friends as a cultural icon. Clothing and accessories featuring iconic quotes, the distinctive style of the show's characters, and the beloved Friends logo allow fans to showcase their affection and relive the show's most memorable moments.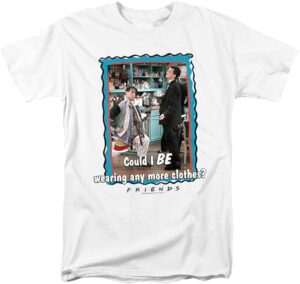 Embracing the hilarity of a classic Joey and Chandler moment, Popfunk's "Could I BE wearing any more clothes?" shirt has mirrored Joey's overstuffed attire, layering on an impressive 443% revenue growth in the past 30 days.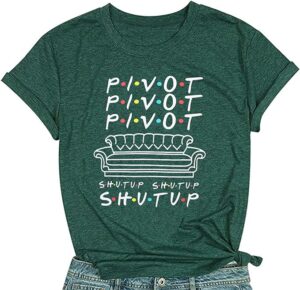 This "Pivot…Shut up" shirt echoes Ross and Chandler's infamous couch-moving battle cries. Featuring five color options, it has really turned the corner in the market, with a combined revenue upswing of 41% in the past month.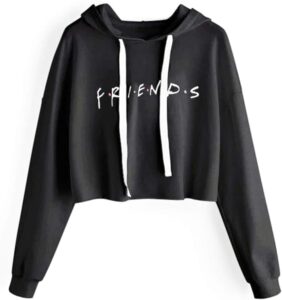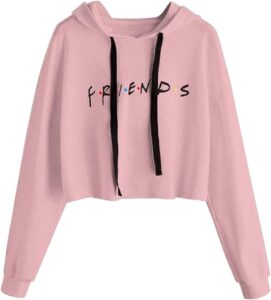 Idepet's collection of Friends-themed hoodies for women, featuring 15 color variations, has witnessed a dramatic 253% increase in combined sales in the past 30 days.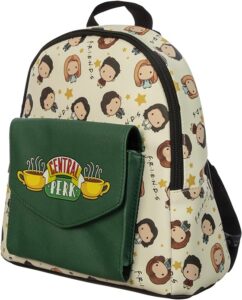 Over the last 30 days, this Friends Backpack by Bioworld, adorned with cartoon renditions of the beloved characters and the iconic Central Perk logo, has seen revenue climb by an impressive 151%.
Gaming and Trivia: Engaging with the Friends Story
Board games, LEGO sets, and trivia quizzes have turned fan knowledge into a social affair, inviting enthusiasts to "pivot" their way through challenges. These games offer more than just entertainment; they cultivate a sense of community among consumers who share a deep knowledge and appreciation of the show's intricate details.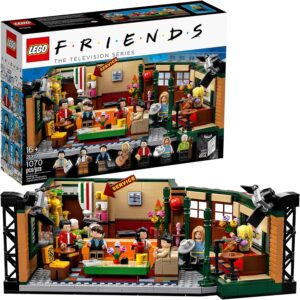 In a fitting tribute to the iconic coffeehouse, sales of the Friends LEGO Central Perk Building Kit have assembled a staggering 256% increase in the last 30 days.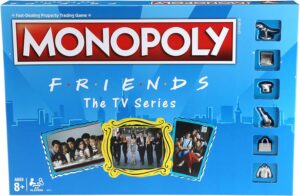 Capitalizing on nostalgia, the Friends Edition of Monopoly has banked a substantial 152% revenue increase in the past 30 days.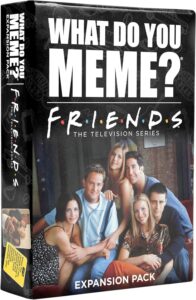 The Friends Expansion Pack for "What Do You Meme?" has captured the humor and hearts of fans, showcasing a 112% boost in revenue over the last 30 days.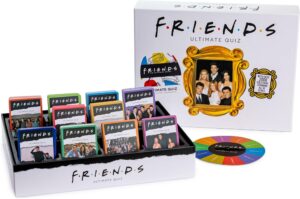 The Paladone Friends TV Show Trivia Game has seen a phenomenal 450% sales surge in the last 30 days, proving that when it comes to testing their knowledge of the show, fans are more than up for the challenge.
Home Decor and Personal Items: Living with "Friends"
Friends isn't just a show; it's a lifestyle. Decorations and various memorabilia bring the essence of the series into fans' homes, reflecting how deeply the show resonates on a personal level and its influence on fans' everyday lives.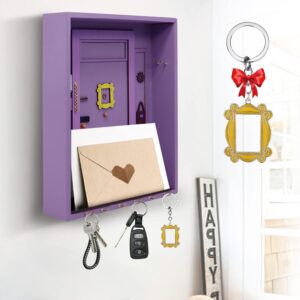 Embracing the sentimental value of Monica's welcoming purple door, the VUEJIC Store's Friends Key Holder has unlocked a significant revenue increase of 51% in the last 30 days.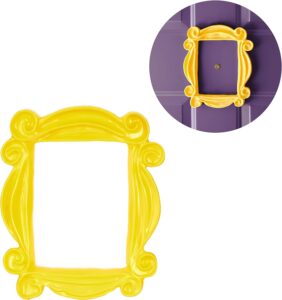 This Yellow Peephole Frame from the Paladone Store, reminiscent of the one through which the Friends peered during many scenes throughout the series, has seen a 50% surge in revenue over the last 30 days.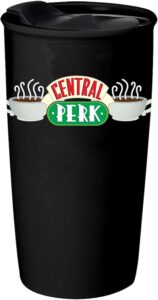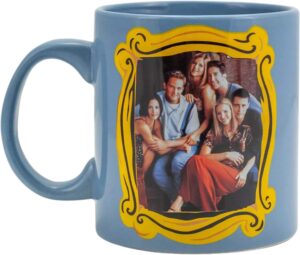 The Silver Buffalo collection of Friends-themed coffee mugs, with eight unique variations celebrating the beloved show, has stirred up the market with a staggering 684% increase in combined revenue over the last 30 days.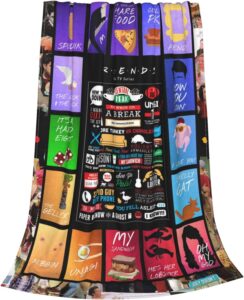 This Friends Throw Blanket has wrapped up an impressive 239% increase in revenue in the last 30 days as fans cozy up to a piece of television history in the comfort of their homes.
Christmas Decor: Celebrating the Holidays with Friends
Ornaments and Christmas decorations celebrating Friends have become cherished additions to holiday festivities, as fans adorn their seasonal decor with reminders of the show. This surge in holiday-centric purchases reflects the special place the series holds in the hearts of its audience, bringing a touch of the beloved sitcom's warmth to the most festive times of the year.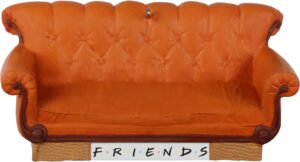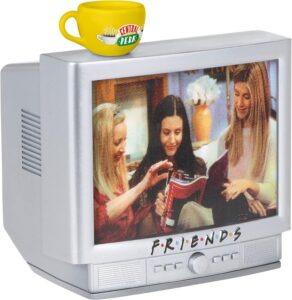 This pair of Friends Christmas Tree Ornaments from Hallmark has witnessed a remarkable 388% increase in combined revenue over the last 30 days, bringing a touch of the sitcom to Christmas Trees.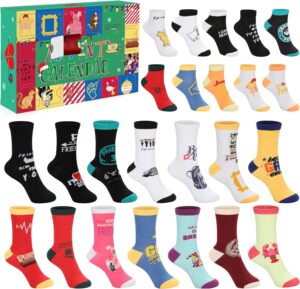 The Friends Sock Christmas Advent Calendar by Luniletoy, offering a new pair of socks each day adorned with iconic lines and scenes from the show, has stepped up to a staggering 1,000% increase in revenue in the last 30 days, gearing up to warm both hearts and toes of fans this holiday season.
Amazon Searches for All Things Matthew Perry, Chandler Bing, and Friends
Since the passing of Matthew Perry, there has been a remarkable uptick in Amazon searches related to his work and legacy. Interest in Perry himself has skyrocketed, with searches increasing by 5,945%, while an astonishing 24,734% surge has been observed for his book, indicating a profound desire to connect with his story in his own words.
The character of Chandler Bing has experienced a resurgence in popularity as well, along with particular attention to show-themed gifts and memorabilia, indicating fans' eagerness to hold onto a piece of the show and its memorable characters during this time of remembrance.
| | |
| --- | --- |
| Keyword | 30-Day Search Trend |
| Matthew Perry | 5,945% |
| Matthew Perry book | 24,734% |
| Matthew Perry autobiography | 56% |
| Chandler Bing | 690% |
| Chandler Bing shirt | 386% |
| Chandler Bing funko pop | 334% |
| Friends merchandise | 253% |
| Friends show | 200% |
| Friends tv show merchandise | 143% |
| Friends gifts tv show | 186% |
| Friends tv show gifts | 108% |
| Friends memorabilia | 81% |
Beyond the Laughter: A Goodbye to a Beloved Friend
As we bid farewell to Matthew Perry, the heart and humor he brought to Chandler Bing on Friends endures beyond the screen in the laughter-filled echoes of his performances and the cherished memorabilia that fans cling to. This wave of nostalgia, reflected in the surge of Friends merchandise sales on Amazon, is not merely a commercial phenomenon but a collective embrace of the joy and companionship the show has provided.
It's a testament to the show's unique ability to weave its narrative into the fabric of our lives. The legacy of Friends, much like the friendships it celebrated, proves to be an unbreakable bond, continuing to resonate with fans old and new. As we navigate this moment of loss, the outpouring of love for Perry and the world of Friends affirms that while we may have lost a beloved friend, the memories and the laughs he gifted us will forever be a comforting presence, as timeless as the show itself.
About The Data
The product data in this report is representative of the U.S. Amazon market. Market insights on Amazon products were sourced from Jungle Scout Cobalt, an industry-leading market intelligence, advertising optimization, and ecommerce reporting platform powered by nearly 2 billion Amazon data points. 30-day trends data reflects the period of October 16, 2023 – November 15, 2023, compared to September 17, 2023 – October 15, 2023
We encourage you to share, reference, and publish this report's findings with attribution to "Jungle Scout Cobalt" and a link to this page.
For more information, specific data requests, media assets, or to reach the report's authors, please contact us at [email protected].