After doing product research, finding a winning product, and working with a supplier to create a private label product, Fulfillment-by-Amazon (FBA) sellers have the option to ship their products straight to Amazon's warehouses from their supplier or to ship them to another location first, before they go to Amazon.
Why wouldn't sellers have their suppliers send their inventory straight to Amazon? Some sellers like to inspect the products themselves, only send a limited quantity of stock to Amazon at a time to control FBA storage costs, or any number of other reasons.
Sellers who go this route need to know how to get their products to Amazon's warehouses when they're ready. So, how do you set up an FBA shipment to get your inventory into an Amazon warehouse?
For a brand new Amazon seller, navigating Seller Central and setting up your first FBA shipment can be a difficult task.
If you sell retail arbitrage, private label, or wholesale and plan to fulfill your orders with FBA, follow along, because we'll go over every step of how to set your FBA shipment up correctly.
Want to learn more about selling on Amazon? Check out our complete guide.

Create an FBA shipment using "Send to Amazon"
Before Send to Amazon, there was an old way of creating a shipment in Seller Central. That way is now gone and all sellers must use the new Send to Amazon shipment creation workflow.
Send to Amazon requires fewer steps for replenishing FBA inventory. According to Amazon, here is what you can do with Send to Amazon:
Save time creating shipments with simplified process steps.
Create reusable case pack templates to provide box content information, box weight and dimensions, and prep and labeling details for shipments of single-SKU boxes. The templates are ideal when you use the same box configuration for a SKU because you won't have to re-enter the details each time you replenish inventory.
Pack single-SKU and mixed-SKU boxes before you create shipments, and update quantities as you pack, before you confirm your shipment destinations.
Compare estimated carrier fees to make the best choice between shipping your inventory as individual boxes (small parcel delivery) or pallets (less than truckload delivery).
Step 1
First, find the product you want to ship inventory for in the "Manage All Inventory" section of Seller Central.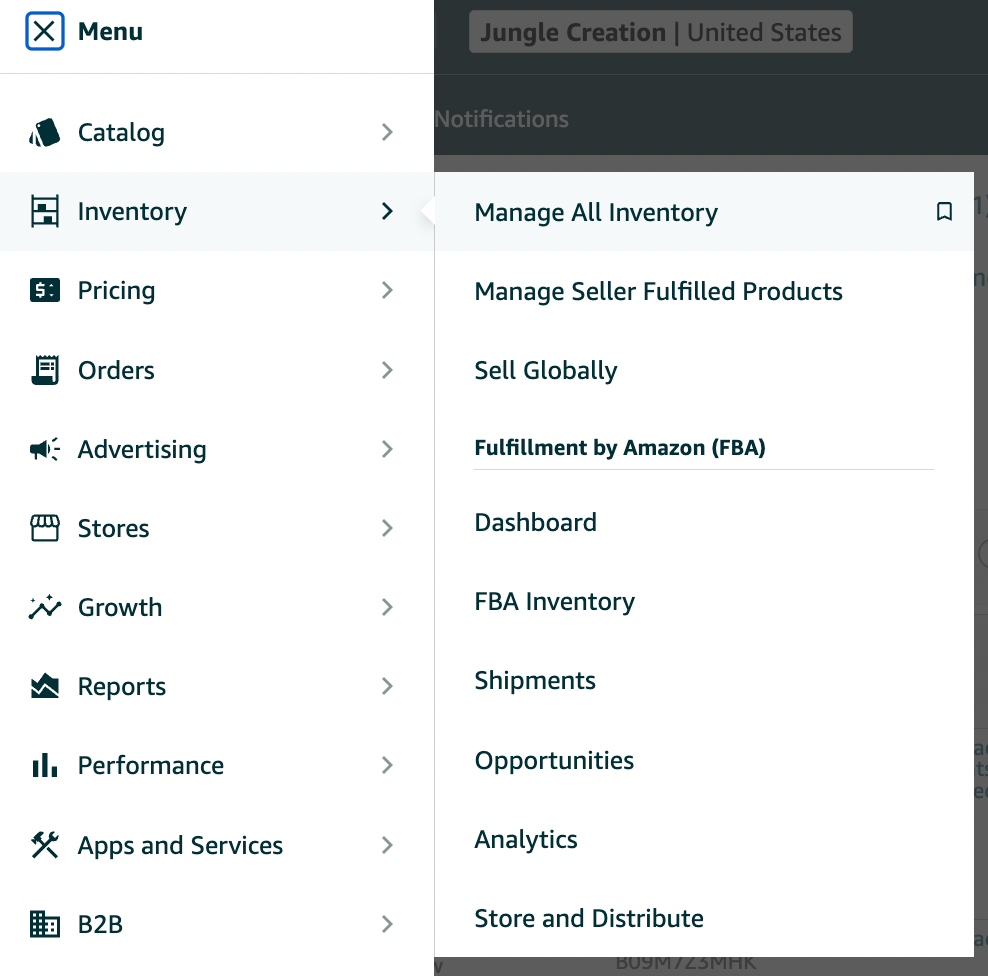 You can also click on "Shipment" to go to your shipping queue and create a new shipment.
Find your product, then on the right-hand side, choose the drop-down menu that reads "Edit" and click "Send/Replenish Inventory."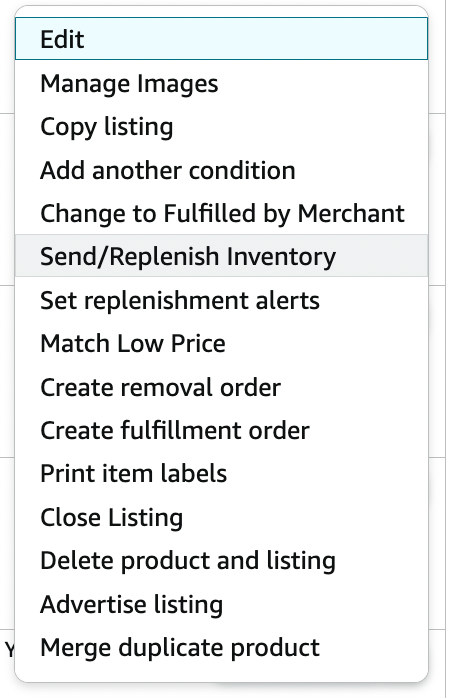 Step 2
If you already have a workflow created for that product, it will show up here. If not, you will enter new packing details of the product, including how many units per box, the dimensions, and package weight.
You will be able to name your template as well. This allows you to choose the same exact packing details for the next shipment you send to Amazon, thus making the process easier.
If for whatever reason, you will be packing your product differently for the next shipment, you can create a new template.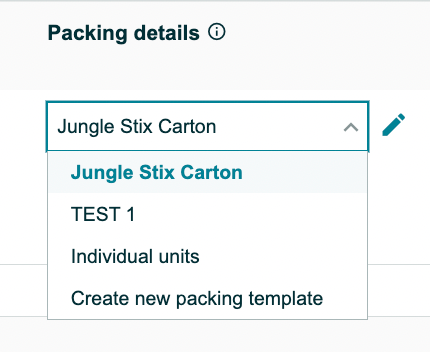 Next, choose the number of units you want to send. Once that is entered, click Ready to Send, then Confirm and continue.

In here, you can also edit your "Ship from" address. Once you're done here, go to the "Confirm Shipping" step in the workflow.
Step 3
Confirm your shipping information and accept the charges.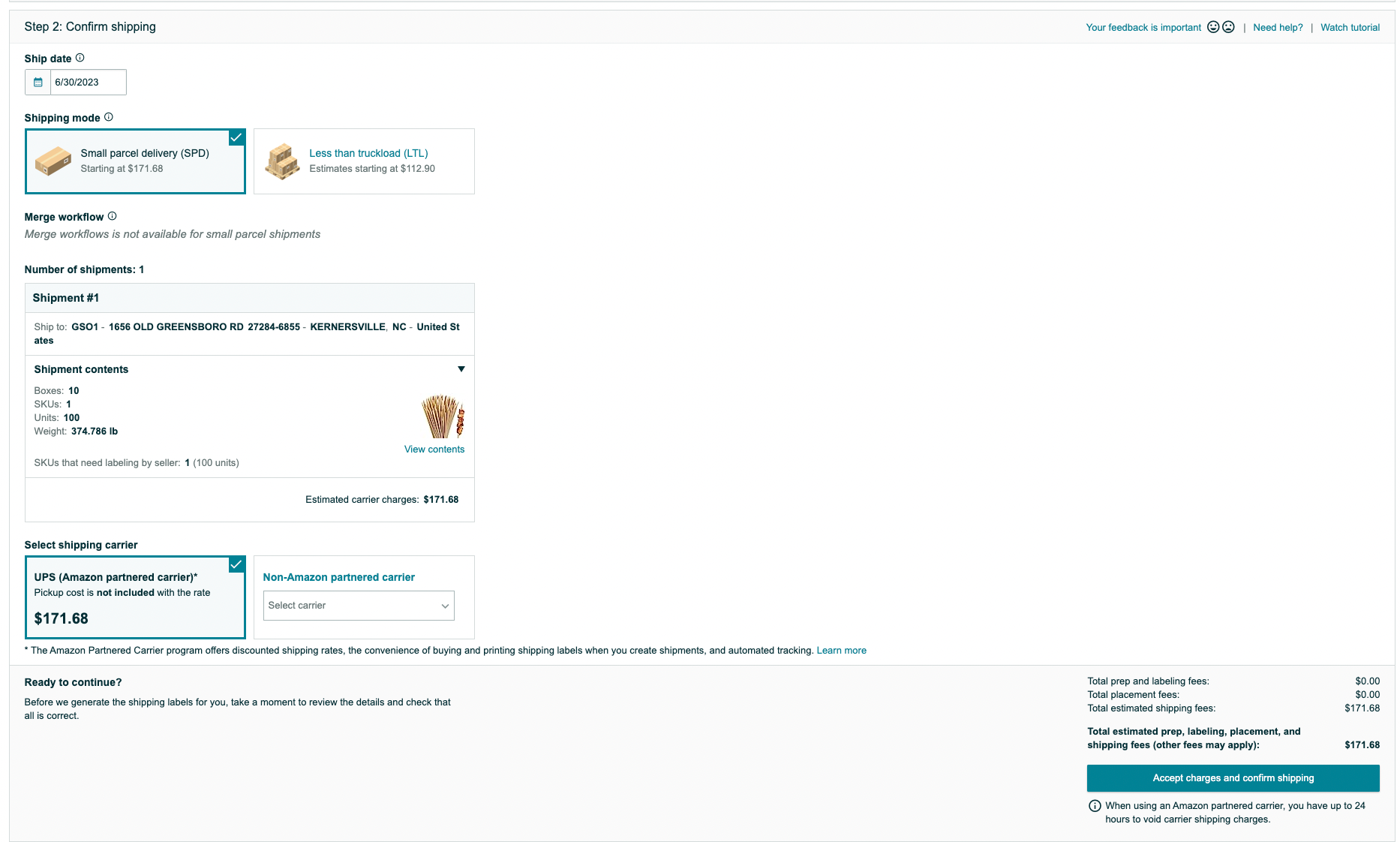 Choose your ship date, shipping mode (small parcel delivery or LTL), confirm your shipping carrier and charges. If everything looks good, click "Accept charges and confirm shipping."
Step 4
Print your labels and ship! Once you print your shipping labels, again, make sure both barcodes are visible on the outside of your box. Then simply drop off your package at UPS or schedule a UPS pickup.
You will be able to track your shipment from the Shipping Queue.
How to ship your inventory from China directly to FBA
Amazon now has a program called Amazon Global Logistics that allows sellers to book ocean shipments right in Seller Central. This makes it much easier for sellers to get their inventory from their supplier in China, into Amazon's fulfillment centers.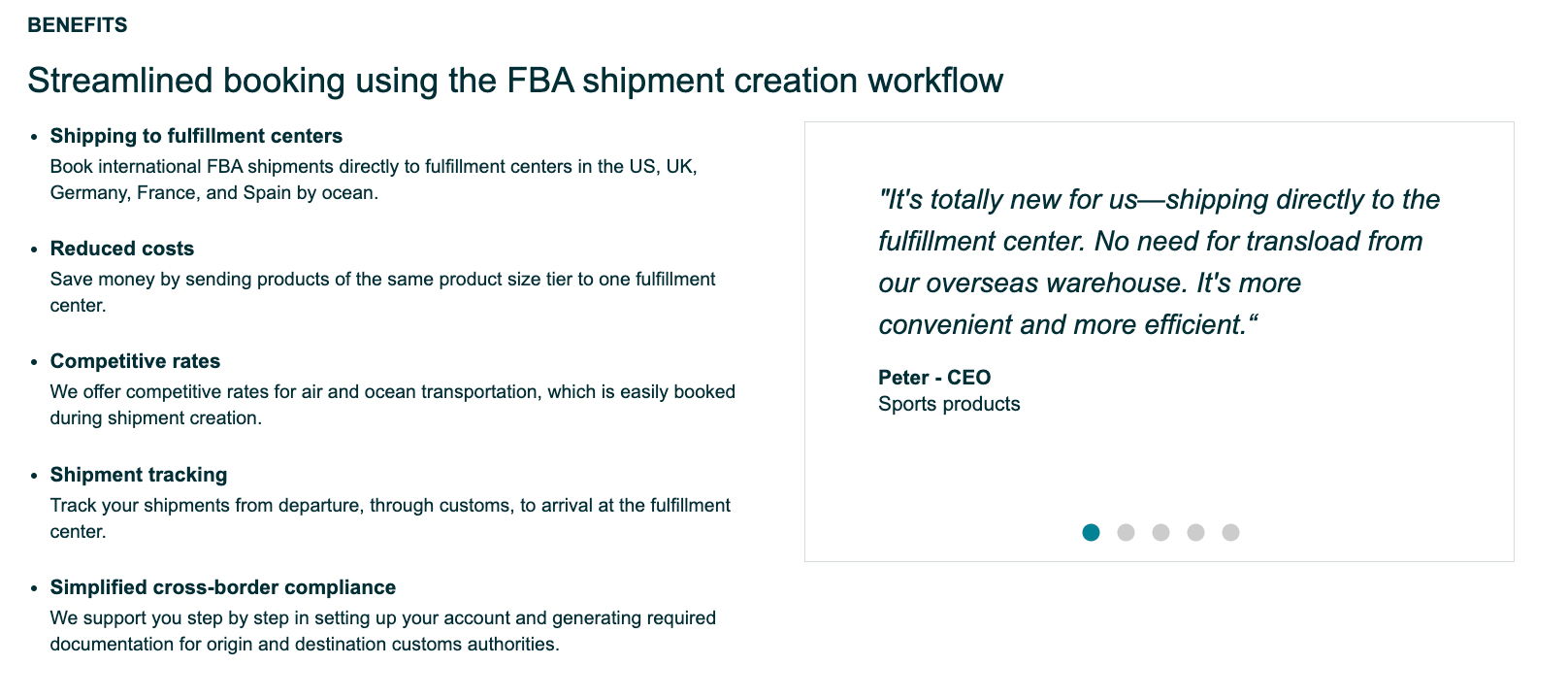 When creating your shipment in Send to Amazon, if you enter a ship from address from outside your marketplace country, an option for Global Logistics will pop up.

Enter your packing details based on how your supplier will be shipping your units and enter that into your shipment workflow.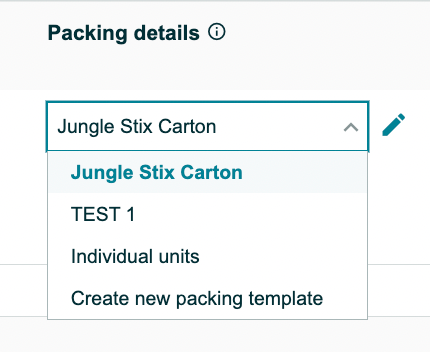 You can choose from your current template or create a new one based on your supplier.
After filling out your packing details, you can get different quotes from shipping companies within Send to Amazon. If you find a quote that works for your business, confirm shipping.
In the last step, you will enter customs information.

For more information on how Amazon Global Logistics works, check out the Amazon Global Logistics help page.
Do you ship directly to Amazon?
That's it! You should now be ready to set up your first FBA shipment like a pro! If you have any other questions regarding FBA shipments or have anything else you want us to write about, let us know in the comments!
We also have a fantastic video on How To Send Products To Amazon FBA. Check it out!
Want to learn more about how Jungle Scout can help you start, grow, and run your Amazon business? Click the "Learn More" button below!