Amazon is more than just an online marketplace; it's a hub that reflects global consumer trends and preferences. In the fast-paced world of online retail, one industry that is always steaming with activity is the coffee market. With its various product types, including ground coffee, whole coffee beans, and coffee pods, the coffee category on Amazon offers fascinating insights for brands and retailers.
This week's Amazon Market Watch will analyze the performance of coffee products and brands on Amazon, showcasing how retailers can leverage market insights to grow their sales. Grab a cup of coffee, and keep reading for data as rich as a full-bodied espresso!
From Farm to Amazon Cart: A Comprehensive Look at Coffee Sales
The journey from farm to the Amazon cart is an intricate one, shaped by trends, consumer behavior, and market dynamics. In this comprehensive look at coffee sales on Amazon, we will explore the nuances of this journey. From the lush coffee fields where beans are harvested to the bustling Amazon marketplace where different forms and flavors are sold, the coffee industry is a complex ecosystem.
Ground Coffee: The Traditional Staple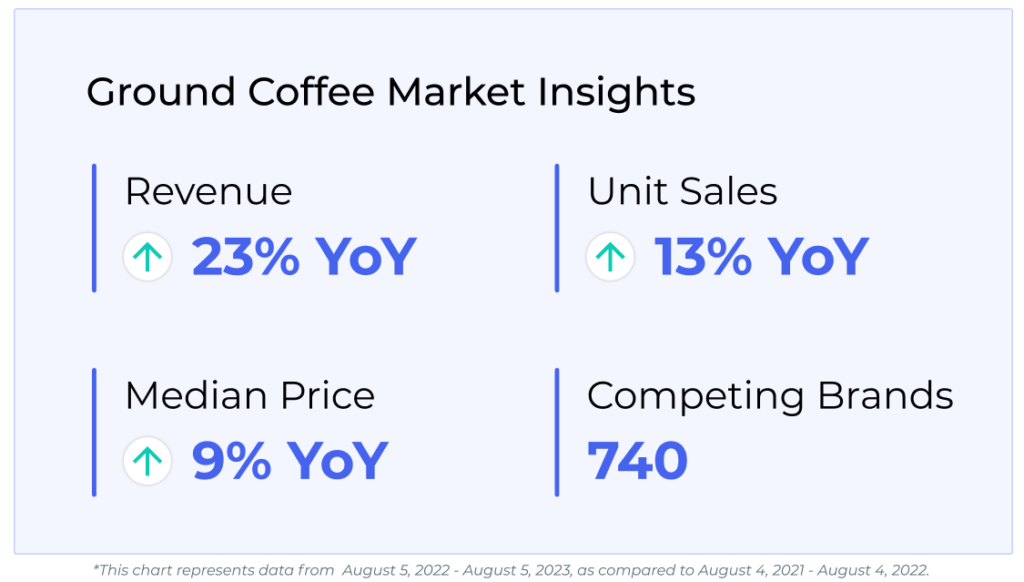 Ground coffee represents the traditional and most common form of coffee consumption. The overall category revenue growth of 23% YoY illustrates its enduring appeal among consumers and serves as a testament to the potential this subcategory holds for both established brands and newcomers.
Top Brands Competing for Ground Coffee Sales
This subcategory has 740 competing brands, making it a hotbed of competition. The large number of brands vying for consumer attention highlights the significance of innovation, unique selling propositions, and targeted marketing. Whether it's a well-established brand like Starbucks or a rising player like Death Wish Coffee, staying competitive requires a deep understanding of customer preferences and a willingness to adapt and innovate.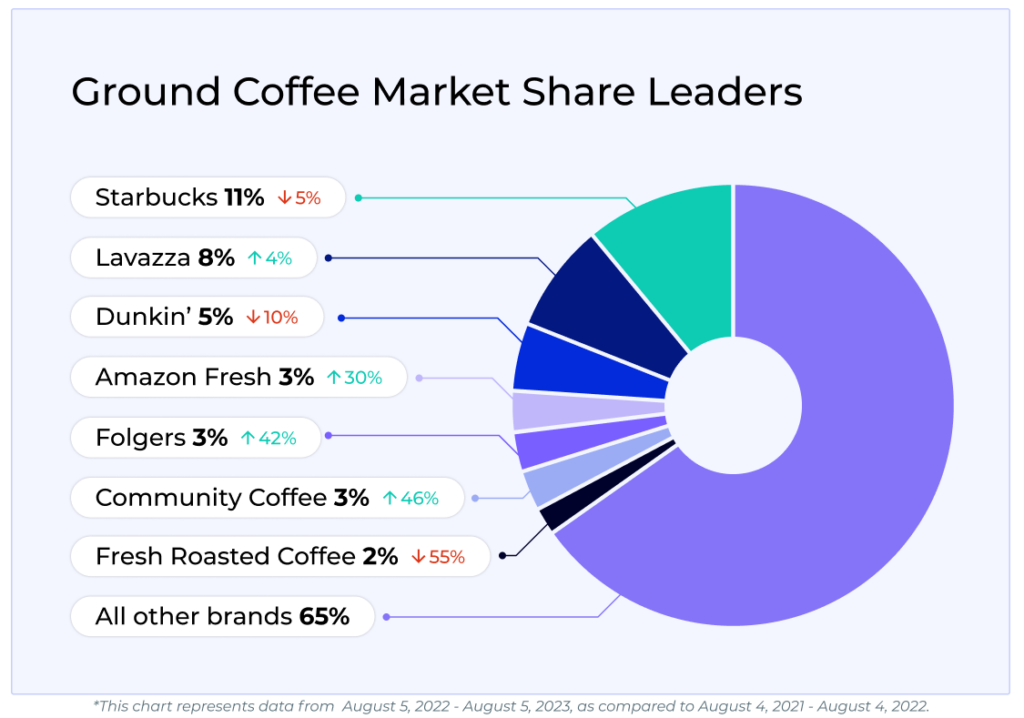 Starbucks leads the category, but they are losing ground to competitors like Lavazza, Amazon Fresh, and Folgers. The significant 30% growth of Amazon Fresh is especially worth noting.
Top Ground Coffee Products Dominating the Market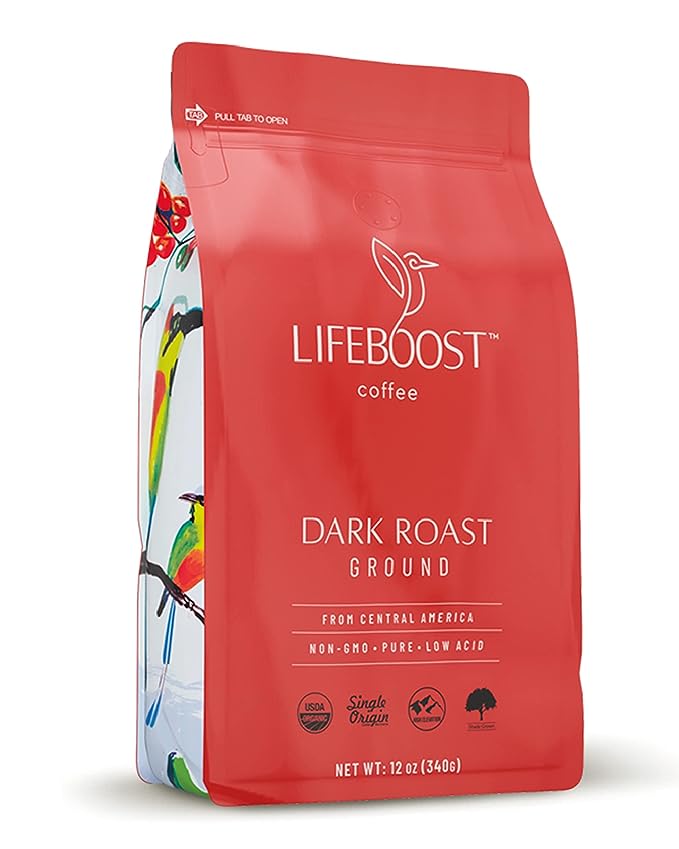 Lifeboost Coffee Dark Roast has struck a chord with consumers in a market that appreciates bold flavors, leading to a robust revenue increase of 126% in the last six months.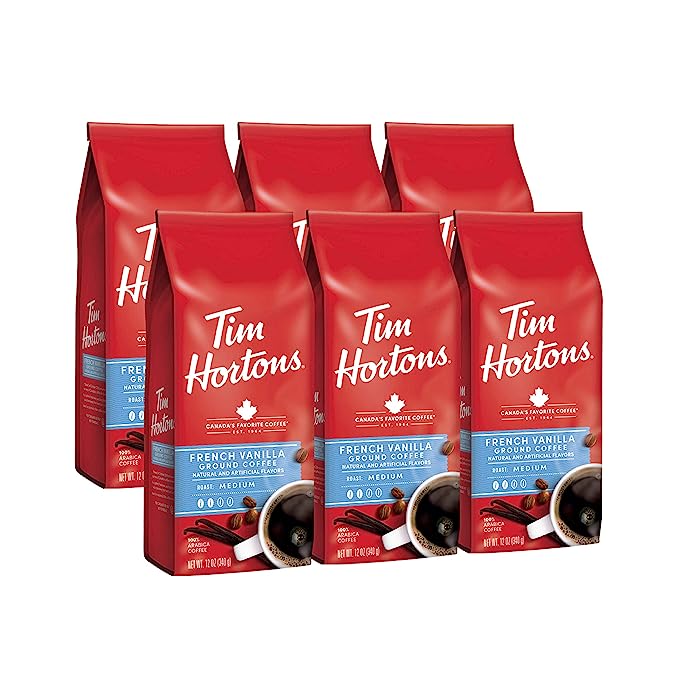 With a flavor that resonates, revenue for Tim Hortons' French Vanilla has steeped a remarkable 88% growth in the last six months.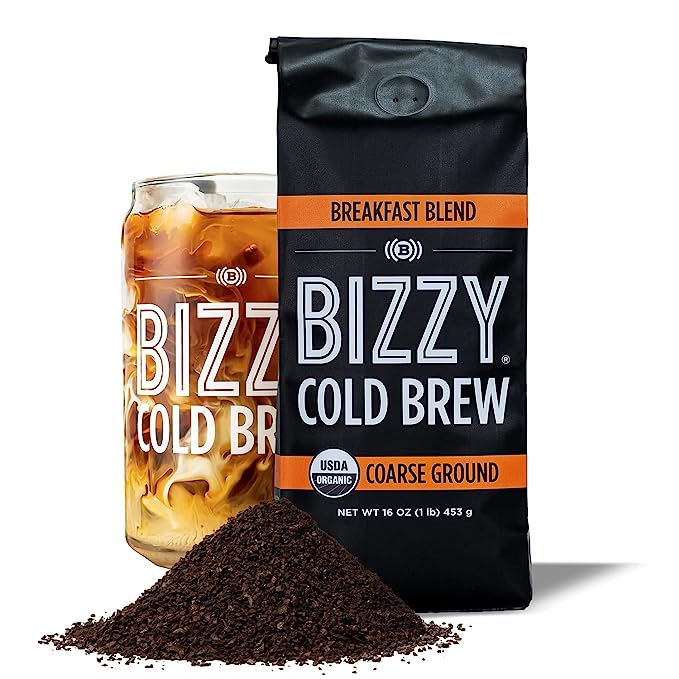 Serving up success with a blend that appeals to morning routines, revenue for Bizzy's Breakfast Blend has experienced a 35% increase in the last six months.
Whole Coffee Beans: The Premium Choice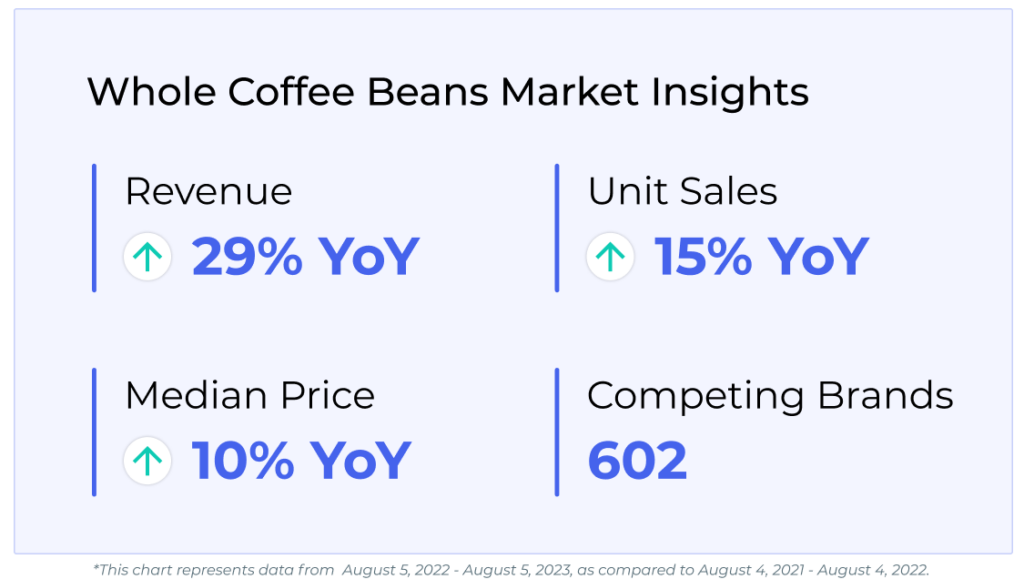 Whole coffee beans offer a premium choice for coffee lovers. This segment has witnessed some intriguing trends on Amazon, signaling an evolving market that appreciates the richer experience offered by whole beans.
Revenue in the Whole Coffee Beans category has soared by 29% YoY on Amazon. The growth is likely tied to the rising trend in gourmet coffee consumption and the desire for freshness that only whole beans can provide.
Top Brands Competing for Whole Coffee Bean Sales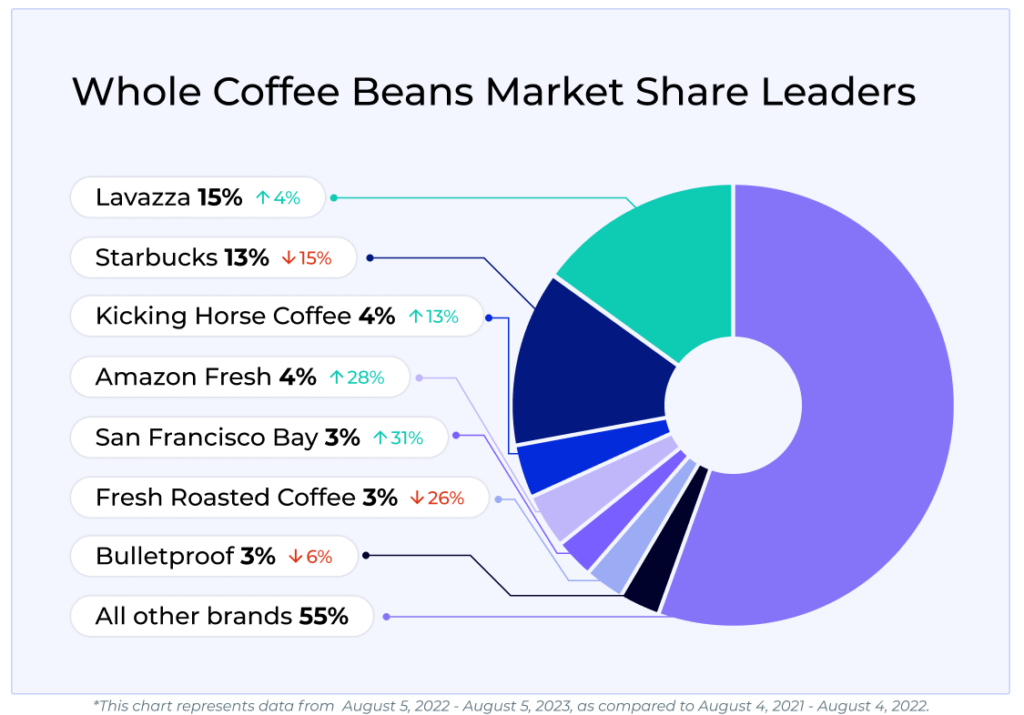 Lavazza leads this market, while Starbucks faces a decline. Amazon Fresh continues to grow in this subcategory as well, reflecting a broader trend of Amazon's expansion into various coffee segments.
Leading Whole Bean Products on Amazon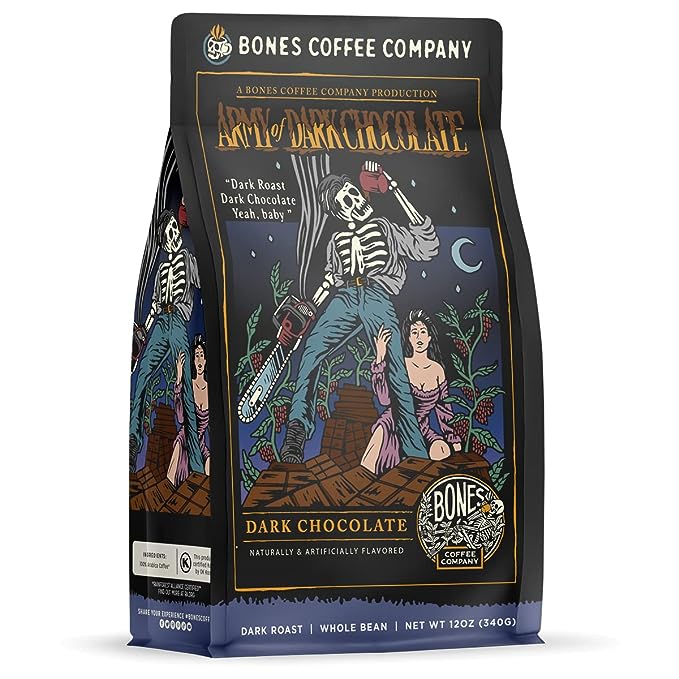 Indulging the market's sweet tooth, Bones Coffee Company's chocolate-flavored coffee beans have stirred up an impressive 704% revenue increase in the last six months.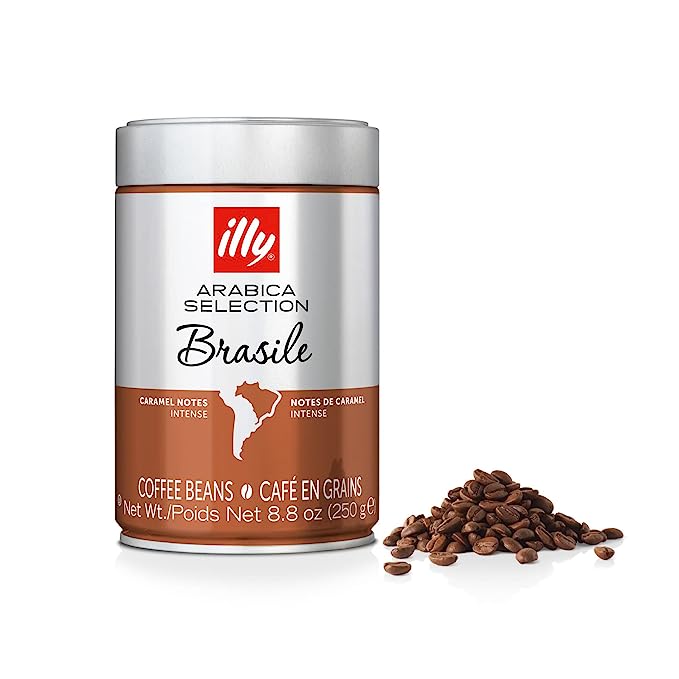 illy Coffee's whole beans have resonated with connoisseurs, which is evident in their 72% revenue growth over the last six months.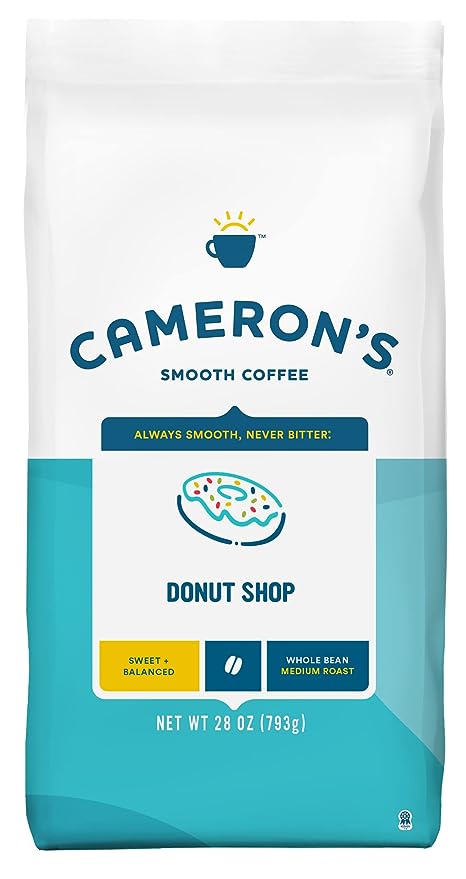 Cameron's Coffee has tapped into consumer preferences with their Roasted Whole Beans, resulting in a robust revenue growth of 795% in the last six months.
Coffee Pods: A Brewing Convenience
Coffee pods have revolutionized how people consume coffee, providing a convenient and quick way to brew a single cup with a Kuerig, a Nespresso or another single-serve coffee machine. The trend towards individualization and ease-of-use has made this subcategory a significant player in the Amazon coffee market.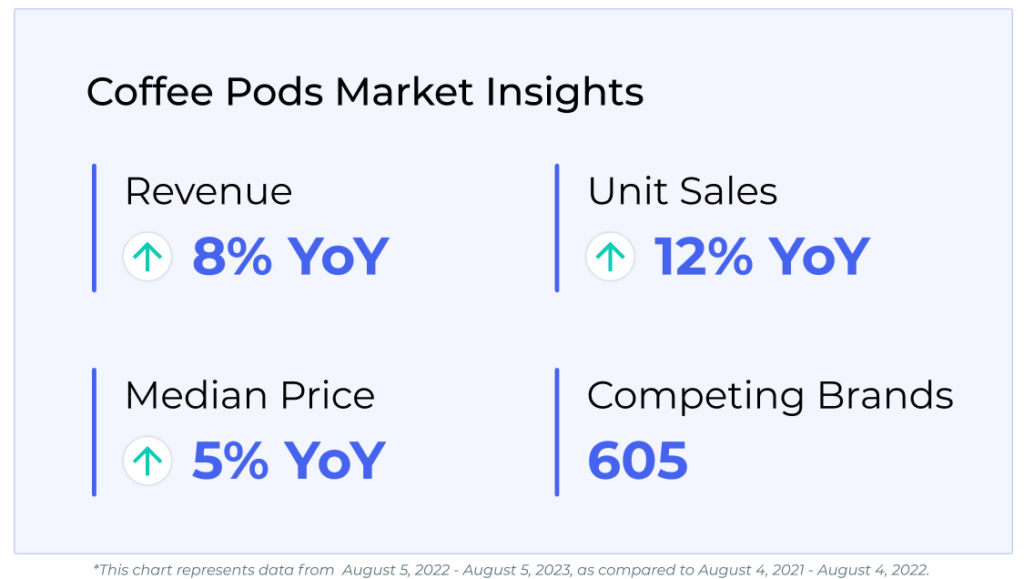 The coffee pod market on Amazon has seen an 8% growth in revenue YoY. While this growth might appear modest compared to ground coffee and whole coffee beans, it still demonstrates a steady demand for convenient coffee solutions. The continuous innovation in flavor and compatibility with different brewing systems has kept this category growing.
Top Brands Competing for Coffee Pod Sales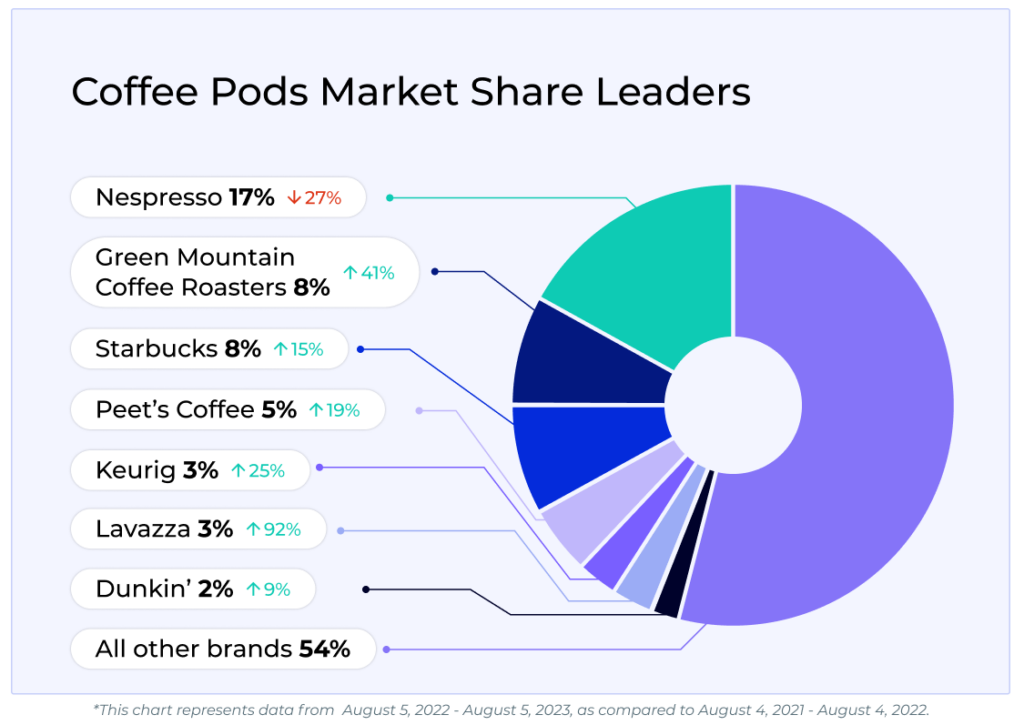 Despite Nespresso's leading position, it is losing market share, while Green Mountain Coffee Roasters and Keurig are surging ahead. This could be due to the vast price difference between Nespresso and Keurig or similar brands.
Single-Serve Showdown: Keurig vs. Nespresso
While both Nespresso and Keurig have found success in the single-serve coffee market, they cater to different customer needs and preferences.
Nespresso coffee makers are typically priced higher, reflecting the brand's focus on delivering a premium, café-quality experience. These machines offer advanced features, sleek designs, and a reputation for quality that justifies the higher price tag for many consumers.
Keurig's pricing strategy is more varied, with options that cater to different budgets. The lower-end models offer quality coffee at a more accessible price, while the higher-end models provide additional features without reaching the premium pricing of Nespresso.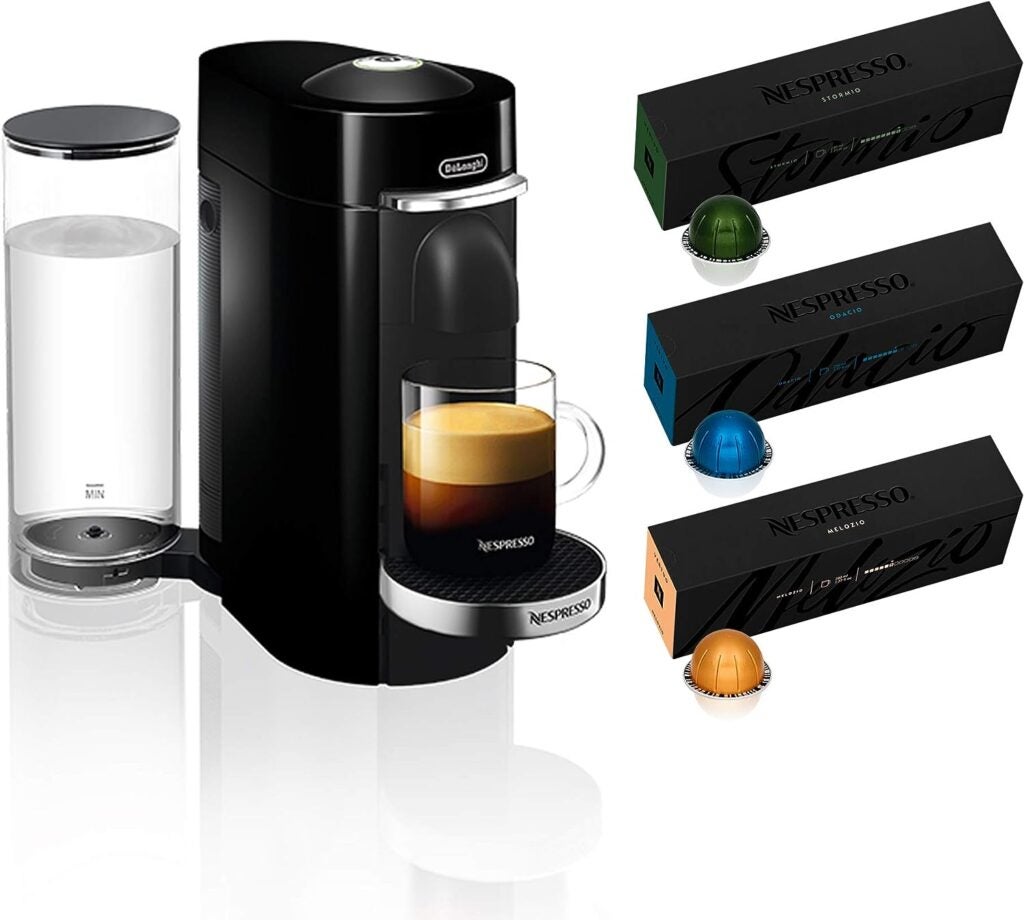 The Nespresso VertuoPlus Deluxe Coffee and Espresso Maker: With a 40% increase in revenue in the last six months, this Nespresso model continues to enchant coffee lovers and signifies a market leaning towards multi-functionality and luxury in-home brewing.

Breville Nespresso Vertuo Coffee and Espresso Machine: This model's 7% growth in the last six months shows a steady demand that is not as explosive as other Nespresso models, which may be tempered by the price barrier of $314.55, limiting its appeal to a more niche, affluent consumer.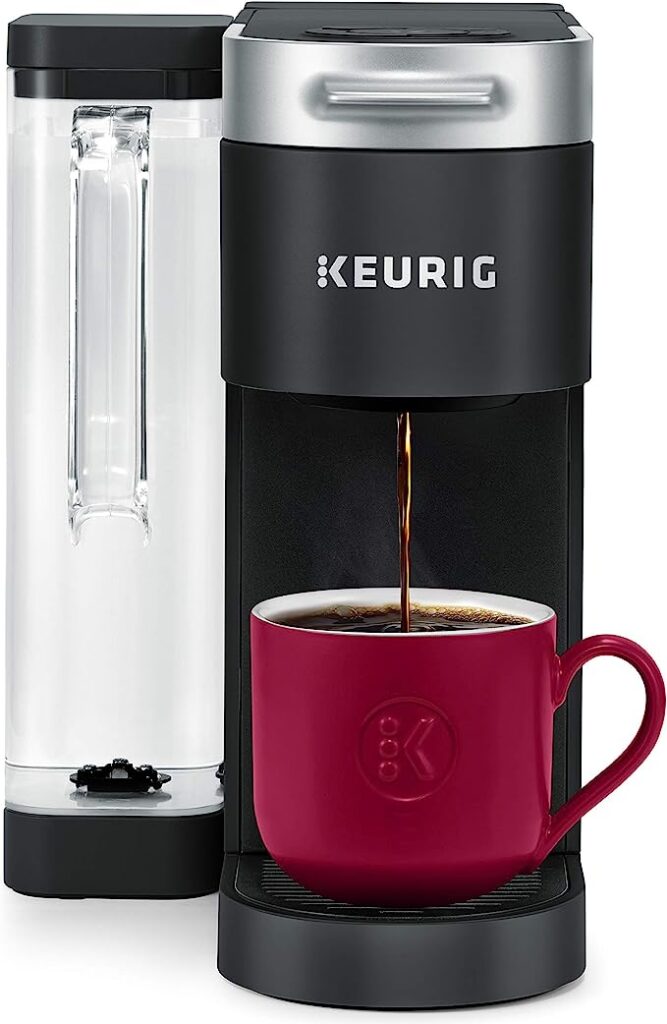 Keurig K-Supreme Coffee Maker: An impressive 129% growth in revenue over the last six months signifies a triumph for Keurig. The model is priced at $139.99, and its remarkable growth points to a consumer trend toward more advanced brewing technology within the convenience space.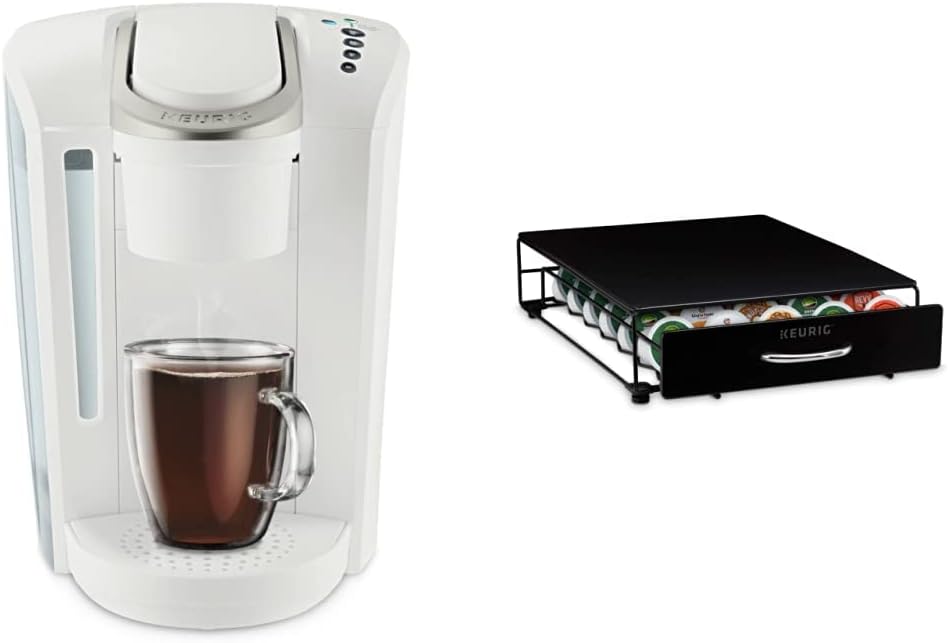 Keurig K-Select Coffee Maker: A staggering 660% increase in revenue in the last six months highlights the immense success of this model. The dramatic growth may be partly attributed to their flexible pricing, making Keurig more appealing to a wider audience.
Emerging Market Leaders: Espresso Machines Gaining Traction on Amazon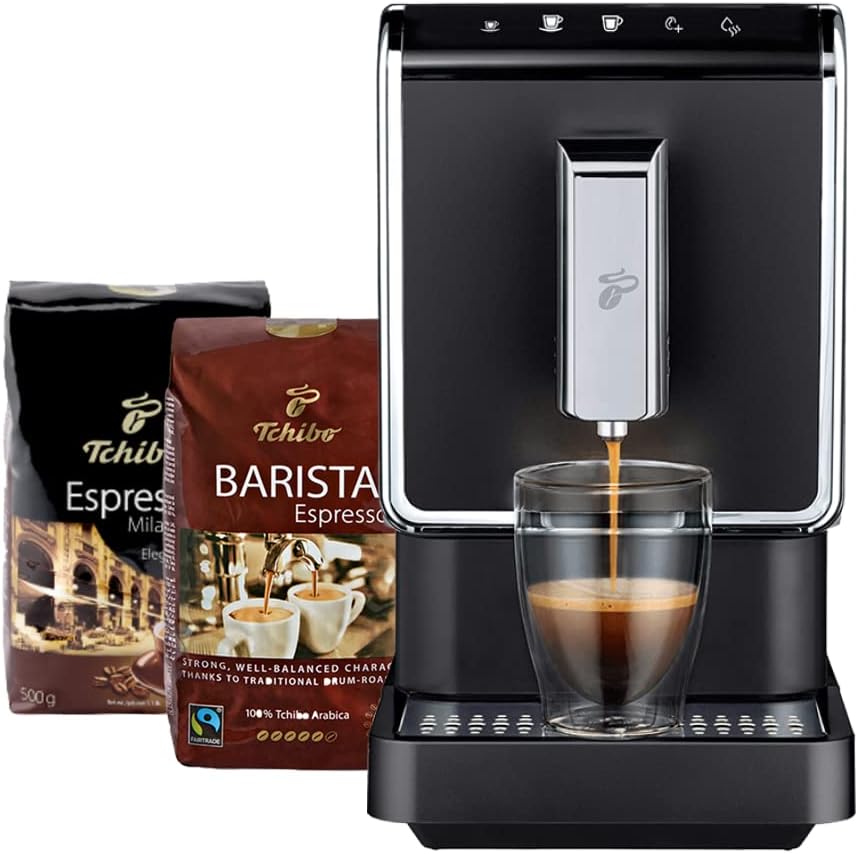 Tchibo Fully Automatic Coffee & Espresso Machine:
With a revenue increase of 155% in the last 6 months, priced at $399.00, Tchibo's fully automatic espresso machine is resonating with the more discerning consumer. This price point positions it within the premium segment but still accessible for those seeking high-quality home brewing. The machine's success may reflect a growing appreciation for top-tier espresso experiences without venturing into the luxury market's highest echelons.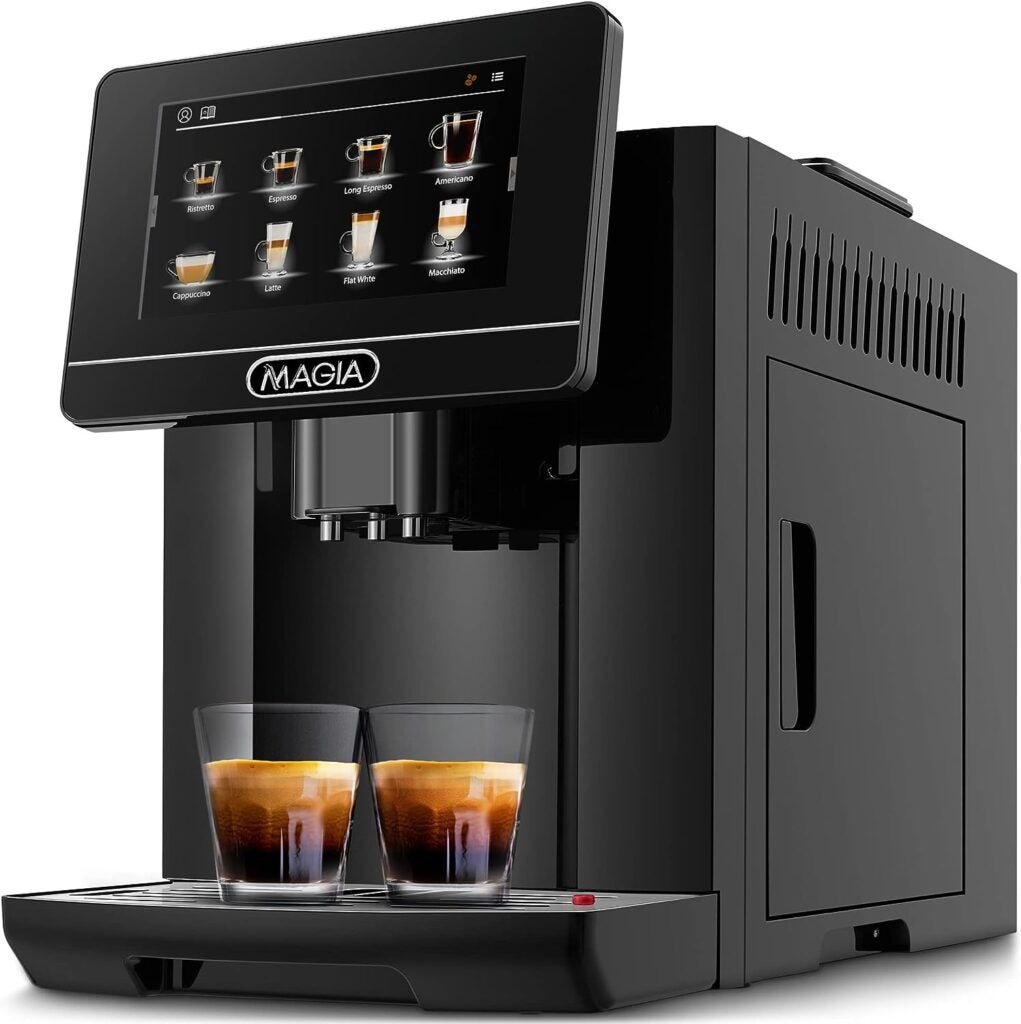 Zulay Magia Super Automatic Coffee Espresso Machine
Zulay Magia's revenue has surged by an astonishing 884% in the last 6 months, despite its luxury price point of $818.59. This machine's success may point to a burgeoning premium market, with consumers willing to invest in high-end brewing technology for that perfect cup.
Brands looking to compete or collaborate with these single-serve coffee machine giants must understand their core differences. Whether aiming for the espresso enthusiast or the convenience-driven coffee lover, aligning product offerings with these distinct consumer profiles can lead to a successful brew in the Amazon marketplace.
The Coffee Pod Products Winning on Amazon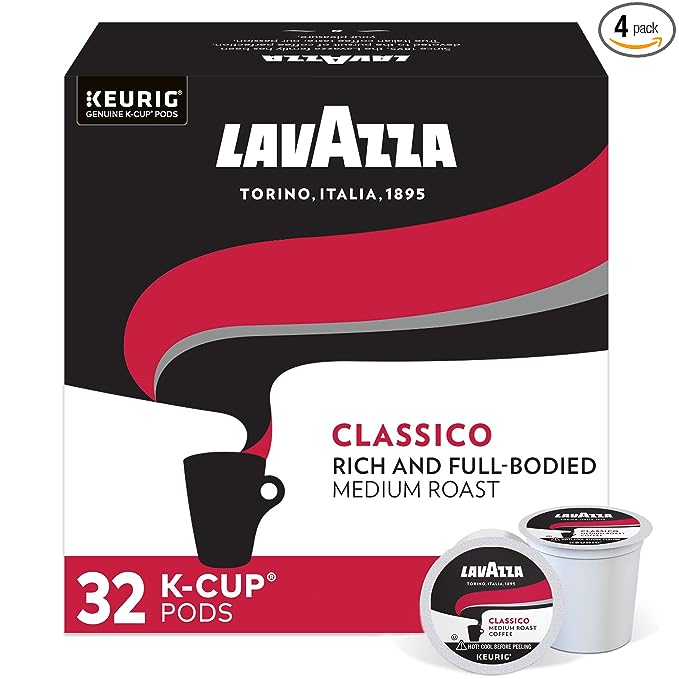 These Lavazza K-Cups have brewed up unprecedented success, with revenue surging by an extraordinary 2,218% in just the last six months.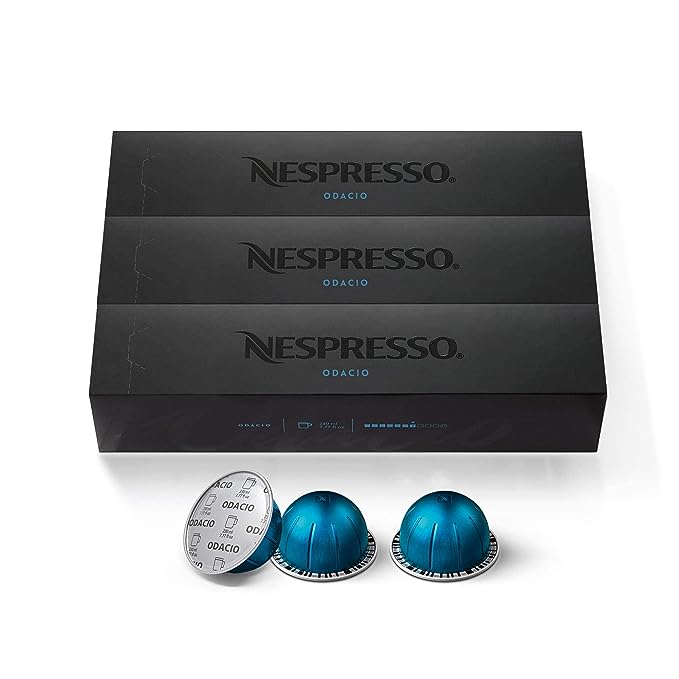 The Nespresso VertuoLine Capsules are steaming ahead with a revenue increase of 68% in the last six months.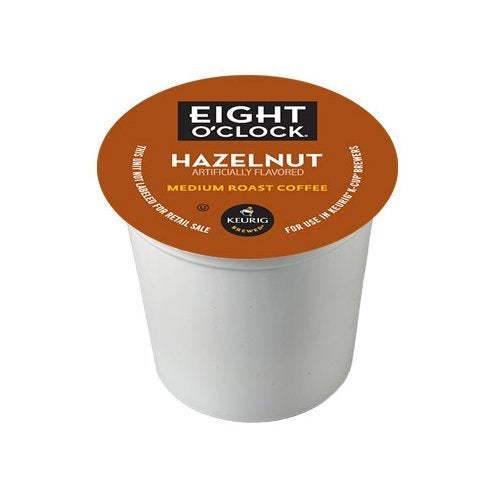 Eight O'Clock Coffee's Hazelnut coffee pods have seen a robust surge in popularity, brewing up a revenue increase of 115% in the last six months.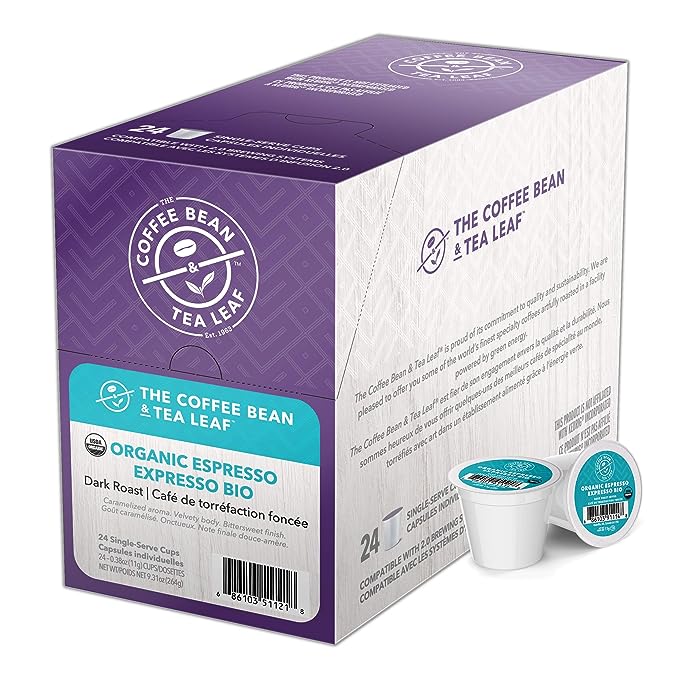 The Coffee Bean & Tea Leaf's Coffee Pods is a blend resonating with consumers, witnessing a 104% increase in revenue in the last six months and earning the prestigious 'Amazon's Choice' badge in the Single-Serve Coffee Capsules & Pods category.
Coffee & Keywords: Unraveling the Search Trends Behind the Beans
In today's dynamic ecommerce environment, keyword trends are more than mere statistics; they're insights into the consumer's mind, offering glimpses of preferences, desires, and market movements. The last 30 days have presented fascinating shifts in both generic and branded search trends in the coffee category on Amazon.
| | |
| --- | --- |
| Generic Keywords | 30-Day Search Trend |
| Whole coffee beans | Up 21% |
| Coffee | Up 15% |
| Coffee beans | Up 2% |
| Dark roast coffee | Up 9% |
| Coffee grounds | Up 24% |
| Ground coffee | Up 13% |
| Flavored coffee | Up 6% |
| Low acid coffee | Up 15% |
| Ground coffee medium roast | Up 11% |
| Decaf coffee ground | Up 12% |
The increase in searches for specific coffee types, such as whole beans, dark roast, and low-acid coffee showcases a maturing market where consumers are becoming more discerning. They're not just looking for coffee; they're searching for particular experiences, flavors, and attributes. The rise in ground coffee searches also indicates a surge in home brewing, where freshness and customization are essential.
| | |
| --- | --- |
| Branded Keywords | 30-Day Search Trend |
| Starbucks coffee | Up 15% |
| Lavazza coffee | Up 20% |
| Folgers coffee | Up 16% |
| Death Wish coffee | Up 164% |
| Bones coffee | Up 35% |
| Black Rifle coffee | Up 13% |
| Peets coffee | Up 32% |
| Gevalia coffee | Up 23% |
| Camerons coffee | Up 10% |
| Tim Hortons coffee | Up 34% |
Branded search trends reveal a blend of loyalty and curiosity. Staples like Starbucks and Lavazza continue to grow, while exciting outliers like Death Wish Coffee have surged. This points to a market that values both the familiar and the adventurous. The significant uptick in searches for newer or more niche brands like Bones Coffee indicates a willingness among consumers to explore beyond established names.
| | |
| --- | --- |
| Generic Keywords | 30-Day Search Trend |
| Coffee pods | Up 13% |
| Nespresso pods | Up 10% |
| K cups | Up 24% |
| Keurig coffee pods | Up 19% |
| Nespresso capsules | Up 7% |
| Kcup | Up 20% |
| Keurig pods | Up 21% |
Trends in coffee pods showcase a market craving for convenience, with growing popularity in searches for specific pod types like Nespresso and K-cups.
The Share of Voice Leaders Shaping the Coffee Market
Amazon Fresh is stirring the pot in the competition for the keyword 'whole coffee beans', seizing a 36% share of voice. Lavazza and San Francisco Bay aren't far behind, with 26% and 14%, respectively.
Amazon Fresh grinds ahead (yet again) for the 'ground coffee' keyword, holding a substantial 32% share of voice. Maxwell House has 22%, while Peet's Coffee is hot on their heels with 18% share of voice.
For the keyword 'coffee pods,' Solimo, a less recognizable coffee retailer, is taking the lead with a 34% share of voice, while Nestle Nespresso and The Original Donut Shop follow with 20% and 14%, respectively.
These search trends and share of voice leaders paint a picture of a complex and nuanced coffee market. Brands looking to succeed must understand the multifaceted desires of today's coffee consumers and recognize the opportunities in both broad appeal and niche markets. By aligning products with these search trends, brands can create more effective strategies, brew stronger customer connections, and pour new energy into their Amazon sales.
Brewing Opportunities for Coffee Brands on Amazon
The overall performance of the coffee category on Amazon reveals an area ripe with opportunity. With rising revenue, unit sales, and median prices, this segment is attracting a growing number of brands and consumers alike.
The success in this space can serve as a blueprint for both existing and aspiring coffee brands on Amazon. By understanding the underlying factors driving these trends and responding with targeted products and strategies, brands can leverage this growth to carve out their unique space in the marketplace.
Coffee is not just holding its ground; it's thriving, offering lessons and opportunities for those looking to brew success on Amazon.
About This Report
The product data in this report is representative of the U.S. Amazon market. Market insights on Amazon products were sourced from Jungle Scout Cobalt, an industry-leading market intelligence, advertising optimization, and ecommerce reporting platform powered by nearly 2 billion Amazon data points. Year-over-year comparison data reflects the period of August 5, 2022 – August 5, 2023, as compared to August 4, 2021 – August 4, 2022.
We encourage you to share, reference, and publish this report's findings with attribution to "Jungle Scout Cobalt" and a link to this page.
For more information, specific data requests, media assets, or to reach the report's authors, please contact us at [email protected].