When it comes to running a business, you need to make decisions based on the data available to you, to ensure your business is moving in the right direction. Many rely merely on gut instinct when it comes to business decisions, but if you have reliable information, the next steps to strengthen your business are clear. This is where Amazon Seller Central Reports come in.
Fortunately, with a professional Amazon seller account, you have access to various business reports, helping you run and grow your Amazon business.
The valuable data provided in each business report can help you make decisions on your advertising campaigns, listing content, pricing — and much more.
In this article, I'll answer the following questions about business reports:
What are Amazon Business Reports?

Which reports should you focus on and how do you read report data?

What other types of Amazon seller reports you should know about?
Read on to learn more about this important resource!
What are Amazon Business Reports?
Amazon seller reports provide sellers like you with valuable insights and data to track the performance of your business. In these reports, you can see data such as the number of units you've ordered, how many people visit your listings, conversion rates, sales totals, and your Buy Box percentage.
There are many other reports available in Seller Central, such as return reports, advertising reports, FBA fulfillment reports, and stranded inventory reports.
These reports enable you to view the performance of every aspect of your business so you can make informed decisions about how to move forward. Instead of making decisions based on your instincts, use the valuable data that Amazon offers you so your business can grow.
How reports help you track business performance
There are plenty of opportunities to be found within your business reports in Amazon Seller Central. Learn to read them regularly, so you know what kind of progress you're making, and don't miss out on potential sales and profit. With the useful information provided in Amazon's available reports, you'll be able to increase your conversion rates and sales volume, decrease ad spend, and more.
If you don't have any data to reference, how would you know what is working for your products? What's great about each report is that you can download it as a CSV file and open it with a spreadsheet program like Microsoft Excel or Google Sheets.
If your listing had a high conversion rate but very few visitors, you'd want to know that information, right? Small details like these will help you think of ways to improve the traffic going to your listing.
Which Amazon seller report should you focus on?
There are so many different reports available to professional sellers and brand owners, that it can be hard to know what to focus on. I'll go over the helpful reports that I use to help track the performance of my own Amazon business.
Let's take a look at the "Business Reports" section within Amazon Seller Central. To access this, go to the Reports Tab and click on "Business Reports."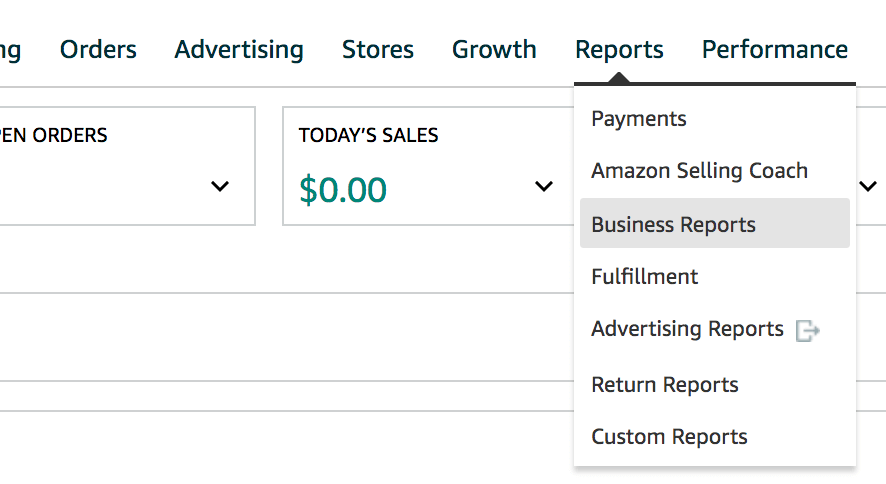 You'll first be brought to your Sales Dashboard. This will give you a quick overview of your total sales on Amazon. You can choose to view today's sales, week to date, month to date, year to date, or a custom date range.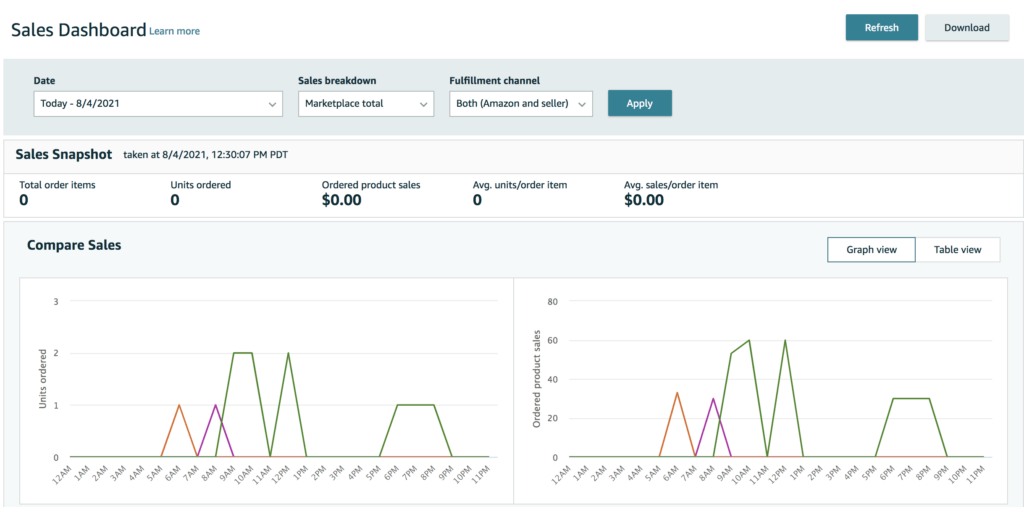 On the left-hand side of the dashboard, there is a variety of other reports to review: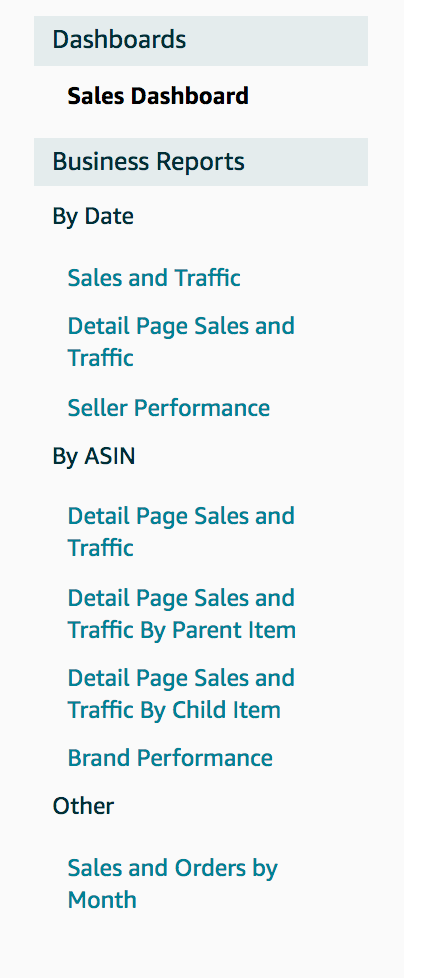 Detail Page Sales and Traffic By Child Item
While there are quite a few reports to check out, the one report that benefits every seller the most here would be the one called "Detail Page Sales and Traffic By Child Item."
This report breaks down various metrics for each one of your products, including variations (child items). It's great to see how your business is doing as a whole, but knowing how each one of your products is performing will help paint a detailed picture.
To me, this report is the most valuable because it tells you exactly how many views each one of your products receives, as well as each one's conversion rate. This information is incredibly useful in helping you decide how you price, market, and sell your products.
Here are the types of information you can see in this report:
Sessions:

The total number of unique visitors to your product page within a 24-hour period. This is useful because you're able to see exactly how many customers viewed your listings within your desired time range. If the number of views is low, you can proceed to think of ways to increase traffic to your product page.

Page Views:

The total number of views on your listings within your selected time period. This number will include customers who viewed your listing more than once, so it may be higher than your sessions.



Page Views Percentage:

The percentage of page views a specific ASIN you own receives compared to your other products.



Buy Box Percentage:

The percentage of page views where you owned the

Buy Box

. This metric is particularly useful if you're an

arbitrage

and

wholesale

reseller, because you can see how often you get the Buy Box compared to competitors also selling on the same listing. This is also useful if you're a private label seller and if you have less than 100% of the Buy Box.



Units Ordered:

This is the total number of units ordered during the specified date range. This is useful to track each month so you can see if there are any dips or growth in product sales.



Unit Session Percentage:

Also known as your conversion rate. This is the most useful metric in the report. Your conversion rate is the percentage of how many units were purchased compared to the number of people who viewed your listing.



Ordered Product Sales:

The total revenue for each one of your products during a specified date range. Another very useful metric to track so you can ensure your product sales are growing each month.



Total Order Items:

This tells you the total orders placed for a specific item. This number will be equal to or less than the total number of units ordered because a customer may place an order for multiple items.

Ok, so I know this is a lot of data to sort through but once you know what you are looking at, it is very easy to understand. Let's go over how to decipher and use this data to help your business grow.
How to read and decipher the data in your Business Reports
Now that you know where to find your Business Reports, how do you actually break down the data? Once you understand what you are looking at in this report, you'll be able to make decisions that can positively impact your business.
The two most important metrics in this report will be your Sessions and Unit Session Percentage (conversion rate). Of course, units ordered are important but you want to put your focus on (1) increasing traffic, and (2) increasing your conversion rate. If those two metrics are performing well, your total sales and units ordered will increase as well.
Conversion rate
A "good" conversion rate on Amazon is somewhere around 5-10%. Of course, this will depend on the product and niche you are selling in but this is what you should aim for.
Side note: A "good" conversion rate on a regular ecommerce website is around 1-2%. That is because most of the traffic that is funneled to the website is not always ready to buy.
Amazon customers, on the other hand, are typically on Amazon to make a purchase. This is why a 10% conversion rate is more typical for an Amazon seller.
If your conversion rate is around 10% or above, you are doing something right. This means your listing is well-optimized, your price point is fair, and your product has good reviews, making customers want to buy it.

The first two products shown above have an excellent conversion rate. Using the first product as an example: this means that over 30% of customers that view this listing are compelled to make a purchase.
The third product, on the other hand, has a very poor conversion rate of just 1.32%. This tells us that the listing could use some work.
If you have a poor conversion rate (5% or less), there could be an issue with your listing. Some common reasons? Too many critical reviews, bad listing quality, poor images, or a price that's too high. There are many factors that influence a purchase on Amazon. Even if your conversions are over 10%, there's lots of room to grow, and you can still find ways to improve your listing.
Carefully comb through your listing and make note of anything that needs improvement. Here are some listing components you should take a look at:
Images: Is your main image clear and on a white background? Do you have supporting images and infographics with informative text? Look at your competitors' images — how are they different from yours?
Title, Bullets, Description: Is your listing copy clear and informative? Does it leave the reader wanting more information? Do you clearly state the features and benefits of the product? Ask yourself these types of questions and address any weak spots.
Price: Is your product priced too high compared to the competition? Price is a big factor when it comes to conversions. If a customer believes your product is not worth its price, they'll choose the cheaper option. This is where listing quality comes into play as well. High-quality images and good copy add to the perceived value of your product.
Reviews: Product reviews are vital to your success on Amazon. 75% of consumers shopping online choose products based on reviews and ratings. If your product has poor reviews, think of ways to address them or find out what's wrong with your product so you can make it better. If you are brand registered, you have an option to contact customers who left you a negative review.
A+ Content: Are you enrolled in Brand Registry and have the option to create A+ Content but haven't tried it yet? Replace your old description with A+ Content to see if it helps improve conversions. A+ Content allows you to customize the description with text modules, images, and infographics to help provide the customer with more information.
Any one of these components can have a negative or positive impact on your listing conversions. A great way to test out different changes on your listing is to conduct A/B tests. Split testing allows you to test out different versions of your listing to see which performs better, learn about your customers' preferences, and make decisions to grow your business.
Sessions
Now that you know how to interpret and optimize your conversion rate, take a look at your sessions, or how many people are viewing your listing. You may have a good conversion rate but if your traffic is low, then your sales will be, too.
There's no one number of sessions that you should aim for but the goal is to reach as much qualified traffic as possible. Notice how I said qualified traffic: not all traffic is good traffic. If you target irrelevant keywords, your sessions may go up but it could cause your conversions to go down.

Let's look at the second row in the image above. This gives us data for a one-month period.
The product we're looking at has a great conversion rate of just over 40% but has a low number of sessions, at just 335 in a one-month period. Its performance is much lower compared to the product above.
The listing is performing very well—it's just not receiving enough traffic.
How can you increase the traffic on your listing? Here are some ways to do raise those numbers:
Use Amazon advertising: A great way to drive traffic to your Amazon listings is to run sponsored ads in Seller Central. Use our Advertising Guide to help you figure out which advertising solution works best for your business.
Create rock-solid listings: Make sure your listing is fully optimized with relevant keywords, informative copy, and great imagery. The relevant, high-volume keywords will help your product rank higher in search results. Clear copy paired with good images will help visitors convert.
Understand your keyword positions: Use Jungle Scout's Rank Tracker tool to track and analyze your keyword data and help improve your rankings. You can even track your competitor's rankings to see where you match up.
Advertise off-Amazon: A strategy that Amazon sellers often ignore is driving external traffic to their Amazon listings. This will not only help you drive more sessions to your listings but can increase your overall sales. You can drive external traffic through many ways, including social media marketing, Facebook ads, and email lists.
Buy Box Percentage
Your Buy Box Percentage can also tell you if there is an issue with your listing.
The Buy Box percentage is a useful metric if you're an arbitrage or wholesale seller since you share the Buy Box with multiple sellers on one listing. If your percentage is low, this means your offer is not always available for sale when customers visit the listing.
For example, if your Buy Box percentage is at 25%, that means only 25% of customers can click "Add to Cart" on your offer. This is relevant if you are an arbitrage or wholesale seller; this indicates that there are too many sellers on the listing or your product is priced too high.
Your Buy Box percentage should, theoretically, be at 100% if you are a private label seller and the only seller on the listing.
If you don't own 100% of the Buy Box, you need to figure out why. This could be another reason your conversions and sessions are low. When you don't own 100% of the Buy Box, it is more difficult for customers to make a purchase.

The second product has the Buy Box about 85% of the time. It is one of our own branded products. There are a few factors that affect the Buy Box:
Low stock or out of stock: If you do not have any inventory in stock, your item will obviously not have the Buy Box. Customers cannot make a purchase unless there is active inventory.
Account health: If your account health takes a hit, Amazon may remove the Buy Box on your listings. For example, if you have a Policy Compliance violation, it can cause your Account Health Rating to go down. To check your account health in Seller Central, go to the "Performance" tab and click on "Account Health."
High order defect rate or refund rate: If there are frequent issues or returns on your product, Amazon may suppress the Buy Box on your listing until you sort out any issues.
Other types of Amazon Seller Central Reports
Amazon has so many useful reports to offer. Let me highlight a couple more reports you should be aware of as an Amazon seller.
Advertising Reports
The advertising reports allow you to view the performance of your advertising efforts on Amazon. Learn which search terms are performing best, and which ones are not giving you a return on your investment.
By running these reports, you can properly optimize your ad campaigns so they become more profitable over time.
You can access these reports by going to "Reports" > Advertising Reports."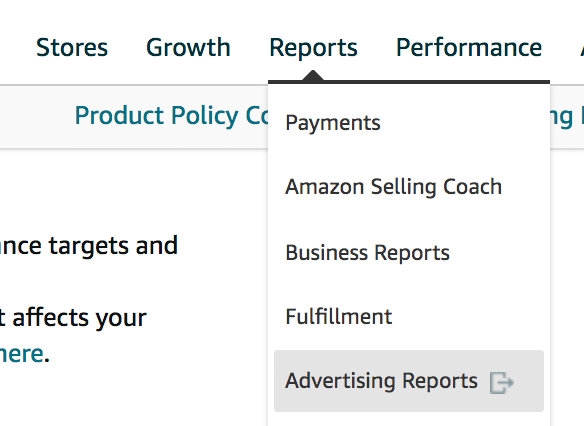 Return Reports
Return reports allow you to see how many returns you received within a certain time period. This gives you a good idea of how often your business gets product returns and the reasons customers return items. You can figure out why your items are being returned and how to reduce the number of returns.
You can access your return reports by going to "Reports" > "Return Reports."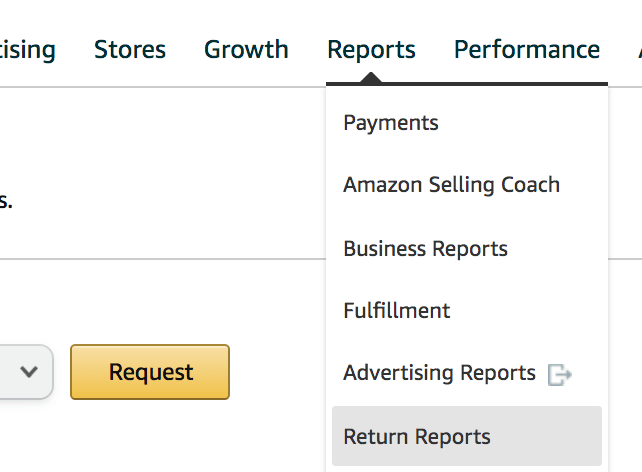 Fulfillment Reports
Fulfillment reports help you learn more about your FBA inventory as a whole. There are many reports available here such as Long-Term Storage Fee reports, Subscribe & Save Performance, Promotions Performance, Stranded Inventory, Returns, and Inventory Age & Health.
Go through this section in Seller Central and see what is available to you. Learn about these reports, so you have a full understanding of how your Amazon FBA business is running.
To access this go to "Reports" > "Fulfillment."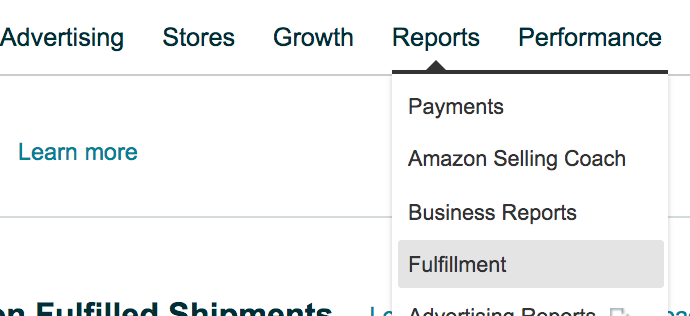 You'll be able to see every type of Fulfillment report available on your left-hand side.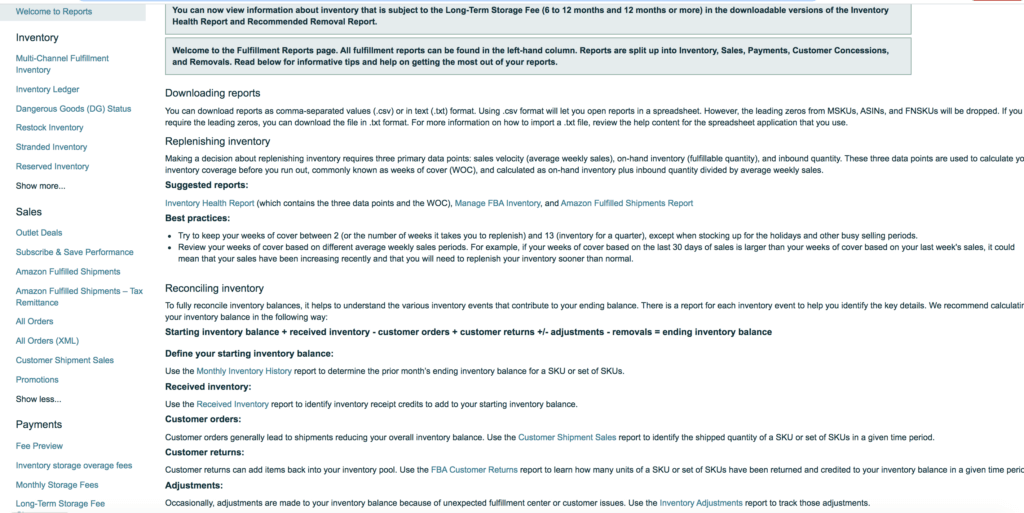 Grow your Amazon business with reports
Learning how to use Amazon seller reports is a worthy investment in your business. Already available to you, this information can keep you out of the dark. You can be proactive about the health and metrics of your products.
Know your numbers, get creative, stay ahead of the competition and welcome some growth opportunities and profit!
Do you have any questions regarding Amazon business reports? Let us know in the comments!