In order to sell hundreds of millions of different products to consumers around the world, Amazon's sales platform is supported by more than 6 million third-party sellers worldwide. Of those sellers, 26% sell products using a sales model called wholesale.
Wholesale is the practice of purchasing bulk branded products from another manufacturer, supplier, or distributor to resell to consumers. Examples include popular consumer electronics, kitchenware, and even popular toys.
Selling wholesale on Amazon in 2023 is a lucrative opportunity — but there's a lot you need to know before diving in. This article offers the pros and cons associated with the wholesale business model and offers step-by-step instructions on how you can efficiently get your business up and running on Amazon.
Want to learn more about selling on Amazon? Check out our complete guide.

How Amazon wholesale works
In a nutshell, selling wholesale on Amazon comprises the basic steps of:
Setting up an Amazon seller account

Finding a high-demand product to resell

Sourcing the product (in this case, from the brand, manufacturer, or distributor)

List the product for sale on the brand's existing Amazon listing (or create a new product detail page)

Managing and growing your business (including inventory, sales, etc.)
READ MORE | How to sell on Amazon FBA in 2023
For all methods of selling on Amazon, sellers will need to follow certain business setup practices.
For wholesale sellers, this may require you to get a business license, and a sales tax permit, or a "resale certificate." These two items allow you to purchase products tax-free and to collect sales tax on your state's behalf. Plus, most brands you contact will require this information from you before opening a wholesale account.
Make sure you look into what the wholesale license requirements are in your country or state.
How does an Amazon wholesale business differ from other business models?
At first glance, wholesale may seem similar to the other business models on Amazon. However, there are some pretty big differences as detailed below.
Wholesale vs. arbitrage
Arbitrage is the process of purchasing products from retail stores or websites at a discounted price to resell on Amazon. Like wholesalers, resellers buy branded products. Unlike arbitrage, wholesalers make bulk purchases directly from the brand instead of individual purchases from a retail store.
Wholesalers also negotiate rates with brands and distributors directly (i.e., earlier in the supply chain), whereas resellers (arbitrage) purchase discount products retail to sell via retail.
Wholesale vs. private label
While wholesalers purchase and resell existing branded products, private label sellers create their own branded products to sell on Amazon.
Because of this difference, wholesalers do not necessarily need to create new product listings. Instead, they add their offer to an existing product listing. Private label sellers must create their own product listings.
Wholesale vs. dropshipping
Dropshippers list goods for sale on Amazon without taking ownership of the product first. Then, when a purchase is made, they place an order through the supplier/manufacturer of the product, who fulfills the product on behalf of the drop shipper.
Wholesalers own their inventory and are in charge of fulfilling orders themselves or through Fulfillment by Amazon (FBA.)
READ MORE | How to Make Money on Amazon in 2023 – 15 Top Methods
Pros and cons of Amazon wholesaling
If you're considering selling wholesale on Amazon, it's important to consider both the pros and cons, especially after comparing it to the other methods of selling on Amazon. Let's take a look.
Pros:
Product demand.

You can sell established brands that consumers are already searching for and purchasing. This takes the burden off your business for marketing.

Quick to get started.

Behind retail arbitrage, wholesale is the easiest business model to get up and running. 42% of wholesalers in

Jungle Scout's study of thousands of Amazon sellers

told us it took them less than six weeks to get their businesses up and running.

Profitable.

Also, 55% of wholesalers told us that they started to turn a profit in under six months.

Scalable.

You can focus your time on growth, even building a team to manage the day-to-day operations, rather than focusing on building a brand, creating listings, or other efforts fledgling brands need to do.
Cons:
Competition. Nearly all of the listings on which you place offers will have multiple sellers. And since the only "lever" you have to pull is price, it can sometimes become a "race to the bottom."
Up-front cost.

Because you must purchase goods in bulk, wholesaling is more expensive than reselling or dropshipping.

Research.

The most time-consuming aspect of wholesaling is research. You will have to explore dozens — maybe even hundreds — of

product opportunities

and ensure that you can get the product in stock from a supplier.

Cold outreach. Before you can begin reselling other brands on Amazon, you must be approved by the brand. This includes cold calling or emailing various companies requesting to open up a wholesale account so you can resell the products on Amazon.
Amazon wholesale account requirements
Before actually contacting any brands, you need to be aware of what they're likely to ask for as a prerequisite to opening a wholesale account.
Register a business or sole proprietorship.

You will need to register a legal business entity or do business as a sole proprietor in your state. When filling out a wholesale form from a brand or distributor, they will ask for this information.

Resale certificate from your state.

This allows you to purchase products from a brand, distributor, or wholesalers tax-free for the purpose of reselling. Most brands or wholesalers will not allow you to purchase at wholesale without this.
Apply for an EIN number. An EIN (Employer Identification Number) or Federal Tax Identification Number is basically a social security number, but for your business. You can receive an EIN number for free from the IRS.
Is Amazon Wholesale profitable?
Yes, reselling wholesale products on Amazon can be profitable. In fact, 18% of sellers who resell wholesale products on Amazon, see profit margins between 26-50%, according to data from our State of the Seller Report.
As with any business model you follow on Amazon, your profitability depends on what you buy the product for and what you sell it for. And of course, you need to account for Amazon fees as well.
How to start selling wholesale products on Amazon
Now that you understand why you should sell wholesale products on Amazon, let's go over how to find profitable wholesale products.
If you prefer video, we also have a fantastic Youtube video on this exact topic, check it out!
1. Find a good product to sell wholesale
Here are a few tips when looking for wholesale items to sell on Amazon.
Make sure that the product is not sold by Amazon or a private label seller.
Amazon can afford to lose money on a sale. As such, they will price their products lower than many competitors, so you don't want to (and likely can't) compete with them.
To see if Amazon is (or was) on the listing, use the Jungle Scout Extension historical graph and check the "Amazon price" box. The graph will show you when Amazon has placed its offer on that particular listing.
If a product is a private label product, the listing will likely have just one seller. Look instead for products that have multiple sellers; this tells you it is either an arbitrage or wholesale product.
Look for established brands, preferably small to medium-sized brands.
You don't want to have to market for a company that's not your own. Remember: a big part of wholesaling is about riding the coattails of successful brands.
You can do so by checking for the product's demand. Use Jungle Scout's Extension or free Sales Estimator to estimate a product's monthly and daily sales (more on this below). You want to find products that have a chance of selling tens — if not hundreds — of units per day.
Look for products that have 'MAP' pricing
MAP stands for "minimum advertised price" which is the lowest price a retailer is allowed to sell a product, according to the brand. Products with a MAP typically end in ".99", ".95" and so on. The price looks uniform across all sellers and not random like "$18.37."
This also prevents price wars where sellers are constantly competing with each other by slowly lowering their price. It forces all sellers of that particular product or brand to have the same minimum selling price. We'll go over this more in the "Calculate how much money you can make" step.
Note: Products with a MAP policy may not always be priced at the minimum, so keep that in mind.
Where to buy wholesale products to sell on Amazon
If you aren't sure where to start your search for good wholesale products to sell on Amazon, you can use Jungle Scout's Product Database, which sorts Amazon's massive catalog based on your criteria.
First, set your preferences: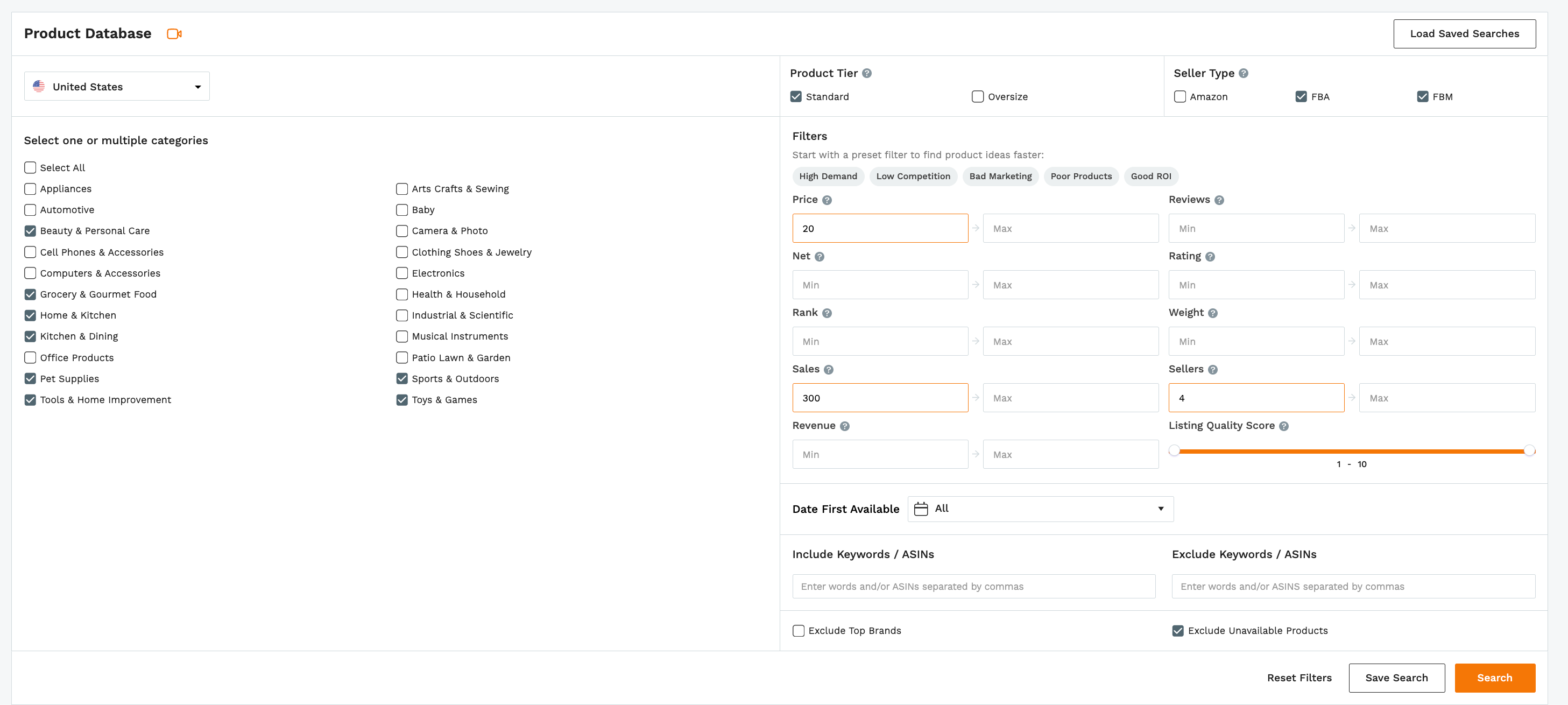 In this example, you can see the categories selected to the left. We also set the following criteria:
A minimum price of $20

Minimum of 4 sellers

Minimum of 300 sales per month

Seller type: FBA and FBM
You don't need to choose the exact same criteria, just make sure the minimum number of sellers is greater than one or two because if a listing has just one or two sellers, that tells us it is likely a private label product.
If you are not sure on what filters to use in Product Database, the tool has preset filters to choose from as seen in the image above.
Jungle Scout returned: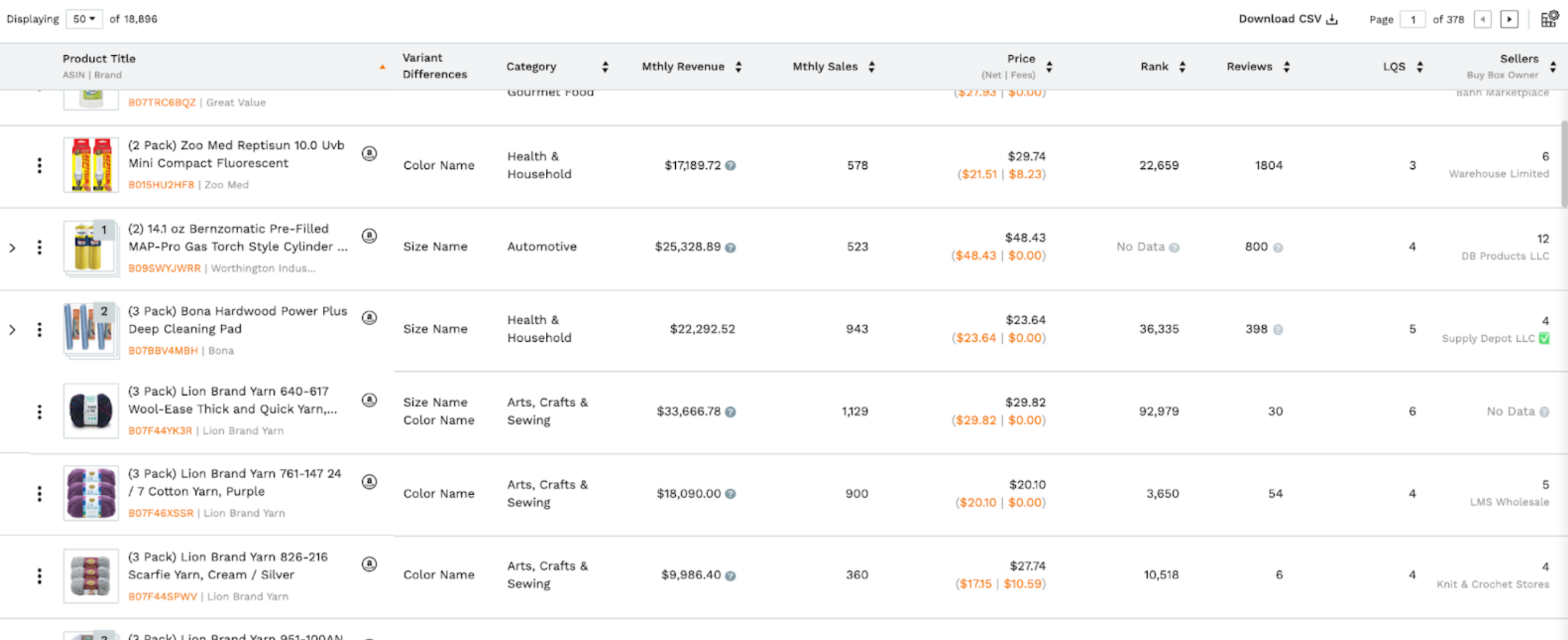 Let's check out the Doggone Good Rapid Rewards Deluxe Dog Training Bag with Belt listing.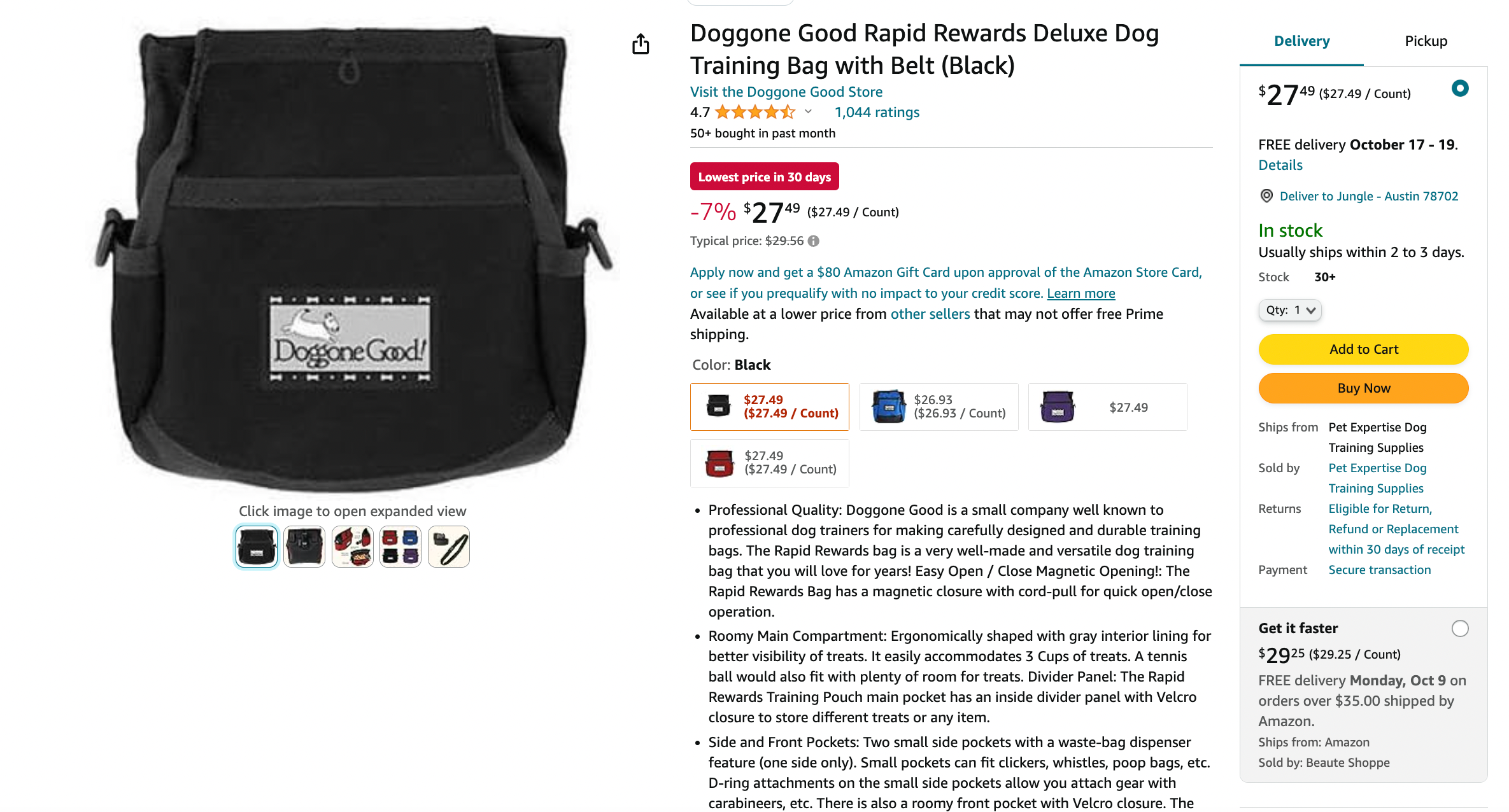 This looks like the perfect opportunity. It's priced well enough to earn profits, there's sufficient consumer demand, and there aren't too many sellers.
2. Find the right suppliers
Once you have some ideas on what products you would like to sell, you need to find a supplier for that product.
Finding suppliers for wholesale products looks a little different from sourcing a private label product. Typically, you'd use a tool like our Supplier Database to find high-quality suppliers in China or other top overseas manufacturers. But for wholesale, you'll contact the brand owners directly.
If you're approved, you will be able to place an order and start selling as soon as possible—some brands may even ship to Amazon for you!
There are a few benefits to this approach:
You don't have to ship products from China.

This is a huge plus. Since the brands you will be contacting are most likely located within the U.S., you won't have to wait weeks or months to receive your inventory or worry about things like customs clearance or overseas shipments.

You don't have to wait for responses from Chinese suppliers.

Usually, in order to contact suppliers in China, you'd need to stay up late to communicate or wait until the next day to get a response. With wholesale, the brands you contact will be working normal U.S. business hours,

or are only an hour or two removed from your local time zone.
Finding the right supplier for a product is as simple as Googling the brand. Using the previous example, let's search for "Doggone Good."
3. Contact and negotiate with brands
Once you find the brand's website, navigate to the contact section. Sometimes, a brand will have a "wholesale" or "dealer" tab, so keep an eye out for that.

This brand just has the Contact Us tab, with an option to send them an email.
Here is an example of what you can say to initiate a negotiation:
"Hello,
I am interested in opening up a wholesale account with [brand name here]. Please let me know what information you require from me and I will get it back to you as soon as possible.
Thanks,
[your name]"
When you contact the brands, you want to demonstrate how you can add value to their company and products. This is usually done once you receive a reply from your initial email. You are offering to help extend their brand and increase their sales.
When you contact the brands, you want to demonstrate how you can add value to their company and products.
This gives you a fantastic advantage to negotiate with here. You can help them with selling on Amazon because they often don't have the time or know-how to do it themselves.
Here are some ways you can offer to add value:
Identify any problems that you can help with them. For example, does their product have poor images? Could the SEO or content for their listing use improvement?
Show the brands how you can grow their business.

Some

brands' products

may sell well on Amazon, but they may have others in their catalog that don't do as well. You can work with the brand to launch new products.

Find brands that aren't interested in selling their products on Amazon themselves. These might even be brands that are already selling on Amazon but have had difficulty with it in the past. If you can effectively convince them you bring the Amazon selling experience, you're solving their problem.
Work towards becoming an exclusive seller of the product or brand.

A big problem many brands face with the Amazon marketplace is having too many resellers. Resellers have a bad

reputation

with many because some don't care about the brand, they care about the profit. But that's not you! Say how you can help clean up their listing and will follow their terms regarding pricing and brand guidelines. Becoming an exclusive seller of a product can give you much bigger profits and less

competition

.
What to do when a brand says 'yes'
If the brand says yes to opening a wholesale account, congrats! Your next step will be to get a price list, figure out their MOQ (minimum order quantity), and how to order.
Now just because you're approved, does not mean the products will even be profitable. It all depends on what the wholesale cost is. In the next step, we'll show you how to calculate your potential profit per sale once you have the wholesale costs of the products you want to sell.
What to do when a brand says 'no
'
If they come back with a resounding "no" at first, that doesn't mean it's the end. Sometimes, negotiations take a while— it's all a part of the process. If you are really wanting to sell a particular product or brand, don't give up just yet. Continue to follow up every few weeks or so.
The truth is, many brands do not like to work with ecommerce/Amazon sellers because they don't want them to tarnish their brand or just be in it to profit.
Demonstrate your value.

Make sure your points about improving their listings and overall brand

presence

on Amazon are loud and clear. Prove to the brand that you will be a long-term partner in helping them grow their brand on Amazon.

Format your email in a neat, easy to read way.

If you have examples of work you've done in the past or are able to prove your ability to optimize listings or increase sales on Amazon, send that as well.

Get on the phone.

We also suggest calling and speaking to someone over the phone. Sometimes it is easier to connect with someone and explain your business and ideas over the phone versus email.
4. Calculate how much money you can make
Obviously, you're interested in selling a product on Amazon to earn a profit. Once you receive a wholesale price list from the brand, here's how you can evaluate sales and profitability before making an investment.
Make sure your product is priced within 2% of the Buy Box
The Buy Box is the widget to the right side of the Amazon product page that lists pricing and has the gold button that reads "Add to Cart."
Whatever the current price is in the Buy Box, you want to be within 2% of that price. If your price is higher, your offer for the product may never display in the Buy Box.
Use the current Buy Box price when doing your profitability calculations.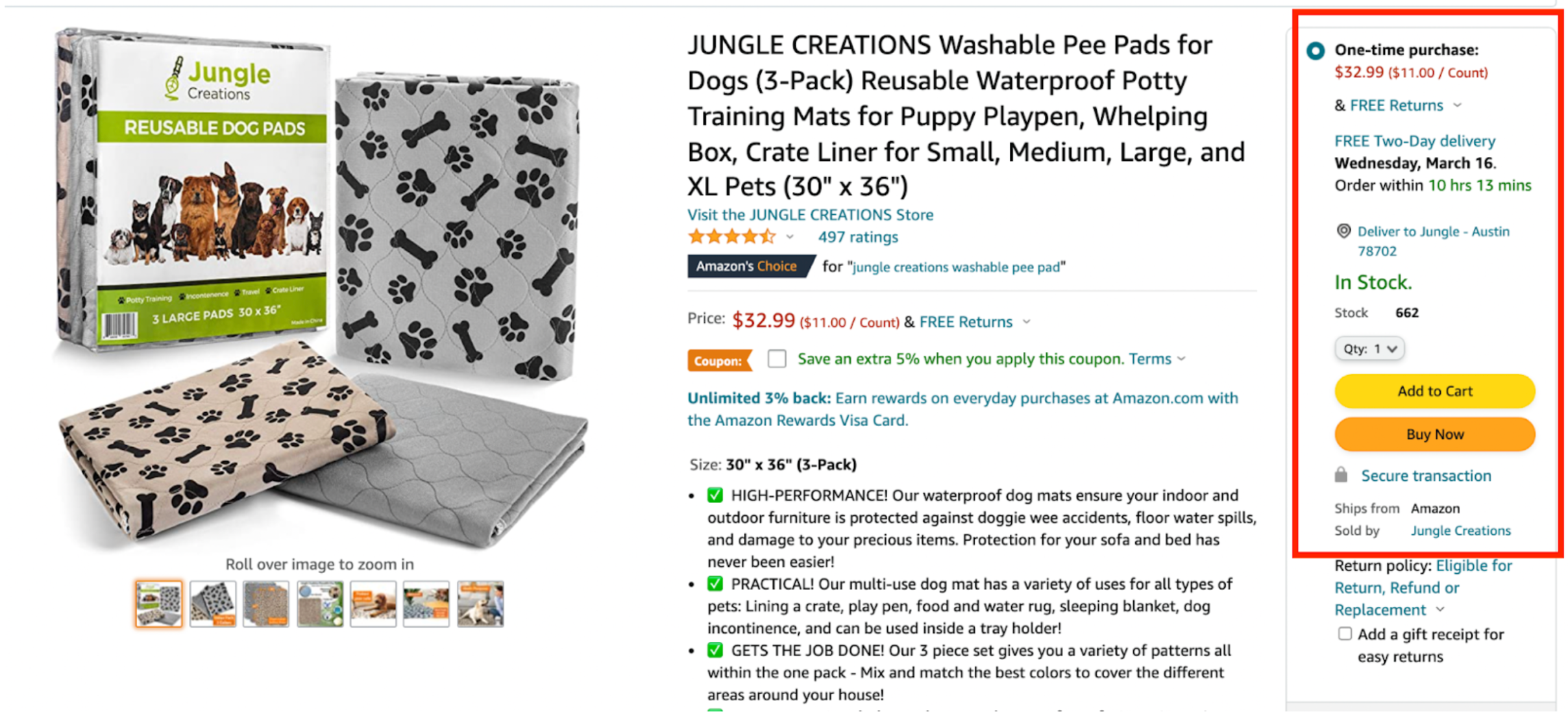 You can also look at Jungle Scout Extension and Product Tracker data to see what the average price is of a particular product. This will give you more confidence when figuring out your potential profit.
You don't want to sell a product where the price constantly fluctuates. As mentioned above, look for brands that enforce a MAP policy.
Understand the product's fees
Next, make sure you know what fees to expect from the product. The easiest way to do this is to use Amazon's FBA calculator. Enter the ASIN of the product into the calculator, then enter product cost.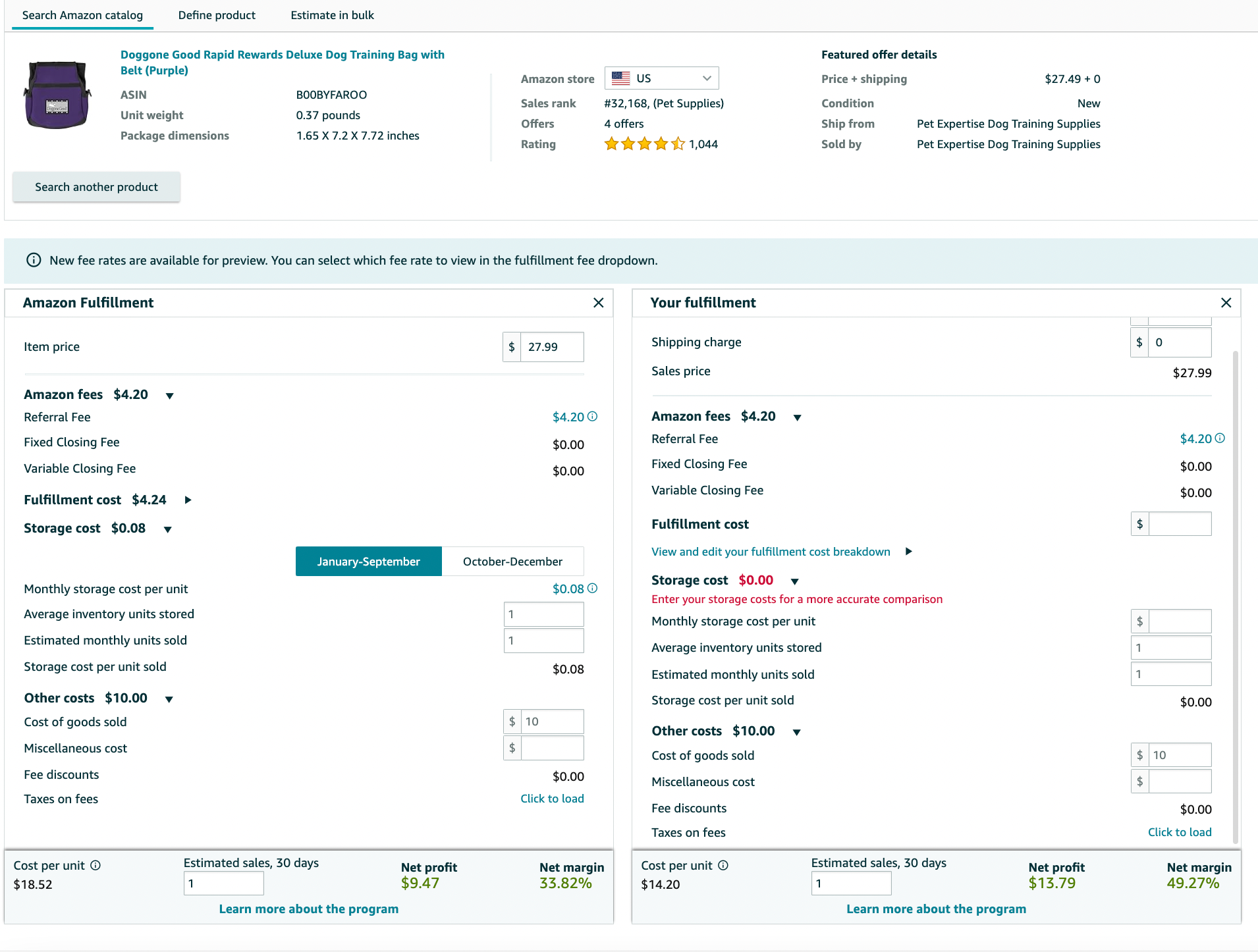 Determine your profitability
Using Amazon's Revenue Calculator, determine your profitability. The calculator will show you the cost per unit (after costs and Amazon fees), your net profit, and net margin. For wholesale products, I typically look for products with a minimum of 15% to 20%.
Remember, you likely won't need to spend any money on advertising so that net margin is a good minimum target.
Estimate your monthly sales
Determine the product's monthly sales estimate using the Jungle Scout Extension or free Sales Estimator. Divide that number by the number of sellers on the listing plus one (which will be you). This is the average number of sales those sellers share on the listing.
For example, if a product has 3,000 sales per month and there are currently 9 sellers selling the product, the math looks like this:
3,000 / (9 + 1) = 300 sales per month.
Though keep in mind that just because there were only 9 sellers on the listing at the time of buying inventory, doesn't mean there will always be only 9 other sellers. It could be less or more.
This is why you should work towards building a solid relationship with the brand and get an exclusive reseller partnership as mentioned above.
Understand your turn rate
To avoid costly storage fees on Amazon, try to keep only 2-3 months of sales in stock. For example, for the example product above, you would need 600-900 units in stock in order to cover sales between orders (assuming there are always 10 sellers.)
You can continue to monitor how much stock you'll need and when to reorder with Jungle Scout's Inventory Manager.
Plus: How to source established brands that aren't already on Amazon

There are also a handful of ways to source brands that aren't yet on Amazon.

1. Look for successful Kickstarters, especially those with thousands of backers. These business owners may not have sufficient knowledge about Amazon and its benefits. As a wholesaler, you would purchase extra units of their product to sell on the platform once their product is manufactured.

2. Check Facebook ads and TikTok, which a lot of entrepreneurs use to start advertising their products. Similar to Kickstarter, these entrepreneurs may not know enough about Amazon to get started there. You could help them get set up on the platform and expand their reach.

3. Follow lifestyle and consumer-facing blogs. Blog posts from major influencers (think Real Simple or Joanna Gaines) can sometimes lead you to awesome products that aren't yet available on Amazon.
How to fulfill your wholesale orders through Amazon
There are two ways to fulfill your Amazon sales: Fulfillment by Amazon (FBA) and Fulfillment by Merchant (FBM).
Fulfillment by Amazon is a program Amazon offers that lets you ship your products to Amazon's fulfillment centers to store. After you make sales, Amazon picks, packs, and ships the products on your behalf. This takes a lot of the pressure off your new business as you won't have to worry about shipping your own goods.
Plus, the fees for FBA are often less than the costs involved with shipping the products yourself.
However, if you are selling products that turn slowly or are oversized, FBA may not be the best choice for your business. You may have to turn to your own resources to store and ship your products.
In that case, Fulfillment by Merchant may be the optimal fulfillment method for your business.
Unlike FBA, rather than paying Amazon a fee for taking care of their orders, FBM sellers are responsible for handling the storage, picking and packing, and shipping of their products to their customers.
Get started with Amazon wholesale now
If you want to sell on Amazon, but don't want to get involved with private label, wholesale is a great alternative. Plus, as mentioned above, selling wholesale could mean turning a profit in half the time it might take as a private label seller.
So don't wait! Now that you know how to buy wholesale and sell on Amazon, explore your opportunities with Jungle Scout and start now.