Finding the right product to sell on Amazon is key to finding success on the site. But even if you're selling the perfect, high-demand product, an optimized Amazon product listing is what's going to drive sales and take your business to the next level.
In a recent Jungle Scout study among more than 1,000 Amazon sellers, roughly half recognize the significance of a great listing and are focused on optimizing their product listings in 2022.
However, for many, that optimization is no easy task; whether they're experienced sellers or not, 29% said that they find creating an optimized listing challenging.
So, to help sellers understand how to build the best possible listing, we're analyzing existing Amazon products to show you what they're doing right and what they can do to improve.
Methodology
To start, we'll need product examples with decent demand that we evaluate. We're using Jungle Scout's Product Database to find products using the following criteria: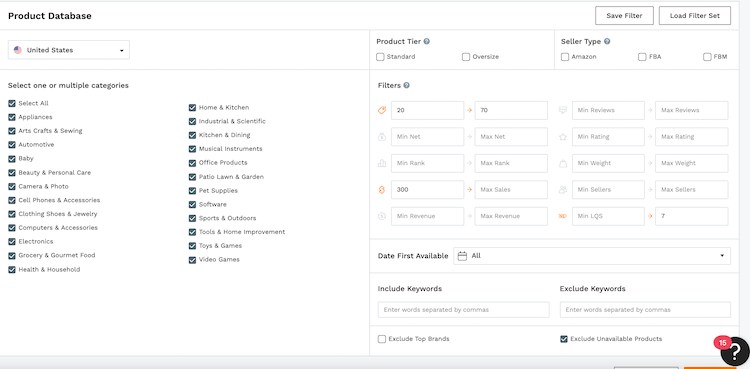 First, I chose the United States from the 'Amazon Marketplaces' dropdown. Next, for 'Categories', I checked 'Select All'.
Finally, for the filters, I opted to:
Set the 'Price' minimum to $20 and maximum to $70

Make the minimum sales 300 (I left the max filter blank)

Fix the Listing Quality Score (LQS) minimum as zero and maximum as seven
These parameters help us find products in a competitive range where we know we have the opportunity to make improvements.
Once the database generated results, I found a listing that is in need of improvements: Pet Housebreaking Pad
Let's begin by taking a look at what gets your product in front of potential buyers: your listing's title.
Writing an optimized Amazon product title
The product title is so important because its keywords tell Amazon's A9 algorithm exactly what your product is, and whether or not the item is what your buyers are looking for.
In other words, it's all about relevancy.
And though there's an ongoing debate online regarding the optimal number of keywords and characters to include in a listing's product title, Amazon allows up to 200 characters for most categories, so our recommendation is to use as much of that real estate as possible!
Let's take a look at the product we found in Jungle Scout's Product Database to determine the effectiveness of its title.
The Pet Housebreaking Pad has an LQS – a real-time, AI-driven rating of a product listing — of 3 out of 10, which is one of the lowest scores a listing can receive. After looking at the title, bullets, images, and description, it makes sense why the LQS is a 3.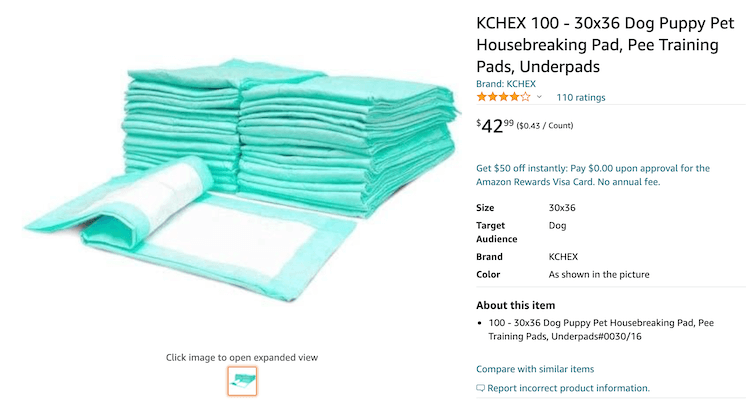 As you can see, the title is short and not very clear, there is only one image, and the only bullet point is the same as the title. This seller is missing a lot of opportunities to optimize this listing with compelling copy, relevant keywords, and eye-catching images.
With the number of competing dog pee pads on Amazon, shoppers likely won't find this listing on the first page of their search results.
To better optimize this listing, let's start with the title. The title is what will help your product rank higher in search and pull customers into the listing.
Right off the bat, I see that the title is very short — only 80 characters. Amazon allows up to 200 characters in the title so it's best to use as much real estate as possible, without keyword stuffing, of course.
Second, the title is a little unclear. The first part says "KCHEX 100." Is "KCHEX 100" the brand name or is it just "KCHEX"? I can only guess that the "100" means it comes with 100 pee pads — but it's not totally clear.
Whenever you are offering a multipack, make sure that is very clear in the title and the rest of your listing. Any confusion can cause a customer to click out of the listing.
Here's an example of how I would write this product title:
KCHEX 30" x 36" Disposable Pet Housebreaking Pads (100-Pack) Potty Training Mats for Puppy, Adult Dogs – Crate Liner Underpads for Small, Medium, Large, and XL Pets
When writing your title, make sure to include:
The product quantity

Product size

Important product features

Who the product is for
A good product title:
To get an idea of what a good, high-performing title looks like, let's check out Jungle Scout's own Million Dollar Case study product: JUNGLE CREATIONS Washable Pee Pads for Dogs.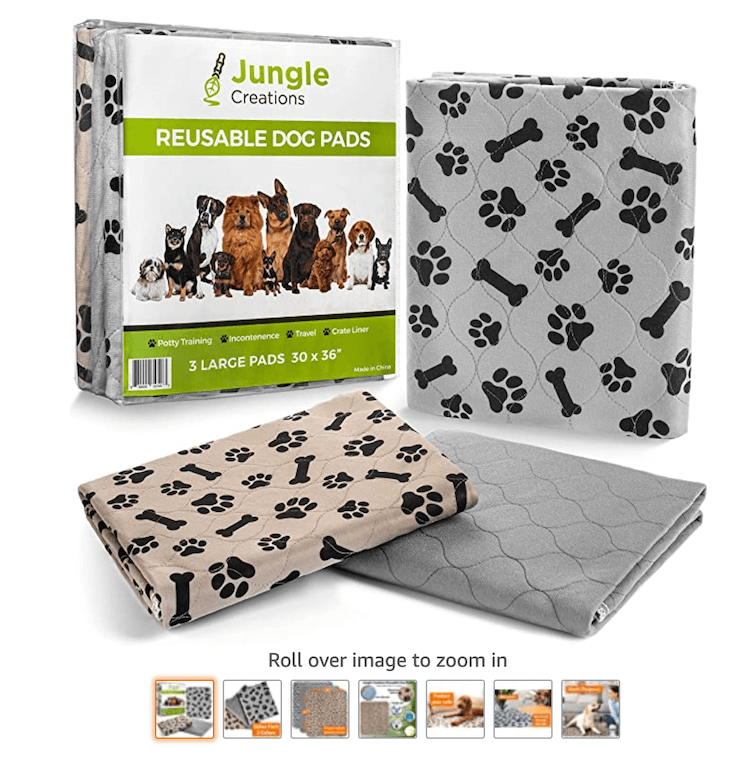 Immediately, you'll notice that the main keywords are right at the start of the title, after the item's brand name, followed by the quantity and size.
And we have used virtually all available characters (186 out of 200) while addressing its main purpose (waterproof potty training mats), different use cases (for puppy playpen, whelping box, crate), benefits (washable, reusable, waterproof), and product specifics (for small, medium, large, and XL pets.)
When writing your title, make sure you're not repeating any keywords. Amazon has stated that you only need to mention a keyword once in a listing, and additional uses of the keyword don't increase the value placed on the keyword. Moreover, as they note in their Terms of Service, keywords are matched to customer search queries using full or partial keyword overlap.
Writing optimized Amazon bullet points
After writing an optimized title, your next step is to focus on your bullet points or key product features as they're called, in the backend of your Amazon detail page.
Amazon allows up to five bullet points and we suggest you use all of that space, as it is more opportunity to include relevant keywords and provide compelling details about your product.
In the first product example, the seller simply copied and pasted the title onto the bullet point section. Doing this is pointless — it does not provide the customer with any more information about the product.
Tips for writing great Amazon bullet points:
Point out the main feature or benefit in the first part of the bullet

Follow through with a more detailed explanation

Write about the product's main feature and how it will benefit the customer

Explain how your product helps solve the customer's problem

Include important product information such as quantity, sizing, colors, and materials

Write compelling copy to convince the potential customer they need this product

Don't just say your product is higher quality, prove why it is
Before writing your title, make sure to understand Amazon's product detail page rules.
Writing optimized Amazon product descriptions
The product description is located further down the product detail page and allows for additional space to speak further about your product.
For this section, it is best to reiterate the features and benefits you wrote about in the bullet points, but in more detail, as you are allowed up to 2,000 characters in the description.
Keep in mind that when a customer is shopping on the Amazon mobile app, the product description will be shown before the bullet points so don't skip this section.
In the past, sellers would use HTML tags to break up paragraphs, bold text, and add bullet points. This is no longer allowed by Amazon, unfortunately.
It is still important to add copy to the product description as you can add relevant keywords and give your customers more details about your product and brand.
If you enrolled in the Brand Registry program, you're able to create what's called an A+ Content Description. This will replace your current description and you can add customized templates, large images, and more.
The right keywords (and how to find them) to make your listing rank
When it comes to keywords for our Amazon product listing, we need to think about their relevance and their cost.
With respect to relevance, we want the keywords in our titles to match the words shoppers use when searching for our type of product. This enables us to build a listing indexed for the keywords people use the most.
As for cost, we want to keep that as low as possible while still ranking for relevant keywords. This will be very important when we start running our pay-per-click (PPC) advertising campaigns.
How to find good keywords
The best way to find the right keywords for your product listing is by using a tool like Jungle Scout's Keyword Scout.
With Keyword Scout, we can either search for keywords using our product type, or we can search our biggest competitors' ASINs (Amazon Standardized Identification Number) to see which keywords they're using.
Not only will Keyword Scout show us which keywords have the highest search volume, and are ranking well for the product, it will also assign a relevancy score and estimated advertising costs to each keyword.
Once we've determined which keywords have the highest search volume, at a price we can afford advertising-wise, then we can start to build our Amazon product listing.
How to build a product listing that converts
Like Keyword Scout, Jungle Scout's Listing Builder makes life as an Amazon seller easier, helping to create strong product detail pages that are more likely to convert.
Taking the keywords we discovered during the keyword-research phase, all we need to do is plug them into the corresponding fields in Listing Builder.
Once we're done, Listing Builder immediately grades our title (plus images, product description, and more) and lets us know how we're doing.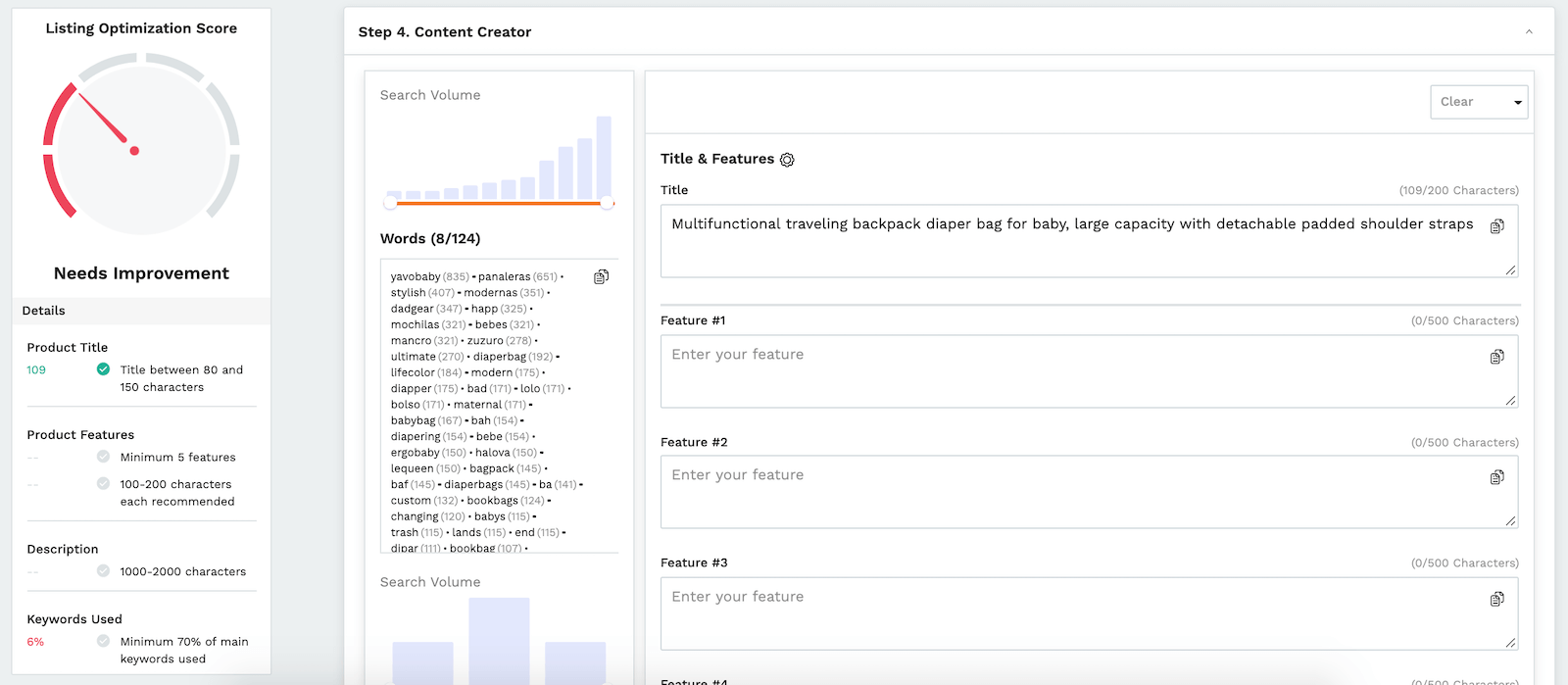 The higher the score, the better the listing. And if we get a low score (like the one in the image above), we can change and rearrange our keywords until we get the high score we want.
Listing Builder will grade our edits in real-time, making it simple to figure out what's working and what's not.
Plus, if our Jungle Scout account is synced to our Amazon Seller Central account, moving new product listings to Amazon happens with the click of a button (it works for existing product listings too!).
Tips for writing effective Amazon product listing titles:
Prioritize your main keywords at the front of your product title and address the main product benefits and features in a concise manner.

If there are multiple uses or customer niches for your product and they can be included in your product title — add them. That will increase the likelihood of your product appearing in customer search queries.

Use Keyword Scout to find relevant keywords for your product. You can look for keywords based on the type of product you're selling, or you can look for the keywords your competitor uses with a reverse-ASIN lookup.

After you have chosen the keywords for your title, you can use

Jungle Scout's Listing Builder

to figure out the best way to use those keywords.
Selecting the right product images for your Amazon listing:
Whereas your product title gets your item in front of potential customers, and your bullet points that help sell your product, it's your product photography — specifically, your main image — that will get those shoppers to click through Amazon's search results to your actual listing.
Image requirements
Along with a number of other requirements, Amazon stipulates that main product images must be at least 1000 pixels on the longest side and 500 pixels on the shortest side in order to be zoomable.
KCHEX does not meet that requirement, as their one and only image is not zoomable and is low-quality. When hiring a photographer for your product images, make sure they produce high-quality photos that meet Amazon's requirements.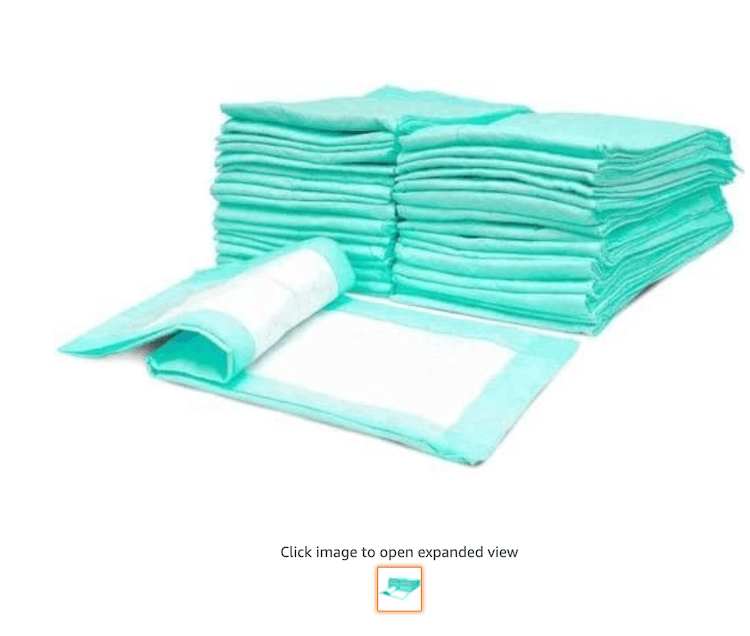 Here are all of Amazon's image guidelines:
Listings that are missing a main image will not appear in search or browse until you fix the listing.
Choose images that are clear, information-rich, and attractive.
Images must meet the following requirements:
Products must fill at least 85% of the image. Images must show only the product that is for sale, with few or no props and with no logos, watermarks, or inset images. Images may only contain text that is a part of the product.

Main images must have a pure white background, must be a photo (not a drawing), and must not contain excluded accessories.

Images must be at least 1000 pixels on the longest side and at least 500 pixels on the shortest side to be zoom-able.

Images must not exceed 10000 pixels on the longest side.

JPEG is the preferred image format, but you also may use TIFF and GIF files.
Lastly, though Amazon allows up to six images (including video demonstrations), there is only one image on the KCHEX listing.
Instead, KCHEX could take a close-up of the actual product, to give the potential customer a better idea of how it works, the type of material used, and the craftsmanship.
It would also be helpful to show potential buyers what it looks like from different angles. Because shoppers can't determine any of this information from the two pictures on the listing, it's extremely likely that they'll move on to a competitor with more descriptive photos.
We also recommend creating infographics and lifestyles images to point out specific features and to show the product in action.
Good product images
For examples of great Amazon product images, check out our Jungle Creations Washable Pee Pads for Dogs listing.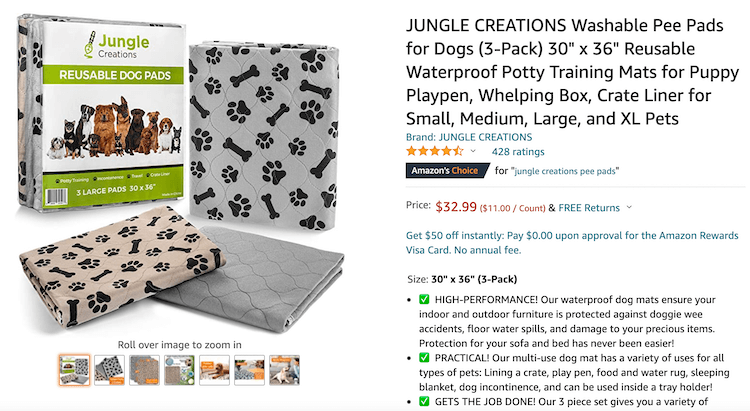 The size of each image is in line with Amazon's TOS and we've taken full advantage of the number of photos allowed per listing: six visuals, seven including the main image.
Each secondary image is colorful and informative, showing the customer exactly what this product offers.
Amazon product photography tips for your listing:
Getting positive Amazon product reviews
After optimizing your title and images, you'll need to focus on getting great Amazon product reviews. And because positive feedback from previous customers helps new shoppers understand the value of your product, getting good ratings early on is key.
Here are a few things to help you get those all-important reviews:
Make a good product! This one might seem like a no-brainer, but if you

create a quality product

that fixes the flaws and pain points of your competitors' products, you'll receive fewer negative reviews.

Let Amazon take the wheel. Amazon sends a follow-up email requesting a review after the sale is made. And if that doesn't work…

Hit the 'Request a Review' button. Amazon allows you to send a one-time

request for a review

straight from your 'Order' page. And if sending requests one at a time is too tedious, you can use

Jungle Scout's Extension

to send bulk review requests.

Use Jungle Scout's

Review Automation

. This tool sends out automated review request emails for each order you receive. All you have to do is turn the feature on and let Review Automation do the rest. You no longer need to manually request a review for each order!
Let's take a look at the Washable Pee Pad reviews:

By using Review Automation, we were able to gain over 400 reviews on the Washable Pee Pad listing in less than one year! While not every customer will leave a review after receiving a review request email, you will get many more reviews than if you did nothing at all.
As this listing has gained more (positive) reviews, it has also helped our Best Seller Rank increase as potential customers are influenced by the social proof they see from previous customers.
Seller feedback vs. product reviews
Just to clarify, product reviews and seller feedback are different, serving very different purposes.

And, most importantly, since Fulfillment by Amazon (FBA) sellers don't pick, pack, or ship their own products (and unlike product reviews), any negative feedback they might receive would likely be Amazon's fault.

In that case, when feedback is given for something beyond our control as sellers, we can open a ticket with Amazon to have it removed.
Take these tips and run with them!
Listings will make us or break us as Amazon sellers, which means investing the time to make it the best it can be is extremely important.
So, now that you know what to do to optimize your listings, take a look around the Amazon landscape and dissect the listings of top sellers. Watch for emerging trends and patterns, and make sure you're employing best practices for our product pages.
And if you'd like to learn more about keyword research and automating your listing optimization, check out Jungle Scout: