We're thrilled to announce the launch of Cobalt 2.0 – a major milestone for our platform that brings together the power of Jungle Scout Cobalt and Downstream!
Read on for a high-level overview of what's new in Jungle Scout Cobalt 2.0, or a more detailed breakdown of the platform's features.
What's new in Cobalt 2.0? A brief overview
Cobalt 2.0 combines the industry-leading Amazon market insights from Jungle Scout Cobalt and the powerful advertising features of Downstream by Jungle Scout into a single platform with one goal at its heart: Making it easier for large brands, retailers, and agencies to take truly impactful actions on Amazon.
Here are a few ways the new evolution of Cobalt achieves that goal:
Consolidates over 75 reports and 350+ metrics from Seller Central, Vendor Central, and the Ad Console into one platform.

Enables parent companies, retailers, and agencies to securely manage multiple brands through a single login.

Peels back the layers of Amazon demand trends and purchasing behavior to understand the consumer needs that are driving sales.

Provides a unified view that combines brand-specific Amazon business data (sales, pricing, inventory, ad spend, etc.) with a broader market context (market share, share of voice, competing brands, search trends, etc.).

Offers simple, customizable data dashboards that illuminate what actions to take to drive traffic and conversion. This includes a full library of report templates curated to help answer common business questions.

Includes built-in advertising analytics and automation features that save hundreds of hours per year in reporting and campaign management time.
For a full list of Cobalt 2.0 features, information on our new pricing structure, and more, keep reading.
If you're ready to get your hands on Jungle Scout Cobalt 2.0 and see it for yourself, you can take a self-guided product tour or request a personalized demo.
Cobalt 2.0: All the details
In 2020, Jungle Scout released Cobalt to expand the power of our first-of-its-kind Amazon data to large brands, retailers, and agencies. Just under a year later, Jungle Scout announced its partnership with Downstream, an equally innovative leader in the ecommerce advertising space.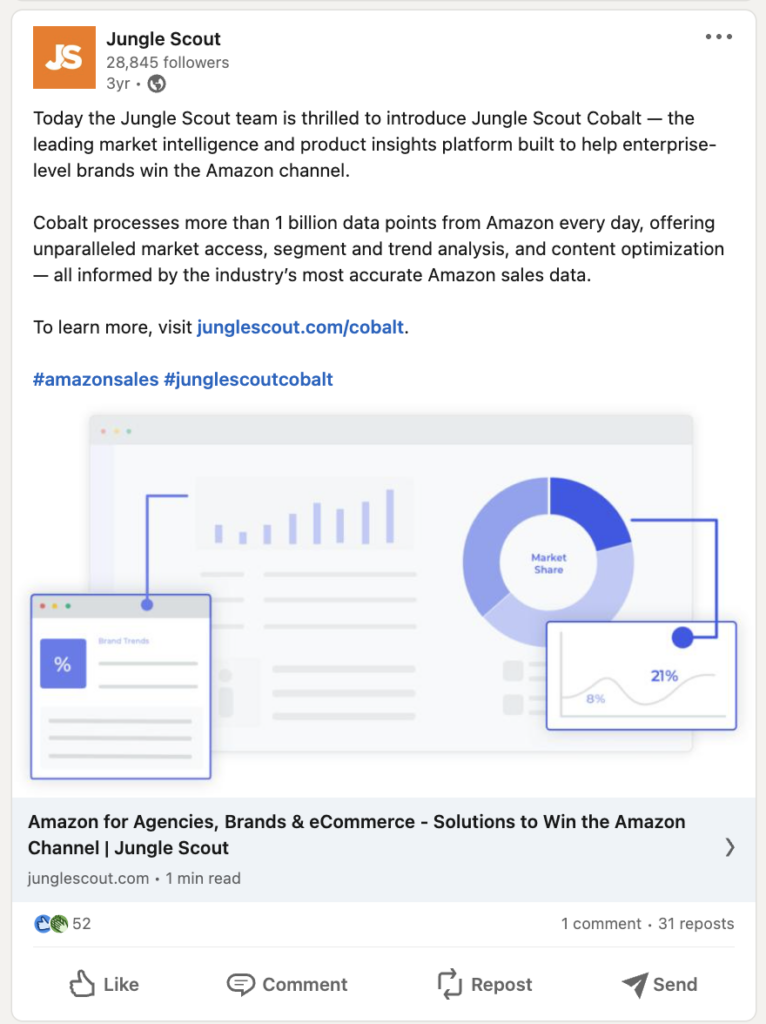 Customer obsession is the shared principle that connected Jungle Scout and Downstream, as platforms and as companies. It's one that remains baked into the culture of our combined team.
"Customer obsession is a leadership principle that my co-founder Salim and I internalized during our tenure at Amazon, and subsequently installed as the backbone of Downstream's company culture. When we met [Jungle Scout CEO and Founder] Greg Mercer, and the more we learned about our respective organizations, the more we saw that same customer obsession reflected in each others' culture." – Connor Folley, Downstream Co-founder and VP of Strategy for Jungle Scout Cobalt
Because of this, the brands, retailers, and agencies we work with aren't shy about sharing product feedback; we make sure they know we don't want them to be.
So when we started hearing that customers were getting stuck in data analysis paralysis, we listened. As ecommerce blossomed from a few must-have platforms to an ever-expanding network of influential channels, the sheer volume of data to pore through to make informed decisions has snowballed from manageable to overwhelming.
"Brand leaders have data overload. They need something they can take action on quickly to make the decisions that help them grow their market share on Amazon. That has been our driving goal with Cobalt 2.0: Giving brands a unified view that combines their Amazon sales data and broader market context, with simple dashboards that illuminate what actions they can immediately take to drive traffic and conversion." – Shane Stinemetz, President of Enterprise at Jungle Scout
What the world's leading brands and agencies needed in the next evolution of Jungle Scout Cobalt became clear: a better, faster way to turn Amazon data into actions that lead to success.
We had the industry's most comprehensive Amazon data. We had dashboards that made it easier to make sense of that data. And we had leading advertising tools that made it faster to optimize for multiple brands, accounts, and campaigns simultaneously.
It was time to combine those forces into Jungle Scout Cobalt 2.0.
The core four: Cobalt 2.0 features
The new Jungle Scout Cobalt platform is built around four core features.
Retail Insights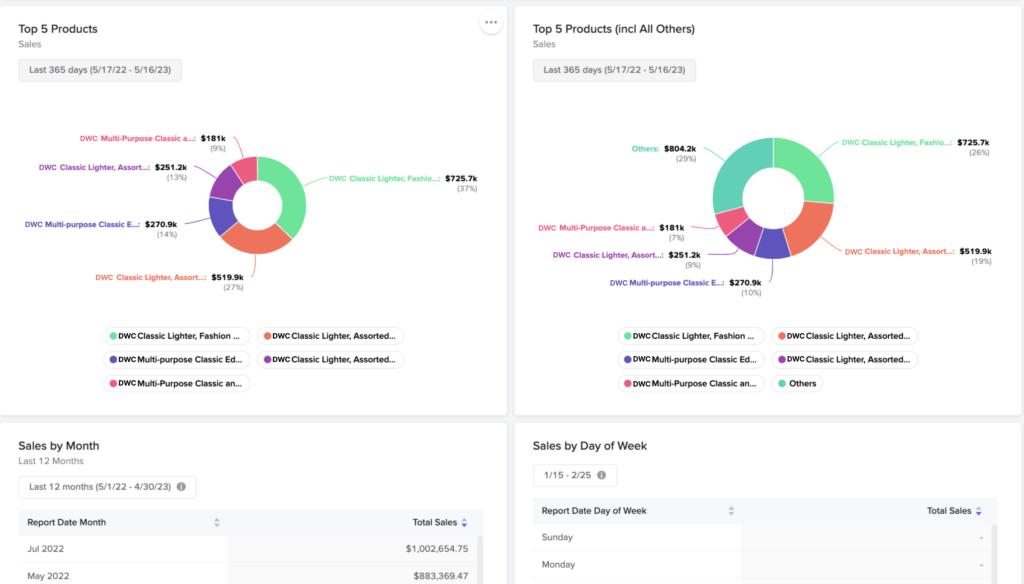 Cobalt 2.0's Retail Insights feature bridges the gap between insight, action, and impact through data dashboards that enable straightforward performance analysis. View all of your data from Seller Central, Vendor Central, and the Ad Console alongside overarching market trends to benchmark performance. Copy from a library of reporting templates that have been curated to answer common business questions, or build your own custom dashboards from scratch to clarify strategic actions, justify investments, and communicate impact. Easily share dashboards and export data in multiple formats.
Insights: Catalog performance data, unit sales and revenue, competing brands within specific market niches, ratings and reviews, and more.
Market Intelligence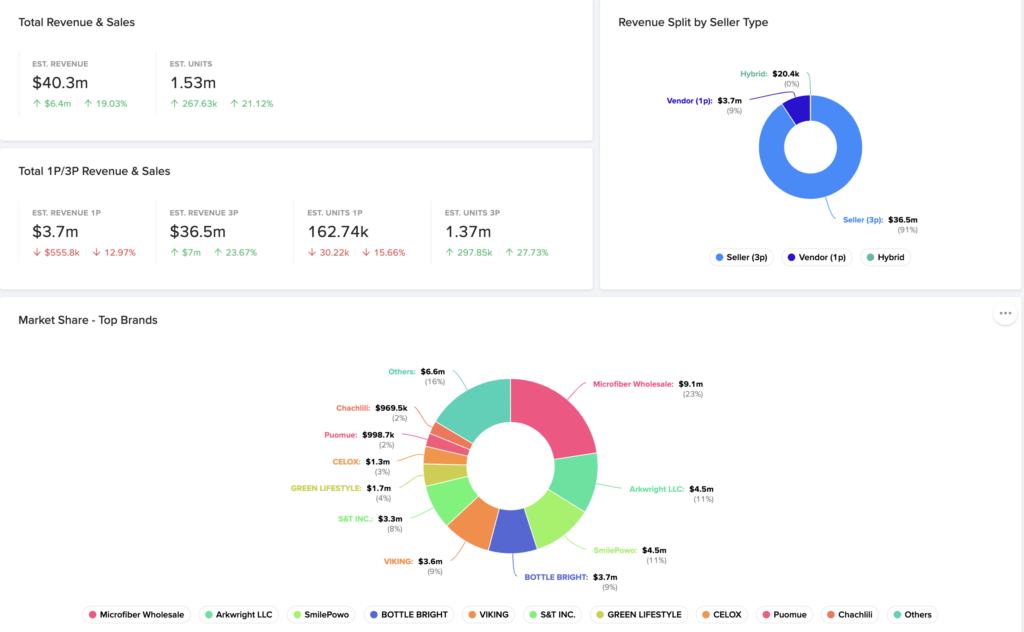 The Market Intelligence feature within Cobalt 2.0 is built to help brands anticipate market trends in order to take a more proactive approach to Amazon. Track competitors' market share, pricing strategies, and top selling products to identify ways to stand out in the marketplace. Analyze historical data to plan for broader trends in your product categories, such as seasonal sales spikes. Save hundreds of hours in time spent on market research with straightforward filters that help you quickly get to the insights you need without manually sifting through data.
Insights: Market share leaders, pricing and product trends, reviews, seasonal sales fluctuations, revenue over time, first-party vs. third-party sales splits, and more.
Ad Accelerator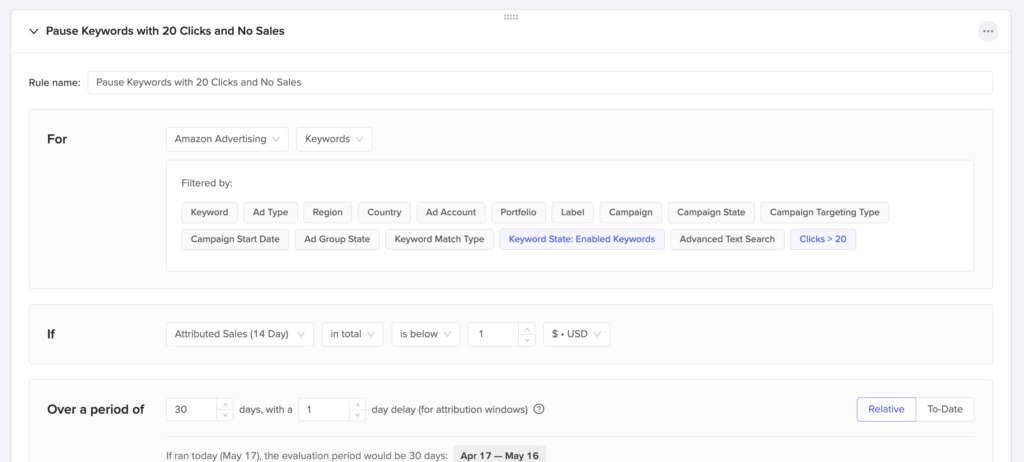 The Cobalt 2.0 Ad Accelerator feature uses advanced targeting, data analytics, and automation to help achieve maximum ROI on Amazon advertising investments. Manage PPC and DSP advertising across multiple campaigns, brands, or accounts – including a rules-based automation system that allows you to build custom parameters to automatically allocate budget based on performance, adjust keyword targets, schedule campaigns, change bids by the hour, and more.
Insights: Impressions, clicks, total campaigns, conversion rates, return on ad spend, advertising cost of sales, cost per click, and more.
Digital Shelf Analytics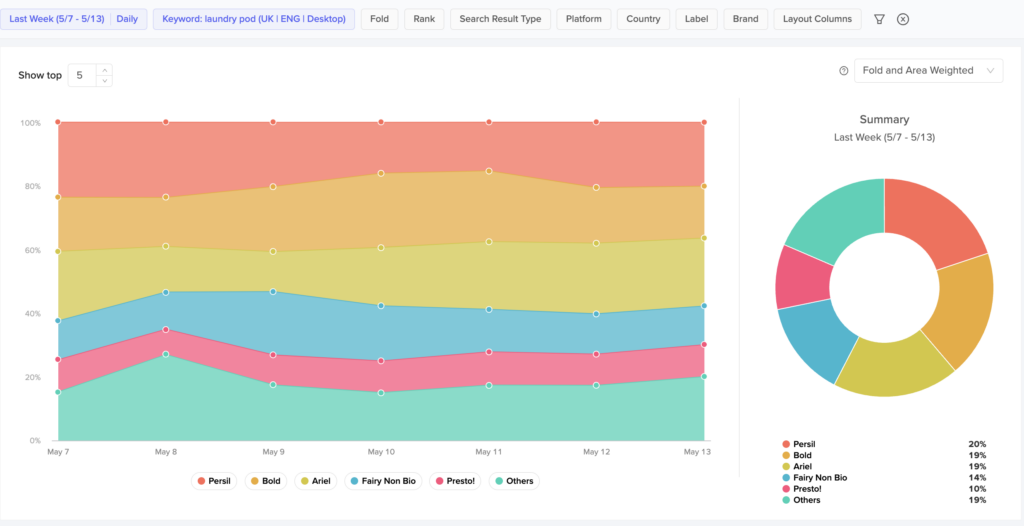 Cobalt 2.0's Digital Shelf Analytics feature delivers insights to inform strategies to boost product visibility and secure a prime spot in Amazon search results. Monitor and analyze search trends to track the consumer needs and interests that are driving sales, and quickly identify keywords to prioritize to drive listing traffic, ad performance, and conversions. Dig into detailed share of voice data to see which brands you're competing against for top keywords, and estimated PPC costs to overtake them.
Insights: Share of voice, search trends, keyword performance and competition, and more.
Jungle Scout Cobalt 2.0 also comes with a new pricing structure that allows brands, retailers, and agencies to customize their Cobalt experience by choosing which of the core features they want. This ensures that teams get exactly what they need from Cobalt 2.0, without paying for what they don't.
Want to learn what your custom Cobalt 2.0 package could look like? Book some time with our team to discuss your needs.
The future of Jungle Scout Cobalt 2.0
The next evolution of Cobalt has just begun. Just as we always have, we will continue to seek feedback from the brands who use our tools every day, and use their input to guide our product roadmap and ensure it is always grounded firmly in exactly what our customers need.

Future plans include support for additional global marketplaces, expansion of Walmart advertising features, additional reporting templates, and more.
Learn More About Jungle Scout Cobalt
Whether you want to book time with our team or explore Cobalt 2.0 on your own, there are plenty of ways to learn more about Jungle Scout Cobalt.
Ready to deep-dive into the ways Cobalt 2.0 can help your business? Request a personalized demo.

Interested in taking a look inside Cobalt 2.0, but not ready to chat yet? Explore the platform on your own.