When it comes to selling products on Amazon, I'd bet the majority of new sellers go for the most popular categories—Home & Kitchen, Sports & Outdoors, or Toys & Games, to name a few. While those categories can be lucrative, they're among the most competitive.
A category that's often looked over but rising in popularity with both buyers and sellers is Grocery. In fact, our Consumer Trends Report shows consumers are purchasing grocery products online 49% more frequently since the COVID-19 pandemic began.
How can you take advantage of this upward trend? By learning our expert tips for selling groceries on Amazon! Selling in the grocery category features some challenges you won't experience with elsewhere. Despite these hurdles, taking the extra steps to succeed in this growing niche will be worth it.
Here's what you'll learn in this guide:
How to get

ungated

in the Grocery & Gourmet Foods category

Grocery category requirements

Methods for selling grocery products
How to get approved to sell groceries on Amazon
For new and even most experienced Amazon sellers, the Grocery & Gourmet Food category will be restricted at first. You will need to receive category approval from Amazon in order to sell groceries.

Now, if your account is a few years old with great metrics and strong selling history, it is very possible for you to be automatically approved to sell in the grocery category. Here's how to check for pre-approval: copy an ASIN from the grocery category, go to "Add a product" in Seller Central, and click "apply to sell." Then click "Request approval." Amazon may auto-approve you.

If that's not the case for your account, you will need to provide Amazon with some documents before you can sell groceries.
Getting ungated in Grocery on Amazon
After following the steps above, say you are stopped by a category selling application. This is normal for any category that is restricted to sell in. Amazon just wants to be sure the products you are selling are authentic and safe for consumers.
This is what the grocery category application will look like. Don't be intimidated by its requirements! We'll go over how to meet them.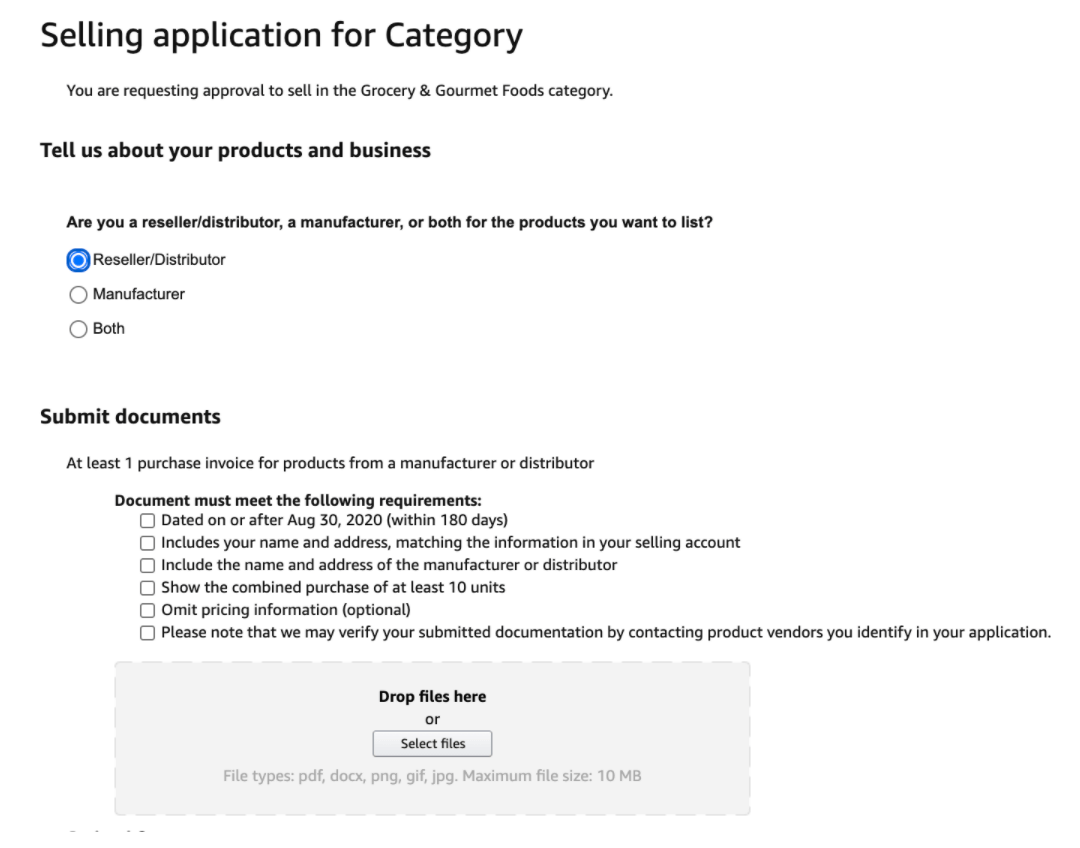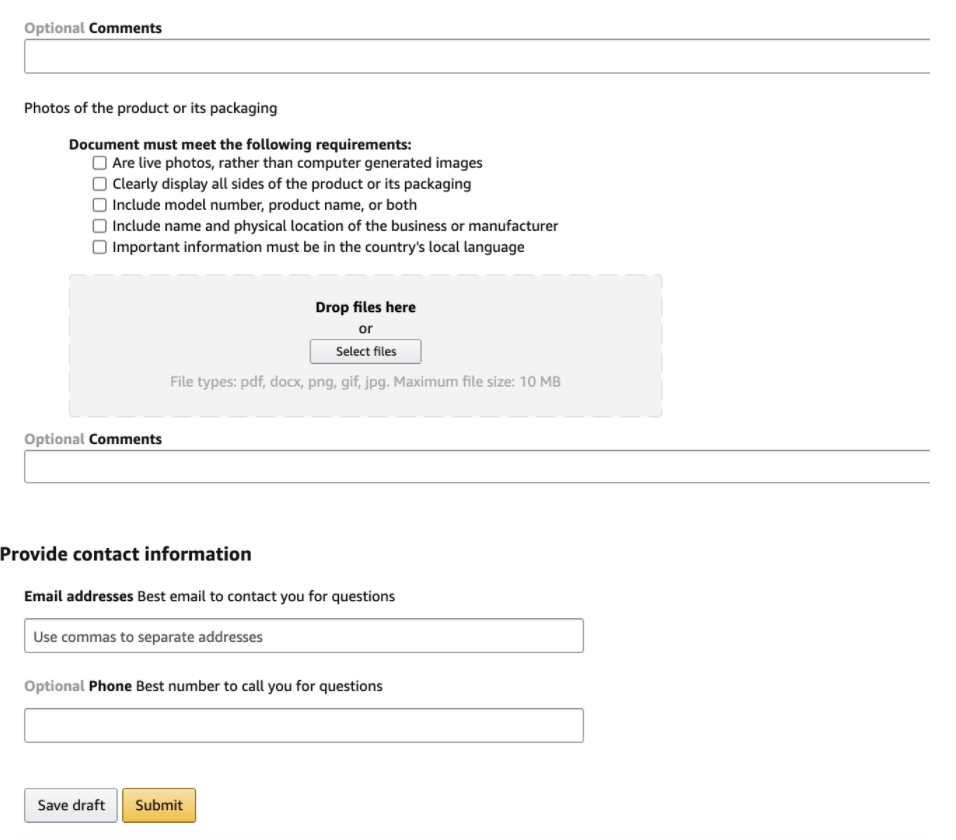 The first question is, "Are you a reseller/distributor, a manufacturer, or both for the products you want to list?"
Reseller/distributor means you are reselling products through the

retail arbitrage

or

wholesale

business models. Typically, Amazon

will not

accept retail grocery store receipts as an acceptable invoice, so you'll need to go through a legitimate wholesaler or distributor.

Manufacturer means you are creating a

private label brand

and you'll need to get an invoice from your manufacturer.
To make things simpler, choose reseller/distributor. We will be using a legitimate distributor to get an acceptable invoice for Amazon. Even if you want to sell a private label grocery item, this is an easier way to get approved.
Next, you need to submit documents. You'll need to submit at least 1 purchase invoice from a manufacturer or distributor.
The documents you submit must meet the following requirements:
Dated within 180 days of application

Includes your name and address, matching the information in your selling account

Lists the name and address of the manufacturer or distributor of the product you intend to sell

Shows that you've made a combined purchase of at least 10 units of the product

Optional: you can omit the product's pricing information
Amazon may contact the vendors listed in your application as part of the verification process.
Note: Very important! You need to show the purchase of at least 10 units of the same product. However, you should verify that your account is approved for a specific category before investing heavily in inventory.
You will also need to include photos of the physical product or the packaging in your application. This will show Amazon that you actually have the product in hand.
Now that we know what Amazon needs, how do you order the products in a way that satisfies Amazon's requirements?
Finding a wholesale distributor
You can start by searching for "wholesale grocery distributors" on Google and see what results come up.
A company that I have personally used, along with many other Amazon sellers, is called Frontier Co-Op Wholesale. They're a legitimate wholesale distributor of thousands of products. Most importantly, Amazon accepts their invoices.
Your first step is to selling products from Frontier is to create a membership account with them if you don't already have one.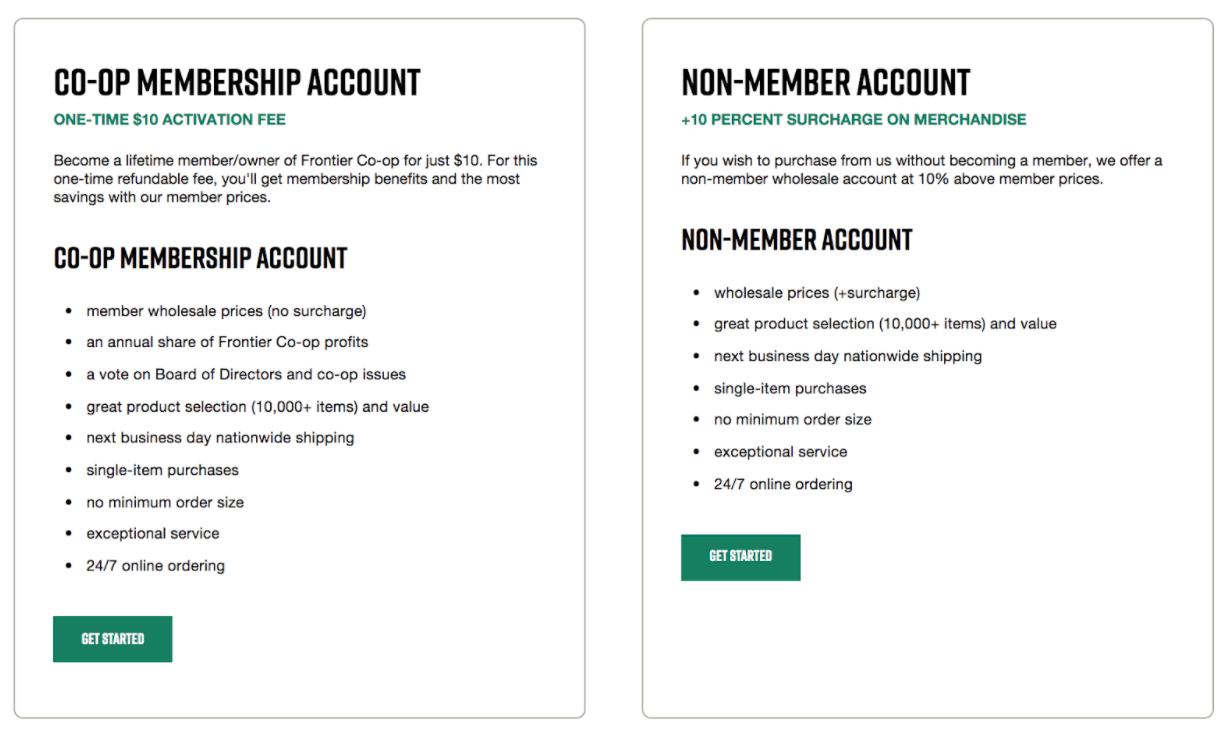 To open an account, you'll need to provide them with your taxpayer information via your TIN, EIN, or SSN. Once they approve your account, you can start buying! Per Amazon's verification requirement, you'll need to purchase at least 10 units of a grocery product.
Before you go ahead and buy a grocery product from Frontier, make sure you first find a matching Amazon listing for it. That way, Amazon can see that you will be selling XXXX products on XXXX listing.
Here is an example of a Frontier Co-Op Wholesale listing: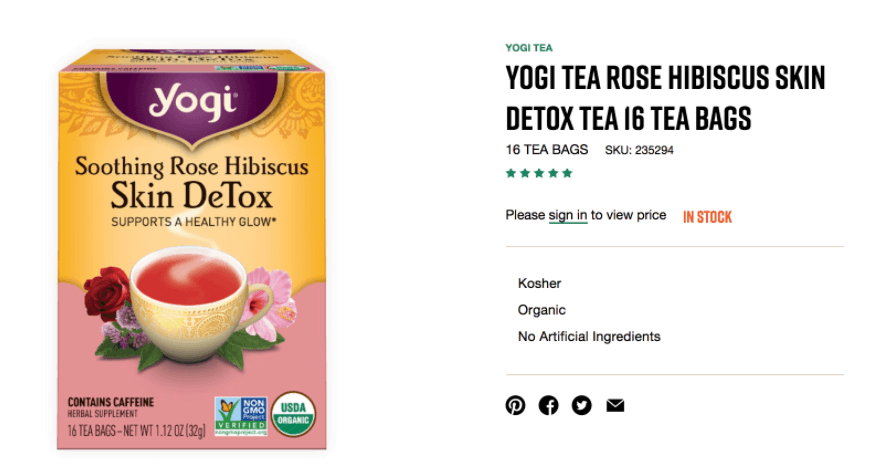 And here is the matching Amazon listing: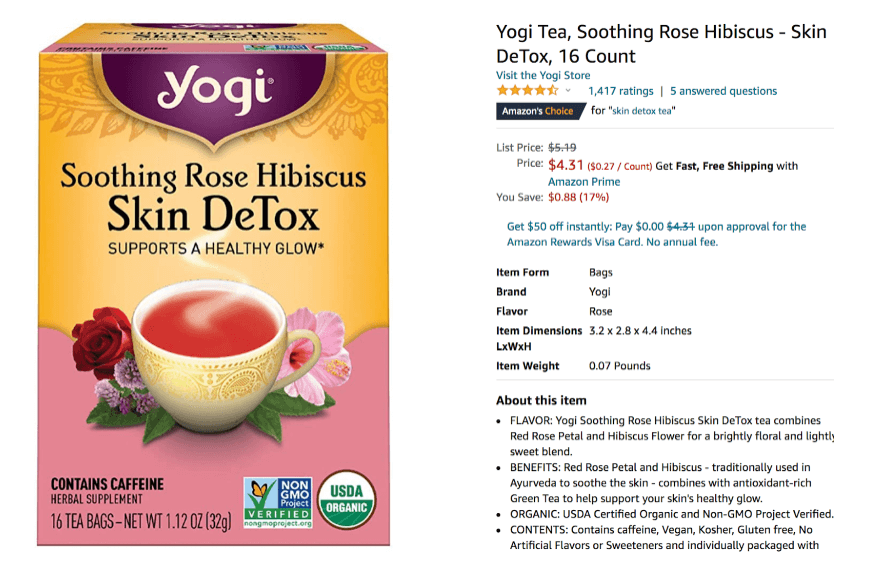 At this point, it does not matter if the product your order for verification purposes is profitable on Amazon. You just need to have purchased 10 units of a product—any product—from a legitimate distributor so you can get approved to sell in the grocery category.
If the product does happen to be profitable, great! If not, you can sell it for a loss, keep it, or donate it. Once approved by Amazon, you'll make that money back many times over. Think of this 10-unit purchase as an investment into your soon-to-be thriving Amazon grocery business.
After you place an order, the distributor you use will send you an invoice, either with your delivery or separately. Once you receive your order, take a few pictures of the packaging according to Amazon's requirements (listed in the application above).
Be sure to highlight the important information on your invoice to help it stand out for the Amazon representative. Sometimes, the verification team overlooks things, causing them to deny your application.
Tip: Write the ASIN of the product listing on your invoice next to the product name.
If Amazon does not approve your invoice:
If you submitted all of the required information and Amazon doesn't approve you, don't worry—it can take some trial and error. Simply close the case and resubmit your application, it will eventually go through and get approved by the right person.
Now you're approved to sell groceries on Amazon! (Hint if you made it this far: using Frontier Wholesale will also help you get approved for the topical skincare category.)
Note: Just because you are ungated in grocery, does not mean you are approved to sell products from every brand in the grocery category. Some brands require additional approval.
Seller and product requirements for Grocery & Gourmet Foods
Selling grocery and food items is a much different process from every other category. You're selling edible items, so they're bound to grocery-specific Amazon requirements.
Seller requirements:
To sell groceries on Amazon, you have to meet the following seller performance targets:
Order defect rate: < 1%

Pre-fulfillment cancel rate: < 2.5%

Late shipment rate: < 4%
Basically, your product should be free of defects, you should be able to fulfill at least 98% of your orders, and your shipments should arrive on time, every time.
Amazon grocery sellers are also subject to the following product requirements:
Amazon's Grocery Product Requirements
Food must be properly prepared, packaged, sealed, and labeled.

You must be licensed, or have approval from the relevant government agency for the products you plan to sell.

You must ensure your products and business operations comply with federal and state laws. This includes laws not described in Amazon policies.

Sell all Grocery & Gourmet Food products as new. You cannot list used products. See the Condition guidelines.

Food is viewed as date-sensitive. It must have an expiration date permanently marked on every unit, unless the product is exempt. This includes every unit that is shipped, and every unit displayed for sale.

Keep the Fulfilment Center (FC) shelf life details up to date for grocery products. In the inventory file template, set the value of the is_expiration_dated_product field to "true". The FC shelf life is the length of time a product is sellable or fit to be eaten.

Label in English all products covered by federal, state, and local laws. For federal labeling policies, see the FDA Food Labeling and Nutrition, FDA Pet Food, and USDA Label Approval web pages.

Enclose and seal food in packaging suitable for shipping. It must keep food from contamination, spoiling, melting, and damage.

You must ship food with enough of its shelf life remaining. You must not remove or alter the expiration date.

When you sell products in multi-packs, the expiration date on the multi-pack packaging must match the earliest expiration date of the products inside.

You must list Grocery & Gourmet Food products using the manufacturer's UPC code. For more information, see Product UPCs and GTINs. For information on listing products without UPCs, see How to list products that do not have a Product ID (UPC, EAN, JAN or ISBN)
Food items on Amazon are viewed as date-sensitive. That means each product needs to have an expiration date permanently marked on every unit, unless that product is exempt.
Not only that, but you must ship the products according to Amazon's Expiration Date policy and shelf-life requirements in order to list them for sale.
Shelf-life requirements for expiration-dated products:
At the time of your products checking into an Amazon fulfillment center, each unit must have a remaining shelf life that allows sufficient time for the product to be consumed in full, plus an additional 90 days.
For example, a bottle of supplements with 60 daily servings must have a remaining shelf life of 60 days, plus an extra 90 days, or 150 days total.
Here are some other examples of shelf-life provided by Amazon:
Chips and other snacks: 90–180 days
Dried fruit: 180–270 days
Cereal and granola bars: 180–365 days
Candy: 540 days
If your products are not sold within their shelf-life, Amazon will remove them from your inventory and mark them as "unsellable."
As always, carefully read through all of Amazon's requirements and terms.
Meltable FBA inventory
You can sell "meltable" items such as chocolate on Amazon, but you need to be sure your inventory is suitable for fulfillment.
Here are Amazon's meltable inventory requirements: "FBA accepts meltable products from October 16 to April 14 only. Meltable inventory stored or arriving at our fulfillment centers from April 15 to October 15 is marked unfulfillable and disposed of for a fee."
Meltable products include chocolates, gummy candy, and select jelly- and wax-based products.
Per Amazon, "Products requiring refrigeration, air conditioning, or freezing are prohibited year round. Perishable products, including but not limited to fresh meats, fruits, or vegetables are also prohibited throughout the year."
Amazon provides a list of meltable ASIN's on their Meltable FBA inventory requirements page linked above.
Chilled and frozen foods
Amazon does allow the sale of chilled and frozen foods, but they must be fulfilled by Merchant (FBM) and meet a few other requirements.
Amazon used to allow third-party sellers to sell on Amazon Fresh, their grocery delivery service, but that is no longer allowed since Amazon acquired Whole Foods.
Please carefully review Amazon's requirements before selling any type of frozen food item.
You must provide Amazon with a Food Permit from the FDA along with other compliance documents.
Selling Grocery products on Amazon
Once you are approved in the grocery category, it is time to research grocery items to sell. Three great business methods for the grocery category are retail arbitrage, wholesale, and even private label.
Retail Arbitrage
Using retail or online arbitrage, you can go into your local grocery store, Walmart, Target, or other retailer and hunt the shelves for profitable products. It's as easy as scanning products with the Amazon Seller app. This is a great way to sell regional items that are hard to find in-store for customers in different parts of the country.
Holiday-themed candy for Halloween, Christmas, Valentine's Day, and Easter is practically made for retail arbitrage.
Hint: At the time of this writing, Easter candy is on the upward trend!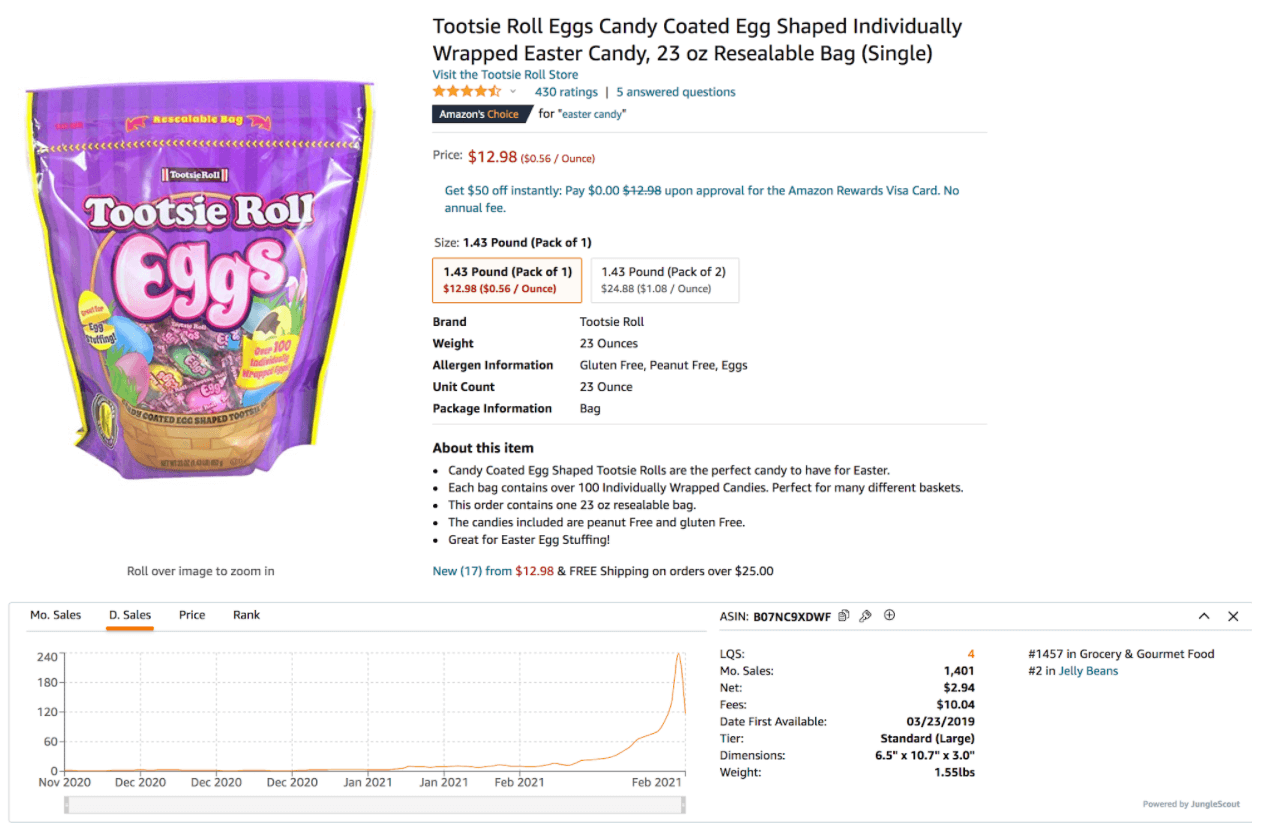 If you can find popular candy like this, you have the potential to make good money when demand spikes each year.
Wholesale
With the wholesale method, you can land wholesale accounts with authorized distributors or brands to resell name-brand grocery products on Amazon. Wholesale is a great way to build a sustainable Amazon business with easily replenishable products.
A good way to spot a wholesale or arbitrage product is to look at the number of sellers on the listing. If a product listing has 4-5+ sellers, that means they're resellers who purchase their inventory from a retail store, a distributor, or the brand itself.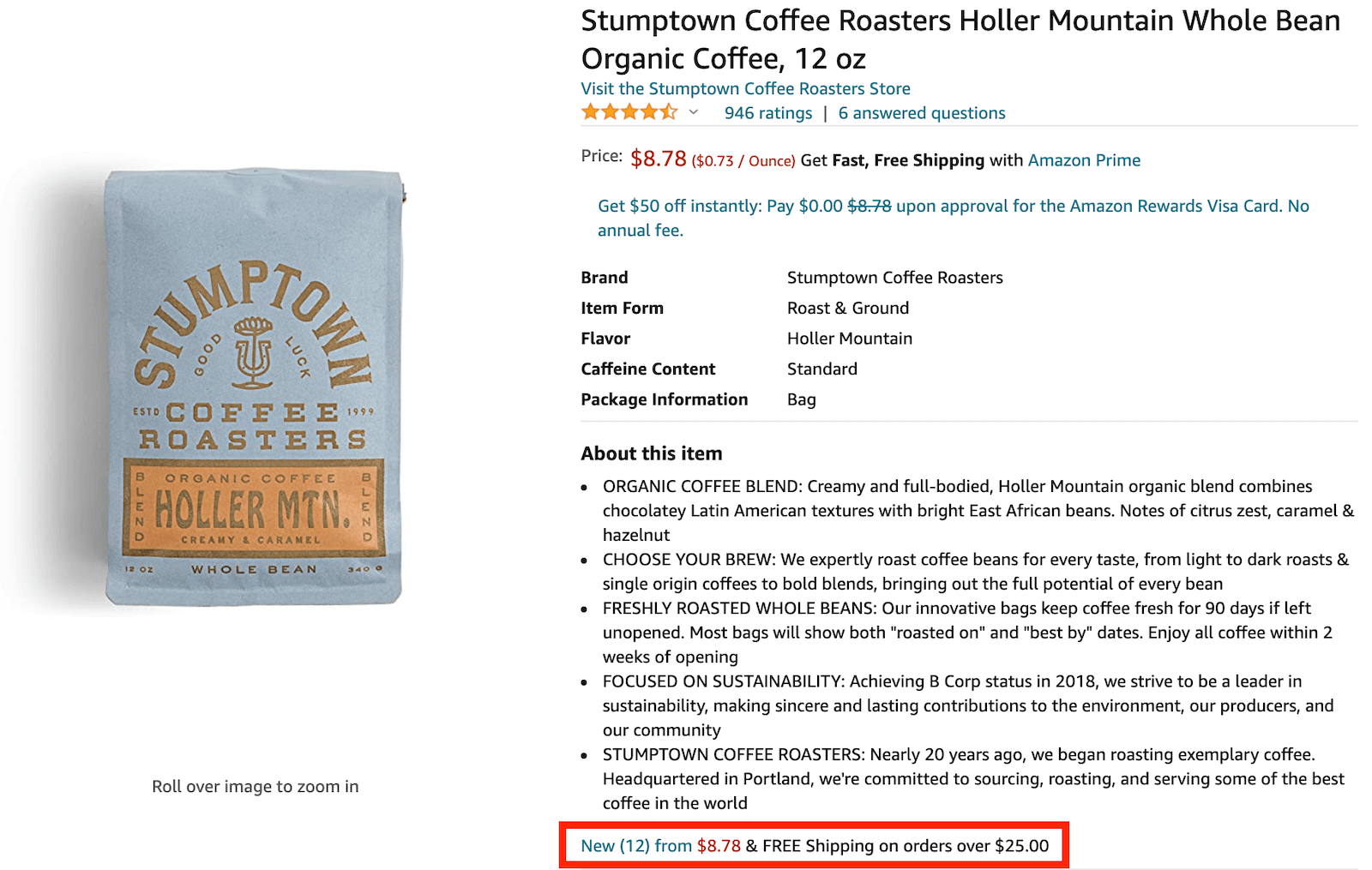 Toward the bottom of this listing for coffee beans, you can see there are 12 active sellers. To open a wholesale account with any brand, find their website and ask to open a wholesale account. We provide great tips in our Wholesale Guide!
Private Label
The private label method works well in any category, even grocery. Of course, before creating your own grocery product, make sure you're compliant with all local and federal regulations regarding food products.
A good way to spot a private label brand on Amazon is to check whether the seller name matches the brand name. Here's a great example of a private label grocery product: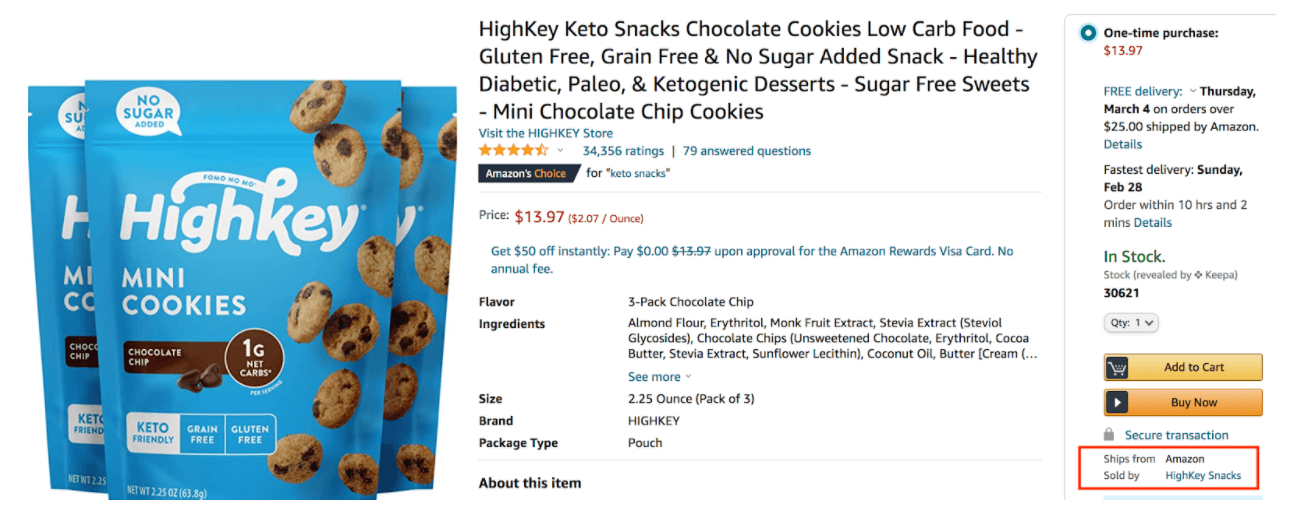 As you can see, these cookies are both made and sold by HighKey Snacks.
Follow our in-depth How to Sell on Amazon for Beginners guide to learn about researching, sourcing, and launching your own private label product!
Best practices for writing grocery product descriptions
Do not make false dietary claims

Any dietary or allergen-free claims made in your listing (such as Organic, Kosher, Gluten-Free, Dairy-Free), must be shown on your product's label, and you must have received legitimate regulatory approvals for these claims.
Fill in important backend information for search filters
Amazon allows customers to filter their grocery search results according to dietary needs and preferences. Customers may filter by "Specialty" (i.e., if the product is vegan or GMO-free), nutritional facts (like low sodium, sugar-free, or trans fat-free), calories per serving, and even flavor variety, if applicable. When creating a listing in Seller Central, choose "Advanced view," then "More details" to add this information so customers can still find your product after applying filters.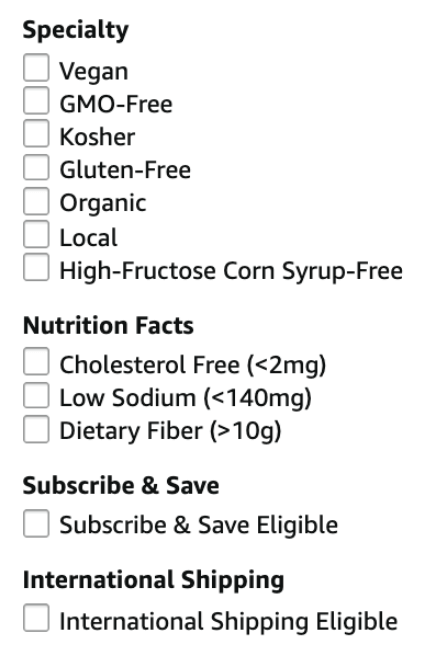 Create an optimized listing
Similar to any other category on Amazon, you need to make sure your listing is fully optimized! This includes using highly searched and relevant keywords within your listing, creating compelling content, and high quality images or infographics.
Make sure the ingredients used in your product is clearly stated throughout your listing. I suggest including a photo of the product's nutrition facts label so customers can quickly view what's in it.
Start selling groceries on Amazon
Just a year ago, 36% of consumers said they purchased groceries on Amazon. Since the start of COVID-19, that number has shot up to 43% and counting. With the online grocery shopping trending up, there has never been a better time to start selling in the grocery category on Amazon. By selling groceries on Amazon, you can help customers find the products that they need while making a healthy profit.
Let us know in the comments if this guide helped you get ungated in the grocery category! If you have any more questions about selling groceries and food on Amazon, please don't hesitate to ask us.