AI ASSIST
Get there faster with AI Assist
Whether saving time through daily task automation or up-leveling your strategy based on in-depth insights, Jungle Scout's AI Assist accelerates your growth.
Get AI Assist
Automate & Innovate with AI Assist
AI Assist is Jungle Scout's powerful artificial intelligence integration that automates important tasks and delivers critical insights and recommendations for Amazon sellers – in seconds.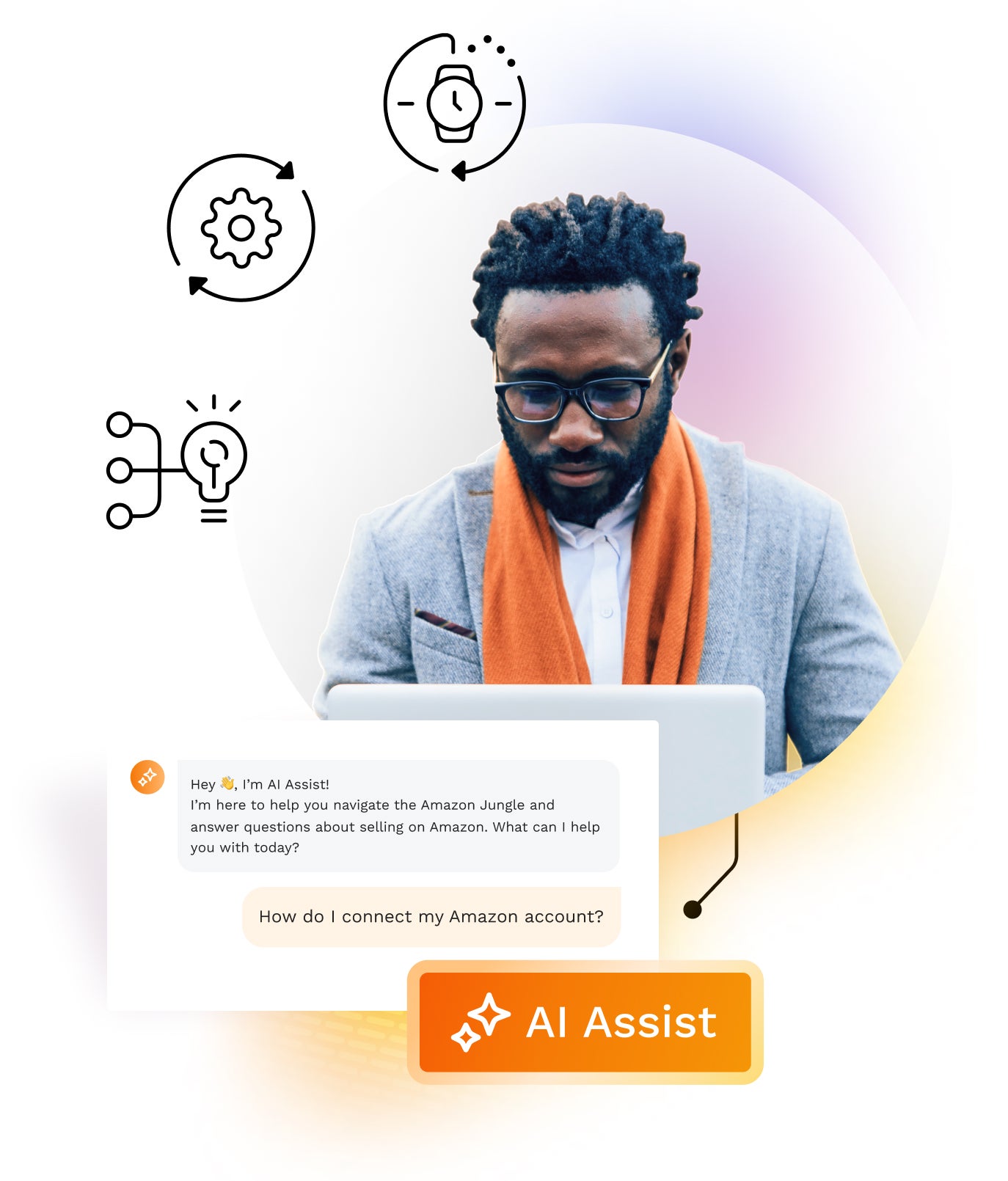 Explore AI Assist in Jungle Scout Today!
Get access to all AI tools with our most popular plans.

Get started
PRODUCT SELECTION
AI Assist for Review Analysis
With AI Assist, you get a comprehensive analysis of product reviews and ratings for any ASIN, both providing insights to improve the product and serving as a product research tool to evaluate product opportunities.
AI Assist's summary includes common positive and negative comments, suggestions for improvement, a competitive comparison with tips for competing against the product, and more.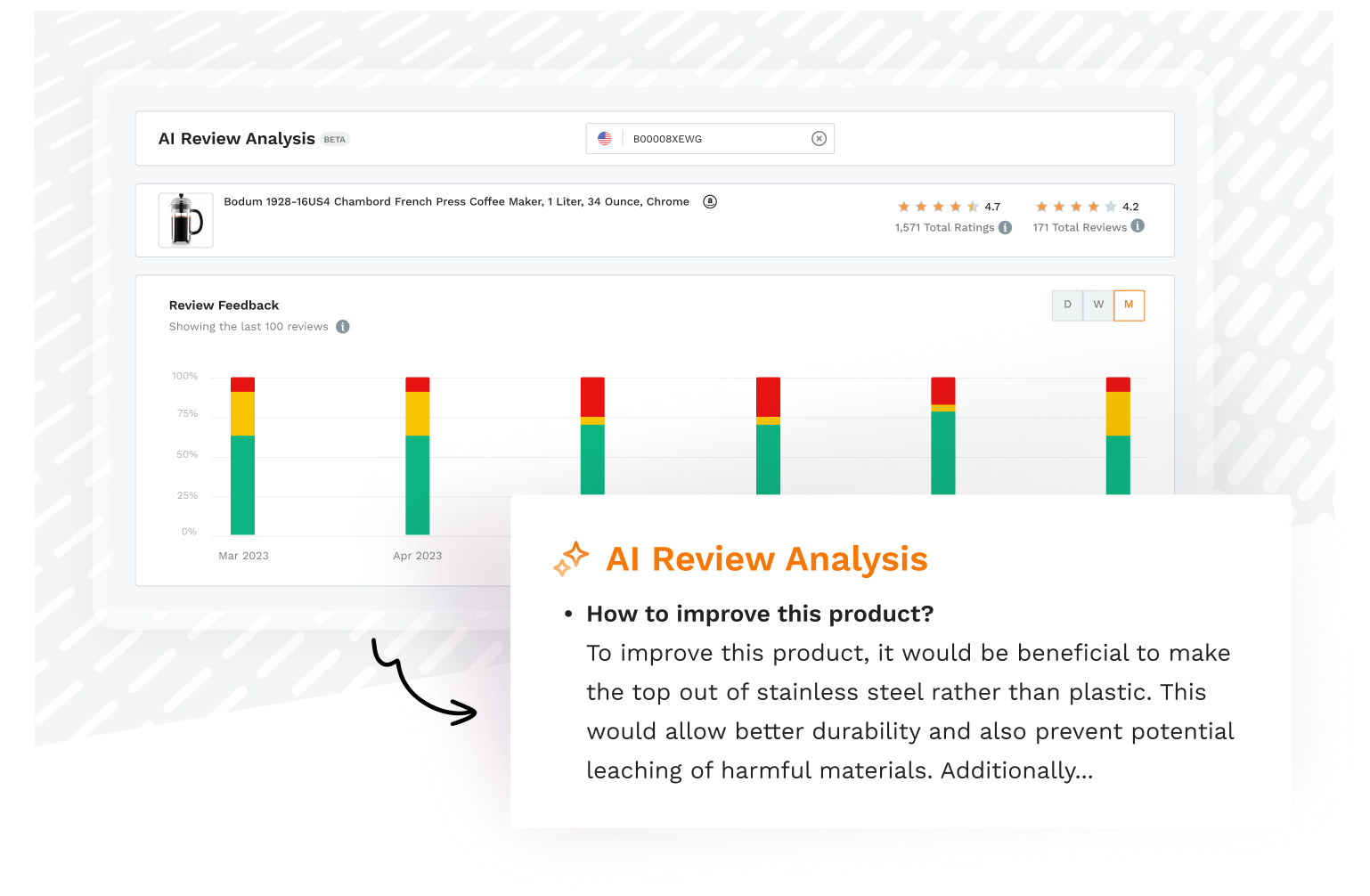 GROWTH + PROFITABILITY
AI Assist for Listing Builder
Save time and make sure your product reaches the right audience with AI Assist for Listing Builder. It takes the top keywords from a listing's keyword bank and generates a product title, features, and an expansive product description, which may include new ideas for product benefits to highlight, helping you stay ahead of the competition.
Plus, AI Assist writes in English, helping sellers hone their listings for English-language Amazon marketplaces and saving on translation services.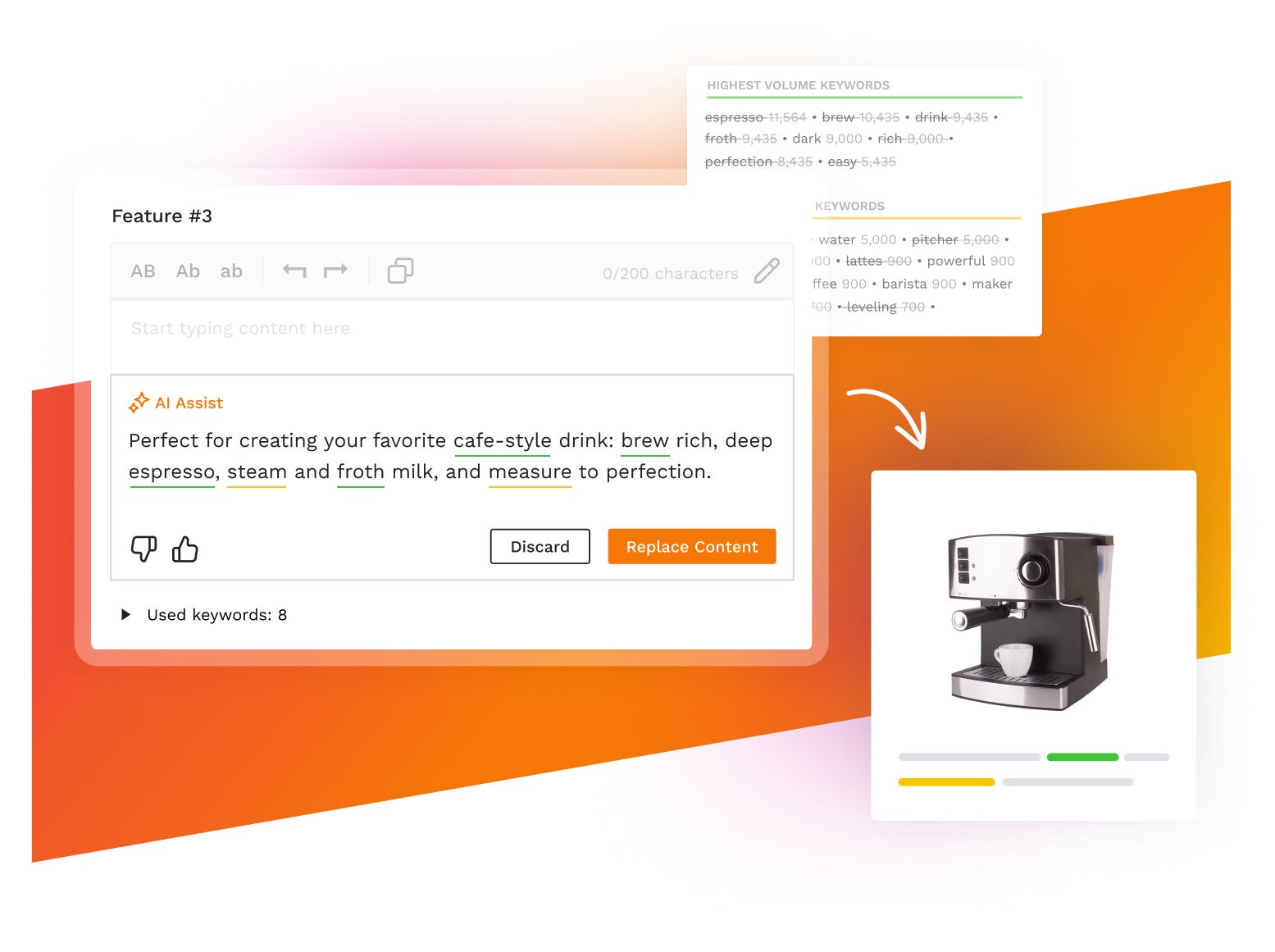 BUSINESS MANAGEMENT
AI Assist for Profit Overview
Within your Sales Analytics feature, AI Assist analyzes Profit Overview data such as revenue, profit margins, cost of goods sold, fees, and more to help make sense of the numbers.
It delivers a comprehensive financial report featuring need-to-know insights and critical actions for you to take, from investigating underperforming products or high refund rates to optimizing for growth.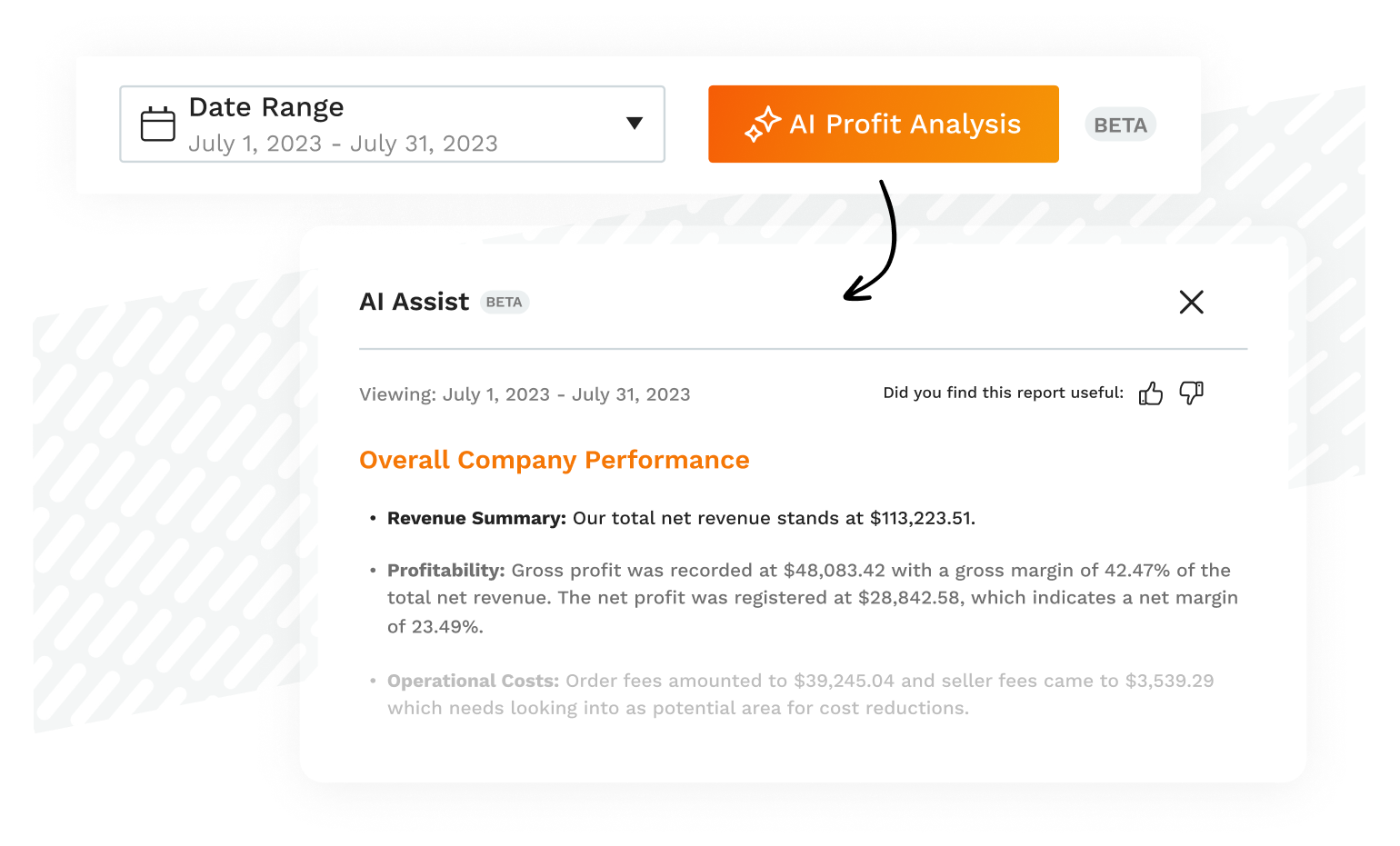 BUSINESS MANAGEMENT
AI Assist Chat
Get immediate, specific answers to your questions about selling on Amazon, growing your business, and more.
AI Assist Chat sources from Jungle Scout's unmatched library of expert resources to help you keep your business moving — anytime or anywhere you need it.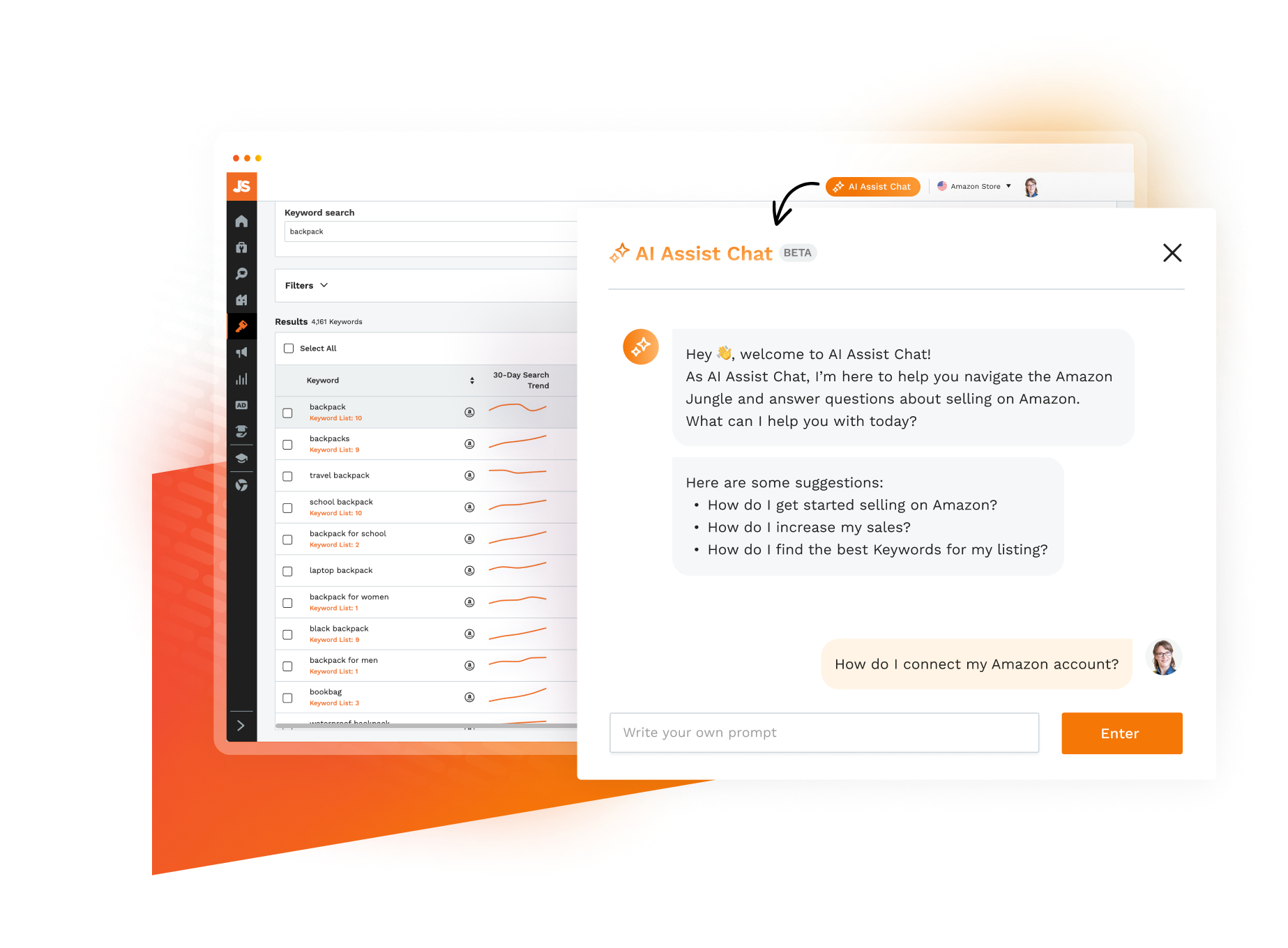 Is AI Assist free or part of my Jungle Scout plan?
The AI Assist integration is included in all Jungle Scout Suite & Pro subscriptions. There will be no price increase for these new AI capabilities. Each plan has a set limit of AI Assist uses across the product with a single usage meter. For example, if you have 100 uses of AI Assist, you could use it 25 times within Listing Builder, 50 times within Profit Overview in Sales Analytics, and 25 times in Review Analysis each month, or, you could use it 90 times in Review Analysis, 9 times in Profit Overview, and once in Listing Builder each month.
Monthly AI Assist uses for Suite: 50
Monthly AI Assist uses for Pro: 300
Is my data secure within AI Assist?
Yes, your data is secure in Jungle Scout, both when using AI Assist or not. Jungle Scout has the longest performance record of data collection in the industry, which allows us to deliver the most accurate data and insights to our customers. Protecting this data is a responsibility we take seriously. Learn more here.
How does AI Assist get its data? How is that data used?
AI Assist is trained on a user's financial data as well as Jungle Scout's proprietary data, including keyword search volume data and sales estimate data, to securely process and provide users with reports, actionable insights, and personalized recommendations. This data is not shared with any external parties.