With nearly 2,000 sellers joining the Amazon marketplace each and every day, you must always keep your finger on the pulse of your competitors' business. You need to understand exactly what your competitors are doing in order to get ahead: how they're pricing their products, where they're sourcing from, what the quality of their products is like, how they market their products, what's in their listing content, and so on.
Competitor analysis is an extremely important piece of the puzzle when you're selling on Amazon. Without this information, how could you possibly have a competitive advantage?
Keep on reading to learn more about how to find, define, and analyze your competitors on Amazon.
How to find and define your competitors on Amazon
When conducting product research for your Amazon business, competition from sellers with similar products should be one of your biggest considerations. How do you know what you're up against if you don't know exactly who your competitors will be?
The easiest way to find your competition is to simply search for your product ideas on Amazon. Start with a broad keyword and see what comes up in the search results. The competition will be high for a broader term, but as you niche down and get more specific, the number of your direct competitors will shrink — and these remaining competitors are the ones you should focus on.
Let's say we want to sell a coffee maker. As you probably know, there are many different types of coffee machines in the market. You have traditional drip coffee makers, pod coffee brewing machines, single-serve machines, espresso machines — you get the idea.
For this example, we want to sell a single-serve coffee machine. To start, let's search for the broad term, "coffee maker," and see what comes up.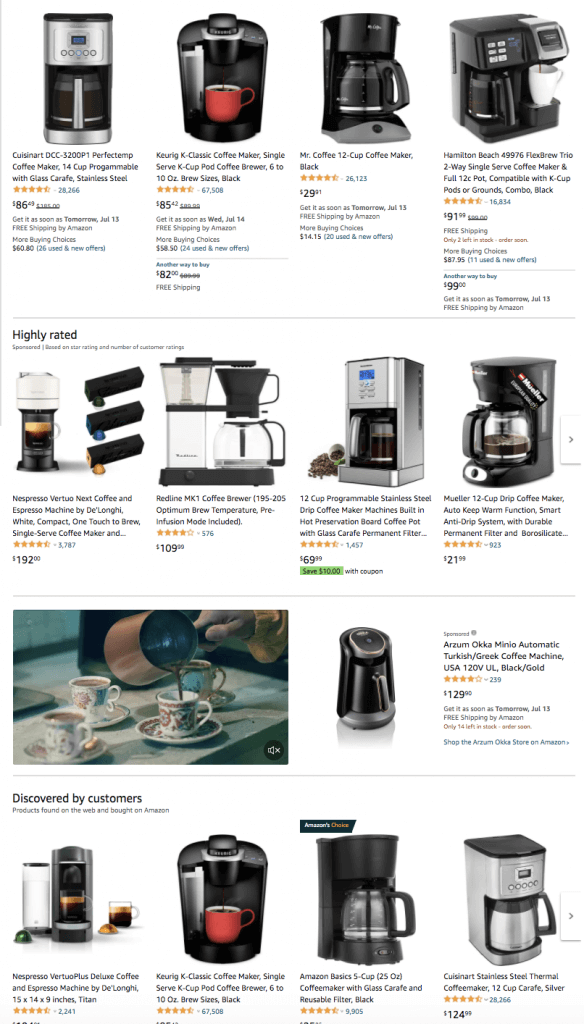 As expected, we see a variety of coffee machines to choose from. Technically, all of these coffee machines would be your competition, but the idea is to target long-tail, niched-down keywords that are much more specific to your actual product.
Now let's search for "single-serve coffee machine."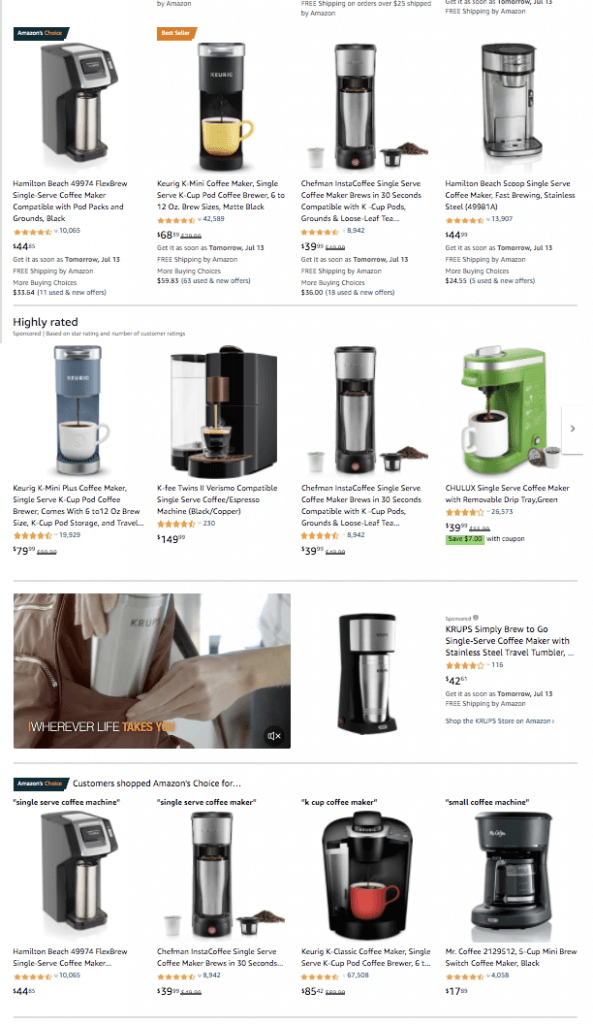 These search results show single-serve coffee machines only — instead of 25 different types of coffee machines. The products that appear in the search results from this specific search term will be the main competition that you want to focus on.
Take note of the first 10 to 20 products on the first page, as these represent the high-performing competitors you'll want to monitor.
Track each product within a spreadsheet, or, to make it much easier, use our Product Tracker tool. This tool organizes competitors by group, and compares product ideas and sales metrics for you. With Product Tracker, you can track real-time sales and observe key metrics of your competitor's listings.
How to analyze your competitors on Amazon
Once you know who your main competitors are, it's time to identify their strengths and weaknesses and figure out how you can beat them.
1. Identify the keywords your competitors rank for
This is extremely important. If you want your products to show up when a customer searches for that item, you need to be sure you're targeting the right keywords and keyword phrases. If not, you could be missing out on potential impressions and sales.
While you can figure out what keywords you'd like to target without using software tools, you can save time and energy using keyword research tools. By using Jungle Scout's Keyword Scout, you can see which keywords your competitors are using and ranking for, as well as other helpful metrics.
If you filter by "organic rank" in Keyword Scout, you'll receive a list of keywords that a specific ASIN is ranking highly for.
After you identify your main keywords, you can add them to Rank Tracker to monitor your competitors' keyword performance over time.

Want to learn more about using Rank Tracker to outrank your competitors? Check out our video below!
2. Audit your competitors' listings
This is where you can identify potential weaknesses within your competitors' listings. Do photos have poor image quality? Are listings missing specific product information? Do products have a sub-par rating?
You can learn from what your competitors are doing in terms of listing optimization and use this information to make your listing even better. Here are the components of a listing to closely inspect in your audit:
Title
The title not only informs the customer of what your product is, but it also tells Amazon's A9 search engine what it is, and whether or not it is relevant to a buyer. Take note of the keyword phrases your top competitors are using within the title.
Do you see anything you can add/remove to improve your product title? Are your competitors missing important information your customer should know from the start? These are some things to think about when creating a strong title for your product.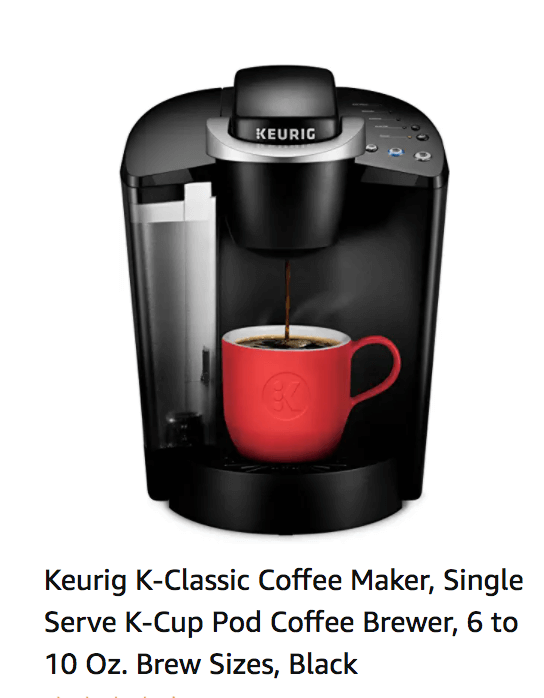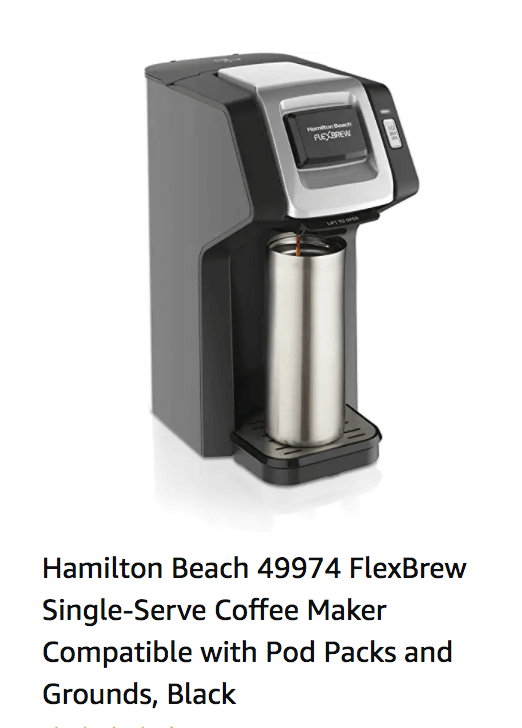 Notice anything with the Hamilton Beach listing above? It's missing the brew volume in the title. In the Keurig listing, it clearly states that this machine brews 6 to 10 ounces of coffee. If I was a customer searching for a coffee maker, that would be the type of information I'd like to know before clicking through to the product page to consider making a purchase.
Images
Images are a huge selling point on Amazon. Since the customer cannot touch, feel, or see a product in person before buying, you need to be sure you have the highest-quality images and infographics possible for your listing.
Take a look at the search results below and examine each one of your competitor's main images. How can you make your main image stand out within the search results?
Which one of the above listing images stands out the most to you? By adding a yellow cup to the picture on the left, the seller created a point of visual interest, making that coffee maker stand out from the rest of the products in the search results.
Bullet points and description
Read through your competitor's bullet points and descriptions, and take note of how they describe their products. What is the tone like? What features and benefits do they highlight? What helpful information is missing?
See what others are doing and figure out ways you can make your listings even more informative.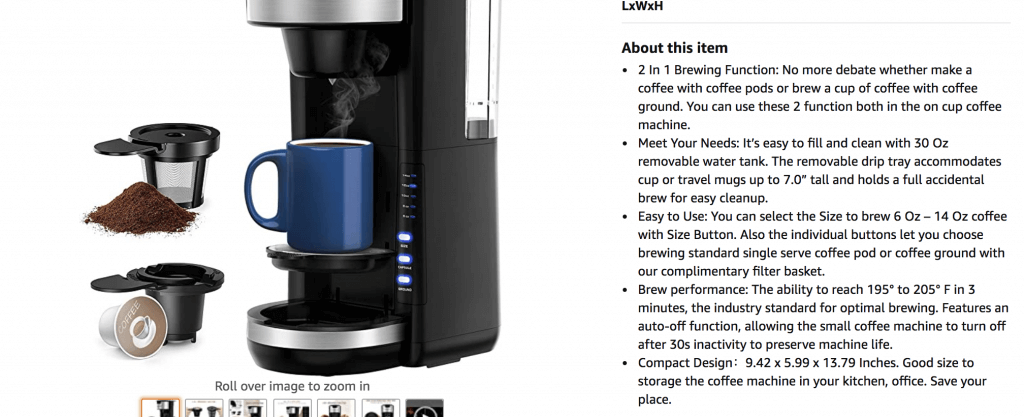 Skip the fluff and avoid filler words that are not useful to your customer. Keep your information to the point, yet persuasive. The faster a customer can find the information they're looking for, the more likely they are to be compelled to purchase your product.
Reviews
What are customers saying about your competitor's products? What are their pain points for those items? What do they like about their purchases?
Use your competitor's reviews to spot weaknesses in their product and product listing. For example, if a review mentions that the listing has incorrect or missing information, you'll know to include accurate and thorough product information in your own listing.
How can your product help resolve the issues a customer is having with your competitor's product? This is a good opportunity to draw attention to the benefits of buying your product, so make sure to include that information. Reviews are also a great way to discover potential keywords that your type of customer uses.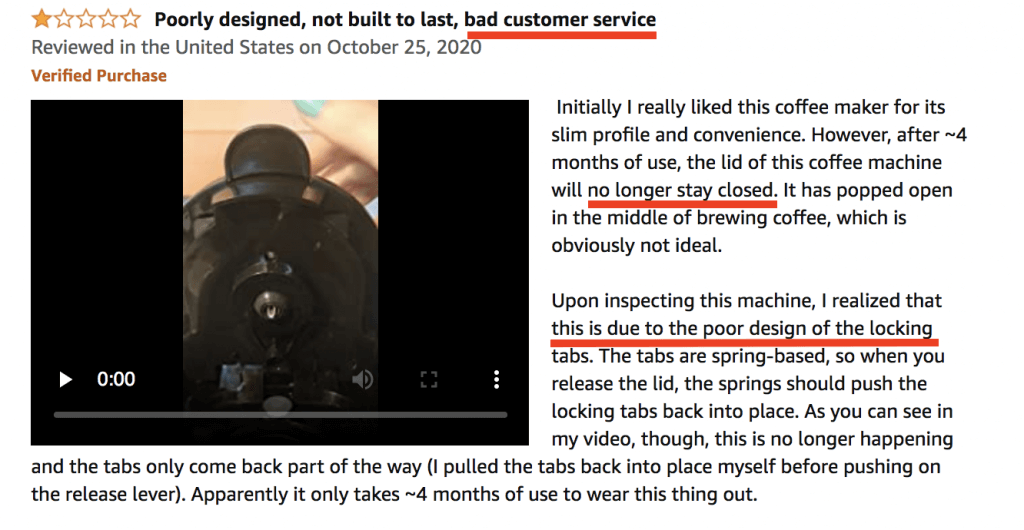 Take a look at the underlined sentences in the review above. You can see that the customer mentioned exactly what was wrong with the product. This is very useful information as you can use it to assure your customers through your listing that your product does not have these problems, and that your product is clearly the better choice.
Another missed opportunity worth noting in the review above is the mention of "bad customer service." If this seller had provided good customer service, it could have saved them from this negative review in the first place.
3. Monitor competitor pricing
Pricing places a huge role in customer purchase behavior — especially on Amazon. If a customer sees two similar products with similar review ratings, they'll most likely go for the cheaper option.
With that being said, you still need to make a profit. It is important to understand the price history of a particular market to determine a product's long-term viability. If the price of the product you're selling or are interested in selling fluctuates frequently, it may not be a good market to get into.
Here is where Product Tracker can also help: it will monitor Buy Box prices to track if your competitors sell a product at a consistent price point. With this information, you'll be able to avoid potential losses and stick to selling products with prices that are stable enough for you to profit from.
4. Track your competitor's monthly sales
Tracking your competitor's sales will give you a good understanding of how much inventory they're moving and the potential profit they could be making. It also lets you know whether or not this particular niche or market is healthy.
You don't want to get into a market that is trending down or has low demand. Tracking sales gives you more confidence in the product you decide to sell. The last thing you want to do is launch a product that no one wants to buy.
Again, you can use our Product Tracker tool to track the average sales, revenue, and Best Seller Rank of a product or group of products over time. These extremely valuable insights allow you to make more informed decisions for your Amazon business.

5. Explore how your competition markets their products
How your products and your competitor's products are branded and marketed can be the key factors in a customer's decision to purchase. This comes down to the tone of the listing copy, the product images, packaging design, A+ content, and how the brand communicates with its customers.
You should also take a look into their off-Amazon marketing efforts such as their social media presence. Social media has a huge impact on ecommerce and brand awareness. In fact, over half of consumers have purchased something they first heard about on social media.
Here are some questions to ask yourself:
How does your competition use social media?

What is their following like?

What platforms are they on?

How often do they post?

What is their engagement rate?

Do they use other platforms like emails or blogs?
All of these questions can help you better understand your competition and the consumers in your market.
Gain a better understanding of your competitors on Amazon
Without knowledge of the competitive landscape, you will have a hard time growing your Amazon business. Researching your competitor's sales and marketing strategies helps give you a better understanding of what you are up against in the Amazon marketplace, and offers you a competitive edge.
Do you have more questions about analyzing your competitors on Amazon? Let us know in the comments!