In 2022, I will personally be attending 4 weddings and getting married myself (yay!). As I was working with my wedding planner to book vendors, I quickly realized that this wasn't going to be an easy year to get married as most vendors are fully booked (some until late 2023).
This is an issue many wedding planners and engaged couples are experiencing. According to Reuters, in the US alone there will be 2.5 million ceremonies in 2022, the most weddings in a single year since 1984.
The increased popularity of weddings in 2022 is surely impacted by the 2020 lockdowns which caused many brides and grooms to cancel or postpone their nuptials. This paired with inflation being at a 40-year high has given the wedding industry a $68 billion surge.
Alexandra Owens, a wedding planner and the owner of Sixty Chapel, is one of many wedding planners who has had to explain the impact of inflation to engaged couples while setting the wedding budget.
"Aside from the health concerns and postponement challenges Covid presented for the past two years, 2022 couples are now dealing with a whole new slew of concerns. This year the wedding and event industry is looking at a surge in labor costs, a shortage of labor itself, and a general spike in the costs of goods and services across the board. Inflation and demand have affected everything from the gas it takes a vendor to get to an event down to the cost of every flower in every bud vase. As a planner, it is hard to show your clients how each small increase affects their budget greatly. Unfortunately, the wedding we could produce for $35,000 in 2021 is not the same wedding we can produce in 2022," Alexandra said to Jungle Scout.
Jessica Bishop, owner of Budget Savvy Bride and author of Amazon's #1 best seller The Budget Savvy Wedding Planner & Organizer, also spoke to Jungle Scout about the state of 2022 wedding costs in the US.
"The wedding industry isn't immune to rising costs due to inflation, and engaged couples might be experiencing more sticker shock than normal with the increase in prices. Between student loan debt and a higher cost of living, engaged couples are looking for ways to cut their wedding costs without sacrificing their vision for their day.

Many couples are choosing to have more intimate events that are smaller in size to save money on food and beverage costs, which are typically a large expense. Some are also taking on more DIY projects and sourcing decorations to put a personal touch on their celebration and have a firmer grasp on the costs," Jessica said to Jungle Scout.
With rising costs in mind, many wedding planners, brides, and grooms alike are turning to the everything store to fulfill their wedding visions with decorations, dresses, cake toppers, and signs.
Wedding Sales on Amazon
Wedding-related categories on Amazon have seen large increases in revenue and some categories have seen slight increases in their median price. Below you will find some of the most popular wedding categories, brands, and products on Amazon in 2022.
Wedding Dress Sales
Many brides are forfeiting the in-store wedding dress shopping experience and opting for a more budget-friendly option — Amazon. The wedding dress category on Amazon has experienced an 18% increase in revenue this year.
Although the median price for wedding dresses on Amazon has increased by 5%, it is still a significantly less expensive option than shopping at boutiques. The median price of a beautiful white gown will cost a bride around $117 on Amazon compared to $1,800 when purchasing a dress the more traditional route (but shhh, don't tell my fiance' this).
Some of the top brands on Amazon include:
WaterDress: Owns 36% of the market share in their category this year, which is up 133% from their market share in 2021. Their revenue is up 176% from last year.
Clothfun: Owns 13% of the market share in their category this year, which is up 73% from their market share in 2021. Their revenue is up 105% from last year.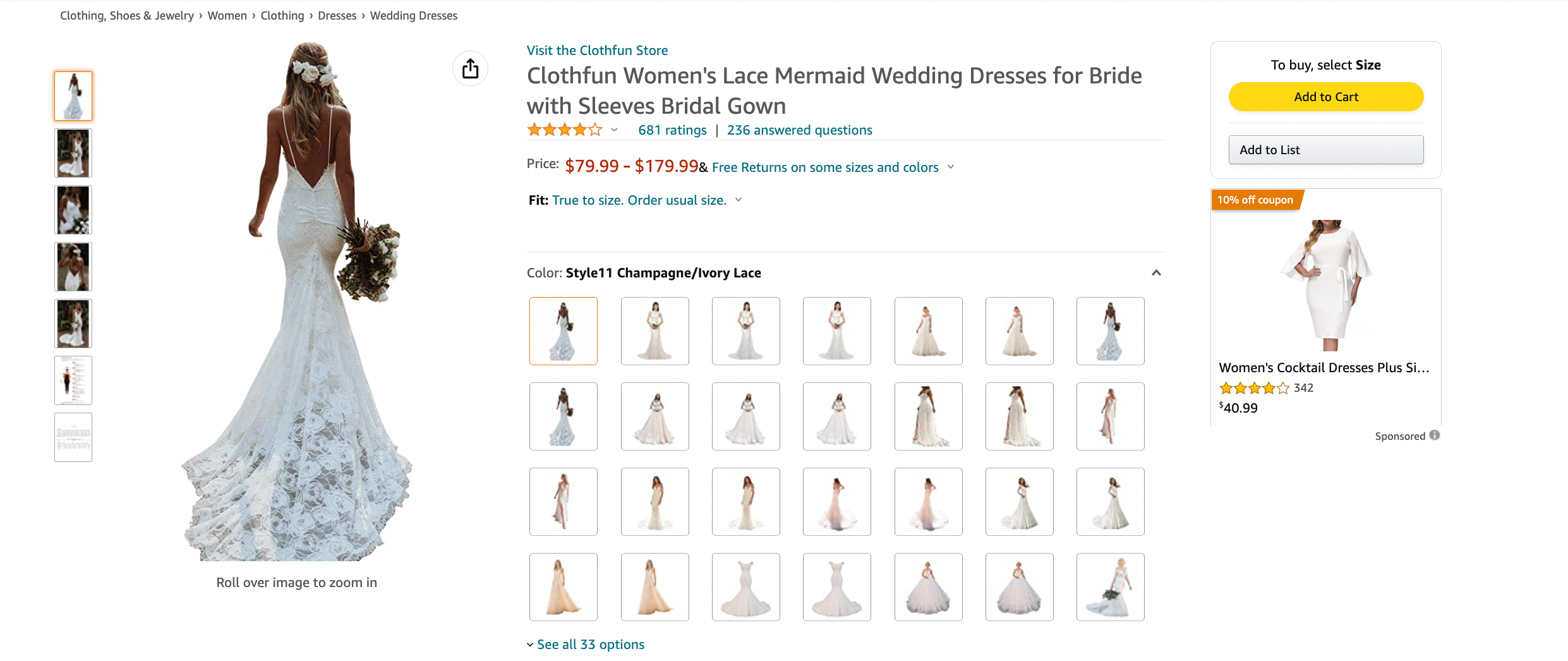 The revenue in 2022 for this beautiful mermaid style dress by Clothfun is up by 189% in the last 3 months.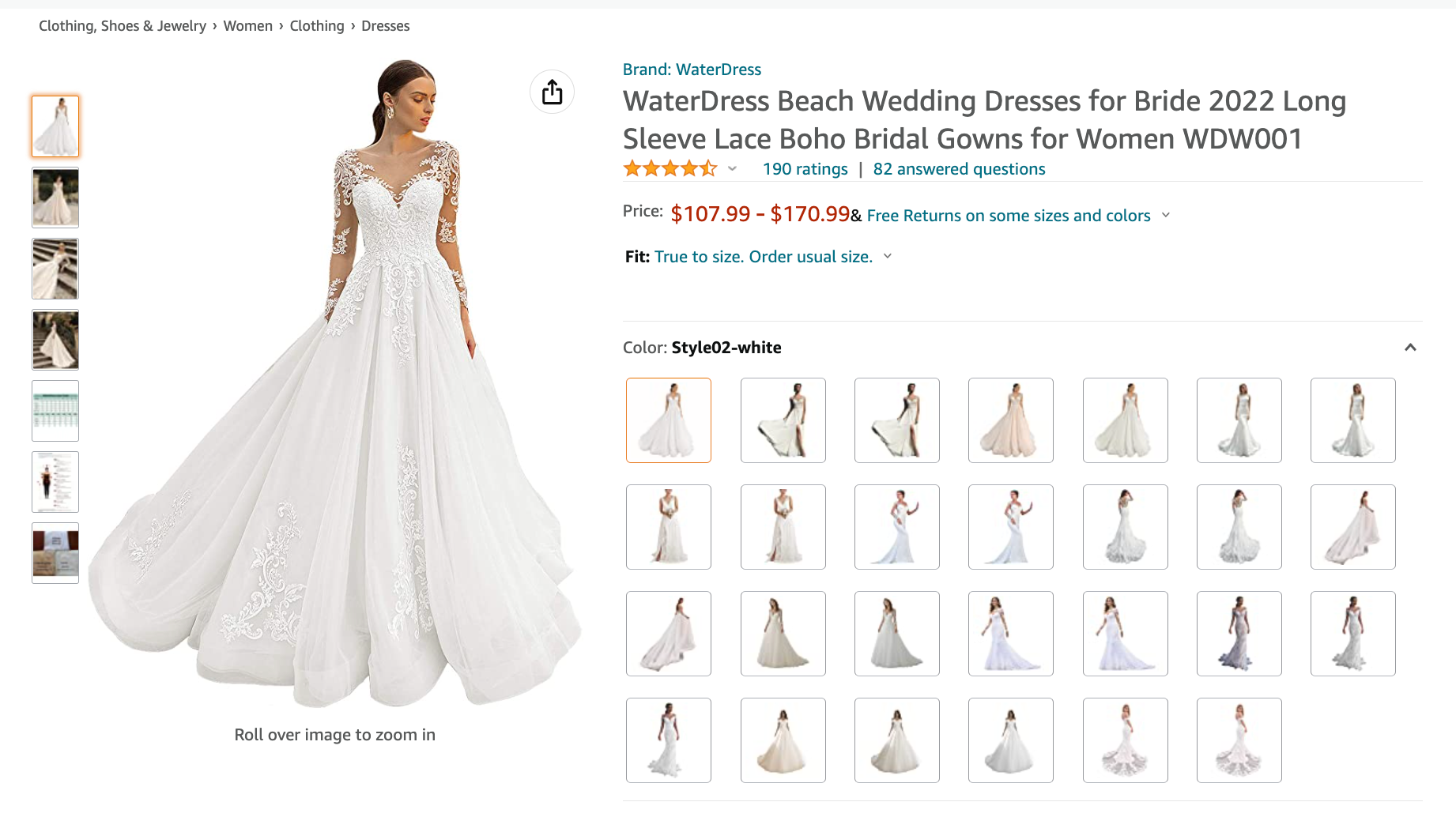 For brides who prefer a traditional gown over a mermaid style dress, this gown from WaterDress has increased in revenue by 104% in the last 3 months.
Bridesmaids Dress Sales
Although these dresses will never be worn again (no matter what the bride says), bridesmaids are spending around $83 for their wedding day getup on Amazon. This category has seen a 15% revenue increase this year with top brands such as Alicepub and Miao Duo experiencing revenue increases of 19% and 67% respectively.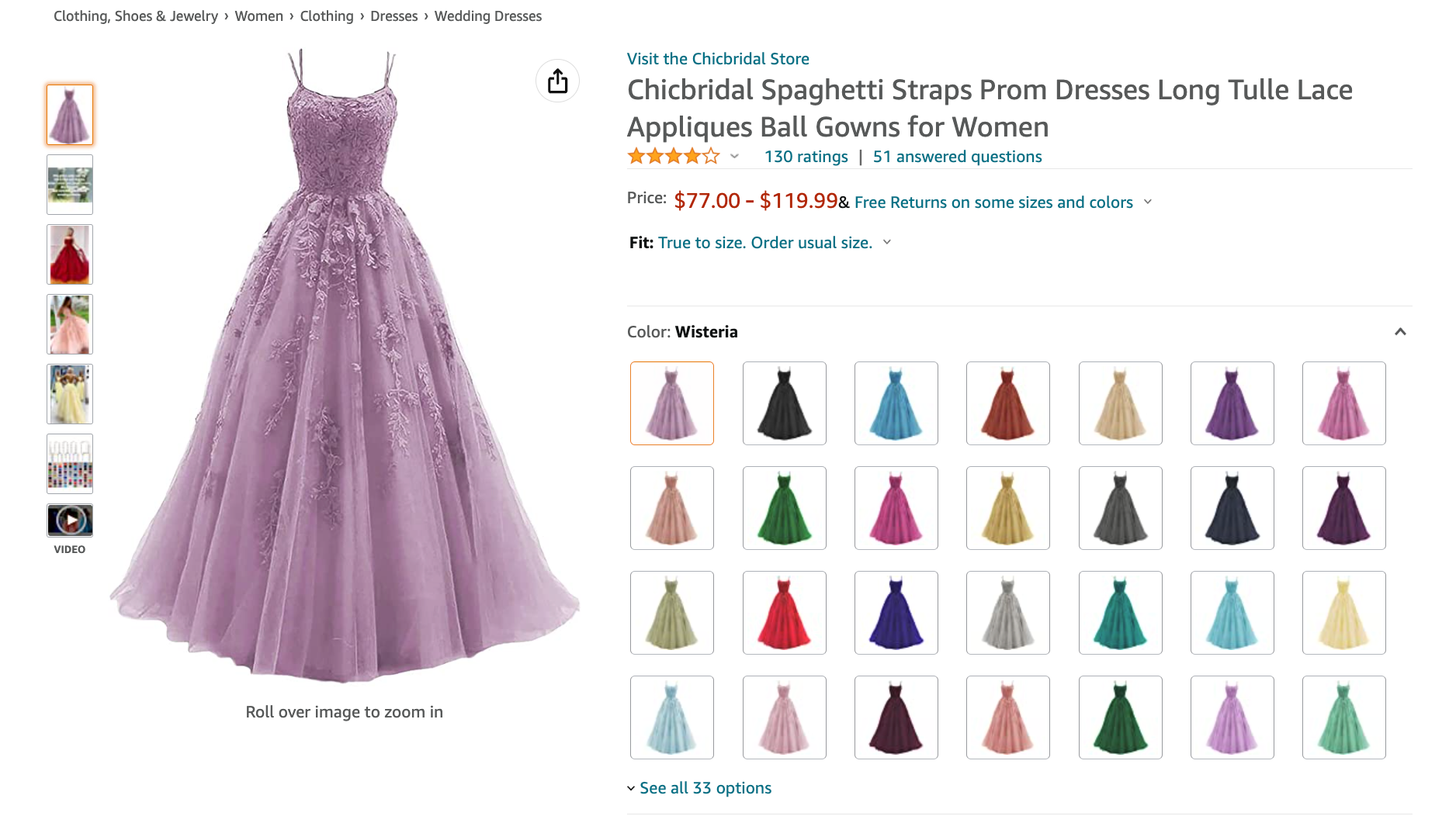 This dress, which works as both a prom and bridesmaid's dress, had a 1,175% boost in revenue over the last 3 months.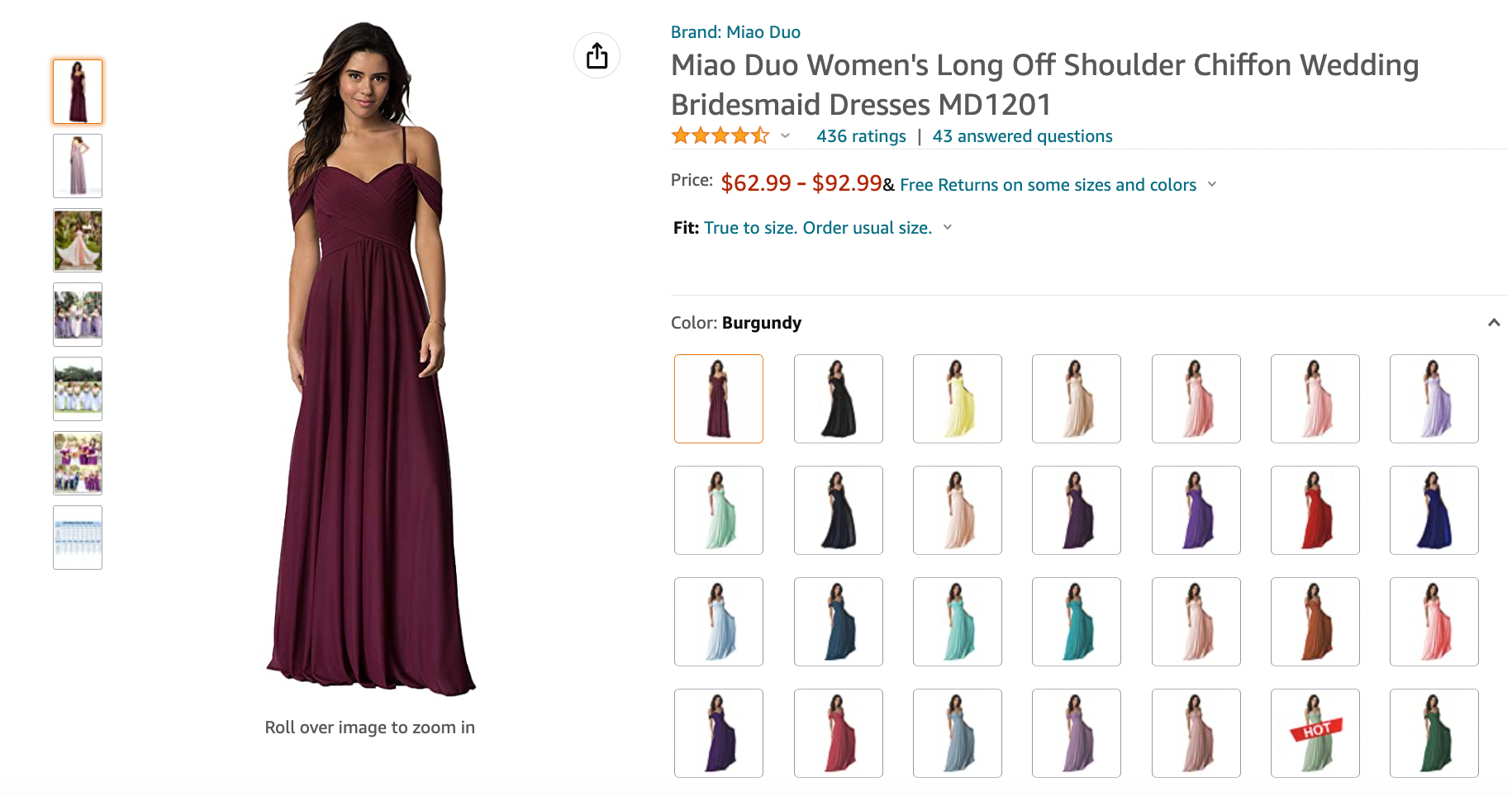 The 616% revenue increase in 2022 for this Miao Duo bridesmaid's dress serves as proof that some brides are willing to let their bridesmaids look attractive on their wedding day (anyone who has been a bridesmaid knows what I'm talking about).
Artificial Bouquet Sales
For the brides out there who don't have the budget for a florist or don't like that real flowers die (not very romantic), there is the option of artificial bouquets that can be kept forever or resold post-wedding. Faux florals have increased in popularity on Amazon with a 41% boost in revenue in 2022.
Although inflation has caused the median price of artificial bouquets to increase 20% this year, the median cost for a bouquet on the everything store is $24 compared to the rising prices of a bouquet from a florist. Owens commented that "a bridal bouquet in the beginning of this year (2022) cost my clients roughly $250, that same arrangement is now inching towards $375."
The Ling's Moment brand has cornered the artificial flowers market on Amazon with a 50% increase in revenue and ownership of 51% of the market share for their category.

This bouquet from Ling's Moment has seen a revenue increase of 41% over the last 3 months, even though the price is much higher than the median price across the Amazon category.
Wedding Decoration Sales
In addition to paying an arm and a leg for a wedding venue, brides and grooms also need to decorate their wedding venue. Purchasing wedding decor on Amazon is a great option for brides who want to make some money back on their purchases post-wedding.
Wedding Arches
Many engaged couples choose to stand under a wedding arch during their ceremony. Some couples choose to rent an arch but others choose the DIY route, purchasing and assembling one from Amazon. Revenue for wedding arches is up 9% and the median price is up 3%, in 2022.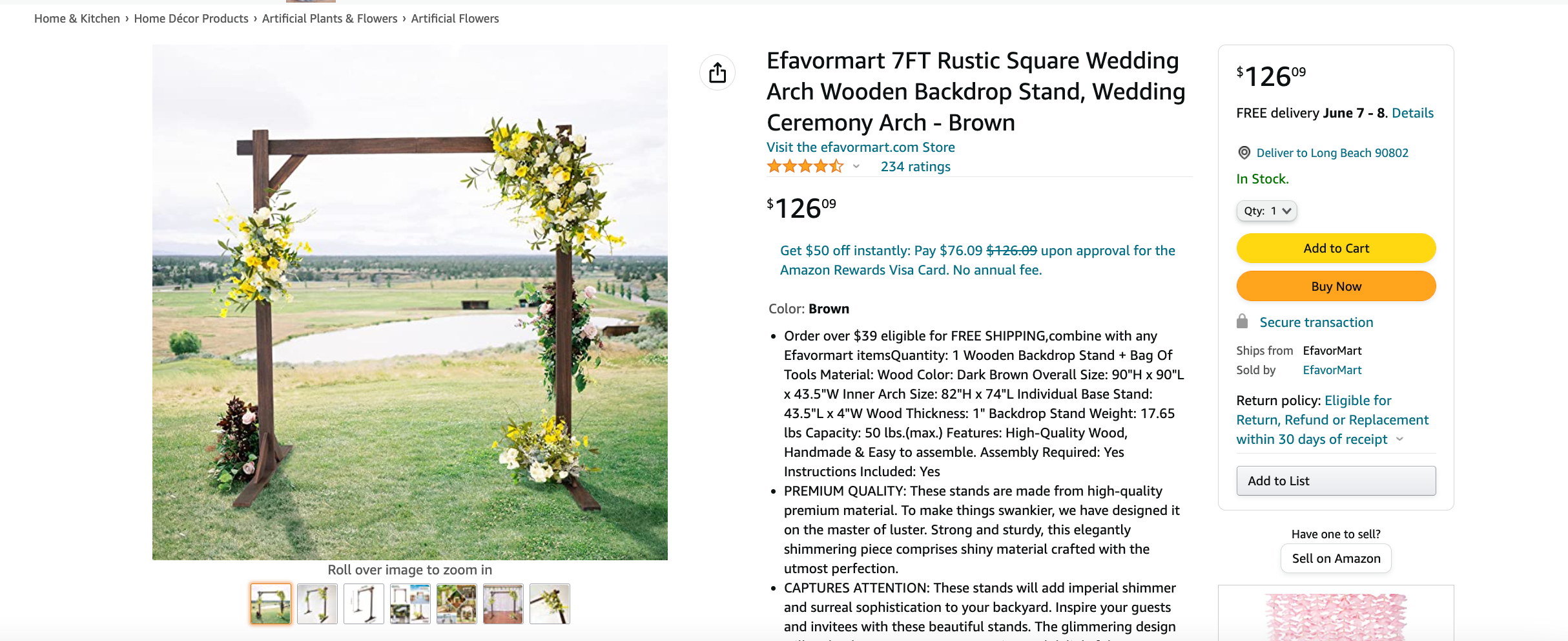 This wooden wedding arch has seen a 49% increase in revenue over the last 3 months.
Wedding Signs
Until the day you're planning your wedding, you probably don't realize the amount of signage required for the event. Apparently, wedding guests will get lost or confused if there's not a sign letting them know that they're at the wedding, this is the gift table, this is the bar, this is where you need to sit, and, hey, this is our new last name!
Engaged couples can sort through hundreds of pages of wedding signs to choose the style that will fit their "wedding vibe." Here are a few popular wedding signs that can be found on Amazon.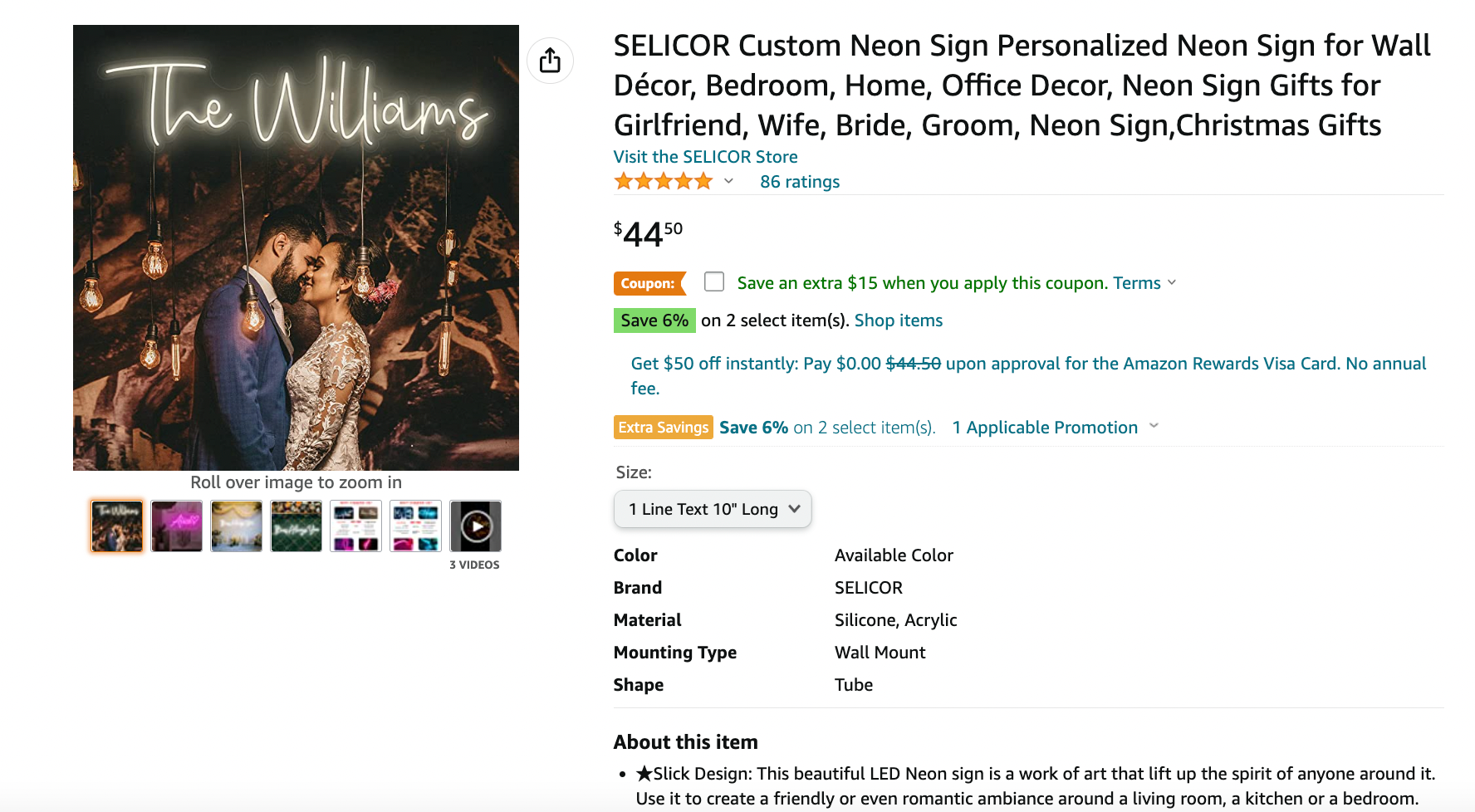 Neon signs don't just belong on the doors of businesses to let customers know the business is open; they are also a popular wedding decoration. The revenue for this custom neon sign is up 299% over the last 3 months. Couples can opt for a sign with their last name or a romantic saying, such as "Better together," "It was always you," or "Happily ever after," that can be resold post-wedding.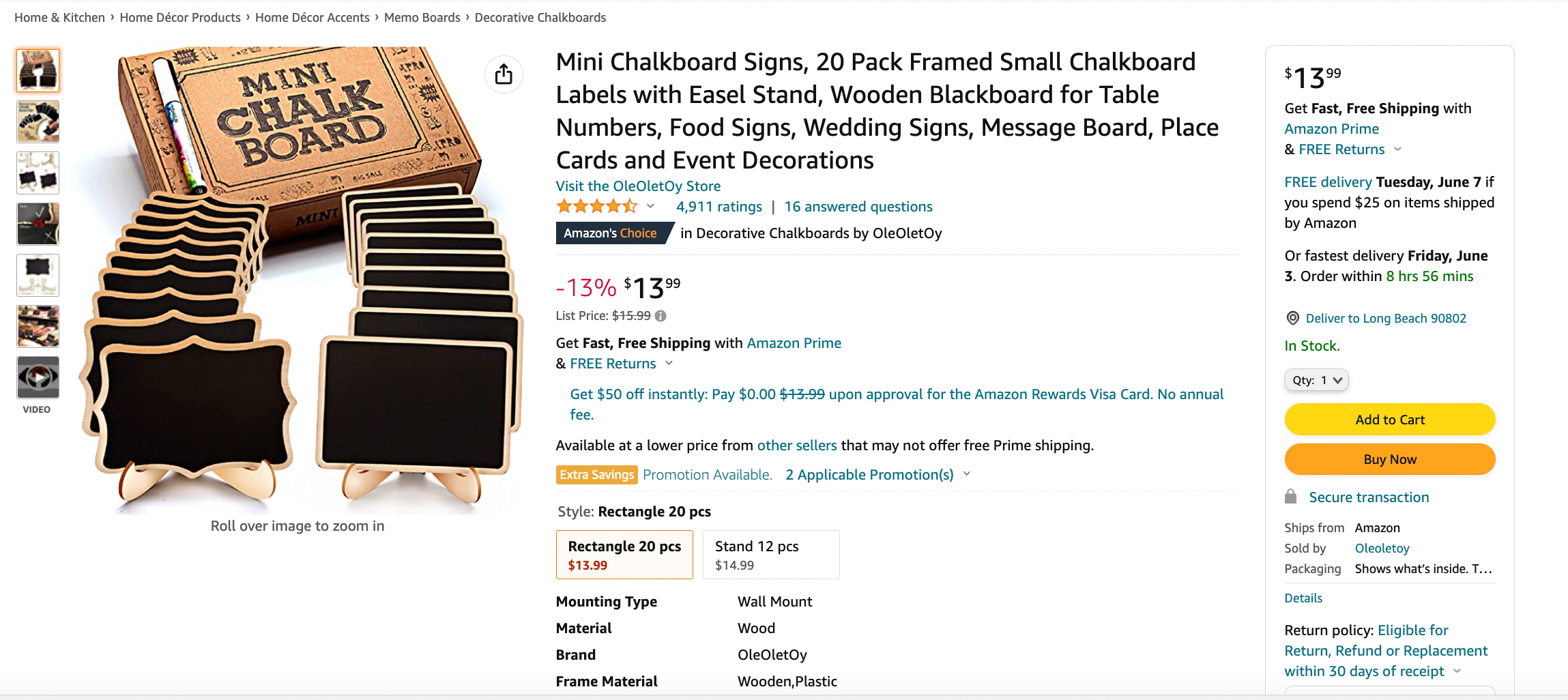 These mini chalkboard signs can be used as name cards at tables, the gift table, the bar, or at the buffet line to label food. Their revenue has increased by 130% this year.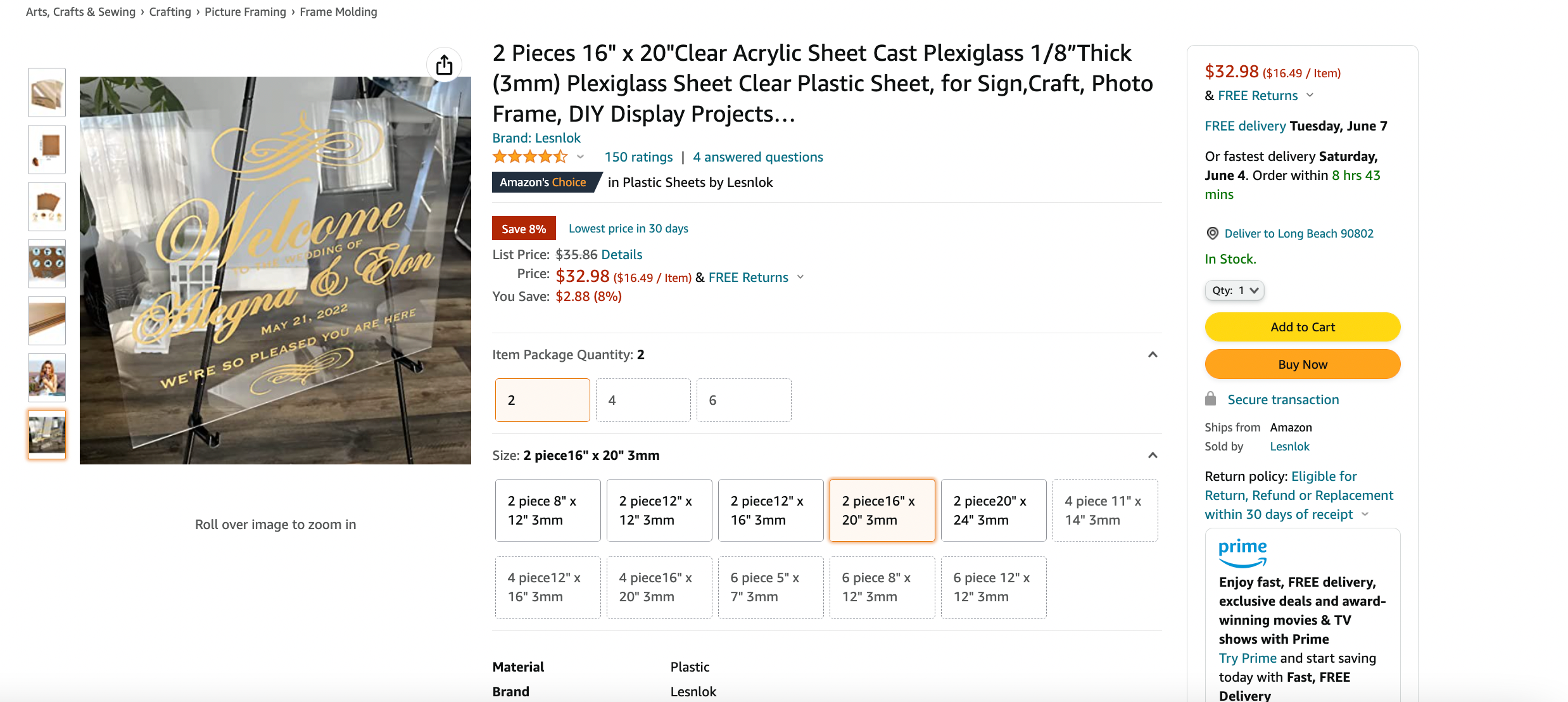 These acrylic signs come in a variety of sizes and can be used across the entire wedding venue. Their revenue has increased by 216% over the last 3 months, so it appears that many couples are choosing to DIY their own wedding signage.
Wedding Guest Books
The revenue for wedding guest books on Amazon is up 8% compared to last year. One leading brand, Y&K Homish, has experienced a 36% increase in market share (leaving them with a 12% total market share) and a 47% increase in revenue. Katie Doodle, another leading Amazon brand in the guest book category, has seen a 55% increase in revenue in 2022.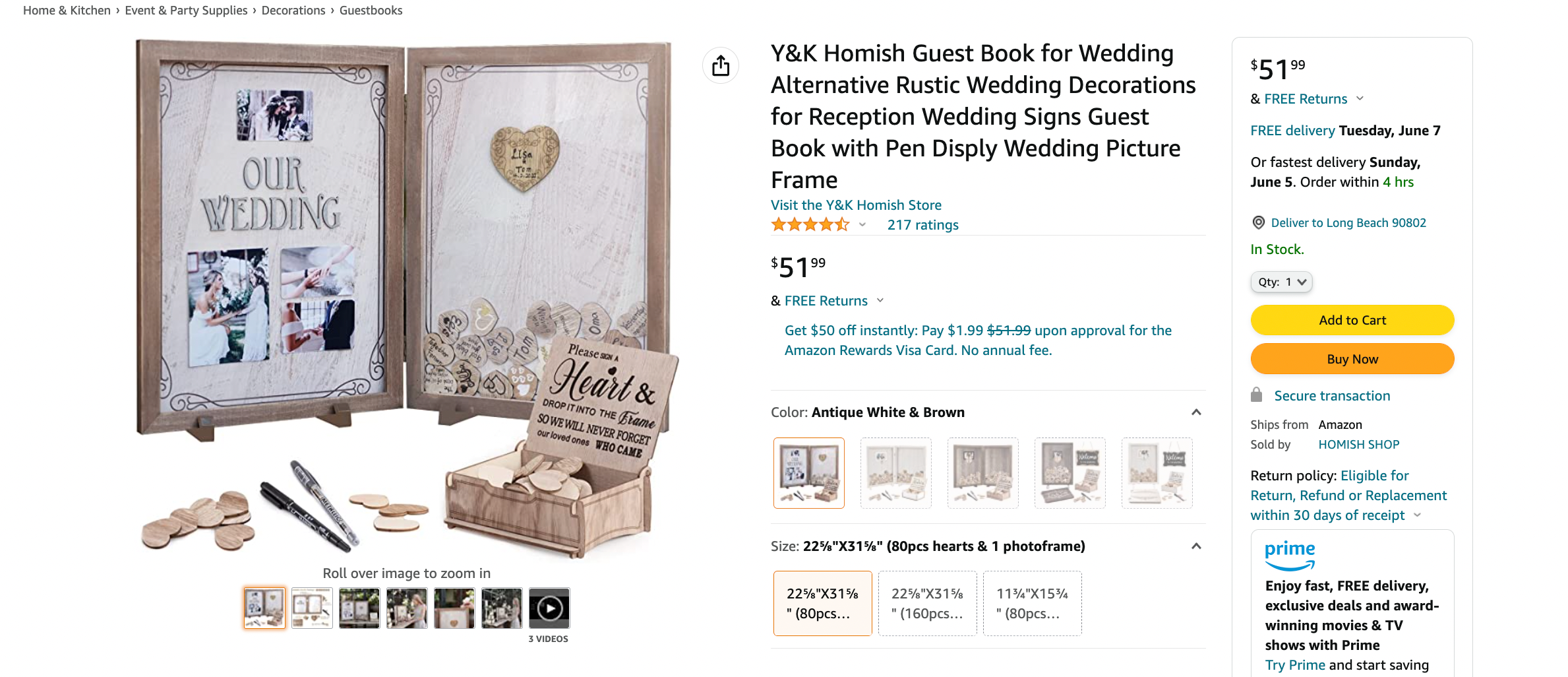 Many brides have chosen to buy alternative wedding guest books for their weddings, such as this frame that comes with little wooden hearts for guests to sign.
This Y&K Homish guest book has increased in popularity and revenue by 76% over the last 3 months.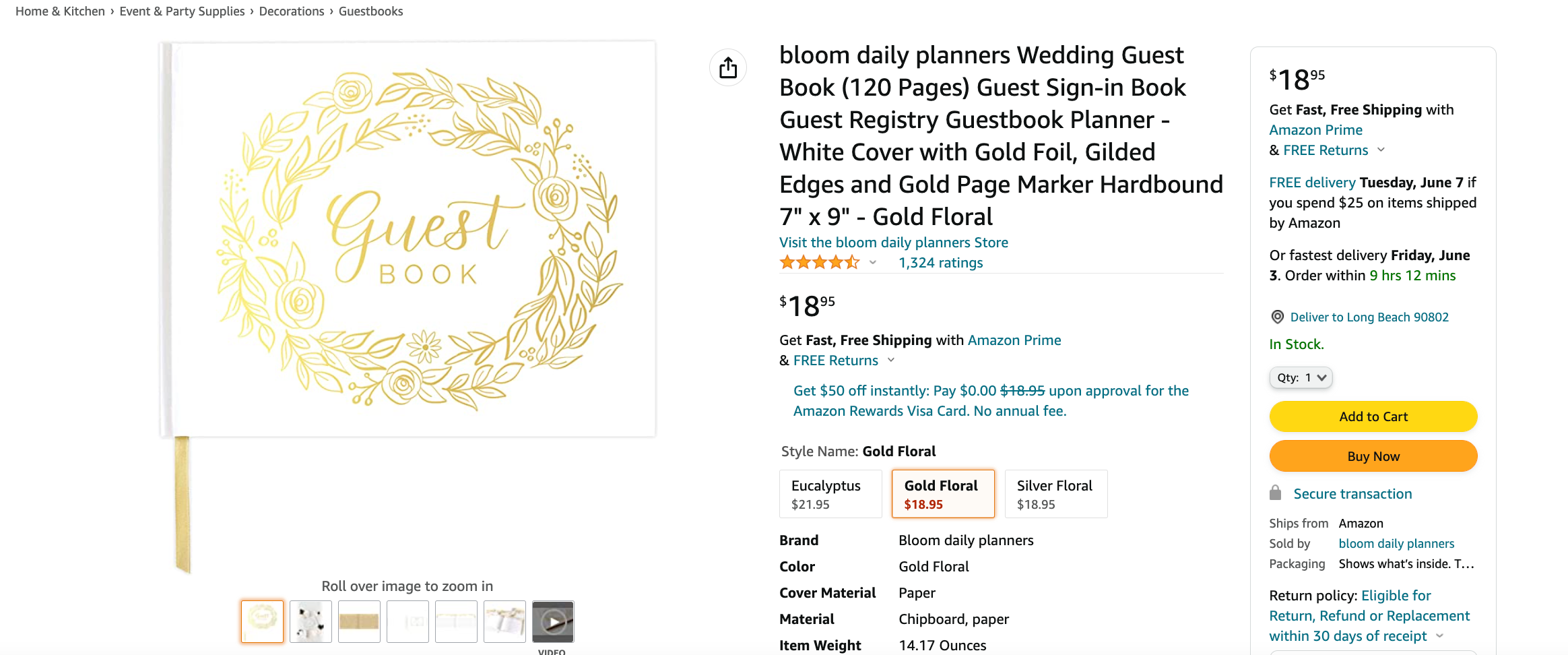 There are still brides who choose the traditional wedding guest book with blank pages for guests to sign their names and leave a little note. This guest book has seen a more modest increase of revenue (15%) over the last 3 months.
Wedding Cake Toppers
No wedding would be complete without a delicious cake and a cute cake topper. The wedding cake topper category on Amazon has seen a revenue increase of 46%, along with a median price increase of 12%.
One of the leaders in the Amazon category is the brand Luxtomi, which owns 46% of the market share. Their revenue has increased 196% this year compared to last, and the revenue for their custom cake topper has increased 1,023% in the last 3 months.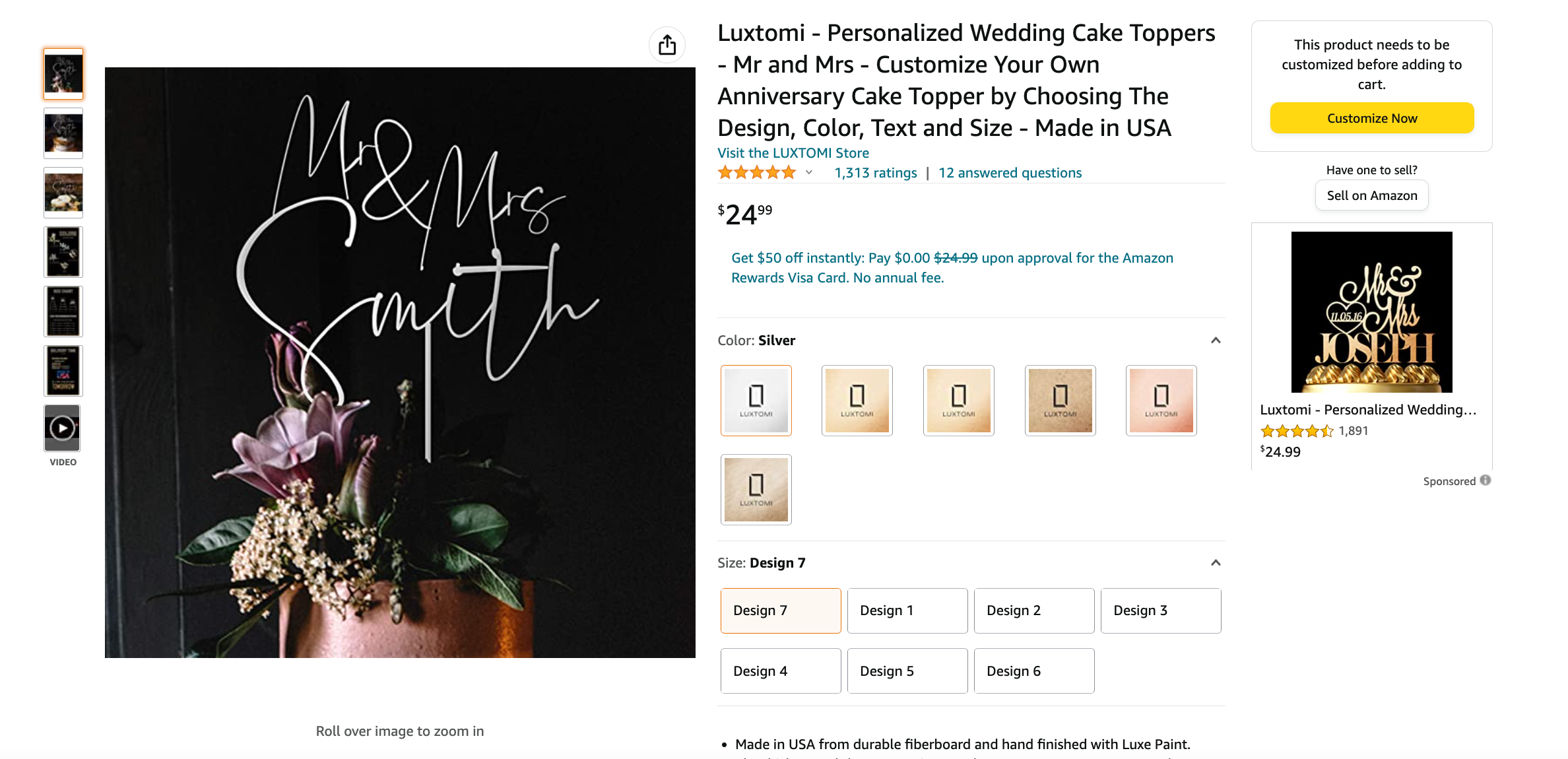 Wedding-Related Keywords
Wedding costs and wedding sales are not the only two things on the rise: Search volumes for wedding-related keywords have also increased in the last 30 days. If you are optimizing your listing copy, backend search terms, or advertising campaigns, here are a few keywords to keep in mind.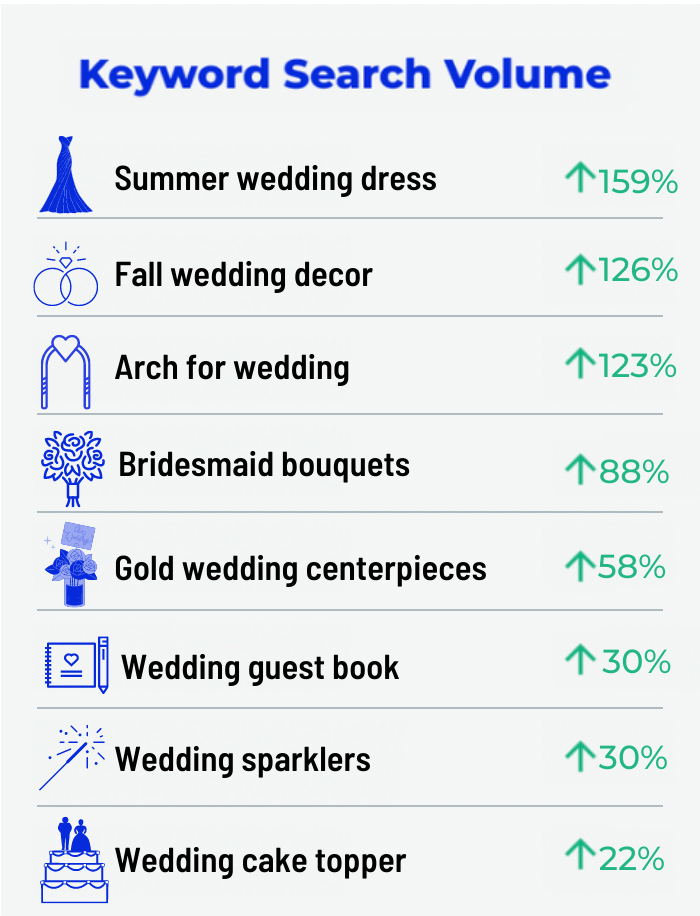 You can find more keyword search volumes to optimize your listing by using Keyword Scout.
5 Tips for Brands Selling Wedding Products
As an ecommerce brand that specializes in wedding products, you need to continuously optimize your Amazon listings and your strategy, as new competitors are constantly emerging.
Jenna Christie, a successful ecommerce brand owner who specializes in wedding products and Jungle Scout's Social Media Manager, offers up 5 great tips for ecommerce businesses in the wedding industry.
1. Finding a Supplier
If you currently have a supplier that you're unhappy with, or if you're looking to launch a new product and need a supplier, Jungle Scout's Supplier Database is a great option for sourcing a manufacturer. This is how Jenna found a reliable supplier for her wedding products.
"I started messaging suppliers, but I actually didn't take action right away (looking back, I wish I did!). A year later, I went back into my old supplier messages and found a supplier with great communication and a fabulous product," Jenna said.
2. Advertising Your Product
Although you may have the perfect product for weddings, your product can potentially be used for other kinds of celebrations. According to Jenna, "our product translates well to any celebration. I've seen it used at coffee shop grand openings, gender reveals, birth announcements, and graduations."
This opens up keyword and advertising opportunities outside of the scope of weddings, which means more eyes on your product (and hopefully more sales)!
3. Taking Images of Your Product
Most brand owners are aware of the importance of having high-quality listing images, A+ Content, and images on your Amazon Storefront. This is especially true for the wedding industry because couples need to be able to envision your product in the scenery of their special day. Paying for lifestyle images can be a costly venture but luckily in the wedding niche, you have professional photographers at your disposal.
"We have so many incredible photographers in our network due to the nature of our product. We've been reached out to many times for products in exchange for photography which was a great way to build up our library of photos at the beginning for a very low cost," Jenna said.
4. Combating Supply Chain & Inventory Issues
Jenna was shocked at the quick success of her wedding products. "The wedding niche is fascinating," she told us. "As a former fiancée – brides will buy anything to fulfill their vision."
But even with the success, Jenna faces the same challenges that many ecommerce brands are encountering with supply chain issues and inventory delays. "We had to purchase more inventory at a higher shipping cost to keep us afloat. We were able to slightly negotiate the cost per unit with our supplier during this time, which helped a bit," Jenna said.
If you have the budget, placing larger inventory orders is a great way to stay ahead of inventory delays. "Running out-of-stock can break you. I'd rather have more inventory than I know what to do with than run out of stock in the heat of wedding season (again)."
5. Marketing Your Product Beyond Amazon
Although Amazon offers great tools for advertising your products, brands should also invest in off-channel marketing opportunities to drive consumers to their Amazon stores.
Jenna's biggest advice for wedding brand owners is, "Get on social media! I'm a huge advocate for TikTok. The bridal community there is huge — Network with influencers, create content, and be consistent. 15% of our visits come from social media and this doesn't cost us a dime."
2022: The Year of Weddings
Whether you are an ecommerce brand that specializes in wedding and event Amazon products, a wedding planner, or the bride and groom-to-be, 2022 is going to be a crazy and exciting year for you! As a brand owner, you should prepare your inventory for growth, optimize your listings, and hone your advertising strategy, to make sure you cash in on the multi-billion-dollar growth the wedding industry is expected to see this year.
As a wedding planner, you should communicate the impact of inflation with your clients and work with them to set a realistic budget that will help them achieve their fairytale wedding. If you are the couple getting married, congratulations and best of luck to you!
Methodology
The product data in this report is representative of the U.S. Amazon market. Market insights on Amazon products were sourced from Jungle Scout Cobalt, an industry-leading market intelligence and product insights platform powered by more than 1.8 billion Amazon data points every day. Year-over-year revenue increases are comparisons of the period of January 1, 2022 – May 31, 2022, to January 1, 2021 – May 31, 2021, and August 3, 2021 – December 31, 2021.
Contact [email protected] today to see how Jungle Scout Cobalt can help you explore sales data and provide strategic insights into consumer behavior on Amazon.