The diaper market has long been dominated by a handful of recognizable industry giants like Pampers and Huggies. While they continue to dominate, new data from Jungle Scout Cobalt suggests that this niche within Amazon's baby products category is experiencing a shift due in part to evolving consumer preferences.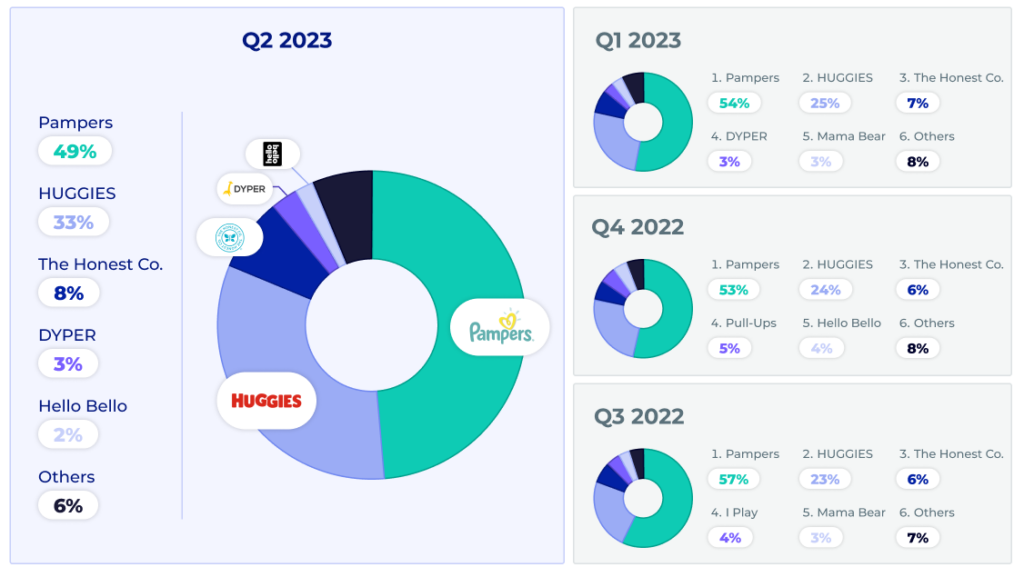 Amazon and consumer trends for diapers
One notable development in the diaper market has been the rising interest in cloth and eco-friendly diapers. Parents are increasingly drawn to these options due to cost savings, reduced environmental impact, and health and safety benefits for their babies. As a result, searches for cloth and eco-friendly diapers have been steadily increasing on Amazon.
90-day search trends on Amazon
Amazon sales trends, Q2 2023
This shift has created space for additional diaper brands and products that offer eco-friendly materials and reusability.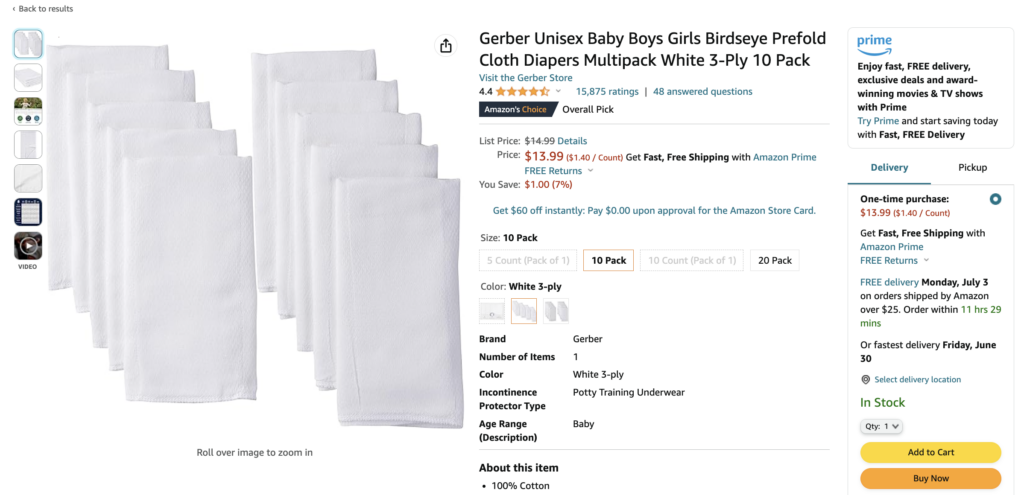 Amazon sales of Gerber cloth diapers are up 330%+ this quarter.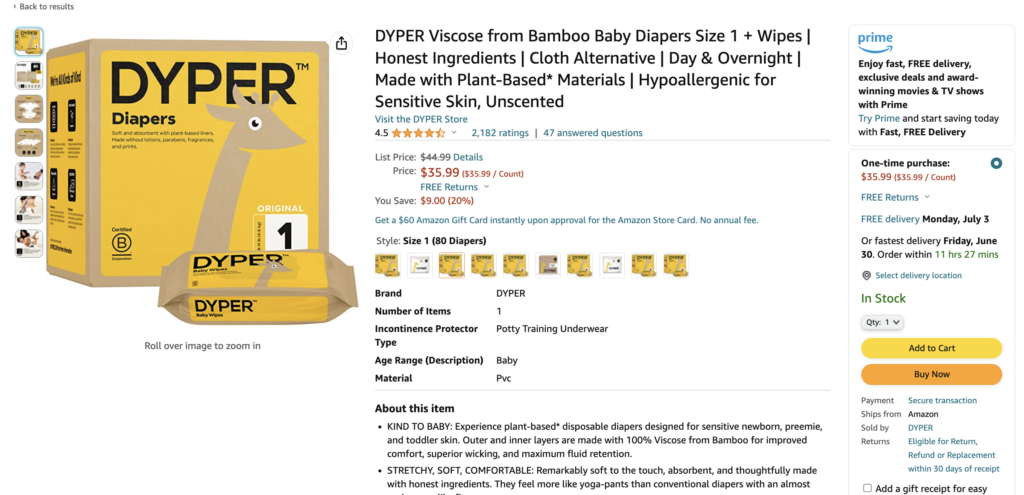 Amazon sales of DYPER cloth alternative diapers are up 12%+ this quarter.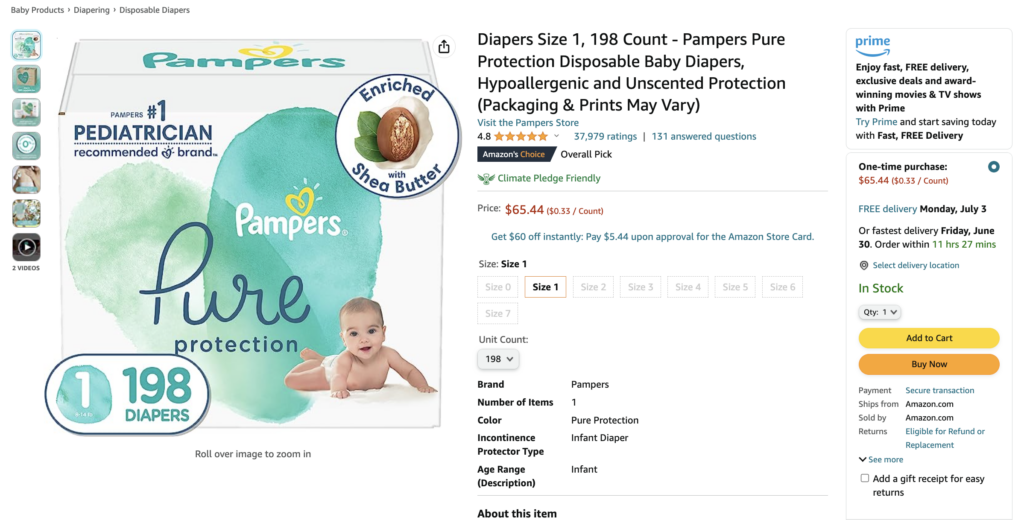 Amazon sales of Pampers Pure Protection diapers are up 20%+ this quarter.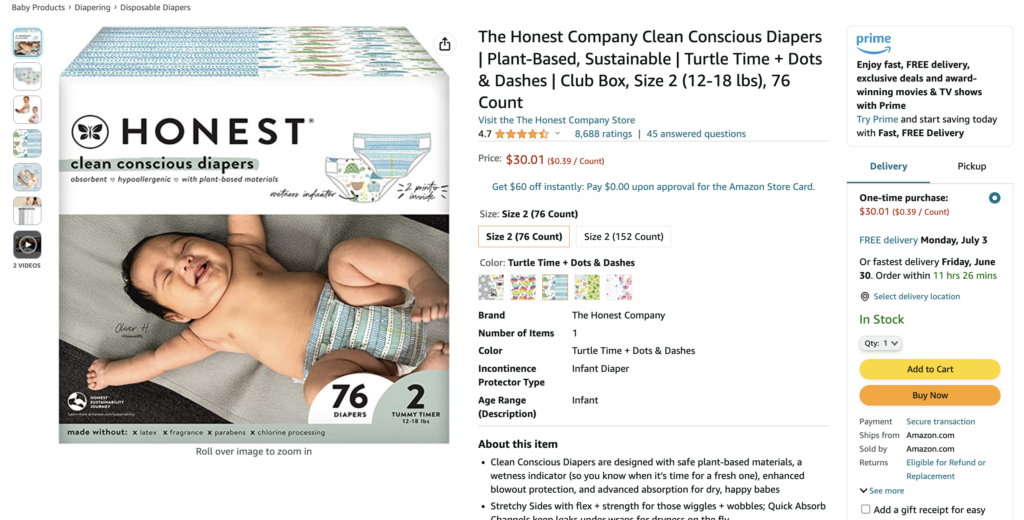 Amazon sales of The Honest Company diapers are up 35%+ this quarter.
Online communities and social media have played a significant role in shaping these preferences by spreading awareness about the effects of certain materials and promoting sustainable alternatives.
Other baby product trends on Amazon
The trend coincides with similar consumer preferences across the Baby category as a whole. As brands offer more transparency into their formulas, manufacturing processes, and environmental impact, more consumers are factoring that information into their purchase decisions.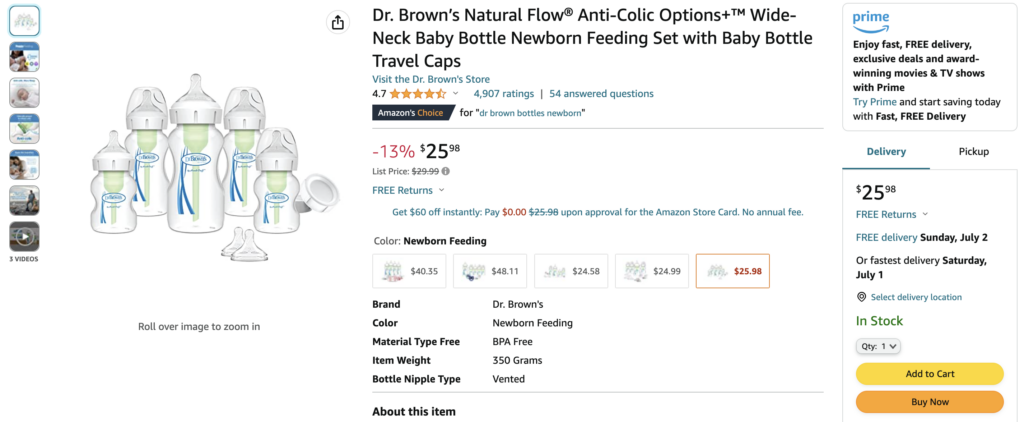 Searches for Dr. Brown's baby bottles, which are certified plastic-neutral, increased by more than 1,500% year-over-year on Amazon.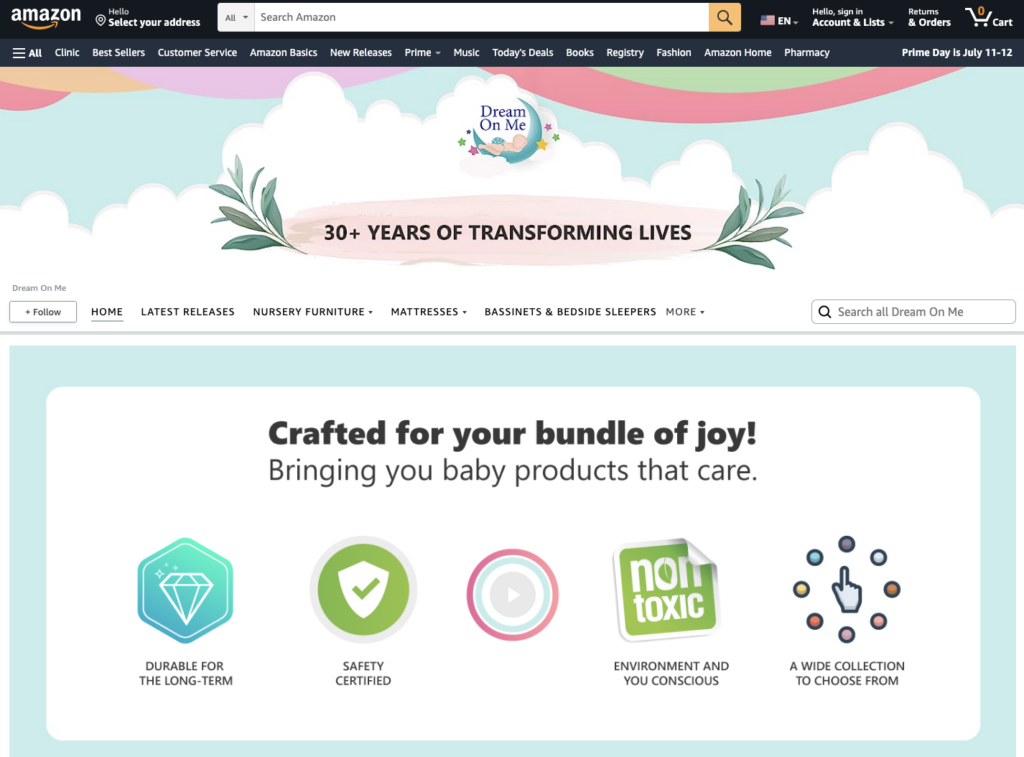 Average weekly Amazon searches for Dream on Me, which offers cribs and other nursery furniture that is Greenguard Gold Certified for indoor air quality safety, have grown more than 70% over the last year (likely thanks in part to the fact that videos about the brand have garnered over 1 billion views on TikTok).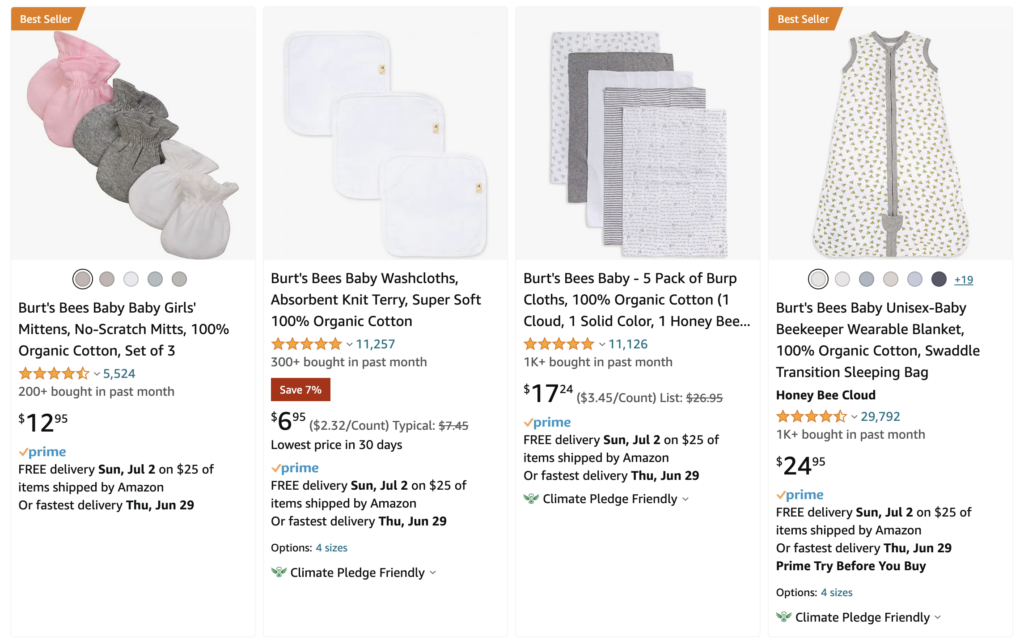 Burt's Bees Baby, which displays Climate Pledge Friendly badges on much of its Amazon catalog, boasts #1 Best Sellers in multiple Baby products sub-categories.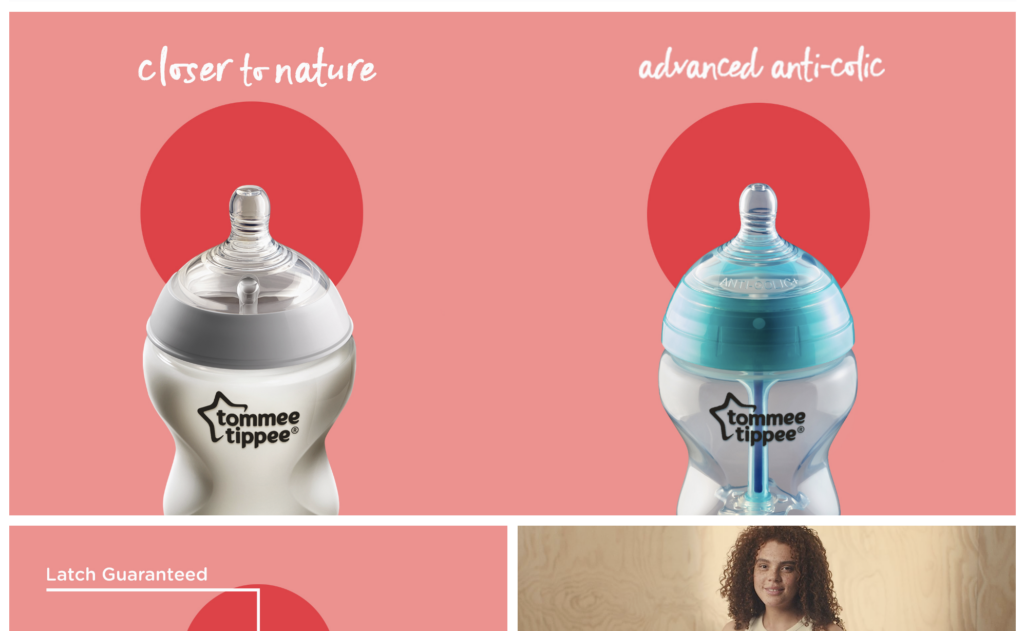 Amazon sales of baby bottles and other products from Tommee Tippee, which has pledged to eliminate all single-use plastics from its products by 2025 and become completely carbon neutral by 2030, are 40% higher this June than last.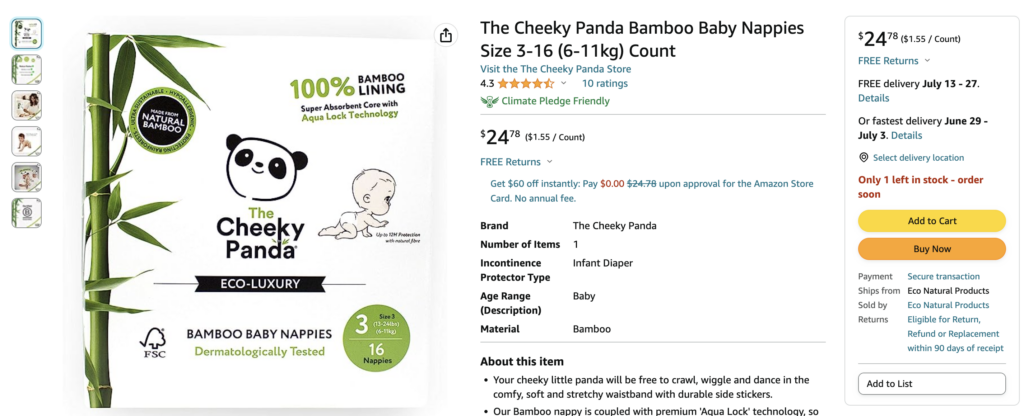 Amazon sales of The Cheeky Panda bamboo diapers and wipes have increased over 4,000% year-over-year.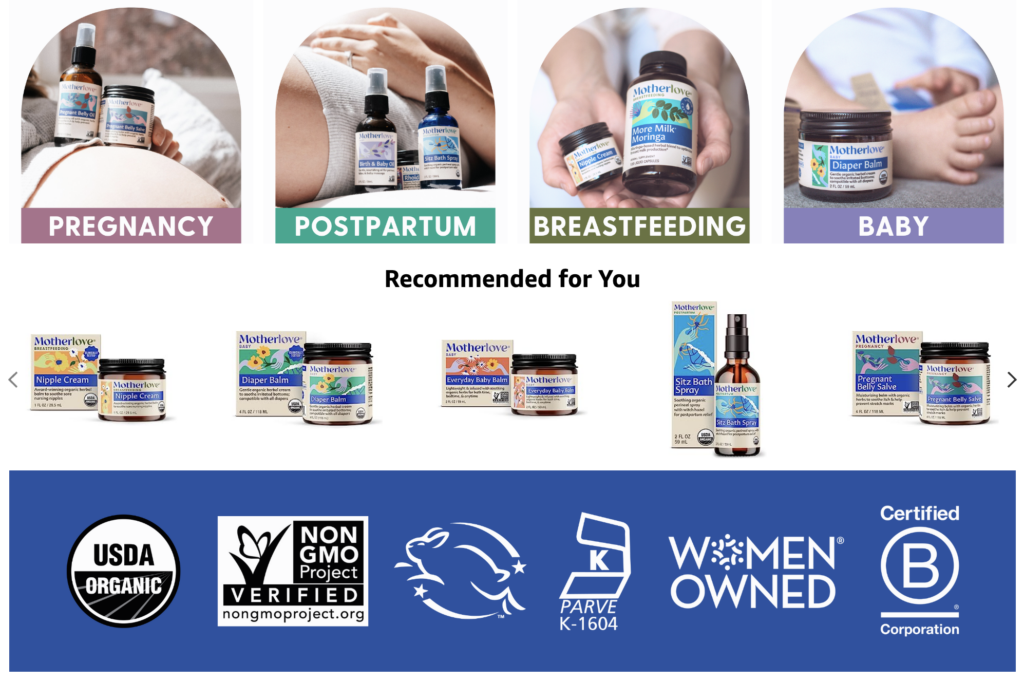 Searches for the brand Motherlove, which specializes in herbal balms, supplements, and other products for mothers and their babies – and uses sustainable, eco-friendly practices – have grown 179% on Amazon in the last 30 days.
Challenges and opportunities for baby product brands
The evolving diaper market presents both challenges and opportunities for brands. The decrease in sales and revenue compels market leaders to reevaluate their strategies in light of new market dynamics.
With parents more empowered than ever to prioritize the well-being of their children and the environment, the future of the diaper market – and the entire baby products industry – will undoubtedly be shaped by brands that can adapt their products and messaging accordingly.
To explore additional data on baby and diaper brands like Philips AVENT, Fisher-Price, Frida Baby, Nuby, Luvs, and more; as well as product trends in sub-categories like strollers, baby bottles, newborn clothing, and more, grab a copy of Jungle Scout Cobalt's Amazon Data Download for Baby Products.
More reports on Amazon category and product trends:
About This Report
The product data in this report is representative of the U.S. Amazon market. Market insights on Amazon products were sourced from Jungle Scout Cobalt, an industry-leading market intelligence, advertising optimization, and ecommerce reporting platform powered by nearly 2 billion Amazon data points. Year-over-year comparison data reflects the period of January 1, 2023 – June 19, 2023, as compared to January 1, 2022 – June 19, 2022. 90-day trends data represents the 90 days leading up to June 23, 2023.
We encourage you to share, reference, and publish this report's findings with attribution to "Jungle Scout Cobalt" and a link to this page.
For more information, specific data requests, media assets, or to reach the report's authors, please contact us at [email protected].