Launch and scale your business with confidence
Use Jungle Scout to make data-driven decisions and build a profitable business on Amazon. Discover what products are in demand, what keywords will boost your sales, how to automate your inventory and review requests, and more.
Get started
Assess product potential
Instantly validate product ideas as you explore Amazon. Evaluate new opportunities, forecast product sales, and request reviews in one click with the most robust extension for Amazon on Chrome and Firefox.
Learn more about Extension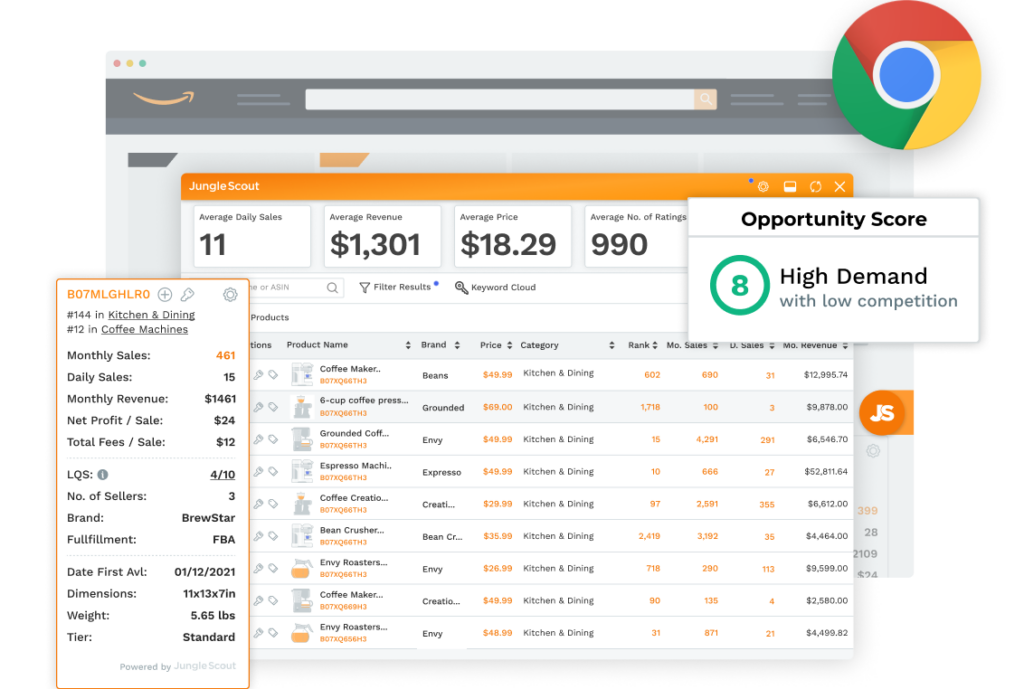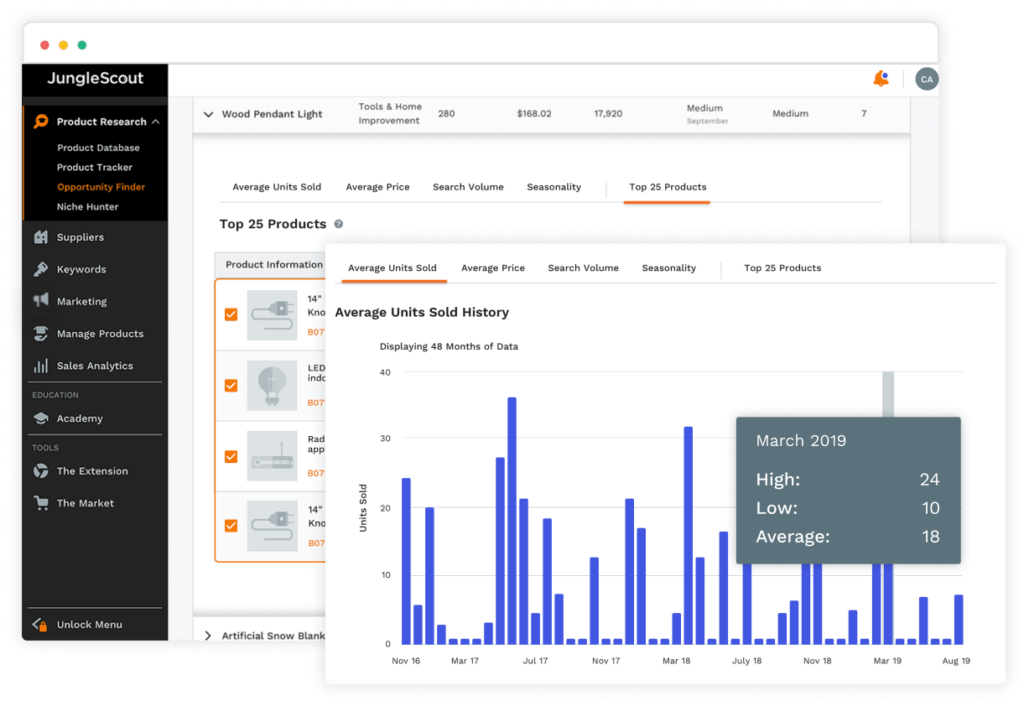 Discover opportunities by keyword
Uncover promising opportunities based on high-demand and low-competition keywords that consumers are searching for. Turn a keyword into a market segment, and see in-depth data on sales performance, emerging trends, and competitive insights.
Learn more about Opportunity Finder
Find products to sell
Organize, explore, and evaluate product ideas. Sort over 500 million products on Amazon using advanced filters to quickly reveal profitable opportunities with Product Database.
Learn more about Product Database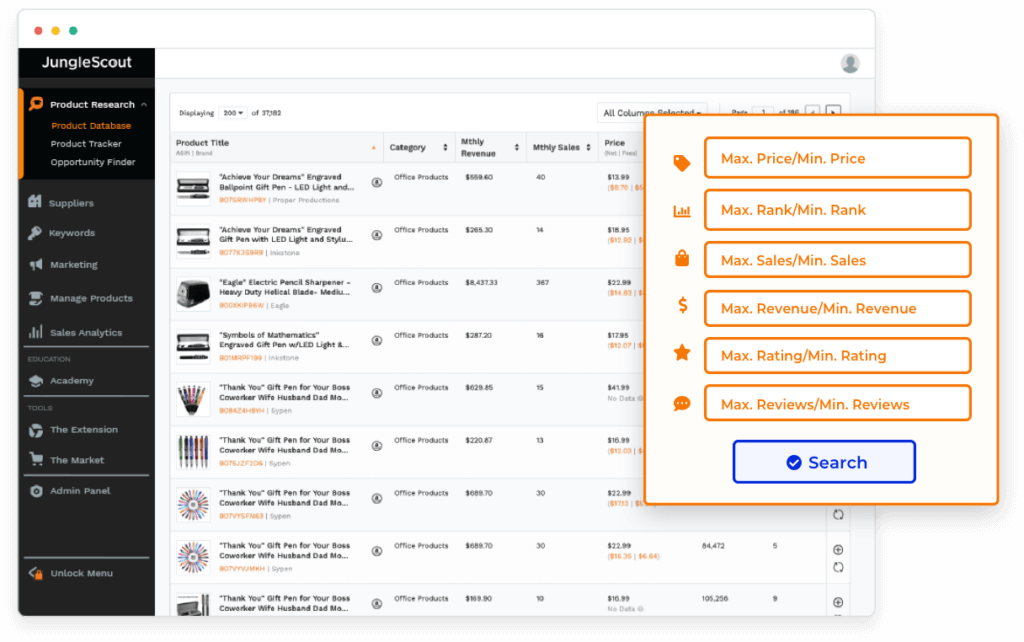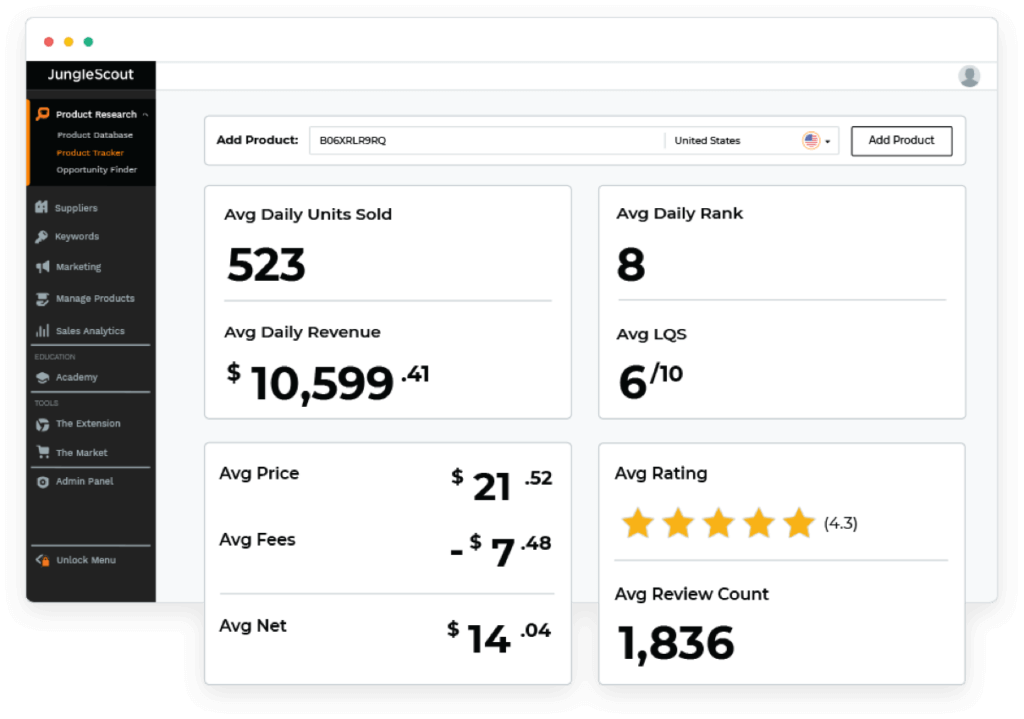 Leverage the industry's best data
Jungle Scout's proprietary AccuSales™ algorithm processes 1 billion data points daily. Act with complete confidence, knowing you are backed by the most accurate information possible to make key business decisions.
Learn more about AccuSales™
Track product ideas
Save and monitor opportunities by adding them to Product Tracker. Measure the performance of a product or a group of products over time to reduce the risk of seasonality or shifts in the demand cycle. Evaluate sales and trends to validate your next winning product.
Learn more about Product Tracker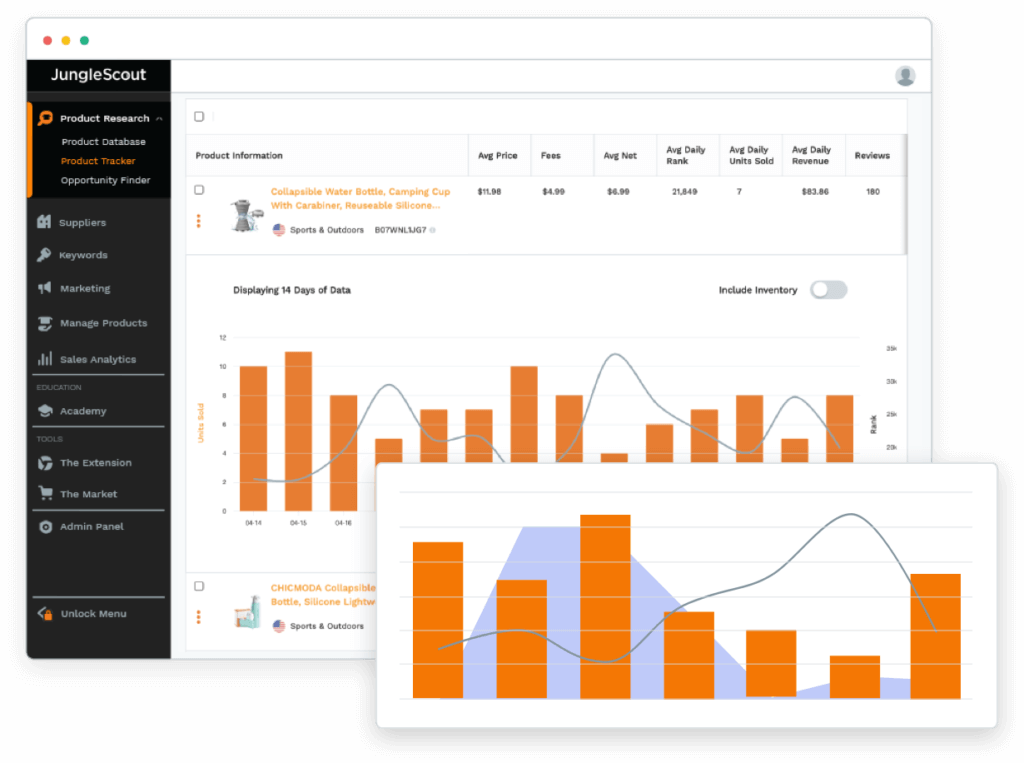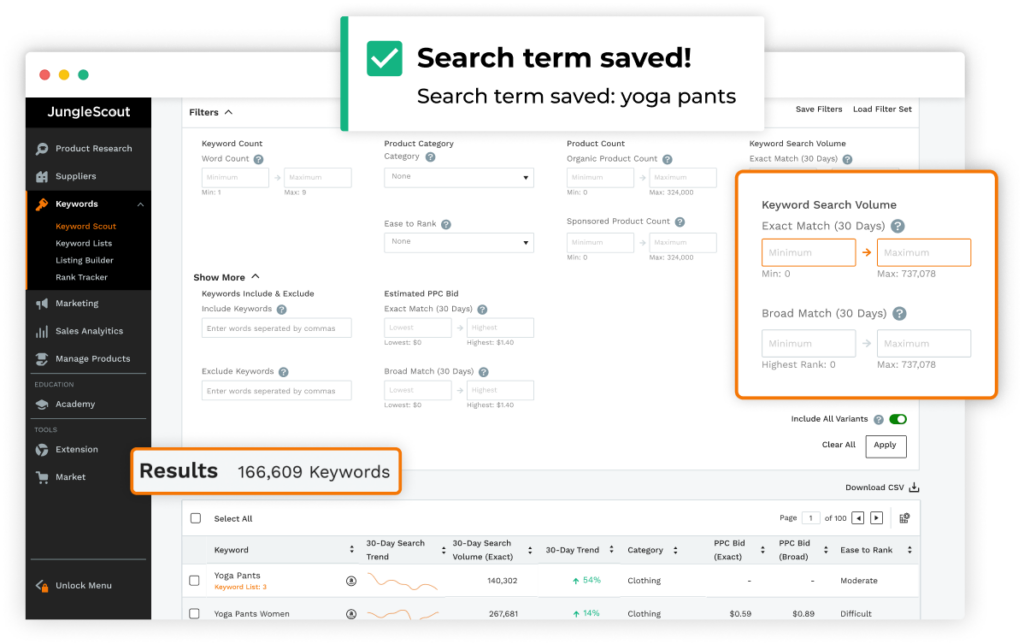 Refine your keyword strategy
Pinpoint the keywords that have the greatest impact on your listing and PPC advertising. Sort thousands of keywords with advanced filters — including organic and sponsored data, include/exclude terms, estimated PPC bids, and more — to develop a more refined SEO strategy and save your searches to continue optimizing your strategy.
Learn more about Keyword Scout
UPDATED
Build optimized listings
Create a winning Amazon listing with confidence. Discover recommended keywords in your keyword bank, rely on auto-save so you never lose your progress, and get an instant rating on your product title, description, key features, keywords, images, and more with our Listing Optimization Score.
Learn more about Listing Builder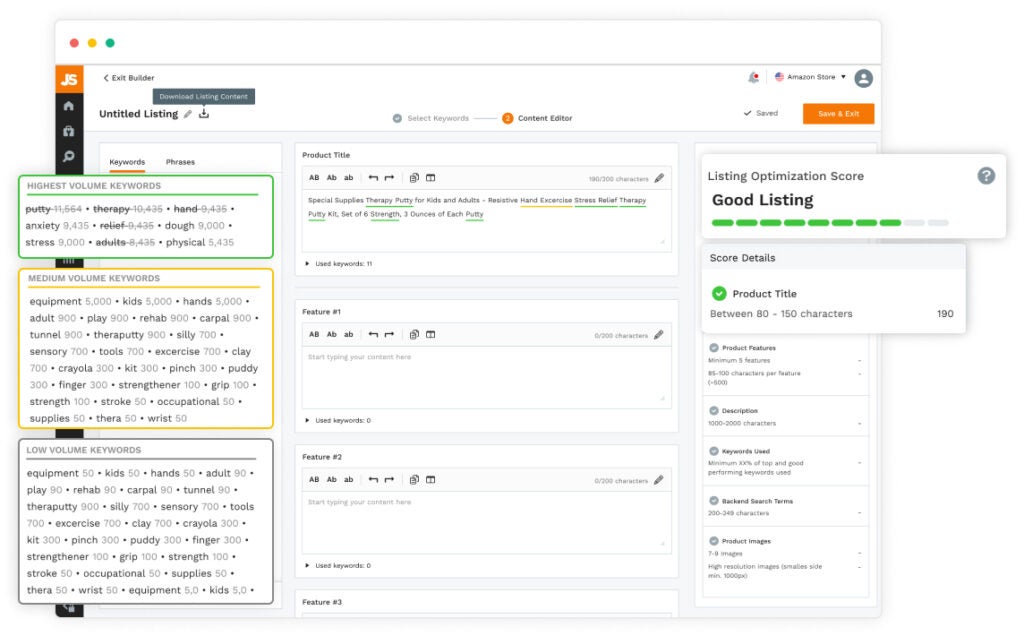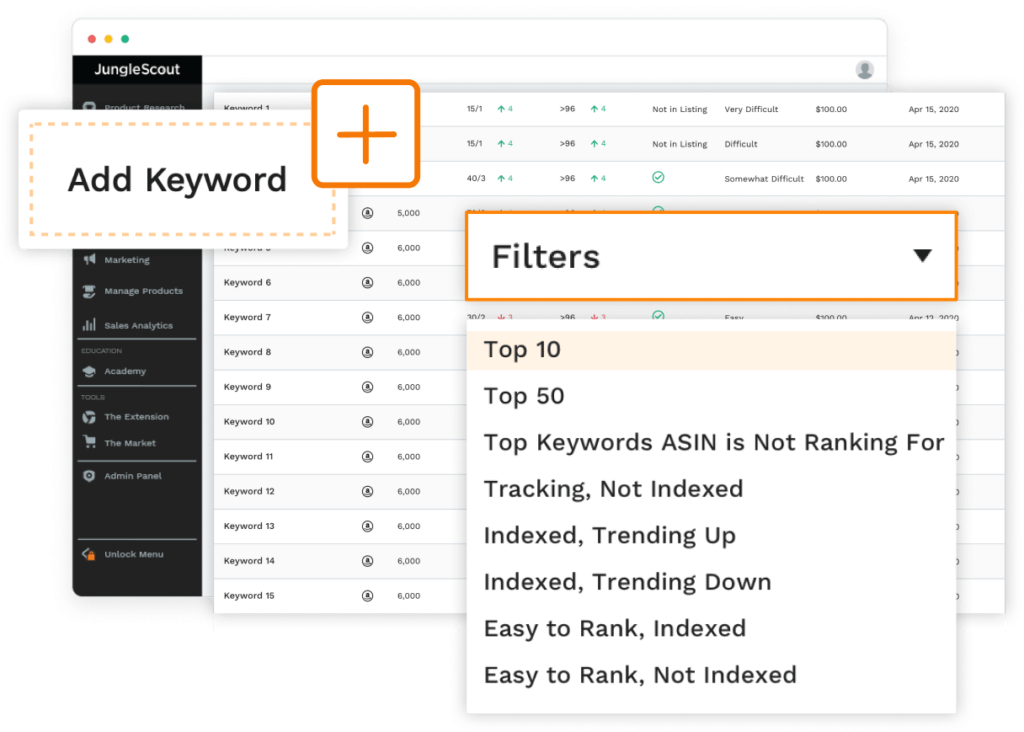 Track keyword performance over time
View keyword rank history for multiple keywords at the same time — all on one graph. Maintain a competitive edge by monitoring how your listings and your competitors' listings are performing in rankings over time.
Learn more about Rank Tracker
Validate suppliers
Instantly access a world of legitimate, high-quality manufacturers to make your product idea a reality. Validate suppliers by viewing their confirmed shipments and customers and even see what manufacturers your competitors are using.
Learn more about Supplier Database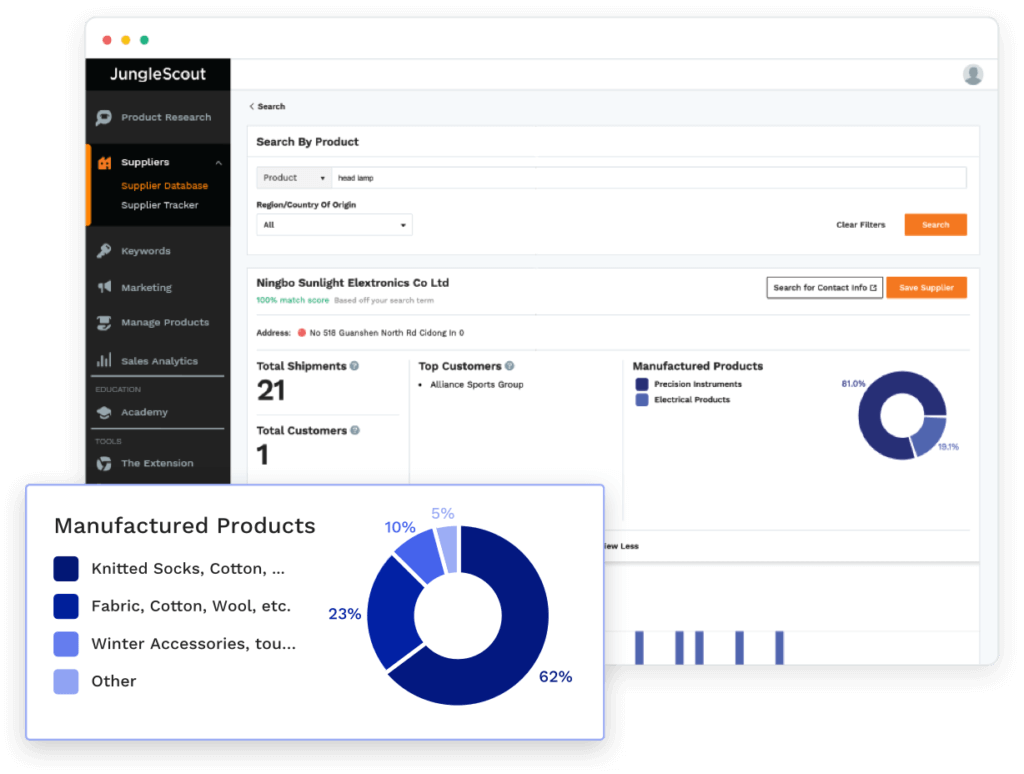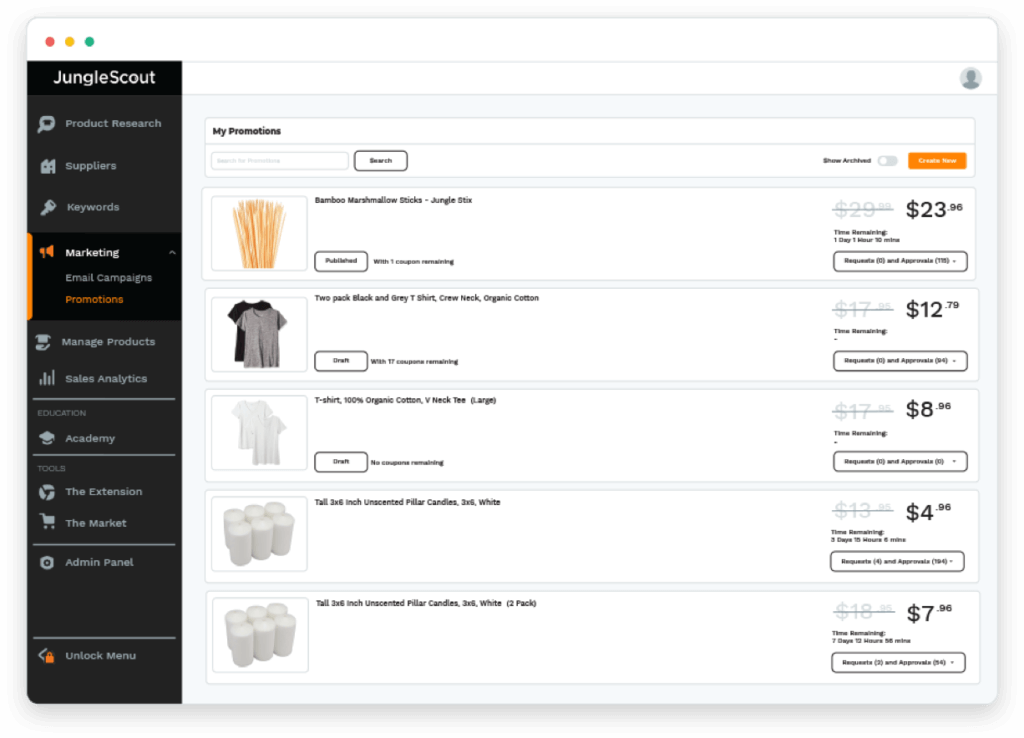 Drive sales with product marketing
Create product promotions to drive purchases and help your listing grow in rank. Encourage customers to leave a review with targeted email campaigns. Personalize the customer experience and catalyze the momentum of your sales.
Learn more about Promotions
Automate review requests
Never miss the opportunity to earn a review. Automate the entire Seller Central review request process with Review Automation. Get more reviews, increase sales, and save time for your business.
Learn more about Review Automation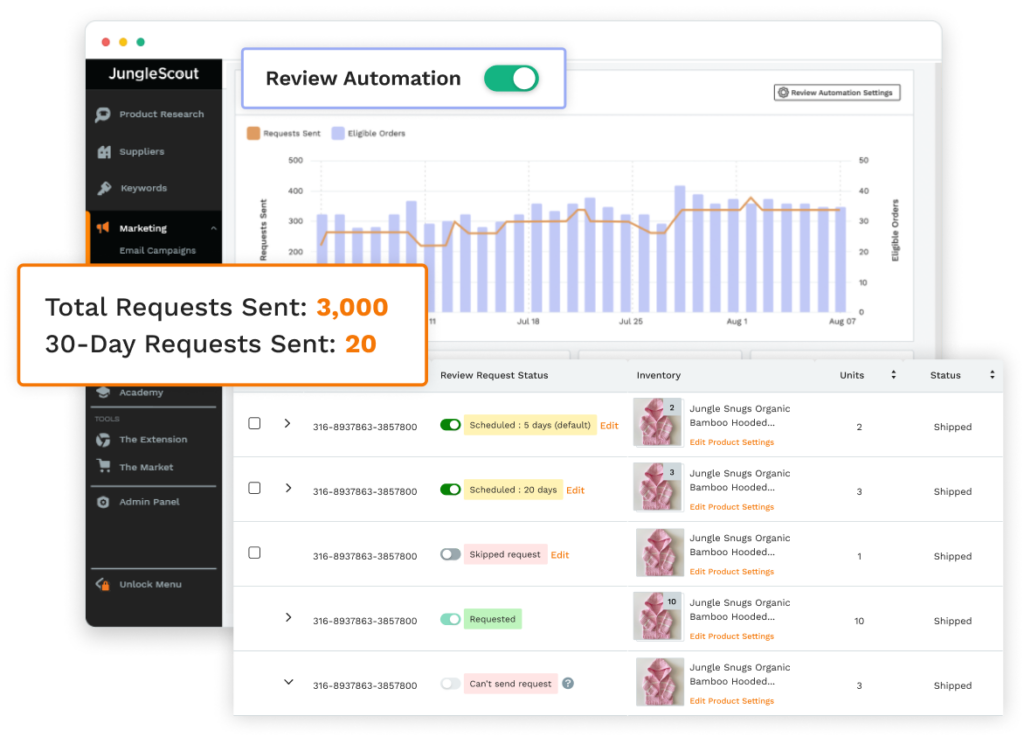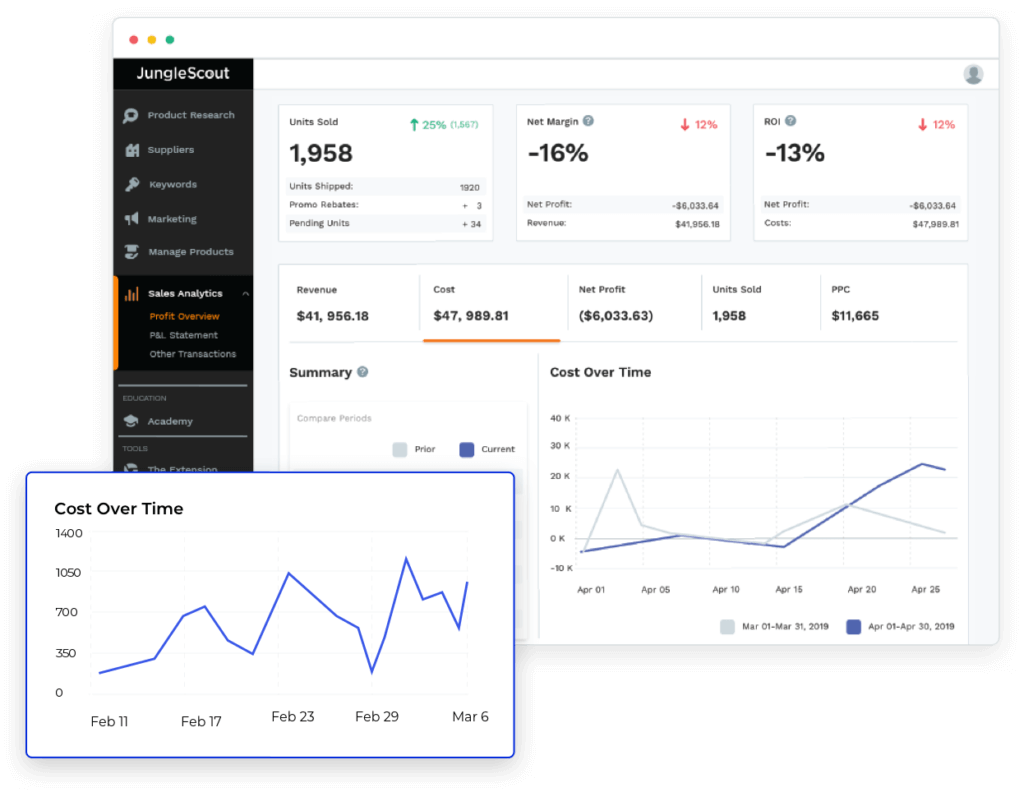 Evaluate your finances
Track your Amazon sales data and other key financial metrics with Sales Analytics. View profits at a product level or across your business, compare trends over time, and discover insights to minimize costs and grow your profits.
Learn more about Sales Analytics
Manage your inventory needs
Make sure you always have enough stock with accurate demand forecasting from Jungle Scout's Inventory Manager. Automate your inventory planning so you know how much stock to reorder and when. Maximize your sales and avoid costly Amazon fees.
Learn more about Inventory Manager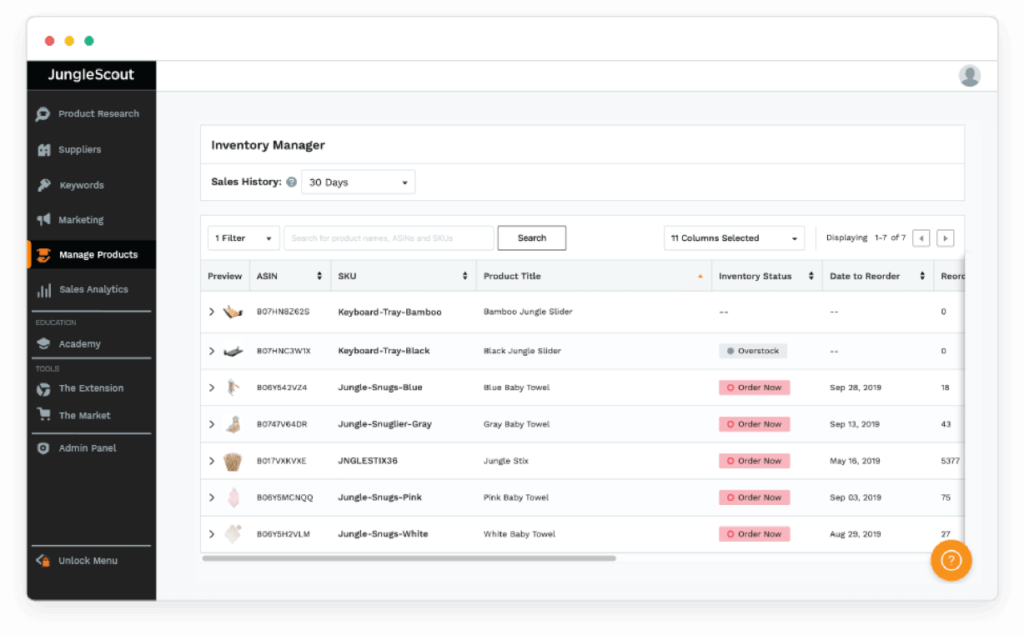 NEW
Analyze your ad spend
Extract key insights for your Amazon ads and grow your business with meaningful insights for your PPC strategy. Centralize your ad and financial metrics to understand the performance of your PPC campaigns and how they impact your overall profitability at a company, ASIN, and campaign level.
Learn more about Advertising Analytics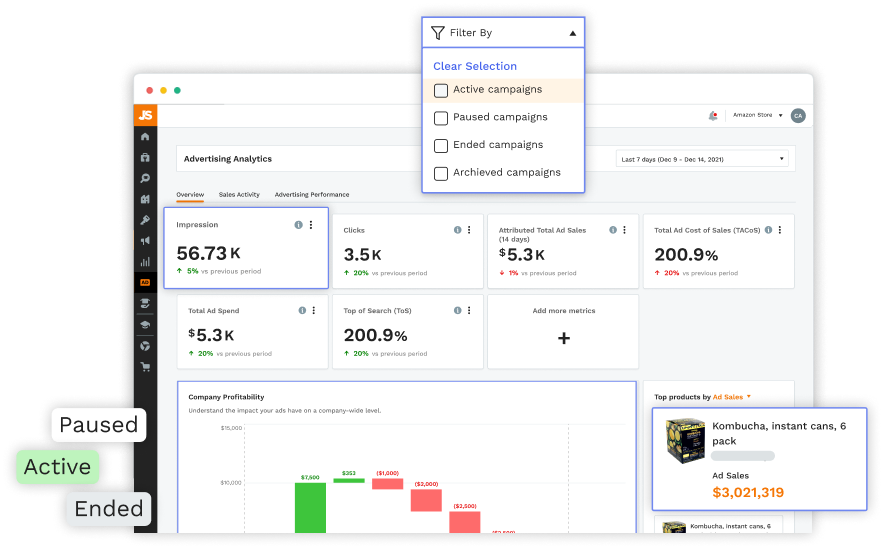 Home Dashboard
See high-level metrics the moment you log in with our Seller Central-synced home dashboard. Our sales widgets show metrics that directly impact your business, like units sold, total sales, revenue, and more so you can keep a pulse on your bottom line.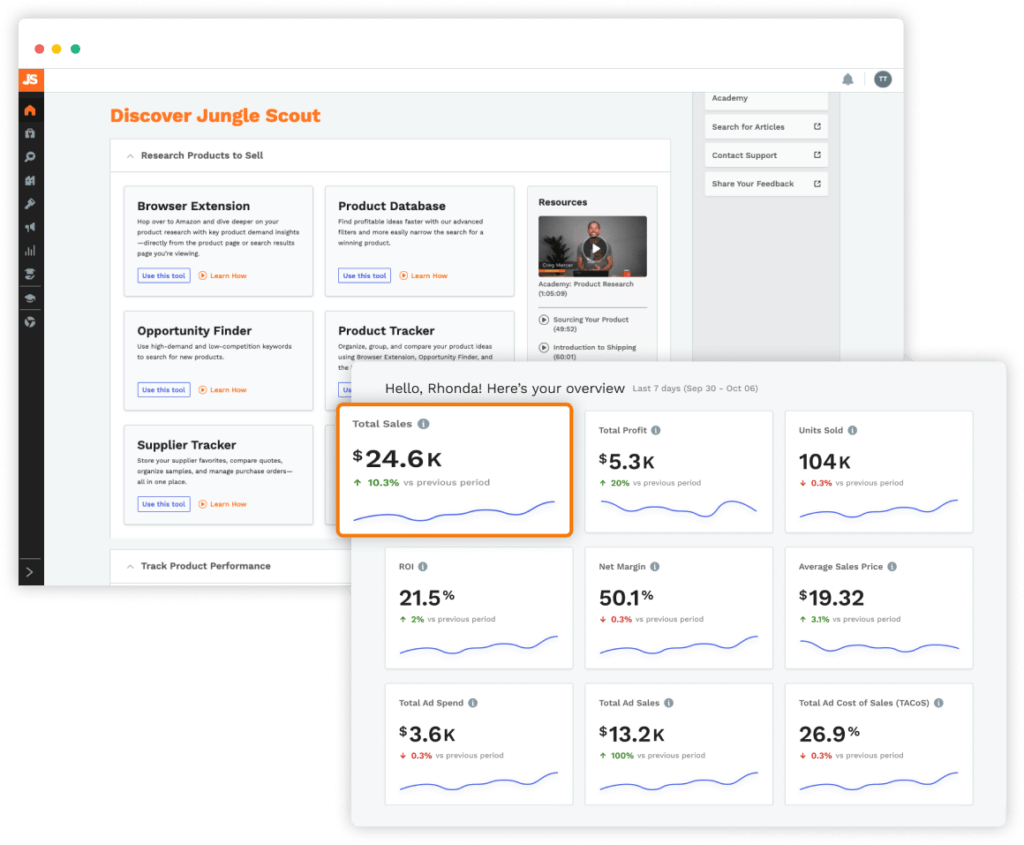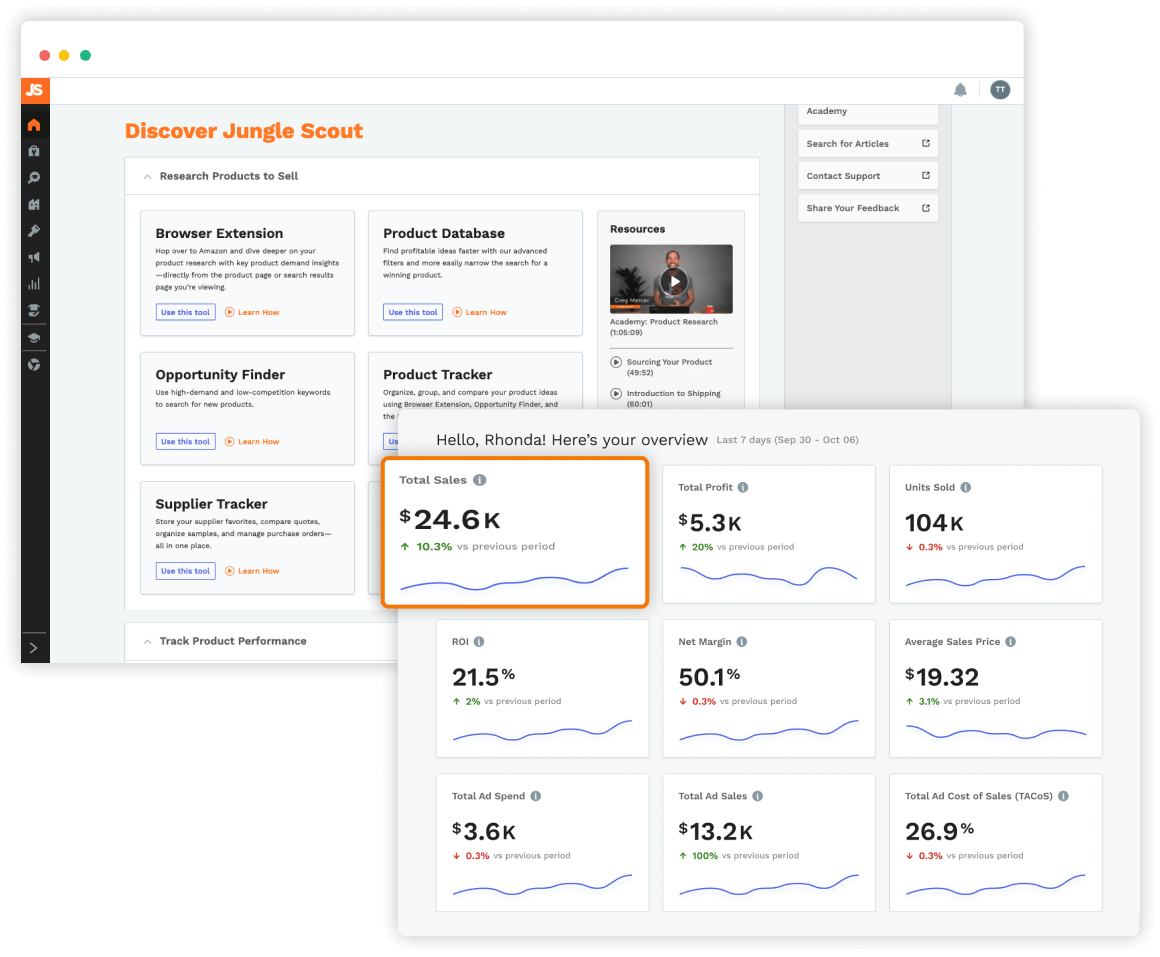 Build your business with Jungle Scout
Try Jungle Scout risk-free for 7 days with our money-back guarantee.
Sign up today