The Super Bowl and Valentine's Day are both major selling holidays for many retailers and Amazon brands. Last year, gift baskets raked in over $7.6 million in Amazon sales in the two weeks leading up to Valentine's Day, and Super Bowl decorations pulled in over $300,000.
This year was atypical. While the Super Bowl usually lands on the first Sunday of February, the NFL added a week to the playoffs, pushing Super Bowl LVI to February 13th — the day before Valentine's Day. When couples around America found out that two beloved "holidays" would land on the same weekend, more than a few voiced out their panic online, worried that the day of love — or the Super Bowl — would crash in on their much-awaited plans.
One TikToker, @elenaa_l10, bitterly said, "I wanna talk to whoever decided that Super Bowl Sunday was on Valentine's Day weekend because they are def single." Undoubtedly, the two holidays happening back to back posed issues (and a true test of priorities) for some couples, but Amazon brands cashed in on the boosted revenue all the same.
The Los Angeles Rams beat the Cincinnati Bengals 23-20 — but which holiday won the weekend with the most Amazon sales? Keep reading to find out.
Jerseys vs. Gems
The sports apparel and jewelry categories on Amazon are two segments that consistently see a boost in revenue each February, around the Super Bowl and Valentine's Day.
Super Bowl apparel sales
According to Cobalt sales data, the end of the NFL season typically means a dip in sales for NFL team apparel, except for the two teams going head to head for the coveted Super Bowl ring.
In a two-week period, Cincinnati Bengals apparel brought in $562,900, and unit sales for Bengals jerseys were up 68% compared to last year.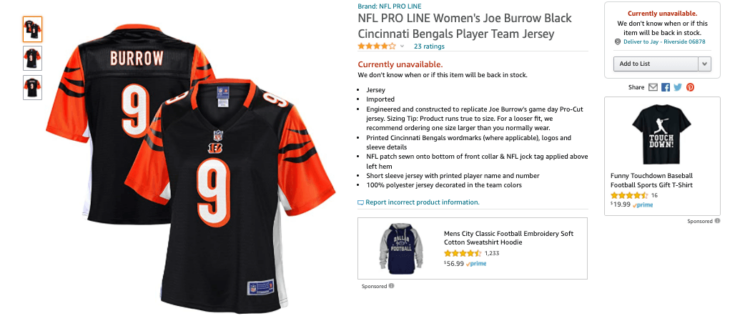 This NFL PRO LINE Bengals Jersey saw a 441% increase in revenue over the past month.
Los Angeles Rams apparel brought in less revenue ($151,000) than Bengals apparel but beat the Bengals by more than double with their team jersey Amazon revenue ($81,400).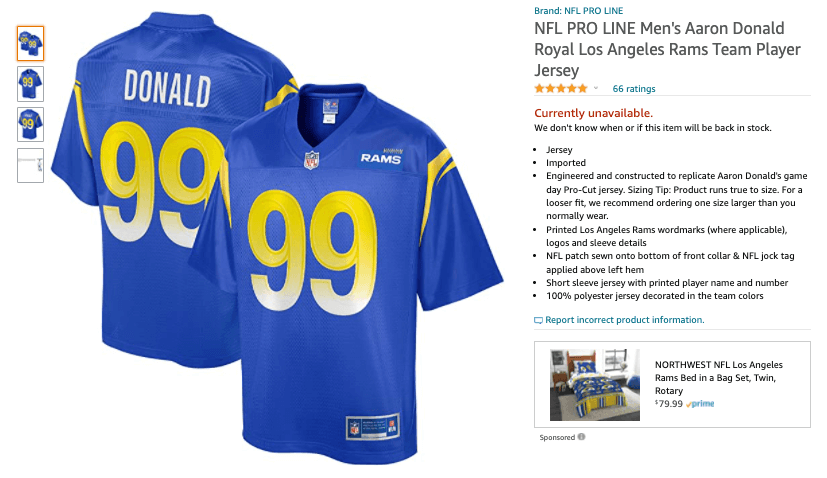 This NFL PRO LINE Rams Jersey has seen a massive increase in sales, with revenue up by 2,645% over the past month.
Valentine's Day jewelry sales
Cobalt's historical data shows three significant spikes in sales for the women's necklace category. One is in May around Mother's Day, another in December around Christmas, and lastly, one in February around Valentine's Day.
This year's Valentine's Day sales spike was 125% larger than last year's. The women's necklace category brought in over $3 million in revenue over the past two weeks, beating out the combined revenue for Bengals and Rams jerseys and apparel.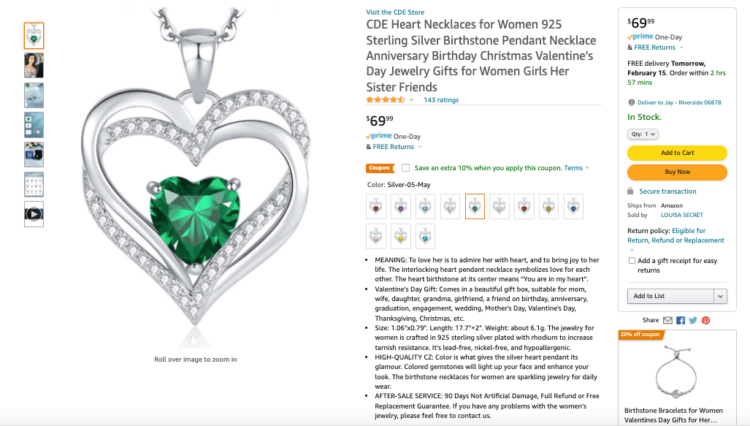 This heart necklace must have been a popular Valentine's Day gift this year because it saw an 844% increase in revenue over the last 30 days.
Footballs vs. Fuzzy Bears
No Super Bowl party would be complete without a football to toss around, and who doesn't love a teddy bear as part of their Valentine's Day gift? These two products are in-demand February purchases, but which one was more popular this year?
Consumers spent $387,300 on footballs, whereas they only spent $199,500 on stuffed bears in the past two weeks.
Add one to the scoreboard for Valentine's Day, and one for the Super Bowl.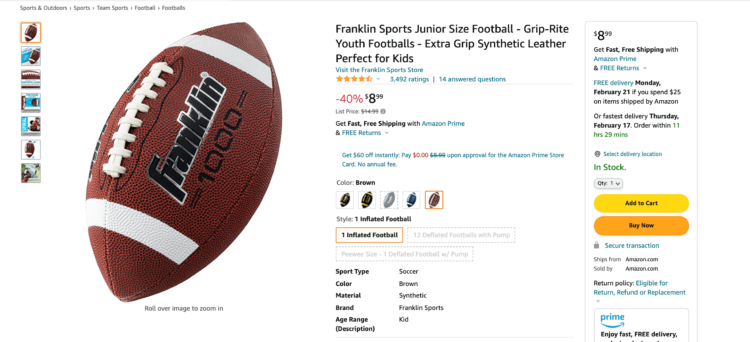 This Franklin football saw a 100% increase in revenue over the past 30 days.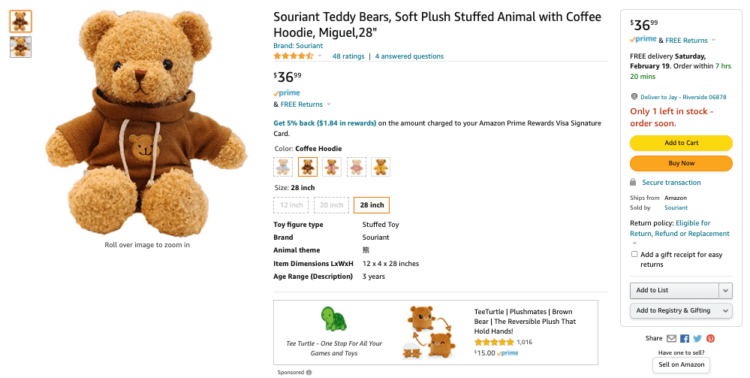 This plush teddy bear saw a significant increase in revenue over the last 30 days (1,356%).
Chips vs. Chocolate
It appears that the way to a consumer's heart is through their stomachs because Amazon categories for chips and chocolate both saw a spike in revenue leading up to the holiday doubleheader. Over the past two weeks, Frito-Lay sold $782,500 in chips but it looks like​​ sweet beat savory with chocolate truffles earning $981,500 in Amazon revenue. That could mean that Valentine's Day sales take the cake by another point.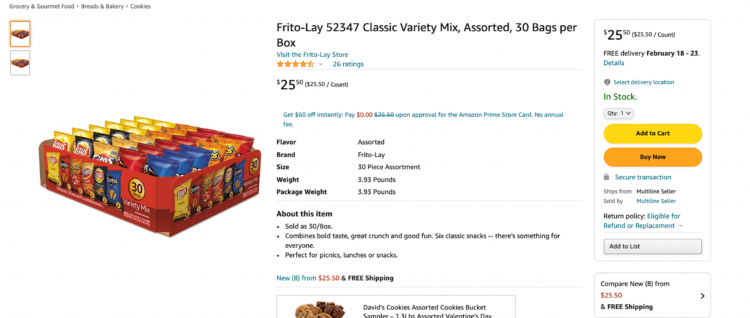 This Frito-Lay variety pack saw a 153% boost in revenue over the past 30 days.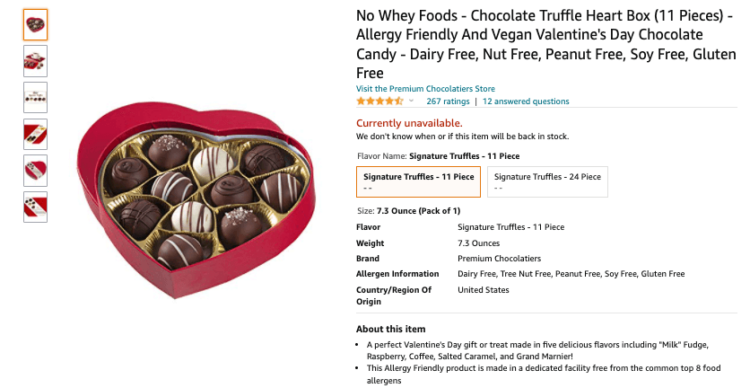 Alert Forrest Gump, because this box of chocolates has been flying off the digital shelves over the last 30 days with a 13,065% increase in revenue.
Super Bowl Party vs. Valentine's Day Party
Last but certainly not least, we tracked Amazon sales for party decorations to see if consumers preferred footballs over hearts. The revenue for Super Bowl decorations was up by 160% compared to last year, whereas the revenue for Valentine's Day decorations was down 9%.
Although this year was more popular than last year for Super Bowl decor, the category revenue over the past two weeks was $178,500 compared to Valentine's Day revenue at $2.8 million. That is one more point on the scoreboard for Valentine's Day sales.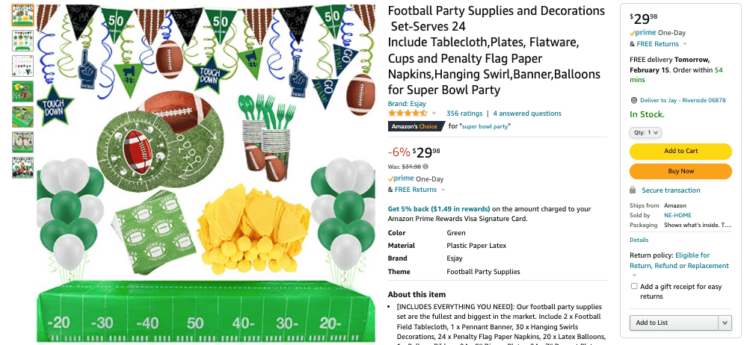 This Super Bowl decor set saw a 574% increase in revenue.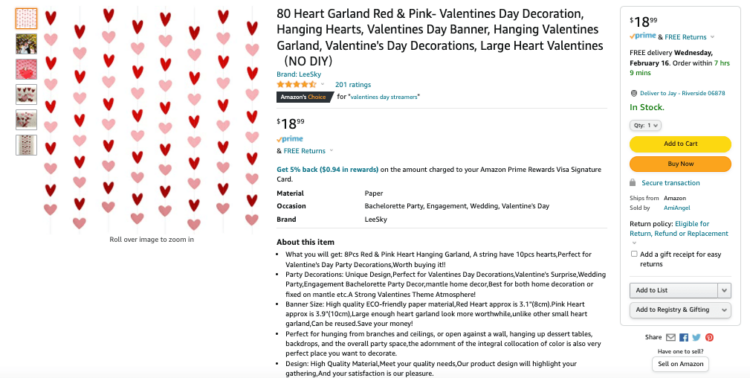 This heart garland saw a 222% increase in revenue.
Who came out on top?
Super Bowl LVI and Valentine's Day 2022 brought a big spike in revenue and unit sales for related Amazon categories. Some categories were lucky enough to experience a noteworthy YOY revenue increase compared to last February. For example, Valentine's Day cards had a 166% YOY revenue increase and Super Bowl Balloons saw a YOY revenue increase of 245%.
Although both holidays performed well on Amazon, love wins — after comparing the revenue data, we can name Valentine's Day as the official winner in the Super Bowl vs. Valentine's Day Amazon sales standoff.
Methodology
The product data in this report is representative of the U.S. Amazon market. Market insights on Amazon products were sourced from Jungle Scout Cobalt, an industry-leading market intelligence and product insights platform powered by more than 1.8 billion Amazon data points every day. Year-over-year revenue increases are comparisons of the period of February 1, 2022 – February 14, 2022, to February 1, 2021 – February 14, 2021.
Contact [email protected] today to see how Jungle Scout Cobalt can help you explore sales data and provide strategic insights into consumer behavior on Amazon.