Despite a live spectator ban and some notable absences among the competitors at the 2021 Tokyo Olympic Games, consumers are searching in droves for Olympics gear on The Everything Store. Jungle Scout data reveals that online retail sales of products using the keyword "Olympics 2021" on Amazon have shot up 202,684% year-over-year since April 2021.
So far, the biggest increases in revenue and search volume for Olympics-related products in the U.S. Amazon marketplace have been for Olympics decor, Team USA apparel, and merch for headliner Olympic athletes like Simone Biles and Megan Rapinoe. Sales of Japan's national flag are also booming with a 698% revenue increase.
Over the next two weeks, Amazon sales of sporting and exercise equipment could rise as well, as consumers tune in to the Summer Games to watch inspiring athletic performances.
August 9, 2021 Update
As consumers shopped on Amazon for Olympics merchandise in the lead-up to the 2021 opening ceremony, keyword search volume and revenue soared for items like Olympics t-shirts, soccer jerseys, and international flags. Did sales of these products continue to rise over the course of the Tokyo Summer Games, or did they fizzle out?
Following the close of the Tokyo Olympics on Sunday, we revisited sales data for best-selling Olympics merchandise. Across each category we tracked, revenue decreased over the 17-day period of the Tokyo Olympic events (July 23-Aug 8, 2021), compared to the 17-day period prior (July 6-22, 2021).
Products using the keyword "Olympics 2021" saw a 45% decrease in revenue during the Olympic competition days
Revenue for the "Olympic torch" category is also down 56%
Revenue for products using the keyword "Japanese flag" are down 12%
The same downward trend holds for revenue for many categories of Olympics-related fitness equipment on Amazon.
Revenue for soccer balls is down 53% since the start of the Olympics on July 23, 2021
Swim caps revenue is down 8%
Tennis equipment revenue is down 5%
Protein powder revenue is down 11%
Gymnastics equipment, however, experienced a 5% increase in revenue on Amazon over the course of the Summer Games. Perhaps due to medal-worthy performances from USA gymnasts Suni Lee, Simone Biles, and Jade Carey, products like this kid-sized balance beam saw strong sales on Amazon during the Olympics.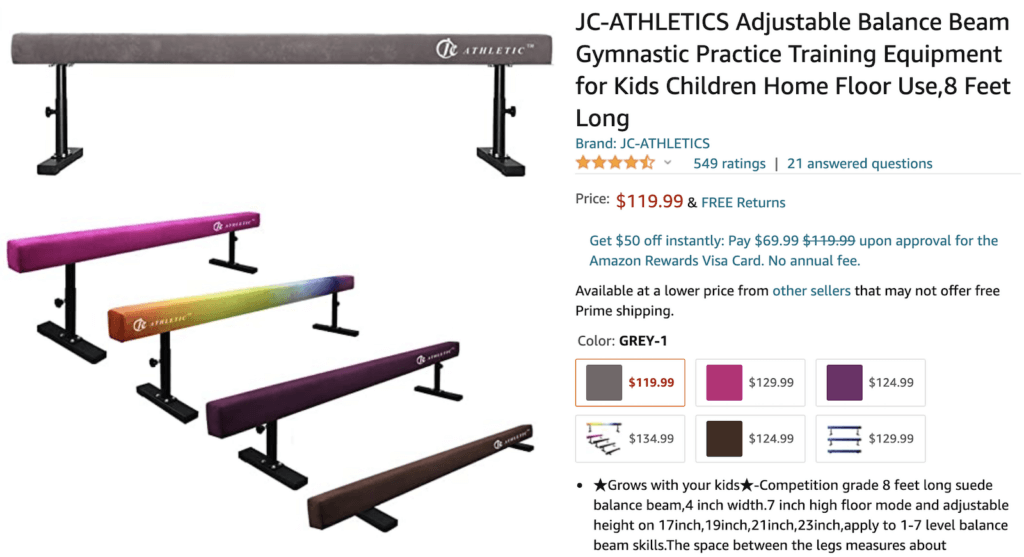 How the Olympic Games affect product search volume on Amazon
Keyword searches for Olympics-related products on Amazon skyrocketed in the weeks leading up to this summer's Tokyo Olympic Games. Jungle Scout's Keyword Scout reports increased search volume for classic merch like the Olympic flag, Olympic torch replicas, and Team USA Olympic apparel.

Amazon shoppers also searched for products related to top USA athletes and sporting events. Even items related to past Olympic champions, like decorated swimmer Michael Phelps and the 1992 USA men's basketball "Dream Team," saw a recent uptick in sales on Amazon.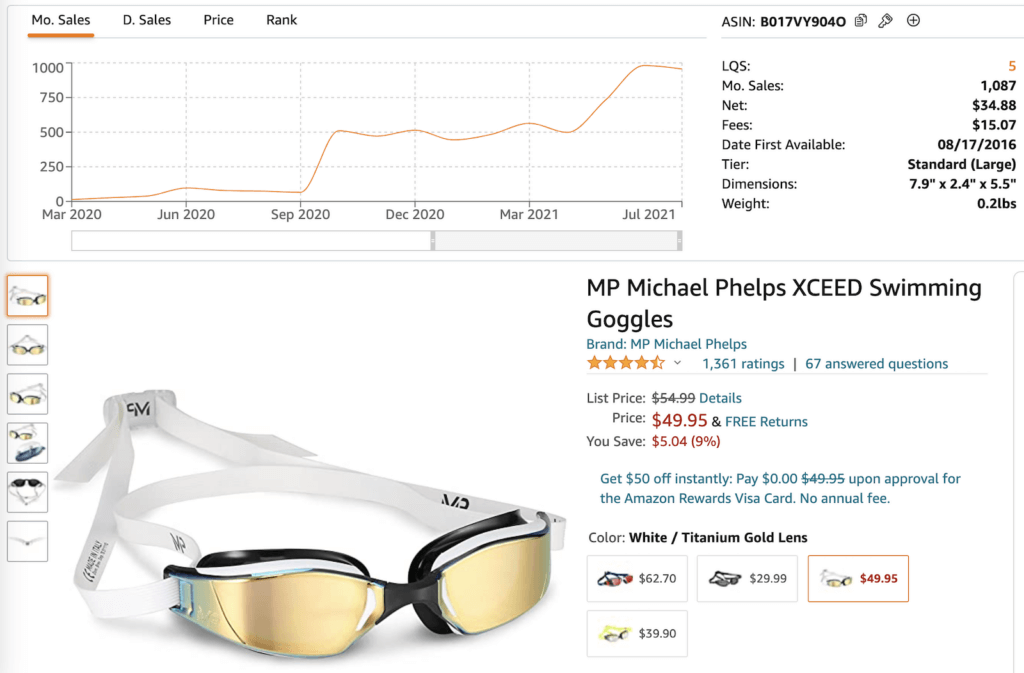 Below are some of Amazon's top Olympics keyword searches in the past 30 days:
Team USA olympic apparel: up 2,681%
USA Olympic apparel: up 884%
Olympic decorations up: 436%
Olympics party decorations: up 355%
Olympic party supplies: up 324%
Team USA t-shirts: up 365%
Olympic rings decorations: up 363%
Olympics: up 326%
Tokyo Olympics 2021 t-shirt: up 271%
Olympic flag: up 165%
Olympic torch: up 99%
Olympic medals: up 92%
The most popular Olympic events and athletes by Amazon keyword search volume
Over the past month, as fans geared up to watch the Olympics, keyword searches for star athletes and highly anticipated events also rose.
Soccer
USWNT (U.S. Women's National Team): up 288%
USA womens soccer jersey: up 285%
USA soccer jersey men: up 173%
Nike soccer balls size 5: up 166% (size 5 is Olympic regulation size)
USMNT jersey mens (U.S. Men's National Team): up 57%
Gymnastics
Doll gymnastics set: up 545%
Team USA gymnastics: up 260%
USA gymnastics clothing: up 80%
Basketball
USA basketball jersey: up 366%
USA basketball shirt: up 227%
Team USA basketball jersey: up 190%
Dream team jersey: up 32%
Swimming
Team USA swimming apparel: up 38%
Olympic athletes
U.S. women's gymnastics star Simone Biles and members of the U.S. women's soccer team are especially popular on Amazon, which can be seen with the recent uptick in search volume for keywords such as:
Simone Biles: up 205%
Megan Rapinoe jersey: up 232%
Tobin Heath jersey: up 88%
Alex Morgan jersey: up 55%; Alex Morgan jersey youth girls up 48%
Michael Phelps goggles: up 50%
Further sales increases for event- or athlete-related products could surface as this year's medalists emerge over the next two weeks.
Amazon sales of Olympics gear increased ahead of 2021 opening ceremony
Corresponding to the rise in search volume for Olympics-related products, sales for Olympic merch and decor rose on Amazon weeks ahead of the Summer Games.
Olympics 2021 merchandise
Between March 1, 2021 and July 25, 2021, revenue for Amazon product listings using the keyword "Olympics 2021" increased 202,684% from the same time period last year. This third party seller-dominated niche has sold 6,880 units — a year-over-year increase of 229,233%.
Jungle Scout Extension shows elevated monthly sales for products under the keyword "USA Olympics," including Olympic flags, swim caps, and Olympic-themed Oreo cookies.

The 2021 Olympics niche was at its busiest well ahead of the first day of the Tokyo Olympic Games. It saw its highest weekly sales from July 12-18, 2021, and its highest-grossing day occurred on July 12. By the week of the Olympics opening ceremony (July 19-25), "Olympics 2021" product sales decreased by 19%.
Olympics t-shirts
Top-selling Olympics t-shirts include those bearing the unofficial "Tokyo 2021" logo. The shirt pictured below brings in $6,577 in monthly revenue, according to Jungle Scout Extension data.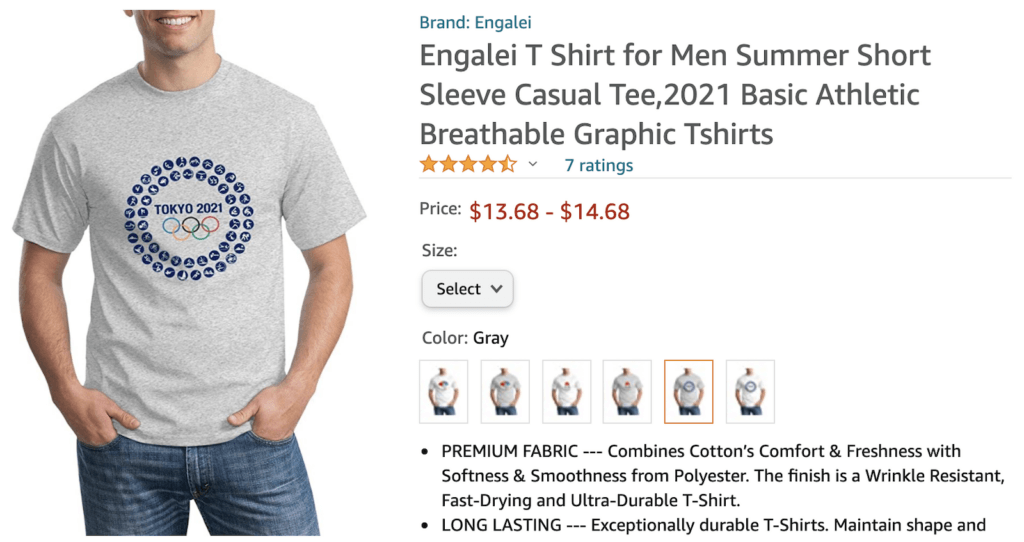 Olympic torch replicas
Fake Olympic torches were another bestseller this year. The revenue of products under the keyword "olympic torch" increased 924%, with a 430% increase in units sold from March to July 2021. The highest-grossing day for Olympic torch sales was July 9 — by the week of the Tokyo opening ceremony, sales had dropped by 27%. Top products on Amazon include this sold-out LED flame torch and a fold-out centerpiece version with international flags around its base.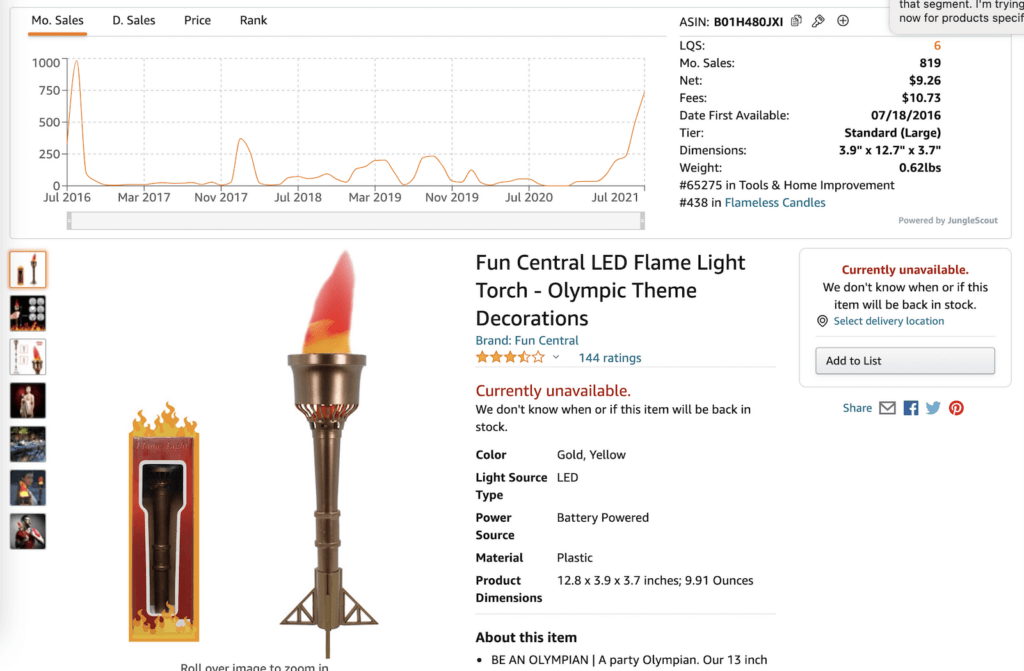 Olympics Uno deck
A commemorative Olympics UNO card deck picked up steam on Amazon in May. It bears the official "Tokyo 2020" logo, which Olympics organizers have retained despite the event's delayed 2021 date. The deck sells an average of 465 units per month, or $2,530 in monthly revenue.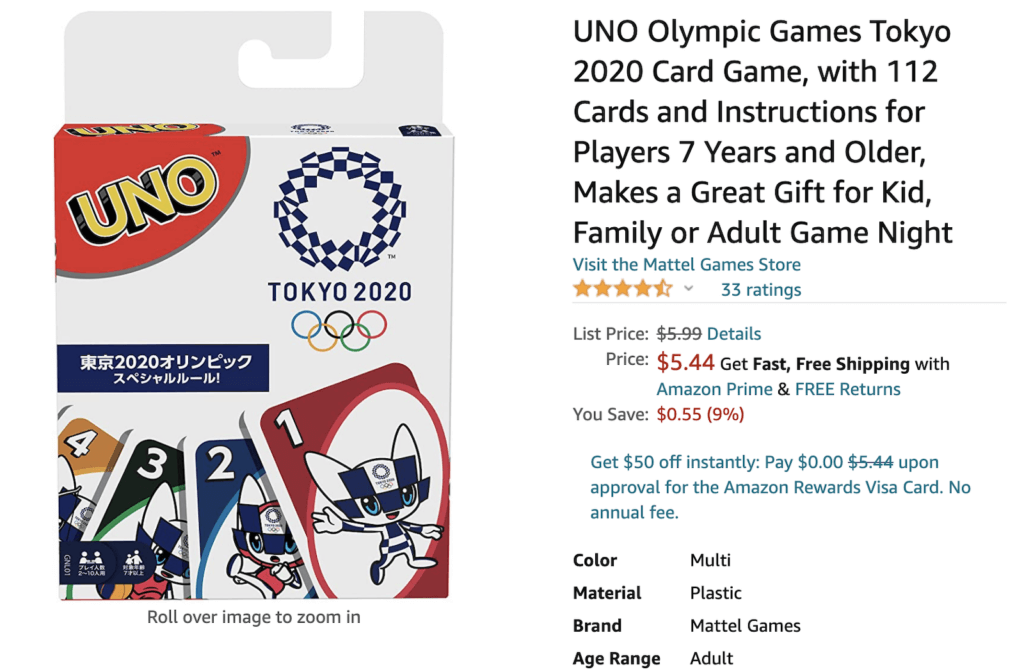 Olympic decor
Due to COVID restrictions, it's likely that more Americans will watch the Olympics from home than at bars and other public venues compared to years past. Amazon sales for Olympics decor have increased, indicating that this might be the case.
Photobooth backdrops
Festive photo backdrops on Amazon are bringing in thousands of dollars in sales this month. This one, bearing an American flag overlaid with the Olympic rings, was first listed on May 18, 2021, and has clocked $4,450 in revenue for July.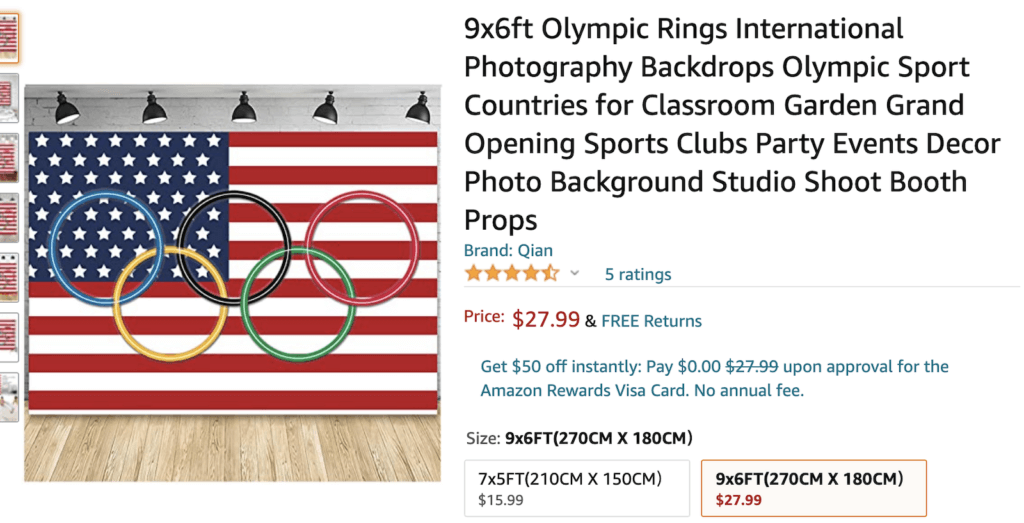 International and Olympic flags
U.S. consumers are also buying plenty of festive flag merch, like this bunting bearing 100 international flags (selling $4,287 in monthly revenue on Amazon) and a "beer banner" flag bearing a USA Olympics logo ($3,222 in monthly revenue).
Japan's national flag
The Japanese flag saw one of the biggest sales increases in the Olympics niche. From March 1 to July 25, product listings with the keyword "Japanese flag" sold 111,014 units on Amazon. In the U.S. marketplace, year-over-year revenue growth for the Japanese flag outpaced that of the American flag in the post-July 4th period of July 5-25, 2021. While American flags had higher total revenue, its sales had decreased 12%, while Japanese flags were selling 623% more than the same period in 2020.
Tokyo Olympics could fuel Amazon sales of sporting and exercise equipment
According to Jungle Scout's latest Consumer Trends Report, U.S. consumers have prioritized their physical health and well-being throughout the COVID-19 pandemic. Over a third (35%) say they exercised at home more often in the past 12 months, and 28% plan to continue their home workouts as gyms reopen and fitness classes resume this year.
Home workouts have taken many different forms, from running to pickup basketball to hiking. Consumers' interest in staying active during lockdowns fueled a surge in exercise equipment purchases in 2020, which led to supply issues and a bustling resale market: 13% of consumers have had difficulty finding exercise equipment during COVID, and 20% have bought or sold pre-owned fitness products online in the past year.
Could the Tokyo Olympics launch a new exercise equipment craze? Recent increases in Amazon keyword search volume for products like "Michael Phelps goggles," Olympic regulation-size soccer balls, and "USA gymnastics clothing" indicate that consumers are already showing interest in athletic equipment. As Americans watch their favorite Olympic athletes leap, kick, and dive their way to the podiums, Amazon could see even more sales surges. This could include products related to top events like soccer, gymnastics, and swimming — not to mention nutritional supplements and merch to support specific medalists.
Methodology
Data in this report is representative of the U.S. Amazon market. Insights on Amazon keyword search volume, revenue, and unit sales were sourced from Jungle Scout Cobalt, Keyword Scout, and Jungle Scout Extension. Year-over-year percent increases in keyword search volume and revenue compared the period of March 1 – July 25, 2021, to March 1 – July 25, 2020.
Data from the August 9, 2021 update compares revenue on Amazon during the 17-day period of Tokyo Olympic games competition (July 23-August 8, 2021) to the 17-day period immediately preceding the first day of Olympic competition (July 6-22, 2021).
Consumer data was sourced from Jungle Scout's Q2 2021 Consumer Trends Report.
For more information about this report and/or Jungle Scout's data, please contact [email protected].
Contact [email protected] today to see how Jungle Scout Cobalt can help you explore sales data and provide strategic insights into consumer behavior on Amazon.