To be a successful seller on Amazon, you can't operate on hunches—you need to rely on accurate tools to make data-driven decisions. While tools are completely necessary, over one third of Amazon sellers say that having the right software and information is essential to a profitable Amazon business.
Jungle Scout and AmazeOwl are two examples of Amazon seller software. While they both offer useful features for essential seller activities like product research and keyword research, which tool is right for you?
In this post, we'll walk you through the main features, benefits, and pricing plans for both Jungle Scout and AmazeOwl while providing a non-biased, side-by-side comparison so you can choose the best tool for your Amazon business.
Data Accuracy: Jungle Scout or AmazeOwl
Tools like Jungle Scout and AmazeOwl need to provide sellers with accurate data when offering insights on profitability. If not, then sellers risk their hard-earned money on products that may not sell.
Jungle Scout has the longest-running history of data aggregation and analysis among competing software and is the leading Amazon business management platform in data accuracy—and we can back that up.
The talented Jungle Scout team works hard to ensure its users make informed decisions based on real-time Amazon marketplace behavior.
Regular case studies that show Jungle Scout consistently leading other tools in measures of data accuracy.
The chart below compares Jungle Scout's data accuracy to that of other seller software.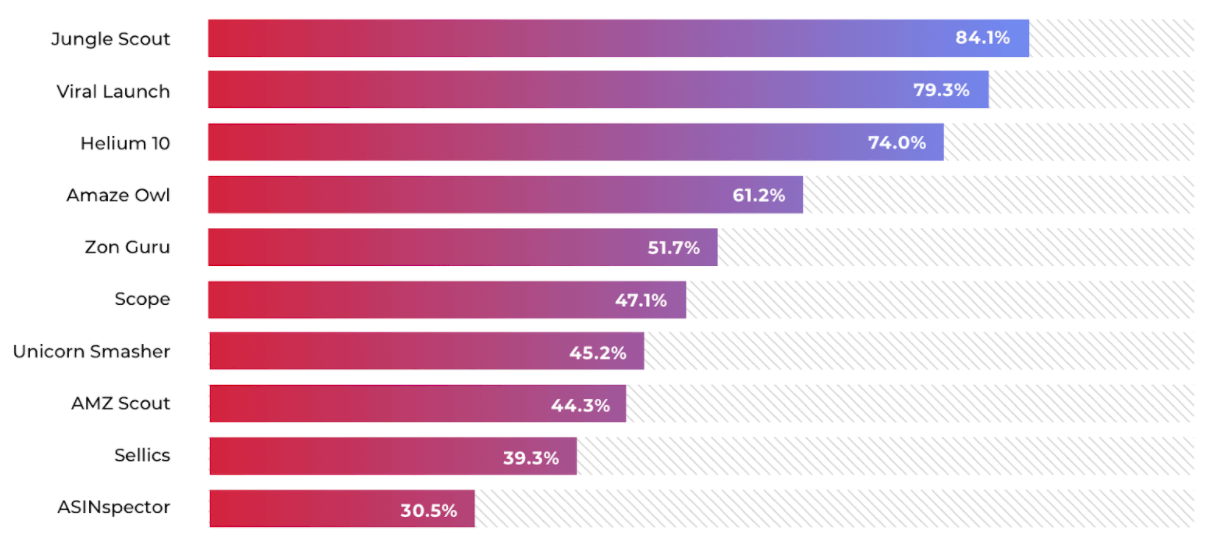 As you can see, Jungle Scout is number one in data accuracy—and the clear winner compared to AmazeOwl. In fact, Jungle Scout is 27% more accurate than AmazeOwl.
To see how important data accuracy really is, let's relate these numbers to real-life financial risk.
Jungle Scout's accuracy:
Imagine we just came up with a great product to sell on Amazon, and we're willing to spend $5,000 on inventory. Before we place an order with our supplier, we should run the numbers and ensure it'll be profitable.
Jungle Scout's 84.1% accuracy sounds pretty great—that's an 84% chance that our sales estimation is correct, and our $5,000 investment will pay off with consistent sales.
Let's reframe that figure in terms of Jungle Scout's margin of error—the percent chance that the data is not accurate, and will lead to over-or under-estimating potential product sales. Essentially, we need to consider the chances of our product not selling—how likely we are to lose that $5,000 due to inaccurate estimates of its competitiveness in the Amazon marketplace.
Jungle Scout's margin of error is 15.9% (100% minus 84.1%).
This means there's roughly a 16% chance your product may underperform based on your estimation, and you'd only make a return on a portion of your inventory investment. Or it could simply not sell at all, in which case you'd lose $5,000, plus the time and energy you put into product research and sourcing.
Obviously, we want our margin of error to be as small as possible. But as our case study indicates, there's considerably less risk if we rely on Jungle Scout's data instead of AmazeOwl's.
AmazeOwl's accuracy:
AmazeOwl's data accuracy is much lower than Jungle Scout's, so its margin of error in turn will be higher. Using the same example as above, we're now at a 38.8% chance of investing in a bad product—which puts us at a much greater risk of launching a product destined to fail, and subsequently losing our $5,000.
Advantage: Jungle Scout
Jungle Scout is the clear winner here on data accuracy vs. AmazeOwl—and its accuracy only continues to improve. Compared to AmazeOwl, using Jungle Scout is the safer choice when it comes to deciding which product to sell.
Features: Jungle Scout or AmazeOwl
While data accuracy is extremely important, so is having cutting-edge features to help you run and manage your Amazon business. Let's compare Jungle Scout's features to AmazeOwl to see which platform does more for Amazon sellers, in terms of both quantity and quality.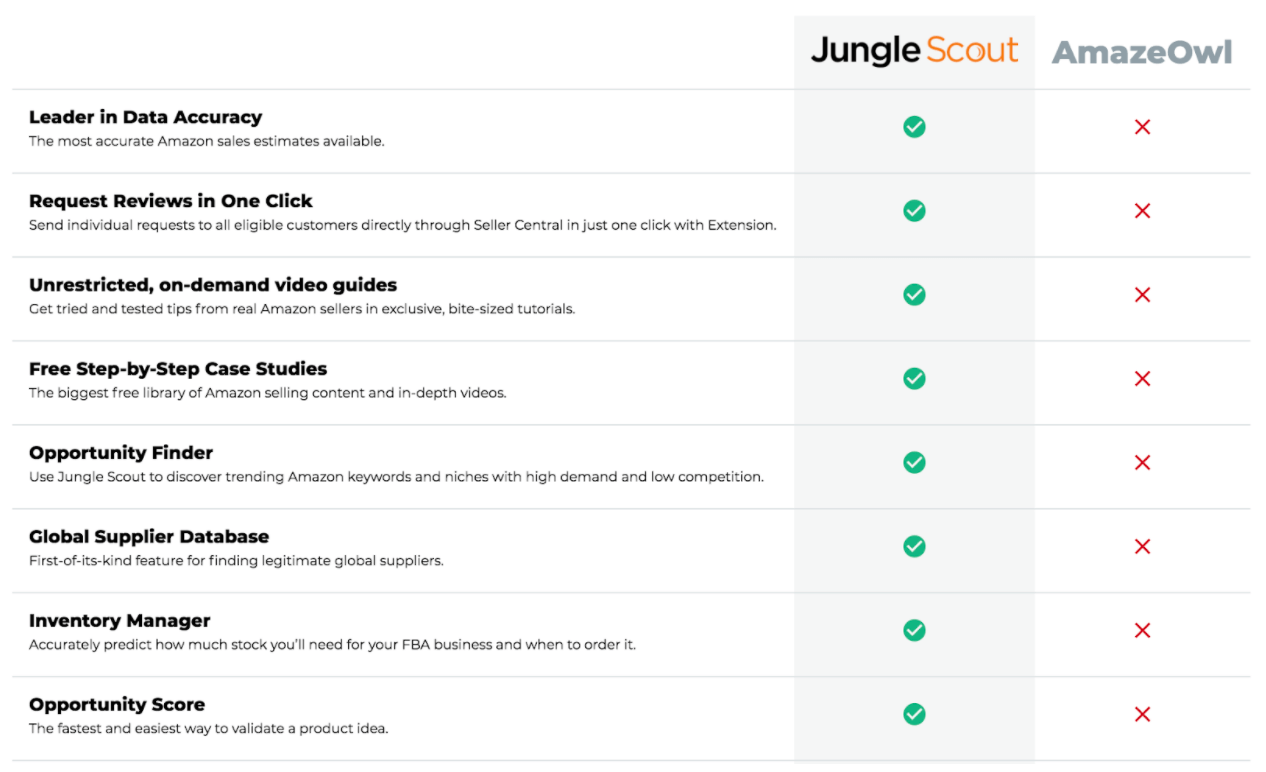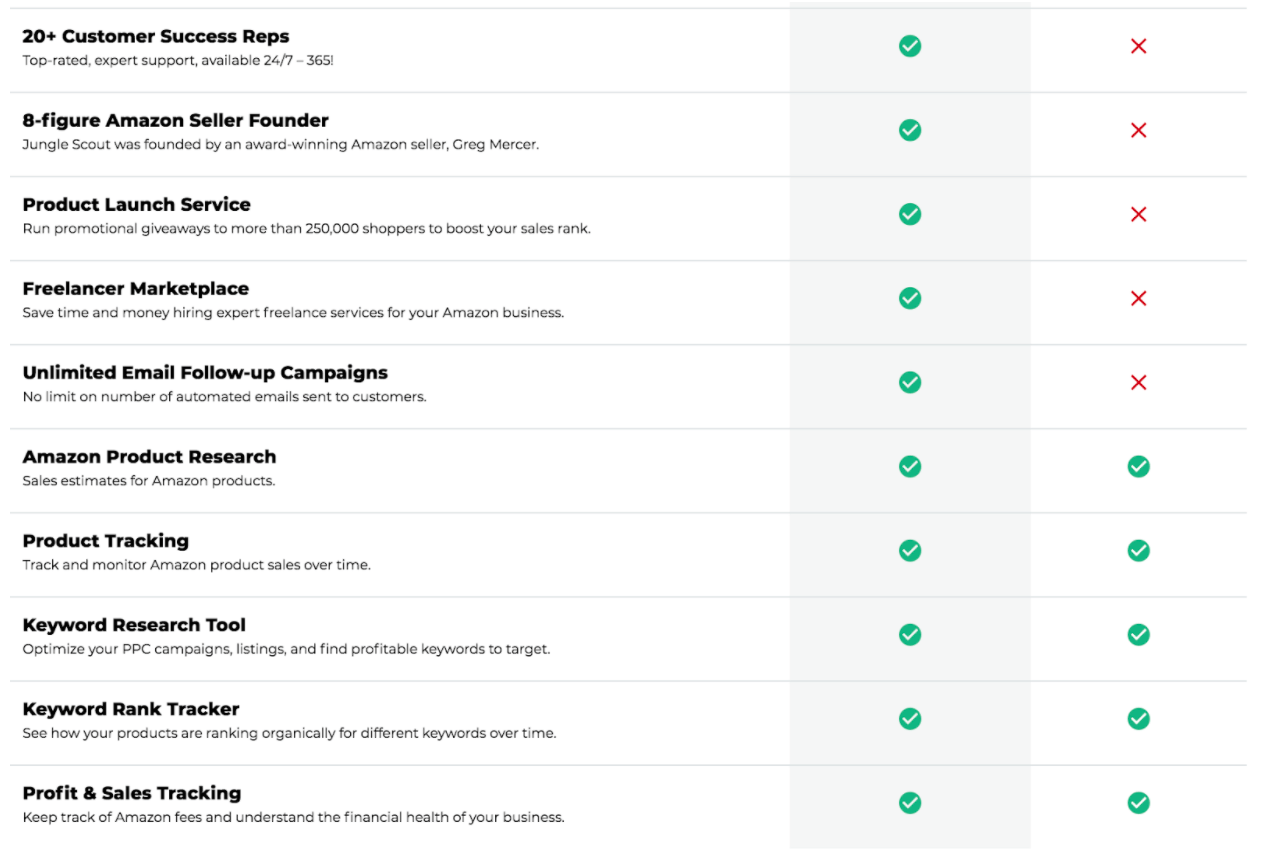 Advantage: Jungle Scout
Again, Jungle Scout is the clear winner here. It offers more features and is better equipped to support its users as they expand their businesses.
For instance, AmazeOwl may be able to help you with product and keyword research, but only Jungle Scout offers tools to connect you with overseas suppliers, help you manage your inventory, boost your review count, and expanding your product range with profitable opportunities.
User Experience: Jungle Scout or AmazeOwl
In this section, we're going to evaluate the user experience for each platform. While Jungle Scout and AmazeOwl have some similar features, the look, feel, and ease of use are important differentiators when picking the right selling tool.
Let's compare Jungle Scout and AmazeOwl's most similar feature: Product Database.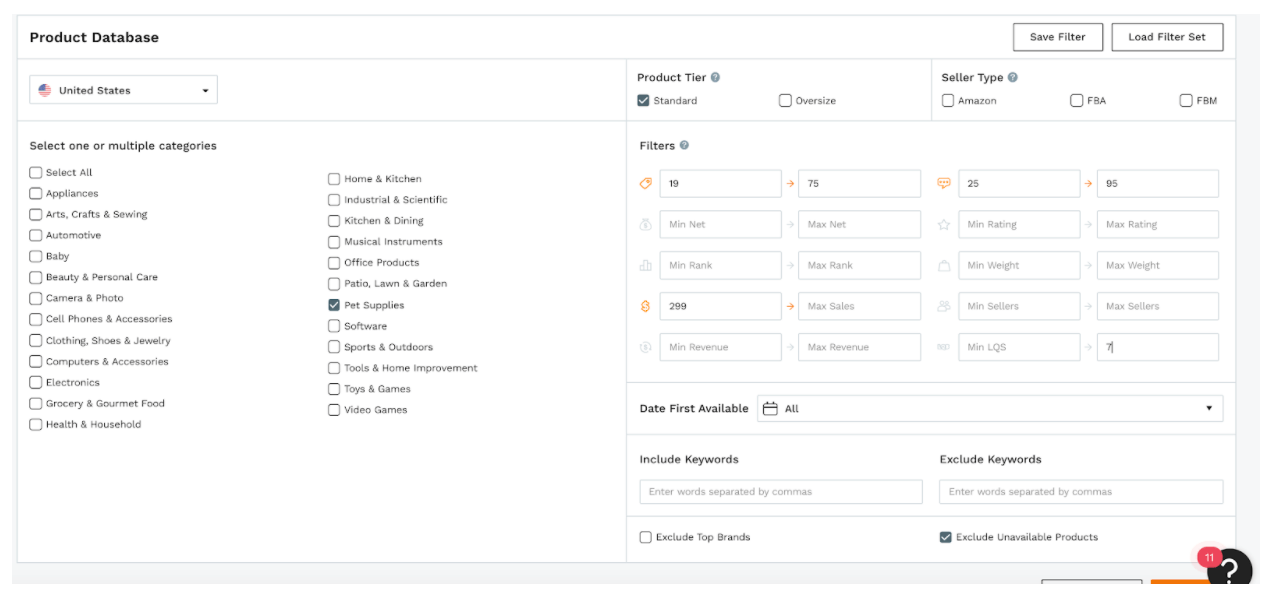 Jungle Scout's Product Database allows users to easily apply a variety of filters to view potential products within specific categories, by fulfillment method, price, review count, rank, and more. After you hit "Search," Product Database will populate with thousands of results, displaying important metrics like price, Amazon fees, reviews, and rank. Users can view up to 100 results on one page for an at-a-glance overview of products in a given category.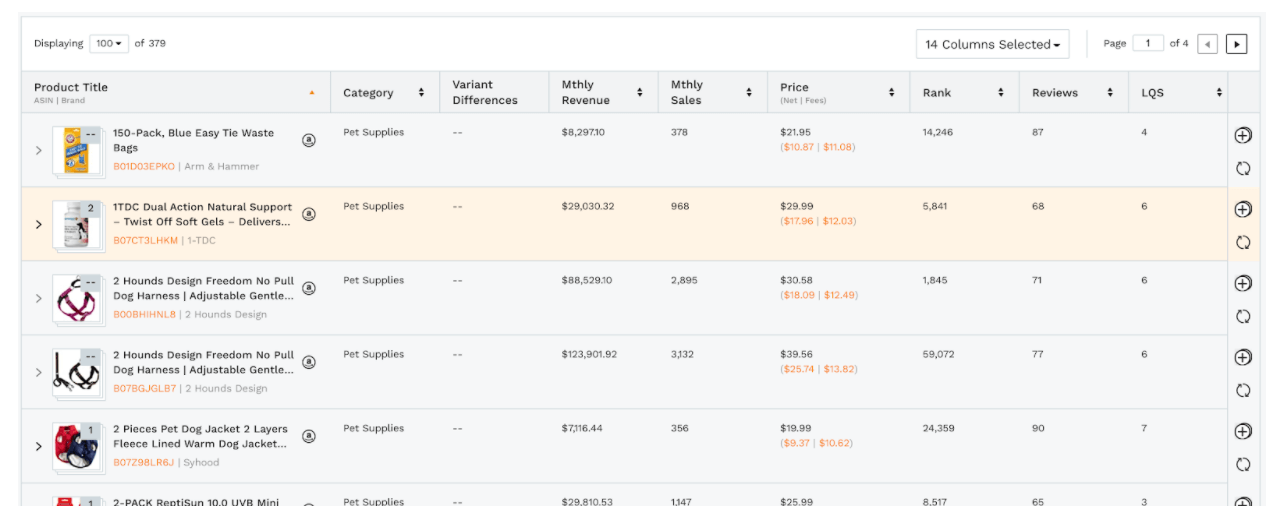 You can also view a product's seasonal sales trends so you can be sure you're investing in an evergreen product.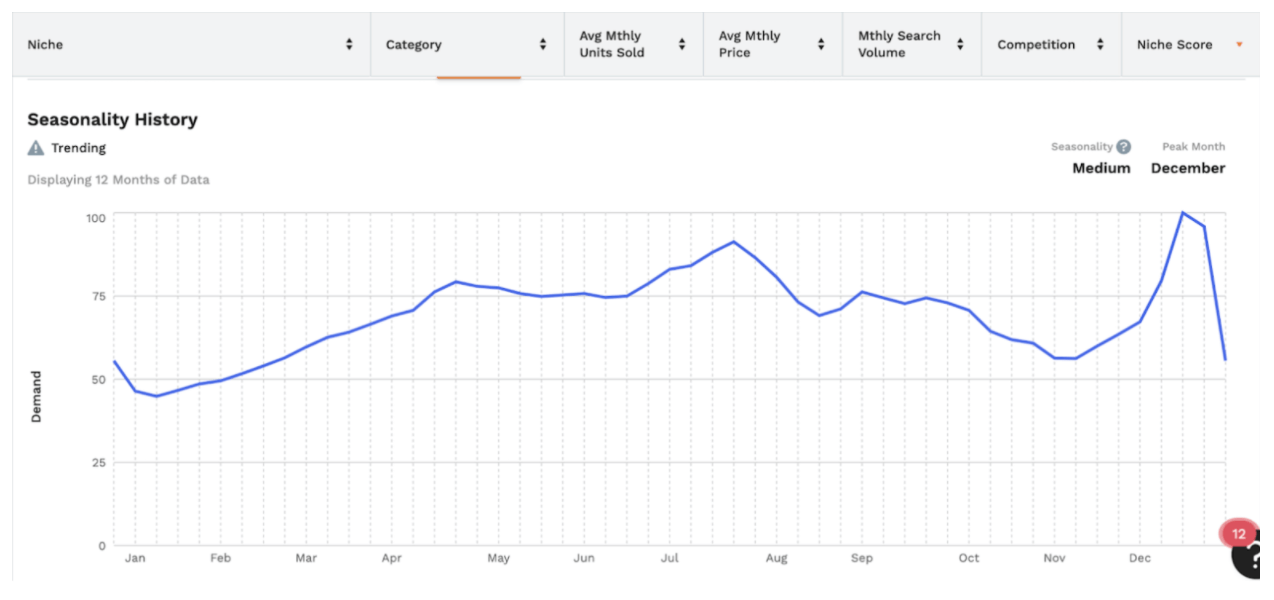 Users can send product ideas from Product Database to Product Tracker to monitor monthly sales and price over time. This allows sellers to distinguish viable product opportunities from those they should skip over.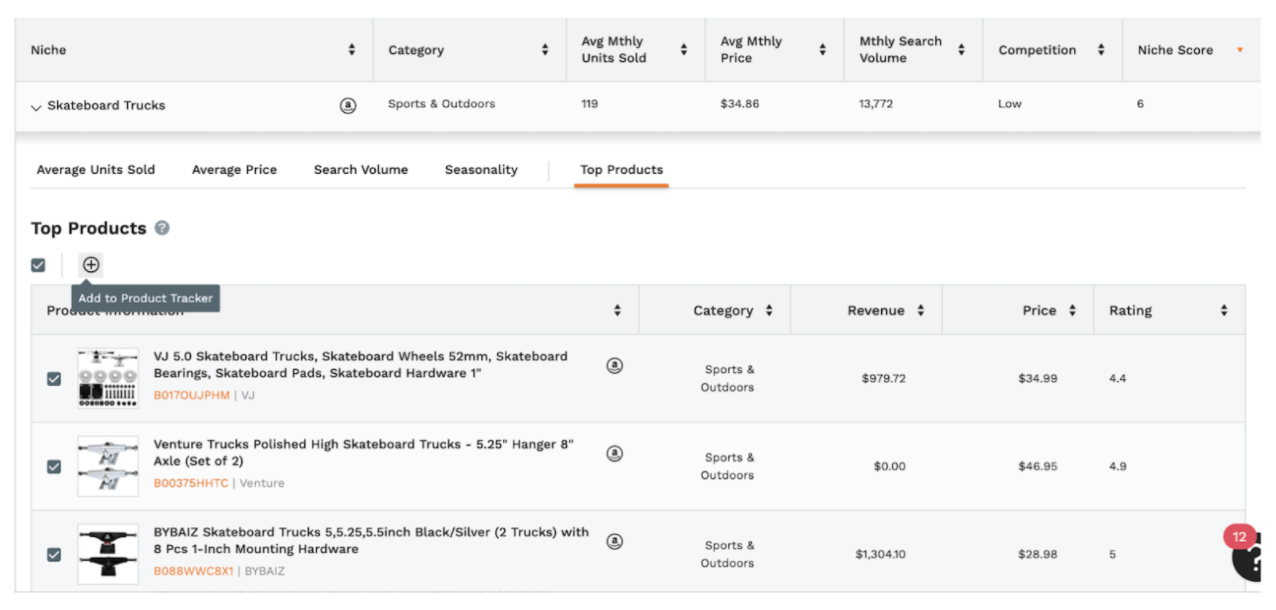 AmazeOwl Product Database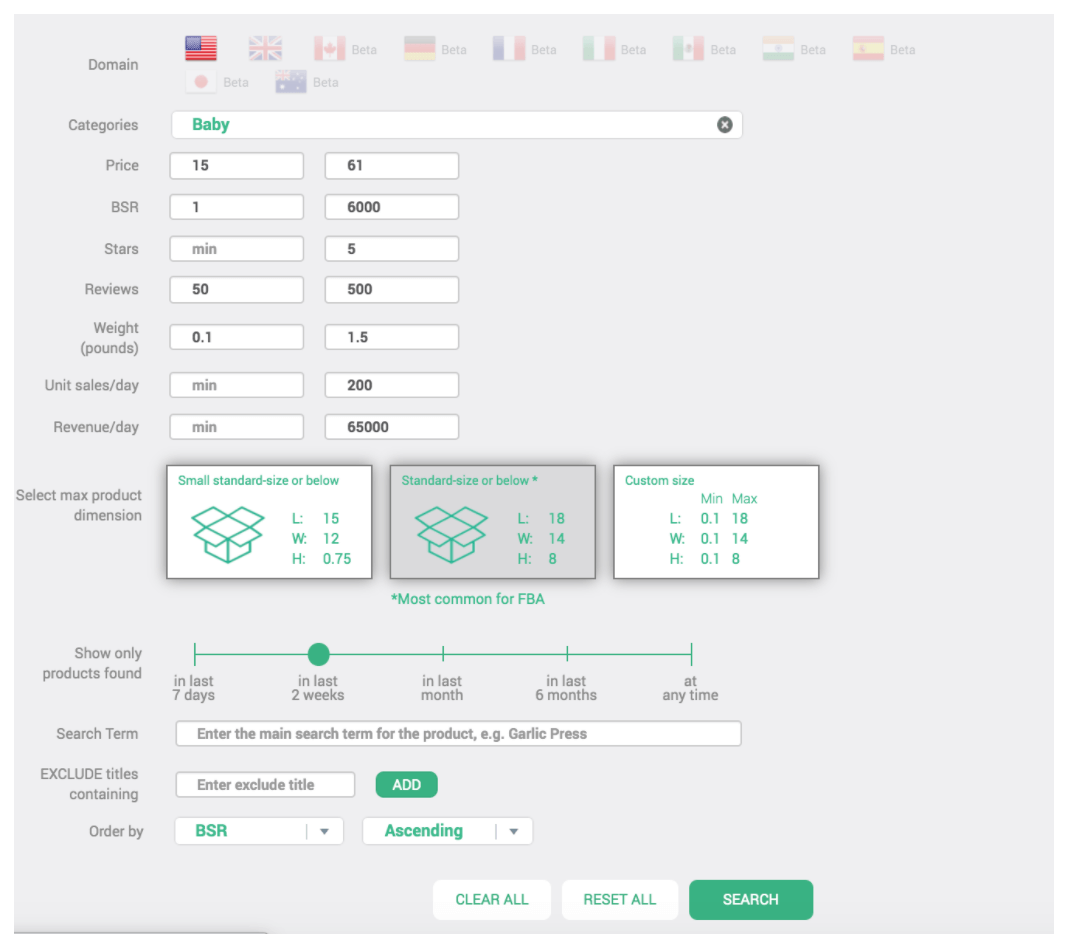 AmazeOwl's Product Database interface is quite different from Jungle Scout. While they share similar filtering options, Jungle Scout's Product Database has a cleaner layout that makes it more user-friendly.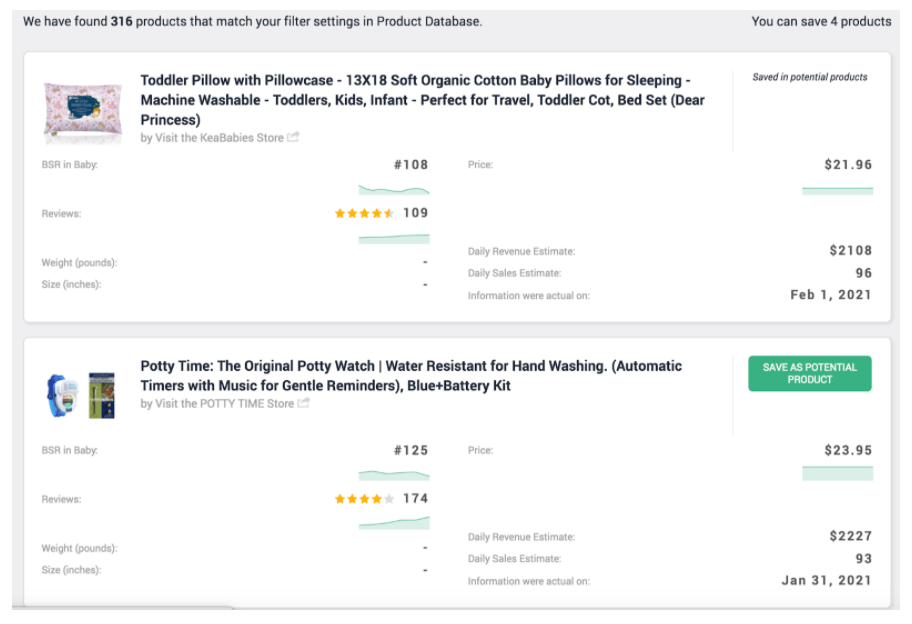 AmazeOwl displays results with similar metrics, though you can only view a few products at a time, making it difficult to get an overview of search results. You are able to save product ideas in "Potential Product" where you can then send them to their Product Tracker tool.
Advantage: Both
This comes down to preference. Both tools offer various search filters, sales insights, and product tracking abilities. Some users may find it more helpful to view many potential products at a time, and should opt for Jungle Scout.
Expertise & Experience: Jungle Scout or AmazeOwl
Jungle Scout
Jungle Scout was developed by Greg Mercer as a business management solution for fellow Amazon sellers. Having become a successful seller himself, Greg built Jungle Scout into a powerful, data-driven platform to give other entrepreneurs the tools and insights necessary to grow thriving ecommerce businesses.
Greg is an FBA expert who regularly appears in Jungle Scout's educational content to share tried-and-true techniques for success on Amazon. He has been recognized as Best Amazon Expert (2017), Ernst & Young's Entrepreneur of the Year (2019, 2020) and Top 50 SaaS CEO by The Software Report (2019, 2020).
Jungle Scout's engineering, customer success, and marketing teams also feature successful Amazon sellers. They share their expertise through the Million Dollar Case Study, regular educational webinars and other resource content, and, of course, Jungle Scout's industry-leading tools themselves.
AmazeOwl
After Oleg Zaidiner, the CEO and co-founder of AmazeOwl, sold his company in 2015, he began selling products on Amazon. He quickly realized that sellers need detailed and accurate market data in order to make the right decisions. Coming from a data science background, Oleg created his own solution to accurately analyze Amazon market data.
After launching successful products on Amazon, he and his cofounder Bob Rogers decided to launch AmazeOwl in 2016 with a desire to help other sellers do the same.
AmazeOwl has grown to over 4,000 sellers who use the tool to start their own successful Amazon business.
Advantage: Both
Both Jungle Scout and AmazeOwl have a unique story and a strong passion for helping experienced and aspiring sellers succeed on Amazon. For this point, we'll respectfully call it a tie.
Support & Resources: Jungle Scout or AmazeOwl
Amazon sellers can get support from Jungle Scout in several different ways, whether from its round-the-clock Customer Support team, its built-in training feature, or through its vast library of free educational content.
Jungle Scout's top-reviewed Customer Support team is staffed by Amazon experts and takes sellers' questions 24 hours a day, every day. In addition to a variety of Help Center resources, Jungle Scout users can find step-by-step instruction on every aspect selling within Jungle Scout Academy. This massive library of training materials helps sellers get the most out of Jungle Scout tools, troubleshoot Amazon-related challenges, and hone their selling skills.
Jungle Scout also has a finger on the pulse of consumer behavior and Amazon seller trends to keep sellers ahead of the curve. Its regularly-updated seller guides keep you up-to-date with profitable niches as well as changes to the Amazon marketplace.
Other resources include the following:
AmazeOwl offers a variety of course content, from free to paid. Its free course content tends to be basic and features videos on how to use their products. On top of the free course, it also offers two other paid courses on how to discover and launch products on Amazon.
Whereas access to Jungle Scout's Academy comes built-in with any subscription, AmazeOwl users still have to pay for its courses.
Advantage: Jungle Scout
Jungle Scout offers more in-depth Amazon training than AmazeOwl, through content like the Million Dollar Case Study series, frequently-updated seller guides, and Amazon-related news stories. Most of this is completely free to access—whether you're a Jungle Scout subscriber or not.
Customer Ratings: Jungle Scout or AmazeOwl
Let's take a look and see what real customers are saying about each tool. We'll take a look at the ratings and reviews of both Jungle Scout and AmazeOwl on Trustpilot—A trusted third-party review platform.
Trustpilot rating and reviews
4.5 Rating
1,936 Reviews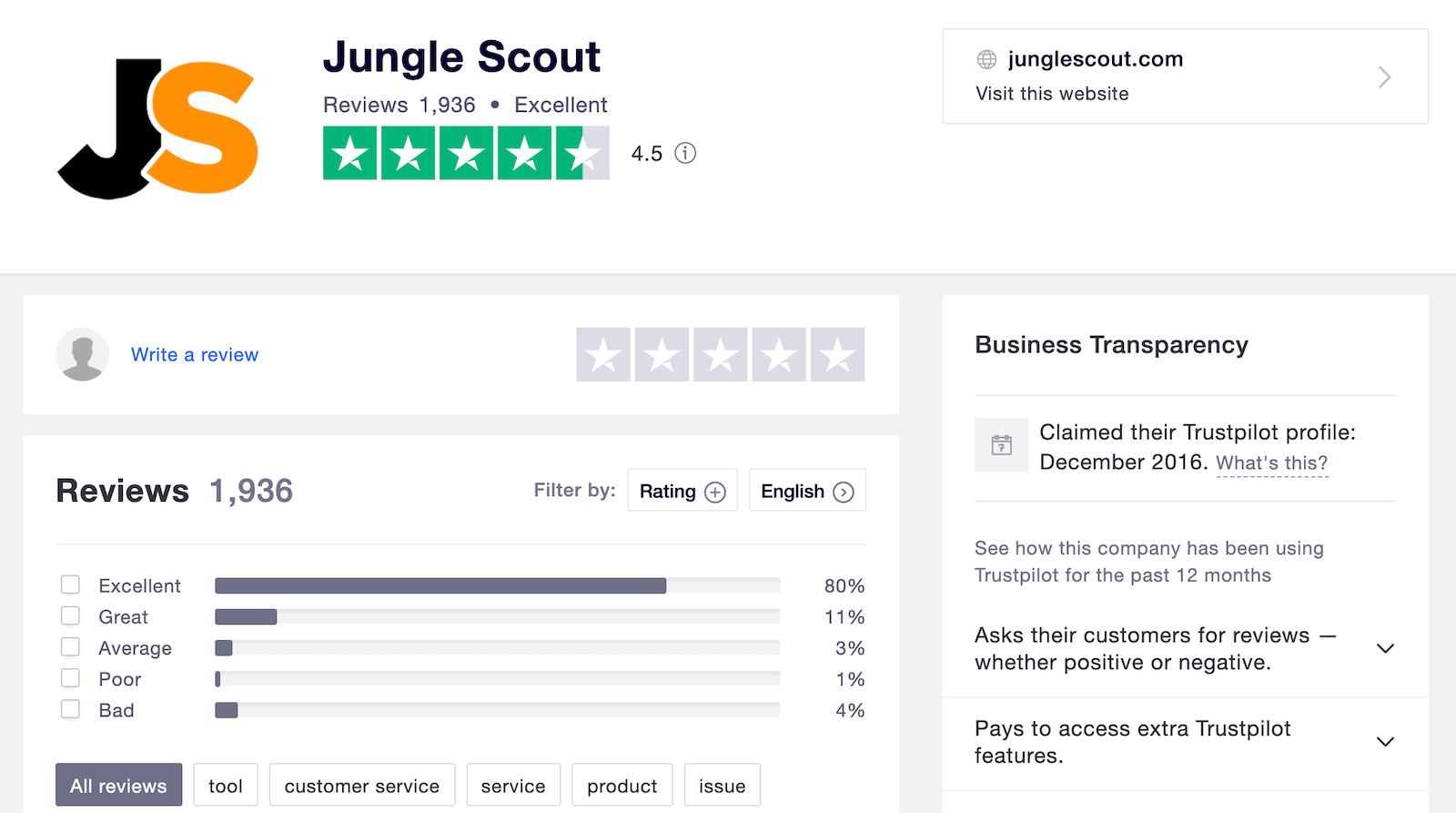 3.6 Rating
32 Reviews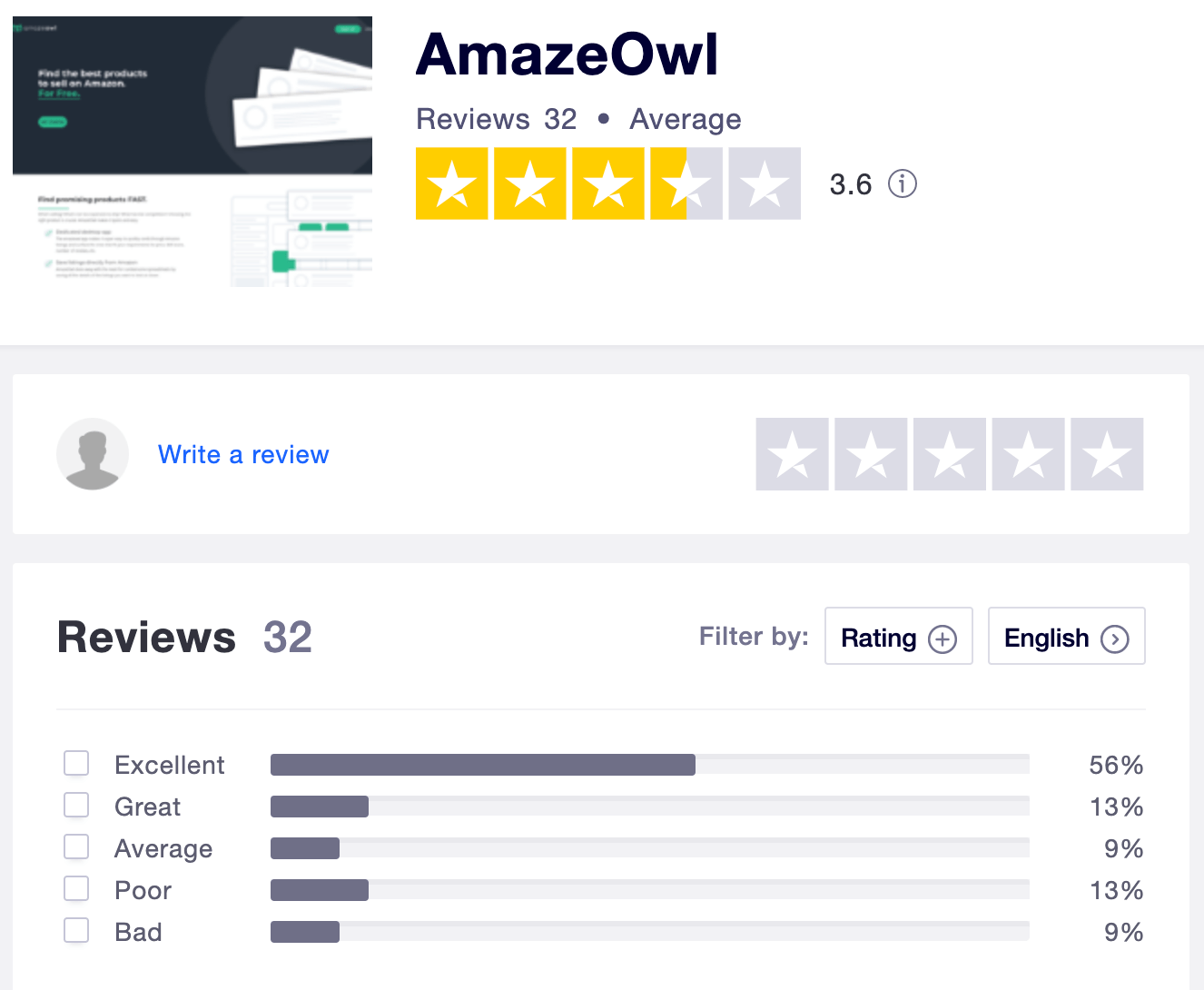 Advantage: Jungle Scout
The ratings of Jungle Scout compared to AmazeOwl are much, much better. Plus. Jungle Scout has over sixty times as many reviews than AmazeOwl.
Jungle Scout comments:
"You guys at JS are doing an excellent job, keep up the good work, Good job" — Alix

"Support has been very helpful and effective." — Peter V.

"Definitely, The Jungle Scout (set of amazing tools) that helps in handling Amazon Business A to Z. I appreciate team Jungle Scout for their excellent training videos. I take too much help from this platform to polish my skills overall." — Ashraf

"I can easily give them 5 stars because they are the best , they can help you with everything." — Adas V.
AmazeOwl comments:
"well every time i try to do something i get a message that i have to download it again and again. updates take forever." — Larry

"Ok tool for beginners, but it is super slow, sometimes does not load and there are a few other things to fix. Also, way off with the numbers." — Skrr

"This platform seems to have lots of problems lately . My frustration though at this moment is the lack of support from the team behind amazeowl. I can not use a paid version of this app. Very disappointed" — P. Septy

"I had a hard time the other day searching for products. It would tell me to change the filters more broadly or do a reset to get the filters back to it's original settings. Nothing worked for me, couldn't get in. I just gave up." — Customer
Affordability: Jungle Scout or AmazeOwl
Jungle Scout
Basic- $49/month ($29/month yearly) – Extension & limited access to Product Research tools, Product Tracker (3 ASINs) Historical Product Tracking (1 month), Historical Keyword Tracking (1 month), Unlimited access to Review Requests, 24/7 Customer support.
Suite – $69/month ($49/month yearly) – Basic Plan + Product Tracker (150 ASINs), Historical Product Tracking (3 months), Historical Keyword Tracking (1 year), access to Advanced Seller tools (3500 Keywords in Rank Tracker & 15k emails/month).
Professional – $129/month ($84/month /yearly) – Suite Plan + Product Tracker (1000 ASINS), Historical Product Tracking (6 months), Historical Keyword Tracking (2 years), access to Advanced Seller tools (5000 Keywords in Rank Tracker & 100k emails/month).
AmazeOwl
Starter- Free – Track up to one niche, monitor three keywords, research top two keywords per product, no customer support.
Growth- $12.99/month – Includes product tracker up to ten niches, monitor up to ten keywords, product database with 50 searches per month, research top ten keywords per product, 10% discount to Academy, regular customer support.
Established- $19.99/month – Track up to 300 niches, monitor up to 50 keywords, product database with 200 searches per month, research top 100 keywords per product, 30% discount to Academy, priority customer support.
Advantage: Jungle Scout
While Jungle Scout is more expensive than AmazeOwl, you get much more value and accurate data for your money. If you just need basic product research tools, then AmazeOwl may be good for you, but Jungle Scout offers an all-in-one solution to Amazon sellers of all experience levels.
Jungle Scout is backed by much higher data accuracy and offers more tools and resources to help your business thrive.
Other stuff?
Both Jungle Scout and AMZScout offer its users benefits above and beyond their software solutions and support materials.
Jungle Scout
Jungle Scout Market: Selling on Amazon combines a lot of skills that not every seller has (or has time for). If you'd rather outsource things like product photography or listing optimization to a specialist, you can find talented freelance professionals on Jungle Scout Market. The Market is kind of like Fiverr or Upwork, but tailored to the Amazon marketplace.
Philanthropy: Jungle Scout uses its instructional Million Dollar Case Study web series to give back: all proceeds go to charity. To date, MDCS products have generated over $1 million in sales, with profits going to Doctors without Borders and Pencils of Promise.
Youtube: Jungle Scout's popular Youtube channel hosts educational videos and regular webinars.
Both Jungle Scout and AmazeOwl
Seller communities: Both Jungle Scout and AmazeOwl host exclusive seller communities on Facebook, where members at every experience level can ask questions, share their expertise, and celebrate their success. With over 57,000 members, Jungle Scout's group is larger than AmazeOwl's 7,300-member group.
In conclusion…
It is up to you to decide which tool is best for your Amazon business!
If you just need a couple of tools or an all-in-one ecommerce solution, the choice of which selling platform you choose is yours. Try both and see which one you prefer: AmazeOwl offers a free 14-day trial to test out the features for yourself, while Jungle Scout offers a money-back guarantee.
400,000 Amazon sellers (and counting!) have chosen Jungle Scout to launch and grow their businesses. We certainly hope you do, too. If not, be sure to check out our free guides, videos, and online communities for everything you need to know to be successful in ecommerce.