Hi, I'm Greg, this is my story…
I have been fortunate to hear the stories of hundreds of sellers and entrepreneurs about how selling on Amazon has changed their lives. It is inspiring, and frankly keeps me going every day to continue to build Jungle Scout to be even more powerful.
While I've shared my story with people on an individual basis, I thought it would be fun to share my background and story more publicly, so that there's some dimension to this Greg Mercer character.
My story can be defined by acorns. Kinda strange, but I'll get to that later. However, the metaphor runs throughout my life so far, starting with just a small seed of an idea and growing into a being far larger than imagined.
The Post-College Mistake
---
Well, I thought that any entrepreneurial dream was possible… until I became a corporate civil engineer.
As many impressionable 22 year olds, I found some validation and allure in getting a "real" job. Why did I make this mistake? Pressure. Uncertainty. Not knowing what else to do. But the truth is, I just needed a boost of self-confidence before I felt like I could start on my own.
And this is where I started with my figurative acorns again: start small, test the waters, and grow naturally.
Tipped off to the potential of selling on Amazon, I sold my first widget on Amazon in 2013. That's really not that long ago, but in Amazon years it is virtually an eternity!
So this is what my typical day in 2013 was like? By day, I was a civil engineer in Pensacola, Florida. That meant a lot of time at a cubicle in front of a computer, and if I was lucky heading out to an oil rig occasionally. Nights and weekends were spent voraciously searching for as many wholesale products as possible, and then actually selling them on Amazon. I was able to round up about 3 dozen products, and was able to match my corporate salary within the year. That was a win!
Back up one sec…..
There's one HUGE aspect to this journey that I haven't touched on.
My partner in crime, travel companion, colleague and wife:
Elizabeth!
We met in college, have been inseparable ever since (like seriously inseparable, we have spent all day every day together for the past 6 years. It's great). This story would not be possible if not for Elizabeth: her encouragement, support, and energy. So this is really both of our stories.
Here are a few pictures of our adventures, traveling the world and building Jungle Scout.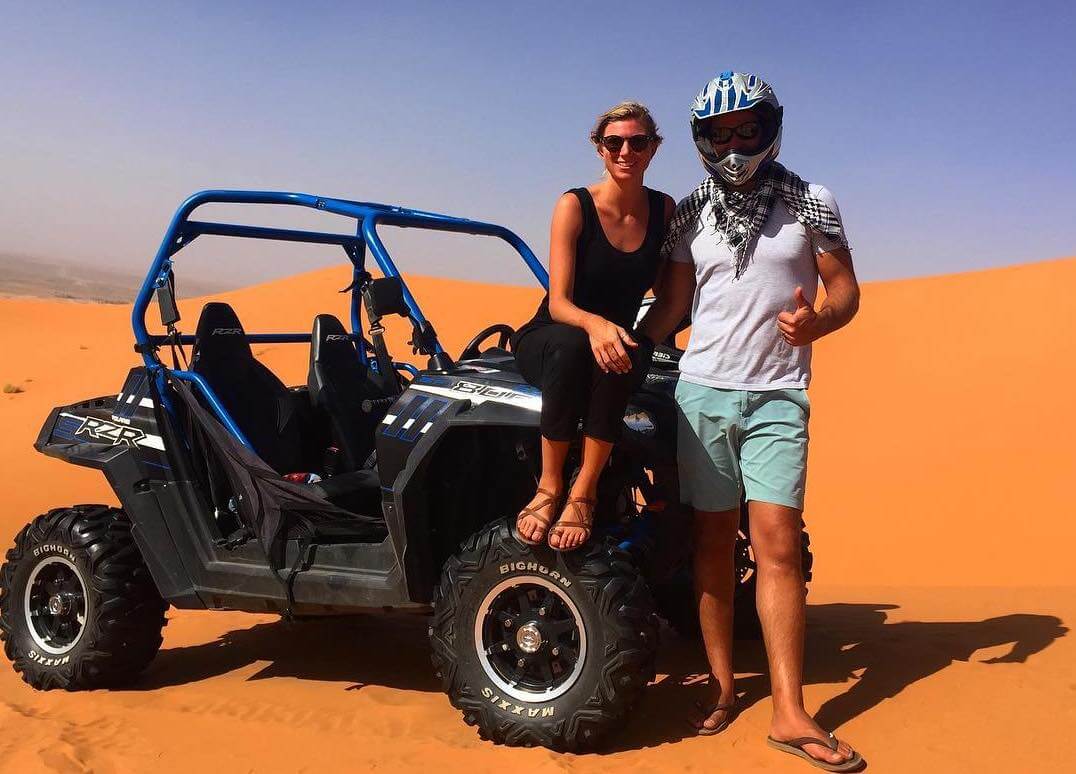 The Genesis of Jungle Scout
---
By this point, I was still a corporate employee, and I wanted out.
Like I said, my nights and weekends were spent sourcing wholesale products. Here's what that
meant functionally: scouring through Amazon product pages, filling out Excel spreadsheets, estimating the likelihood of success, finding suppliers. Rinse and repeat.
All the while, I was a newlywed husband, and my wife Elizabeth was wondering what happened to the fun-loving guy she met in college. If I wasn't out at work, she just saw the back of my head as I was at our home computer. I was surprised at the tedium and monotony of life after college. I thought that life was supposed to be filled with fun, friends, and laughter in your twenties?!
It was time to plant another proverbial acorn.
It was only logical that my first post-college business would address the painstaking process of finding products to sell on Amazon. There was no doubt in my mind that selling on Amazon was an incredible opportunity that could impact thousands of lives for sellers, but I also knew that it shouldn't be so tiresome to gather the data necessary to find a product to sell.
This was my theory when I set out to build the first iteration of Jungle Scout—a simple Chrome extension that aggregated the publicly available data on every Amazon product page.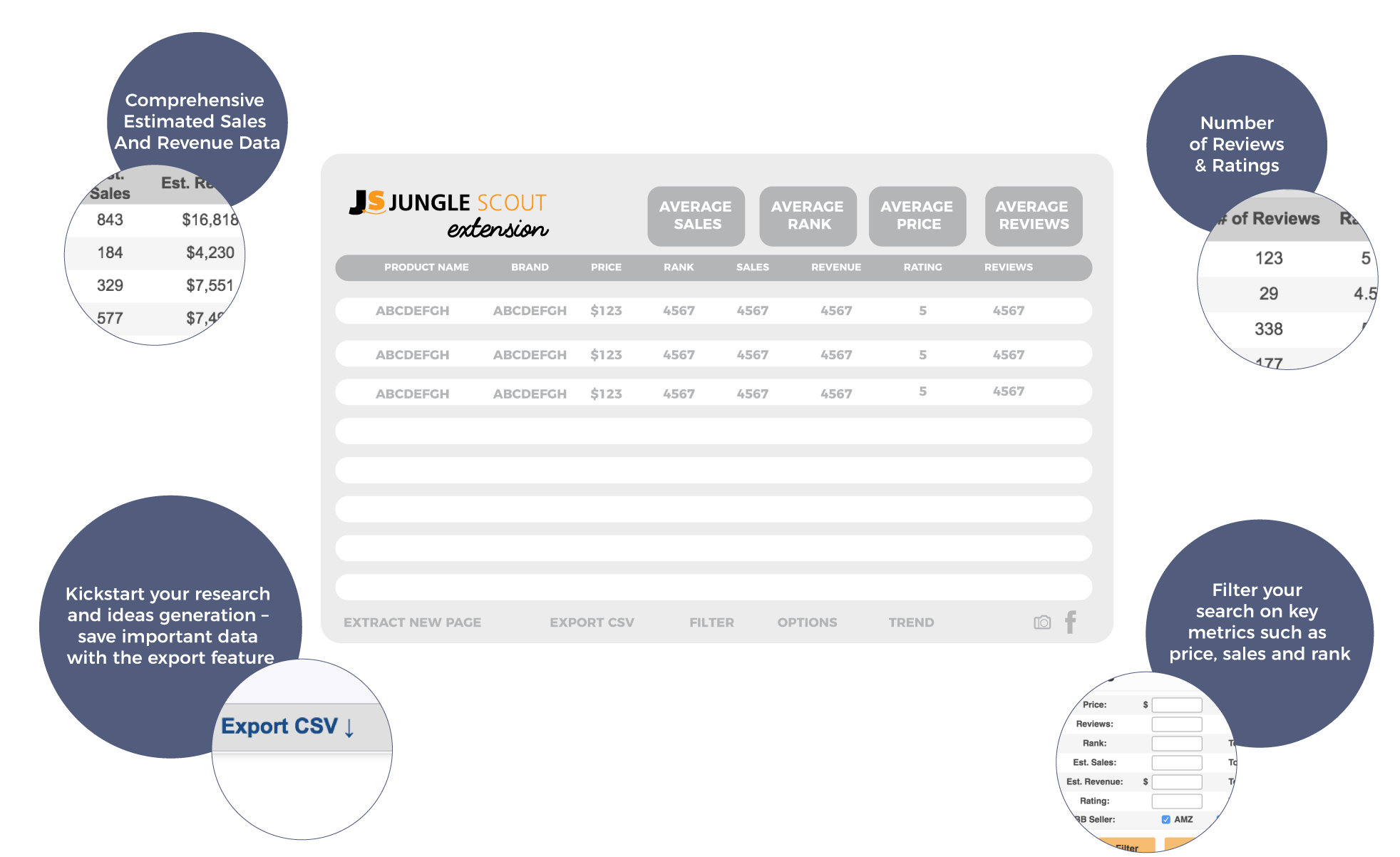 The extension (above) has been vastly improved now, but the premise of the tool remains the same as the very first iteration.
Building a Chrome extension was a great first step towards fulfilling my entrepreneurial goals. A low-cost investment, with a quick build time, that would be worthwhile… even if I was the only "customer".
Two weeks later precisely, Friday February 13th 2015, I launched a "Minimum Viable Product" that executed everything that I hoped for. Thankfully I am not too superstitious, though I definitely wasn't sure about the Friday the 13th launch date!
This is the website that I put together during a lunch hour just a day before, the very first Jungle Scout landing page designed by yours truly: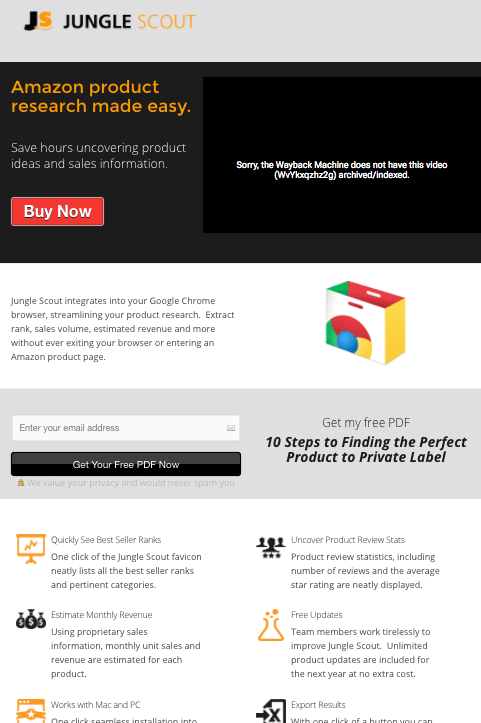 The Growth Years of Jungle Scout
---
On launch day, I got 12 sales. Hell yeah, serious fist pumps ensued…
When you plant acorns, you are happy with modest results. Big growth takes time, I told myself.
Since my big launch day as a solo founder, things have changed a bit. Here's few tidbits:
So what have I learned in this whole process? Ah, that's where the fun part begins…
I want to summarize what I've learned by launching Jungle Scout, selling on Amazon, and building a team of awesome people.
---
Left Corporate Jobs

I left my corporate job (Elizabeth as well), we sold our home. We now don't have an official "home" and live in different Airbnb's around the world. This has freed us up to travel to places like Morocco, Spain, Japan, Thailand, Argentina, even Antarctica in the past year.

Built A Remote Team

We have grown in to a fully remote team of 29 people, working around the world.

Developed Three Software Products

We have four independent software products, build to help Amazon sellers: Jungle Scout, Jump Send, and Splitly.

Raised $ For Charity

Jungle Scout has raised over $50k for a non-profit, Doctors Without Borders, through a case study to show others how to sell on Amazon.

Helped Thousands of Businesses

We have helped tens of thousands of people get started selling on Amazon, and succeed to build life-changing businesses. Whether quitting a full time job, paying for loans, mortgages, vacations, or just more time and freedom, Jungle Scout has helped impact individual lives of people across the world from all different backgrounds.
Start Small.
I have really carried through the philosophy of starting with a small manageable step towards testing a business idea. Believe me, this is almost a necessity when you are like me and daydream new businesses for fun.
This philosophy is now a mantra of sorts in the startup world, with many entrepreneurs building a simple prototype of their big idea, often called a Minimum Viable Product. The benefit of taking this small first step is that you can simply validate that this problem does in fact exist, and customers will purchase your product. Consider it a learning phase.
Looking back on the trajectory of Jungle Scout, there is no way that we would be here now if we set out to build this whole suite of tools for Amazon sellers from the outset. We would have skipped over the invaluable lessons and customer feedback that we gathered while building from our initial version of the Chrome Extension.
---
---
Get Help.
You may think this is counterintuitive to my previous point—why would I need help if I am only starting small?
There are several reasons that you want to enlist help at an early stage.
The first point is most fundamentally your health, both physical and mental well-being. Here's a fun picture of me from 2015 when I was clocking in 18 hour days to get the Jungle Scout momentum going.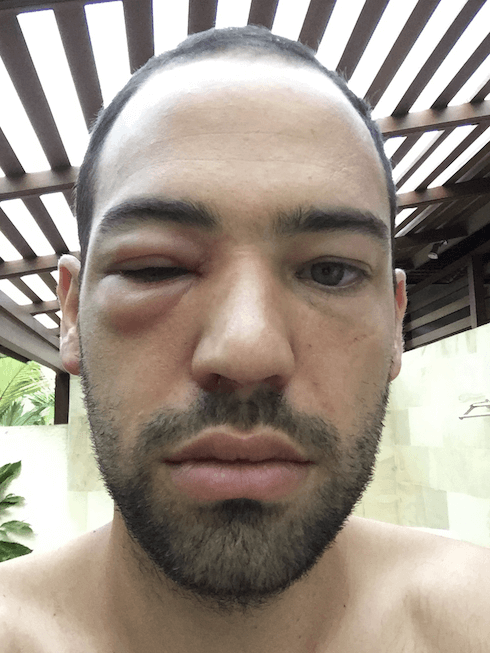 Product development, customer support, marketing, design, customer onboarding. I did it all. And it cost me! I didn't even know that Shingles existed, until I had it. Mix together an overload of stress, not enough sleep, and a poor diet and you are creating a recipe for bad health.
You are also limiting the potential growth of your business.
Growing from a solopreneur to a fully distributed team of almost 30 top-notch team members is a lot to figure out on the fly. But we have grown exponentially because of this fast-growing team, not despite the team.
---
Be Fearless.
Be fearless. Easier said than done. But I'm not really talking about cliff-diving or swimming with sharks, necessarily.
I am referring to the self-doubt and uncertainty that morphs into fear.
It was ultimately the fear that made me seek the shelter of a corporate job out of college. One of my biggest regrets so far? Not starting earlier.
I have battled this internal monologue of fear many times. Selling my house and traveling around the world. Risking failure and embarrassment as I launch private label bamboo sticks in front of the whole world.
And I hear from new Amazon sellers all the time, who are hindered by the fear of unknown. Will this product sell? Is Amazon too competitive? What if there's a better product out there?
There is no certain answers to any of these questions, but they will remain unknown unless you step beyond the comfort zone. I believe this is where true growth occurs, at least in my own experience!
---
Continue Learning.
I like to think that one of my primary responsibilities as CEO of Jungle Scout is to focus on learning. With technologies, platforms, and marketplaces changing so quickly, it would be irresponsible as a leader to bury my head in the sand.
There are three main ways that I learn best: books, podcasts, and peers.
My favorite books: Rework by Jason Fried. A no-nonsense book on tapping into your best work and cranking up your productivity. One part instructional, one part inspirational, this is the first book I recommend to aspiring and growing entrepreneurs.
My favorite podcasts: Startups For The Rest of Us. I feel like these guys, Mike Taber and Rob Walling are talking to me in every episode. Geared towards helping entrepreneurs launch great software, the content is wide-ranging, yet always relevant, insightful, and actionable.
My favorite peers? Well now you'll get me in trouble. But you can hang out with them too: Steve Chou, Scott Voelker, Spencer Hawes, The Tropical MBA community, and the Splitly team.
---
Give Back.
One of my greatest joys is helping other entrepreneurs ­­­­grow.
At its core, Jungle Scout is a launching pad for entrepreneurs. Selling on Amazon is just the first channel to verify demand and capture an audience.
I believe that entrepreneurship is the most powerful lever we have to self-empowerment and growth.
And the benefits can compound. I am incredibly proud of our initiative with our first Collaborative Launch, where the proceeds of our bamboo marshmallow sticks were donated to Doctors Without Borders. Over $50k at this point.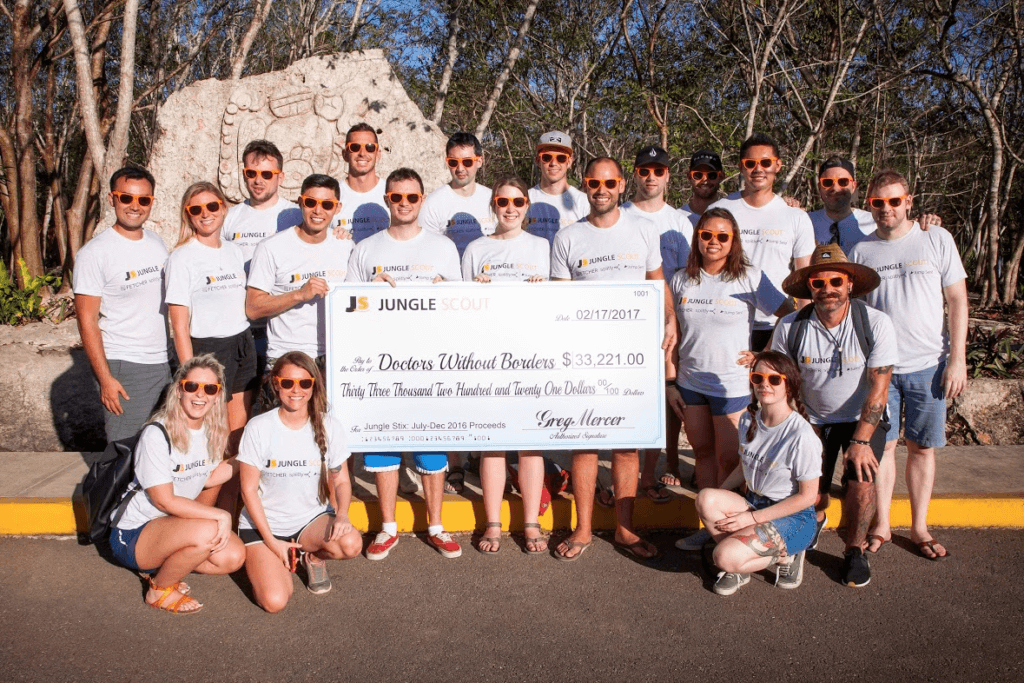 But we are not stopping there: we are currently a few months into our Million Dollar Case Study, where we are launching another product and donating proceeds to a charity.
My Advice?
If you have a strong desire to be an entrepreneur, but are holding back because of 'the fear', remember that most entrepreneurs only wished they'd started sooner.
Whatever it is you are doing, get a prototype shipped fast. Building on humble foundations is the strength and success story of most established startups.
Surround yourself with smart, entrepreneurial peers and never stop learning. At some point, you will be able to give something back, and I guarantee that this will be one of the most satisfying moments of your entire career.