Walmart Fulfillment Services, or WFS, is a fulfillment service provided by Walmart that takes care of inventory storage, order fulfillment, returns, and even customer service for Walmart sellers.
Similar to Fulfillment by Amazon for Amazon sellers, WFS allows Walmart Marketplace sellers to handle other aspects of their business while having Walmart's extensive fulfillment network handle picking, packing, and shipping out orders.
Being a relatively new service provided by Walmart, only 38% of Walmart sellers use WFS.
Let's go over the pros and cons of WFS, how to use WFS, how much it costs to use WFS, and more.
What are the pros and cons of using Walmart Fulfillment Services?
Seeing how successful Amazon sellers can be using Amazon FBA, Walmart has created a similar service to help Walmart Marketplace sellers expand their businesses through WFS.
For sellers, big and small that need end-to-end fulfillment, WFS may be an excellent option. WFS also makes it easier for existing Amazon sellers to diversify their income and follow a more omnichannel approach to ecommerce.
As they say, don't put all of your eggs in one basket.
WFS certainly has its upsides, but there are also some downsides sellers should know about. Let's go over the pros and cons of WFS.
Benefits of using Walmart Fulfillment Services
Walmart+ two-day free shipping:

Your WFS items will be included in the Walmart+ subscription program, delivering products to customers in just two days within the contiguous U.S. (not guaranteed during peak season, which is September to January.)
Ship your inventory into Walmart's fulfillment centers:

Simply create a shipment within Walmart's Seller Center and ship your products to Walmart's many fulfillment centers. Your products are usually stocked and ready to ship within two days of receipt.
Walmart ships out all of your orders:

Focus your time on other aspects of your Walmart business by letting WFS handle picking, packing, and shipping orders to your customers.
Improved product visibility and conversion:

When using WFS, your products will be displayed with TwoDay Delivery and Fulfilled by Walmart tags, increasing sales by 50% on average, according to the

WFS help page

.
Consumers trust Walmart:

Walmart is a household name, and many consumers live within 10 miles of a Walmart retail store. Besides Amazon, Walmart.com is the

second-largest online shopping destination for consumers

. When WFS ships your order, your customer will receive it in Walmart-branded packaging.
Walmart handles customer service:

For orders shipped with WFS, Walmart will handle any customer complaints or issues for you.
Exceptional seller support:

Walmart says that WFS Associates are dedicated to helping grow your business. Will it be better than Amazon seller support? Let's hope so!
Downsides of using Walmart Fulfillment Services
No multi-channel fulfillment:

Walmart will only fulfill orders you receive on Walmart.com. You cannot ship orders for other marketplaces or websites using your WFS inventory as you can with FBA.
No international shipping:

Walmart US will only ship to addresses within the United States and US territories.
Easy customer returns: Returns are an unavoidable reality of ecommerce. When using WFS, customers have the option to return the purchased item back to the fulfillment center or return it in-store.

Product requirements:

Certain requirements may limit some sellers' ability to use WFS. To use WFS, your products must meet the following criteria:

capable of shipping to Walmart fulfillment centers within the contiguous U.S.

no perishable or regulated products

maximum product weight of 150 lbs.

maximum product length of 108″

maximum product length + girth of 165″
How to use Walmart Fulfillment Services
Now that you know what Walmart WFS is and its pros and cons, how do you get started?
Before getting started with WFS, you must first be a Walmart Marketplace seller. If you are not, your first step is to apply to become a seller.
Getting started with WFS is not as simple as using FBA. With FBA, any Amazon seller can simply create a shipment in Seller Central and send products to Amazon. With WFS, sellers must first apply for the program.
Join the WFS program

after creating your Walmart Marketplace account.

Set up your items with the WFS dashboard.

Create an inbound order from the Manage Inventory section under WFS in Seller Center.

Use Walmart's preferred carrier program to create a heavily discounted shipping label.

Package your products according to your shipping plan and

Walmart's packaging and prep requirements

.

Label your boxes and drop them off at the respective shipping carrier.
Can any seller use Walmart WFS?
As mentioned above, Walmart sellers must apply for the WFS program before sending products to a Walmart fulfillment center. They'll ask questions about your product selection while applying.
How much does it cost to use Walmart Fulfillment Services?
Walmart's selling fees are a little more straightforward than Amazon's fees. As a Walmart seller, there is no monthly subscription fee. If you are a professional seller on Amazon, it costs $39.99 per month.
That said, there are a few different fees involved with selling on Walmart and using the WFS program.
Whether you are using WFS or not, you will need to pay a referral fee, which will depend on the category you sell in. This fee ranges from 6% to 15% for each sale made on Walmart.
Walmart Fulfillment Services Pricing
The pricing structure is simple, and there are no hidden fees as you may find with Amazon.
Sellers will pay a fulfillment fee based on the weight of the product, and a monthly storage fee based on the volume of the product being stored and the length of time.


Want to calculate the cost to sell using WFS? Visit Walmart's Fulfillment Service pricing page to use the WFS calculator.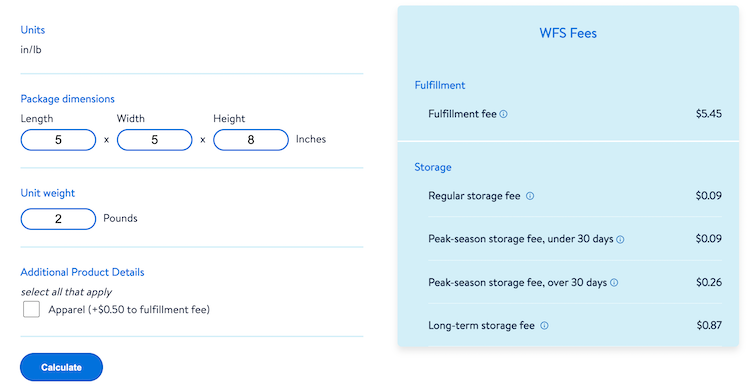 *Calculator does not include the referral fee
Is Walmart Fulfillment Services right for your business?
Now that you know the pros and cons of using WFS, is it right for your business?
You may want to use WFS if you:
Want to expand your ecommerce business to additional marketplaces without having to handle fulfillment

Want to reach a new loyal audience that may not shop on Amazon

Sell small and lightweight products

Don't have the time or space for shipping out orders

Want your products to be Walmart+ eligible

Want Walmart to handle customer service and returns
You may not want to use WFS if you:
Sell very large and/or heavy products

Use a third-party fulfillment service for your ecommerce channels

Have your own storage and fulfillment capabilities

Would rather handle customer service and returns

Don't know how well your products will sell on Walmart
As with any other ecommerce platform, it comes down to what works best for your business. Since WFS is still a fairly new service offered by Walmart, we think it is worth testing out a few of your best-selling products.
Of course, you do not need to use WFS to sell on Walmart Marketplace. Sellers have the option to fulfill the orders themselves or use a third-party fulfillment center. Walmart sellers not using WFS can request access to Walmart's expedited shipping options, TwoDay and ThreeDay Delivery.
Use Walmart Fulfillment Services to grow your business
We hope this article gives you a better understanding of WFS, how it works, and if it is right for your business.
If you're looking for an in-depth guide about how to sell on Walmart, check out our article on How to Sell on Walmart Marketplace: 2022 Guide.
If you haven't signed up to become a Walmart WFS seller, now is the time! Walmart is currently offering new sellers 50% off commission rates, 10% off fulfillment fees, and free storage during your first 90 days as a seller. You must submit your application by 5/30/22 in order to qualify for the promotion.

Do you have more questions about WFS? Let us know in the comments below!