Walmart is shaking up the ecommerce landscape with its answer to Fulfillment by Amazon: Walmart Fulfillment Services (WFS).
At least 45% of Amazon sellers believe Walmart's online business will be strong competition for Amazon in 2022—and 31% are considering launching WFS businesses in 2022.
Similar to how Fulfillment by Amazon (FBA) operates, WFS allows sellers to ship their items to Walmart's fulfillment centers where Walmart then handles all of the storing, picking, packing, and shipping — as well as customer service.
With its fulfillment network, select sellers can utilize Walmart's logistical expertise and state-of-the-art supply chain capabilities to grow their businesses. They are doing this as a way to expand its own unique product offerings, and to give brands a way to expand their business and reach millions of potential customers.
As more and more customers find their way to Walmart.com (over 100 million unique shoppers per month) it's important that brands go where consumers are shopping.
WFS provides unique incentives to get qualified brands to apply and help them grow on the marketplace.
In this post, we will be going over:
The similarities and differences between FBA and WFS
How to sell using WFS
The requirements for selling on the platform
How to optimize your Walmart listing

The benefits of expanding your business on Walmart
FBA vs. WFS: The similarities and differences
Fulfillment by Amazon has proven to be an extremely successful business model and has allowed millions of sellers across the globe to sell their products online to millions of potential customers.
Amazon receives over 200 million visitors per month, just in the US, so it makes sense why they would be the largest online marketplace for sellers.
Though, you shouldn't count out Walmart — they're a behemoth in their own right. Walmart.com receives over 120 million unique visitors per month, while its brick and mortar business is located within 10 miles of 90% of Americans.
Differences between WFS and FBA
1. Sellers need to apply and be approved to sell on Walmart.com, whether or not you use WFS
This means you will have less competition from other sellers on the marketplace.
Whereas on Amazon, anyone can register to sell — thus creating lots of competition. Walmart.com currently has around 135,000 sellers vs. Amazon's 2 million sellers.
2. Walmart implements a simple cost structure that includes a fixed monthly storage fee and fulfillment price
This fixed storage and fulfillment fee is based on the shipping weight of your product alone.
Amazon's storage fees, on the other hand, will be based on how much inventory you currently have stored in their warehouses. Its fulfillment fees are based on the weight and dimensions of your product.
3. Walmart does not have a monthly subscription fee for sellers
Unlike the Amazon professional selling account which is $39.99 per month, Walmart will not charge its sellers a monthly subscription fee.
And though Amazon's per-month fee is not that much considering how much they do for you, it would be nice not to have to pay for that each month.
4. Fewer sellers means more views per seller
According to Walmart, each seller receives roughly 27,000 monthly visitors. On the flip side, Amazon's sellers receive just 2,100 visitors monthly.
In other words, because Walmart Marketplace is less saturated, Walmart sellers get 13x more visitors a month compared to Amazon sellers.
5. Personalized account management
Walmart will connect sellers with a WFS fulfillment expert for custom recommendations on business optimization and growth.
If you would like to work with one of Amazon's dedicated Account Managers, you will have to pay a large monthly fee ($1,600/month) plus a percentage of your sales.
Similarities between WFS and FBA
1. Guaranteed 2-day free shipping and free returns to customers across the U.S.
By storing your products in a Walmart fulfillment center, you can offer 2-day free shipping to your customers — just like Amazon FBA.
And, by using Walmart's state-of-the-art supply chain capabilities, Walmart will pick, pack, ship, and deliver orders to your customers within two days.
2. Walmart will manage customer support for you
Just like FBA, Walmart will manage all customer service and return requests on the seller's behalf. This allows sellers to focus more time on growing their sales on Walmart, instead of dealing with customer inquiries.
Again, similar to Amazon, this only applies to WFS orders. It doesn't apply if you fulfill your orders yourself.
3. Seller support
According to Walmart's WFS feature page, Walmart will have dedicated WFS call center associates to answer all of your questions. Now let's just hope they're better than Amazon Seller Support.
4. Walmart 'Item Page Content'
This feature seems as if it will be Walmart's version of A+ Content. (Though, with Amazon, you need to be brand registered in order to create A+ Content.)
On Walmart, you will just need to be using WFS to be eligible for 'Item Page Content.'
5. Walmart+
Walmart recently launched a service that will directly compete with Amazon Prime, called Walmart+. Walmart+ is a $98 membership that includes same-day delivery on groceries and other general merchandise, fuel discount, early access to deals, and other perks.
Buyers who do not have Walmart+ will need to spend at least $35 to get free 2-day shipping.
How to sell using Walmart Fulfillment Services
The benefits of using WFS are pretty clear, but how do you get your account set up?
If you are currently selling on Walmart's marketplace, you will need to log in to your Seller Center account and check to see your eligibility. If you are not a current seller, you can apply and fill out the Walmart Fulfillment Services Interest Form.
Now, signing up for WFS is not as simple as signing up for an Amazon selling account.
With Amazon, you can just simply register as an individual or a business. However, to sell on Walmart.com, your business must be registered and have a US Business Tax ID (SSN will not be accepted).
Walmart is looking for trustworthy partners that are selling high-quality, authentic goods to help expand their product offerings. They will not just let anyone sell on their marketplace, whether you are using WFS or not.
Requirements to use Walmart Fulfillment Services
***Update: April 7th, 2021*** Walmart Marketplace is now open to sellers operating outside the U.S.
Businesses will still need to go through Walmart's verification process and fulfill other requirements to be approved. For instance, in order for a business in China to sell on Walmart Marketplace, they must have a valid Chinese business license, more than a year of operating experience selling on North American marketplaces, and good store ratings.
Here's what you'll need to use Walmart Fulfillment Services:
US Business Tax ID or valid business license

Primary product categories, catalog size and related information (e.g. total SKUs you initially plan to fulfill with WFS)

Planned integration method for your product catalog (i.e. bulk upload, API, solution provider)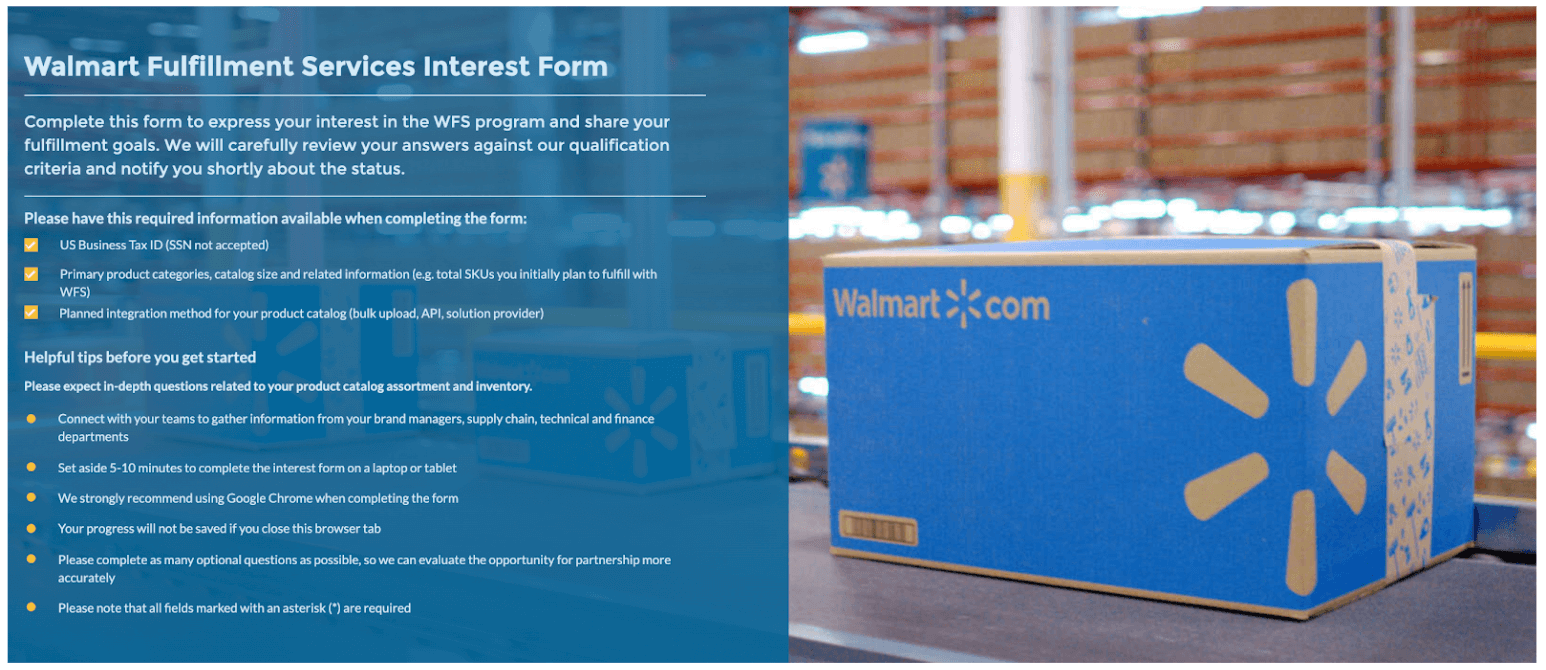 Product requirements for items shipped to Walmart's warehouses
Capable of shipping to Walmart fulfillment centers within the contiguous U.S.

No perishable or regulated products

Maximum product weight is 150 pounds

Maximum product length of 108″

Maximum product length plus girth of 165″
If your selling application is approved, you will receive an invitation from Walmart to set up your Marketplace Seller Account.
The next steps include signing the Retailer Agreement with a Walmart representative, completing the profile registration, onboarding, and requesting to launch your store after a final review.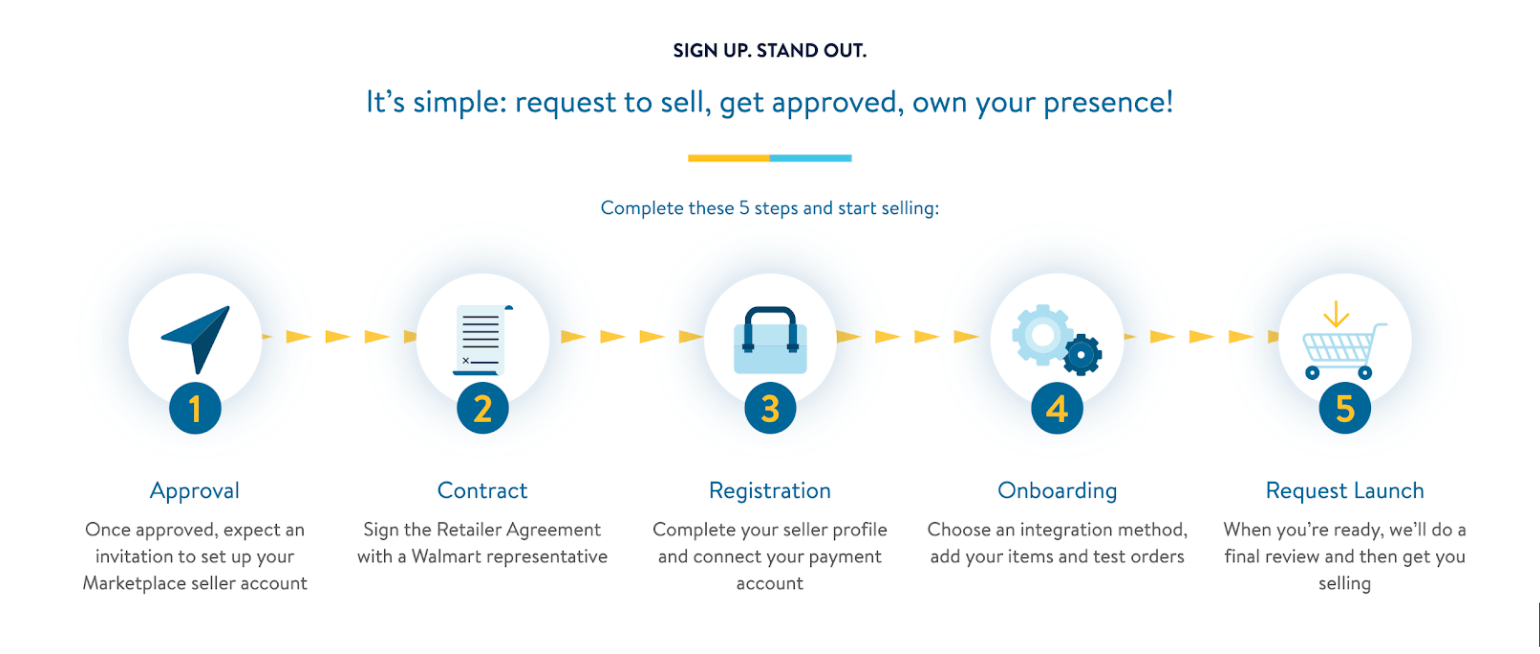 Update as of April 7th, 2021: Walmart has removed its U.S. address and/or business tax identification requirement to sell on the marketplace. The marketplace is now open to sellers across the globe.
Businesses will still need to go through Walmart's verification process and fulfill other requirements to be approved. For instance, for a business in China to sell on Walmart Marketplace, they must have a valid Chinese business license, more than a year of operating experience selling on North American marketplaces, and good store ratings.
If you are an international business interested in selling on Walmart Marketplace, please fill out Walmart's international seller form.
How to optimize your listings on Walmart
Once you are approved to sell, it's time to get your products listed!
And just like selling on Amazon, your keyword research, product research, and listing optimization are very important factors for your success on Walmart.
Use the same principles for selling on Walmart as you would on Amazon.
Keyword research
The keywords used within your Walmart listings are going to be similar (if not the same) as those on Amazon. Customers aren't going to be changing up how they search for items from one marketplace to another.
Since that is the case, you can use Keyword Scout to conduct your keyword research for products on Walmart. Another great (free) tool to use for keyword research is Google Keyword Planner.
Create a list of relevant keywords you can use within your Walmart listings. Make sure you include as many keywords as possible within your title, description, and key product features — without keyword stuffing.
You want to make sure your listing makes sense and is easy to read.
Your item listings have the power to convert casual browsers into buyers, so make sure you take your time with keyword research!
Product research
Even though Jungle Scout is specific to Amazon product research, you can still use our tools to give you an idea of what products may be selling well on Walmart.com.
Use our Product Database or Opportunity Finder to discover products that are selling well on Amazon and conduct a search for the same product on Walmart. If you see other sellers offering those items with high review counts (50+), this could be a good indication that they're also selling well on Walmart.
Walmart also has a tool within their Seller Center called 'Growth Opportunities.' It allows sellers to search the best selling items on Walmart to discover new, in-demand products that you can add to your catalog.
We suggest searching for products with a small number of sellers so you have less competition.
Listing optimization
Just because you are offering an in-demand product, does not automatically mean it will sell. If your listing is not properly optimized, your potential customers will not be able to find it in the search results.
So don't rush this step!
Take your time in crafting your product title, key features, and description to make your products stand out and improve discoverability. To help you fully optimize your listings, Walmart provides an excellent product listing guide.
What makes a quality listing on Walmart.com?
Selecting the correct categorization for your product

Applying the best keywords to improve search performance

A concise and easy to read title that highlights specific attributes

Highly detailed product descriptions and key features

Multiple high-resolution professional pictures as well as product videos

Customer feedback

Fast shipping options
Similar to Amazon, Walmart will soon offer a 'Listing Quality Dashboard' that will show you insights on where your listings need improvement and the tools to make those changes.
The benefits of expanding your business on Walmart WFS
While there are a few differences between WFS and FBA, the functions and benefits to sellers are basically the same. So, how can selling on Walmart — and using their fulfillment services — be beneficial to you as a seller? Have you heard of the phrase "don't put all your eggs in one basket"? This is especially true for e-commerce!
While Amazon FBA is an incredible way to get your business up and running, you should look to expand into other marketplaces as your sales and business grow.
Walmart Fulfillment Services is an excellent option for that expansion. It allows your established business to run practically the same way you would run it on Amazon — with some added incentives.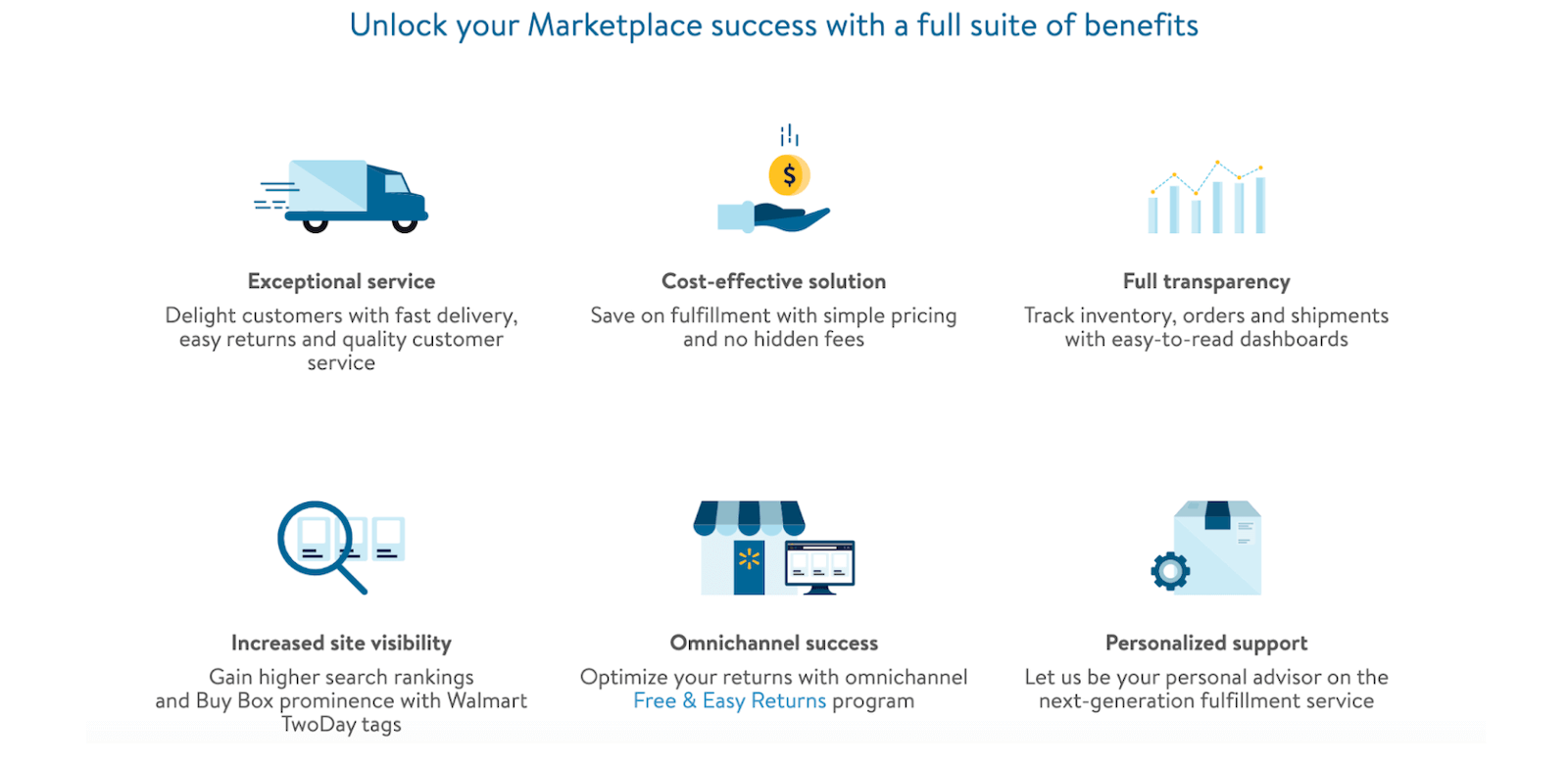 WFS feature and benefit overview:
Simple fulfillment fees and no monthly subscription fee (unlike amazon) (Walmart doesn't share fee structure)

Straightforward

referral fees

by category

Easy to read dashboard so sellers can simply track their orders, sales, inventory, and shipments

By using WFS, your products will gain increased site visibility, higher search rankings, and Buy Box prominence with Walmart TwoDay tags

Free and easy returns program that will give your customers peace of mind when ordering

Personalized support and Account Management to help their sellers grow and thrive on the marketplace

Using Walmart's massive fulfillment network, they're able to guarantee 2-day delivery for items stored in their warehouses

Walmart will store, pick, pack, and ship for you
Should you sell on Amazon.com and Walmart.com?
The short answer: Yes. If your business has enough inventory to cover multiple sales channels, you should be selling everywhere you can. Not to mention, Walmart's e-commerce business is growing year over year and is showing no signs of slowing down. Now is the time to expand your business onto Walmart.com.
And while Walmart.com has fewer monthly visitors than Amazon.com, Walmart has fewer sellers and a less aggressive first-party retail than Amazon. This is a great thing for its sellers, and just another reason to expand your business to their platform.
Plus, by utilizing both Amazon's and Walmart's fulfillment centers and expertise, you'll be able to scale your e-commerce business faster than you could have imagined.
Here's what Amazon sellers are saying about WFS:
"Walmart is definitely emerging and has proven itself to have an online industry and is actively growing each year." -a 24-year-old seller from Canada
"Their brick-and-mortar presence gives an edge – if they execute correctly. The interface is terrible but can improve. It's time Amazon has competition." -a 41-year-old seller from Maine, USA
"They have improved their listings and entire dashboard and have less selling fees than Amazon. If they can continue that pattern I believe they will overtake Amazon." -a 32-year-old seller from California, USA
Learn more, join the discussion, and watch our webinar: Amazon vs. Walmart? How E-commerce Has Changed.
Are you thinking about selling on Walmart or have any other questions about Walmart Fulfillment? Let us know in the comments!