So you want to start an online business but aren't sure where to begin. Of course there's tons of options out there, right? There's eBay and Etsy, blogging and Bitcoin. And of course, my favorite, Amazon. Yet, for new and aspiring entrepreneurs, setting up an online business can be intimidating. That's why I wanted to take a little time to break down the process of creating an Amazon business. This guide will cover the basics of Amazon as well as show you how to navigate Amazon seller registration.
I've broken it down in four parts.
Overview of the material:
First, I'll cover the basics of starting an Amazon business. Don't let the word "business" make you think that you have to go all out and set up a corporation. An Amazon business can be as big or as basic as you want it to be.
Next, I talk about what it costs to sell on Amazon. I think you'll find it's actually pretty inexpensive,

especially if you compare it to the tens of thousands you'll need for a brick and mortar store

.
After that, I'll walk you through the steps of Amazon seller registration and creating an account on Amazon.
Finally, I'll review a few more of the basics of Amazon selling.
Before I jump in, if you're already pretty smart about Amazon stuff, you might take the time to tune into our free Amazon Selling course. It's a short video, just 45 minutes, and it walks you through all of the steps for finding and launching a product. Just click on the button below!
How do I start an Amazon business?
What's great about Amazon, is that there's no one way to start an Amazon business. Even though it's been over five years since I went through the Amazon seller registration process, I keep learning cool new ways to do it. The one thing that I can't express enough, though is how simple it is to sell on Amazon.
How to start an Amazon business in 3 easy steps.
Choose what you plan to sell. You don't have to go nuts and start your own private label (although, I highly recommend it once you're comfortable selling on Amazon). A lot of sellers get started selling their used stuff on Amazon. You can also sell books, both used and those you write, wholesale goods, and even discounted products you can buy in department stores.
Go through Amazon seller registration. Next, you'll need to register your "business" on Amazon. Remember, by business they don't mean that you're a big corporation. You can sell on Amazon as an individual.
List your products. Once you're registered, you need to list your products. After that, all you have to do is wait for a sale.
It's really that simple!
Next, I'll show you how to go through Amazon seller registration process.
How do I create a seller account on Amazon (Amazon seller registration)?
Once you've figured out what you plan on selling on Amazon, you'll need to go through the Amazon seller registration process, which is really quite simple.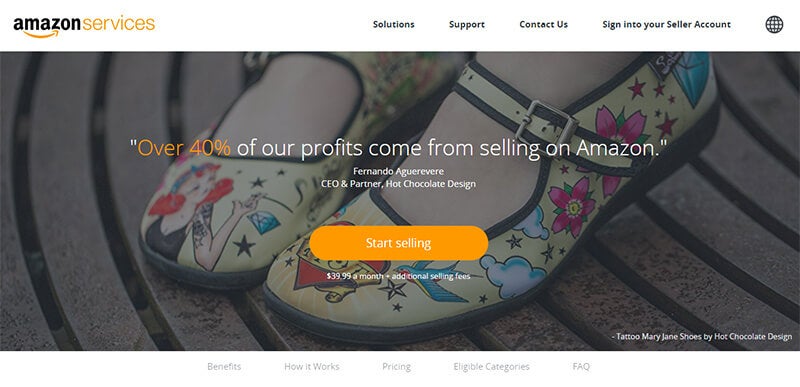 2 – Scroll down the page below the heading "Start Selling on Amazon today."
On the left side, look for the "Selling on Amazon >" button and click it. Note: this is if you want to sell as an individual seller to avoid the $39.99 a month professional seller subscription. If you want to sell as a professional (sell more than 40 products per month), then just click the orange button at the top.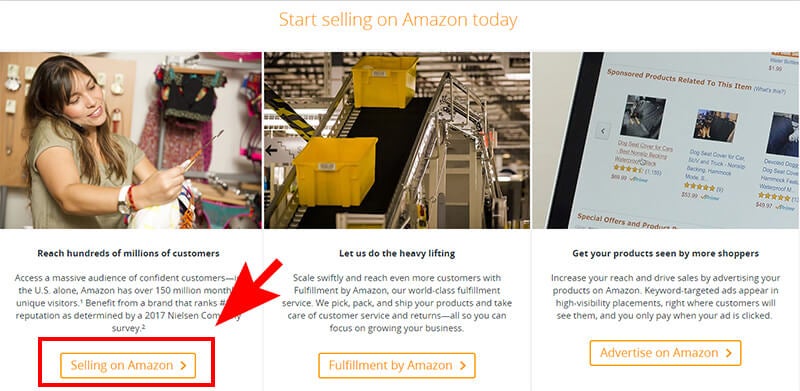 3 – Choose which kind of seller account you'd like to start with.
If you're going to sell more than 40 products per month, then sign up as a "professional." Even if you're doing it as a hobby and don't consider yourself a professional, this plan will help you save money. Otherwise, select individual. You might also sell as an individual when you're starting out, especially if you're waiting on products to arrive or haven't yet built up enough inventory to sell 40+ products per month.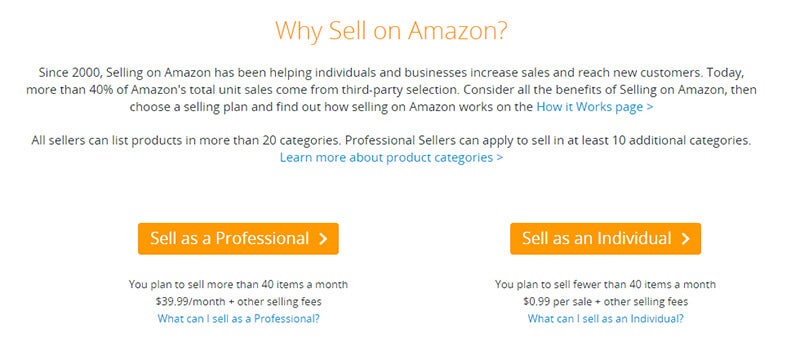 4 – Enter your email and select "Create a New Account"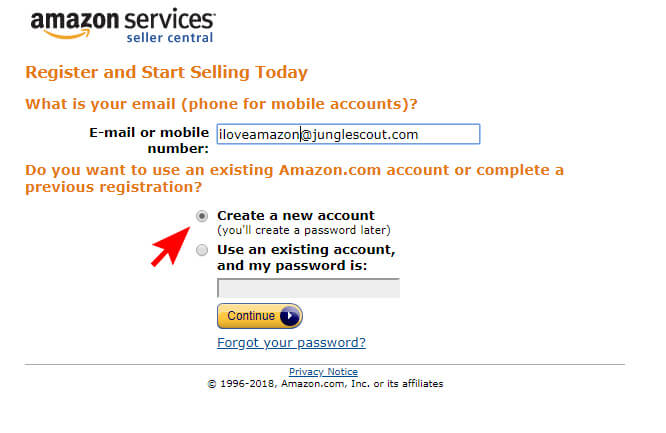 5 – Enter your personal information and create a password.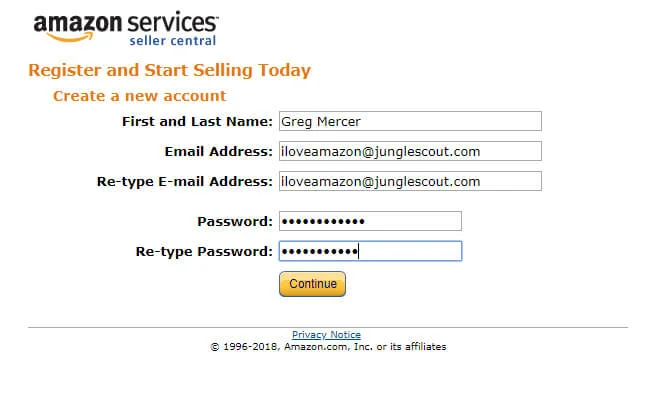 6 – Amazon seller agreement and business information.
Now you'll need to enter the name of your business and agree to Amazon's terms of service. I've put LLC in the spot below, but you don't need to have a legal business entity to sell on Amazon. If you're registering as an individual seller, you can list it under your given name.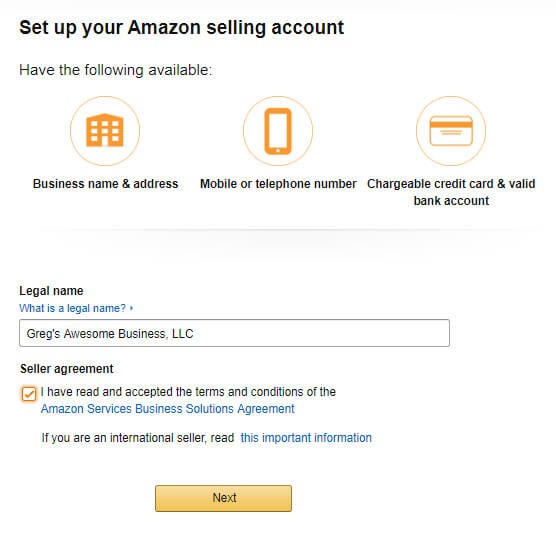 7 – Input your business's information and verify that you're not a bot.
Next, you'll need to put all of your business's information in. Amazon will also ask for your mobile number so they can send you a text to verify that you're a real person and not a bot.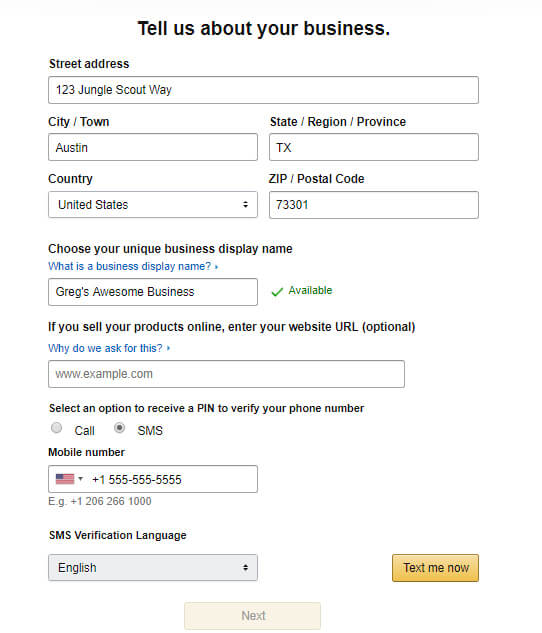 8 – Set up your billing and deposit methods.
Amazon will need your credit card on file in case there's any advertising charges or you're registering as a professional seller. The bank account information is so they can deposit your funds once you make a sale.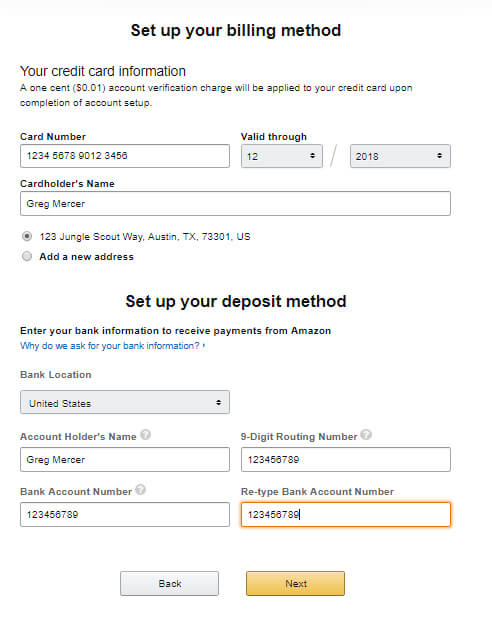 9 – After that, you're in!
You may need to set up 2-step verification (to help protect your account), but once you've got all your ducks in row all you need to do is go to https://sellercentral.amazon.com to log in. Below is the screen that you'll see… without any sales yet, of course.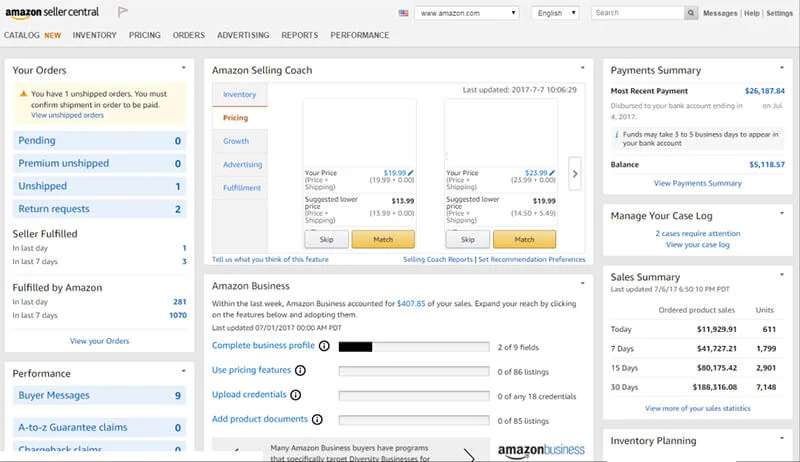 Is it free to sell on Amazon?
What's great about selling on Amazon is that you can get started selling on Amazon without spending any money at all… well, unless, of course, you're actually buying your own inventory versus selling your used stuff that is.
But to actually go through Amazon seller registration and start an account as an individual seller, you don't have to spend a dime.
Once you make sales, though, there will be some fees. Because, as nice as it would be for Amazon to allow us to use their website and services such as FBA for free, they're still a business!
However, I think you'll find their fees pretty small, especially when you consider the huge number of customers that your products will be expose to.
What are Amazon's fees?
Here's a few of the fees that Amazon adds on to your orders. Note: these fees are after the item sells, not before.
Amazon referral fees. This the fee that Amazon takes as a commission for selling on their platform. It varies from category to category, but ranges between 12-40%. Most products are at 15%.
Individual seller fee. This is a flat $0.99 added to each sale you make on top of the referral fee.
FBA fees. If you use Amazon's Fulfillment by Amazon program, you'll have to cover the shipping and handling costs for Amazon. This usually works out to roughly $3.00 for small items weighing no more than a pound. The fees go up as the items get heavier or larger.
Other fees. In addition to the three basic fees mentioned above, you may also have inventory storage fees (if you use Amazon FBA), media fees (if selling books, DVDs, etc), and advertising costs.
Don't let the fees scare you off. When you do the math, paying these little fees ends up being much less than creating your own site and handling your own inventory.
Looking for an easy way to keep track of Amazon profits?
Sometimes, the fees can be hard to calculate in advance. Fortunately, our sister site, Fetcher offers a free profit calculator to help you determine whether or not your Amazon goods are profitable.
What is a Amazon professional seller account?
If you plan on selling more than 40 items a month… which, trust me, is pretty easy to do with Amazon… then you'll probably want to get an Amazon professional seller account. There's quite a few benefits to setting up a professional seller account, like dropping the individual seller fee per item. Instead, you pay a flat $39.99 per month.
What else do I need to know about Amazon?
Here's a few more Amazon selling basics that you should know about.
What is the best seller ranking?
Amazon organizes all of its products with a Best Seller Ranking (BSR). The more popular an item is and the more its sold, the higher the best seller ranking for the product is. Each department on Amazon has its own taxonomy of BSRs, as do the sub-categories.
What is FBA?
FBA stands for Fulfillment by Amazon. It is a service offered by Amazon where they store your inventory for you in one of their fulfillment centers. Then, when you make a sale on Amazon, Amazon's staff (and robots!) actually pick, pack, ship, and handle customer service on your behalf.
How do I sell on Amazon Prime?
If you sell through the Amazon FBA program and you have enough inventory to spread around through its fulfillment network, then your product will qualify for Amazon Prime. Amazon Prime items ship 2-3 days to customers. Plus, you get the "Amazon Prime" badge on your listing, which means you'll have a better chance of selling your product.
What is private label?
Private label is a method of selling your own branded products on Amazon. It is, in my humble opinion, the most profitable way to make money on Amazon.
Is there free training for new Amazon sellers?
Absolutely. Here at Jungle Scout, we offer a ton of free information for people who are interested in selling products on Amazon. Our own Lenny Smith has a training video and article to show you how to get started with selling your own branded products on Amazon. Just click the link below.
Conclusion
And that's pretty much the Amazon seller registration process in a nut shell. Pretty simple, right? Hopefully you now have a pretty strong handle on how it works. Don't forget, Jungle Scout is all-in-one platform for selling on Amazon and has tons of free resources for those looking to start an Amazon business.
If you have any questions or want to know a little bit more about how to start an Amazon business, please feel free to leave a comment below.
See you soon!