Join us!
Webinar: The State of the Walmart Seller 2022
Explore ecommerce opportunity on Walmart.com! We'll uncover industry insights from Jungle Scout's latest report, The State of the Walmart Seller, to reveal seller strategies for this rollback retailer.
Tune in on Thursday, May 12 at 12:30 p.m. CT / 10:30 a.m. PT
About the webinar
Learn about Walmart Marketplace seller demographics, motivations, and stats. Discover business models and fulfillment methods, sales and profits, product and category trends, and more.
In this webinar, Jake will cover:
Walmart Marketplace sales and profitability metrics
The invaluable benefits of an omnichannel strategy
Ad strategies shaping the ecommerce landscape
The unique challenges Walmart sellers face
---
Hosted by: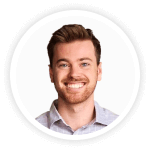 Jake Zaratsian
Scriptwriter & Presenter at Jungle Scout
About Jake Zaratsian
Jake is a Jungle Scout expert with a wide variety of digital marketing expertise. He has worked as an Amazon marketplace consultant and ecommerce advertising strategist and has helped a range of brands grow their sales and profitability on Amazon.