Congratulations, Amazon FBA sellers! You did it! You made it to Black Friday and beyond, which means it's time to talk Amazon Black Friday trends.
If you're like us, I think you'll find it very interesting!
Questions about Amazon Black Friday trends
Pouring over the bestsellers lists, and using our own data, we noticed a few odd patterns. But instead of trying to make heads-or-tails of these trends, we decided to share our observations (and resultant questions) with you.
Maybe you can help us figure some of these Amazon Black Friday trends out.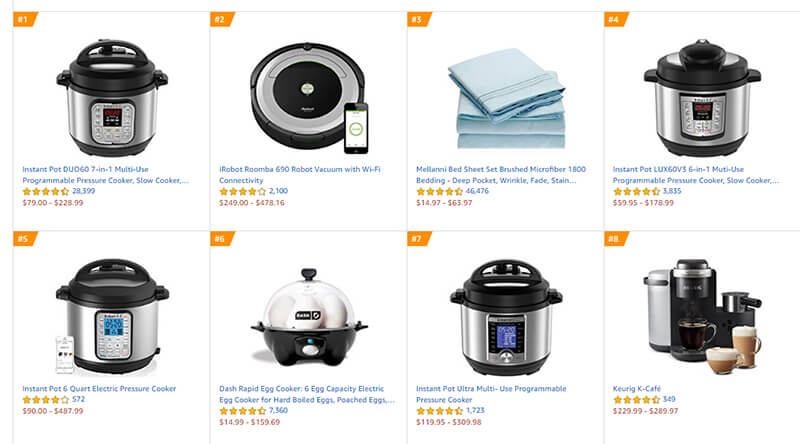 #1 – "What's up with all the slow-cookers and instant-pots?"
Of the top 8 best-selling Kitchen & Dining items on Black Friday, FIVE of those were slow-cookers or instant pots. And a sixth best seller was a Keurig coffee maker which, let's face it, is the instant-pot of coffee.
So why are Americans suddenly so in love with instant pots? Is it some sort of new health trend? Is everyone that strapped for time?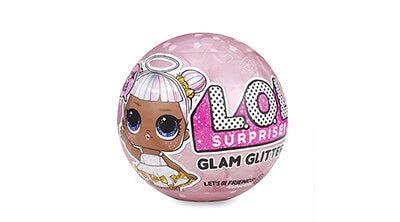 #2 – "Why do kids like mystery toys so much?"
If you're a parent, then I'm guessing the answer to this question is not a mystery to you.
With an estimated 600-3,000 units per day in sales on Amazon alone, the hot toy this year is: L.O.L. Surprise! And that's exactly what it is, a surprise. In each of these balls you get a mystery doll, stickers, a water bottle, and more. Until you purchase and open it, there's no telling what could be inside.
But L.O.L. Surprise! isn't the first toy to leverage the concept of mystery. Last year, Hatchimals were all the rage. And people who play Magic: the Gathering have made a life out of these surprises.
Don't kids like to know what they're actually getting? What if they get the same toy they already have? Or do they just enjoy the suspense of not knowing?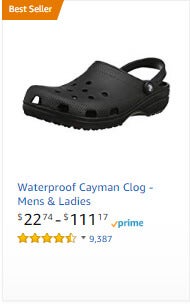 #3 – "Is this really the biggest fashion trend in America right now?"
Crocs. Thousands of pairs of the infamous rubber shoe have sold since last Friday. Thousands!
Cyber Monday morning, this utilitarian shoe was in the #1 spot in Amazon's Clothing, Shoes, and Jewelry department. And that's just the black variety. Other colors (like green, red, and pink) are still selling hundreds of pairs daily.
Why does everyone want to wear Crocs all of a sudden? Are Crocs cool again? Is this a new trend, or something that's been building for a while?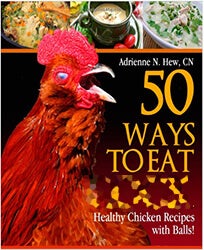 #4 – "Does your book need an edgy title in order to sell on Amazon?"
As a professional writer, I try to keep my eye on best-selling book trends. I also read a lot, and recently I've noticed that there are a number of trends for the types of books that sell well on Amazon.
First, best-sellers on Amazon always seem to have simple, brightly colored (neon orange, yellow, or even blue) book covers. This makes perfect sense from a marketing perspective; you want your book to stand out on Amazon's stark, white background.
However, the other trend that I've noticed is that edgy book titles turn a lot of heads, too. Books with titles like The Subtle Art of Not Giving a F***, by Mark Manson, or the children's book I Need a New Butt, tend to sell well.
Do readers equate basic titles with boring plot lines? Do people think profanity-laced books are better? Is this just a trend, or can we expect more books like these?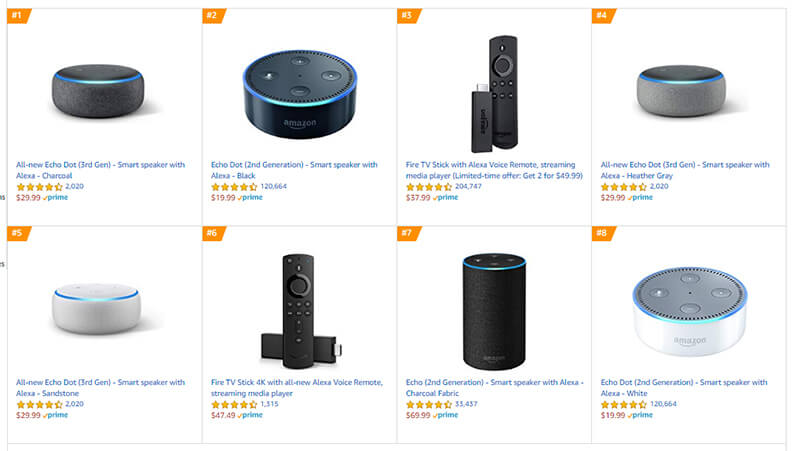 #5 – "Is Amazon the new Apple?"
What do the best-selling products ranks #1-#22 have in common? They're all Amazon products, and leading the pack is the latest generation of the Echo.
Whether it's the Echo, the Firestick, Amazon's Fire TV, or its Kindles, Amazon is crushing its electronic competition.
We recently completed an in-depth study of Amazon's private label brands, and the best performers were Amazon's electronics. After seeing this data, there's no question about that!
Do Amazon's electronics sell well on Amazon because Amazon is the only place you can find those products? Are people more excited about new generations of Amazon's tech? Could Amazon actually eclipse Apple in the tech and electronics industry?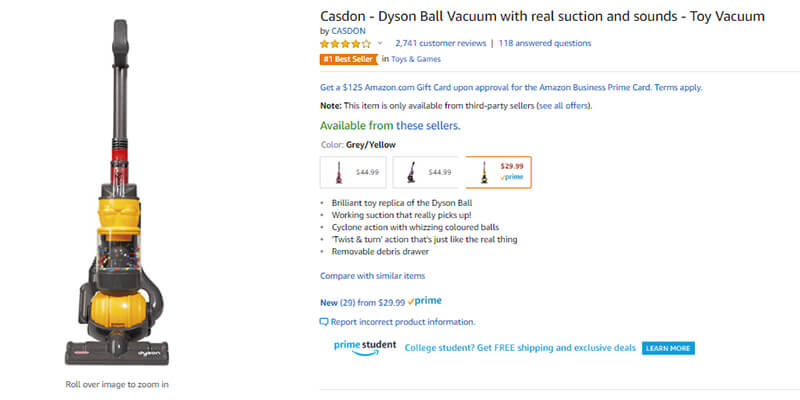 #6 – "Are kids really that interested in vacuuming floors?"
As I write this, Casdon's Dyson Ball replica vacuum cleaner has overtaken L.O.L. Suprise! as the top toy on Amazon.
It was only a few days ago when images of this toy went viral on social media, and now it's burning up the ranks. What's wild is that it really works. Albeit, the toy's suction isn't as powerful as a real Dyson vacuum, but considering it's a toy, that's not necessarily a bad thing. Plus, it's got a removable debris drawer!
Do kids enjoy watching their parents vacuum? Are parents buying this in the hopes that their children will do more chores? What other "real" toys can we expect to see?

#7 – "Why aren't people tired of stainless steel drinkware yet?"
Three years ago, when I got started on Amazon, stainless steel drinkware was just getting going. YETI and RTIC were battling it out over in Sports & Outdoors. Stainless steel wine glasses were making their debut, as were the S'well water bottles.
Cut to 2018 and the number one selling product in Sports & Outdoors is still a stainless steel mug. In fact, over in the Baby Department, stainless steel sippy cups are quickly moving up the Best Seller ranks.
Do people think stainless steel drinkware is safer? Or does stainless steel seem more luxurious than glass or plastic? Is there any type of drinkware that hasn't been turned into stainless steel yet?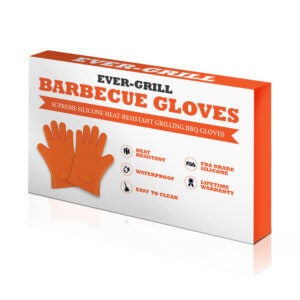 #8 – "Do Americans actually miss grilling outside this much?"
It's already December, and my grill has been off since August. However, even though it's no longer grilling season for most of us, 22% of the products on Amazon's Patio & Garden department Most-Wished-For are related to grilling out in some fashion.
Most-Wished-For items include meat thermometers, barbecue pullers, barbecue sets, and bristle-less grill brushes. Granted, some of these things can be used inside, but there's no doubt that exclusively-outdoor grilling products are trending too.
Do people actually grill in the winter? Or are American shoppers dreaming of warmer days already? And is this trend gender-neutral, or do men make up most of the people putting these items on their Most-Wished-For list?
#9 – "Did Amazon copy Target's mom-centric strategy?"
Diapers, diapers, diapers. Undoubtedly, some of the biggest sellers in Amazon's Baby department are diapers, with Pampers leading the way. Of course, as a dad, this isn't a shock to me.
Back in 2011, my wife and I became Prime members in order to enter Amazon's new (at the time) subscribe-and-save program. We joined so that we could get regular diaper deliveries, and we've been hooked ever since. Obviously we weren't/aren't the only ones to see the value in a service that makes sure parents don't run out of diapers.
In Charles Duhigg's awesome book, The Power of Habit, he explains that a big part of Target's strategy is to (ahem) target expectant mothers. The idea is to sell these moms what's needed for their babies pre-birth, and then continue marketing to those women post-birth and for the rest of their lives.
Has Amazon adopted a similar strategy? Or is it just incredibly convenient to buy diapers and have them delivered? Are moms like my wife and I, getting hooked on Amazon after their first save-and-subscribe diaper purchase?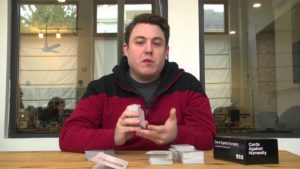 #10 – "Is Max Tempkin the World's Greatest Marketer?"
If you don't know Max Tempkin, perhaps you know his wildly popular game: Cards Against Humanity.
Believe it or not, Cards Against Humanity was just another private label product on Amazon FBA. Max and his crew kickstarted the card game, then sent the first extra batch of units to an Amazon fulfillment center. Now it's a global phenomenon, sold in Targets, Wal-marts, Barnes & Nobles, and other large retailers.
Each year, the Cards Against Humanity team does some crazy promotion outside of Amazon.
A few years ago it was getting people to spend money to dig a giant hole in the middle of nowhere. In 2015, Max sold people nothing–literally nothing–and was very honest that they would get nothing in return for their $5 'purchase'.
This Black Friday, Cards Against Humanity sold high-priced gifts for 99% off. These items include things like real diamond rings, snow shovels, and yes, even a used car.
And while these tactics seem bizarre, their style of guerrilla marketing is working. Cards Against Humanity continues to hold onto its Top #10 status in the Toy & Games category. In fact, it's not uncommon for it to appear as the bestselling toy/game on the entire site.
They sell tens of thousands of units on Amazon alone, and have 4.8 out of 5 stars on 32,000+ reviews.
So do crazy marketing stunts work? Aren't people getting tired Cards Against Humanity? Or will it continue to be the world's best selling card game?
What do you think of the patterns we saw? Do you have any answers to these Amazon Black Friday trends questions? If yes, please share them in the comments. We'd love to hear them!